By Lambert Strether of Corrente.
Trade
"China Imports Jump, Exports Robust as Trade War Yet to Take Toll" [IndustryWeek]. "China's exports grew faster than expected, while imports surged, showing both domestic and international demand continue to shrug off the uncertainty of the trade conflict with the U.S. Exports rose 12.2% in July in dollar terms from a year earlier, the customs administration said Wednesday, faster than the forecast 10%. Imports climbed 27.3%, leaving a trade surplus of $28 billion. As the world's largest exporter, China is still benefiting from robust global demand, but increasing tensions and rising trade barriers with the U.S. are weighing on the outlook." • Chinese data. I'd like to see a chart with the counter-parties…
"Port of Oakland's monthly volume report reflects trade war tensions" [Logistics Management]. "While the Port of Oakland is widely recognized as the chief U.S. West Coast gateway for exports, volume is down 1.8 percent through six months of 2018. Exports decreased 4.7 percent in June… June import volume was up 8.7 percent over June 2017, with spokesmen saying that two factors may have led to the increase: *Peak season – the summer-fall period when most U.S. imports from Asia are shipped – is expected to be strong. *Importers may have ordered aggressively in June ahead of tariffs imposed last month by the U.S. and China."
"New and proposed tariffs flying between the U.S. and China have small businesses considering big changes. The tariffs have an outsize impact on smaller manufacturers like bicycle maker M25 Bikes of North Carolina and light switch provider Brilliant Home Technology Inc…, because they have little ability to deflect higher materials prices or pass along new costs to customers" [Wall Street Journal]. "As a result, many are rethinking their strategies, suppliers and pricing. Several companies report they are putting expansion plans on hold amid uncertainty over trade, and others are looking at more drastic action in their supply chains. Companies including Nebia Inc., which makes shower heads in Minnesota, and contract manufacturer Altraco are considering moving factory work abroad to lower their raw materials costs, while others are weighing moves into the U.S., reasoning that averting the tariffs would offset higher labor costs."
Politics
2020
"Deval Patrick's private equity problem" [Axios]. "PATRICK: I describe myself as a capitalist. I'm not a market fundamentalist. I don't think markets solve every problem just the right way. But I do believe in opportunity. I think we need an economy that is expanding and is expanding out, so it reaches people on the margins, not just up. And I think there is a right way and a wrong way to do that. And I think impact investing is an incredibly interesting and exciting way to participate in growth capitalism. So, no, I don't buy all that." • Warren/Patrick?
2018
UPDATE KS-04: "Thompson wins 4th District Democratic primary" [KSN]. "Thompson, a Wichita civil rights attorney, held Estes to a single-digit victory in the nation's first congressional special election last year after President Donald Trump took office. Thompson defeated Laura Lombard in the Democratic primary. Democratic socialist rising star Alexandria Ocasio-Cortez traveled to Wichita during the race to join Sen. Bernie Sanders at a campaign event for Thompson as Democrats look to flip a congressional seat once considered safely Republican." • I'm not happy with Thompson's #MedicareForAll language, which includes "fighting for" and "access."

UPDATE MI-13: "Tlaib: Brother's golf cart helped her become first Muslim woman elected to Congress" [Detroit News]. "Unofficial results from early Wednesday showed Tlaib prevailed in the race to serve a two-year term with 33.2 percent of the vote over Detroit City Council President Brenda Jones, who has 29.2 percent, with 96 percent of precincts reporting. The campaign, Tlaib said, spent countless hours since February knocking on more than 50,000 doors, speaking to families across the district from Romulus to Detroit's east side. Tlaib's brother, Rachid Elabed, also took an active role in the efforts. He bought a golf cart online and rode it throughout neighborhoods to reach more than 4,000 Arab-American voters from the Warrendale area, which has many Iraqi families, to the Yemeni population in southwest Detroit and Lebanese Americans near where she's grown up." • I'm not happy with Tlaib's #MedicareForAll language either, which also includes "fight for" and "access."

UPDATE MO: "Wesley Bell Takes Down Bob McCulloch in Prosecutor's Race" [RiverFront Times]. "In a massive upset, Democratic Party voters showed McCulloch the door tonight, voting for challenger Wesley Bell 54.9 to 45 percent, with 89 percent of precincts reporting….McCulloch led a grand jury investigation into the actions of Ferguson officer Darren Wilson, who'd shot a teenaged Michael Brown, only to produce a no-bill." • Schadenfreude, though long-delayed.

MO Ballot: "'Anti-Union Forces Awoke a Sleeping Giant': Voters Overturn a New Anti-Union Law" [Governing]. "After a years-long battle between labor unions and right-to-work advocates, Missouri voters on Tuesday killed a new law that prohibited labor groups and employers from requiring private-sector workers to pay union membership fees."

* * *

"Ohio Special Election, Michigan, Kansas, Missouri and Washington" [Data for Progress]. This is a very good overview of demographics in OH-12, Michigan, Kansas, Missouri and Washington (quoted below).

OH-12: "With all precincts reporting, Troy Balderson led Democrat Danny O'Connor by just 1,754 votes — less than 1 percent of the votes cast — for the suburban Columbus seat, according to the Ohio secretary of state's office. But still to be counted were several thousand provisional ballots, a process that will take at least 10 days…. [Democrat] O'Connor didn't concede defeat. " [Bloomberg]. • I believe that provisional ballots break Republican, at least in Ohio.

OH-12: "Democrats didn't walk away with a clear win Tuesday night. But they didn't necessarily have to. They essentially battled Republicans to a draw in a central Ohio congressional district that should have been an easy win for the GOP. It will take actual victories for Democrats to reclaim the majority, but even a too-close-to-call result was a sign of Democratic momentum and offered clues for how to run in November" [Associated Press]. OH-12 has a Partisan Voting Index (PVI) R+7 (greater numbers mean more partisan). Check out the PVI column of Figure 5, "Districts Likely Targeted" (for picking up 23 seats) from Monday's worksheet:

Only one of these target districts is R+7 and the rest are less. So by this metric — pundits call metrics like PVI and the generic ballot "fundamentals," even though it's actual voter behavior that's fundamental, at least in functioning democracy — the Democrats are sitting in the catbird seat for winning back the House. Nevertheless, they still have to win actual seats, not moral victories, and this, in OH-12, they did not do. As ever, the question remains: Can these Democrats win?

OH-12: "Apart from the urban and suburban parts of Franklin and Delaware county where the Romney/Clinton voters live in high concentrations, Balderson won by huge margins in the district's other five counties. The problem, however, is that he still ran behind Trump's share of the vote in all but his home county of Muskingum. Even worse, turnout in each of these counties—which swung to Trump by up to 29 percent in 2016—was much lower compared to 2016 than it was in and Franklin. Again, some of that is because of Democratic enthusiasm, but some of it is also due to lack of enthusiasm from Obama/Trump backers" [American Greatness].

And the demographics: "The 12th is heavily gerrymandered so it's hard to draw any blanket conclusions about its populace. It contains heavily Democratic portions of Columbus, well-educated historically Republican suburbs in Delaware County, Republican outlying rural areas and some small cities like Mansfield and Zanesville that were historically Democratic or swingy but went heavily for Trump. So when analyzing the results it's important to drill down at the local level if you want to extrapolate the results nationwide. To me the most interesting results will come from . It's the most educated county in Ohio – more than half of people over the age of 25 have a bachelor's degree. But it's also heavily Republican – the last Democrat it backed for president was Woodrow Wilson. However, while Mitt Romney won 61 percent of the vote here, Trump only got 55 percent. If O'Connor can run close to even with Balderson here not only does it mean that he'll have a good shot at winning, but that the educated middle class areas that broke toward Democrats in 2016 are not reverting to their pre-Trump form. In other words, Conor Lamb's win in March was proof that Democrats can win back their former voters who have trended toward Republicans. If Danny O'Connor does well in Delaware County it means that they can also win over disaffected historically Republican voters." Here is a handy chart from the Times:

So, my hot take is that depressed rural Republican turnout + Balderson doing just well enough in Delaware (thanks to Kasich) will have allowed him to eke out the victory. Further, liberal Democrats ("A Nail-Biter in Ohio Is a Democratic Triumph") will take this moral victory as supporting what their theory of the case has been since July 2016: Run Republican Lite candidates (O'Connor boldly came out against Pelosi), don't run on policies like #MedicareForAll, don't try to expand the electorate, and appeal to wealthy suburban Republicans. (This logic feels static to me; low rural turnout may mean Republicans are in trouble; it may also mean that Republicans, who are good at this, have plenty of time to adjust and fix the problem.) Hilarity would ensue if they won a moral victory in November, too.

* * *

NY-12:

About to kick off our 1st Bronx Town Hall with @AdyBarkan!

Today's Town Hall theme is Labor. We'll be talking about day care workers, Toys R Us, a Federal Jobs Guarantee, Medicare for All & more. pic.twitter.com/MB4elBeNIJ

— Alexandria Ocasio-Cortez (@Ocasio2018) August 7, 2018

A relief to see ACO hasn't forgotten the district, or policy, or the working class. ACO is also very good at the Twitter, a plus. (Also, I like the idea of sans culottes near a major power center like Wall Street.)

"The Anti-Clinton Women of 2018" [RealClearPolitics]. "The argument advanced by most pundits is that the number and range of women running in 2018 is a result of Donald Trump's election and subsequent policies that are hostile to women. We argue, however, that these candidates were motivated less by Trump's policies and more by their disenchantment with the Democratic Party establishment, which Clinton so embodied…. Enter Abrams, Ocasio-Cortez, and other women such as Kara Eastman, another newcomer who beat an establishment candidate for the Democratic nomination in Nebraska's 2nd Congressional District. They are proud liberals who tend to advocate for policies much farther left than those of Clinton and other long-serving Democrats. This seems counterintuitive: Knowing they lost in 2016 — and seeing how the Republican Party has moved farther right — why would Democrats shift even farther away from the center?" • Because they want to win their districts?

"Tempers Flare Among Prince George's County Democrats" [Washington Informer]. Lots of juicy detail: "Theresa Mitchell Dudley, president of the county's Education Association, was one of two people nominated to replace Salome Peters, the outgoing chair. She placed a chain on a table to make her point that the county is controlled 'by the master who lives in Calvert County,' referring to Senate President Thomas V. Mike Miller Jr. Miller, who also represents a portion of Prince George's…. 'Just because your person didn't win, don't take it out on me,' said Dudley, who voted for former NAACP President Ben Jealous in the gubernatorial primary. Jealous defeated eight other opponents including Prince George's County Executive Rushern L. Baker III who had support from high-ranking state Democrats such as Miller, former Governor Martin O'Malley and Attorney General Brian Frosh….. Cheryl Landis was nominated over Dudley by a 17-3 vote, with three members abstaining. Landis, who Baker supported, read prepared remarks with hopes of unity." Here are those remarks:

[LANDIS]: We have the beginning of a very, very long journey and for all intense and purposes, we really don't know one another that well. But in spite of that fact, it remains contingent [sic] upon us to establish ourselves as [serving] the community.

Paging Thomas Frank! One can only wonder how many meetings like this there are right now; I'm guessing a lot. Remember that "Party Unity is for Rubes."
New Cold War
"Opinion: How a senior DOJ official helped Dem researchers on Trump-Russia case" [John Solomon, The Hill]. "Hundreds of pages of previously unreported emails and memos provide the clearest evidence yet that a research firm, hired by Hillary Clinton's campaign and the Democratic National Committee (DNC) to find dirt on and defeat Donald Trump, worked early and often with the FBI, a Department of Justice (DOJ) official and the intelligence community during the 2016 presidential election and the early days of Trump's presidency. Fusion GPS's work and its involvement with several FBI officials have been well reported. But a close review of these new documents shows just how closely Associate Deputy Attorney General Bruce Ohr, who reported to Obama-era Deputy Attorney General Sally Yates, maintained contact with Fusion — and, in particular, its primary source, former British spy Christopher Steele — before, during and after the election."

"The 'Witch Hunters'" [Tim Weiner, New York Review of Books]. Reviews Hayden, Comey, and Clapper's books. Filtering for cray cray: "Trump may be paranoid, but he has real enemies among the emeriti of the intelligence establishment, and among them are the authors of three new books that collectively have sold up to a million copies…. In the weird world that is Washington today, these politically conservative national security stalwarts—reviled by liberals, with reason, for their actions in office—have emerged as members of the opposition to Trump and as the focus of extreme ire from the right…" But then there's this: "James Comey first encountered Donald Trump in the gilded palace of Trump Tower on January 6, 2017. He (along with Clapper and Brennan) were to deliver their assessment of the Russian effort to interfere in the 2016 election…." • Well, only if you believe that the verdict of 3 of 17 agencies is unanimous — to be fair, "3 of 3" is indeed unanimous — and in a report, and not a Finding. It's worth a read, if only for the spectacle of watching a relatively reasonable liberal try to stand upright in the enormous cross-currents of disinformation coming from all sides. There's also a discussion of the "Deep State," showing again, as if it needed to be shown, how usefully malleable the concept is. (The style is a little breathless, though; I understand its hard to breath when you're fighting off an attack of hysteria.) Link from the above, back in April–

"The 'deep state' is real. But are its leaks against Trump justified?" [Jack Goldsmith, Guardian]. "But even if we focus narrowly on the intelligence bureaucracies that conduct and use information collected secretly in the homeland, including the FBI, National Security Agency (NSA), and National Security Council, there is significant evidence that the deep state has used secretly collected information opportunistically and illegally to sabotage the president and his senior officials – either as part of a concerted movement or via individuals acting more or less independently. The hard questions are whether this sabotage is virtuous or abusive, whether we can tell, and what the consequences of these actions are. Since Trump was elected, unusually sensitive leaks of intelligence information designed to discredit him and his senior leadership have poured forth from current and former intelligence officials in the deep state." • I know I'm a broken record on this, but there's a legitimacy issue here that's been present throughout: Should the intelligence community be able to veto the selection of a President based on evidence the public cannot see? Obviously, there's an enormous power struggle involved in this change to "our" Constitutional orde — personalities and daily politics aside — and the stakes couldn't be higher. Players are willing to go very far in pursuit of such stakes…
The Liberal Democrats Have Lost Their Minds
As usual, blame the voters:


OMG. Green Party is one of the top trends on Twitter right now with 51,400 tweets. Ppl blaming them on the Ohio loss because they can't do basic math *face palm*

50.2% Republican 49.3% Democratic 0.5% Green

EVEN IF ALL GREENS VOTED DEMOCRAT, THE DEMS WOULD LOSE! BASIC MATH!

— Your Favorite Polack ? (@konradstrzalka) August 8, 2018

The Beltway amplifies, with — hold onto your hats here, folks — RussiaRussiaRussia:


Remember, Russians gave support to Greens in 2016 and are likely to encourage them in November. Beware. https://t.co/KPZqMzkJMy

— Norman Ornstein (@NormOrnstein) August 8, 2018

Never the candidate, never the policies, never the strategy, "We own your vote!", rah rah rah, blah, blah, blah…
Realignment and Legitimacy
A good question:

A thing I've always wondered about this whole Russian narrative is why, if the Russians are a real threat to election security, aren't Dems proposing legislation to protect the ballot boxes, like moving to a paper ballot sys?

— Spiny Norman Still Follows Pandactivist (@PandActivist) August 7, 2018
Stats Watch
Consumer Credit, June 2018: "Consumer credit came in below expectations" [Econoday]. "The decline in revolving credit suggests the consumer regained the prudent spending habits characteristic of most the months in the first half of the year." And: "More Q2 weakness" [Mosler Economics]. And but: "Not only does this data set suffer from backward revision (at times moderate to significant enough to change trends), but the use of compounding (projecting monthly change as annual change) by the Federal Reserve to determine consumer credit growth rates exaggerates the volatility in this data" [Econintersect].
MBA Mortgage Applications, week of August 3, 2018: "Purchase applications for home mortgages fell" [Econoday]. [T]he fourth weekly decline in a row."
Cash: "The Real Cost Of Hoarding Cash" [Safe Haven]. "According to new data from NerdWallet, the average American adult is currently holding $32,286 cash. Given a median wage $44,564 per year and the fact that a large chunk of the adult population does not save at all, that stash suggests that there's a sizable portion of the adult population hoarding much more than six months' worth of expenses. In fact, a good 39 percent of Americans say they aren't investing at present."
Shipping: "Maersk Cuts Profit Forecast as Shipping Slump Deepens" [Wall Street Journal]. "A.P. Moeller-Maersk, the world's biggest cargo carrier, warned Tuesday its earnings would be weaker than expected this year due to rising fuel prices, soft freight rates and escalating trade tensions…. Container shipping moves 98% of the world's manufactured goods, but . Rates have declined despite a wave of consolidation over the past two years that has resulted in only about a half dozen global operators." • Holy moly! Whose running the show? The non-AWS part of Amazon?
Shipping: "Unfilled jobs are growing as an expanding economy demands more labor and a low unemployment rate leaves fewer workers available. The number of unfilled jobs in the Labor Department's transportation, warehousing and utilities category grew by 109,000 over the past year to 298,000, a 58% increase" [Wall Street Journal].
Shipping: "Short-term health insurance plans: Should truck drivers consider them?" [Freight Waves]. "Besides offering much cheaper premiums (some as low as $25 per month), short-term plans are not required to cover pre-existing conditions, as ACA plans must. Depending on the plan, they also may not cover things such as maternity, mental health, prescription drugs or substance abuse treatment, or any of the 10 essential health benefits required by the ACA. These include doctor visits for illness, emergency services, hospitalization, rehab and laboratory tests and services. Short-term plans also usually include annual or lifetime dollar limits, which are not allowed on Obamacare plans." • These are distinct from association plans, which have not yet been rolled out. I'm filing this here, as opposed to health care, since the trucker labor market encourages this type of insurance (if health insurance there must be).
Shipping: "Rails increasingly in sweet spot as trucking capacity crisis hits peak season" [Logistics Management]. "Railroads are capitalizing on the acute shortage of drivers in the trucking industry as capacity constraints limit truckers' ability to compete on some long-haul deferred bulk freight." • I don't see any numbers, so I dunno. "Bulk freight" means hundred mile-long unit trains of coal for China, and hundred mile container trains of consumer goods from China. How much of that work did trucks ever do?
Manufacturing: "Time To Buy A Lada? Russian Auto Sales Are Booming" [Safe Haven]. "Russia's flagship carmaker AvtoVAZ, which manufactures Lada vehicles, is posting record sales domestically and internationally… In 2017, Russian car sales totaled 1.6 million units, up 11.9 percent from the previous year, but still only around half of the nearly 3 million units sold in 2012 when the market was booming. Meanwhile, Russia's passenger car exports surged by 24.1 percent in 2017, to 84,400 units, at a total monetary value of $1.32 billion…."
Manufacturing: "With a Small but Mighty Bracket, BMW Raises the Roof on 3-D Printing" [IndustryWeek]. "The roof bracket—the mechanism that makes the soft top on the Roadster rise and lower, fold and unfold, quickly in a zigzag configuration—is the first 3-D printed metal component that has been successfully mass-produced, albeit in low volumes. It is also 44% lighter than the conventionally manufactured roof bracket for the previous Roadster model…. The part needed to lift, push and pull the weight of the roof, requiring a complex sculptural structure that was impossible to cast." • Science is popping….
Manufacturing: "Revitalizing American manufacturing" [Logistics Management]. "Perhaps the biggest challenges facing U.S. manufacturers, especially those in rural areas like [Alleghany County], is the need for 'the revitalization of the bones of our infrastructure, sewer, water and structures that can't support some opportunities,' a ready workforce, and manufacturing's brand issue. Too many people still think of manufacturing the way it was in the 20's and 30's. 'They don't realize that it's high tech, highly skilled and computer assisted,' [Tom Reed, NY-23] said. 'But, I think we're beginning to see a renaissance.'" • You could airdrop a 3D printing machine into every small manufacturing town in America. You could also airdrop a piano into every classroom, and expect that to be enough to teach children music….
Fodder for the Bulls: "U.S. companies' sales growth is accelerating — here are the biggest winners" [MarketWatch]. "As we near the end of earnings season, two trends are clear: Profits have gone through the roof, helped by lower corporate income taxes. But sales have also increased remarkably, and that trend started before the tax cuts went into effect…. According to the most recently available quarterly data through Aug. 7, 267 S&P 500 companies increased their sales per share by 10% or more from a year earlier." •
The Bezzle: "Did Elon Musk break any laws with his going-private tweet today?" [MarketWatch]. "Regulation Fair Disclosure, or FD, requires companies 'to distribute material information in a manner reasonably designed to get that information out to the general public broadly and non-exclusively.'… [But in a Tesla 8-K from 2013] "after first suggesting teslamotors.com for information on products, ir.teslamotors.com for Tesla investors, and teslamotors.com/press for press releases and the Tesla blog, it does read, 'for additional information, please follow Elon Musk's and Tesla's Twitter accounts.'… With over 22 million followers as of Tuesday, Musk's Twitter presence is not obscure, and his tweet was nearly simultaneously broadcast through financial business media. Wouldn't Musk's lawyer argue that the tweet was available to everyone?"
Health Care
"Workplace Wellness Programs Don't Work Well. Why Some Studies Show Otherwise." [The Incidental Economist]. "Wellness programs sometimes claim to save money by reducing health care spending. The observational analysis supports this belief. It found that participants spent significantly less than nonparticipants on health care ($525 versus $657) and on hospital-related costs ($273 versus $387). The randomized controlled trial showed that the wellness program had little effect on spending compared with the control group in both overall spending ($576 versus $568) and hospital spending ($317 versus $297)….. Why such stark differences? 'The most likely explanation is that participants differ from nonparticipants in very important ways,' said Julian Reif, one of the study's principal investigators. 'Therefore, when a wellness program is offered, the differences seen between those who take advantage of it and those who don't are due to differences in the people rather than differences from the program.'" • ObamaCare incentivized wellness programs; sadly, I never got round to doing a take-down, since too many other wheels kept falling off the wagon. Of course, Wellness programs are good for something: Employee surveillance; an intrusive wellness app, Go365, sparked the West Virginia teachers strike.
Our Famously Free Press
The 1% on the press:
When people show you who they are, believe them. With that in mind, we present this comment from Susan Allan Block, wife of Allan Block, the chairman of Block Communications Inc. and its serves as its principal executive officer.https://t.co/b4AsdLArOW pic.twitter.com/CqSUiVqCNS

— BladeGuild ⚔️ ? (@bladeguild) July 30, 2018
Class Warfare
"Tech Workers and Flight Attendants Resist Immigrant Family Separation" [Labor Notes]. "Immigration and Customs Enforcement (ICE) and U.S. Customs and Border Protection (CBP) don't operate in a vacuum. They depend on a host of products and services—including technology produced by software engineers and travel assisted by flight attendants." • Note this is an assault on a fragile supply chain (as detailed here). We can think of ICE and CBP as particularly brutal and not very competent intermediaries.
News of The Wired
"A Buddhism Critic Goes on a Silent Buddhist Retreat" [Scientific American]. "The retreat convinced me that contemplation can reproduce the effects of psychedelics, a claim I have long doubted." • $1800 a pop, though.
"All the cat facts you need for International Cat Day" [Moneyish]. "Wednesday is International Cat Day, when the International Fund for Animal Welfare encourages the globe to celebrate the domesticated felines that have been keeping humans company for more than 9,000 years — and whose owners drop almost $100 a month on average doting on." • The cat didn't show up today, which is odd, and worries me because last night I saw him on the other side of the street. Cats do roam, but this cat really likes routine.
* * *
Readers, feel free to contact me at lambert [UNDERSCORE] strether [DOT] corrente [AT] yahoo [DOT] com, with (a) links, and even better (b) sources I should curate regularly, (c) how to send me a check if you are allergic to PayPal, and (d) to find out how to send me images of plants. Vegetables are fine! Fungi are deemed to be honorary plants! If you want your handle to appear as a credit, please place it at the start of your mail in parentheses: (thus). Otherwise, I will anonymize by using your initials. See the previous Water Cooler (with plant) here. Today's plant (TH):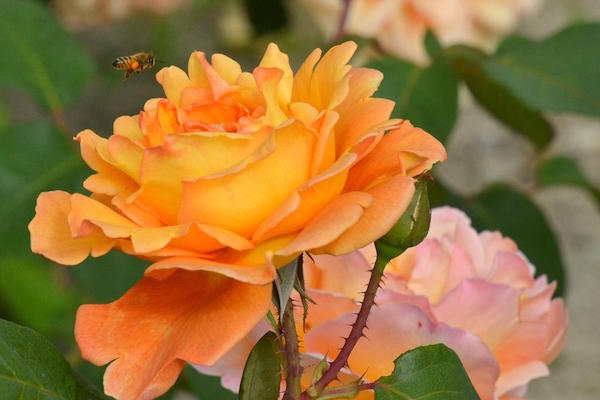 TH writes: "This lovely orange rose is an unlabeled member of a rose garden at the entrance of Los Angeles Southwest College in Westmont California. I like how the bee's pollen pocket color coordinates with the blooms. So, I'd like to know why, if a bee's wings beat 230 times a second, they are completely blurred with a shutter speed of 1/1000 of a second. Granted, this one isn't exactly at the focal plane, but I don't think that accounts for the apparent absence of wings that appears more like the results of motion faster than a shutter speed (ISO 400, f/11, shutter=1/1000, zoom=403.2mm).
* * *
Readers: Water Cooler is a standalone entity not covered by the annual NC fundraiser. So do feel free to make a contribution today or any day. Here is why: Regular positive feedback both makes me feel good and lets me know I'm on the right track with coverage. When I get no donations for five or ten days I get worried. More tangibly, a constant trickle of small donations helps me with expenses, and I factor that trickle in when setting fundraising goals. So if you see something you especially appreciate, do feel free to click the hat!

To give more, click on the arrow heads to the right of the amount.
If you hate PayPal — even though you can use a credit card or debit card on PayPal — you can email me at lambert [UNDERSCORE] strether [DOT] corrente [AT] yahoo [DOT] com, and I will give you directions on how to send a check.