By Lambert Strether of Corrente.
Readers, my optometrist's appointment went fine. Apparently, I am less short-sighted than last year, a blessing literally and metaphorically. This is a first cut, since I thought I'd just knock out a few more queries on today's worksheet and you know that goes, so I'll have a final cut later. Also, the heat and humidity seem not only to have gummed up my "n" key, but the Internet itself! Molasses is quick by comparison! –lambert UPDATE 4:25PM All done!
Trade
"Tariffs Prompt US Manufacturers to Review Plans: Fed Survey" [Industry Week]. "America's escalating trade dispute with China and other trading partners has prompted almost a fifth of U.S. businesses including about 30% of manufacturers to review their capital spending plans, according to a study by the Federal Reserve Bank of Atlanta…. 'These findings suggest that tariff worries have had only a small negative effect on U.S. business investment to date,' Atlanta Fed Research Director David Altig wrote on a blog posted Tuesday on the bank's website. 'Still, there are sound reasons for concern.' The survey, which drew 330 responses, was conducted July 9-20. Over 200 responses were from service-providing companies, which are typically less engaged in international commerce than manufacturing firms."
"EU TAKES ON TRUMP'S 'ILLEGAL' SANCTIONS ON IRAN: Senior European officials on Monday were quick to criticize President Donald Trump's renewed sanctions on Iran as 'illegal,' and vowed to intensify efforts to thwart the U.S. measures" [Politico]. "Trump promised tough enforcement of new sanctions and warned violators of 'severe consequences.' But the EU and the three European architects of the Iran nuclear accord — France, Germany and the U.K. — are pushing back in an effort to preserve the nuclear deal. That puts the United States in direct crossfire with its largest and strongest NATO allies."
Politics
2018
"What the 2016 Elections Taught Us About Uncertainty" [Charles Cook, Cook Political Report]. "The point of rehashing all of this is that public polling on the state level is considerably more problematic than on the national level, even in presidential years with higher voter turnout. In midterm elections, with a third fewer people voting, state and local polls are even less dependable—hence caution should be exercised in putting too much confidence in them. Some are conducted by reputable organizations with usually strong records, others by fly-by-night outfits releasing polls just for their PR value. That means even the poll averages should be approached with some degree of skepticism." • Yep. And this, off-point but in its way delicious: "It should be pointed out, though, that 2016 was a pretty atypical election. I often call it the 'Turducken election,' after the delicacy made by stuffing a deboned chicken inside a deboned duck and then into a deboned turkey. I don't care for it myself; as a friend put it, 'there was way too much going on there.'" • Well, that's a legitimacy crisis for you!

A good list (more later):

These amazing progressives have primaries on August 7th:@CoriBush Missouri (#MO1)@AbdulElSayed Governor of Michigan@David_Benac Michigan (#MI06)@BrentWelder Kansas (#KS03)@JamesThompsonKS Kansas (#KS04)@SarahSmith2018 Washington (#WA09)@dorothy4house Washington (#WA03)

— Star Stuff (@Statistar30) August 1, 2018

KS-03, KS-04: "Sanders and Ocasio-Cortez Rally Kansas for a Working-Class Politics That Stands Up to the Kochs" [The Nation]. "When Sanders and Ocasio-Cortez stumped for congressional candidates James Thompson, a civil-rights lawyer from Wichita, and Brent Welder, a labor lawyer from Bonner Springs, they were not talking about outflanking ideological rivals or moving pieces on a political chessboard. They were talking about issues that matter to working Americans. What sort of issues? The sort that Thompson and Welder have made central to their campaigns: support for Medicare for All health-care reform, for an expansive commitment to civil rights, for women's rights, for humane immigration policies, and for an economic-justice vision that is rooted in a commitment to worker-class empowerment." • Sounds Russian. Let's not do it.

MI-06: "Four Democrats compete for 6th District Congress seat in Aug. 7 primary" [MLive]. A candidate round-up: "[DAVID BENAC:] 1. Healthcare — I support the creation of a single-payer universal system of health care, along the lines of the Expanded and Improved Medicare for All Act, HR 676." • Give that candidate an "M"! (Especially compared to Eichholz's squishy "Establish universal healthcare by adding a subsidized public option to the Healthcare Exchanges," which would earn an "fM" ("f" for "fake"). The other two are even worse.

MO-01: "Insurgent Candidate Cori Bush Wants to End the Dynastic Rule of a Missouri Congressional District" [The Intercept]. "[Cori] Bush, who is also an ordained pastor, single mom, and nurse, emerged as a community leader in the aftermath of the fatal police shooting of [Mike] Brown, leading some of the protests. After the shooting, she ran unsuccessfully for Senate in 2016 — but still managed to win more than 42,000 votes in the primary, despite spending little money. She points to her own experiences, including a period of homelessness during which she lived out of her car, as a reason she would be representative of the struggling district. [Nine-term incumbent William Lacy Clay] is backed by the black Democratic establishment in the St. Louis area, and his political machine stretches back a generation, to when his father served the district." • Given what I learned about Ferguson, I'd say that Clay is an excellent candidate for membership in the Black Misleadership Class.

OH-12: "What Ohio's special election will tell us about midterms" [Politico]. "Trump campaigned alongside Balderson last weekend, aiming to juice support for the state senator in a race that's tightened into single digits, according to public and private polling. But the president's rally — along with a negative tweet about Ohio's favorite son and NBA star, LeBron James — also risks alienating well-educated Columbus suburbanites who prefer Gov. John Kasich to the president and could swing the special election. But Republicans believe that 'Trump stoked the base. He energized them this weekend, so that will help balance out the intensity on the Democratic side," said Mark Weaver, a Republican strategist based in Ohio. 'The race is closer than it ought to be, but this is still a Republican district. And the fundamentals are on Troy's side.; Republicans also tried to tie O'Connor to Pelosi in TV ads, a strategy the GOP has used in special elections throughout the past year and is prepared to replicate in the fall. O'Connor tried to cut into the anti-Trump-Republican voting bloc by signaling his independence from his national party, . But in the middle, O'Connor flubbed his answer on Pelosi in an MSNBC interview, which Republicans have deployed against him in their own ads." • Oy. Will voters pick the real Republican? Also: "O'Connor and Balderson will face off again in the general election, and the winner of the special will certainly have a leg up in the race for a full term."

OH-12: "Ohio Congress race pits Trump backers against Democrats" [Associated Press]. "Several voters casting ballots in suburban Westerville Tuesday, both Democrat and Republican, said they saw little difference between the two candidates [Balderson and O'Connor…. It's unclear how much Trump's support helped or hurt Balderson. Described by campaign operatives as a "Whole Foods" district, the largely suburban region features a more affluent and educated voter base than the typical Trump stronghold."

WA-03: "Five 3rd District candidates face off at forum" [The Columbian]. A candidate round-up: "[DOROTHY GASQUE]: "I would forgive student loans, that's the beginning. There's a massive burden on a single generation, they don't deserve that. And let's make college tuition free.'" And: "Infrastructure has a positive return on investment. When we spend money on infrastructure, it increases revenue across the country. How about we stop blowing up infrastructure around the world and rebuilding it? And instead invest in building infrastructure here." • Nice framing on infrastructure. Nothing on health care, sadly.

WA-09: "Sarah Smith wants to build on the Ocasio-Cortez wave in Washington" [KIRO]. "Smith is the progressive challenger to democratic incumbent Rep. Adam Smith's long-held seat in Washington's 9th Congressional District. It compasses an area from Tacoma in the south to Bellevue in the north…. [L]ike her counterparts across the country, Smith sees no reason to run from any association with Socialists. 'If by 'Socialist' you mean that everyone has the right to a dignified life, everyone has a right to healthcare, to be educated, to have a roof over their head, to be paid fair wages for their labor,' Smith said. 'If that's the word we want to use, then I'll take that.' Smith says she is for a federal jobs guarantee, a massive infrastructure overhaul, single-payer healthcare, and debt-free education. But how would such goals be paid for? 'We've managed to find trillions of dollars to keep trapped in this endless cycle of war, and no one blinks an eye,' Smith said." • 

* * *

MI: "Michigan's Primary Has Been Heralded As The Next Test For The "Blue Wave," But What Does It Mean For Muslims In Michigan?" [Belt Magazine]. "Tuesday's primary election in Michigan could see the most significant political breakthrough for American Muslims in U.S. history. The Wolverine State, with its huge and robust Muslim communities in the Detroit suburbs, has 13 Muslims running for offices at the county, state and federal levels this year. This, many activists say, is the result of years of increased Muslim political organizing that has seen Muslims elected for lower offices; in 2015, for example, the suburb of Hamtramck became the first in the U.S. to have a Muslim majority on its city council."

MN Governor: "Minnesota Attorney General — Now Democratic Frontrunner for Governor — Relied on Government Employees for Campaign Work, They Say" [The Intercept] (August 14). "Lori Swanson, Minnesota's three-term attorney general and current candidate for governor, has presided over an office culture in which professional success is linked to the willingness of employees to participate in Swanson's campaign work, eight former and current employees of the attorney general's office told The Intercept…. Former staff and legal observers are also calling attention to other elements of Swanson's record. These include what was widely considered an aggressive union busting effort she conducted early in her first term. Also of note, they say, is a history of touting high-profile lawsuits against corporate defendants and the Trump administration — and then settling or exiting them quietly after the press had moved on." • She's a real Democrat, isn't she?

TX Senate: "Win or lose, Beto O'Rourke's campaign against Ted Cruz could shape Texas politics for years" [Texas Tribune]. "Despite the high enthusiasm the El Paso congressman's campaign has drawn among Democrats, Texas has not elected a Democrat statewide in over 20 years. An informal round of interviews with well over a dozen political players involved in Texas and national politics suggests that Cruz is expected to extend that streak with a re-election victory in the high single digits. While such a margin would amount to significant progress for Democrats from past statewide performances, a loss is a loss, and Cruz's win would likely ensure GOP control of the U.S. Senate for another two years. Even so, O'Rourke's 18-month statewide tour could still help significantly rebuild a flagging state party apparatus. The term being thrown around quietly among Democrats is 'losing forward.'" Losing forward…, Certainly the hiil I want to die on…..

TX: "Texas Democrats Are Actually Optimistic for a Change" [Bloomberg]. "'My party is no longer welcoming to many women, minorities or gays and lesbians,' said Jenifer Sarver. She's an anti-abortion, small-government conservative who worked for George W. Bush and ran unsuccessfully as a Republican for Congress — and says she voted for Hillary Clinton for president in 2016." • See, she's the kind of real Democrat we need!

* * *

"West Virginia's Voatz blockchain voting pilot … is another single-user blockchain as a database" [David Gerard]. "[L]et's just run an ordinary vote, and shove "blockchains" in there somewhere!" • How about let's not innovate, and use hand-marked paper ballots, hand-counted in public? Also too, the company, Voatz ("it rhymes with stoats"), is pretty dodgy:

The Voatz website is running on a box with out of date SSH, Apache (multiple CVSS 9+), PHP etc. https://t.co/o1RvrLbQ0S

— kevin (@GossiTheDog) August 6, 2018
Realignment and Legitimacy
"Charles and David Koch: billionaire donors in the line of fire" [Financial Times]. "On Monday, the Koch network announced it would not be endorsing Kevin Cramer, the Trump-backed candidate in a crucial North Dakota Senate race. The reaction from the president was swift. In a flurry of tweets, Mr Trump condemned the 'globalist' brothers as a "total joke". He wrote: 'I never sought their support because I don't need their money or bad ideas.' While the brothers have never publicly endorsed Mr Trump — in 2016 Charles equated picking between Mr Trump and Hillary Clinton to choosing between 'cancer and a heart attack' — the feud appears to draw a dividing line between the most powerful Republican family in the US and the new brand of the Grand Old Party, represented by the president and his base. It is unclear which side holds the upper hand." • I don't know the Republican Party well enough to assess this. Perhaps the Kochs "have no place to go," despite the best efforts of liberal Democrats to entice them ito #TheResistance?

"A Democratic Socialist Could Beat Trump" [The Weekly Standard]. "Netroots Nation—a relic of the Deaniac left—took place in New Orleans this past weekend, and the good little Democratic socialists there have done their autopsy on 2016 and concluded that the answer for 2020 is for the Democratic party to counter Donald Trump's wins in Wisconsin, Pennsylvania, and Michigan by . . . going further to the left." • Quite correct, if your strategy is to flip Obama voters back to the Democrats with a policy-based appeal. Of course, that's not the Democrat strategy: They want to flip wealthy suburbanite Trump voters their way.

"Who's Afraid of Judith Shklar?" [Foreign Policy]. "Shklar's was a liberalism motivated not by a summum bonum, an ultimate good, but by a summum malum, an ultimate evil, something to be avoidedShklar's was a liberalism motivated not by a summum bonum, an ultimate good, but by a summum malum, an ultimate evil, something to be avoided: namely, cruelty and the fear it inspires. Liberalism's emphasis on restraint, she argued, should be motivated by the distinctive political evil of living in fear of state violence and cruelty. This was how liberalism could ensure it remained anti-statist in the right way: focused on the most dangerous branches and uses of state power, without giving up on state authority to restrain private cruelty as well." • Interesting, given… well, the past 40 years since the neoliberal turn.

"How Liberalism Self-Destructed" [Umair Haque, Medium]. "Liberalism, once a great and noble philosophy, split into three factions — neoliberalism, libertarianism, and "classical liberalism" (I'll come back to that one). These factions, like stone age tribesmen gleefully performing a lobotomy, hacked and chopped away at liberalism, blow by crushing blow, until all that was left was a drooling, snarling, spitting, twitching zombie: predatory capitalism… [P]redatory capitalism created a class of oligarchs richer than the kings of yore — and in many ways, more powerful, too. Untouchable, above the law, beyond reproach. The wealthier this class of ultra-rich got, the more that the middle and working class collapsed. Inequality spiraled out of control. People lost faith in all the great liberal institutions — law, rights, constitutions, knowledge, democracy itself — because it seemed that the only real purpose of those institutions was to allow the ultra-rich to prey on the poor, exacting crippling tribute for the most basic of things. Not paid in wheat or silver, but cold, hard, cash. Insulin that costs $1000? Childbirth that costs $30K? These three factions… made liberalism self-destruct — by turning it into a mechanism for the one exact thing, a millennium or so ago, it was created to destroy: feudal, dynastic, untouchable, predatory elites skimming off an economy's surplus, amassing all a society's wealth for themselves." • Not the sort of thing one expects from the one-time most popular author at the Harvard Business Review. The waters must have risen higher than I thought.

"The Democratic Party Has Entered Its No Bullsh*t Phase" [Sam Stein, The Daily Beast]. • Big if true.
Stats Watch
Only one stat:
JOLTS, June 2018: "Job openings were little changed while remaining abundant" [Econoday]. And: "for the third consecutive month, there were more job openings than people unemployed. Also note that the number of job openings has exceeded the number of hires since January 2015" [Calculated Risk]. "Job openings are at a high level, and quits are increasing year-over-year. This was a strong report."
Shipping: "Said to Contain clause – should it be allowed or not..??" [Shipping & Freight Resource]. "[I]t is VERY IMPORTANT that the shipping line shows the SAID TO CONTAIN clause on the bill of lading….. The shipper collects the empty from the shipping line, packs it, seals it and delivers the full container to the port.. The line may not even get to sniff the container." • A candidate for disruption indeed, but possibly in a very bad way.
Banks: "11 Reasons Wells Fargo Is the Most Evil Bank in America" [GritPost]. • It's a crowded fields, but Wells Fargo comes away the winner!
The Bezzle: "As Amazon Enters Government Purchasing Market, Signs of a Bad Deal Emerge" [Governing]. "[Amazon] is moving into local government procurement…. While Amazon and U.S. Communities have touted their partnership as a cost-saver for public agencies and a boon for suppliers, a new report finds that Amazon Business does not always deliver the savings it promises. The report by the Institute for Local Self-Reliance, a frequent critic of Amazon, also argues that Amazon is increasingly cornering the supply market by forcing vendors to sell their products through Amazon." • It's almost like Amazon is using its monopoly power…
The Bezzle: "Tesla's Elon Musk tweets he is 'considering' taking company private" [MarketWatch]. "Tesla Inc. shares jumped as much as 8% midday Tuesday after Chief Executive Elon Musk tweeted that he was "considering" taking the Silicon Valley car maker private at $420 a share. Shares were halted about one hour later for pending news." • 420, eh?
Tech: "Diving Deep into Emerging Tech Reveals Scary Truths" [Industry Week]. "Each emerging technological wonder promises the same type of dramatic fat-trimming reductions and productivity growth as the products plastering late night weight loss or hair-gaining infomercials. Lose 20% downtime in no time! Boost your business confidence in a big way with Big Data analytics!" • A useful survey of manufacturing decision makers on IoT, AI, Robotics and 3D printing.
Transportation: "Producing better batteries means transforming manufacturing" [Automotive IQ]. • Via the Internet of Things? Really?
Rapture Index: Closes up 1 on earthquakes. "Fourteen people have died after a 6.4-magnitude earthquake struck Indonesia ." [Rapture Ready]. Record High, October 10, 2016: 189. Current: 181.
Health Care
"How Medicare Was Won" [The Nation]. "The more crucial variable distinguishing Medicare from the NHI battles that fizzled before and since was a mass movement of people demanding it, having coalesced at a moment when powerful liberatory struggles against white supremacy and poverty had transformed what could be deemed politically possible. Organized labor went all-in for Medicare, which took substantial pressure off unions for their retirees' mounting health-care costs." • This article has lots of useful background, but since when are "struggles against white supremacy and poverty" "powerful liberatory struggles," and Organized labor" is just…. organized labor? Sloppy!
Our Famously Free Press
"The Utility of White-Bashing" [The Atlantic]. More on Sarah Jeong. "The people I've heard archly denounce whites have for the most part been upwardly-mobile people who've proven pretty adept at navigating elite, predominantly white spaces. A lot of them have been whites who pride themselves on their diverse social circles and their enlightened views, and who indulge in their own half-ironic white-bashing to underscore that it is their achieved identity as intelligent, worldly people that counts most, not their ascribed identity as being of recognizably European descent." • Also "Asian American professional," although when you think about it, "Asia American" is a pretty problematic ascribed identity.
Class Warfare
If you don't have dental:
Since my 2014 essay "Poor Teeth" I've received literally thousands of messages like this. My email is thus no longer public but I appreciate when letters find me via business channels. They come from people of all colors & places but say the same thing. It's the honor of my life. pic.twitter.com/M9Eh3eCiCR

— Sarah Smarsh ? (@Sarah_Smarsh) August 6, 2018
"California soon may be first state to require public universities to offer abortion pills" [CalMatters]. "The legislation, which has passed the Senate and is advancing in the Assembly, would mandate that all California State University and University of California campuses make the prescription abortion drug RU 486 available at their on-campus student health centers by Jan. 1, 2022. Funding, at least for the first year, would be provided not by taxpayers but by donations from a private foundation." • BWA-HA-HA-HA-HA-HA!!!! It's a public-private partnership! Idea: Maybe the Legislature could focus on rolling back tuition fees to pre-Reagan days — $600 in 1975. Individual students could then buy RU 486 in bulk if they wanted to. Win-win!
"The Dispossessions of Appalachia: A Review of Ramp Hollow" [Southern Spaces]. "[Steven Stoll's Ramp Hollow recasts] the nature of agriculture and the meaning of land ownership among the European colonialists and their descendants who settled the Appalachian frontier. Stoll likens Appalachia's early settlers to peasants all over the world, who depend on access to a common "ecological base." In the Appalachian instance, this 'base' is the forest: "This is a vast renewable fund of resources that provides spaces for fields, food for gathering, fodder for cattle, and habitat for wild game. The base gives everything but costs nothing". Through the practice of swidden, sometimes pejoratively called slash-and-burn agriculture, settlers cleared portions of the forest and cultivated crops, but their clearings were limited; more importantly, they utilized the forest as a source of wild plants, game, and mast for their free-ranging livestock. Although their economy was 'makeshift,' without extensive surplus or accumulation, these early settlers rarely starved, Stoll asserts, and they should not be considered poor…. As the western edge of European settlement, the mountainous backcountry of eighteenth-century Appalachia briefly represented a space of relative freedom from state enforcement of property rights. Although elites gained formal title to millions of mountainous acres through grant or purchase, they tended to view the land as 'wilderness' and unworthy of investment or even much attention, according to Stoll. A chaos of competing land claims emerged, as well as, in effect, the practice of 'land to the tiller.' Use-rights prevailed. Squatters and small landholders utilized the vast forest without regard to absentee elites and their abstract legal instruments, which went unenforced, thereby irrelevant, and they engaged in a vigorous barter economy with one another." • A glimpse of a possible post-Jackpot future? Assuming the rivers and the land are remediable?
News of The Wired
Braintwisters:
"Escher sentences" are sentences that seem fine at first, but on reflection have no stable interpretation, just like Escher's paintings.

For example, "More people have been to Russia than I have".

An amazing and puzzling class of sentences, and a cool paper exploring them! https://t.co/wGkruFCTsH

— Chaz Firestone (@chazfirestone) August 4, 2018
• Here's the orginal article, "The Anatomy of a Comparative Illusion," which makes me wish I'd majored in semantics, back in the day. Love the test sentences: "Can a man marry his widow's sister?", "More girls have been to Russia than that boy has," "Mary ran a marathon more than John did." Party games!
"I'm addicted to @NYCTSubway" [The Week]. • Good!
Kids these days:
this headline makes me feel very old pic.twitter.com/731xuWnTSh

— eve peyser (@evepeyser) August 6, 2018
• The backstory. And "finsta." Who among us has not wanted multiple identities? And why should adults deny this to teens?
* * *
Readers, feel free to contact me at lambert [UNDERSCORE] strether [DOT] corrente [AT] yahoo [DOT] com, with (a) links, and even better (b) sources I should curate regularly, (c) how to send me a check if you are allergic to PayPal, and (d) to find out how to send me images of plants. Vegetables are fine! Fungi are deemed to be honorary plants! If you want your handle to appear as a credit, please place it at the start of your mail in parentheses: (thus). Otherwise, I will anonymize by using your initials. See the previous Water Cooler (with plant) here. Today's plant (CR):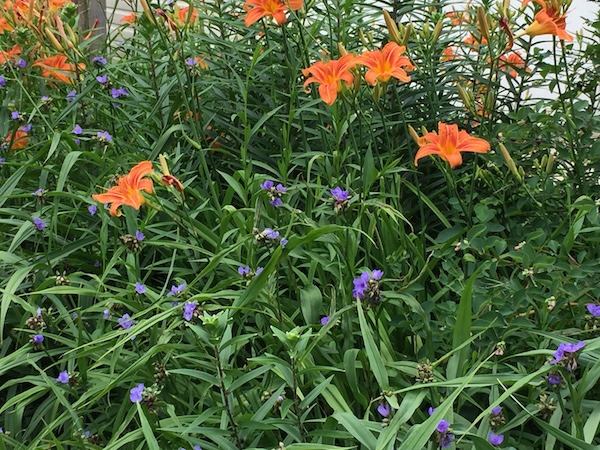 A nice tangle of plants!
And not to overload you with cat pictures, but you see how the heat is getting to all of us: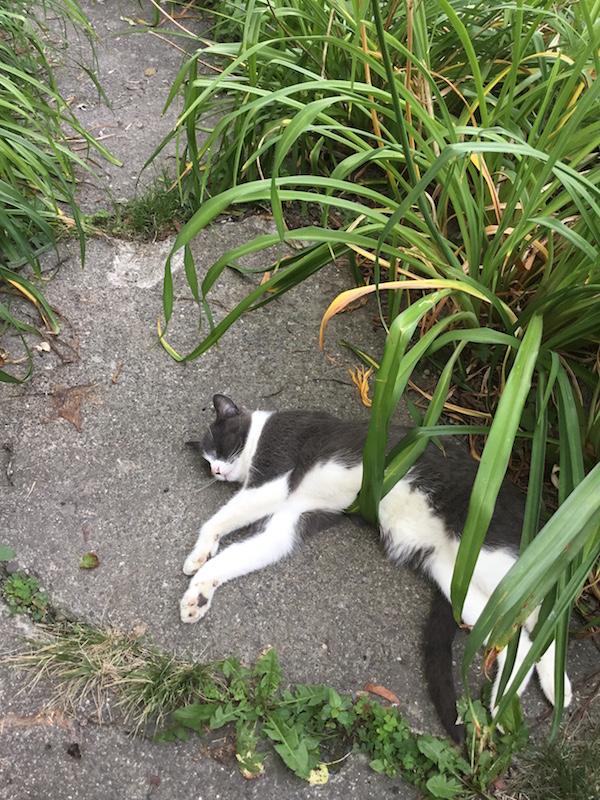 * * *
Readers: Water Cooler is a standalone entity not covered by the annual NC fundraiser. So do feel free to make a contribution today or any day. Here is why: Regular positive feedback both makes me feel good and lets me know I'm on the right track with coverage. When I get no donations for five or ten days I get worried. More tangibly, a constant trickle of small donations helps me with expenses, and I factor that trickle in when setting fundraising goals. So if you see something you especially appreciate, do feel free to click the hat!

To give more, click on the arrow heads to the right of the amount.
If you hate PayPal — even though you can use a credit card or debit card on PayPal — you can email me at lambert [UNDERSCORE] strether [DOT] corrente [AT] yahoo [DOT] com, and I will give you directions on how to send a check.