By Lambert Strether of Corrente.
Trade
"Hope Is Not a Plan: The Myth of American Manufacturing" [Industry Week]. "In building a case for an American manufacturing renaissance, economists cite increasing productivity, cheap natural gas, and rising value-added figures to show that manufacturing is in good shape and will get better. Some of these positivists [sic] also claim that rising labor costs in Asia and the creation of U.S. manufacturing jobs since 2010 are evidence of a big turnaround in manufacturing. There are also some mysterious predictions, shared without data to back them up, that manufacturing exports will grow and imports will shrink… [A]re these stories based on truth or are they just 'happy talk'?" More: "Assessing manufacturing growth requires looking at 12 vital signs of manufacturing and how they are trending. Together, these signs make the case that American manufacturing is declining in terms of market share and employment but can be saved by policy changes." • Notice especially the horrid figures on machine tools: "In 1965, U.S. machine tool builders were responsible for 28% of global production. By 1986, that share had declined to less than 10%. According to the 2016 Gardner Market Research survey, our share of the global machine tool market now stands at 5.8%." If you ain't got machine tools, you ain't got nothing. There is also a list of policy recommendations, including infrastructure, but remarkably not including industrial policy. (Since tariff walls and industrial policies have lifted other Third World countries into the First World, it's entirely natural that both policies, let alone their combination, are anathema to the political class.
"U.S. Trade Representative Robert Lighthizer may be his own worst enemy when it comes to getting a final NAFTA labor chapter that is acceptable to labor unions and congressional Democrats — a group the top trade official badly wants to secure" [Politico]. "U.S. trade negotiators, with help from labor and congressional offices, are now working to try to make the labor chapter fully enforceable, which is a top demand of labor unions. The challenge has been getting around Lighthizer's insistence that the U.S. government shouldn't be bound by any legal challenge brought under the dispute settlement provisions of the agreement. 'They're trying to figure out this clever way of basically how all the different parts of the agreement can be enforceable while still preserving the emergency brake of being able to stop a really egregious decision against the U.S.,' said one source close to Lighthizer. 'I don't know how they are going to round that square.'" • Yes, that's a good question: How to have a labor chapter that's enforceable while simultaneously preserving U.S. sovereignty by abolishing ISDS.
Politics
2018
"Mapping Democrats' Path to 218: The Eight Types of Races That Will Decide the House" [Dave Wasserman, Cook Political Report]. "We've identified eight types of races that will decide the House's fate. The battleground is wide and spans varied slices of America — from the professional suburbs of Minneapolis to, somewhat unexpectedly, the coalfields of southern West Virginia. Here's a breakdown of what Democrats need (and what the GOP needs to prevent) in each of these eight 'buckets' to prevail." Here is a handy map (interactive in the original article, which I recommend. Confusingly, "White Collar Wonderland" is a darkish grey almost indistiguishable from the lighter grey of districts not in play).

Speaking of those "White Collar Wonderlands": "Democrats' path to the majority depends on rapidly souring on the GOP in the Trump era.* Ten GOP incumbents are at risk in highly college-educated districts Clinton carried in 2016: places like Orange County, California, and suburbs of Chicago, Dallas and Kansas City." • I like this granular approach because it avoids the triumphalist vacuity of "Blue Wave," and makes it more clear what the Democrats have to do to win the House. At the same time, since it implies Democrats will double down on their professional base, and even become more conservative than they already are, the empty nature of a Democrat victory becomes clear; worse than 2006, where Pelosi immediately took impeachment off the table, because the country, after eight years of Obama, is in a lot worse shape than it was in 2006. • I reject the term "Trump Era," because I think it's based more on liberal ego-damage than analysis; there are far more continuities than differences between administrations going all the way back to the neoliberal turn; war, for example, and servicing the FIRE sector.

"What's been under-reported is that Republicans won the vast majority of the 11 special elections for U.S. House and Senate seats held since the 2016 election" [RealClearPolitics]. "One of the races, in California's 34th Congressional District, was won by a Democrat in an overwhelmingly Democratic district. In the remaining 10 special elections, where Republicans were defending seats, eight were won by Republicans." • A Republican operative author, but Ballotpedia says 7 of 10, since they're not yet counting OH-12.

FL Senate: "Russians have penetrated some Florida voter registration systems, Sen. Bill Nelson says" [Miami Herald]. "'They have already penetrated certain counties in the state and they now have free rein to move about,' Nelson told the Tampa Bay Times before a campaign event in Tampa. He said something similar a day earlier in Tallahassee but declined to elaborate. ',' the Democrat said Tuesday." • Oh. OK.

UPDATE NY-12: AOC on "how you gonna pay for it?" and #MedicareForAll:


"Every other developed nation in the world does this. Why can't America?"

Democratic congressional candidate Alexandria Ocasio-Cortez (@Ocasio2018) questions why the US pays for "unlimited war" but not Medicare-for-all https://t.co/HbWbAM3R17 pic.twitter.com/ZiLWHov2S7

— Cuomo Prime Time (@CuomoPrimeTime) August 9, 2018

AOC is good on "pay for." However, at 1:00, she says that the reason the Supreme Court upheld ObamaCare is that the monthly payments are a tax. No. The mandate penalties are the tax.

OH-12: "Good news for Democrats after Ohio result – but warning signs too" [Guardian]. "First, the good news. Democrat Danny O'Connor lost by less than 1% in a district that Donald Trump carried by 11%. If other Democrats run just as well in their House races this fall, the Democrats will easily take control of the House… While high turnout among Democrats and anti-Trump former Republicans is good news for them, the disparity in turnout we saw last night between Democratic and Republican areas is unlikely to be so great in the fall. That's because November's election is a regularly scheduled vote for a slew of races, many of which are local and unconnected to Trump. Many reluctant Republicans will turn out to vote for these contests, and in doing so will likely cast unenthusiastic ballots for Republican candidates elsewhere. O'Connor could only come within one point with a strong turnout advantage… .Trump's large margins in Ohio 12 came from former Democrats who switched parties to back the populist billionaire… But to manufacture a blue wave and really wipe out the Republicans they need to boost their appeal among rural, former Democrats. Do that and we could be looking at historic midterm gains for Team Blue." • Lol no. Liberal Democrats would rather chew off their own hands than try to get flipped Obama voters back. And if a play like that was at all likely, we would need to see Pelosi and Schumer at least making some vague gestures toward issues like local manufacturing, or rural broadband, or opiods or — science fiction stuff, here — an actual drop in life expectancy in some of those heartland districts. Na ga happen. Dance with the one that brung ya!

UPDATE OH-12: "The Ohio 12th, the next big 2018 special election, explained" [Vox]. "'I haven't seen a [single-payer] proposal that's gonna move the needle, whether it's budgetarily or coverage-wise,' [O'Connor] said. 'I think voters here are more focused on protecting their access now, not the political jargon and all these catchphrases that have been poll-tested and are proposed by people in Washington, DC — which is what that is.' • Hard to say whether O'Connor is stupid, ignorant, and/or lying. First, why on earth does he imagine that #MedicareForAll would make no difference, "coverage-wise"? It covers everybody! Second, #MedicareForAll is "proposed by people in Washington, DC"? Really? The activists who have been fighting for it for many years would beg to differ! (PNHP, for example, is located in Chicago; very far from K Street.)

"Democrat poised to snag House seat says it's unlikely she'd pick Pelosi for speaker" [CNN]. "Asked on CNN's 'New Day' Thursday morning whether she'd vote for Pelosi, Rashida Tlaib said, 'probably not. I need someone that … is connected with, just the different levels of poverty that's going on, the fact that there are structures and barriers for working families in my district that need to be dismantled,' Tlaib added. 'Supporting big banks and supporting efforts that I don't think put the people first is troubling.'" • Centrists like Scott Moulton don't like Pelosi either…
Realignment and Legitimacy
"Independents uneasy about taking cash, even from indie group" [Associated Press]. "Hoping to capitalize on voter frustration over growing polarization in politics, a group fueled partly by so-called "dark money" plans to spend $3 million this year to elect independents. But some free-spirited lawmakers are declining their help. Unite America [here], formerly known as the Centrist Project [ugh], is endorsing and providing polling for independent gubernatorial and legislative candidates across the country. It's time state legislatures and governor's mansions reflect the increasing proportion of U.S. citizens identifying as independents, said the group's spokesman, Nick Troiano. Polls suggest about four in 10 U.S. adults identify as independent; in 2000, fewer than three in 10 did so. "Independents are independents because they won't want to be told what to do or what to think," he said. But some independents are reluctant to accept the support because they distrust influence by any outside, special interest group. They're also leery of dark money — contributions from groups such as nonprofits that don't have to disclose their donors under federal law." • And so they ought to be. (Unite America is not, apparently, Serve America, the "party" supporting Stephanie Miner in the New York Governor's race. Although with dark money it's hard to tell.)

"An Opportunity to Make Every Vote Count" [Governing]. "Placing voters in their appropriate precincts, districts and wards is a critical part of election administration, and errors are not limited to Virginia. Reports of misassigned voters in Ohio and Georgia surfaced in this year's primary election cycle, and in South Carolina in a special election…. The good news is that there are solutions. Geographic information systems provide a more accurate way not only to draw district lines but also to place voters within their proper voting precincts and districts. Most of the governing bodies drawing district lines do so using GIS, but then in most cases share the converted district information to election officials in textual representations, called metes and bounds, which require the manual placement of voters. That often is the cause of these later-discovered inaccuracies." • Thinking in Jackpot terms… .Can we say that anything digital is, by definition, not resilient?

"Insider Baseball" [Joan Didion, New York Review of Books]. From 1998. Well worth a read; Didion describes the great liberal Democrat debacle before the Clinton campaign, and before the Gore campaign, when the Democrat Establishment managed to stuff Jesse Jackson back into his box and marginalize his politicies, voters, and strategic approach. I still remember Jackson's "They work every day" speech. You don't hear much like that from today's liberal Democrats, and when they try to fake it, it's embarassing.

"Nudge, not sludge" [Richard Thaler, Science]. "Cass Sunstein and I published a book called Nudge: Improving Decisions About Health, Wealth, and Happiness that offered a simple idea. By improving the environment in which people choose—what we call the 'choice architecture'—they can make wiser choices without restricting any options." • Liberals loved "nudging" because it allowed them to leave markets alone, while letting professionals — the "choice architects" — manipulate everybody else. Well, surprise: "Yet, the same techniques for nudging can be used for less benevolent purposes, [called sludge]. Sludge can take two forms. It can discourage behavior that is in a person's best interest such as claiming a rebate or tax credit, and it can encourage self-defeating behavior such as investing in a deal that is too good to be true." • So, nudge theory has a phishing equilibrium. Who knew? Oddly, or not, "Nobelist' Thaler writes a an entire article on "sludge," while managing to ignore the dopamine loops created on social media by giant Silicon Valley monopolies.
Stats Watch
Wholesale Trade, June 2018: "Wholesale inventories inched up… yet still beat the Econoday consensus expecting a flat reading" [Econoday]. "[T]he stock-to-sales ratio moved up a notch to 1.25. But sales continue to outpace inventories by a large margin year-on-year," And but: [T]he rolling averages tell the real story – and they improved this month. The short term trends are mixed – with the long term trends showing an improving cycle beginning in 2016″ [Econintersect]. "Inventory levels this month are are the high side of normal – but not recessionary. To add to the confusion, year-over-year employment changes and sales growth do not match."
Producer Price Index (Final Demand) ,July 2018: "Wholesale inflation pressures were surprisingly subdued in July, with producer prices for final demand remaining unchanged" [Econoday]. "Lastly, personal consumption prices, which some analysts regard as a preview of the CPI… were down."
Jobless Claims, week of August 4, 2018: "Continuing strength is evident from today's jobless claims data" [Econoday]. And: "This was lower than the consensus forecast. The low level of claims suggest few layoffs" [Calculated Risk].
Shipping: "Women make better drivers than men so why aren't there more during a capacity crunch?" [Freight Waves]. "Yet even during a time of historically-challenging capacity crunch issues, women drivers have still only marginally crept up in driving employment. In recent findings, the percentage of female drivers has increased only marginally from 7.13% in 2016 to 7.89% by the end of 2017…. Without exception, insurance companies have concluded that men are more likely to cause wrecks than women…. 'They think it's male-dominated; it is male-dominated, but they think that they're not welcome, they're not valued, and they think they can't do the job' [says Ellen Voie.] 'They say things like, 'Well, I'm not mechanically-minded, or I'm not big and burly.' So they talk themselves out of it without even understanding that the industry has changed, and they can do the job and they are valued. As much as anything it's a perception problem. At 8% of women currently in trucking it's as high as it's ever been. So, it's something of a historical problem as well.'"
Shipping: "Demand for logistics services in China is growing as consumption rises and factory activity ticks up. Manbang, also known as Full Truck Alliance Group, matches truck drivers with shippers looking to move cargo, and offers services such as stored value toll cards. Now it's planning to expand into autonomous trucking, and is in talks with U.S. investors for a funding round that would value the startup at $10 billion" [Wall Street Journal]. • I remember a Chinese friend of mine once commented that white-painted crosswalks on the streets meant that the West placed a high value on human life. This was some decades ago, but my guess is that an AI trained with a China dataset would have issues in the United States (which nobody would know how to fix, since AI's are completely opaque).
Shipping: "Uber poised to double investment in freight unit after making it independent" [DC Velocity]. "Uber Technologies Inc.'s decision to operate its freight brokerage division, UberFreight, as a stand-alone business unit is part of a strategy to double the parent's investment in the new unit over the next year, the ride-hailing company said. Under the restructuring, which was announced late yesterday, San Francisco-based Uber Freight will no longer be part of the parent's Advanced Technologies Group. In addition, Uber will close a deal to buy Otto Trucking, one of the two units that had been controlled by Otto, a company that Uber acquired in August 2016 for a reported $680 million…. The parent is still targeting next year for its long-awaited IPO, which is expected to be one of the largest in U.S. history." • Not expected by everyone….
Shipping: "Alphaliner predicts idled box fleet to more than double by end of the year" [Splash 247]. "Box watchers at Alphaliner are predicting the idle container fleet will more than double between now and the end of the year. Alphaliner suggests the idle fleet could grow from the current 341,000 teu to hit 750,000 teu by the end of 2018. The analysts said the leap in idled tonnage was down to the reduction of the active fleet as the slack season approaches, coupled with the delivery of new-built tonnage and the low number of vessels scrapped." • So, seasonality and overbuilding, not tariffs.
Retail: "As Crocs Closes Factories, Who Will Make Its Shoes?" [Wall Street 247]. "Crocs Inc. (NASDAQ: CROX), the maker of odd, casual shoes, posted reasonable earnings. It also said it would shutter all of its manufacturing operations. What it did not say is where its products will be made in the future…. Crocs probably has no legal requirement to tell investors more. However, its silence is another example of how public corporations make important plans and shield the specifics of those plans from shareholders."
The Bezzle: "The World's Largest Cybercrime Empire" [Safe Haven]. "[T]he latest and biggest hacking ring to be busted (sort of) is run by regular Ukrainian guys and employs sophisticated state-sponsored techniques, primarily targeting American businesses and companies… Meet the Fin7 hacking Group, the most costly cybercrime ring in town. The group has earned its stripes as one of the most sophisticated and aggressive hacking organizations in the world, alleged to have leeched a billion dollars from companies in America and around the world. Fin 7, aka Carbanak Group, has stolen more than 15,000 credit card data-sets from at least 3,600 businesses around the world in its years-long operation. The DoJ has already indicted three Ukrainian nationals for their involvement and charged them with 26 counts of felony each, including conspiracy, hacking and wire fraud." • And I thought Ukraine was our friend…
The Bezzle: "YouTube is about to pass Facebook as the second biggest website in US, according to new study" [CNBC]. "Facebook has seen a severe decline in monthly page visits, from 8.5 billion to 4.7 billion in the last two years, according to [a new study shared with CNBC by market research firm SimilarWeb]…. YouTube, which is owned by Google parent Alphabet, has seen increased traffic, the study said." • If Facebook users are going to YouTube (as opposed to WhatsApp and Instagram), they're leaving one toxic social media environment for an even more toxic one.
The Bezzle: "Facebook Is Shedding Massive Traffic and It's Apparently Flocking to YouTube" [247 Wall Street]. "Google trouncing Facebook is a bit ironic, considering it was Google's attempt at a feed-based social network (Google+) that ended up falling flat when it turned out Google already owned a social winner this whole time in the form of YouTube."
The Bezzle: "Who in the world will fund Elon Musk's bid to take Tesla private?" [Quartz]. " A handful of global companies have more than $50 billion in cash and other ready resources on their balance sheets, which could be put to use buying up Tesla's shares. Only 11 fit the bill, according to data from research platform Sentieo." Alphabet, Apple, Berkshire, China, Cisco, Citic Securities, Daiwa, Goldman, Microsoft, Oracle, and Toyota. More: "If these companies don't step up, there are a few financial firms and sovereign wealth funds able to write checks of sufficient size. SoftBank and its Vision Fund, two of the largest sources of private cash out there at the moment, have been named (and dismissed) as possibilities, while sovereign funds such as Saudi Arabia's certainly have the cash." • Or syndicates…
Tech: "Organic flow battery can operate for decades" [EE News Europe]. "'We designed and built a new organic compound that can store electrical energy and also has a very long life before it decomposes,' said Roy Gordon, Professor of Chemistry and Professor of Materials Science [at Harvard]. 'We discovered degradation processes of the molecules that we previously used in flow batteries. Then we created new, more stable molecules that avoid these problems.'"
Fodder for the Bulls: "Leading Index for Commercial Real Estate Increases in July" [Calculated Risk]. "The Dodge Momentum Index moved 1.4% higher in July… According to Dodge, this index leads "construction spending for nonresidential buildings by a full year". This suggests further growth into 2019." • As opposed to copper prices, which are "Honey for the Bears."
Gaia
"First "Photos" of Ocean Carbon Molecules Hold Clues to Future Warming" [Scientific American]. " Earth's oceans are littered with the carcasses of tiny life-forms called phytoplankton that in life form the basis of the marine food chain. These microscopic ghosts contain a reservoir of carbon estimated at a staggering 662 gigatons—200 times greater than the amount stored in all living plants and animals—that could come back to haunt us if unleashed from its watery grave as planet-warming carbon dioxide…. An international team of scientists has now taken the first "photographs" of these molecules in an effort to start parsing that out. This first glimpse suggests that while a catastrophic breakdown and release of carbon seems unlikely, there is much left to understand about the behavior of oceanic carbon." • Unbad news!
Class Warfare
"Tech Workers and Flight Attendants Resist Immigrant Family Separation" [Labor Notes]. "Immigration and Customs Enforcement (ICE) and U.S. Customs and Border Protection (CBP) don't operate in a vacuum. They depend on a host of products and services—including technology produced by software engineers and travel assisted by flight attendants." • Note this is an assault on a fragile supply chain (as detailed here). We can think of ICE and CBP as particularly brutal and not very competent intermediaries.
"Rural Gains Jobs Slowly While New Employment Clusters in Cities" [Daily Yonder]. "More than four out of 10 rural counties lost jobs in the past year, according to a Daily Yonder analysis of federal data. In contrast, only 14 percent of urban counties saw a decline in jobs from June 2017 to June 2018. The jobs survey from the Bureau of Labor Statistics has been telling the same story for the past several years: Employment is concentrating in the nation's urban centers as rural America sees its share of jobs diminish. The nation added over 2.1 million jobs in the last year. Two-thirds of those jobs were found in the urban areas with a million or more people." • If liberal Democrats cared enough to fake it, we'd at least see the leadership tweeting about training programs, or something…
News of The Wired
Essay of the day: The rise of the data oligarchs" [P2P Foundation]. • Useful report on, among other thigs, the GPDR.
"Warm-Blooded Plants" [Damn Interesting]. "Thermogenesis is rare in plants, but does occur in several species of Arum, and in the philodendron, as well as the skunk cabbage. The heat generation of these thermogenic plants is not trivial, either. Recent measurements of the titan arum "Ted", at UC Davis, showed the inflorescence— the flower-like structure of the arum— could maintain a temperature of 32 degrees Centigrade (90 F), well above the surrounding air temperature of 20 C (68 F). The skunk cabbage can do even better, maintaining temperatures as high as 35 C, even when the air temperature is below freezing." • Not new, but still interesting!
News you can use:
I tested positive for morphine (and codeine) after eating a Costco poppy seed muffin. People joke about it and think it's an urban legend, but depending upon the cutoff used for the test it absolutely can happen and have real-life implications. https://t.co/zO9DB2cZQe

— Justin Brower (@NaturesPoisons) August 8, 2018
* * *
Readers, feel free to contact me at lambert [UNDERSCORE] strether [DOT] corrente [AT] yahoo [DOT] com, with (a) links, and even better (b) sources I should curate regularly, (c) how to send me a check if you are allergic to PayPal, and (d) to find out how to send me images of plants. Vegetables are fine! Fungi are deemed to be honorary plants! If you want your handle to appear as a credit, please place it at the start of your mail in parentheses: (thus). Otherwise, I will anonymize by using your initials. See the previous Water Cooler (with plant) here. Today's plant (ChiGal):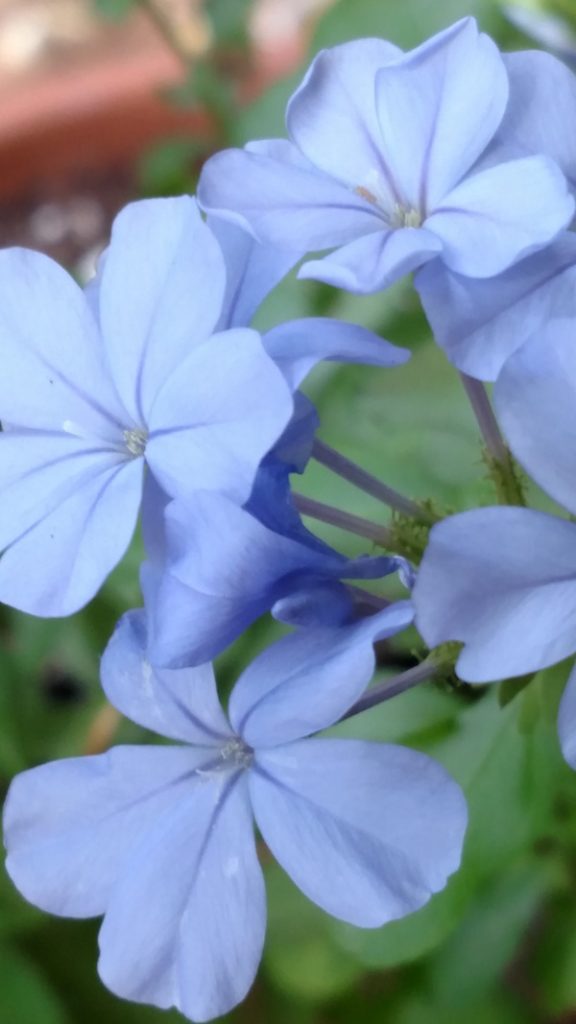 ChiGal: "Plumbago: the definition of summer, refreshing just to look at and doesn't mind the heat, being native to South Africa."
* * *
Readers: Water Cooler is a standalone entity not covered by the annual NC fundraiser. So do feel free to make a contribution today or any day. Here is why: Regular positive feedback both makes me feel good and lets me know I'm on the right track with coverage. When I get no donations for five or ten days I get worried. More tangibly, a constant trickle of small donations helps me with expenses, and I factor that trickle in when setting fundraising goals. So if you see something you especially appreciate, do feel free to click the hat!

To give more, click on the arrow heads to the right of the amount.
If you hate PayPal — even though you can use a credit card or debit card on PayPal — you can email me at lambert [UNDERSCORE] strether [DOT] corrente [AT] yahoo [DOT] com, and I will give you directions on how to send a check.