The Financial Times reports that CalPERS lost over $400 million on Lincoln Timber, a failed 2008 purchase of $2.38 billion of timberland in the southern part of the US. CalPERS exited the remainder of this investment in June, for $1.39 billion, a loss of $355 million on the purchase price. Combined with losses on disposals of previous portions of this holding, the total loss was over $500 million. From the Financial Times:
Combined with previous disposals, it appears that total sales of the forestry land netted $1.85bn, leaving Calpers and its partners with a $534m loss before taking into account lumber revenues, inflation, management fees and debt servicing costs.
The article later states that the giant fund paid $52 million in fees. And of course, there were opportunity costs. Again from the pink paper:
According to Calpers documents, its return on the investment was a negative 0.5 per cent over 10 years, underperforming its benchmark, the NCREIF Timberland Index, by 497 basis points over that time.

"Leverage has exacerbated cash flow issues," said a Calpers external audit last year. "Assets that would otherwise have been allowed to grow and appreciate, have been harvested to manage the debt."
It also appears that CalPERS, as it is sometimes wont to do, timed its sale badly. The Financial Times points out CalPERS was in haste to exit its holdings:
After starting 2018 with the seventh-largest holdings of forestry land on the continent, the Texas sale all but takes Calpers out of the asset class.

"They made a decision to get out and they wanted to get out fast," said Brooks Mendell of Forisk Consulting. "They've basically accomplished that objective.
A seller that is clearly eager to get out seldom gets the best price, and the comment from Mendell suggests that everyone in the market knew CalPERS wanted out of Lincoln Timber badly.
The deal terms were agreed on May 14, which would typically happen after a the deal had been shopped and the seller and buyer had wrangled over key point.
Timber prices have risen this year thanks to Trump's tariff threat. From Bloomberg on May 10:
Lumber prices are really high right now! The Chicago Mercantile Exchange futures contract for the softwood two-by-fours used in framing houses closed at its highest price ever on Tuesday, in fact.
CalPERS has known this deal was in trouble for a while. If you look at the Real Assets Program review from November 2016, on page 38, it lists Lincoln Timber as having a NAV of 78%. Again from Financial Times:
Many pension funds and endowments were lured into woodland in the past decade by the alternative asset class's high returns and lack of correlation with other markets. But the Calpers consortium wound up buying land in the southern US just in time for a construction slump that has depressed log prices in the region to this day.

"It was just badly structured from day one," said JJ Jelincic, a former Calpers board member who left the board in January. Another person familiar with the asset said: "Anything that could have gone wrong, did go wrong."
In the 1990s, CalPERS had been an early entrant into timberland investing, along with Harvard, and had done well with this investment strategy. JJ Jelincic said the Lincoln investment was intended to be the first of a new program, but that a timber portfolio with holdings only in the South, and nothing in the Pacific Northwest, "made no sense". The article effectively shows that the lumber market is regionalized and Southern lumber took a bath after the crisis: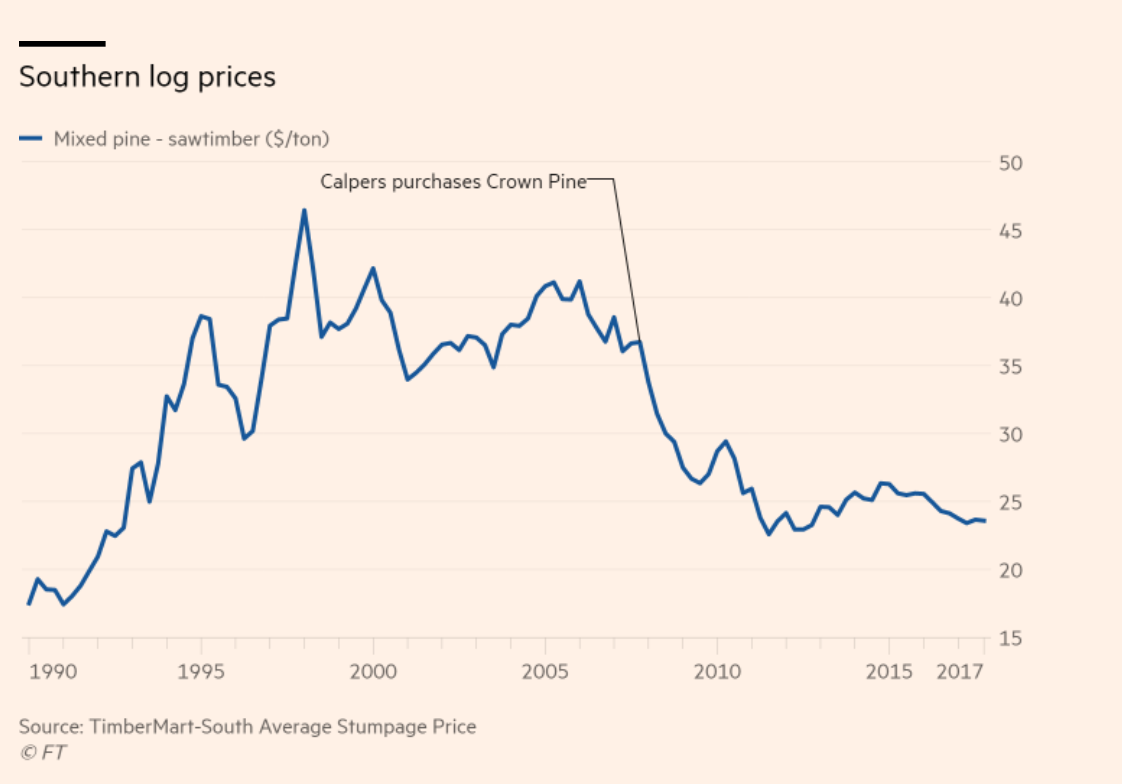 Note that the fund manager, Campbell Global, had previously been a specialist in timber (as one fund manager described it, "They were an expert in trees") that de facto subcontracted to big fund managers, then succeeded in moving up the food chain and became an independent asset manager.
CalPERS managed to get out of tobacco at the bottom of that market. Did CalPERS similarly dump this dog at a particularly poor time? Or was the problem mainly a badly-timed purchase compounded by terrible fund manager decisions? We'll never know for sure, but either way, CalPERS beneficiaries are the losers.
Update 12:15 AM: This story is now the lead story on the Financial Times' website: