Normally, I never write on energy topics, even though, as a resident of the Northeast, I heat the house in the winter. That's because, along with most other Mainers down to the convenience store clerks, I believe the energy markets are totally gamed and rigged, and who wants write about a market like that? Maine also has the oldest housing stock in the nation [ticks box], and the greatest dependence on home heating oil. Back when I heated with oil, I'd run out on the last day or three of the month before the next delivery, and I'd have to take a five-gallon jerry can up to the truck stop, fill it, and pour it down the fill pipe. Oil is nasty! It's ugly, corrosive, and it stinks so badly it gets in your clothes. Clearly, you should never touch it: It's obvious that any sane society would instantly make it a taboo substance and leave it in the ground, forever. Now I've converted to natural gas — as a public utility, they can't shut me off at the end of the month — but come to think of it, I'm not all that enthusastic about an invisible, odorless, explosive substance, either. They added the rotten-egg stink for a reason…
All of which is to say I have strong priors on hydrocarbons as a substance; and I also have strong priors on the politics of fracking, since I view fracking as akin to landfills in their local impact, especially on watersheds (Our resource curses in Maine are trees, water, wind, and "empty" land. Not hydrocarbons, fortunately.) I admit my priors are stronger than my knowledge, but I will carry on as best I can! I was struck by two recently released studies on fracking and water, and the connections I saw between them:
1) "Endocrine-Disrupting Activities and Organic Contaminants Associated with Oil and Gas Operations in Wyoming Groundwater," Christopher D. Kassotis et al, Archives of Environmental Contamination and Toxicology, August 2018

2) "The intensification of the water footprint of hydraulic fracturing," Andrew J. Kondash, et al., Science. August 2018
First, for those who came in late, I'll define fracking, and briefly look at the politics and business of fracking. Then I'll look at the water cycle and compare it to the fracking cycle. After that, I'll look at fracking and groundwater. Finally, I'll look at fracking "sacrifice zones," and conclude.
The Environmental Protection Agency (EPA) defines fracking as follows (PDF). "Frack" from "fracture":
What is Hydraulic Fracturing?
Hydraulic fracturing is a well stimulation process used to maximize the extraction of underground resources – oil, natural gas and geothermal energy. The hydraulic fracturing process includes the acquisition of source , well construction, well stimulation, and waste disposal.
Hydraulic fracturing involves the pressurized injection of fluids commonly made up of and chemical additives into a geologic formation. The pressure exceeds the rock strength and the fluid opens or enlarges fractures in the rock. As the formation is fractured, a "propping agent," such as sand or ceramic beads, is pumped into the fractures to keep them from closing as the pumping pressure is released. The fracturing fluids ( and chemical additives) are then returned back to the surface. Natural gas will flow from pores and fractures in the rock into the well for subsequent extraction.
As you can see, water is involved at every stage of the process, which is why they call it "hydraulic fracking. (Wikipedia has a heavily-linked entry on fracking, but I'm going to keep this discussion at a high level, not distinguishing between oil and gas fracking, for example, or focusing on technical detail.)
Fracking really got its start under the Bush administration, when then Vice President Dick Cheney, the First of His Name, got it exempted from the Safe Drinking Water Act, through the Halliburton Loophole. Food and Water Watch:
Fracking – the extreme oil and gas extraction method that involves blasting millions of gallons of water mixed with toxic chemicals underground at enormous pressures to break apart subterranean rock – has exploded in the last decade…. For this we can thank the Energy Policy Act of 2005, the law that holds the Halliburton Loophole. Named after Dick Cheney and the notorious corporation he led before becoming vice president, the law (championed by Cheney and disgraced Enron founder Kenneth Lay, among others) explicitly exempted fracking operations from key provisions of the Safe Drinking Water Act. These exemptions from one of America's most fundamental environmental protection laws .
Inside Climate News describes the Halliburton Loophole:
The ambiguity is typical of water tested near fracking sites. If water quality has worsened, there is seldom a bright line to the fracking. That's partly because under the Halliburton loophole, , so labs do not know all the substances they should test for. And in many cases, homeowners enter into settlements with energy companies that prohibit them from revealing what happened.
(So if you see Christopher D. Kassotis et all. going through what some might regard as methodological contortions, that's because the Halliburton Loophole makes it impossible to gather the data at the obvious source: The wellhead.) Lest it be thought that fracking is a creature of those mean Republicans, here's how the fracking industry did under the Obama administration. From CNN:
America's biggest oil boom came under Obama

Believe it or not, Obama has presided over the biggest increase in oil production in American history, even if he can't take direct credit for it all.

The U.S. was pumping just 5.1 million barrels per day when Obama took office in January 2009, according to the U.S. Energy Information Administration.

Fast forward to April and the U.S. produced 8.9 million barrels per day. That's an incredible 74% increase. In fact, in 2015, the U.S. pumped the most oil in 43 years.

The U.S. is now the world's No. 1 petroleum producer when you count not just crude but also liquified natural gas.
(To his credit[1], Obama at least attempted to reverse the Halliburton Loophole through regulation, but the effort was defeated in court, and seems to have died there. Another Obama-era regulation prevented fracking in national parks, which Trump reversed.[2])
So the fracking industry was done quite well politically (and, given that one (that is, "I") can heat one's home with it, quite well for households, too). But as a business… Well, as Kevin Drum wrote in 2017, "Fracking Is a Huge American Money Pit":
Every year, fracking operations in the United States produce more than a billion barrels of oil and gas. And we're basically just giving it all away…

That's right: the whole industry is a huge money sink. If you invested $100 in the S&P 500 a decade ago, you'd have $180 today. If you invested $100 in fracking, you'd have…

$69.

Fracking is bad because it releases methane; bad because it destabilizes fault lines; bad for pumping poisonous dreck into the ground; and of course, bad for climate change. But all along I figured that at least greed could explain why we put up with this. Greed explains a lot of odious human behavior. But
Frankly, I don't know either; cray cray logic like this is why I never write on energy topics. Yes, Silicon Valley had Juicero, but at least Juicero didn't disrupt your endocrine system. Even Elizabeth Holmes didn't do that.[3]
With fracking defined and politics and the business out of the way, let's turn to the water cycle. I learned about the water cycle back in grade school, along with civics. Here's a diagram of the water cycle from the United States Geological Survey (USGS):
Figure 1: The Water Cycle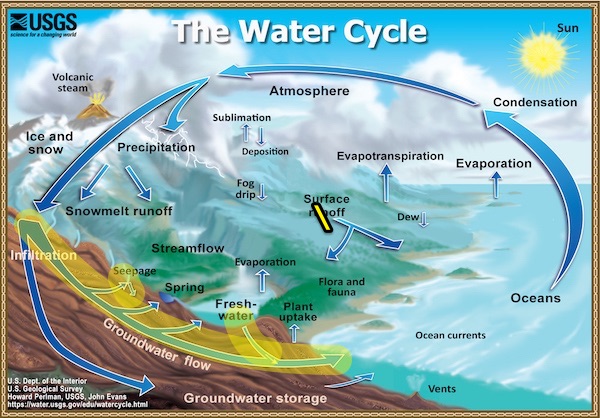 You'll notice that the USGS depicts the cycle as a cycle; specifically, surface water flows into ground water through infiltration, seepage, and from fresh water, but groundwater flows to the surface also through seepage, through springs, and via the ocean. (I've helpfully highlighted the groundwater flow in yellow.)
And here is a diagram of "the fracking cycle" from the EPA:
Figure 2: The Fracking Cycle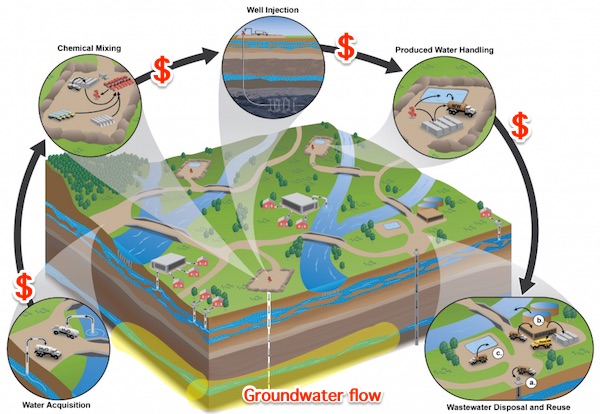 You'll notice that the fracking cycle is not a cycle; it is a linear movement from "water acquistion" to "wastewater disposal," with no involvement of groundwater whatever. (I've helpfully highlighted the presumably ever-pristine groundwater in yellow.)
So, who is right? The USGS or the EPA? Our first study, "Endocrine-Disrupting Activities and Organic Contaminants Associated with Oil and Gas Operations in Wyoming Groundwater," provides the answer. From the rather dense abstract:
Unconventional oil and natural gas (UOG) operations couple horizontal drilling with hydraulic fracturing… Hydraulic fracturing, a common form of stimulation, involves the high-pressure injection of water, chemicals, and sand to fracture the target layer and release trapped natural gas and/or oil. Spills and/or discharges of wastewater have been shown to impact surface, ground, and drinking water. The goals of this study were to characterize the endocrine activities and from conventional oil and gas (COG) and UOG production regions of Wyoming. Groundwater samples were collected from each region, solid-phase extracted, and assessed for endocrine activities (estrogen, androgen, progesterone, glucocorticoid, and thyroid receptor agonism and antagonism), using reporter gene assays in human endometrial cells. Water samples from UOG and conventional oil areas exhibited greater ER antagonist activities than water samples from conventional gas areas. [fracking] , suggesting there may be a UOG-related impact on these endocrine activities. . A unique suite of contaminants was observed in groundwater from a permitted drinking water well at a COG well pad and not at any UOG sites; high levels of endocrine activities (most notably, maximal estrogenic activity) were noted there, suggesting putative impacts on endocrine bioactivities by COG. As such, we report operations in Wyoming.
So, from this study we know what the Halliburton Loophole seeks to prevent us from knowing: (1) Fracking contaminates groundwater and with it, the water cycle, and with (2) endocrine cycle-disrupting chemicals. This is bad. Lead author Christopher Kassotis:
"[KASSOTIS:] There are really no other known progesterone antagonists [disruptors] in the environment. The only other is RU 486 – the morning after pill. Traces [of RU 486] might show up in sewage water, but that's not at high levels and that's not common.
The Casper Star Tribune summarizes:
Thus, the study's conclusion: Groundwater from near a fracked field disrupts human cells in ways that adversely affect the critical endocrine hormone messaging system, and to a more serious degree than polluted groundwater near a conventional oil and gas operation.
The fracking industry and local fracking-dependent compradors are, as one might expect, fighting the study tooth and nail, and although I'd welcome reader comment, it looks like a sound, common-sense study to me; the Archives is peer-reviewed.
From the fact of fracking's contamination of the water cycle, let's turn to the amount of water used, and the distribution of the contamination. That's the subject of our second study, in Science "The intensification of the water footprint of hydraulic fracturing." From the abstract:
The process of hydraulic fracturing uses large volumes of water mixed with chemicals and proppant (sand) to fracture and hold open fractures in low-permeability shale and tight oil rocks to allow extraction of hydrocarbons. Despite higher water intensity (the amount of water used to produce a unit of energy; for example, liters per gigajoules) of hydraulic fracturing compared to conventional vertical oil and gas wells, it has been shown that the overall water withdrawal for hydraulic fracturing is negligible compared to other industrial water uses on a national level. , where water supplies are limited.
First, "egligible" though "overall water withdrawal" may be, holy moley, look at the growth. Courthouse News summarizes:
[A] new study has found that water usage for hydraulic fracturing has increased nearly ninefold in the semi-arid [Permian Basin region in Texas and New Mexico] over a five-year period…. According to the study, the Permian Basin used 42,500 cubic meters per hydraulic fracturing, or fracking, well in 2016 – the most water of all the regions – and experienced during the study period…. in addition to an increase in water use, the that results from the fracking process – known as flowback and produced water – has …. Flowback and produced water, or FP water, has high levels of salts that include toxic materials and naturally occurring radioactive material, which could threaten ecosystems with spills and is extremely expensive to treat, according to the study…. The study called this increase 'alarming given the extreme water scarcity in these regions.
The Sciencestudy presents the "local scale" contamination in these regions in map form:

So, as we can see, the "shale plays" in the West are contaminating the water cycle, presumably with endrocrine disruptors, in arid regions where there's very little water to be had. I don't see how this makes sense, but — see again Kevin Drum's remarks on profitability above — very little about fracking makes sense. These areas have become sacrifice zones, just like colonized Maine sacrifices its groundwater for "trash from away" in landfills, but for what? Not even, it would seem, profit. Except, perhaps, for Michael Burry….
NOTES
[1] WaPo: "'If extracted safely,' Obama said, natural gas is 'the 'bridge fuel' that can power our economy with less of the carbon pollution that causes climate change."" That "if extracted safely" is doing a lot of work. I'm not sure I buy the "bridge fuel" argument, given that drilling for gas also produces methane. But that's not the subject of this post.
[2] And why not, if fracking is not dangerous, as the controlling factions in both major parties insist?
[3] See also "Exploring the endocrine activity of air pollutants associated with unconventional oil and gas extraction," Ashley L. Bolden, et al., March 2018. "Unconventional" meaning fracking.