Yves here. Maybe I should never travel again.
Last year, on a trip to the West Coast where I also had 2 emergency room visits, I managed to lose a 22 karat gold earring that I cannot replace, either $-wise or style-wise.
Tonight, I lost my laptop, which is an over $3k mess given that I will have to buy a replacement (which means used or refurbished, I want the 2015 MacBook Pro) and find and pay someone to set it up and (first) retrieve data from my backups. And I don't have a Mac person right now (I never used to need one, the fact that I do is a symptom of the crapification of the Mac). Add to that the considerable tax on my time (getting laptop, being idled during backup retrieval and set-up/data transfer to new machine). And I have a program I really like on my current Mac which may not run on a more current version of the OS.
I blame it on the gods punishing me for not stumping up to buy a new check-in size bag. I always use carry-ons save when going to Maine, and last year, the airport staff ripped the handle off the big bag I had.
During normal travel, the laptop always goes in my carry-on, (I have very specific routine) so no risk of loss.
I had an old carry-on that was pretty much kaput and had bought a new exact replacement. I took the old carry-on to Alabama and took back a larger bag that my mother is no longer going to use.
I also felt like crap last night and on the flight, so bad that all I did was sit with my eyes closed and feel miserable. In the cab from the airport, all I was thinking about was how fast I could get into bed.
So the big bag went in the trunk. The laptop in its black bag went on the black seat. I somehow got out of the cab without the laptop.
I paid cash and didn't get a receipt (this is where my effort to minimize info about my comings and going comes to bite me, and I really should make a point of getting a receipt, that part was a complete self-inflicetd wound). I have reported the loss to the police, to both of the precincts locations where cab drivers leave lost goods, but I doubt I will see this laptop again.
And on top of that, I was fond of the laptop bag. It was an old Kensington Skin case that was at least 15 years old, simple, lightweight, sturdy shoulder strap, did the job. All the replacement candidates have too many features and are too heavy.
It seems I'm doing ongoing harm to myself starting with when I tripped on my shoelaces in the Atlanta airport on January 1, 2017 and wrecked my hip and ankle and have not been remotely the same since.
I know I'm now just whining, and there are many readers with far more serious hardships. But I am upset not just about this stupid blunder but also that this also now feels like a pattern, that everything I do on a routine basis just gets more and more difficult (among other things, the demands on us just keep going up while our ad revenues have been wobbly) and on top of that, I am regularly making things worse for myself.
Monsanto ordered to pay $289m damages in Roundup cancer trial BBC (David L)
Court Slams EPA For Allowing Pesticide With Known Side Effects Newsy (David L)
Thousands of Farmed Salmon Escape Into the Wild Modern Farmer (Robert S)
Impact of smoke from California's wildfires spreads across the country ThinkProgress (David L)
Are You Listening? Hear What Uninterrupted Silence Sounds Like NPR (Kevin W)
Aggressive wildfire menaces thousands in southern California city Reuters (EM)
Blood Cells Transformed into Neurons New Atlas (David L)
Urinary sodium excretion, blood pressure, cardiovascular disease, and mortality: a community-level prospective epidemiological cohort study Lancet. PlutoniumKun: ""Salt isn't all that bad for you.' This study has been really strongly attacked…. see Independent article: Very low salt intake may be as bad as high levels, international study claims Independent
China?
China Uighurs: One million held in political camps, UN told BBC (David L)

Globalization with Chinese Characteristics Project Syndicate (David L)
Brexit
Britain urged Ireland to reduce emphasis on NI peace in Brexit talks Irish Times. Wowsers.
Syraqistan. Tweets courtesy guurst:
#BREAKING US Foreign Affairs: We express our concern at the raid in #Saada & demand an investigation by Saudi arabia"
USA which has officers in room control giving targets asked KSA the lead of the coalition to make the investigation about the bus full of children they bombed

— Soraya Tebbani (@2flamesburning1) August 9, 2018

#YEMEN La coalition de l'Arabie saoudite au #Yémen (DONT USA GB ET FRANCE FONT PARTIS) a qualifié aujourd'hui LE BOMBARDEMENT D'UN BUS PLEIN D'ENFANTS au centre d'1 ville "opération militaire légitime contre des éléments qui ont tiré un missile contre eux ". VOICI" LES ÉLÉMENTS " pic.twitter.com/GK7xabPBjR

— Soraya Tebbani (@2flamesburning1) August 9, 2018
Turkey
Imperial Collapse Watch
Cables Detail C.I.A. Waterboarding at Secret Prison Run by Gina Haspel New York Times (UserFriendly)
Big Brother is Watching You Watch
Social media posts could ruin your college dreams, lawyer warns RT

Millions of Android Devices Are Vulnerable Right Out of the Box Wired

'Women are devalued and demeaned' at Nike, two ex-employees say in lawsuit CNN (Kevin W)
Trump Transition
Melania Trump's Parents Become U.S. Citizens, Using 'Chain Migration',Trump Hates – New York Times (Chuck L)

Michael Moore's 'Fahrenheit 11/9' Trailer Aims To Expose Trump's 'Evil Genius' Huffington Post (furzy)
Where Governments Are Losing the Most Revenues To Tax Abatements Governing (UserFriendly)
The Latest Pipeline Battle Is Ramping Up in New York Nation (Thomas R)
Dems seek GOP wipeout in California The Hill
Fearing 'blue wave,' drug, insurance companies build single-payer defense The Hill
Transgender candidates could make history in upcoming races Reuters. EM:
So, the 'ideal' Dem-establishment candidate would seem to be a centrist LGBT[whatever] former-intelligence-community person of color who made their real money in Big Finance/Pharma/War. Did I leave anything out?
Engineers Say 'No Thanks' to Silicon Valley Recruiters, Citing Ethical Concerns Spectrum IEEE
Why the Democratic Socialists of America Won't Stop Growing In These Times (UserFriendly)
Millennials Are Sick of Old Politicians but Too Poor to Replace Them Vice
To Learn How to Govern, Go Home Again RealClearPolicy
New McCarthyism
Google Boots Open Source Anti-Censorship Tool From Chrome Store TorrentFreak (Randy K)

Inside Twitter's Struggle Over What Gets Banned New York Times (David L). Yesterday, the Times had a story pumping for Uber…
Ex-Goldman Sachs director claims whistleblowing led to dismissal Financial Times
The State of Modern Money Deficit Owls August 2018 Newsletter (UserFriendly)
A Simple Modern Money Tale – Buckwell Island Establishes a Currency heteconomist (UserFriendly)
The Bond Market Doesn't Control Anything; the Currency-Issuing National Government Does Ellis Winningham. UserFriendly: "MMT explained with some pleasant snark."
Elon Musk and Tesla sued over 'funding secured' tweet Guardian
Fed-up locals are setting electric scooters on fire and burying them at sea Los Angeles Times
Class Warfare
Antidote du jour. Tracie H: "So, this might be hard to make out—because it's just hard to find a poodles face sometimes. It's two young red poodles racing in circles in opposite directions, both airborne when they pass each other."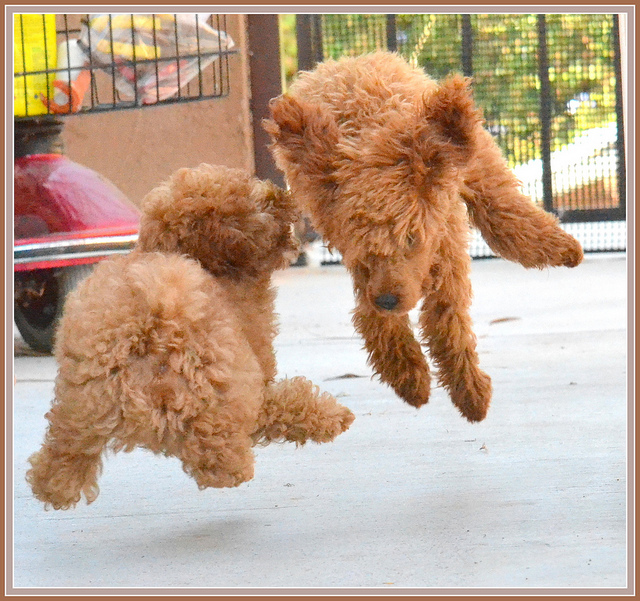 And a bonus antidote of sorts:
It's #WorldLionDay.

? There are only 20,000 African lions left in the world today.

? Their population has dropped 40% in recent years because of hunting and habitat loss.

? They no longer exist in 12 sub-Saharan countries. pic.twitter.com/r2GGm83NKm

— AJ+ (@ajplus) August 10, 2018