Yves here. Apparently some Fed insiders have been arguing for more measured rate increases due to the fact that hot money exiting risking emerging economies could put them in a world of hurt, witness that Argentina and Pakistan have gone tin cup in hand to the IMF. But Turkey sits in a critically important location, and Trump's tariffs have had the effect of kicking the country down the stairs. Turkey has already been Russia and the Chinese have meaningful stakes in the country.
On the banking front, the EU implemented the very badly flawed Bank Recovery and Resolution Directive, IIRC in early 2017. It's a blueprint for creating bank runs. First, there's no EU level deposit guarantee, and national deposit guarantees are supposed to get to be better funded, but now pretty much none are adequate. Second, it requires bail-ins, meaning creditors take a hit rather than taxpayers. That in theory might be a nice idea but banks are far too opaque for creditor to make intelligent decisions about them. so they can't effectively discipline management.
In fact, CoCo bonds, one of the instruments designed to help ease conversion of debt to equity looks to have decreased rather than increased financial stability. From Bloomberg in March:
Bonds that are supposed to make banks stronger may end up causing another crisis.

The 178.6 billion euros ($222 billion) of notes that are meant to absorb losses at European banks — while keeping them a going concern — have gone largely untested. Actually triggering these contingent convertible notes, or CoCos, could spook investors and destabilize other lenders, especially if their volume grows, according to Germany's Bundesbank.

Investors had a taste of that in 2016, when some analysts questioned whether Deutsche Bank AG could make payments on its version of those bonds. It did, but a plunge in the notes made waves and caused the bank to lose revenue as worried clients took their business elsewhere.
Another problem is that banks in Spain and Italy snookered depositors by selling them subordinated bonds (which would be at the head of the wipeout queue) by telling them they were just as good as deposits but had a better yield.
Finally, depositors can get bailed in (witness the resolution of banks in Cyprus). And those were merely deposit-heavy banks. At TBTF type banks, there are lots of secured creditors that are senior to depositors, who are unsecured (of course, you have to look at the legal entities where all these obligations sit to see who gets what, but just sayin').
By Don Quijones. Originally published at Wolf Street
On Friday, the Turkish Lira plunged 15% against the US dollar. Over the past two days, it has plunged 18%. Over the past four months — shown in the chart below — it has plunged 38%: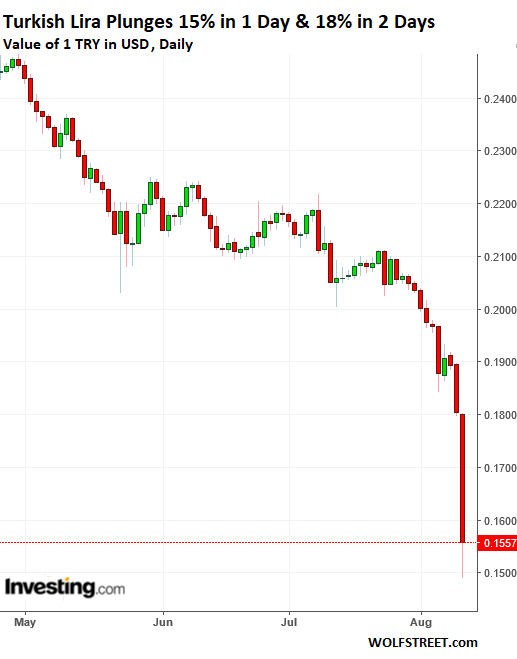 Now even the ECB is beginning to fret about the potential impact the plummeting Turkish Lira may have on Eurozone banks that are heavily exposed to Turkey's economy via large amounts in loans — much of it in euros — through banks they acquired in Turkey. Given the plunge in the lira, companies have trouble servicing their euro loans and are beginning to default. And loans in local currency are plunging in value along with the currency. This is how the currency crisis in Turkey, which is turning into a debt crisis, could set off contagion effects among banks in France, Spain and Italy — a risk we have been exposing for two years.
The ECB is concerned that Turkish borrowers might not be hedged against the lira's weakness and begin to default on foreign currency loans, which account for a staggering 40% of the Turkish banking sector's assets, the FT reported. Turkey leads all other major emerging markets on total foreign-currency-denominated debt (including public debt), which hit nearly 70% of GDP last year (up from 39% in 2009).
Banks in Spain, France and Italy have estimated exposure to Turkey's banking sector of around €135 billion. Spanish lenders alone reportedly are owed just over €80 billion by Turkish borrowers in a mix of local and foreign currencies. French and Italian banks are respectively due just under €40 billion and €18 billion.
If those borrowers begin to default in large numbers, it probably won't be enough to trigger a full-blown Eurozone credit crisis, according tothe brokerage firm Berenberg. But it could cause major headaches for Eurozone banks "that have large credit exposure to Turkey or own Turkish banks."
At the top of the risk list, as we've been warningsince 2016, is Spain's second largest lender, BBVA, whose stock on Friday plunged 5.4% on news that the ECB is concerned that the Spanish bank, along with France's BNP Paribas and Italy's Unicredit, could be particularly impacted by Turkey's gathering currency crisis. According to the FT, the ECB has been following developments at the three lenders closely for the last two months.
The news sparked a rout in the three banks' shares, with Unicredit ending the day 5.1% lower and BNP Paribas down 3.4%. Other large Eurozone banks were also affected, with Deutsche Bank's shares falling 4.2% and the shares of ING, which is also exposed to Turkey, down 4.5%.
But it was BBVA that was hit hardest. The bank, whose shares are now at their lowest point since Oct. 2016, owns about half of Turkey's third largest lender, Turkiye Garanti Bankasi, which provides roughly 15% of BBVA's global revenues. But those revenues are shrinking as the value of the currency they're denominated in, the Turkish Lira, collapses.
Year-to-date, Garanti's shares are down over 40%. Today alone they shed 6.9% of their value. But for BBVA, it's not just the diminishing value of Garanti's stock that poses a problem; it's the crumbling value of the currency in which the stock — and much of Garanti's business — is denominated.
Over the last eight years BBVA has spent€6.9 billion to get its hands on 49.85% of Garanti. Since these purchases, starting in 2010, the Lira has collapsed all along the way. Garanti's current market cap, converted into euros, is €3.7 billion. BBVA's 49.85% stake in it is worth €1.85 billion. In other words, BBVA has lost 73% of its investment.
In similar fashion, Unicredit has seen its €2.5 billion investment in its 40.9% holding in Turkey's Yapi Kredi shrink in value to €1.15 billion. According to analysts at Goldman Sachs, Yapi Kredi is "the weakest positioned of Turkey's biggest banks in terms of capitalization," despite the fact it increased its share capital as recently as May. As for BNP Paribas, the 8th largest bank in the world, it claims that its 72.5% holding of retail bank TEB is "very limited," representing around 2% of overall group commitments. This is not the case with BBVA.
According toanalysts at research group Anonymous, abandoning Turkey would cost BBVA 13% of its tangible book value in lost profits and write-downs. They said such a step would cost Dutch bank ING 9% of its tangible book value, Unicredit 8% and BNP Paribas 3%.
BBVA's CEO, Carlos Torres Vila, recently saidthe bank had no intention of leaving Turkey despite the recent political and financial turmoil. The bank was apparently "really very, very well prepared for the situation," having reduced the weight of its foreign currency portfolio and increased the weight of its inflation-linked instruments. What's more, Turkey has "great economic potential due to its size and its young population," Torres said. And the solution to its current problems "lies in the hands of the Government"
Therein lies a large part of the problem. Turkey's strong-arm president Recep Tayyip Erdogan has no interest in implementing the sort of measures international investors are calling for, such as requesting an emergency bailout from the IMF, much as Argentina did in June, or dialing back his growing interference in monetary and economic policy decisions.
Erdogan has wielded that influence to deliver unending economic growth through unrestrained borrowing, lifting Turkey's debt levels and current account deficit to dangerous levels. Reversing that now could plunge Turkey into a deep recession, if not depression, which would significantly erode Erdogan's popularity.
Erdogan's response to the Lira's collapse today was to exhortthe Turkish public to convert all of their money into Lira in what he described as "an economic war" being waged against Turkey. "Change the euros, the dollars and the gold that you are keeping beneath your pillows into lira at our banks. This is a domestic and national struggle," Erdogan said, according to an Associated Press translation.
This call to action is unlikely to calm the nerves of jittery foreign investors, many of whom are already looking for exit doors as the prospect of capital controls looms ever larger. But for Eurozone banks who have invested billions in acquiring market share in Turkey's fast growing financial sector, walking away will be less easy. By Don Quijones.