Dear patient readers,
I am again sorry for giving you short rations in terms of original posts. I am slogging along on what will hopefully be some titillating original reporting, and am also contending with laptop loss fallout and resulting time sinks. There is still a possibility the TLC can locate the cab (they said they'd get back to me with the results of a detailed search by end of day yesterday but didn't). In the meantime, I am checking out replacement options and consultants. In another proof of the severity of Apple crapification, I was shocked to learn that even on laptops, you can't upgrade the RAM! WTF?!?
Baby squirrel who captivated Germany is safe — and female DW (furzy)
Parrot tells firefighter to 'f*ck off' during rescue attempt Mashable
You can adopt dogs that failed government training for being too 'nice' — here's how This Insider. Dan K: "Certified underdogs."
Elephants rarely get cancer. Here's why this matters to humans CNN (David L)
The science behind rooting for the home team MedicalXpress (Chuck L)
An army of deer ticks carrying Lyme disease is advancing. It will only get worse. Grist
Mystery as Notre Dame holy water POISONS dozens at world famous Paris' cathedral leaving believers suffering severe headaches and 'tingling faces' Sun. Oh, it's just a sin Herxheimer's reaction.
Robot manipulates humans in creepy new experiment. Should we be worried? NBC (furzy)
Ancient natural fission reactor offers clues on how to store modern nuclear waste PhysOrg (Chuck L)
Salting the earth: North Dakota farmers struggle with a toxic byproduct of the oil boom NBC (Chuck L)
'Millennia of human activity': heatwave reveals lost UK archaeological sites Guardian
Natural Cycles just became the first FDA-approved "birth control" app Vox (UserFriendly)
Humans Are the Unwitting Test Subjects in a Worldwide Experiment on Microplastics The Conversation
We're in a new age of obesity. How did it happen? You'd be surprised George Monbiot, Guardian
Brexit
Brexit has reached a dead end DW

British expats in EU launch Brexit legal challenge Guardian. This is silly. Clive by e-mail:

The referendum was, constitutionally-speaking, advisory. It had, legally, as much weight as a Daily Mail headline. Parliament voted to trigger Article 50. It could have voted to trigger Article 50 even without a referendum. If it'd wanted to decide based on the result of a game of Happy Families with Leave and Remain teams competing, it could have done that, too.
From guurst. If you click on the tweet proper, there is a tiny "translate tweet" link at the bottom of the text:
Die Deutsche Welle, mit 300 Mio. Euro pro Jahr staatlich finanziert, und unter Rechtsaufsicht der Bundesregierung, schließt die Leserforen. Offizielle Begründung: unbequeme Leserkommentare "strapazierten das Nervenkostüm der Redakteure erheblich". Na dann. https://t.co/5HTZPgHlrv

— Paul Schreyer (@paul_schreyer) August 13, 2018
Brussels advances fight against Poland over Supreme Court law Politico
Integrity of official statistics under threat Bruegel. On a perverse prosecution.
Turkey
Turkey Shifts Toward Russia as Sanctions Sour U.S. Relations Wall Street Journal

Turkey slaps tariffs on American booze, cars as business groups urge diplomacy CNBC

Turkish Lira Jumps as Regulator Curbs Bank Swap Transactions Bloomberg
New Cold War
US 'shoots itself in the foot' suspending Open Skies Treaty with Russia – retired general RT (Daniel K)

Cuban 'acoustic attack' report on US diplomats flawed, say neurologists Guardian
Syraqiatan
Trump scores an own-goal in the game against Iran Asia Times
Big Brother is Watching You Watch
Los Angeles is first in US to install subway body scanners Associated Press. Great. I see a future with no public transportation for me. I opt out of scanners at the airport. As a reader who has worked on military-related projects has pointed out, if you go through and airport scanner, after as few as two trips, they can match your scan to you, effectively creating a biometric ID

Sacramento welfare investigators track drivers to find fraud. Privacy group raises red flags.

Google tracks users who turn off location history BBC. I've assumed this to be the case, that if your device has GPS location, the only way to disable that is to put it in a Faraday bag or remove the chip.
Imperial Collapse Watch
(Why US Leadership Stinks & Drones Don't Work) Leadership in organizations people believe in Ian Welsh
Trump Tranistion
A Clampdown Slowing Legal, Not Just Illegal, Immigration Wall Street Journal

Paul Manafort Defense Rests Without Calling Any Witnesses Bloomberg. A lawyer buddy says that means Manafort's team is confident that they can win the argument that the government didn't meet its burden of proof. We'll see soon enough if they are right.
America's debt has exploded. Why does no one care? Washington Post. UserFriendly: "Why isn't he behind bars?"
Elizabeth Warren Demands in Letter That U.S. Military Explain Its Role in Yemen Bombings Intercept
We Looked At Hundreds Of Endorsements. Here's Who Democrats Are Listening To. FiveThirtyEight. Dan K:
Gah. There was clearly enough analysis done (mentioned in several detail discussions) to post a second chart aggregating by contest rather than by candidate to eliminate multiple endorsement effects, as discussed here:

In races that have been called so far, 192 candidates were granted that ["gun sense" candidate] label and 79 of them won, for a win rate of 41 percent. But in many cases, gun sense candidates were running against each other in the same districts, which brought their overall win rate down. It might be fairer [ya think?!?!] to look at the how often any gun sense candidate was nominated in races where at least one person received that designation; when we do that, we find that a gun sense candidate won the Democratic nomination in 79 percent of races where Moms Demand Action had awarded the designation to at least one candidate.
Four "Yutes" And Counting: Controversy Grows Over The Judge's Comments In The Manafort Trial Jonathan Turley
Pelosi seizes on anti-corruption message against GOP The Hill
Alexandria on the Daily Show: the Moral Economy and Modern Money New Economic Perspectives
New McCarthyism
"Duhhh, Stop Defending Alex Jones! This Will Never Hurt The Left, Derp Duh!" Caitlin Johnstone
Wells Fargo was hit with more scandal. But does anyone care? American Banker
Bitcoin price – latest updates as cryptocurrency crash towards $6,000 Independent
Bitcoin is 'useless as a payment mechanism and ridiculous as a store of value,' ex-PayPal CEO says CNBC
Nationalists, Technocrats, and Urbanists: A Theory of Today's Politics Medium. IowanX: "I think this is a really interesting take on stuff. A long cup of coffee, but likely evergreen. I like this Andrew Dobbs guy from Austin. Housing IS health care! Who knew!"
Cash Wildfire Spreads Among Young Tech Companies Bloomberg (Li)
Class Warfare
Antidote du jour. From MGL:
Here are series of photos of jellyfish (sorry, can't say what kind) we came upon on shore of Tutka Bay, AK. This one was snagged on barnacles as tide had receded. Have no idea if once cast ashore jellyfish are goners, but we watched as the tide came in to see what would happen. It did indeed break free of barnacles as bottom photo shows, but didn't clearly drift away. We were rooting for it to have a safe return to the bay.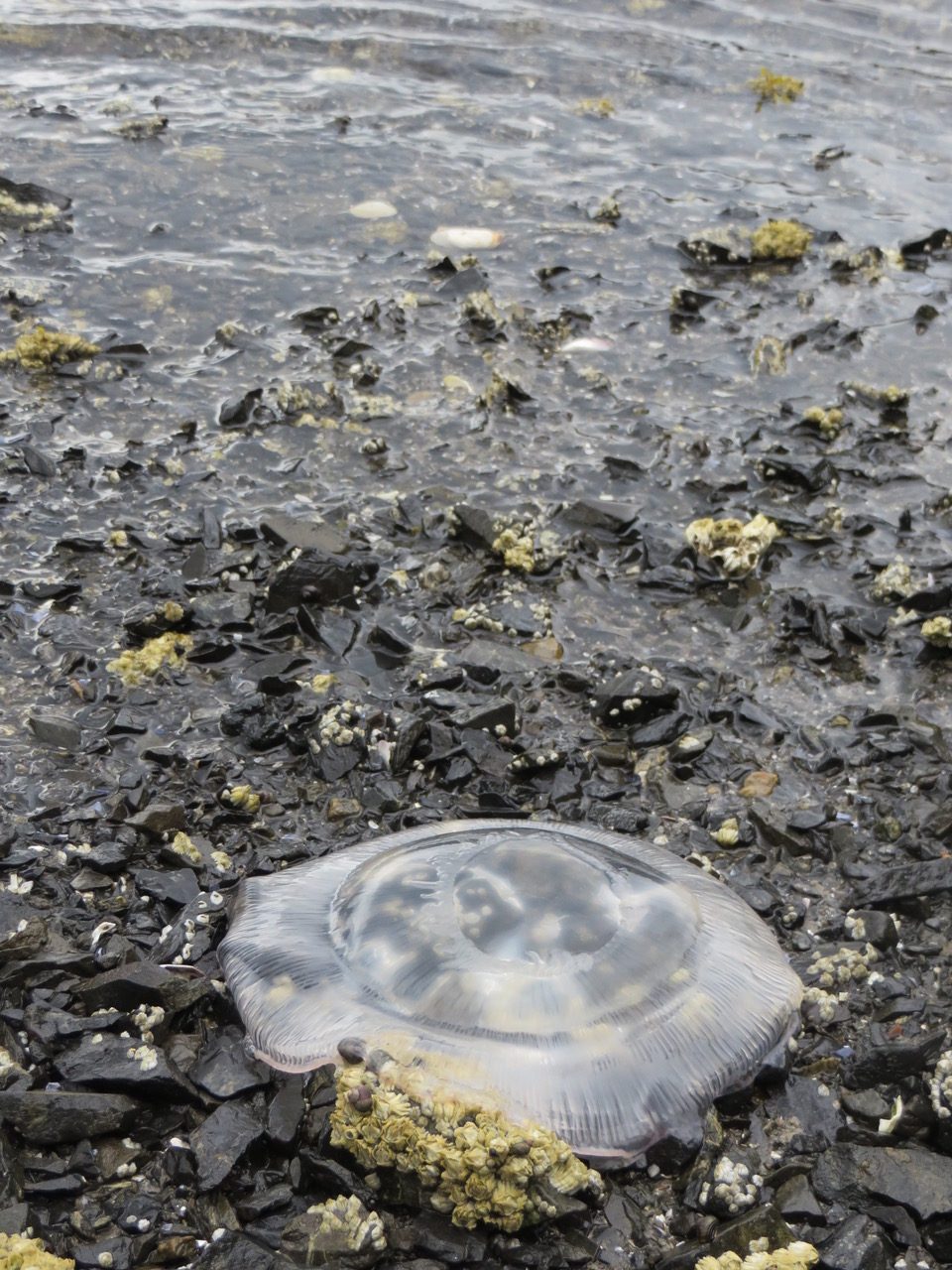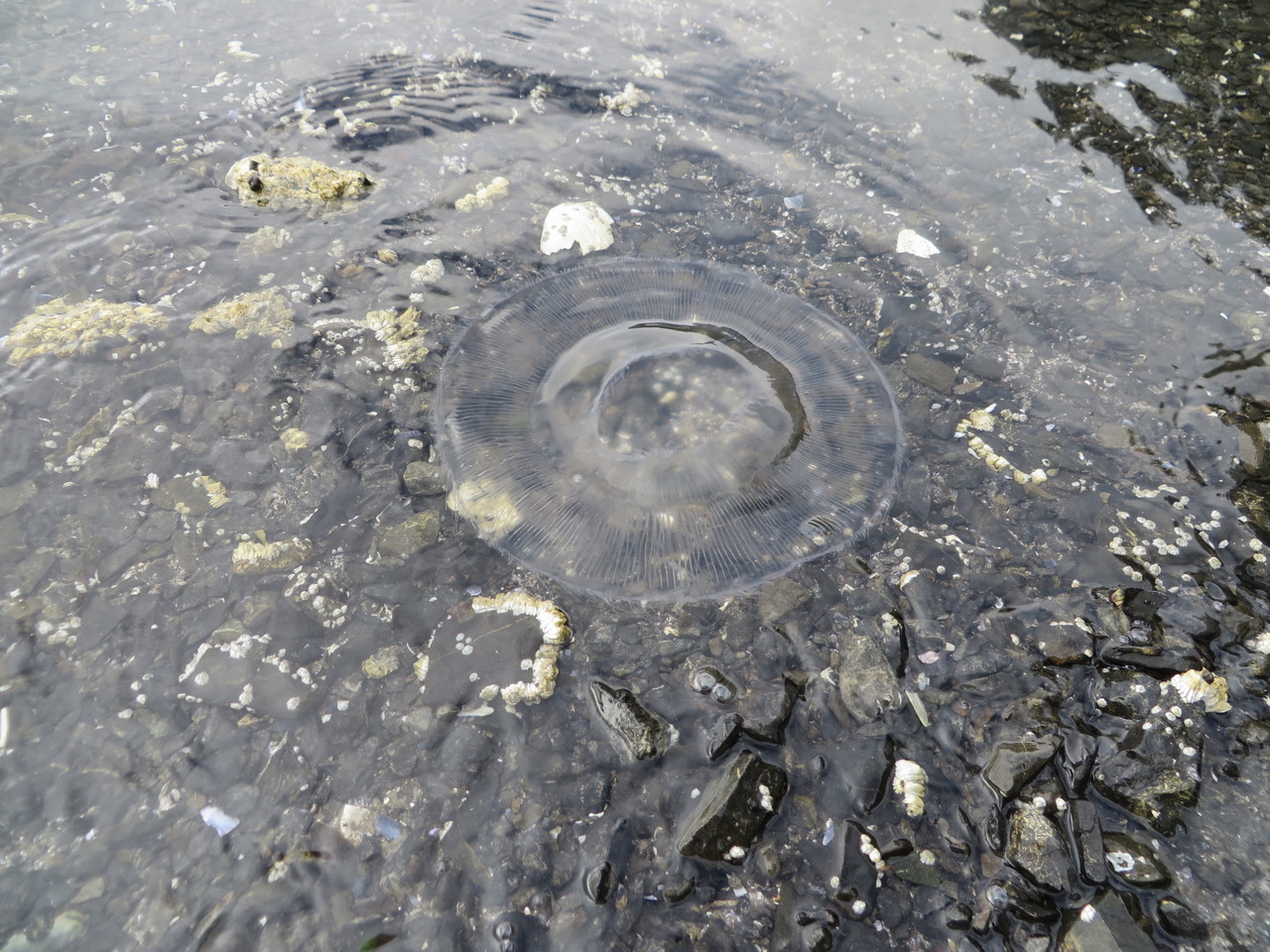 And a sort of anti-antidote from Igancio: "Find attached pictures of 'Plastozilla'. I found this "monster" created to educate people about the risks of plastic waste in Oslo in mid July."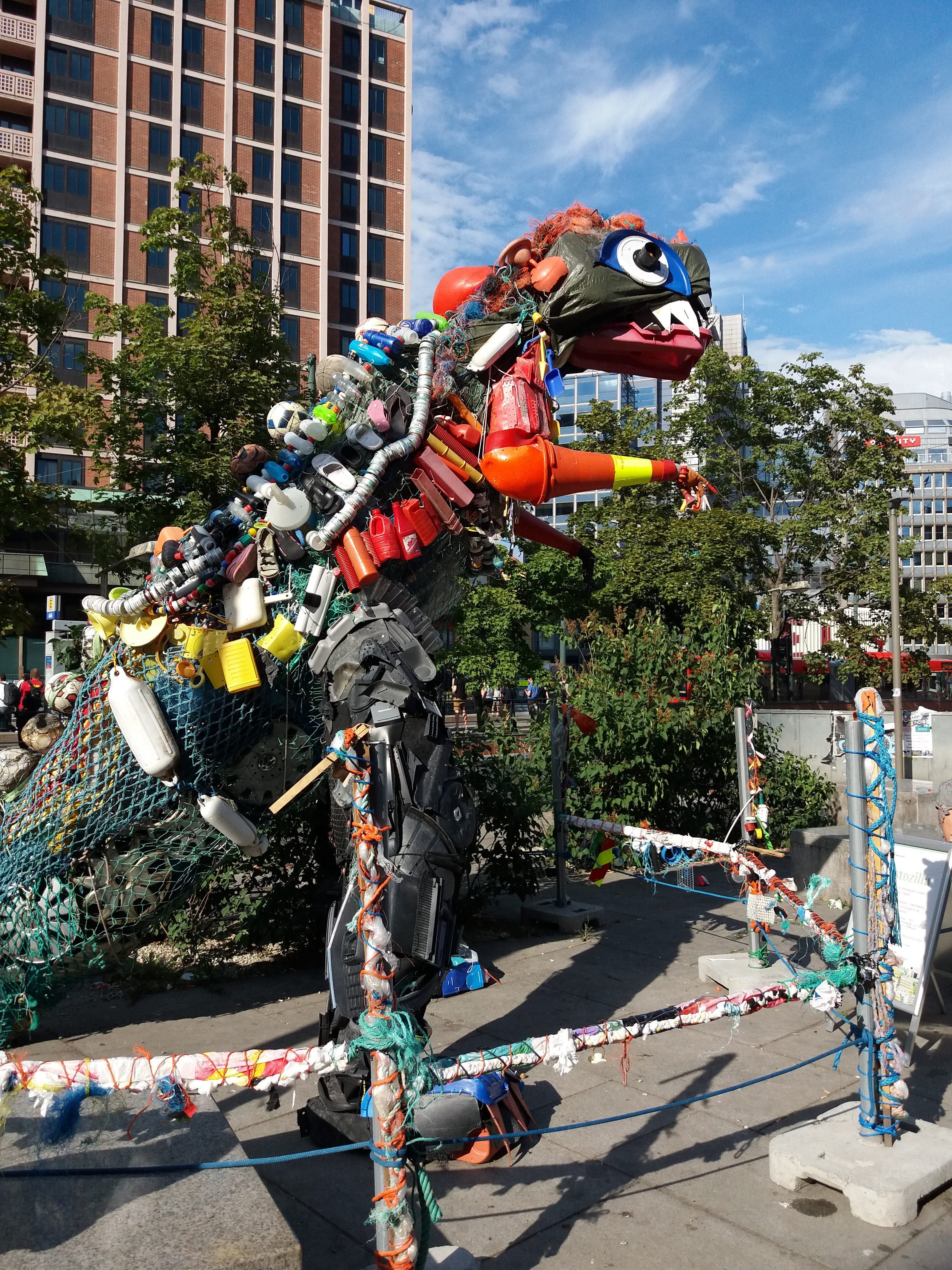 See yesterday's Links and Antidote du Jour here.