Dear patient readers,
A heads up: We'll be having more CalPERS posts than usual over the next few weeks. That is due to the fact that there are important stories we haven't written up yet, and this time of year is good for catching up, plus it is actually timely since board elections start at the beginning of September and are open for a month. Unfortunately, only one seat is being contested, that of Board President Priya Mathur by Corona police officer Jason Perez.
Are our wild animals growing old gracefully? PhysOrg (Robert M)
Milking cows on an industrial scale arrives in western Minnesota, and some farmers shudder Minneapolis Star Tribune (Chuck L)
Study confirms truth behind 'Darwin's moth' PhysOrg (Robert M)
Catholic League On Predatory Priests: It's Not Rape If The Child Isn't Penetrated Patheos (Chuck L)
Facebook flat-out 'lies' about how many people can see its ads – lawsuit The Register
Taming the Tech Monster Project Syndicate (David L)
A Bot Panic Hits Amazon Mechanical Turk Wired
Telling the Truth About Defects in Technology Should Never, Ever, Ever Be Illegal. EVER. Electronic Frontier Foundation (Dan K)
China?
China, Taiwan and a bakery: How a coffee sparked a diplomatic row BBC

China's Uighur Camps Swell as Beijing Widens the Dragnet Wall Street Journal

House Judiciary Committee unanimously approves Reciprocal Access to Tibet Act International Campaign for Tibet (furzy)
"Asia Will Be the Next Source of Downside Systemic Risk for Financial Markets" Wolf Richter
South Korea Is Going Crazy Over a Handful of Refugees Foreign Policy
Europe Needs Its Own Charles de Gaulle Foreign Policy. UserFriendly: "Very interesting. Europe integrated what it shouldn't have and didn't integrate what they should have.
Spending a few days out of the UK, I've been reflecting on what it means to be a UK academic specialising in EU law over these past two years. This is a short personal reflection, which other scholars of the EU may or may not agree with. /1

— Paul James Cardwell (@Cardwell_PJ) August 16, 2018
Turkey
Erdogan blames Trump, but should be looking closer to home Asia Times

Turkey Cut Deeper Into Junk as S&P Sees Recession Next Year Bloomberg
Ukraine has done the equivalent of Germany changing its official Wehrmacht salute back to "Heil Hitler—Sieg Heil"
Congratulations to NATO, Washington think-tank flaks, and all the little Nazis who made this EuroMaidan possible. https://t.co/xAsdzVDdQz

— Mark Ames (@MarkAmesExiled) August 17, 2018
Thanks to a violent US-backed coup and all who supported it, Nicaragua will now have to cut social spending on programs that benefited the poor. Next up: sadistic Nica Act sanctions that will put the country under de facto embargo as it was during the 1980's. #NicaraguaQuierePaz https://t.co/AOW5gq8w4T

— Max Blumenthal (@MaxBlumenthal) August 18, 2018
Big Brother is Watching You Watch
Imperial Collapse Watch
Congress Rushes to Spend Billions on Space Weapons—Even if They Don't Work Defence One (Kevin W)

America Is Committing War Crimes and Doesn't Even Know Why Foreign Policy (UserFriendly)
Tariff Tantrum
U.S., China Plot Road Map to Resolve Trade Dispute by November Wall Street Journal
Trump Transition
The Tired Tricks of Gov. Andrew Cuomo Matt Taibbi, Rolling Stone (UserFriendly)
How FiveThirtyEight's House Model Works FiveThirtyEight
This Sort of Spineless Corporate Pandering Is Why Democrats Keep Losing CommonDreams (UserFriendly)
Bernie Sanders socialism moves to Democratic mainstream The Hill
Bernie Sanders: Andrew Gillum can politically transform Florida Tampa Bay Times (UserFriendly)
Corporate power on the agenda at Jackson Hole Financial Times (David L)
California homeowners get to pass low property taxes to their kids. It's proved highly profitable to an elite group Los Angeles Times
Fake News
Fake America great again MIT Technology Review (David L). I sat next to a Google guy who was working on the "deep fake" problem for YouTube.

An Open Letter to the Colluding Press RealClearPolitics
The fact that @Twitter has tacitly admitted to wrongfully suspending my account makes me think about all the other accounts who get suspended that don't have a large following to make a bunch of noise and object when they are silenced. Glad to be back, but this isn't good enough. https://t.co/LLvFjt9gDw

— Caitlin Johnstone (@caitoz) August 18, 2018
Tesla shares tumble after CEO Elon Musk breaks down in interview Independent
Tesla lost nearly $8 billion in shareholder value this week and its board should be ashamed TechCrunch (EM)
Tesla Board Torn Between Service to Shareholders and Iconic CEO Bloomberg
The Game Has Changed at Tesla Wall Street Journal
Here's the problem with Trump trying to change the rules on how often corporations report earnings Think Progress (Kevin W)
Class Warfare
Antidote du jour. Lawrence R form Pleasant Lake: "Loon chick testing her wings."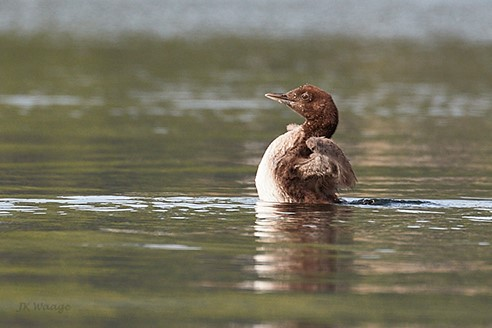 And a bonus video. Franklin was a last minute substitute for Pavarotti at the 1998 Grammy awards. She gave that performance with all of one rehearsal. This is a reprise years later.
And I have to say as much as I like Adele, Aretha's rendition in her 70s of Rolling in the Deep gave me chills.
See yesterday's Links and Antidote du Jour here.