Great Horned Owl who made the police blotter now in the care of Wildlife Rehabilitation and Release YubaNet (Randy K)
The Birth of a Bomb and the Rebirth of a City Angry Bear
Risk of 'Hothouse Earth' despite CO2 cuts BBC. See Trajectories of the Earth System in the Anthropocene PNAS
Climate And Wildfire Science Specialist Weighs In On Worsening Conditions In California NPR
Cal Fire To Trump: We Have Plenty Of Water. The Problem Is Climate Change. Huffington Post (Kevin W)
A New Material That Could Create Super Batteries OilPrice. Vaporware alert.
Workplace Wellness Programs Don't Work Well. Why Some Studies Show Otherwise. New York Times (UserFriendly)
China?
Australia's China reset The Monthly
Brexit
Brexit Noise Drowns Out London's Cry for Help Bloomberg. Vlade: "New term: 'Neglexit.'"
Labour's chief economic adviser confirms it is committed to the thinking that will deliver yet more austerity Richard Murphy. Who will have the heart to tell Artist Taxi Driver?
Syraqistan
Imperial Collapse Watch
The American Sea of Deception Truthdig (RR)

Codename Acor Sycamore – The Saudi-U.S.-Al-Qaeda Operation To Reconquer Canada Moon of Alabama (Kevin W)
Big Brother Is Watching You Watch
Facebook wants your banking information, too Quartz (Kevin W). Original story: Facebook to Banks: Give Us Your Data, We'll Give You Our Users Wall Street Journal. Readers incensed, many threatened to dump their bank if it shared data.
Trump Transition
Stone Cold: Mueller Wins Key Legal Challenge To His Authority As Special Counsel Jonathan Turley

Rick Gates testifies that he committed crimes with Paul Manafort and embezzled money from him Business Insider

Steel Giants With Ties to Trump Officials Block Tariff Relief for Hundreds of Firms New York Times (Scott)
DOJ Says Judge Ignored 'Economics, Common Sense' in Allowing AT&T-Time Warner Deal Wall Street Journal
Kirsten Gillibrand Pays The Price For Speaking Out Against Al Franken Huffington Post. UserFriendly: "LOL Clinton world goes after Gillibrand for being an opportunist."
Democratic challenger hopes to repeat Ocasio-Cortez's success in Washington state Seattle Times (UserFriendly)
Did Climate Change Happen Once Before In Earth's History? Atlantic. UserFriendly: "Stupid headline, it cycled several times, but it gives a good description of how hot the planet can get."
University of Michigan considers less public investment process Bloomberg (Mlle Detroit)
Fake News
Apple, YouTube and Facebook won't silence Alex Jones and Infowars — but their bans will sharply limit his reach Recode

Anonymous vows to take down, expose QAnon TheHill (UserFriendly)
Crisis Retrospective. Brace yourself for lots of words, not much insight, and more than you want to see in the way of blame-shifting. Nevertheless…
Ten Years After the Crash, We Are Still Living in the World It Brutally Remade New York Magazine. A lot of perspectives, including Shiela Bair, Stephanie Kelton, and your humble blogger! Although you can tell I have gone feral. My manner of speaking to the reporter was audibly colloquial rather than elite-speak.
Heat and Humidity Slow Down High-Frequency Trading Due To Microwave Links Slashdot
Financial Health of U.S. Consumer Will Determine Severity of the Next Recession Wall Street on Parade. UserFriendly: "That quote from the student could have been from me, practically the same."
Identity crisis: the insurers moving away from insurance Financial Times (David L)
It Just Doesn't Let Up with Wells Fargo Wolf Street (EM)
Guillotine Watch
Betsy DeVos's summer home deserves a special place in McMansion Hell Vox (Clive, John C)

(A Just World) Hang'em High Ian Welsh (Steve C)
Class Warfare
Left Parties & Neoliberalism – The Real Story Jacobin (Anthony L)

The robot paradox Stumbling and Mumbling (UserFriendly)

Gig Firms Ask California Dems to Rescue Them From Court Ruling Bloomberg (David L)

Separate is still unequal: How patterns of occupational segregation impact pay for black women Economic Policy Institute

The two biggest trends on Earth Axios. About inequality.

Instead of houses, young people have houseplants Economist (UserFriendly). I have cats because they are much more difficult to kill than plants (cats are very vocal as to their needs), but I'd have plants too if I were more successful with them.

'Too Little Too Late': Bankruptcy Booms Among Older Americans New York Times

'Why Elect Progressives? THIS': Shredding of Social Safety Net Blamed as Bankruptcies Soar for Older Americans Common Dreams (Kevin W)

NYC becomes first major city to make jail phone calls free Axios
Antidote du jour. Tracie H: "Mr. and Mrs. Grackle sharing a meal":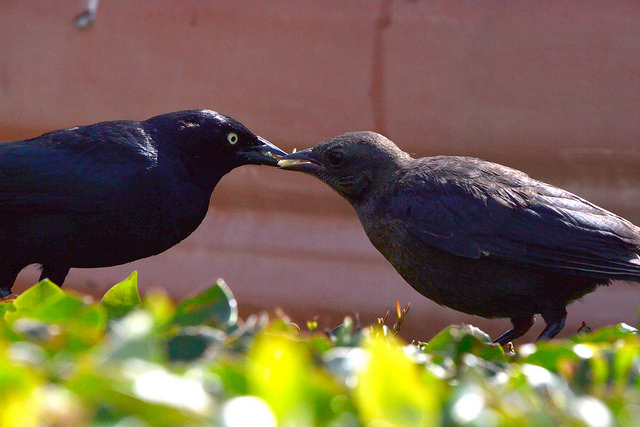 And a bonus video:
See yesterday's Links and Antidote du Jour here.