As short seller David Einhorn has said, "No matter how bad you think it is, it's worse."
On Monday, we wrote about how CalPERS was putting its finger on the scale of the upcoming board election, CalPERS withheld the results of a Public Records Act request repeatedly to deny challenger Jason Perez proof that Board President Priya Mathur had overseen and participated in what appears to be an illegal practice, that of having board members pre-sign Travel Expense Claim forms in blank. The actual amounts would be copied in later. The Board President or as we have learned, Deputy Chief Executive Officer Doug Hoffner, would then approve the claim by signing it themselves.
This is such a clear cut abuse that when General Counsel Matt Jacobs learned about it in January 2018, his immediate reaction was that this was wrong and needed to stop. Curiously, however, Jacobs took no steps to end the practice, nor did he push for the Board to revise written policies that are illegal on their face.
But even though Board member Margaret Brown e-mailed Board President Priya Mathur telling her that the practice was improper, Mathur didn't halt it until we publicized her misconduct months later. And Mathur and the Board still have not changed the policy that calls for board members to submit pre-signed Travel Expense Claim forms.
This picture is already ugly, but it is made worse by the participation of one of the most senior executives of CalPERS, Hoffner. This raises serious doubts about his commitment to fraud prevention and proper controls. It says he is all too willing to accommodate board members even when they are violating state regulations. This "see no evil" attitude is what led to CalPERS to fail to prevent former CEO Fred Buenrostro from taking private-equity-related bribes. He is now serving a four and one half year term in Federal prison.
The Latest Board Abuse: Fraudulent Signatures on Travel Expense Claim Forms
We have evidence of a second layer of abuse, that of fraudulent signatures for the party making the approval. One reader in comments on our earlier post noted that the signature for the recent Board President Rob Feckner didn't look right. We obtained the image of a valid signature from his Oath of Office and compared it to the signatures in the Travel Expense Claim forms we reviewed.1 As our examples later in the post show, many of the signatures indeed don't look right. And a reason to suspect the worst is that the Public Records Act response included e-mails that showed that the head of the Board Services Unit, Karen Perkins, had a signature stamp for Feckner that she used to obtain a cash expense advance….which she had backdated.
This practice is considered to be a fraudulent signature. And it is important to understand why this is a serious abuse. The state-wide Travel Expense Claim form, STD 262A, requires dated signatures of both the party making the claim and the party approving the expense as a certification. As the instructions to the form underscore:
Your signature certifies that expenses claimed were actually incurred in accordance with the provisions of the DPA rules and/or a memorandum of understanding…
Valid signatures are essential to preventing embezzlement and to holding individuals accountable. The fact that state officials, all of whom have sworn oaths of office to uphold California's laws, but can't be bothered to do so with not-terribly time consuming matters exemplifies the toxic culture that we've written about regularly, that CalPERS board members and staff think they are above the law.2
It is also a mystery why Feckner shirked this part of his duty as Board President. Feckner had full time release from his day job. He does not like to fly, so he travels less than other board members. He lives only about a 45 minute drive from Sacramento. It would not have been difficult for him to drive into Sacramento once a month, in addition to board meetings, to approve expenses and handle other administrative matters, or to have the Board Services Unit Fedex him the forms and have him Fedex them back. In fact, published reimbursement claims show that he is in Sacramento two or more times a month and usually for multiple days.
The Funny Looking Signatures and the Impermissible Signature Stamp
Here are some examples of signatures on Travel Expense Claim forms that look sufficiently different from true examples as to raise doubts as to their validity. The "Oath" version is from Feckner's Oath of Office, the second is from the signature stamp used by Karen Perkins and perhaps other members of the Board Services Unit: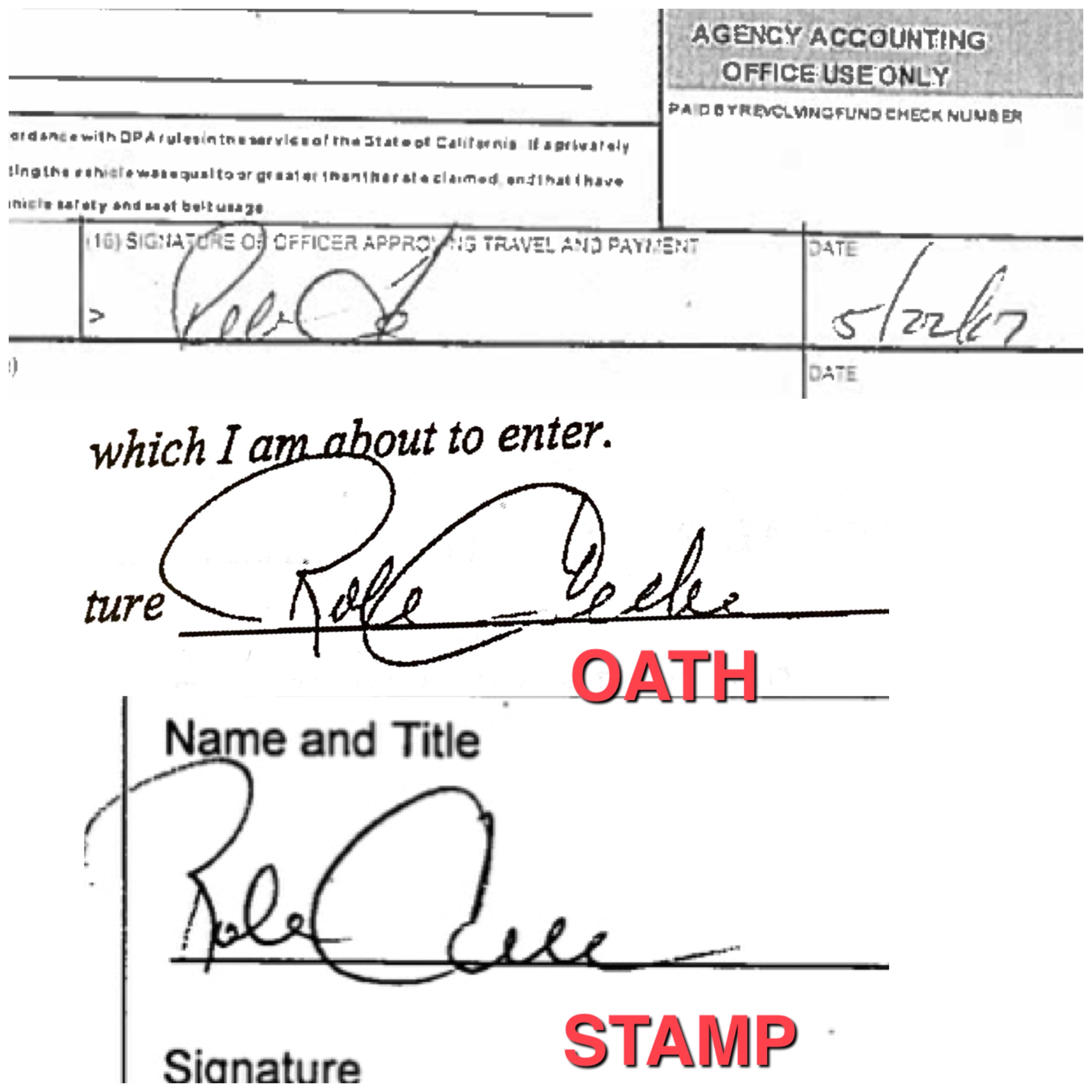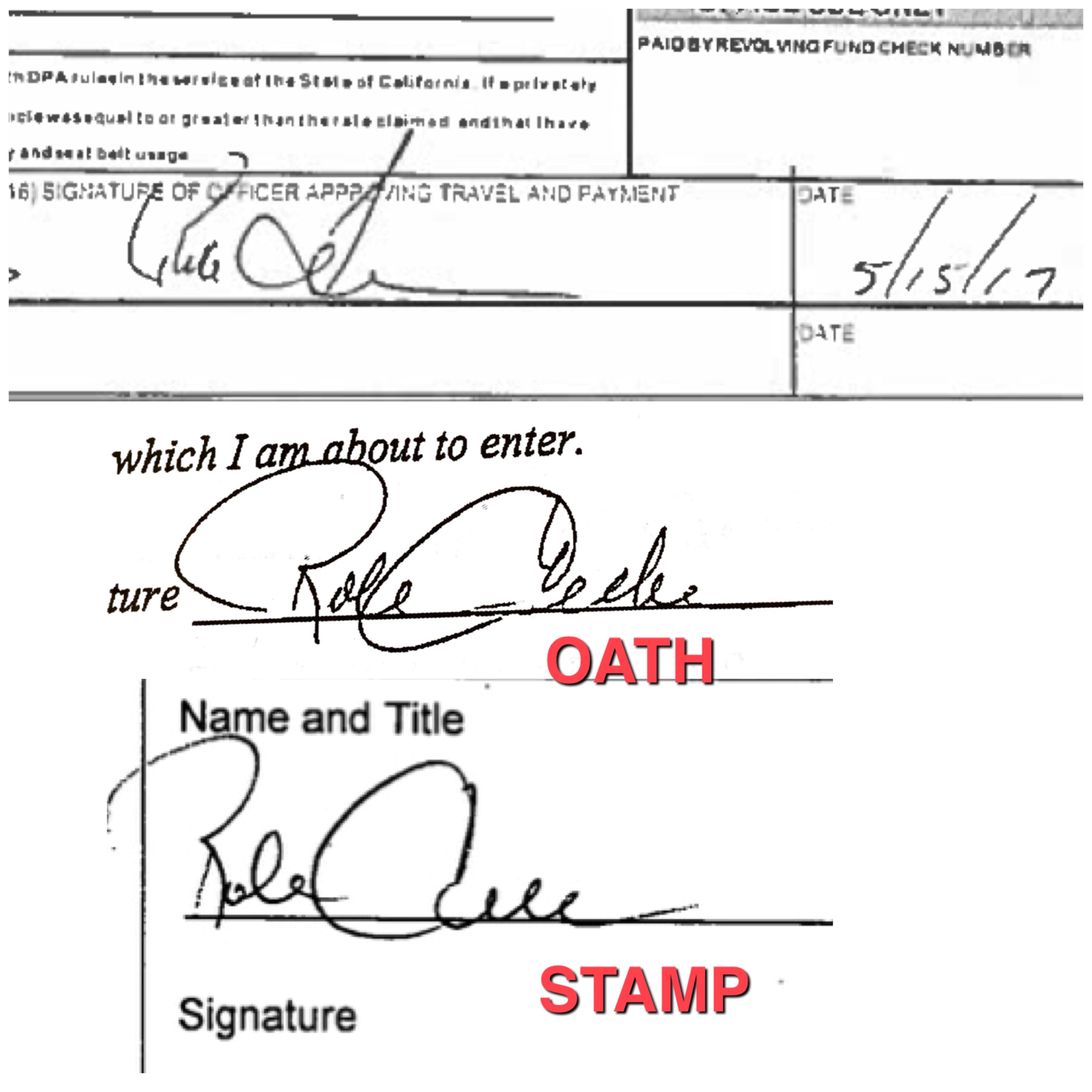 Now for those of you still wondering, "Stamp? What Stamp?" here is an example of how it was used and how we obtained an image of its imprint.
Feckner received request for a cash advance for Board member Theresa Taylor to pay a conference fee via e-mail on April 20 at 3:35 PM. This alone shows poor management by the Board and the Board Services Unit.
The conference fee expense had been approved at the Board Governance meeting the morning of April 19. The transcript shows that both Feckner and Taylor were present.
Magically on the same date two minutes later Karen Perkins sent an email to another member of the Board Services Unit, Cheree Swemdensly, with the approved cash advance. You can see Feckner directed Perkins to use a signature stamp rather than sign as required. Staff normally handles conference payments; this typically does not fall to Board members.
Even if, due to the proximity of the Board approval to the conference date, there was no other option than to use a cash advance to expedite payment of the conference fee, Feckner and Taylor could have easily signed the form in person right after the board meeting.
Yet Perkins also backdated the request to March 30. That makes the payment fraudulent in another way: not just by virtue of the backdating, but also by authorizing a cash payment prior to having received the required Board approval.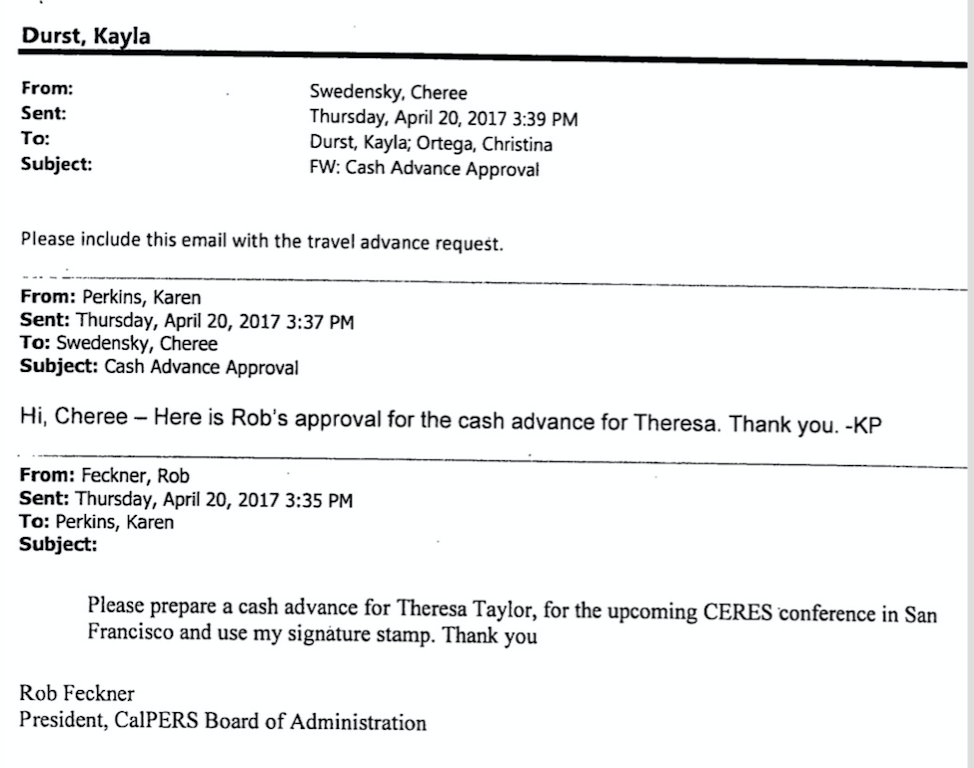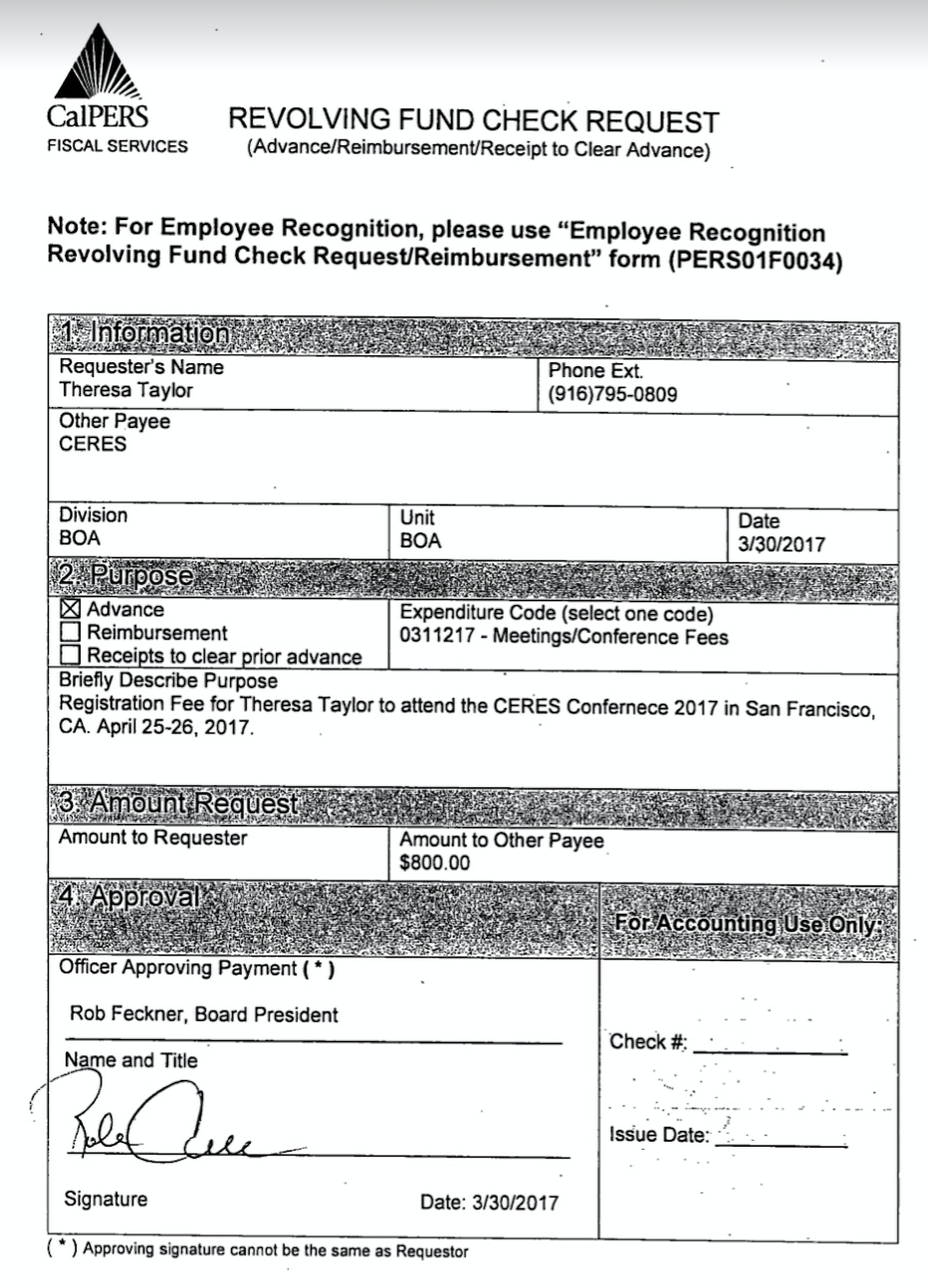 The staff in the Board Services Unit may argue that they were doing what the Board President directed. That answer is unacceptable.
If members of the Board Services Unit are unable to follow State rules and just say no, then the Board Services Unit should be disbanded or their duties distributed to other departments within CalPERS.
Below is a spreadsheet showing the extent of the abuses from a sample of Travel Expense Claims, both the use of the pre-signed form and the apparent fraudulent signatures by Feckner: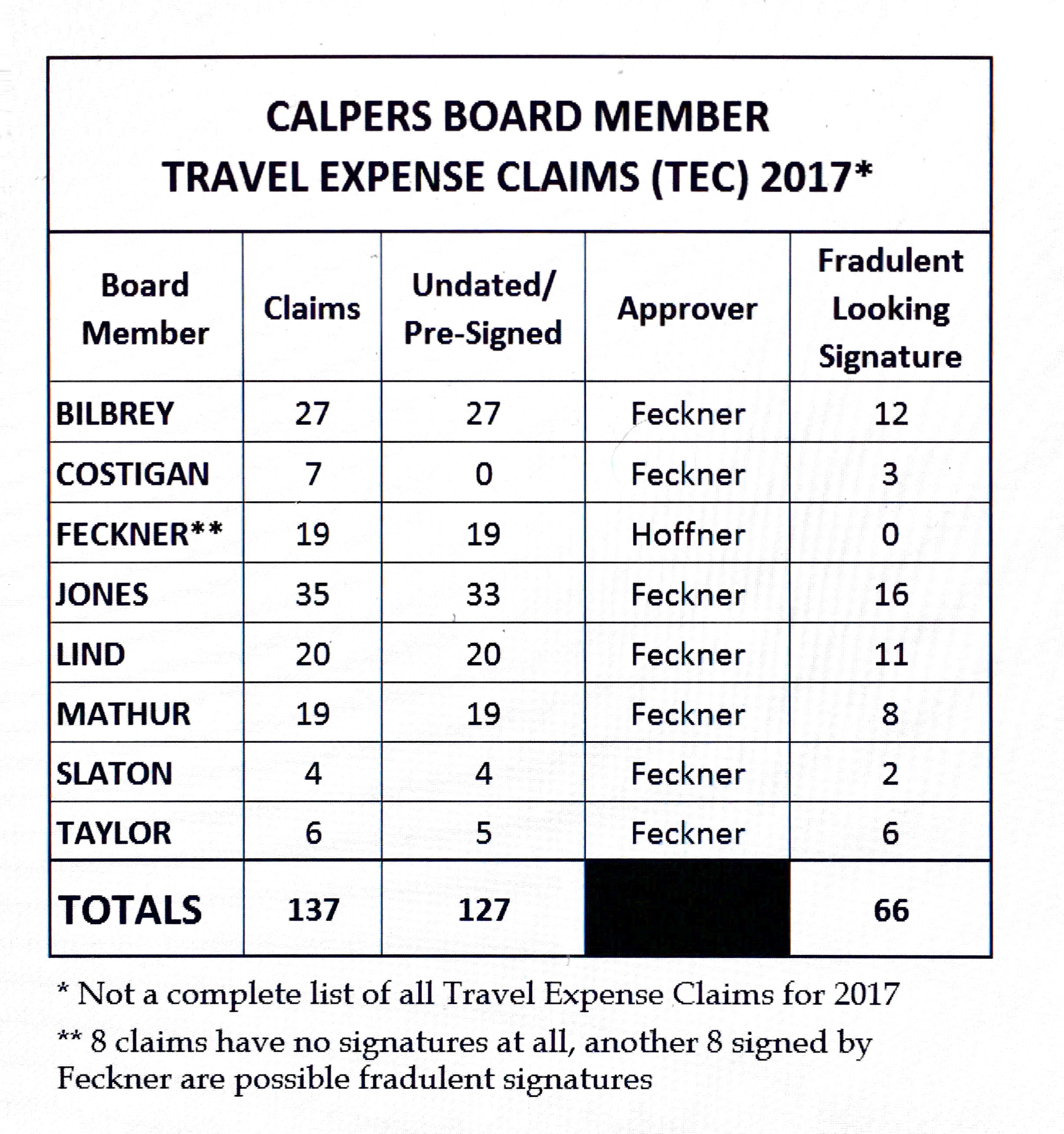 Nearly half of the forms in the sample "signed" by Feckner appear not to have been.3 In addition, the use of the pre-signed forms varied wildly among board members. Richard Costigan, an attorney, never used one and neither did state Controller Betty Yee.
CalPERS needs to launch a thorough, independent audit of all Board and executive staff Travel Expense Claims to identify who participated and determine the extent of the fraud.
This misconduct illustrates how little trust can be placed in the current CalPERS board. If they can't even be bothered to handle their own expenses properly, something that millions of American workers get right every day, how can they possibly be deemed fit to oversee billions of retiree dollars? The time is overdue to turf them out.
____________
1 Our Public Records Act request covered completed Travel Expense Claim forms from January 1, 2017 to May 8, 2018.
2 The hard part about filling out Form STD 262A is assembling the required documentation. Why signing the forms was deemed to be onerous is beyond me.
3 The Board Services Unit was more careful with the Board members that hold other State offices…but still not all that careful. None of them submitted pre-signed Travel Expense Claim forms. They also submitted fewer claims, presumably because a fair bit of the travel they did was on behalf of other agencies and hence not a CalPERS expense. Even so, for Richard Gillihan, one out of the three claims approved by Feckner has an invalid-looking signature. For Richard Costingan, it is two out of seven, and for Betty Yee, it is one out of two.