CalPERS is doing everything it can to put its finger on the scale of the upcoming board election to prop up Board President Priya Mathur over the pro-transparency, pro-reform challenger Jason Perez. This blog became a part of a clear-cut case of CalPERS impermissibly throwing its institutional weight behind the recidivist disclosure-flouting Mathur.
CalPERS repeatedly pushed back the delivery of the records so as to make sure Perez would not be able to prove that Mathur had approved of and participated in the eye-popping practice of having board members pre-sign undated expense forms in blank, in particular the Travel Expense Claim form, STD 262a.
Perez had wanted to include this critical information about Mathur having participated in the criminal practice of submitting a false account in his ballot statement which is sent to all eligible voters. The ballot statement is far and away the most important communication in CalPERS elections.
The reason the Travel Expense Claim form abuse matters isn't simply that it is a flagrant violation of state rules, as well as of board member fiduciary duty. Allowing third parties to have possession of pre-signed, undated forms allows for all sorts of misconduct, such as embezzlement and extortion of board members. Hence calling it out was a simple way to demonstrate Mathur was unfit for office. However, CalPERS enabled Mathur to block Perez from including this key bit of information from his ballot statement by making sure Perez did not get the evidence in time to present to the administrative law judge ruling on Mathur's protests to his statement.
However, there is still some justice in this world. Even with Mathur having prevailed on the pre-signing of Travel Expense Claim forms on false grounds, she lost on five objections she raised and on another four, only got minor wording changes that do not appear to have helped her very much. The resulting Perez ballot statement, which we have embedded at the end of this post, is still brutal.
Background: How CalPERS Board Members Misappropriated Funds
We exposed the pre-signing of undated, blank Travel Expense Claim forms in May. The overview:
The Board Services Unit, which reports to the Board President, asks board members to pre-sign blank sheets of paper with just a blank signature line printed on them. The Board Services Unit later prints onto that signed blank page the body of the travel claim form, with the dollar amounts and date filled in, and submits it on board members' behalf.

Importantly, the form that CalPERS board members have been endorsing in blank requires the signature to certify a statement contained immediately above the signature that validates the accuracy of the information submitted on of the form. As you can see in one of the photos below, that certification is deliberately omitted from the nearly blank page that the board members sign in advance.

That means the Board Services Unit, the Board President as their supervisor, and the board members pre-signing these forms are systematically producing false documents.

This practice is a prescription for fraud. The board members who autograph these pieces of paper are knowingly allowing other individuals to present cobbled-together travel expense forms illegally, as bona fide originals. Under the California Government Code, this is considered to be providing a false account, a form of misappropriation of funds. That is a crime pursuant to Penal Code 424(a)(3).
At their orientation meeting, new board members Margaret Brown and David Miller had been presented with roughly 20 copies of the form and were asked to sign and turn them in right there. Neither of them submitted undated, pre-signed Travel Expense Claim forms.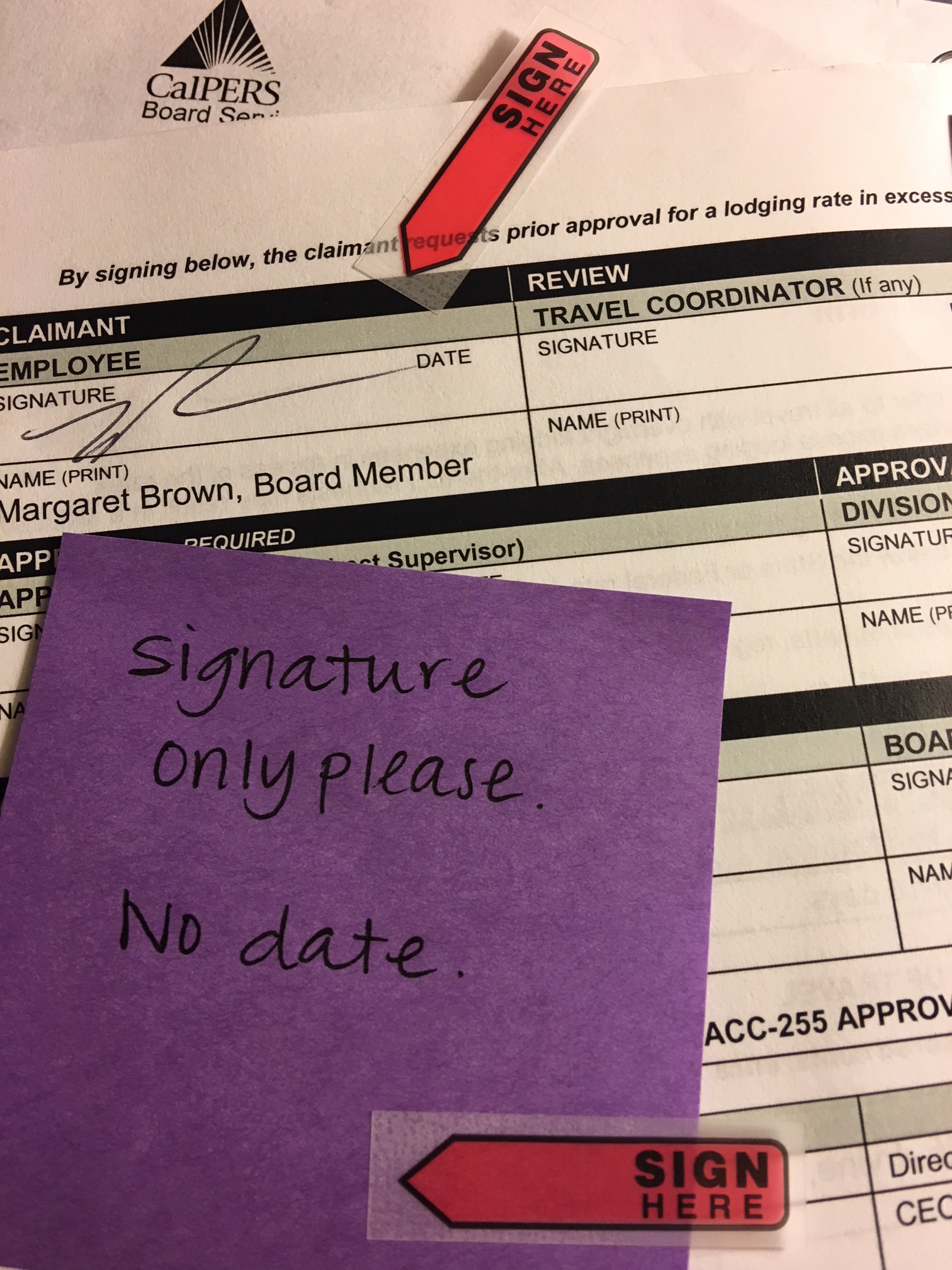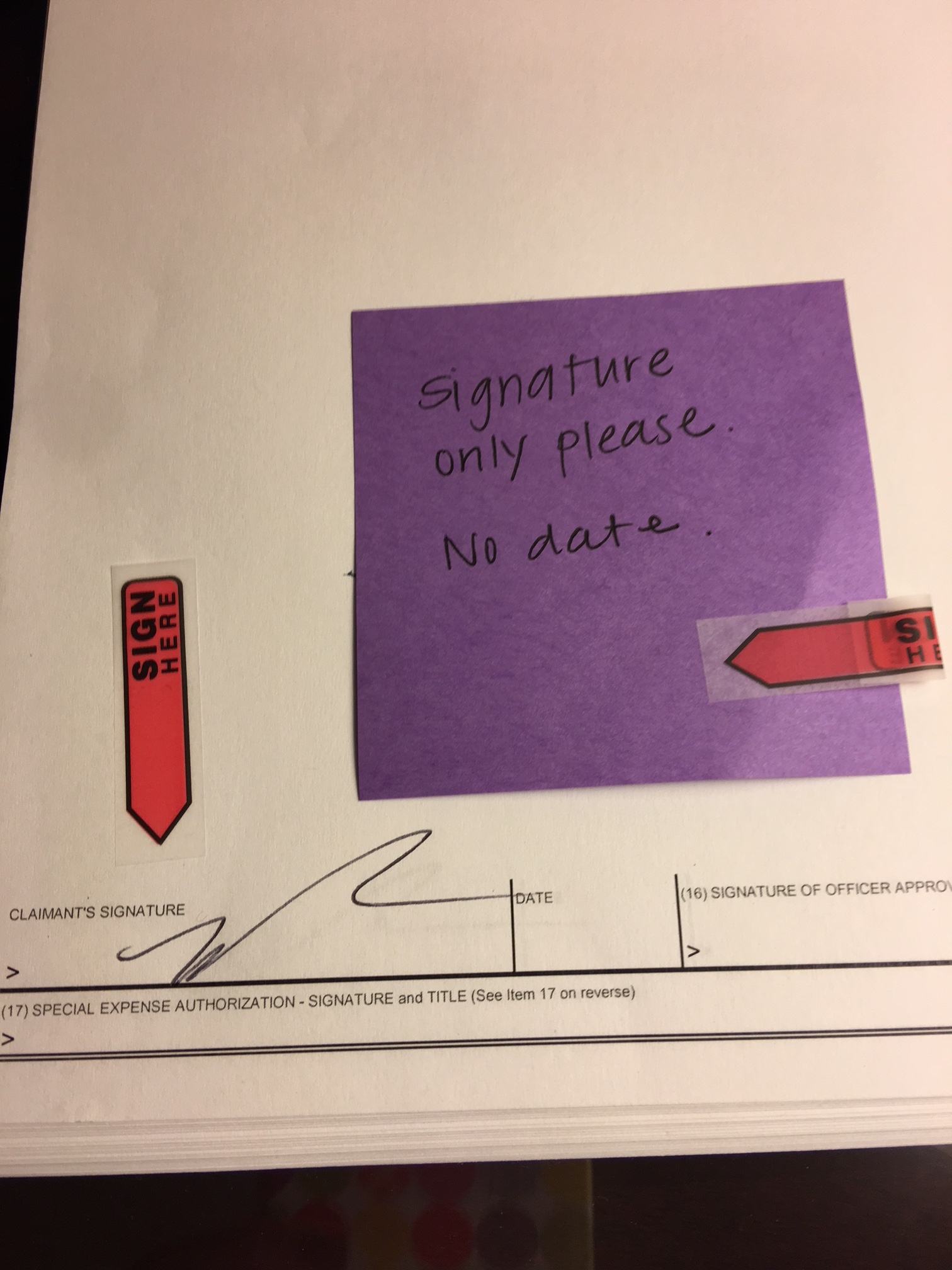 Recall that board member Margaret Brown had raised her concerns about the signing-in-blank policy on January 25 in an e-mail to Mathur.
Yet CalPERS apparently did not suspend the practice of until after our post ran in early May. At least as important, Mathur as Board President has not seen fit to change the policy, which does not merely allow for but actually calls for the pre-signing procedure to be used. This is a page from the CalPERS Board Manual: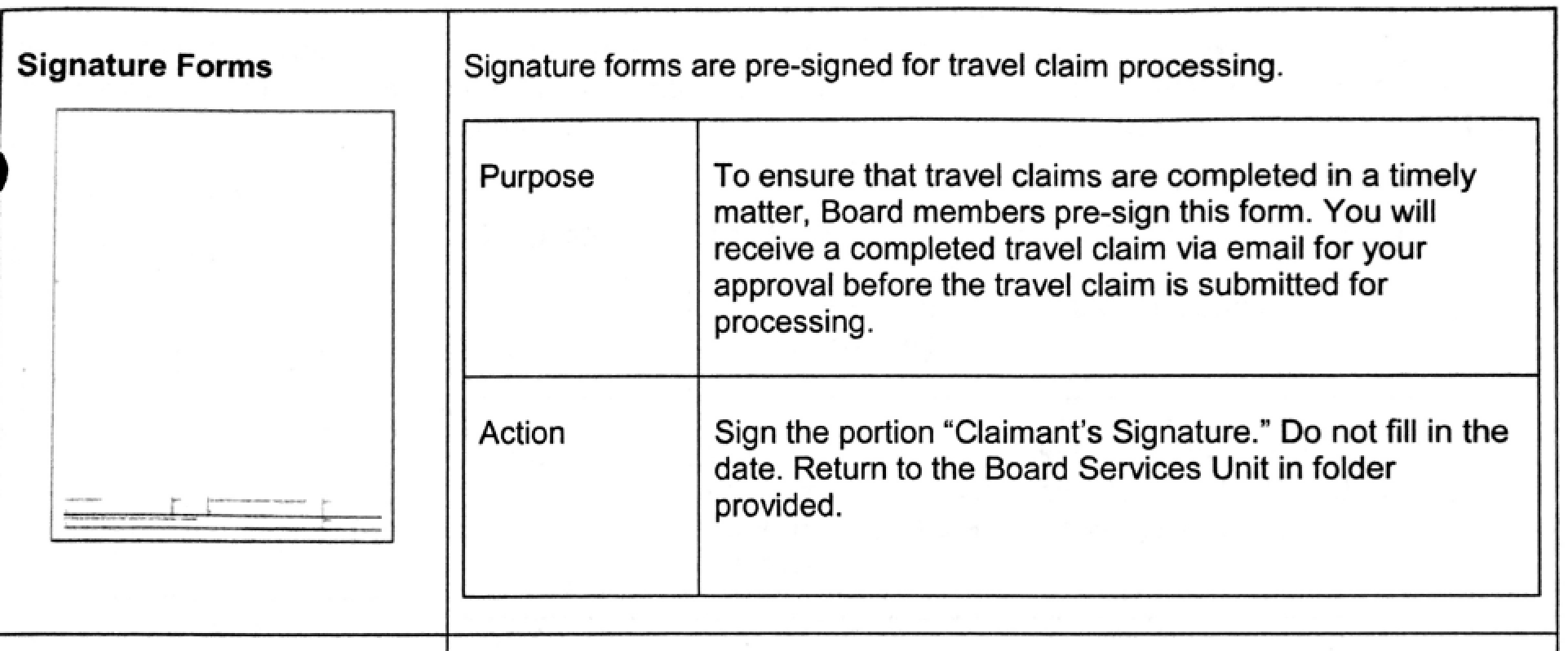 As the images show, the Board Services Unit instructs board members to sign undated forms in blank, with the body of the form, including critically, the certification language removed. Staff prints the rest of the form, including the missing certification language, into the pre-signed document when they also fill in expense information and submit it on behalf of the board member.
The day before we published the post outing this practice, we submitted a Public Records Act request on May 9 seeking all Travel Expense Claim forms completed and submitted by board members from January 1, 2017 through May 9, 2018, as well as the e-mail correspondence with board members approving expenses submitted on pre-signed forms.
On May 18, CalPERS e-mailed an initial response saying it expected to complete the request on June 22, 2018. Bear in mind that this late a response date was already a violation of the Public Records Act, although CalPERS has a default "So sue me" posture as far as its relationship with the law is concerned.1
Jason Perez Uses Our Expose in His Ballot Statement and CalPERS Goes Into "Hide the Proof" Mode
Perez filed his nomination petition, which included his candidate statement, on May 16.
On June 18, both Perez and Mathur submitted letters contesting the accuracy of some parts of their opponent's candidate statement and requesting a hearing before an arbitrator.
One of the Perez's statements that Mathur challenged was "As board president, Mathur has approved the process for obtaining signatures on blank State forms authorizing payments, likely a criminal act." As you can see in the embedded document at the end of this post, one of many examples I eventually received, that statement was correct. This one shows Mathur approving an expense claim pre-signed by Rob Feckner. There were also pre-signed claims by Michael Bilbrey and Dana Hollinger signed by Mathur. Even worse, the Public Records Act response included a blank unsigned Travel Expense Claim form attached to an e-mail, showing the potential for it to be widely circulated and abused.
However, CalPERS withheld those records. Recall the timeline: the original delivery date for the CalPERS records was June 22. Perez was required to submit only his Notice of Participation in Mathur's challenge to his ballot statement by June 26; the submission of evidence would come later. On its already impermissibly leisurely delivery schedule, CalPERS was set to deliver the records to me on a timetable where I would have published them and Perez could use them in his defense.2
On June 22, CalPERS notified me that they were now going to produce "all responsive documents" on July 31. By happenstance (or not?) this turns out to be the date scheduled for the evidentiary hearing on Mathur's objections to Perez's statement.
But now the story gets more complicated, and in the process proves that CalPERS holding back the records was no accident.
Perez failed to send in the required form on June 26 saying that he wanted to participate in the arbitration of his statement about Mathur. So it looked like he would have no opportunity to contest Mathur's objections and she would get a default judgement in her favor.4
Perez's lawyer appealed to the administrative law judge for the chance to participate in the arbitration hearing, throwing himself on the mercy of the court.
On July 31 at the morning hearing for Mathur's objections to Perez's statement, the administrative law judge said she wanted to see the evidence from Perez by August 2. Mathur's side could respond to Perez's submission, and the administrative law judge would then decide. Mathur's side put up a huge stink and insisted on another 30 minute hearing, which the judge set for August 6. It wound up taking three hours. 5
So now it looked like Perez would have the opportunity to use the results from my Public Records Act request to include in his filing, correct? Think again.
Normally CalPERS e-mails me the result of Public Record Act requests, even if it takes several e-mails due to the file size of attached documents. However, at 4:37 PM PDT, I received the following message: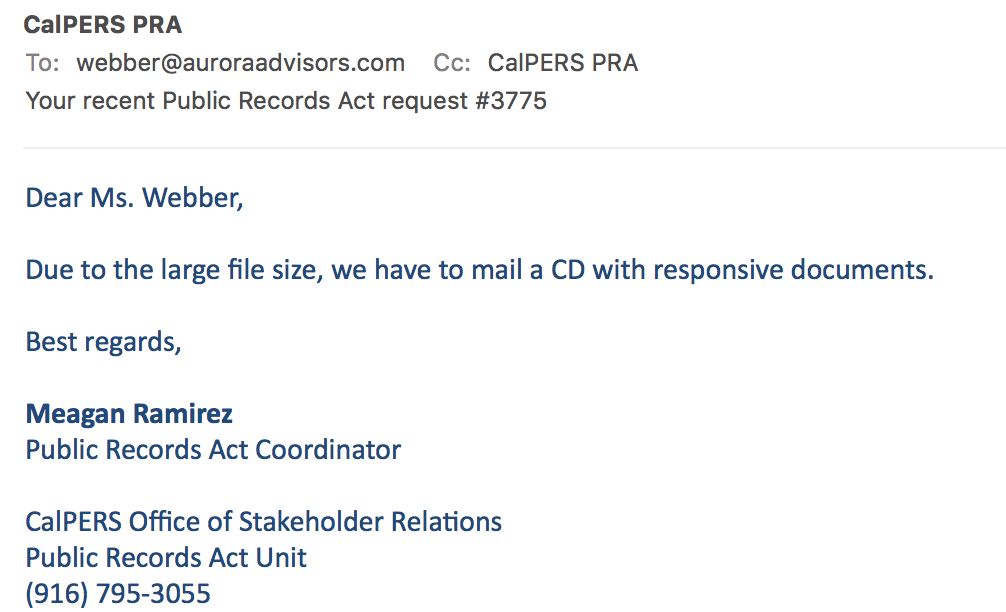 CalPERS send PRA responses via certified mail, which was certain to arrive after August 2, since it had clearly not been mailed yet on July 31. 3
So I e-mailed CalPERS and told them that mailing was not viable due to CalPERS use of certified mail, that they could either Fedex it at my expense or I would have someone pick up the disk on August 1. I was coordinating the pickup on August 1 and then got this message at 1:23 PM PDT: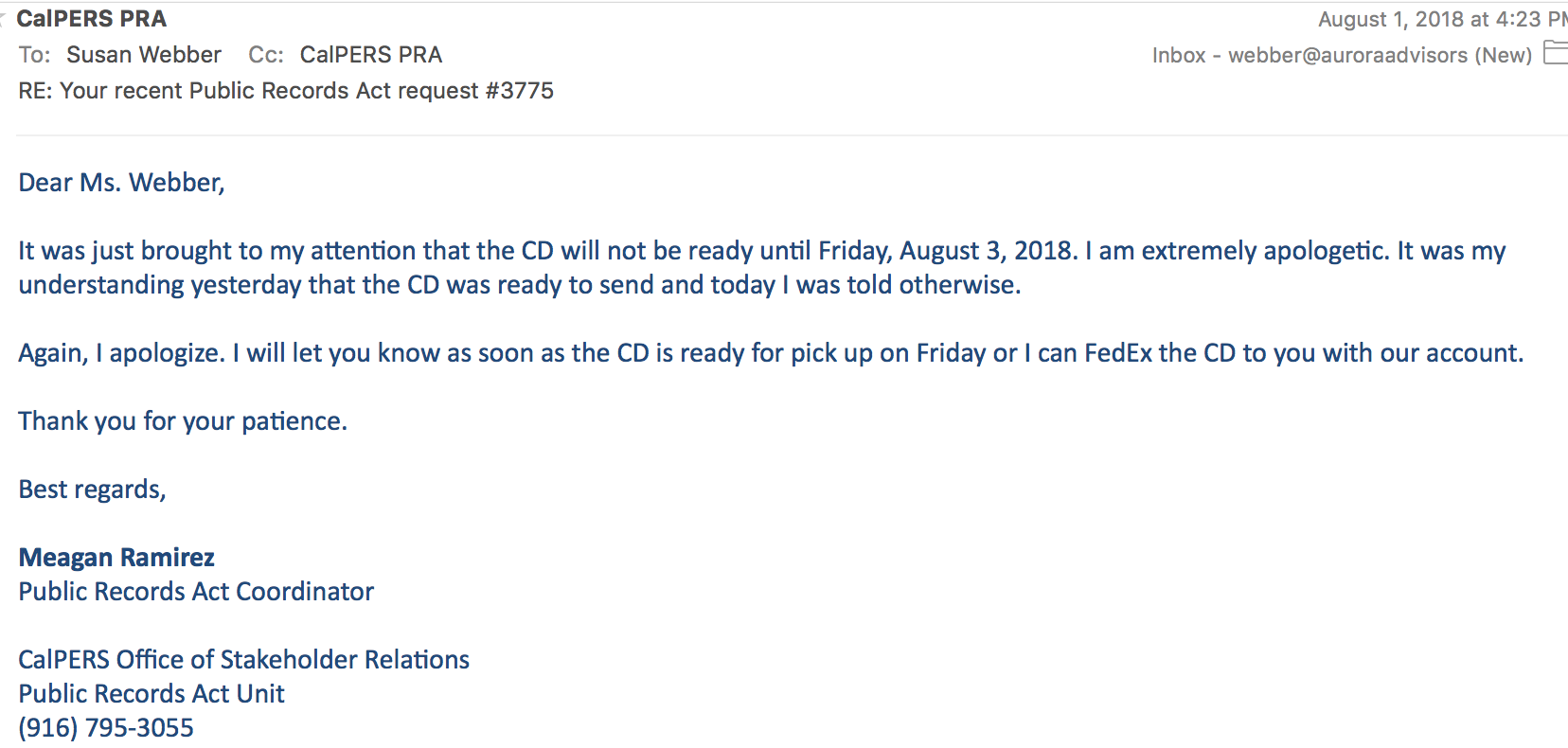 As you can see from the document embedded at the end of this post, the claim that the Public Records Act response was not ready was false. The cover letters are the very last thing to be prepared in the Public Records Act process. The cover letter was dated July 31, showing that the response was ready on July 31 and there was no legitimate reason for delaying its release until August 3. CalPERS is trying to damage control for Mathur's misrule as Board President.
But as you can see from the final version of Perez's candidate statement, which is to be mailed to eligible voters on August 31, even with the omission of this damning item, the statement is still deadly. It is hard to see how anyone who reads this could vote for Mathur.
____
1 From the First Amendment Coalition:
As you may know, the Public Records Act ("PRA") provides that agencies "shall make . . . records promptly available." Gov't. Code § 6253(b). The PRA further provides that agencies "shall, within 10 days from receipt of the request, determine whether the request, in whole or in part, seeks copies of disclosable public records in the possession of the agency and shall promptly notify the person making the request of the determination and the reasons therefor." Gov't. Code § 6253(c).

Although "[i]n unusual circumstances, the time limit prescribed in this section may be extended by written notice by the head of the agency or his or her designee to the person making the request, setting forth the reasons for the extension and the date on which a determination is expected to be dispatched," it sounds like you have received no such written notice. Id. Furthermore, "[n]o notice shall specify a date that would result in an extension for more than 14 days."
2 Note that Perez was not dependent upon me to obtain the records; any member of the public can ask for a copy of an existing Public Records Act response. But he was not likely to receive them soon enough for the arbitration this way.
Your humble blogger did not review or comment on Perez's ballot statement or his addenbum, nor have I had any contact with him, his campaign manager, or his attorney regarding this dispute or his campaign generally. I did meet Perez and his campaign manager Donna Snodgrass at the CalPERS offsite in July but we did not discuss his campaign. Given that I had heard through the grapevine that whether Mathur had signed the blank expense forms was a contested issue, I had planned to post promptly if the Public Records Act response showed that she had.
3 And that is before you get to the fact that I have difficultly signing for them and building staff are not allowed to sign for them.
4 The judge is to be credited for scheduling the evidentiary hearing for July 31 despite the lack of apparent objection in the form of a Notice of Participation from Perez. Apparently he wanted to review Mathur's documentation and not merely rubber stamp her requests.
5 Perez's side understood that they would not be able to introduce new evidence at this hearing, only cross examine any witnesses Mathur had testify.
CalPERS letter for PRA response 7-31-18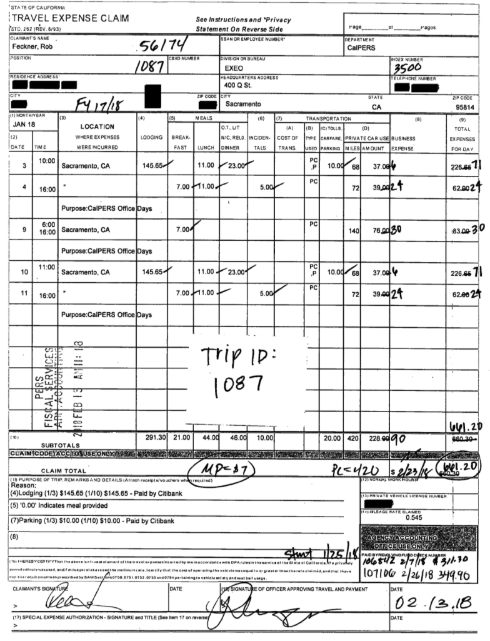 Jason Perez final ballot statements