By Lambert Strether of Corrente
"Everything Should Be Made as Simple as Possible, But Not Simpler" –Albert Einstein (attributed).
Let me dive right in by presenting with what I'm seeing right now:
Figure 1: The New York Times Front Page (New Version)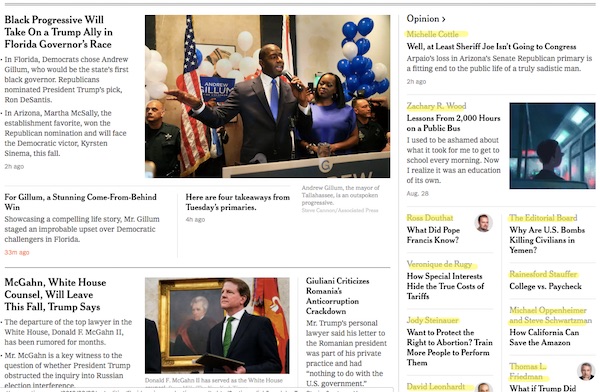 And here is a version of the Times front page from issues past:
Figure 2: The New York Times Front Page (Classic Version)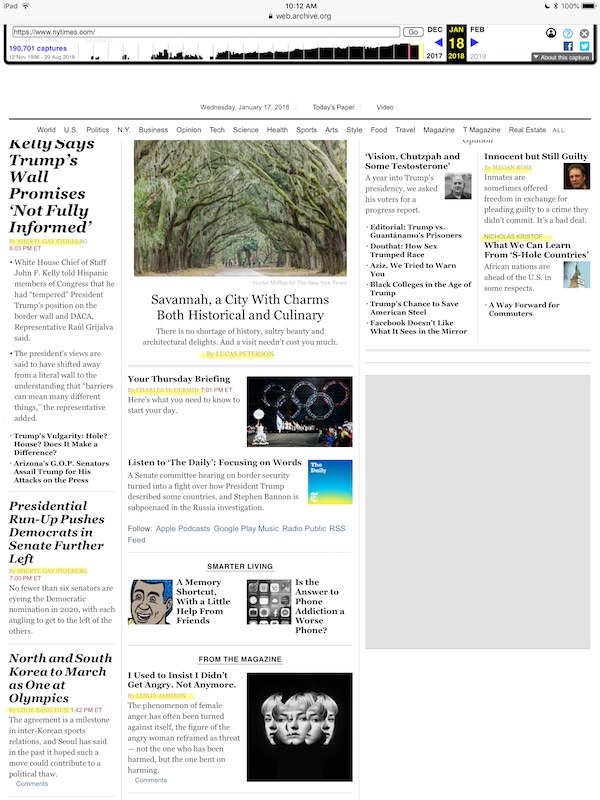 You'll notice the main difference at once: Reporters no longer have bylines on the Times front page; there are other differences as well. (Let me just say right up front that it's beyon absurd that Thomas "The Moustache of Understanding" Friedman deserves a byline, but Eric Lichtblau (say) does not.)
In this brief post, I'll first look at reader reactions to the change; then I will look the absurdist parody of responsiveness to readers emitted by Editor Dean Baquet and Managing Editor, Joe Kahn; and finally I will speculate on the worrisome effects of this latest bout of crapification.
Reader reaction to the removal of bylines boils down to two points: First, readers use bylines as a form of quality assurance; and the Times, by retaining bylines for Opinion writers, is guilty of double standards. I thinks comment (from Baquet and Kahns' article in the Times' "Reader Center") says it best: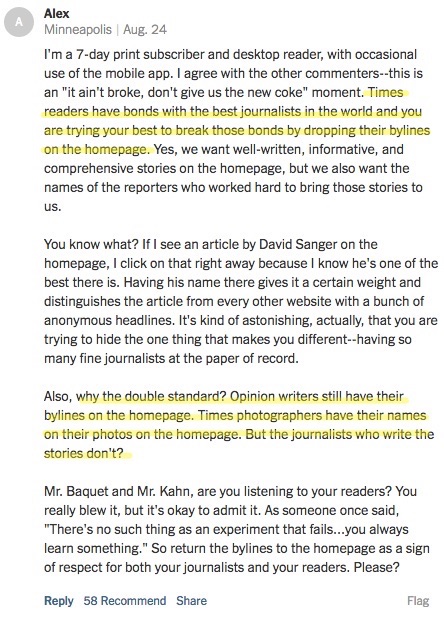 The strong form response to this reader complaint (not Baquet and Kahn's, they being unresponsive, as we shall see) comes from Darrel Frost at the once-authoritative Columbia Journalism Review:
I don't want people to sort their news via byline. Too many readers get their news exclusively from sources they are predisposed to agree with; untold articles have been written about the need to break out of our echo chambers. Saying that readers should choose their media diet based on individual reporters' names seems antithetical to responsible news consumption.
While Frost's remarks are buzzword-compliant ("echo chamber"), Frost doesn't seem to be a serious newspaper reader. Any follower of the Iraq debacle — both the debacle on the ground, and the debacle at the Times — knows that the "Judy Miller" byline was important to quality assurance for readers; ditto for "James Risen" on intelligence, if it comes to that. Of course, as Times loyalists point out, readers can click through for the bylines, but why should readers have to do extra work to get information that the Times denied them?
The second reader complaint is that the Times redesign's goal of unifying the desktop and mobile experiences is misplaced. From the "Reader Center" once more: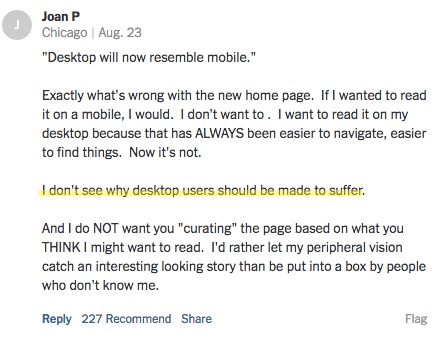 And:

Given that the desktop experience now includes a ginormous banner ad that sucks up all the space except for the headline of a single, unbylined story at the left, and a single, bylined opinion column at the right, I'd say these readers have a point.
Figure 3: The New York Times Front Page (with Banner)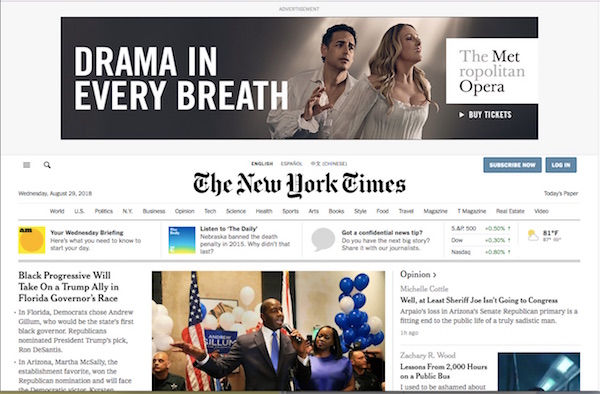 Why should the desktop and mobile experiences be unifed? Should books and comic books be unified?
Now let's turn to Baquet and Kahn's pathetic screed (tl;dr: "We're gonna do it, and you're gonna like it," an attitude that will be familar to anybody who's dealt with a top-tier 10%-er.) First, let me point out the result of the galaxy-brained Baquet having gutted the copy editing department. Let me just take a moment to include the date and time in the screen shot, because obviously: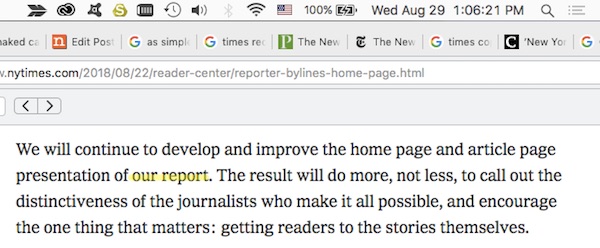 Surely Baquet (and Kahn) both meant to write, not "report," but "reporting"?[1] And then there's the sloppy writing. The headline reads:
Where Did the Bylines Go? Times Editors Respond to a Home Page Question
Nowhere in the body of the article is a question mentioned. I suppose I could infer that the question is in the headline — "Where Did the Bylines Go?" — but then the question should have been enclosed in quote marks, no? To make it appear that somebody asked it, and that Baquet (and Kahn) were actually being responsive, instead of just retailing their bullet points? Anyhow, there's not much here; the whole piece is so shallow I don't even need to get out my yellow waders. The lead's first sentence:
There will always be bylines on New York Times stories.
(Even if stories are written by bots?) Not the point, as Baquet (and Kahn) must know; the reader concern is stories on the front page. More:
With the new design, bylines are now not displayed above summaries on the desktop home page. Desktop will now resemble mobile. Bylines have not been displayed above summaries on the mobile web or in our mobile apps, where more readers view our journalism than on desktop computers, for quite some time.
Shorter: "Desktop users will take it and like it." More:
[P]lacing newspaper-style bylines above articles is not always the best way to engage readers or display the most important elements of our journalism.
I like "newspaper-style," since Baquet (and Kahn) are saying that the Times isn't really a newspaper anymore, but… something else we may, some day, have explained to us. Apparently this is the best way:
[W]e are moving toward placing their head shots and backgrounds on the article page. It is why, when appropriate, our journalists narrate reporting experiences in their stories, or talk about their findings in our audio and video productions.
Having to click through to a story and load a headshot to find out who wrote it is going to get old fast, especially if the reporter is the next Judy Miller… And I don't really care about reading Roland Headley's "reporting experiences." I do care about his reporting, if any. Query: If Reporter A is a better reporter, but not so good on camera, and Reporter B is highly relatable on camera, but a lousy reporter, will the Times give Reporter A the front-page click-throughs, or reporter B? I'm guessing that Baquet (and Kahn) will go for reporter B.
Finally, let me raise three quick concerns about trends exemplified by the Times redesign.
Degradation of the Reporter. No matter how Bacquet (and Kahn) blather and squee, it's clear that knocking reporter's bylines off the front page is a slap at them, and decreases their institutional power. After all, if a byline on the front page weren't an important signifier, the Times would hardly have celebrated the three interns who made it: "How Times Photo Interns Trusted Their Gut and Made the Front Page." I remember when Dan Froomkin was a blogger at the Washington Post, and one of a tiny band of journalists who were critical of the Iraq War. WaPo originally made Froomkin easy to find (whether on the front page or not, I'm not sure). Then it buried him one level deep on menu of bloggers. Then it buried him two levels deep, and shortly thereafter Froomkin left. Well, that's just what the Times editors — who will get bylines, as Opinion-havers — are doing to reporters on the front page: Burying them one level deep.
Devaluation of the Front Page. As before, Frost at the Columbia Journalism Review puts the argument in its strongest form:
This design change affects only the homepage—that is, a single page on a site with hundreds of thousands, and one that does not have any actual articles on it. (Bylines remain on all articles themselves, so anyone who actually reads a story sees who wrote it.) The homepage, merely a collection of links with occasional photos, serves the same essential function as Twitter—and where is the outrage when the Times links to news stories on Twitter without bylines?
(Again, cliché rich: "Where's the outrage?") Again, it's hard to see how Frost can possibly be a serious or attentive newspaper reader. First, the front page, by its arrangement and placement of stories, signals to readers the institutional priority the Times places on a given piece of reporting, in relation to all other reporting at the same time (e.g., above the fold, and below the fold, a distinction that persists on the desktop, as the Times grotesque banner add shows.) Twitter, as a putatively chronological series of tweets, cannot by its nature send this signal. Second, the complaint that the front page doesn't have any articles on it… Well, I'm just going to throw up my hands in despair. Google News is awful, but it's not awful because it lacks articles. Third, the front page is the only place where readers can get an aggregation of contributors to the publication as a whole.
The Primacy of "Design". The Times emphasis on "simplicity" reminds me of how Apple — another design-driven company — crapified the Mac laptop in its obsession of thin-ness. Sure, a thin laptop is great but not when it comes at the expense of a functioning keyboard. One can hardly avoid the sad conclusion — based on reader reactions above — that the redesign had little to do with readers. Boing Boing comments:
The thing is, "remove bylines and metadata" is always a top priority in the click-funnelling shitfeast of modern web design. So the outcome might have had little to do with the people who are being held responsible in today's anguished and angry twitterings.
Indeed. Once that pesky variable of the byline is eliminated, Times editors can focus on writing clickbait y headlines, since those and the summaries are all that remain on the news-haver, right side of the page. "Iraq WMDs: You Won't Believe What This One Reporter Did!"[2]. Lordy.
NOTES
[1] The good Doctor Freud would surely have a field day figuring that slip out, if he could ever get Baquet (and Kahn) on the couch. That, and the cake. There's a famous quotation about cake, I'm sure I'll be able to bring it to mind….
[2] I should have put a typo in the headline, but I just couldn't bear to.