By Lambert Strether of Corrente.
Trade
"U.S. Braces For Price Pain As Trade War Escalates" [Safe Haven]. "The trade war just got real, with the official imposition of $200 billion in tariffs on Chinese goods just after midnight last night, followed by Beijing's immediate retaliation of levies on $60 billion worth of U.S. goods. It means that a massive line-up of goods from China will see a 10-percent tariff staring today, which will increase to 25 percent by 1 January 2019…. The next phase in this trade war might see low-to-middle income voters (Trump's key base) taking a major hit with higher consumer prices, translating into more potential defeat in November for Republicans." • I 41 days?
"The biggest impact in the burgeoning trans-Pacific trade battle may come in the most obscure corners of supply chains. …. China's role as a major supplier of industrial chemicals may play an important role in the outcome of the U.S.-China trade conflict. China is a critical supplier of fluorine salts and carbonate esters used in electric-car batteries, for instance" [Wall Street Journal]. "The chemicals are among nearly 300 that were given waivers from the latest round of 10% levies the U.S. imposed on some $200 billion in Chinese imports, highlighting how China has become an outsize global producer of obscure industrial commodities that American companies have come to rely on. Relief from the headaches of higher import costs has also gotten more expensive: China, it turns out, supplies 90% of the world's ibuprofen."
Politics
2018
41 days until Election Day. 41 days is a long time in politics (as we are seeing right now with Kavanaugh and Rosenstein).

UPDATE WI-01: More family conflict (edmondo):

Bright college days:

The following is a statement from James Roche, Brett #Kavanaugh's freshman roommate at Yale. pic.twitter.com/VfHUgPj3cV

— Peter Kauffmann (@PeterKauffmann) September 25, 2018

Bottom line from Kavanaught's roommate at Yale: "Based on my time with Brett, I believe that of the actions that Debbie described." Now, if that's the baseline, enforcing it would cut a wide swath through official Washington, not necessarily a bad thing. And who would step into the vacated positions? Well, the Clinton campaign and its associated networks, for one. Forgive my skepticism that much would change for the better on policy….

UPDATE "'How'd you find me?': Mark Judge has been holed up in a beach house in Delaware amid a media firestorm" [WaPo]. "On Monday, a Washington Post reporter found Judge holed up in the house of a longtime friend in Bethany Beach, nearly three hours away. A car in the driveway contained piles of clothing, a collection of Superman comics and a package addressed to Judge at the Potomac home where he lived three years ago. 'How'd you find me?' he said. The reporter gestured to the car packed with belongings. Judge declined to comment further." • Eesh. There but for the grace of God…
New Cold War
"Robert Mueller is playing a long game on the Russia investigation, and it's paying off" [USA Today]. "President Donald Trump's legal team appears to have won a victory. Special counsel Robert Mueller has agreed to let Trump provide answers in writing, instead of in a personal interview, to questions concerning his campaign's contacts with Russia. But far from a defeat for Mueller, this is part of a carefully considered approach that has been repeatedly vindicated…. While the president's revolving door of lawyers has been occupied protecting the president from himself, Mueller has been playing the long game. What Trump's legal team considers a victory is a deliberate strategy by Mueller to continue kicking the can down the road and making sure the investigation — and his and Rosenstein's jobs — survive the process." • So, will Mueller finish up by 2020?
Realignment and Legitimacy
UPDATE "The Next Step for #MeToo Is Into the Gray Areas" [Jezebel]. A long form piece that contextualizes the Kavanaugh matter. Two passages caught my eye. First, "For the first time in history, it became, ostensibly, the mainstream inclination to believe the victims' stories about sexual assault and harassment." Of course, in some contexts, this claim is simply not true; the Emmett Till case was quite mainstream. Second: "The United States Government Office on Women's Health defines sexual coercion as 'unwanted sexual activity that happens when you are pressured, tricked, threatened, or forced in a nonphysical way. Coercion can make you think you owe sex to someone. It might be from someone who has power over you, like a teacher, landlord, or a boss. No person is ever required to have sex with someone else.'" (Let me say, in case it's not clear, that one reason I loathe party culture is that it's a vector for coercive sex.) #MeToo, so far as I can tell, seeks to regulate sexual activity within existing power structures by, among other methods, changing the evidentiary standards for coercion. Given that existing standards do not seem to have served women well, that could be a good thing (or not). Do note, however, that "inclination to believe the victims' stories" inverts the hitherto usual burden of proof, and so if this new standard is codified, it will be interesting to see to what new areas of jurisprudence it migrates; not all will be progressive. Because #MeToo takes today's power structure — "teacher, landlord, or a boss" — as a given, it's a typically liberal approach. Among 9.9% — the professional classes among whom the Kavanaugh matter is playing out — it may be that the reputational damage #MeToo can inflict on (male, or not) elite malefactors will be sufficient to minimize coercive sex. I doubt very much that much will be done for the working class, because the power imbalance between worker and boss is so very great.

"The CIA Democrats and the US midterm elections" [WSWS (jo6pac)]. "The clearest demonstration of the political trajectory of the Democratic Party is the array of former CIA agents, military commanders and State Department officials who are its candidates in the congressional districts that the Democrats aim to capture from the Republicans. As an analysis posted Friday on the World Socialist Web Site detailed, . With only two exceptions, the CIA Democrats are not drawn from among the rank-and-file soldiers who comprised the bulk of those sent as cannon fodder to the wars in Iraq and Afghanistan, and came back, in many cases, damaged in mind and body, and hostile to the wars in which they fought. Thirteen had roles as intelligence agents, war planners or diplomatic apologists for war. Fifteen were officers in the Army, Navy, Air Force or Marines—commanders, captains, majors, a lieutenant-colonel." • Hard to believe that the DCCC could outdo its efforts with the Blue Dogs in 2006, but never underestimate the Democrats. I wonder if they'll form a caucus?

"Brett Kavanaugh and the Supreme Court's looming legitimacy crisis" [Vox]. "The American public has long had a deep and abiding faith in the Supreme Court as the last say in our public legal disputes. This faith survived controversial cases, like Roe v. Wade and Bush v. Gore; it survived divisive nomination processes, like the Senate's rejection of Robert Bork and Anita Hill's harassment allegations against Clarence Thomas." • Unfortunately for the thesis of the article, it includes a chart that shows this claim is false. I've annotated it:
Stats Watch
Richmond Fed Manufacturing Index, September 2018: "expanded at a more robust pace than expected" [Econoday]. "[E]mployment… deviated from usual strength exhibited in previous months by falling…. [C]apital expenditures rose." And: "The important Richmond Fed subcategories significantly accelerated. This was a stronger report than last month" [Econintersect]. And: "So far the regional surveys for September have indicated solid growth" [Calculated Risk].
Consumer Confidence, September 2018: "Headline strength is spectacular in the consumer confidence report yet the details won't be lifting expectations for the September employment report" [Econoday]. "[T]hose who say jobs are hard to get increased, not decreased." And: "Consumer confidence has been on a multi-year upswing – and this upswing is roughly correlating with increases in consumer spending" [Econintersect].
S&P Corelogic Case-Shiller Home Price Index, July 2018: "Case-Shiller's data continue to point to very soft price traction in home prices" [Econoday]. "[T]he clear trend — which is slowing growth. However strong the 2018 economy may be, it doesn't include home prices which are a central source of household wealth." And: "In real terms, prices are back to mid 2004 levels, and the price-to-rent ratio is back to late 2003, early 2004" [Calculated Risk].
FHFA House Price Index, July 2018: "Weakness in home prices is becoming a central negative for the 2018 economy" [Econoday]. "[W]eakness for a housing sector that increasingly appears to be a drag on overall economic growth."
Retail: "How we became our own logistics managers" [Supply Chain Dive]. "Peeking at the shipment information not only confirms our ownership but allows us to shepherd our purchase until it hits the front door… [T]racking keeps us engaged in the shopping experience and offers an alternative to the instant gratification of making a purchase at the big box store. Online buying lacks the hands-on experience of traditional shopping. Tracking allows us to virtually bring our purchases home by knowing where they are at all times, compounding the psychological experience with the financial control we also seek." • I'm sure this is true, a little recognized allure of e-commerce.
Retail: "Walmart Inc.'s efforts to build up its blockchain initiative will go through the retailer's produce aisles. The company is directing suppliers of lettuce, spinach and other greens to join its food-tracking blockchain by January 31…, and wants logistics providers, farmers and other participants in its food supply chain to join the blockchain by Sept. 30, 2019" [Wall Street Journal]. "The directive marks perhaps the strongest move yet to push blockchain technology into a broad, multi-user supply chain, and Walmart's outsize role in grocery sales is likely to draw a broad range of suppliers and even retailing competitors into the effort….The idea is to improve food safety by more quickly and accurately pinpointing sources of contamination in supply chains, but that means getting suppliers to sign on."
Shipping: "FTR reports highest Trucking Conditions Index reading since early 2004" [Logistics Management]. "Trucking conditions for the month of July represented the strongest for the sector going back to early 2004, according to the most recent edition of the Trucking Conditions Index (TCI) from freight transportation consultancy FTR… With the current level of the TCI, FTR said it is likely the index has peaked, with subsequent moderation likely over the rest of 2018.
Tech: "This Dumb Industry: Telltale Autopsy" [Twenty-Sided]. "[I]t sounds like Telltale… were dysfunctional in the traditional sense of making lousy business decisions, but they were also dysfunctional in the more specific sense of being run by one or more jerks." Lessons learned: "Rapid growth harms the culture of creative endeavors. It's one thing if you make lawn chairs or frozen pizzas. If you're just churning out identical consumer goods then growth is as easy as opening another factory and hiring people to run the machinery. But if you make movies, television shows, comic books, or videogames, then your "product" is not a physical good. People don't buy movies because they want a plastic disc. People don't buy comic books because they need some cheap paper and a couple of staples. Your product is the creative output of your employees. You need to grow slowly so the sensibilities and techniques of your initial successful team can be absorbed by newcomers. If you double or triple the size of your team in the space of a couple of years, then you're getting bigger at the expense of diluting your talent. This is particularly true in the case of writers because…. Writers are not interchangeable."
Tech: "Why building your own Deep Learning Computer is 10x cheaper than AWS" [Medium]. "Building is 10x cheaper than renting on AWS / EC2 and is just as performant." • You pay for convenience…
Honey for the Bears: "Global Kuehne + Nagel Indicators Signal Cooling Down of Global Economy" [Logistics Management]. "The gKNi World Trade Indicator registered 139.7 points at the end of August, 1.3% lower compared to the previous month and 7.5% higher than in August 2017. Analysts added that the data indicates that trade disputes are beginning to hit the real economy. Exports of the emerging markets are shrinking at a higher pace."
Heatlh Care
"Pills for appendicitis? Surgery often not needed, study says" [Associated Press]. "The results from Finland contradict decades of thinking about the best way to treat an inflamed appendix. The condition has long been thought to be a medical emergency because of the risk for a burst appendix, which can be life-threatening. But advances in imaging tests make it easy to determine which patients face that danger. The study in 500 adults found that nearly two-thirds of patients treated with antibiotics fared well after five years. About one-third had another case of appendicitis and had surgery to take out their appendix." • Sometimes, there actually is progress….
The 420
"Seattle judges throw out 15 years of marijuana convictions" [BBC]. "Judges in Seattle have decided to quash convictions for marijuana possession for anyone prosecuted in the city between 1996 and 2010. City Attorney Pete Homes asked the court to take the step 'to right the injustices of a drug war that has primarily targeted people of colour.' Possession of marijuana became legal in the state of Washington in 2012." • Should be nation-wide.
Class Warfare
"No class action for unhappy Uber drivers: U.S. appeals court" [Reuters]. "Uber Technologies Inc won a legal victory on Tuesday as a federal appeals court said drivers seeking to be classified as employees rather than independent contractors must arbitrate their claims individually, and not pursue class-action lawsuits…. Uber's defense got a boost after the U.S. Supreme Court, in Epic Systems Corp v Lewis, ruled 5-4 in May that companies could compel workers to waive their right to class actions and instead pursue arbitration for various workplace disputes. In Tuesday's decision, Circuit Judge Richard Clifton said arbitration was necessary in light of the Epic ruling, as well a 9th Circuit ruling from 2016 in another case against Uber."
"Do Female Officers Improve Law Enforcement Quality? Effects on Crime Reporting and Domestic Violence" [The Review of Economic Studies]. Abstract only, sadly: "Along these two key dimensions, we find that female officers improved police quality. Crime victimization data reveal that as female representation increases among officers in an area, violent crimes against women in that area, and especially domestic violence, are reported to the police at significantly higher rates. There are no such effects for violent crimes against men or from increases in the female share of civilian police employees. Furthermore, increases in female officer shares are followed by significant declines in rates of intimate partner homicide and non-fatal domestic abuse."
"Linux devs threaten to pull contributions" [IT News]. "The nub of the issue is a new code of conduct the project adopted last week in the wake of founder Linus Torvalds standing down as overseer as the project. Torvalds and current kernel maintainer Greg Kroah-Hartmann proposed the new Code of Conduct (CoC) after Torvalds admitted some of his behavior has damaged the kernel development community. He's therefore stepped aside from his role as kernel maintainer for a time to seek assistance on how to better understand co-workers' emotions. The new Code of Conduct adapts the widely-used Contributor Covenant and lists several examples of "unacceptable behavior" but has not gone down well with some in the kernel development community. Some developers, believing the new Code will inevitably see some people banned from kernel development, have even suggested that excluded developers should band together should rescind the grant of their code to the project under provisions of the Gnu Public License." • Hoo boy.
"How to make a racist AI without really trying" [ConceptNet]. From 2017, still germane. Using a standard toolset in Python: "The system has associated wildly different sentiments with people's names. You can look at these examples and many others and see that the sentiment is generally more positive for stereotypically-white names, and more negative for stereotypically-black names." • Oopsie.
News of the Wired
"The metawars" [Science]. "Although the number of meta-analyses has exploded, many don't bring clarity—whether it's on the effect of 'positive parenting,' the relation between antidepressants and suicide, or the health benefits of organic produce. One reason is that, although the basic rules of the meta-analysis are simple, researchers must make many choices along the way, allowing conscious or unconscious biases to creep in. In the case of media violence, for instance, the groups dealt in different ways with the problem that many studies aren't published, and they applied different quality criteria in choosing the studies to be included. 'Meta-analyses were thought to be debate enders, but now we know they rarely are,' [Christopher Ferguson of Texas A&M] says. 'They should be regarded as an argument, not a fact.' It's a paradox, says Jacob Stegenga, a philosopher of science at University of Cambridge in the United Kingdom: 'When the evidence points clearly in one direction, there is little need for a meta-analysis. When it doesn't, a meta-analysis is unlikely to give the final answer.'"
"Turn Off Push Notifications" [Motherboard]. "As our attention is increasingly fragmented and split among dozens of apps, the apps have compensated by getting more demanding of your time. Notifications are no longer used to notify you of anything—they're used by apps to scream over each other in hopes that you'll click them. … I have a solution for this: Turn off your push notifications. Or most of them, anyway."
"Manyverse" [Manyverse]. A product site, but still: "Manyverse is a social network mobile app with features you would expect: posts, threads, likes, profiles, etc. But it's not running in the cloud owned by a company, instead, your friends' posts and all your social data live entirely in your phone. This way, even when you're offline, you can scroll, read anything, and even write posts and like content! When your phone is back online, it syncs the latest updates directly with your friends' phones, through a shared local Wi-Fi or on the internet."
I'm guessing bad news for the cat:
? ☠️ pic.twitter.com/ry9JL5ABUE

— Nature News & Comment (@NatureNews) September 20, 2018
* * *
Readers, feel free to contact me at lambert [UNDERSCORE] strether [DOT] corrente [AT] yahoo [DOT] com, with (a) links, and even better (b) sources I should curate regularly, (c) how to send me a check if you are allergic to PayPal, and (d) to find out how to send me images of plants. Vegetables are fine! Fungi are deemed to be honorary plants! If you want your handle to appear as a credit, please place it at the start of your mail in parentheses: (thus). Otherwise, I will anonymize by using your initials. See the previous Water Cooler (with plant) here. Today's plant (AM):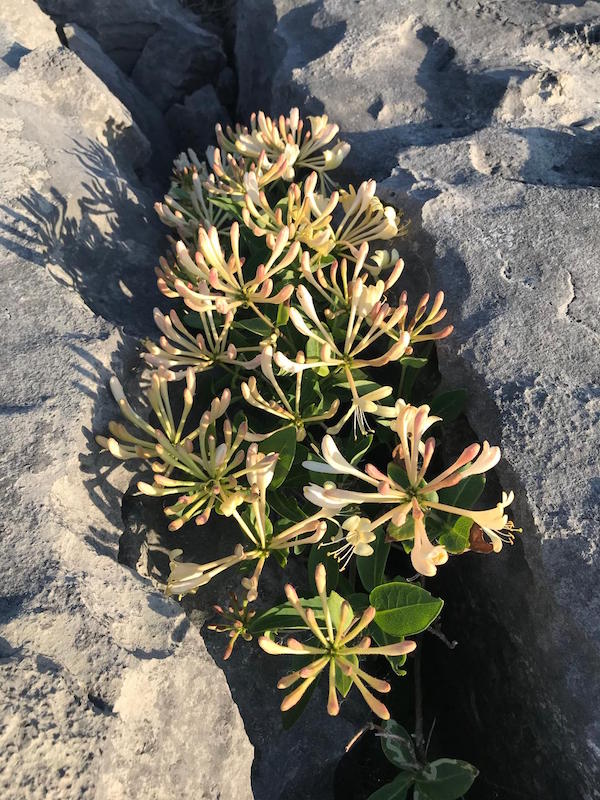 AM writes: "This picture isfrom a trip I took with my family this May, when it was unseasonably — and unexpectedly — warm and sunny in Ireland. We drove through the Burren (large rock formations) to the shore, where there was more rock and amazingly, flowers cropping up through the cracks. No idea what any of them are… but quite a variety all very close to each other."
* * *
Readers, I'm still running a bit short on plants. Probably a little soon for fall foliage, or wrapping up the garden, but I'm sure you can find something! How about a project you completed over the summer?
* * *
Readers: Water Cooler is a standalone entity not covered by the annual NC fundraiser. So do feel free to make a contribution today or any day. Here is why: Regular positive feedback both makes me feel good and lets me know I'm on the right track with coverage. When I get no donations for five or ten days I get worried. More tangibly, a constant trickle of small donations helps me with expenses, and I factor that trickle in when setting fundraising goals. So if you see something you especially appreciate, do feel free to click the hat!

To give more, click on the arrow heads to the right of the amount.
If you hate PayPal — even though you can use a credit card or debit card on PayPal — you can email me at lambert [UNDERSCORE] strether [DOT] corrente [AT] yahoo [DOT] com, and I will give you directions on how to send a check.