By Lambert Strether of Corrente.
Trade
"Canadian Foreign Minister Chrystia Freeland returned to Canada on Thursday night without a NAFTA 2.0 breakthrough to announce as negotiators from the U.S. and Canada remain under pressure to reach a deal this month" [Politico]. "Freeland opted not to use the word 'progress' when discussing the status of the negotiations on Thursday afternoon. Asked why she has not used the word recently, she said: "I chose my words carefully. Today we discussed some tough issues. The conversation was constructive.'… U.S. access to Canadian dairy markets, Canada's push to preserve the dispute settlement mechanism housed in Chapter 19 of the existing deal and U.S. efforts to reduce Canadian access to the U.S. government procurement market are still among the outstanding issues in the U.S.-Canada talks."
Politics
2020
UPDATE "Booker: It would be 'irresponsible' not to consider running for president" [The Hill]. "'Sen. Kirsten Gillibrand] said to me, 'If you want to talk about love and kindness and decency, talk about those things, because it's where you are," Booker said. 'I feel like if I start poll-testing or shaping myself, where we start operating out of fear, I think that's going to dim my light and my impact.'" • As a con artist, I don't think Booker could carry Obama's jock strap.

UPDATE "Bernie Sanders has received donations from more Amazon workers than Barack Obama over the past 14 years" [Business Insider]. But the headline is deceptive: "GovPredict found that 275 Amazon workers have provided funding for Sanders since 2004. Hillary Clinton is the only politician to have received more backing from Amazon staff, with 310 employees contributing to her cause. Barack Obama had support from 171 Amazon employees."
2018
45 days until Election Day. 45 days is a long time in politics.

"How Many Women Does the GOP Want to Lose?" [RealClearPolitics]. "A new political realignment caused by the flight of white, college-educated women from the GOP has loomed since President Trump was elected. And it became an electoral threat to Republicans well before anyone learned Dr. Christine Blasey Ford's name…. Recent polling confirms growing trends since last year showing large majorities of these women believe Trump doesn't respect women as he does men, and they are embarrassed by his behavior… [Steve Bannon, the] president's former chief strategist said that 'the Republican college-educated woman is done. They're gone. They were going to anyway at some point in time. Trump triggers them.'"

UPDATE "Ford's attorneys, after being listed on fundraiser for Democrat, pull out of event" [CNN]. "Democratic Sen. Tammy Baldwin's campaign listed Brett Kavanaugh accuser's attorneys as headliners at a Washington fundraiser slated to take place next month, according to a copy of the invite obtained by CNN…. After CNN contacted the Baldwin campaign and the attorneys, Katz called CNN to say that the event was being canceled. The invite was sent Thursday morning, but a campaign spokesman called it an 'old invite' scheduled before Ford's accusation became public." * Of course, of course. Now, where's the intern we can fire?

"The Ocasio-Cortez vs. Cynthia Nixon Paradox: Can Democrats Overcome Their Political Schizophrenia by November?" [Vanity Fair]. "What do Americans really want or care about? We seem to have barely a clue… The easy answer is that everything is local, as Nancy Pelosi has argued, and there's truth to that…. All of this guarantees that the 2020 race will be an amazing spectacle, as each candidate tests out a different formula for the age." And:

Is there anything Americans can still agree on across political lines, something that looks roughly the same to everyone? There have been a few surprising—or at least unexpected—moments that have been gratifying. We are apparently united in believing the following: 1) That the killing of Botham Jean, a young man shot in his own apartment by a Dallas cop who mistook him for an intruder, was a criminal act, made even more outrageous by subsequent leaks of irrelevant information about the victim possessing marijuana. 2) That Geoffrey Owens, formerly of The Cosby Show, should not have been shamed—if anything should have been applauded—for working at Trader Joe's.

Well, that cops shouldn't whack people randomly, and working people shouldn't be shamed is a principled baseline a lot higher than either party is setting, yes?

FL-27: "Polls suggest a tough race for Donna Shalala for Miami congressional seat" [Miami Herald]. "[The Cook Report's Dave Wasserman] cited a bad candidate match up, noting that Shalala, 77, would be the second-oldest House freshman in history and is seeking to represent an overwhelmingly Hispanic district, despite not speaking Spanish. Her Republican opponent, Maria Elvira Salazar, 56, is a well-known former Spanish language television reporter who has 'been savvy in attracting free media.' The downgrade follows two recent polls that suggested Shalala would have a tougher time than expected flipping the seat." • Shalala bigfooted the primary and drove all the other candidates away; "her turn," I suppose. And here we are!

TX: "The Trailer: How Texas Republicans beat the blue wave" [WaPo]. "In the final ballot test ahead of the midterm elections, there was no "blue wave" in sight — in other words, the outcome that [Sen. Ted Cruz (R-Tex.) and Rep. Will Hurd (R-Tex.)] are hoping for in November. After a short campaign, Republican businessman Pete Flores defeated former Democratic congressman Pete Gallego in Texas's 19th state senate district, which stretches from San Antonio to Big Bend National Park. Flores won by nearly 6 points — a major reversal of fortune for Democrats. Democrats, who have been sounding alarms all year about the difficulty of turning out Latino voters, felt their stomachs sink — especially because their candidate seemed to take the election for granted, failing to call in reinforcements." • As I keep saying, it's not a question of whether Democrats can catch a blue wave; it's whether these Democrats can. The Flores seat "had voted reliably Democratic since the 19th century." Oopsie.

"What Ohio's 'Deplorables' Really Want" [The American Conservative]. "[F]or that blue wave to reach shore, a bunch of Republicans need to vote Democrat and the New Democratic Base, young people and a list of minorities longer than a CVS receipt, must vote in numbers never before seen. The second part of that plan has its own questions. But my recent travels make it pretty clear that depending on Republicans to vote Democrat because they no longer support Trump is out to sea. The idea today is that Trump's boorishness will send them back to Democratic candidates. Or maybe not. The endless stream of Trump atrocities large and small talked about on Sunday morning TV is not what voters were talking about. Everybody knew about Stormy but nobody cared; they had processed Trump's affairs in 2016 and that makes them old news even if they're still on Rachel Maddow every night. In response to the daily bombings of hall monitor gossip, one person said, 'I get it, I don't like what he says all the time either, but let the man try and do his job. Enough already.'" • In other words, "it's in the price." More:

It is hard to overstate how deeply these Americans despise the Obama response to the 2008 financial crisis. Many saw the values of their homes, the largest investments they will ever make, dramatically decrease. They don't own much stock outside of flaccid IRAs, and so they benefited little from a recovery that first bailed out Wall Street. Obama's decisions still aren't done with them 10 years later, because their retirements are dependent on home prices rising enough so downsizing sales can cover them late in life.

When people are excluded from the most important decisions affecting their basic livelihoods, they lose faith. That bitter lived experience fueled distrust and an ideological drift that manifested itself in electing Trump. And that distrust hasn't dissipated enough for them to vote Democrat again. Many of the people of color I met felt the same way as their white neighbors.

Anecdotal, I know. And from a conservative's milieu. Nevertheless…
UPDATE "Conservative Democrats Making Pitch to Win Back Rural Voters" [Bloomberg]. "The 18-member Blue Dog Coalition, which has been working to prevent a leftward shift in the Democrats' House delegation, released Thursday what it calls a plan to address [tariffs, health care and the rural economy], along with infrastructure and veterans affairs, in rural areas…. Presented as a possible agenda regardless of whether Democrats win a House majority in the November elections, the five-part plan also gives Democratic candidates running in rural Republican strongholds the outline of a campaign platform." • Of course, if the Democrat Party had a platform of its own, factions wouldn't need to develop theirs. But what can you expect from a party that completely lacks core principles?
UPDATE More ES&S horror:
These WI counties include cellular modems in their ballot tabulators:

· Milwaukee, https://t.co/TyBIwsvfIc
· Dane https://t.co/UEU3m3HnvH
· Waukesha https://t.co/TyBIwsvfIc
· St. Croix https://t.co/icn437tWOC
· Washington https://t.co/jYpC71upEt

2/

— Jennifer Cohn (@jennycohn1) September 15, 2018
2016 Post Mortem
"As 'Doonesbury' characters turn 50, Garry Trudeau describes his journey from pummeling Nixon to tackling Trump" [WaPo].Trudeau: "My mistake was not in underestimating Trump — it was overestimating the electorate." • Never change, Democrats! Never change! Idea: Restrict the franchise to those with a Masters and above?
New Cold War
"FBI Memos Raise Deep Questions About Russia/Trump Intel Assessment" [Sara Carter]. "In newly obtained emails, bureau officials noted there was not enough intelligence to support the January 2017 findings by the CIA which concluded Vladimir Putin meddled in the 2016 election to help Trump, according to a numerous documents and text messages obtained by SaraACarter.com." • Oh.
Realignment and Legitimacy
"State Laws Governing Early Voting" [National Conference of State Legislatures]. • Readers will recall I loathe earliy voting; I think it rewards partisan identification, and it makes late-breaking campaign events irrelevant. Nevertheless, as a public service: "This page includes information on statutory requirements relating to the start and end of in-person early voting and to all-mail elections for the 37 states and the District of Columbia that offer these pre-Election Day options. When statutes address locations, days and hours, we have included this information as well. Information provided here is generally for statewide general elections. Early voting periods for municipal or primary elections may differ."

"Facebook to drop on-site support for political campaigns" [Reuters]. "Facebook Inc (FB.O) said on Thursday that it would no longer dispatch employees to the offices of political campaigns to offer support ahead of elections, as it did with U.S. President Donald Trump in the 2016 race….Google and Twitter did not immediately respond to requests to comment on whether they also would pull back support."

"Voting at Home Will Help Save Our Democracy" [New York Times]. "[I]n six states, it's already true that more than 12 million voters don't need to traipse to polling places on Election Day or apply for absentee ballots. The U.S. Postal Service delivers our ballots automatically, several weeks before each election. Voters can mail their marked ballots — sometimes even postage paid — or take them to one of hundreds of official ballot collection sites. Since most voters choose the latter option, vote-at-home is a more accurate label than vote-by-mail…. Oregon rolled out its system in 1998 after voters overwhelmingly approved a ballot measure…. Oregon and Washington weren't battleground states in 2016. But even so, had every state matched our 80 percent turnout of active registered voters, 15 million more votes would have been cast nationwide. Vote-at-home shines even brighter in lower-turnout midterm and primary elections. Both Oregon and Colorado exceeded 70 percent turnout in 2014 among registered voters, compared with the national average of 48 percent."

"How Democrats Should Talk to People in Farm Country" [New York Times]. "That's what Deidre DeJear is doing on the campaign trail, talking about values and opportunity. Democrats might notice that this message can create opportunities in Midwestern states that the party is desperate to reclaim." • Not a lot of detail of what those values might be, or how to operationalize them.
Stats Watch
Purchasing Managers' Index Composite FLASH, September 2018: "Amid a backdrop of rising inflation pressures, sharp slowing in the service PMI sample pulled down September's composite flash and masks a strong showing for manufacturing" [Econoday]. "Weakness in services is centered in the year-ahead outlook which fell to its lowest level of 2018 reflecting concerns over cost pressures as input prices rose sharply and selling prices surged to a record high…. The year-ahead outlook on the manufacturing side is also weak."
Commodities: "Organized Crime Driving Collapse of South African Abalone" [Maritime Exectutive]. "Once abundant, the population of South African abalone Haliotis midae is now declining at unprecedented levels. On average two thousand tons of abalone are bagged annually by poachers – 20 times the legal take – in an illicit industry estimated to be worth at least $60 million a year… Driven by sophisticated transnational criminal networks and local gangs, the illegal abalone trade has been fueled by deeply entrenched socio-economic disparities in the Western Cape, bitterly contested fishing quotas, drugs and gang violence."
Energy: "Big energy companies are trying to put economies of scale in the supply chain to build new frontiers in fracking. Chevron Corp. is setting up what it calls a "factory model" in Alberta, Canada, by building infrastructure and locking up labor and materials, effectively creating a single master plan for an entire region of small shale wells. …[O]il companies are trying to avoid the big logistical problems confronting drillers in the U.S. Permian Basin, where pipeline bottlenecks and trucking shortages have inflated distribution costs" [Wall Street Journal]. "But bigger operators are proving that sheer size can turn around the economics of drilling that have troubled smaller firms. In one instance in Alberta, Chevron built a single storage unit for sand that functions like a grain elevator so the company can drill continuously without having to wait for deliveries from dozens of trucks a day."
Retail: "Coca-Cola Hints At Cannabis Product" [Safe Haven]. "On Monday, Coca-Cola issued a statement saying it is "closely watching" the growth of CBD—a non-psychoactive component in marijuana that could be a key ingredient in "functional wellness beverages" that could ease symptoms of inflammation, pain and nausea. Almost like the run on bitcoin last year, the cannabis space is evolving at breakneck speed… While the alcohol-maker deals are very different and much more 'hands-on' with the cannabis industry, there is some sentiment that Coke deal would lend an enormous amount of credibility to the new sector. Such a deal would also be likely to start a chain reaction among non-alcoholic beverage makers, leading to some very big partnerships."
Retail: "Just say yes? Cannabis bubble expands as iconic Coke seeks a partner" [Freight Waves]. "Beverage companies are enormous consumers of commercial freight services, including trucking. Companies like Ab Inbev, Miller, Coca-Cola, Pepsi, and their peers spend over $8 billion on truckload shipping beverages across the U.S… Producing the underlying agricultural commodities in a highly competitive business, is ultimately a low margin business. What is cannabis once its farming is legalized and widespread? An agricultural commodity. And what are companies like Aurora engaged in? In farming it. So what will happen when everybody can farm it and legalization spreads? Low margins, like all other agricultural industries." • Yeah, well, you know, that's just, like, your opinion, man.
Shipping: "Trucking Shows Strong But Slowing Growth In August 2018" [Econintersect]. "Headline data for truck shipments showed strong (but slower) growth in August 2018…. It should be pointed out that the trucking movements are improving YoY – and the likely reason is the shift from box stores to eRetailers. Econintersect tries to validate truck data across data sources. It appears this month that jobs growth says the trucking industry employment levels rate of growth improved in July – which is consistent with both ATA and Cass. Please note using BLS employment data in real time is risky, as their data is normally backward adjusted (sometimes significantly)."
Shipping: "Warning to forwarders as appetite for fake goods will rise alongside trade war tariffs" [The Loadstar]. "The business of fakes is expected to get a boost from the next round of tariffs on $200bn-worth of Chinese goods, including handbags, leather and silk…. 'A tariff on a genuine bag is a subsidy for a fake,' Susan Scafidi, a New York fashion lawyer, told the Washington Post this week."
Manufacturing: "In a World of Robots, Carmakers Are Hiring More Humans" [Industry Week]. "Of the 13 publicly traded automakers with at least 100,000 workers at the end of their most-recent fiscal year, 11 had more staff compared with year-end 2013, according to data compiled by Bloomberg. Combined, they had 3.1 million employees, or 11% more than four years earlier, the data show…. In developed markets, tasks that can be handled by robots have already been automated years ago and automakers are now boosting hiring in research and development as the industry evolves. Auto companies are hiring more for software positions than hardware roles to prepare for a future in which more vehicles are communicating with each other and their surroundings…."
Transportation: "Self-driving trucks on I-5? Washington and Oregon is nation's best place for them, report says" ['Seattle Times]. "Of all the freeways in the U.S., the most productive corridor for self-driving trucks appears to be Interstate 5 through Washington and Oregon, says a report released this week by the Kirkland-based INRIX data company. First, I-5 carries a lot of freight…. Second, the highway is less congested… Third, the corridor is long — some 637 miles…. Finally, high incident rates throughout I-5 can cause sudden slowdowns. Autonomous trucks may be more valuable in avoiding secondary crashes if they can "see farther ahead" and reduce speed sooner than human drivers, said INRIX spokesman Mark Burfeind."
Tech: "Former Google CEO predicts the internet will split in two by 2028 — and one part will be led by China" [CNBC]. Schmidt: ""I think the most likely scenario now is not a splintering, but rather a bifurcation into a Chinese-led internet and a non-Chinese internet led by America… Chinese Internet is a greater percentage of the GDP of China, which is a big number, than the same percentage of the US, which is also a big number…. Look at the way BRI works – their Belt and Road Initiative, which involves 60-ish countries – it's perfectly possible those countries will begin to take on the infrastructure that China has with some loss of freedom." • Maybe three: the US, the EU, and China. What a debacle.
The Bezzle: "Tesla Loses Supply Management Chief as Exodus Worsens" [Bloomberg]. According to anonymous sources, "Liam O'Connor, vice president of global supply management, has resigned…. O'Connor, who joined Tesla in March 2015 from Apple Inc., is at least the fifth senior executive to be parting ways with the carmaker within the span of a few weeks. The company has lost its chief accounting officer and heads of human resources and communications this month. Justin McAnear, the vice president of worldwide finance, is slated to leave in early October."
The Bezzle: "Tesla's Biggest Problem Isn't Elon Musk" [New York Times]. "Tesla's fundamental financial reality: It isn't producing cars fast enough to meet demand, its operations are running at a loss, and it has huge debts coming due. The resulting pressure on the company's cash balance cannot simply be wished away." • "We're losing money on every unit. Let's make more!"
Gaia
"Subways and Urban Air Pollution" (PDF) [Nicolas Gendron-Carrier, Marco Gonzalez-Navarro, Stefano Polloni, and Matthew A. Turner NBER]. From the abstract: "The data provides clear evidence of a structural break in an average city's [Aerosol Optical Depth* (AOD)] level around the time that it opens its subway network and does not indicate a trend break at any time in our sampling frame. The magnitude of this break is about 4% and is about constant over 48 postsubway months. In fact, the 4% decrease in AOD is evident over all 96 post subway months we observe, although estimates over this longer horizon are less precise and less well identified." • Which is good, because air pollution makes you stupid. NOTE * "A remotely sensed measure of particulates."
Thread on carbon taxes:
If you read about climate policy, you often see the following claim: to achieve deep emissions cuts, we'll need carbon prices of X dollars/ton, where X is in the many hundreds of dollars.

This thread gives you secret recipes for calculating X:

— noahqk (@noahqk) September 20, 2018
"Florence's Death Toll Includes Millions of Animals" [Bloomberg]. "An estimated 5,500 hogs and 3.4 million chickens and turkeys have already died as a result of Florence, which hit landfall Friday. Six days later, flooding remains a problem, with some roads still impassable and some rivers still near cresting. Many of the state's 2,100 hog farms 'are returning to normal,' according to the North Carolina Pork Council. But about a dozen still remained unreachable as of Thursday morning…"
"Quebec hydro line will ruin Maine's 'golden egg' — our beautiful forest" [Bangor Daily News]. "During a 32-year career with the University of Maine Cooperative Extension, I participated in county and regional nature-based tourism initiatives. Maine's forested landscapes are full of lakes, streams, rivers and mountains. They are our natural golden eggs, drawing people to Maine's remote regions and rural communities. Tourists are not coming here to view power lines and other industrial-scale intrusions. [Central Maine Power (CMP)]'s line will chop up a vast and beautiful forest landscape, eroding and degrading remote scenic viewsheds like Attean View, Coburn and Sally mountains, Greenlaw Cliffs, The Notch, and No. 5 and Tumbledown mountains, all in the Upper Moose River Basin. There will be similar impacts at the Kennebec Gorge and Lake Moxie, adjacent to Bald Mountain and the Appalachian Trail." • Life in the colonies…..

Heatlh Care
"These Are the Economies With the Most (and Least) Efficient Health Care" [Bloomberg]. "The U.S. will cost you the most for treatment, both in absolute terms and relative to average incomes, while life expectancy of Americans — about 79 years — was exceeded by more than 25 countries and territories."

MMT
Central Banker: Loanable Funds Theory Is False. Film at 11:
An indictment of textbook (deposit multiplier) money & banking. Assistant Governor of the Royal Bank of Australia (RBA) had to give a "landmark speech" to "clear up confusion" about how banking works. pic.twitter.com/fPEnUsTxH2

— Stephanie Kelton (@StephanieKelton) September 20, 2018
Guillotine Watch
"Meet the Men Marijuana Made Into Millionaires and Billionaires" [Bloomberg]. "A surge in the share prices of cannabis companies have made millionaires, and even billionaires, out of investors. The pot-stock boom is expanding across the industry, with the most extreme example, Tilray Inc., seeing its shares catapult about 13-fold in the months since its July initial public offering…. Background: Brendan Kennedy, 46, and his partners Michael Blue and Christian Groh, whose ages couldn't immediately be confirmed, founded Seattle-based Privateer Holdings Inc. in May 2010. The firm later invested in Canadian pot firm Tilray Inc. The three have known one another for years. Kennedy and Blue are graduates of Yale School of Management's MBA program. Kennedy and Groh had worked together at SVB Analytics, an affiliate of Silicon Valley Bank." • While the people who created the industry rot in jail. Nice.
Class Warfare
"Washington Walkouts Win Teachers Big Raises" [Labor Notes]. "With a possible teacher strike on the horizon in Los Angeles this fall, we can expect this wave to continue to build. A recent national poll by PDK, which polls attitudes toward public schools, found that 73 percent of the public would support a strike by teachers in their area for higher pay." • Lots of detail on Washington here, including the failure of the teachers unions to negotiate simultaneously state-wide.
"The Allocation of Economic Coordination Rights" [Law and Political Economy]. "Presently, both antitrust law and our dominant frame for economic policy more generally tend to favor top-down, hierarchical forms of coordination rounded in ownership rights, while viewing more democratic, horizontal forms of coordination with skepticism. This deep-seated preference, which itself precedes the contemporary concern with promoting competition, can be traced in part to antitrust's (and the law's) original preference for protecting property rights over workers' freedom of association and contract – even as the pre-New Deal courts invoked the freedom of contract in other areas of economic and labor policy."
"When Cities Rely on Fines and Fees, Everybody Loses" [Governing]. As in Freguson, and law enforcement for profit generally. From the article: "these revenue boosters carry economic costs that far outweigh the short-term revenue gains. Because the burden of these penalties falls disproportionately on people who can't afford to pay, jurisdictions collect far less than expected and waste resources chasing down payments that won't materialize…. States can further see net losses if driver's licenses are suspended or residents are incarcerated for nonpayment…. "People can't drive and go to work, which means they can't pay the fines and fees or support their families," says Joanna Weiss, co-director of the Fines and Fees Justice Center."
"#MeToo and McDonald's" [Jacobin]. "Tuesday's one-day strike was workers' way of ratcheting up the pressure on McDonald's to finally take action — not only in its corporate-owned restaurants but also in its franchises….. McDonald's women's committees are regularly meeting in the ten cities where the strike took place, and more are being organized in other parts of the country… #MeToo didn't start in Hollywood. Women leaders in the Fight for 15 have been talking about sexual harassment since the movement began. Women farm workers in the Coalition of Immokalee Workers, hotel workers in UNITE HERE, and garment workers in the International Trade Union Federation have all been organizing around sexual violence and harassment in the workplace for years. They spoke out long before #MeToo became front page news and they are continuing to. What may make this time different is the moment we are in." • While this article has a lot of good detail, there's no real analysis of the "#MeToo movement" as one would expect from the left periodical: Nothing about class at all. For example, do the women's committees formed by the workers have any relation at all to the "official" #MeToo movement? If not, why?
News of The Wired
"People Like You More Than You Know" [Scientific American]. "A new research paper, published last week in Psychological Science, reports that the common concern that new people may not like us, or that they may not enjoy our company, is largely unfounded…. The data also revealed some of the potential reasons for the divide: we are often harsher with ourselves than with others, and our inner critic prevents us from appreciating how positively other people evaluate us." • I wonder how much this varies by culture.
"Animal Drug Safety Communication: FDA Alerts Pet Owners and Veterinarians About Potential for Neurologic Adverse Events Associated with Certain Flea and Tick Products" [FDA]. "[S]ome animals receiving Bravecto, Nexgard or Simparica have experienced adverse events such as muscle tremors, ataxia, and seizures."
"The Cat Meme Photographer from a Century Ago" [Saturday Evening Post]. "The rise of postcards at the turn of the century enabled Pennsylvanian Harry Whittier Frees to build a career out of photographing cute animals donning hats and britches. Frees's work was unique at the time because his shots seemed to display an unlikely cooperation from his furry talent in assuming human poses." • Oh noes!!!!!!
* * *
Readers, feel free to contact me at lambert [UNDERSCORE] strether [DOT] corrente [AT] yahoo [DOT] com, with (a) links, and even better (b) sources I should curate regularly, (c) how to send me a check if you are allergic to PayPal, and (d) to find out how to send me images of plants. Vegetables are fine! Fungi are deemed to be honorary plants! If you want your handle to appear as a credit, please place it at the start of your mail in parentheses: (thus). Otherwise, I will anonymize by using your initials. See the previous Water Cooler (with plant) here. Today's plant (JB):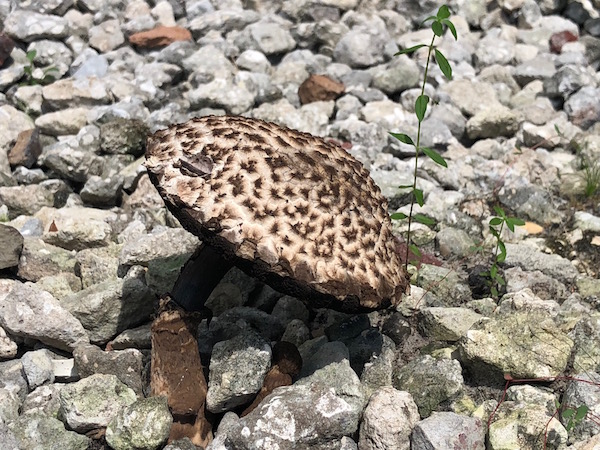 JB writes: "I once spotted what looked for all the world like milk crates, which someone had tossed in a ditch (while out riding my bike one morning). I returned for them with my truck and discovered they were far too lightly molded to serve as milk crates (probably why someone had tossed them). Anyway, I went ahead and gathered them up because I had the truck instead of leaving them on the side of the road (yes, I'm old enough to remember the anti-littering television commercial where the Indian chief sees roadside litter and sheds a tear – it affected my environmental outlook permanently). So once I got them home, and realizing they were generally worthless as milk-crates, e.g. suitable for toting fairly heavy thing, it struck me I could wire them together into a cube and thus, make a serviceable table of sorts. I use it for the entrance to my building and it's where I can set things down to deal with the door when my hands are full. The point being, as I was leaving with packages yesterday and set them down, I noticed what I thought was an anthill, or maybe a wasp nest beneath it. But I could tell because it wasn't clearly visible and the shadows made it impossible. So I lifted tilted it up and found some kind of mushroom. No, don't ask me what kind because I've no clue. While I've named it the crate mushroom, the neatest thing about it is the striking pattern that neatly camouflages it with the shadow pattern. Moreover, it remains difficult for the eye to distinguish against the background. Anyway, I carefully eased my makeshift table back over it and left it alone. Life can be interesting, eh?" I like the playful green shoot at the right, too.
* * *
Readers, I'm still running a bit short on plants. Probably a little soon for fall foliage, or wrapping up the garden, but I'm sure you can find something! How about a project you completed over the summer?
* * *
Readers: Water Cooler is a standalone entity not covered by the annual NC fundraiser. So do feel free to make a contribution today or any day. Here is why: Regular positive feedback both makes me feel good and lets me know I'm on the right track with coverage. When I get no donations for five or ten days I get worried. More tangibly, a constant trickle of small donations helps me with expenses, and I factor that trickle in when setting fundraising goals. So if you see something you especially appreciate, do feel free to click the hat!

To give more, click on the arrow heads to the right of the amount.
If you hate PayPal — even though you can use a credit card or debit card on PayPal — you can email me at lambert [UNDERSCORE] strether [DOT] corrente [AT] yahoo [DOT] com, and I will give you directions on how to send a check.