By Lambert Strether of Corrente.
Readers, I had to stop midway and read up on the latest Kavanaugh developments. I'll have more in a bit. –lambert UPDATE 3:10PM All done!
Trade
"As aid checks go out, farmers worry bailout won't be enough" [ABC News]. "Farmers across the United States will soon begin receiving government checks as part of a billion-dollar bailout to buoy growers experiencing financial strain from President Donald Trump's trade disputes with China." • So Trump, in his crude, chaotic, drunk-on-the-high-wire way, has managed to hit on and deliver a policy that mitigates the local effects of a globalization policy, something forty years of neoliberalism under both parties failed to do. What an indictment.
Politics
2020
Stop making sense:

For far too many people it's too difficult to get to the polls. We need to make it much easier for everyone to participate in the democratic process. Election Day should be a national holiday.

— Bernie Sanders (@SenSanders) September 25, 2018

Elizabeth.

Small piece of news on the 2020 front (unrelated to Kavanaugh & Rosenstein): Elizabeth Warren has hired Hillary Clinton's former policy chief of staff at Hillary For America as a new press secretary, per records.

— Hanna Trudo (@HCTrudo) September 24, 2018

Why? Because Clinton's press office ran like a well-oiled machine?
2018
40 days until Election Day. 40 days is a long time in politics (as we are seeing right now with Kavanaugh and Rosenstein).

"Third Woman, Julie Swetnick, Makes Allegations Against Supreme Court Nominee Brett Kavanaugh" [Wall Street Journal]. "A woman alleged in a sworn declaration Wednesday that she witnessed efforts in the early 1980s by Supreme Court nominee Brett Kavanaugh and others to spike drinks and 'cause girls to become inebriated' so they could be assaulted. She also alleged that she was a victim of a gang rape at a party at which Mr. Kavanaugh was present…. The Senate Judiciary Committee said its lawyers were 'in the process' of reviewing the declaration, which it said Mr. Avenatti provided to the committee Wednesday morning." • Party culture.

Swetnick's affidavit, provided (as promised) by lawyer Michael Avenatti:

Below is my correspondence to Mr. Davis of moments ago, together with a sworn declaration from my client. We demand an immediate FBI investigation into the allegations. Under no circumstances should Brett Kavanaugh be confirmed absent a full and complete investigation. pic.twitter.com/QHbHBbbfbE

— Michael Avenatti (@MichaelAvenatti) September 26, 2018

From the affidavit, #12: "I have a firm recollection of seeing boys lined up outside rooms at many of these parties waiting for their 'turn' with a girl inside the room. These boys included Mark Judge and Brett Kavanaugh." • I don't see how the Republicans can avoid giving Swetnick a hearing, and if they postpone the vote, I bet Kavanaugh's bubble will pop.

"Brett Kavanaugh's slippery answers about high school partying matter" [Matthew Yglesias, Vox]. "Kavanaugh insinuated that he never drank when he was underage, saying on Fox that when he was a senior, the 'drinking age was 18, and yes, the seniors were legal and had beer there.'…. While there's no clear documentary evidence of his relationships with women at the time, there is clear documentary evidence about his drinking habits in the form of his yearbook entry…. Kavanaugh's drinking is unusually well-documented. A friend and classmate of his named Mark Judge actually wrote a book titled Wasted: Tales of a GenX Drunk that appears to discuss it…. As someone who was certainly a contributor to his own high school ralph club, I'm not in a position to hold Kavanaugh's partying lifestyle against him. But what a person chooses to say about past events of which there is clear documentary evidence tells you something about his overall level of honesty and forthrightness…. [H]is general lack of probity is probably disqualifying on its own." • Yglesias wrote this before the latest from Avenatti. I like the "lack of probity" framing.

"Congresswoman Anna Eshoo first to hear Blasey Ford's story: 'I told her I believed her'" [Mercury-News].

* * *

"Vulnerable House Republicans Head Into Midterm Recess With Parting Gifts" [Roll Call]. "By the end of the week, 28 of the 57 House Republicans whose seats are considered in play this cycle, according to Inside Elections with Nathan L. Gonzales, are set to go home with the chamber having voted this month on at least one of their bills. The House was not supposed to adjourn for the midterms until after the first two weeks of October. While no changes to that schedule have been announced as yet, several Republican lawmakers and aides say they expect GOP leaders to cancel next month's sessions to have their members out on the campaign trail the entire month leading into the Nov. 6 elections."

"Republican Attack Ads Overwhelmed by the Democratic Wave" [National Journal]. "The Congressional Leadership Fund, a deep-pocketed super PAC working to help Republicans hold control of the House, took an unconventional approach in its midterm strategy. The group determined that, given the bleak national environment for Republicans, plus a crop of compelling Democratic challengers, it was imperative to attack aggressively early instead of waiting for the waning days of a campaign to unleash the strongest material….. The results of the GOP offensive paint a mixed picture. In a handful of pivotal races, the group's opposition research changed the trajectory of the campaign, perhaps salvaging several seats that once looked lost. But in a sign of how challenging the political landscape is for Republicans, most of the targeted Democrats are still in a solid position to win—with the GOP's best opposition material used up."

UPDATE "'The Midwest Is Swinging Again': Democrats' Best Chances to Flip Governor Seats" [Governing]. "Republicans enjoy nearly total dominance of the Midwest. The GOP holds every governor's office in the region, save for Minnesota, as well as every legislature except Illinois…. Democrats hold clear leads in the races for governor in Illinois, Michigan and Minnesota…. The races in Iowa, Ohio and Kansas all look like tossups at this point…. The 206 counties that swung from Obama to Trump in 2016 were heavily concentrated in the Midwest."

UPDATE "New Polls: Democrats in Decent Shape Across the Frost Belt" [Larry Sabato's Crystal Ball]. "A series of new Reuters/Ipsos/University of Virginia Center for Politics polls found Democrats ahead in a host of Senate and gubernatorial races in five mostly Midwest states that President Trump carried in 2016, in some cases by sizable margins. However, the polling did find two very close contests for Indiana Senate and Ohio governor."

FL Governor: "Tom Steyer to Spend Millions Backing Andrew Gillum in Florida" [New York Times]. "Tom Steyer, the billionaire investor and Democratic activist, has directed his political operation to spend more than $5 million aiding Andrew Gillum's campaign for governor of Florida, an enormous investment that will test whether fired-up Democratic voters can flip control of a state long dominated by Republicans." • Let me fix that lead: "An enormous investment that will test whether an oligarch's money can flip control of a state." Gillum watchers have noticed him walking back commitments to #MedicareForAll and taking hawkish positions on Iran. A prerequisite for Steyer's money?

PA: "Youth voter registration is surging in Pennsylvania" [Post Gazette]. "The latest available data released from the Pennsylvania Department of State on Sept. 17 shows that registered Democrats — more than 4 million in total — outnumbered registered Republicans statewide by more than 810,000. But the most stark takeaway from the numbers comes from people ages 34 and younger, who are now registered to vote in greater numbers in Pennsylvania than those ages 65 and older. That's a first in state history, according to registration activists." • There shouldn't even have to be registration activists!
Our Famously Free Press
"Biased News Media or Biased Readers? An Experiment on Trust" [New York Times]. "[In the Knight Foundation study] half the participants were not allowed to see the source of the news — only to read its content. The other half were allowed to see the source as they would on a typical website. A total of 3,081 people provided ratings of 1,645 different articles originally published by one of seven well-known sources…. the blinded group is significantly more trusting of the news content. People identifying with the Republican Party who read media perceived as left-leaning like The New York Times and Vox without knowing where it came from rated it as more trustworthy than the nonblinded group did." • Vox and the Times? Left-leaning?
Realignment and Legitimacy
"Pigs All the Way Down" [Michelle Goldberg, New York Times]. "Regardless of what happens to Kavanaugh, however, this scandal has given us an X-ray view of the rotten foundations of elite male power. Despite Donald Trump's populist posturing, there are few people more obsessed with Ivy League credentials. Kavanaugh's nomination shows how sick the cultures that produce those credentials — and thus our ruling class — can be…. It may not be fair to judge Kavanaugh by the company he kept. But it's telling that these were the crucibles in which he and other members of our ostensible meritocracy forged their identities and connections…. There's no equivalent culture in which girls reap social capital for misbehaving….. Women who struggle ceaselessly to be smart enough, attractive enough, ambitious enough and likable enough have been playing a rigged game. As they realize that, their incandescent fury is remaking our politics."

"Commanders in Chief: The Women Building America's Military Machine" [Fortune]. "'THE LAST MAN STANDING.' That's what some on Wall Street have recently nicknamed Tom Kennedy, the chairman and CEO of Raytheon. After all, he's the only leader of a top five U.S. defense business who isn't on Fortune's Most Powerful Women list—and for that fact, says Kennedy, 'I couldn't be prouder of our industry.'" • Got your Third Wave Feminism, right here…

"When the Muzzle Comes Off" [Rebecca Traister, The Cut]. "The telling of the stories, the raising of the voices, does its own political work and reveals things that we may have known at some level but have never been able to see so plainly: the connection between policy — the desire to control women's bodies via restricting and policing their reproductive autonomy — and the personal treatment of individual women." • See above.

A remarkable admission:

The establishment isn't responsible for Trump's actions.

But they/we are responsible for the conditions that brought him to power.

— ian bremmer (@ianbremmer) September 26, 2018

Bremer is one of the saner members of The Blob.

"Why Do We Pledge Allegiance?" [Boston Review]. "The Pledge of Allegiance and the motto are two particularly clear examples of the invention of traditions. The U.S. Constitution, ratified in 1787, specified no pledge or motto, and the country survived for more than a century without either, just as it possessed or needed no national anthem. In the process of nation-building in the late 1800s and early 1900s, made urgent by the trauma of the Civil War and the perceived menace of immigration and socialism, the United States created and promoted these and many other traditions for the express purpose of instilling national identity." • I wonder what traditions will be invented during the current traumas and menaces….

UPDATE "How many Americans actually support Trump?" [CNN]. The article doesn't really answer the question, but gets more interesting toward the end: "That only a little more than a quarter of adults voted for either Trump or Clinton in the election is an extreme reminder that about half of the population over the age of 18 either wasn't interested enough in the election or was too disgusted by both candidates…. Turnout in midterm elections is usually even much lower. In 2014, 33.2% of the voting age population voted…. It's long been a relatively small portion of the population that decides who controls the government." • Odd. Gerrymandering is bad, but pales in comparison to this.
Stats Watch
New Home Sales, August 2018: "August's annualized sales pace for new homes came in right at expectations but is offset by sharp downward revisions to the two prior months" [Econoday]. "[V]olatility aside, the sector is doing no better than mixed and looks to remain a disappointing contributor to overall economic growth." And but: "Because of weather and other factors, the rolling averages are the way to view this series. This month was better than last month – and the rolling averages improved" [Econintersect]. "This data series is suffering from methodology issues which manifest as significant backward revision." And: "Even with the increase in sales over the last several years, new home sales are still somewhat low historically" [Calculated Risk].
State Street Investor Confidence Index, September 2018: "Global institutional investors became even more risk averse in September" [Econoday]. "[I]nstitutional skepticism was particularly acute in North America, where confidence has declined to a level not seen since 2012, pulled down by elevated stock valuations and the escalating trade dispute between the U.S. and China."
MBA Mortgage Applications, week of September 21, 2018: "Purchase applications for home mortgages rose" [Econoday]. "Though moderate, the purchase application volume gains despite the substantial rise in interest rates should offer some encouragement to a housing market that has faltered in recent months." • If they translate into building permits.
The Bezzle: "Tesla to build trucks to deliver its own cars" [Supply Chain Dive]. Not a very critical article. From the end: "The company is also reportedly offering new incentives like charging credits and even discounts on cars to drive the company toward profitability." • Oh.
The Bezzle: "Tesla Worker Says Musk Summoned Him to Meeting, Ripped Union" [Industry Week]. "During the meeting, he said, Musk told [prominent union supporter Jose Moran, a lead quality inspector for Tesla,] and a co-worker he had brought along as a witness that with the United Auto Workers union, 'you don't really have a voice' and 'the UAW is the only one that has a voice, and not the workers.' Moran said Tesla's then-human resources head Gaby Toledano then told them 'that the majority of the workers at Tesla don't want a union, and why do we want to pay union dues?' After Moran replied that he had the right to organize, and his co-worker said they were trying to improve the company by unionizing, Toledano and Musk suggested that Moran could start participating in safety committee meetings to address his concerns, according to Moran. Then, he testified, Musk said, 'If these safety committee meetings don't work out, then we'll give you your union.'"
The Bezzle: "Uber agrees to $148M settlement with states over data breach" [Associated Press]. "Uber will pay $148 million and tighten data security after the ride-hailing company failed for a year to notify drivers that hackers had stolen their personal information, according to a settlement announced Wednesday. Uber Technologies Inc. reached the agreement with all 50 states and the District of Columbia after a massive data breach in 2016. Instead of reporting it, Uber hid evidence of the theft and paid ransom to ensure the data wouldn't be misused."
Police State Watch
"Prosecutors in Florida drop 119 cases involving deputy who is accused of planting evidence" [USA Today]. "The charges involved everything from misdemeanor and criminal traffic offenses to felonies, including possession of methamphetamine and other controlled substances. All of the cases involved former Deputy Zachary Wester, who was fired Sept. 10 and remains under investigation by the Florida Department of Law Enforcement."
Guillotine Watch
"We Didn't Call It Rape" [Slate]. "Every June, we had Beach Week—a tradition also described in a Washington Post piece about Ford—in which teenagers actually rent houses to party at the beach, something I still don't quite comprehend. I distinctly remember being at a Beach Week party with my then-boyfriend when it dawned on us that there was a drunk girl in a room down the hall, and boys were "lining up" to go in there and, presumably, have their way with her. We didn't know for sure, but my boyfriend and my friend's boyfriend went to interrupt it and sent her on her way down the stairs. All I remember about her is that she was in the class above us and had dark hair. My friend has told me she remembers boys saying, "I'm next," which was why our boyfriends went to stop it. That was the only time I can clearly remember a situation that was so obviously a "lineup," as it was referred to by some at school. My friend remembers witnessing another, and though there weren't lineups of this nature at every party, they happened often enough that we had a term. We didn't call it rape." • Read the whole thing for the Kavanaugh milieu, and especially the presence (or absence) of the parents. And do recall this is the Beltway.
Class Warfare
National Comic Book Day:
— DSA Cat Caucus?? (@DSACatCaucus) September 26, 2018
"Union chief Tosh McDonald boasts he used to set his alarm clock an hour earlier 'to hate Thatcher some more'" [Mirror]. • I don't like to encourage hate, but for Maggie Thatcher I'll make an exception.
"Life expectancy progress in UK 'stops for first time'" [BBC]. "Life expectancy in the UK has stopped improving for the first time since 1982, when figures began. Women's life expectancy from birth remains 82.9 years and for men it is 79.2, the figures from the Office for National Statistics, for 2015-17, show. In some parts of the UK, life expectancy has even decreased." • Jackpot!
News of the Wired
"Westminster Abbey Gets Hockney-Designed Stained Glass Window" [Associated Press]. "'I didn't want a figurative or heraldic thing at all,' said Dean of Westminster John Hall, who dismissed some of the older stained glass windows in the abbey as 'vulgar' and 'ghastly.'" • Well, there's your problem with the Anglica church. Here's a larger image.
"Eating 'too many Hot Cheetos' sent rapper Lil Xan to the hospital, he says" [USA Today]. "'We good,' he said before promoting his upcoming tour." • I think I'm too old for this line of work.
Capturing the zeitgeist:
#NationalComicBookDay pic.twitter.com/J3BHukGmzd

— Ward Harkavy (@WHarkavy) September 25, 2018
* * *
Readers, feel free to contact me at lambert [UNDERSCORE] strether [DOT] corrente [AT] yahoo [DOT] com, with (a) links, and even better (b) sources I should curate regularly, (c) how to send me a check if you are allergic to PayPal, and (d) to find out how to send me images of plants. Vegetables are fine! Fungi are deemed to be honorary plants! If you want your handle to appear as a credit, please place it at the start of your mail in parentheses: (thus). Otherwise, I will anonymize by using your initials. See the previous Water Cooler (with plant) here. Today's plant (TH):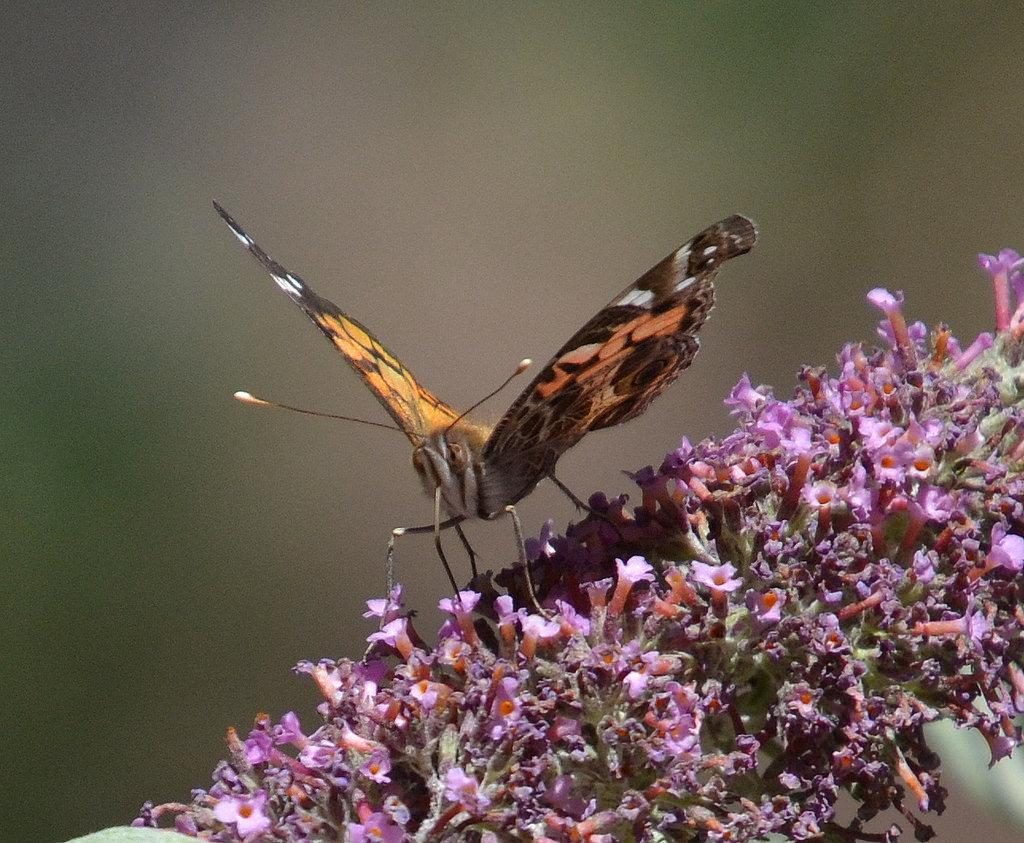 TH writes: "Painted Lady butterfly dipping her little straw into a butterfly bush bloom."
Bonus, since I've been a bit derelict, reading up on Kavanaugh: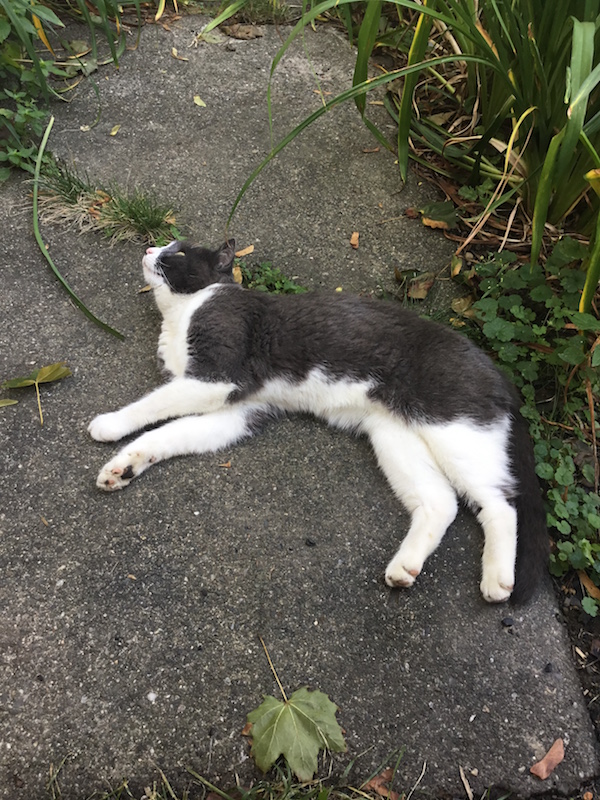 The cat's appearances are becoming intermittent as the nights cool…
* * *
Readers, I'm still running a bit short on plants. Probably a little soon for fall foliage, or wrapping up the garden, but I'm sure you can find something! How about a project you completed over the summer?
* * *
Readers: Water Cooler is a standalone entity not covered by the annual NC fundraiser. So do feel free to make a contribution today or any day. Here is why: Regular positive feedback both makes me feel good and lets me know I'm on the right track with coverage. When I get no donations for five or ten days I get worried. More tangibly, a constant trickle of small donations helps me with expenses, and I factor that trickle in when setting fundraising goals. So if you see something you especially appreciate, do feel free to click the hat!

To give more, click on the arrow heads to the right of the amount.
If you hate PayPal — even though you can use a credit card or debit card on PayPal — you can email me at lambert [UNDERSCORE] strether [DOT] corrente [AT] yahoo [DOT] com, and I will give you directions on how to send a check.