Readers, I'm sorry this is a bit late. The "T" on my keyboard gave out, and with an already dodgy "N" it was simply too much. I had to switch to a second machine, and that wasn't as seamless a transition as I might have wished. –lambert
By Lambert Strether of Corrente.
I encountered a new KHN article with the eye-catching title "Avoidable Sepsis Infections Send Thousands Of Seniors To Gruesome Deaths," but discovered it was both what, and less than, it seemed. The article was quite strong on sepsis[1] horror stories in nursing homes, but less strong on epidemiological data. So I'll present extracts from KHN, and then broaden the scope of the article to sepsis generally, for which we have a wealth of information. (Kaiser also has this handy interactive map, "Pinpointing Sepsis Risk, By Site," that allows you to search for nursing homes — although not hospitals — by state and city, in case the combination of my headline and KHN's headline has given you apprehension. All nursing homes aren't death traps, fortunately.)
First, the KHN article. Skipping the horror stories, the numbers:
Year after year, nursing homes around the country have failed to prevent bedsores and other infections that can lead to sepsis, an investigation by Kaiser Health News and the Chicago Tribune has found….

A special analysis conducted for KHN by Definitive Healthcare, a private health care data firm, also suggests that the toll — human and financial — from such cases is huge.

Examining data related to nursing home residents who were transferred to hospitals and later died, the firm found that 25,000 a year suffered from sepsis, among other conditions. Their treatment costs Medicare more than $2 billion annually, according to Medicare billings from 2012 through 2016 analyzed by Definitive Healthcare.

In Illinois, about 6,000 nursing home residents a year who were hospitalized had sepsis, and 1 in 5 didn't survive, according to Definitive's analysis.
Understaffing is one possible cause of sepsis:
Much of the blame, regulators and patient advocates say, lies in poor staffing levels…. Matt Hartman, executive director of the Illinois Health Care Association, which represents more than 500 nursing homes, acknowledged low staffing is a problem that diminishes the quality of nursing care.

Hartman blamed the state's Medicaid payment rates for nursing homes — about $151 a day per patient on average — which he said is lower than most other states. Medicaid makes up about 70 percent of the revenue at many homes, he said.
(The article says nothing about staffing at profit vs. non-profit facilities). Nevertheless:
There is little agreement over how much staff should be required in nursing homes. Federal regulations simply mandate that a registered nurse must be on duty eight hours per day, every day. In 2001, a federal government study recommended a daily minimum of 4.1 hours of total nursing time per resident, which includes registered nurses, licensed practical nurses and certified nursing assistants, often referred to as aides. That never became an industry standard or federal regulation, however.

Most states set requirements lower and face industry resistance to raising the bar. A California law requiring 3.5 hours per resident as of this July 1 is drawing intense criticism from the industry, for instance.
A second cause of sepsis, no doubt related to staffing, is poor infection control:
Poor infection control ranks among the most common citations in nursing homes. Since 2015, inspectors have cited 72 percent of homes nationally for not having or following an infection-control program. In Illinois, that figure stands at 88 percent of homes.
Finally, sepsis often leads to hospitalization, stressful for patients and expensive:
[A] federal report has found that care related to sepsis was the most common reason given for transfers of nursing home residents to hospitals and noted that such cases ended in death "much more often" than hospitalizations for other conditions.

Examining data related to nursing home residents who were transferred to hospitals and later died, the firm found that 25,000 a year suffered from sepsis, among other conditions. Their treatment costs Medicare more than $2 billion annually, according to Medicare billings from 2012 through 2016 analyzed by Definitive Healthcare.

"This is an enormous public health problem for the United States," said Dr. Steven Simpson, a professor of medicine at the University of Kansas and a sepsis expert. "People don't go to a nursing home so they can get sepsis and die. That is what is happening a lot."
Nevertheless:
.
That's what I mean about there not being enough epidemiology! A second example, on hospital transfers:
[A] critical 2013 Department of Health and Human Services audit found Medicare had paid about $14 billion in 2011 for these transfers. Care related to sepsis cost Medicare more than the next three costliest conditions combined, according to the audit.

, a spokesman for the HHS Office of Inspector General said.
Now let's turn to sepsis at the national level, for which there is a wealth of information. First, some numbers. Sepsis is a terrible problem:
Sepsis is associated with a high mortality rate and poses an overwhelming burden of healthcare utilization in the United States. In the United States sepsis is a major public health problem responsible for over 750,000 hospitalizations and 215,000 deaths annually.
It's not clear how many of those hospitalizations are transfers from nursing homes, since we have no data. It's also not clear to me how much sepsis is caused within — or by — hospitals; clearly a lot, since "there were an estimated 722,000 [Hospital Acquired Infections (HAIs) in U.S. acute care hospitals" in 2011; however, not all HAIs culminate in sepsis. From the NIH:
Sepsis is a major challenge in hospitals, where it's one of the leading causes of death. It is also a main reason why people are readmitted to the hospital.
What is clear is that people who, for whatever reason, are more likely to have become enmeshed in the health care system are also at greater risk. From the NIH once more:
The people at highest risk are infants, children, the elderly, and people who have serious injuries or medical problems such as diabetes, AIDS, cancer, or liver disease.
As we might expect, sepsis is not uniformly distributed. Two factors seem salient: Household income, and geography.
First, household income. From "Association of Household Income Level and In-Hospital Mortality in Patients With Sepsis: A Nationwide Retrospective Cohort Analysis" (2018):
Associations between low socioeconomic status (SES) and poor health outcomes have been demonstrated in a variety of conditions. However, the relationship in patients with sepsis is not well described. We investigated the association of lower household income with in-hospital mortality in patients with sepsis across the United States.

After adjustment for severity of illness, patients with sepsis who live in the lowest median income quartile had a higher risk of mortality compared to residents of the highest income quartile. The association between SES and mortality in sepsis warrants further investigation with more comprehensive measures of SES.
Second, geography. From "Defining Sepsis Mortality Clusters in the United States" (2017):
These results also suggest that sepsis mortality clustering is prevalent in counties located in the southeastern US with three specific clusters: 1) "Mississippi Valley" – counties bordering the southern Mississippi river in three southern states (Louisianna, Arkansas, and Mississippi); 2) "Middle Georgia" – a belt of counties expanding from southwest Georgia through middle to southeast Georgia; 3) and "Central Appalachia" – a cluster of counties in southeastern Kentucky and southwest Virginia…. Over the ten-year observation period, 5.2% (161 of 3,108) of US counties were defined as strongly clustered counties. After adjustment for age and community level characteristics, those living in the strongly clustered counties were about 1.5 times more likely to have a sepsis related death than people living in non-clustering counties. Demographic and socio-economic characteristics associated with sepsis mortality clustering were race, household income, value of housing property, education, rural population, poverty, ratio of hospitals per 100,000 persons, insurance coverage, and higher unemployment rate.
Here's a map of the authors' county level data: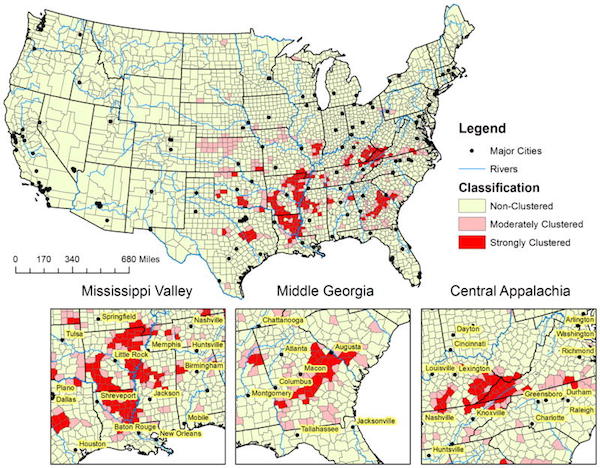 (They prescribe ACA expansion, because most of the mortality clusters are in non-Medicaid states, but if the objects is to impose uniform standards of care, surely Medicare for All would be better?
* * *
As usual in our wonderful health care system, some go to Happyville, and some to Pain City, depending on the luck of the draw. If you want to avoid sepsis for yourself or a loved one, clearly your best approach is to pick wealthy place to be born, and plan to avoid growing old; failing the latter, you can to some extent be a "smart shopper," at least for a nursing home, by using this interactive map. While I was doing the research for this piece, I ran across a lot of work by practitioners seeking to prevent sepsis — the slide in note [1] is from a conference on the topic — and that makes me hopeful, but when that good work comes to fruition, it will surely do so based on income and geography, and the unfairness of that — particularly for the helpless elderly — makes me heartsick.
NOTES
[1] What is sepsis? In medicalese: "Sepsis should be defined as life-threatening organ dysfunction caused by a dysregulated host response to infection" (The Third International Consensus Definitions for Sepsis and Septic Shock (Sepsis-3)). In lay terms: "Sepsis is the body's overwhelming and life-threatening response to infection that can lead to tissue damage, organ failure, and death. In other words, it's your body's over active and toxic response to an infection" (Sepsis.org). Here is a tweet on how to detect sepsis in its early stages:
Pippa Bagnall Sepsis can happen to anyone anytime. Community Nurses can be 1st to identify; know the symptoms #qni2018 pic.twitter.com/8YrkRir32Z

— Anne Taylor RGN DN QN MSc (@AFTaylorDN) September 24, 2018
Note especially that next-to-the-list bullet point. The initials of each bullet point spell "SEPSIS"; this is "I." Yikes.