Study shows synchronous human energy consumption over the past 10,000 years PhyOrg (Lance)
'Sesame Street' shuts down speculation over Bert and Ernie's sexual orientation Washington Post (Dr. Kevin)
Study: people tend to cluster into four distinct personality "types" ars technica. No neurotic introverts? What are they thinking?
China?
South Korea leader: North Korea agrees to take steps toward denuclearization The Hill. UserFriendly:n "But how will Trump take the credit?"
Danske Bank chief quits over money laundering scandal Financial Times. This is huge. $250 billion of money laundering. Total failure of supervision and ethics. And this is still, as our Richard Smith points out, only <5% of Scottish limited partnerships.
Danske Bank: 3,500 obvious mailbox companies at shared addresses, 1700 filing fake accounts, 500 with moneylaundering "form". Not clear how many shellcos are UK, but UK companies were the single biggest contributor to the problem sector from 2010 onwards. pic.twitter.com/mo2dWt3vfZ

— Richard Smith (@ncsmiff) September 19, 2018
Ireland collects more than €14bn in taxes and interest from Apple Guardian
Brexit
From Politico's daily newsletter:

HERESA MAY'S GERMAN APPEAL: Theresa May, meanwhile, has an op-ed in Germany's Die Welt this morning ahead of the Salzburg summit. She says the EU and Britain are close to "achieving the orderly withdrawal," but insists she won't budge on the Irish border. "Neither side can demand the unacceptable of the other," she writes. This would include erecting "an external customs border between different parts of the United Kingdom — which no other country would accept if they were in the same situation."

White smoke from Brussels? The EU's chief negotiator, Michel Barnier, declared a new willingness Tuesday to rethink the "backstop" provision that Brussels and Dublin insist is needed to prevent the recreation of a hard border between Ireland and Northern Ireland. But while the comments were clearly intended to reassure London and ease tensions, they do not necessarily indicate a fundamental shift in the EU position, report David Herszenhorn and Jacopo Barigazzi.

Parliament has a 'golden moment' to halt Brexit before it's too late Guardian (Kevin W). Help me.
Britain: the Anti-Semitism Debate Counterpunch (Chuck L)
Collapse of Outsourcing Giant Carillion May Have Silver Lining Wolf Richter (EM)
New Cold War
THE MH17 MISSILE GOES HOME TO UKRAINE Dances With Bears (Chuck L)

Clinton tells @maddow that she was an obstacle to Russia's plan to undermine our democracy & suggests we should be scared of the Kremlin's grand designs. The lengths these people will go to protect their privilege & deflect from their own failures is staggering, & a real threat. pic.twitter.com/X8aTfdHPNL

— Aaron Maté (@aaronjmate) September 19, 2018
Syraqistan
Assad Has Won and America Must Go National Interest

In Saudi Arabia, black gold is still king Asia Times (Kevin W)

Made in America: Shrapnel in Yemen ties US bombs to civilian deaths CNN (UserFriendly)
Big Brother is Watching You Watch
Mark Zuckerberg Profile Reveals Origins of Facebook (FB) Problems Bloomberg (furzy)
Trump Transition
Kavanaugh
How an Unlikely Alliance Saved the Democrats 100 Years Ago Politico (UserFriendly)
Shield of the Republic: A New Democratic Foreign Policy Atlantic (UserFriendly)
Here Are 5 of the Most Laughable and Pathetic Moments in Ted Cruz's Senate Campaign — So Far Alternet (furzy)
A no-nonsense conversation between Alexandria Ocasio-Cortez and Kerry Washington Interview (UserFriendly)
Alexandria Ocasio-Cortez and the Politics of a $3,000 Suit New York Times (Bill Blunden). You have to get WAY into the article to read this:
Ms. Ocasio-Cortez shot back at her critics, pointing out the obvious — that she did not buy the clothes she wore for the shoot. They were lent to the magazine for the purpose of taking pictures.
SEC Decision Begins Process of Reforming Corporate Governance RealClearPolicy
What would DOJ have to prove in Elon Musk case Yahoo Finance (EM)
The Fed Isn't Heeding the Bond Market's Message Bloomberg (furzy)
Bipartisan Bill Would Boost Infrastructure, Trim Debt RealClearPolitics. UserFriendl3y: "Sell off everything!"
Just How Wildly Exuberant is the Junk-Credit Market? Wolf Richter (EM)
Class Warfare
Bernie Sanders' Anti-Amazon Bill Is an Indictment of the Media, Too Rolling Stone (furzy)

Wall Street Salaries Are 7 Times Higher Than Households Fortune (UserFriendly)

Wharton's top professor says America should shorten the work day by 2 hours CNBC
Antidote du jour, from Samuel C:
Life got in the way of gardening this Summer and weeds took over my tiny milkweed patch ("Purple Milkweed"; a coveted variety in my parts. Am trying to grow them for a sibling who wants eventually to sell them in a "pop-up" farmer's market). When I recently got around to clearing out the chaos, I was greeted by a swarm of Monarch Caterpillars. There were six of them on the more damaged plant, including 3 on one leaf. The two pictured here seemed to be sparring.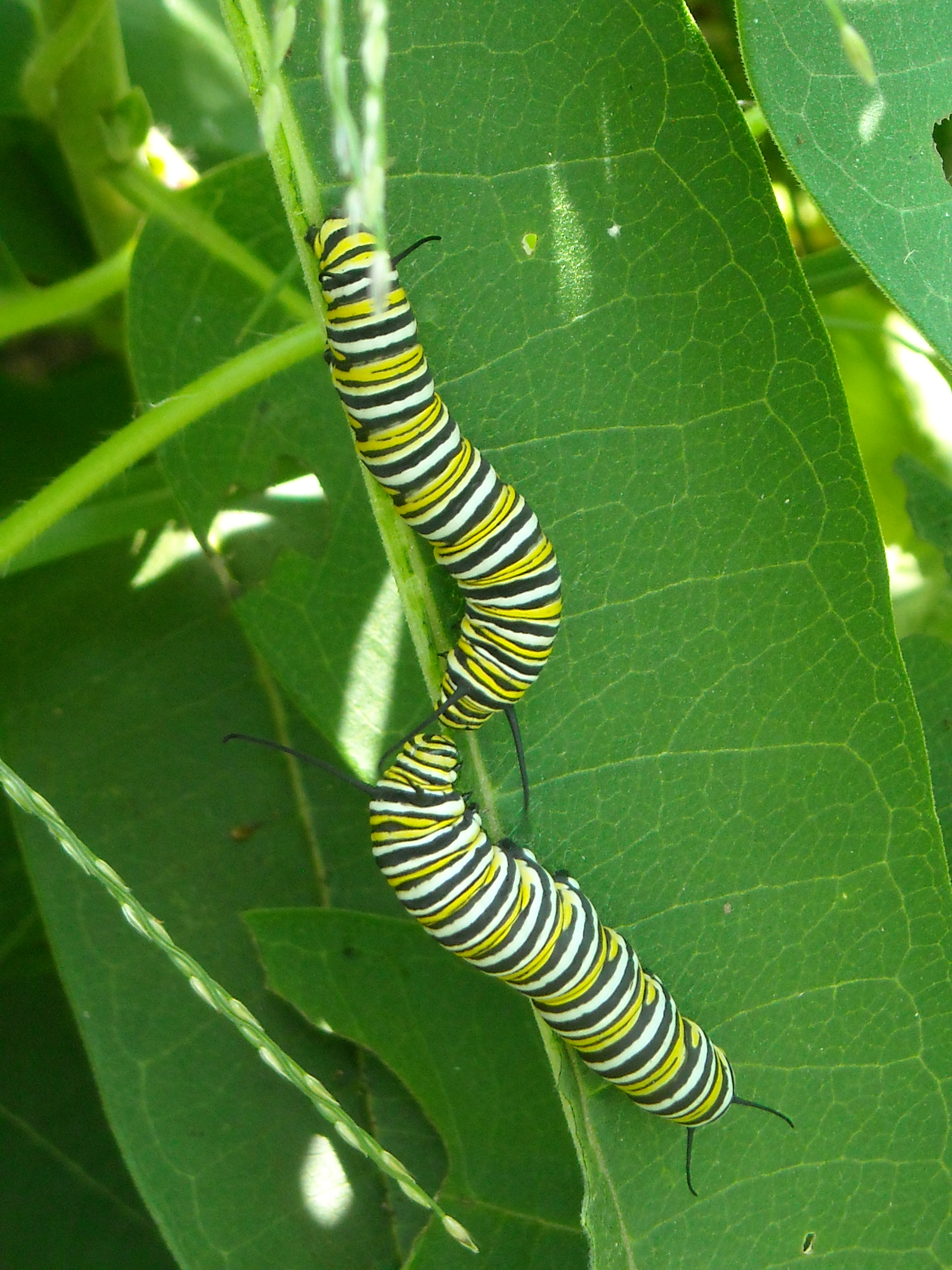 And a bonus from Dan K:
Never confuse kindness as a sign of weakness. pic.twitter.com/jmMxn9wn3N

— Farbod Saraf (@farbodsaraf) September 3, 2018
See yesterday's Links and Antidote du Jour here