By Lambert Strether of Corrente.
This is Naked Capitalism fundraising week. 63 donors have already invested in our efforts to combat corruption and predatory conduct, particularly in the financial realm. Please join us and participate via our donation page, which shows how to give via check, credit card, debit card, or PayPal. Read about why we're doing this fundraiser, what we've accomplished in the last year and our current goal, funding our digital infrastructure.
* * *
Trade
"Canada should choose free trade with China, not US protectionism – Beijing" [South China Morning Post]. "China has called on Canada to join Beijing in protecting free trade and suggested it should not join any protectionist measures, apparently taking aim at the new trade deal between the US and Canada that could potentially isolate China on international trade." • Cheeky!
"The Unknowable Fallout of China's Trade War Nuclear Option" [Andrew Ross Sorkin, New York Times]. "Even in the gloomiest of doomsday scenarios, there is one weapon that has long been considered unthinkable: the Chinese, the biggest holder of United States foreign debt with more than $1 trillion, publicly taking a step back from buying United States Treasuries — or worse, dumping what they own in the open market… China doesn't have any American imports left to tariff and it is already taking aim at deals, so what's left?… [I]t is worth remembering that Beijing's endgame is not necessarily to ensure the financial health of its country this year or the next. If China were to suffer short-term pain to gain a real and lasting advantage over the United States — or at least not lose any advantages it does have — it might be willing to struggle a bit today." • Hmm. I'm not sure what Sun Tzu would say. Readers?
Politics
2020
Bernie! No! Don't go in the haunted house!

.@SenSanders: "Yes, we have to get rid of Assad…But we cannot do it unilaterally." #MTP pic.twitter.com/Vg5EZQNwSt

— Meet the Press (@MeetThePress) April 9, 2017

First, Gillum kowtows to The Blob. Now Sanders. (And the worst of it is that if Sanders held a foreign policy town hall in the flyover states, he'd find a degree of realism out there about our imperial ventures. Trump tapped that vein. Why on earth can't Sanders?

UPDATE It's like they're all on the same team:


BREAKING: Former VP @joebiden will present this year's #LibertyMedal award to former President George W. Bush and former First Lady @laurawbush for their commitment to veterans.

The ceremony will take place on #VeteransDay, November 11, in #Philadelphia: https://t.co/jnl1ouWrmk pic.twitter.com/KdcYhDHy31

— National Constitution Center (@ConstitutionCtr) October 10, 2018

UPDATE "Today, I have re-registered as a Democrat – I had been a member for most of my life – because we need Democrats to provide the checks and balance our nation so badly needs." [Michael Bloomberg].
2018
25 days until Election Day. 25 days is a long time in politics. And remember that October is the month of surprises, as Mr. Market is showing!

"Real Democratic agenda: health costs, corruption, jobs and fairness" [Cheri Bustos, Hakeem Jeffries and David Cicilline, USA Today]. "Democratic Reps. Cheri Bustos of Illinois, Hakeem Jeffries of New York and David Cicilline of Rhode Island are co-chairs of the House Democratic Policy & Communications Committee." Oxford comma issues aside, now there's a hill to die on: "Less corruption." Timid incrementalism for the win!

UPDATE "Poll: Kavanaugh confirmation energizes Democrats more than GOP" [Politico]. "While Republicans have cited an increase in excitement among their voters during the Kavanaugh fight — and some polls last week indicated that the GOP had closed the enthusiasm gap — both the POLITICO/Morning Consult poll and a CNN/SSRS survey conducted over the past weekend and released Tuesday show Democrats more animated than Republicans." • If I understand what's being measured, I care less about whether the already energized are more energized then about voter who might flip from one party to the other, or who will vote now when they would not have before.

"Don't Sweat the Election Night Surprises" [Inside Elections]. "Two of the biggest electoral surprises in recent history happened because of a lack of media coverage and party attention. Both took place in primaries in districts that weren't regarded as competitive. I get asked if I predicted primary victories by Republican Dave Brat in Virginia in 2014 or Democrat Alexandria Ocasio-Cortez in New York this year. The short answer is no. … But the longer answer is that I wasn't really looking either. I'm primarily focused on the general election races that will change party hands, or primaries in contests that will affect control of Congress." • Same with me; AOC's district was safe Democrat (though not safe liberal Democrat) so I didn't focus on it.

AZ Senate: "McSally Gains, Sinema Falls Behind In Arizona Senate Race" [Arizona Independent]. "A new poll shows that Martha McSally, Arizona's Republican nominee for U.S. Senate, has increased her lead over Democratic nominee Kyrsten Sinema. The OH Predictive Insights poll was conducted on the first two days of October from a likely 2018 General Election voter sample. Although the amount of undecided voters has grown to 8%, McSally is currently leading with 47% of the vote and Sinema has dropped down to 41%. The introduction of Green Party candidate Angela Green takes from Sinema's share, with 4% of the vote. • RH: "100% of the 4% Green voters were Sinema supporters before…. Riiiiiiiiiiiiiight. Don't those voters know Democrats own their votes? And Angela Green as the Green Party candidate–that's a useful mnemonic. Maybe if Jill Stein changes her last name she can get 4% of the vote…."

ND Senate: "Midterm Update: North Dakota goes to Leans Republican, giving the Republicans a clearer edge in the Senate" [Larry Sabato's Crystal Ball]. "The North Dakota Senate race moves from Toss-up to Leans Republican, reinforcing what we've long described as a GOP edge in the race for the Senate. The Democrats do have a path to the majority, but that path almost certainly involves winning at least one race we currently rate as Leans Republican: the aforementioned North Dakota contest, or Tennessee or Texas."

TX Senate: "The cult of Beto" [The Week]. "There is no way Robert Francis O'Rourke, alias "Beto," a.k.a. the no-doubt gleaming future of the Democratic Party is as delusional about his prospects for success as his followers. That would be impossible….. No single article or tweet could do justice to the brain-destroying tedium of hyperbole, the willful exaggeration, the gushing faddishness, the hipster capitalist complacency, the novelty songwriting contest banality, the experimental filmmaker commercial-directing pseudo-profundity, the sheer late-night TV-level humorlessness of the Beto cult." • I was getting tired of reading about Beto sweating. For awhile, that was in every lead.

UPDATE MD Governor: "A third of Maryland Democrats are backing the Republican governor.Former NAACP president Ben Jealous, Maryland's Democratic gubernatorial nominee, is one of 2018's most compelling candidates. He's also running one of the cycle's most challenging campaigns, taking on Republican Larry Hogan, who consistently polls as one of America's most popular governors—despite the fact that Democrats outnumber Republicans by a two-to-one margin in the state. On Tuesday, a Washington Post/University of Maryland poll found that Jealous is trailing Hogan by 20 points—58 percent to 38 percent. Most troubling for Jealous is that Hogan is winning 35 percent of Democrats. Hogan, moreover, has a slightly higher favorability rating among Democrats than Jealous does, 58 percent to 52 percent." [The New Republic]. So any blue won't do? I'm shocked.
Please Kill Me Now
Letting the cat out of the bag:

"I didn't realize at the time that anybody noticed what we were doing… He is my partner in crime at every major thing where all the formers gather… I love him to death." @MichelleObama talks about George W. Bush handing her a cough drop (an old one at that!) at McCain's funeral pic.twitter.com/hS9fV0DHjB

— TODAY (@TODAYshow) October 11, 2018

"Partner in crime," eh?
Realignment and Legitimacy
"Maybe Girls Will Save Us" [New York Times]. "Beyond simply being involved, the girls of this generation are as passionate and unapologetic about what matters to them as any in history. They display a sense of moral clarity, an instinct for inclusiveness, and a commitment to making the world a better place for people of all ages and genders. The rest of us should follow their lead." • See The Howler for commentary, here.

"I know the culture that produced Kavanaugh: tradition and violence at D.C. prep schools" [Scalawag]. "Look, I'm not saying St. Stephen's or Prep were horrible. My parents gave me the option of transferring and I didn't. I loved my teachers. I was given the very best formal education to prepare me for success (in white conservative spaces). College at an Ivy League was a walk in the park compared to high school. The first time I really experienced the same rigor again was writing my dissertation at Yale 10 years later. And to be quite frank, I'm friends with some of the same guys I'm referencing here. When I'm in town, we go out together, and we drink. Make no mistake, studying and academic rigor were community norms at my high school. So was community service. But hard drinking, sex, and misogyny were also community norms. That is just a fact. If those norms hadn't changed in the 20 years separating me and Kavanaugh, I'll wager they are still the same behaviors that are excused, overlooked, and exacerbated by adults in power at these institutions today."

"The Supreme Court Post-Kavanaugh: A Grand Strategy for the Left" [Benjamin Studebaker]. "Right this minute, we probably can't persuade a majority of Americans either that Kavanaugh should be impeached or that the court should be packed…. They will not support his removal–and they will certainly not support court-packing–unless and until Kavanaugh demonstrates deeply partisan behaviour from the bench. This, then, is what we have to wait for…. For now, the move is to be patient with respect to the court and return to our bread and butter mass issues–healthcare, inequality, and wages." • Isn't it pretty to think so; see above story from USA Today.

"The Democrats Have a Latino Problem" [Slate]. "While Trump was enacting his anti-immigrant agenda, Latino voters seemed to have slowly warmed up to the president. In last week's NPR/PBS/Marist poll, 41 percent of Hispanics approved of Trump's performance (black Americans? 12 percent). This is no outlier. Another recent poll put Trump's approval among Latinos at 35 percent. An average of both would put Trump—again, an overtly nativist president—within about 10 points of Barack Obama's 49 percent approval among Hispanic at roughly the same time in his presidency. This does not mean Donald Trump is a popular president among Hispanics. He is not. But he is not repudiated, either, not by a mile." • So much for this "Obama Coalition" ("coalition of the ascendant") liberal Democrats keep talking themselves into.

"Social Security beneficiaries to get biggest bump in seven years" [MarketWatch]. "Retirement benefits are slated to rise 2.8% next year, based on the formula that determines annual cost-of-living adjustments in Social Security. It's the biggest gain since a 3.6% advance in 2012." • I'm filing this here not because 2019 is an election year (it isn't, unlike 2012) but as a reminder that a Grand Bargain doesn't seem to be on the table or anywhere near it. (We have Monica Lewinsky to thank for a Grand Bargain between Newt Gingrich and Bill Clinton collapsing, and the Freedom Caucus for not letting John Boehner cut a deal with [genuflects] Obama, though to be fair, they wanted to deal to be more Draconian.)
Stats Watch
Consumer Price Index September 2018: "Don't expect criticism of Federal Reserve rate hikes to ease any after today's very subdued consumer price report" [Econoday]. "Wages may be tilting higher this year but they have yet, to say the least, to spillover into overall prices which remain remarkably flat given the strength of the economy and especially the labor market. Unless inflation does begin to show life, either perhaps in tomorrow's import and export price report or coming CPI reports, expectations for a Fed rate hike at the December FOMC could begin to fade." And: "Apparel and services were the main driver for year-over-year inflation. Core inflation remains above 2.0 % year-over-year" [Econintersect]. And: "Key Measures Show Inflation Decreased on YoY Basis in September" [Calculated Risk]. "On a monthly basis, median CPI was at 2.3% annualized, trimmed-mean CPI was at 1.7% annualized, and core CPI was at 1.4% annualized. Using these measures, inflation decreased on a year-over-year basis in September. Overall, these measures are at or above the Fed's 2% target (Core PCE is slightly below 2%)." • A punch bowl the size of a thimble…
Jobless Claims, week of October 6 2018: "Initial jobless claims, elevated slightly by Hurricane Florence, rose but only modestly" [Econoday].
Commodities: "A pine glut is crushing timber prices and retiree dreams in the Southeast. Landowners who planted hundreds of acres of trees decades ago are running up against a supply imbalance that began when the housing market crashed and persists to this day…. Seeded by federal reforestation programs, the timber craze was taken up by investors of all sizes, resulting in a motherlode of soft wood that has been a boon for Southern mill owners, who anticipate fat margins for years because their raw material is so cheap" [Wall Street Journal]. "While big forest landowners can concentrate harvests in areas where prices are better, most have little choice but to sell to the nearest mill—the trunks are so heavy that loaded trucks quickly hit their 80,000-pound highway limit, and loggers paid for each ton they deliver are reluctant to haul timber cross-country."
Real Estate: "Developers experiment with multistory DCs as tight warehouse market drives high rents, CBRE says" [DC Velocity]. "A combination of soaring e-commerce demand and rising real estate prices in the country's densest markets is inspiring developers to build a new wave of multistory warehouses…. "Multistory development [in the U.S.] is starting to take shape, but it is not taking off," Walaszek said. "It's a trend we're starting to see, but we've got some time before it can compare to Asian development" in cities like Hong Kong or Singapore, he said. That's because developers would have to wait too long to get a payback on their investment in all but the densest U.S. markets, such as New York, San Francisco, or Los Angeles. In comparison, land prices and rents in cities such as Hong Kong, Tokyo, and London remain two to three times more expensive than in most U.S. cities, CBRE says."
Shipping: "U.S. West Coast trend continues: Port of Oakland shatters record for peak season cargo volume" [Logistics Management]. "Similar to other West Coast ocean cargo gateways, a record-breaking peak season continues at the Port of Oakland. The port said today that last month was the busiest September for import cargo in its 91-year history. That followed another all-time record in August…. "
Shipping: "The U.S. Postal Service is pushing back on parcel pricing, and e-commerce customers could bear the brunt. The USPS wants to shore up its finances by raising rates…., including a proposed jump of up to 12% for the popular service that Amazon.com Inc., United Parcel Service Inc., FedEx Corp. and other shippers use to deliver packages to customers' doors" [Wall Street Journal]. "Last-mile delivery is the most expensive leg of an online order's journey, and President Trump has castigated the Postal Service for not charging more for such services."
Shipping: "Off the rails" [DC Velocity]. "[L]anguage in a tentative five-year labor contract between Atlanta-based UPS and the Teamsters union… would divert traffic from the rails to an expanded network of two-person over-the-road sleeper teams run by UPS and staffed by union drivers. The contract's terms do not quantify the level of diversion, but the Teamsters have characterized it as significant. In 2017, UPS moved 750,000 pieces of equipment, most of that 53-foot boxes, in intermodal service and spent about $1 billion with the rails…. UPS, which zealously guards its competitive data, would not disclose how much intermodal business it gives the railroads. It also would not comment on the contract's language because it was still in proposal form as of the end of August when this story was written [huh?]….. What is known is that UPS has pledged to recruit 2,000 drivers for the expanded sleeper network, starting with 200 drivers by the end of calendar 2019 and the remainder spread out, in one-quarter annualized increments over the contract's life, until the threshold is reached. Sleeper teams are not new to UPS, and each of the recent Teamster contracts has given the company more flexibility to deploy them, according to a source close to the company. This means UPS can improve its transit times through more direct routings and can do so in an economical fashion—no small feat in light of the cost headwinds of moving goods via truck versus rail." • Making the current contract all the more important to UPS… .
Shipping: "UPS announces global expansion plans for UPS My Choice" [Logistics Management]. "UPS My Choice gives consumers a one-day alert for when a package is coming and allows them to control the timing and location of the delivery. It helps both the consumer and UPS, because it makes it unlikely that UPS will not be able to make a delivery on the first stop or make multiple attempts to deliver a package. UPS My Choice debuted in 2011. UPS My Choice members that can track the progress of their UPS Air and UPS Worldwide Express packages on a live map through mobile devices or computers." • Interestingly, a function consumers may believe is only provided by Amazon.
The Fed: "The history of presidential Fed bashing suggests it has not been a fruitful strategy" [MarketWatch]. "In late 1965, the Fed raised short-term rates, alarmed by signs of inflation after tax cuts and with the war in Vietnam ramping up. Johnson summoned Martin to his ranch and proceeded to bully him in an attempt to get the Fed to reverse course. Johnson "physically shoved [Martin] around the living room," saying he didn't care about the boys in Vietnam, said Sebastian Mallaby, the author of a new biography about Alan Greenspan. Martin did not back down and the discount rate rose in early 1966 for the first time in five years."
The 420
"Ahead of Canada's legalization date, cannabis suppliers struggle to meet demand" [Supply Chain Dive]. "Licensed cannabis suppliers in Canada will only meet 30% to 60% of demand for the product when the drug is legalized for recreational use on Oct. 17, according to a projection by the C.D. Howe Institute…. Supply chain issues are among the chief problems, [Vic Neufeld, CEO of Aphria, one of the country's largest licensed producers] said. Packaged cannabis products require a special "excise stamp" from the government, which have been delayed. Harvest capacity issues are also a problem as the country prepares for an "unprecedented" legalization, according to the Financial Post."
Gaia
"Clues from a Somalian cavefish about modern mammals' dark past" [Phys.org]. "After millions of years living in constant darkness, a species of blind cavefish found only in Somalia has lost an ancient system of DNA repair. That DNA repair system, found in organisms including bacteria, fungi, plants, and most other animals, harnesses energy from visible light to repair DNA damage induced by ultraviolet (UV) light. The findings reported in journal Current Biology on October 11 are intriguing in part because only placental mammals, the group including people, were previously known to lack this system. Researchers say that the discovery supports the 'nocturnal bottleneck' theory, which holds that the ancestors of modern mammals lived a subterranean or exclusively nocturnal existence as a strategy to avoid being eaten by dinosaurs." • That wouid have been usefuil if sunlight gets a lot stronger….
Health Care
"Sanders Responds to Trump's Lies on Medicare for All" [Bernie Sanders]. ""Donald Trump led the effort to throw 32 million Americans off of the health care they have in order to massive tax breaks for billionaires and large corporations. Fortunately we were able to defeat his proposal by one vote." • Dammit Bernie. Federal taxes don't pay for Federal spending.
Class Warfare
"Inside the Lawless New World of Electric-Scooter Hacking" [MEL Magazine]. "'Every homeless person has like three scooters now,' Michael Ghadieh, owner of an electric bike store in San Francisco, told CNET. 'They take the brains out, the logos off and they literally hotwire it.'" • I suppose that's better than throwing them up in trees, or setting them on fire.
News of the Wired
"Self-healing material can build itself from carbon in the air" [MIT Technology Review]. "A material designed by MIT chemical engineers can react with carbon dioxide from the air, to grow, strengthen, and even repair itself. The polymer, which might someday be used as construction or repair material or for protective coatings, continuously converts the greenhouse gas into a carbon-based material that reinforces itself…. The material the team used in these initial proof-of-concept experiments did make use of one biological component — chloroplasts, the light-harnessing components within plant cells, which the researchers obtained from spinach leaves. The chloroplasts are not alive but catalyze the reaction of carbon dioxide to glucose."
"Delete Your Account Now: A Conversation with Jaron Lanier" [Los Angeles Review of Books].
I feel like it's hard to discuss the basic premises of a lot of your arguments in your latest book without talking about what a "BUMMER platform" is. Can you describe it and tell what prominent companies have designs that fall under this umbrella?

[LANIER:] it stands for "Behaviors of Users Modified and Made into Empires for Rent."… It's just a way to summarize the business plan behind some of the largest companies in history, with the idea that money is made whenever two people exchange any value, whether it's just one datum being measured from somebody that's used to run a machine-learning application or people sending messages to each other, uploading videos, or whatever. The companies are not paying for it. It's not being paid for by angels from the sky. It's not a nonprofit charity. It is being paid for by customers — but the customers are not the people who are actually doing the thing. They are these other people who decide, called advertisers — or I prefer to call them manipulators, because they have been sold on the idea that they're not just advertising. They're not just getting a message in front of you, but are .

And I think sometimes that's oversold — sometimes it may not be as true as some of the people who are paying for the system have been led to believe — but at any rate, it is this huge business model. So the two big companies that are bound by this are Facebook and Google, and there are some smaller ones that often feel that it's been thrust upon them and they wish they could do something different, like Twitter.
He's not wrong, is he?
"Amazon Atlas" [Wikileaks]. "Today, 11 October 2018, WikiLeaks publishes a "Highly Confidential" internal document from the cloud computing provider Amazon. The document from late 2015 lists the addresses and some operational details of over one hundred data centers spread across fifteen cities in nine countries. To accompany this document, WikiLeaks also created a map showing where Amazon's data centers are located." Oddly, or not, all the East Coast data centers are located in the Beltway: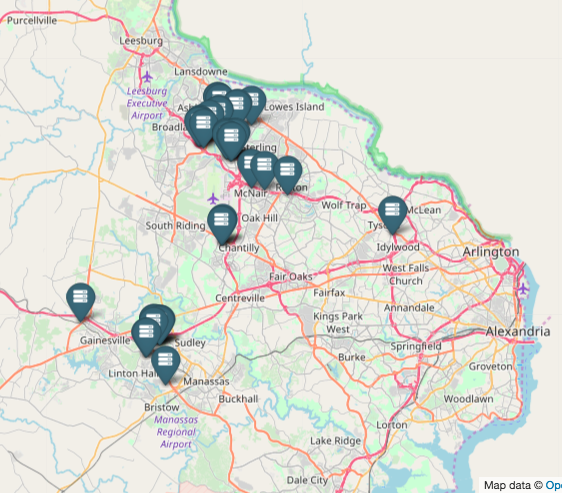 Maybe some enterprising spirit can get a bus tour going….
* * *
Readers, feel free to contact me at lambert [UNDERSCORE] strether [DOT] corrente [AT] yahoo [DOT] com, with (a) links, and even better (b) sources I should curate regularly, (c) how to send me a check if you are allergic to PayPal, and (d) to find out how to send me images of plants. Vegetables are fine! Fungi are deemed to be honorary plants! If you want your handle to appear as a credit, please place it at the start of your mail in parentheses: (thus). Otherwise, I will anonymize by using your initials. See the previous Water Cooler (with plant) here. Today's plant (AC):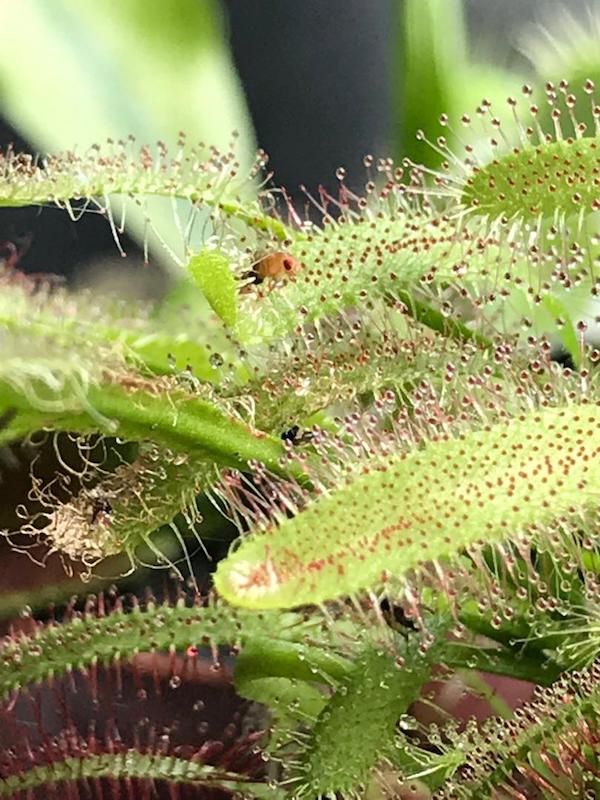 AC writes: "Here's great plant that can also provide an apt metaphor for so many relevant stories. A drosera (sundew) brunching with a drosophila (fruit fly)."