This is Naked Capitalism fundraising week. 332 donors have already invested in our efforts to combat corruption and predatory conduct, particularly in the financial realm. Please join us and participate via our donation page, which shows how to give via check, credit card, debit card, or PayPal. Read about why we're doing this fundraiser and what we've accomplished in the last year, and our current goal, funding more meetups and travel.
By Lambert Strether of Corrente.
Politics
2020
"Trump and the End of Smugness" [War on the Rocks]. The conclusion: "This essay was an attempt to put concepts to Trump's actions, to describe Trump in a new way. Critics may argue that in fact Trump is a narcissistic megalomaniac who likes strongmen, but no one can actually know what he is thinking. They should give up on the efforts at amateur psychoanalysis. Most of all, Trump's opponents should stop their condescending attitude. Put up against Trump's growing string of successes, such an attitude will ring increasingly hollow. For now at least, the era of smugness is over." • Another refreshingly level-headed take, much like Ed Harrison's of 2016 I linked to a couple of days ago.
2018
24 days until Election Day. 24 days is a long time in politics. And remember that October is the month of surprises, as Mr. Market is showing!

"South Carolina Democrats are worried about Bernie Sanders' visit. Sanders isn't." [McClatchy]. "Sanders was invited to the state by the South Carolina chapter of Our Revolution, a group born out of Sanders' 2016 presidential bid. The organization is holding its annual issues conference in Columbia on Oct. 20. Sanders, who is said to be mulling a 2020 bid, will headline a rally focused on 'health care inequality in the United States.'… [Sanders] didn't, however, have a response for Democrats like former South Carolina Democratic Party Executive Director Amanda Loveday, who believe Sanders' appearance in the state will be 'immensely unhelpful' as the party takes pains to appeal to more moderate voters." • Unity!

"Midterm Elections 2018" [Google]. • This is handy and fun: Google trends on a map of the states. Looks like Maine is a one-issue state:

(Yes, other states are multi-colored because they have more than one issue.)

"Two Cheers for Socialism: Why Liberals Need Enemies on the Left" [Jonathan Chait, New York Magazine]. "A recurring theme of socialist criticism of liberalism is its reliance on technocracy at the expense of ideology. A fascination with empiricism is held as the reason Democrats have allegedly abandoned the interests of the working class." • Man, I dunno. I'd say the very last thing liberals are these days is empirical. Anyhow, Chait doesn't mention my litmus test: If you're on the left, you put the working class first as a matter of principle. If you're a liberal (or a conservative) you put markets first.

"Time Is Running Out, So Why Aren't Democrats Yelling About Climate Change?" [Vice]. "Unlike the economy and healthcare, climate change isn't a policy space where the Democrats' leading lights are striving to out-flank each other. Major potential candidates like senators Elizabeth Warren, Cory Booker, Kamala Harris, Kirsten Gillibrand, and Bernie Sanders aren't making global warming a focal point of their messaging, nor are they unveiling flashy legislation or policy positions that show off how progressive their solutions are." • Which makes no sense. If you want a Jobs Guarantee and/or a national industrial policy, climate change is the obvious way to go (I mean, besides military Keynesianism).
Realignment and Legitimacy
"Bought for their Silence?" [The Chicago Crusader]. "Questions remain about eight silent Black aldermen who received thousands of dollars in campaign donations from Rahm Emanuel less than a month before they approved a $5 million settlement to the estate of Laquan McDonald." • Read this for an excellent example of the Black Misleadership Class in action. How curious that Rahm Emanuel was Obama's chief of staff, too….
Stats Watch
Consumer Sentiment, October 2018 (Preliminary): "Less favorable views of personal finances are pulling consumer sentiment slightly lower" [Econoday]. "A note going into the mid-term elections next month is that confidence in the government's economic policies is at its highest level in 15 years reflecting strong confidence among Republicans and improving confidence among Democrats." And: "Preliminary October 2018 Michigan Consumer Sentiment Down Slightly" [Econintersect]. "Most of the October gain was due to an upward adjustment by Democrats, although their evaluations were still well below the much more favorable evaluations of Republicans. When asked about the upcoming election and its potential impact on their own personal finances and on the overall economy, consumers more frequently cited Republicans than Democrats as having a positive effect, with margins of 35% versus 26% for the overall economy and 34% versus 24% for the their own personal finances. A substantial portion, however, replied that there was no difference for the overall economy (36%) or for their own personal finances (41%)."
Import and Export Prices, September 2018: "At plus 0.5 percent, the headline for September import prices would appear to show pressure but the details don't" [Econoday]. "Total export prices were unchanged… Export prices of finished goods match those on the import side, all dead flat." And: "Month-over-month price index for fuel imports increased (and non-fuel imports were unchanged) – and the price index for agricultural commodities declined" [Econintersect].
Commodities: "Here's Where Tesla's Supplier Says the Lithium Market Is Heading" [Ganfeng Lithium executive Wang Xiaoshen, Bloomberg]. "Not in the near term, but in the longer term there is still risk of a shortage. Especially 2023 and 2024 — that's the period we're a little bit concerned about. That will be the time when EV production will be ramping up quickly and that's when most of the battery makers will be expanding their capacity. The OEMs want to secure long-term supply. They probably share the same view that come 2023-2024 there will be tight supply when everyone is ramping up the EV production. But in the short term we have to fasten our seat belts and be careful." • I suppose the time will come when we have to send in the gunboats to protect the lithium…
Commodities: "The war on fake graphene" [Nature]. "Imagine a world in which antibiotics could be sold by anybody, and were not subject to quality standards and regulations. Many people would be afraid to use them because of the potential side effects, or because they had no faith that they would work, with potentially fatal consequences. For emerging nanomaterials such as graphene, a lack of standards is creating a situation that, although not deadly, is similarly unacceptable…. Writing in Advanced Materials, Kauling et al.1 report a systematic study of graphene from 60 producers, and find that many highly priced graphene products consist mostly of graphite powder."
Retail: "Social Security increase is a boon for value retailers like Dollar General" [MarketWatch]. "The 2.8% Social Security increase announced this week is good news for value retailers like Big Lots Inc., Dollar Tree Inc., and Dollar General Corp., according to Raymond James analysts. The hike is the biggest since 2012. 'As a reminder, the core customer for Dollar General and Family Dollar has an annual household income of $35K or less,' analysts led by Dan Wewer wrote. 'The marginal propensity to consume for low-income families is ~100%, therefore, some of the Social Security benefit increase should find its way into a value retailers' store.' • See Class Warfare below for more on Dollar General.
The Bezzle: "2. For safety, AVs must spend time in virtual world" [Axios]. "However, road tests are a cumbersome form of validation — the Rand Corporation estimates it would take hundreds of millions to hundreds of billions of miles (nearly a century of driving) to prove an AV drives safely…. Not all experience needs to come from road tests. Simulation platforms enable the AI brain powering an AV to run in a photorealistic world that mimics real-life traffic, exposing its deep-learning algorithms to scenarios and conditions as many times as necessary for the system to handle them perfectly…. While scripting the infinite number of potential traffic situations may be impossible, enabling diversity and spontaneity in simulation is a vital way to test a car's reaction to unforeseen scenarios, validating AV technology ." • Oh.
The Bezzle: "Elon Musk's summer of bad behavior hasn't affected Tesla's sales, but it has hurt its reputation" [Recode]. "Consumers' impression of the brand — on a scale of 100 for "very positive" to -100 for "very negative" — has declined more than 80 percent this year, placing itself well below the auto industry at large. Tesla demand could lose steam as it fills its order backlog and its $7,500 federal tax credit expires, but for now the bad press hasn't affected sales."
The Bezzle: More shorts on the case. Thread:
1/ This will be a thread on Monroney window stickers, their significance, and the lack of compliance by Tesla $TSLA. Before I begin, it's necessary that I acknowledge that this thread would not exist but for the encouragement of @ValueExpected.

— Nicholas Parks (@nhparks) October 6, 2018
More permissionless innovation…
Tech: "How an algorithm kicks small businesses out of the food stamps program on dubious fraud charges" [The New Food Economy]. "It's impossible to pin down exactly how many retailers were banned from accepting SNAP dollars due to fraud charges that the government can't actually prove. But court testimony by a USDA official indicates that, just last year, hundreds of retailers were permanently disqualified from the program based primarily on an algorithmic assessment of their transaction patterns… The USDA does not bother to justify or even explain the precise sales figures or thresholds that cause retailers to be flagged for investigation. In fact, officials appear not to know how they were developed in the first place. Douglas Edward Wilson, a USDA program analyst who has worked with the ALERT system for more than a decade, testified in a 2017 deposition that he had no idea who originally set the parameters for flagging fraudulent transactions." • Awesome. I'm sure the same thing won't happen with the AIs used for "safety testing" robot cars.
Tech: "Robot lawyer DoNotPay now lets you 'sue anyone' via an app" [The Verge]. "[DoNotPay, a free chatbot that offers AI-powered legal counsel] advertises that it can be used to 'sue anyone by pressing a button,' its focus is on suing corporations and navigating the complex bureaucracies that stand between people and their everyday rights. Previously, the service was only available directly through its website. The chatbot works by asking you a series of basic questions about your situation and who you'd like to sue. It will then draw up the documents that you'll need to send to the courthouse to become a plaintiff, and will generate a script for you to read from if you need to attend in person."
Tech: "Over nine million cameras and DVRs open to APTs, botnet herders, and voyeurs" [ZD Net]. "Millions of security cameras, DVRs, and NVRs contain vulnerabilities that can allow a remote attacker to take over devices with little effort, security researchers have revealed today. All vulnerable devices have been manufactured by Hangzhou Xiongmai Technology Co., Ltd. (Xiongmai hereinafter), a Chinese company based in the city of Hangzhou. But end users won't be able to tell that they're using a hackable device because the company doesn't sell any products with its name on them, but ships all equipment as white label products on which other companies put their logo on top…. The source of all vulnerabilities is a feature found in all devices named the 'XMEye P2P Cloud.' … [A]ll new XMEye accounts use a default admin username of 'admin' with no password." • Not even admin/admin? Wowsers.
Tech: "If Supermicro boards were so bug-ridden, why would hackers ever need implants?" [Ars Technica]. "[Steve Lord, a researcher specializing in hardware hacking and co-founder of UK conference 44CON] was one of several researchers who unearthed a variety of serious vulnerabilities and weaknesses in Supermicro motherboard firmware (PDF) in 2013 and 2014. This time frame closely aligns with the 2014 to 2015 hardware attacks Bloomberg reported. Chief among the Supermicro weaknesses, the firmware update process didn't use digital signing to ensure only authorized versions were installed. The failure to offer such a basic safeguard would have made it easy for attackers to install malicious firmware on Supermicro motherboards that would have done the same things Bloomberg says the hardware implants did….. [F]or the past five years, it was trivial for people with physical access to the boards to flash them with custom firmware that has the same capabilities as the hardware implants reported by Bloomberg…. According to documents leaked by former NSA subcontractor Edward Snowden, the use of custom firmware was the method employees with the agency's Tailored Access Operations unit used to backdoor Cisco networking gear before it shipped to targets of interest… Besides requiring considerably less engineering muscle than hardware implants, backdoored firmware would arguably be easier to seed into the supply chain." • Hmm. AFAIK, we still haven't seen any of those modified boards. All we have is, well, the word of anonymous officials from the intelligence community.
Tech: "Facebook will soon rely on Instagram for the majority of its ad revenue growth" [Recode]. "Last quarter, Instagram generated an estimated $2 billion, or about 15 percent, of Facebook's $13 billion in ad revenue, according to estimates from Andy Hargreaves, a research analyst with KeyBanc Capital Markets. Hargreaves expects Instagram to grow to about 30 percent of Facebook's ad revenue in two years, as well as nearly 70 percent of the company's new revenue by 2020 — driving the majority of Facebook's growth."
Gentlemen Prefer Bonds: "A $1 Trillion Powder Keg Threatens the Corporate Bond Market" [Bloomberg]. "Bloomberg News delved into 50 of the biggest corporate acquisitions over the last five years, and found: By one key measure, more than half of the acquiring companies pushed their leverage to levels typical of junk-rated peers. But those companies, which have almost $1 trillion of debt, have been allowed to maintain investment-grade ratings by Moody's Investors Service and S&P Global Ratings…. 'The rating agencies are giving companies too much wiggle room,' said Tom Murphy, a money manager at Columbia Threadneedle Investments. 'There's been some pretty heroic assumptions around cost savings and debt repayments laid out by some borrowers involved in mergers."" • Yikes!
The Fed: "Former Fed Chair Greenspan survives Twitter hoax" [Agence France Presse]. "Famed former US Federal Reserve Chairman Alan Greenspan is alive and well despite a brief Twitter hoax in which a Nobel-prize winning economist appeared to announce his death, Greenspan's company said Tuesday. The Twitter account which had announced the news quickly claimed the misinformation was in fact the work of famed Italian hoax artist Tommasso Debenedetti, who frequently makes premature announcements of celebrity deaths…. US stocks tumbled in June of 2000 after the Federal Reserve hesitated before denying a rumor that Greenspan had been killed in a car crash." • So now you know why Mr. Market was sad.
Mr. Market: "Stocks rebound, still remain on track for worst week since March" [MarketWatch]. "U.S. stocks rose on Friday, with equities rising broadly in a rebound from a multiday rout that slashed about 1,400 points from the Dow Jones Industrial Average and left the Nasdaq on the precipice of correction." • But the day's not over!
MMT
"A Hedge Fund Guy Lefties Can Love" [Bloomberg]. "He ran a hedge fund, lives in a Caribbean tax haven, and loves fast cars and yachts—not obvious qualifications for a left-wing guru. But that's what Warren Mosler is rapidly becoming…. Several candidates in the midterm elections, and a few who have an eye on 2020, are coming out with plans that draw on his ideas—even if they've never heard of the man or the doctrine, known as Modern Monetary Theory, that he once promoted in early internet chat rooms. Its main argument is that governments with their own currencies can't go broke. They have more room to spend than is usually supposed and don't need to collect taxes (or even borrow) to pay for it. One thing they can, and should, spend money on is a jobs guarantee—offering work to anyone who wants it." • Except one…. Except one….
Our Famously Free Press
"A new study provides some dispiriting evidence for why people fall for stupid fake images online" [Nieman Labs]. "The researchers asked 3,476 participants on Mechanical Turk to evaluate the credibility of six fake images, some of which were allegedly from sources like BuzzFeed and The New York Times….. They found that 'viewers' skills and experience greatly impact their image credibility evaluations'— people who had a lot of experience on the internet and social media, and people who had some background in photography, were better at evaluating image credibility. But… seeing that an image was from BuzzFeed, NPR, or The New York Times didn't make users more or less likely to judge them as credible." ***cough*** Judy Miller ***cough***
Health Care
UPDATE "Trump lies about 'Medicare for All' and he's made health care worse" [Bernie Sanders, USA Today]. "Trump claims that Medicare for All is not affordable. That is nonsense. What we cannot afford is to continue spending almost twice as much per capita on health care as any other country on Earth. We can't afford the $28,000 it currently costs to provide health insurance for the average family of four. We can't afford to have 30 million Americans with no health insurance and even more who are under-insured with high deductibles and high co-payments. We can't afford to have millions of Americans get sicker than they should, and in some cases die, because they can't afford to go to the doctor. Here is the bottom line: If every major country on earth can guarantee health care to all and achieve better health outcomes, while spending substantially less per capita than we do, it is absurd for anyone to suggest that the United States of America cannot do the same." • Stephanie Kelton: "Pitch perfect."
"Should We Let Our Kids Play Football?" [MedPage Today]. "The simple truth is that the head trauma experienced by young people playing football — even when it is never recognized contemporaneously — is likely to have important adverse consequences for brain health, years after our kids have stopped playing the game. Conceivably, for many players, even "minor" degrees of CTE could be clinically devastating 15 to 20 years later. School-aged participation in football could influence cognition and behavior in middle-aged men in ways that are never diagnosed by a physician." • Football was a big part of elite formation in Kavanaugh's milieu, IIRC….
Imperial Collapse Watch
Very imaginative;
The artwork here is lovely and child friendly. The content very much isn't: Tunnels used by Viet Cong forces during the Vietnam War. A truly horrifying piece of history… Source: https://t.co/xdkpRoEfxS pic.twitter.com/vGKF8fvx9D

— Simon Kuestenmacher (@simongerman600) October 10, 2018
Class Warfare
"Union Issues Debit Cards to Fight Trump Rule Choking Dues" [Bloomberg]. "Faced with a Trump administration proposal that could ban the government from deducting union dues from members' pay, the largest U.S. home health-care union is trying an unusual workaround: It's issuing workers debit cards they can use to access their paycheck—minus the dues…. Workers can authorize ADP to deposit their state paychecks onto the card so as to route their dues to SEIU. The union said the cards, which can also be used to store government benefits, pay bills and cash checks, will serve a useful purpose for members who lack bank accounts. ADP Vice President Anthony Should We Let Our Kids Play Football?
declined to provide details on the fees of the new cards, but said they are both low and avoidable."
"Dollar General throws a lifeline to hard-pressed communities. Not all welcome it" [Los Angeles Times]. "'Little-box' stores like Dollar General — and its main competitor Dollar Tree — have taken over a gigantic segment of the American household economy in the last decade by expanding into small towns overlooked by larger operators. Dollar General alone now has more than 15,000 stores nationwide, slightly more than the total number of McDonald's locations. Its annual sales exceed $6 billion…. The dollar store revolution has thrown a lifeline of food and capital to impoverished pockets in California and elsewhere, but it also raises a compelling question: How much quality is in that lifeline?… In a presentation to investors at a Nashville hotel in 2016, Dollar General Executive Vice President Jim Thorpe identified the American underclass as the company's 'best friends forever.' The chief characteristics of the loyalists, he said, included 'living paycheck to paycheck,' and 'relies on government assistance.' Thorpe predicted the growing customer demographic — generally Caucasians with household income lower than $40,000 a year — would shortly expand to include large numbers of African Americans and millennials. The average Dollar General shopper is among the last 'to feel the effects of improving economic conditions,' the company said in a report to investors." • Fascinating article. If Dollar General stores have pharmacy counters, I'm sure Naloxone would do very well.
"Uber drivers are staging their first multi-city strike, and it's a sign their anger over 'exploitation' is getting harder to ignore" [Business Insider]. "Drivers across Birmingham, London, and Nottingham will take part in the first UK multi-city strike to hit the cab-hailing company. The action has been organised by a branch of the Independent Workers Union of Great Britain (IWGB), a small but outspoken independent union that advocates for gig economy workers. The action is led by James Farrar, a former Uber driver who won a legal battle against the firm in 2016 over drivers' employment status."
News of the Wired
Yikes:
US photographer Margaret Bourke-White on top of the Chrysler Building, New York, 1931 #womensart pic.twitter.com/C7yBHKswU0

— #WOMENSART (@womensart1) October 11, 2018
I loved the Newton so much I bought two. Thread:
Did you have a PDA? For 20 years the Personal Digital Assistant was THE management gizmo, until the smartphone came along and ate its lunch.

Today in pulp I look back at the early days of the pocket office revolution. No stylus required… pic.twitter.com/UoRQlTh3A9

— Pulp Librarian (@PulpLibrarian) October 11, 2018
* * *
Readers, feel free to contact me at lambert [UNDERSCORE] strether [DOT] corrente [AT] yahoo [DOT] com, with (a) links, and even better (b) sources I should curate regularly, (c) how to send me a check if you are allergic to PayPal, and (d) to find out how to send me images of plants. Vegetables are fine! Fungi are deemed to be honorary plants! If you want your handle to appear as a credit, please place it at the start of your mail in parentheses: (thus). Otherwise, I will anonymize by using your initials. See the previous Water Cooler (with plant) here. Today's plant (DC):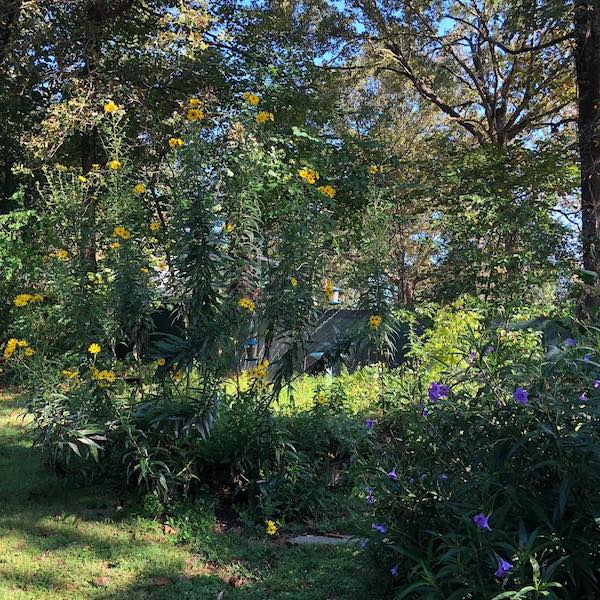 DC writes: "Here are a few pics of some giant swamp sunflowers in our bird sanctuary. This is just south of Birmingam, AL." "Lush life," as one of DC's Instagram commenters remarks.