By Lambert Strether of Corrente.
This is Naked Capitalism fundraising week. 1039 donors have already invested in our efforts to combat corruption and predatory conduct, particularly in the financial realm. Please join us and participate via our donation page, which shows how to give via check, credit card, debit card, or PayPal. Read about why we're doing this fundraiser and what we've accomplished in the last year, and our current goal, extending our reach.
Trade
"Trump Is Right About China's Postal Subsidy" [Bloomberg]. "Arcane rules established by the 144-year-old Universal Postal Union make it possible for a Chinese e-retailer to send a package across the Pacific to a customer in the U.S. at a cost lower than what an American competitor would spend to ship the same item to a neighboring state. This is because the union, which determines what national carriers can charge to deliver small packages and first-class letters originally sent from abroad, allows poor nations to pay lower rates than wealthy ones. That makes sense. But, insensibly, the union still places China, the world's second-largest economy, in the same category as Bosnia, Botswana, Cuba and other developing countries. (India also gets some degree of preferential treatment.) These steep postal discounts add to the considerable cost advantages Chinese manufacturers already have over American firms. And they hurt the United States Postal Service — which delivers packages that originate from China at a loss — and put private shippers like FedEx and UPS at a disadvantage."
"The three NAFTA countries are looking for a way to lift the steel and aluminum tariffs and retaliatory duties, potentially through some sort of quota. Also, Commerce Secretary Wilbur Ross' harsh comments in Brussels have pushed the U.S.-EU trade truce to a breaking point, and the yuan is tumbling after Treasury issued China a warning about the relative weakness of its currency" [Politico].
Politics
2020
"Joe's gonna go (probably)" [Chris Cilizza, CNN]. • Never change, Democrats. Never change.

"Joe Biden says Trump impeachment should wait until Mueller investigation finishes" [The Independent]. "I think it should be issued when they finish the investigation," he said. "I've been around a long time. You wait until the investigation's finished. You don't put an arbitrary end to it. You wait until it's finished, and let's see what it has to say."

"Elizabeth Warren's Native Ancestry Response Is A Complete Disaster" [Current Affairs]. "I like Elizabeth Warren a lot. She's probably my second-favorite elected official. It's only thanks to her that we have the Consumer Financial Protection Bureau, the best agency in the U.S. federal government. She is gutsy, smart, and she cares about the economic well-being of ordinary people. Which is why I am so frustrated that Warren has so badly mishandled this native ancestry issue…. I don't understand why Warren would go to the trouble of taking the test and having a sleek professional video made if she hadn't first consulted with the Cherokee Nation itself to see what she ought to do."

"Bernie Sanders Is Quietly Remaking the Democrats' Foreign Policy in His Own Image" [Politico]. Sanders: "In order to effectively combat the forces of global oligarchy and authoritarianism, we need an international movement that mobilizes behind a vision of shared prosperity, security and dignity for all people, and that addresses the massive global inequality that exists, not only in wealth but in political power. Our job is to reach out to those in every corner of the world who shares these values, and who are fighting for a better world." • And Sanders was out front on Yemen, too, which turns out to be good positioning, given the (truly bizarre) MBS flap.
2018
18 days until Election Day. 18 days is a long time in politics. And remember that October is the month of surprises! (I have to say I've been expecting Trump to pull some sort of rabbit out of his hat to really drive turnout. It's getting pretty late for that to happen.)

"The Drive for 25: An updated seat-by-seat analysis of the House" [Larry Sabato's Crystal Ball]. "A race-by-race analysis of Democratic House targets shows the party is close to winning the majority, but they do not have it put away, in our judgment, with Election Day less than three weeks away. Barring a big, positive late change in the political environment in favor of Republicans, the bare minimum for Democratic House gains is in the mid-to-high teens. The needed 23-seat net gain is not that far beyond that and there are many different paths Democrats can take to achieve it. So the GOP is still at a disadvantage overall. There are 11 ratings changes this week, seven in favor of Democrats and four in favor of Republicans."

"Stop Calling 2018 'The Year Of The Woman'" [Inside Elections]. "[D]espite the record number of women candidates this year, electoral dynamics limit room for net growth in the number of women serving in Congress. Thirteen congresswomen are not seeking re-election, and women candidates are positioned to win fewer than half of those open seats. And of the districts where men aren't running for re-election, only four feature races including women nominees from both parties. Another eight women are heavily favored to win, and eleven are running competitive races against men. There are also four woman incumbents fielding credible challenges from male nominees. At this point in the cycle, it's possible— though unlikely — that the number of women in the House could actually remain at 84…. 'I really don't like the term ['Year of the Woman'] because it implies in some way you'll have this year and suddenly women will achieve gender parity,' said Debbie Walsh, director of the Center for American Women and Politics at Rutgers University. 'This is not a problem that will be solved in one election cycle,' she added."

GA: "Early Voter Turnout in Georgia Leads to Hours-Long Wait at Polls" [Courthouse News]. "Wait times to vote in Cobb County have varied between one and three hours since early in-person voting began on Monday…. A new poll from the Reuters/Ipsos/University of Virginia Center for Politics released Wednesday shows that the two candidates are currently locked in a neck-and-neck race with [Republican Brian Kemp] leading [Democrat Stacey Abrams] 47-46…. Early voting has become popular in Georgia because it gives voters the freedom to decide when they want to cast their ballots and usually allows voters to avoid long lines." • So, we limit capacity and then incentivize people to make up their minds before the whole race is run, reinforcing partisanship. Well done, all.

GA: "Georgia Voters: Here's How to Legally Vote Even if You're on Brian Kemp's Can't-Vote List" [Yahoo News]. "So, if you're one of the Georgia voters whose driver's license doesn't have the exact same name as their voter registration card, show up to the polls anyway with whatever photo ID you have lying around that does. Don't let them silence you." • Eesh. Not everyone has a photo ID (and Clinton's 1.4 billion would have bought a lot of photo IDs, if liberal Democrats were actually interested in expanding their base.

GA: "Black senior citizens ordered off Georgia bus taking them to vote" [Politically Georgia]. T"he bus, run by the group Black Voters Matter, was preparing to depart from a senior center operated by Jefferson County when the center's director said they needed to disembark, said LaTosha Brown, a co-founder of Black Voters Matter. A county clerk had called the senior center raising concerns about allowing the bus to take residents from the senior center in the city of Louisville, south of Augusta."

NV: "Dead brothel owner will win Nevada election, says manager" [Guardian]. • The race in one headline?
2016 Post Mortem
"Hillary Clinton's defense of Bill Clinton is why women don't come forward" [Vox]. "As one of the most visible women in the world, Clinton has a rare opportunity to send a message of support to survivors everywhere. But by getting defensive about her former employee, and denying that her husband abused his power when Lewinsky has said that he did, she's done the opposite. She's become one of the many, many people showing survivors that, too often, people in power will be protected by their powerful friends."

"How long will Democrats keep on letting Hillary Clinton dominate the party?" [Salon]. "[Clinton] has every right to believe that her husband should not have been forced to resign over a personal failing — that's certainly what most Americans thought at the time. But the fact that Hillary Clinton refuses to evaluate the incident from a new perspective, however, undermines her credibility in speaking about anything related to #MeToo. It doesn't help that she also denied that she had ever 'criticized the character of Bill's accusers." • Workplace abuse is not a "personal failing." Interestingly, more articles like this lately.

"Hillary Clinton seemingly unharmed in car crash" [Politico] "The former secretary of state and first lady was headed to a fundraiser for Sen. Robert Menendez (D-N.J.) in Jersey City on Tuesday night. The vehicle pulled into a parking garage, made a left turn and hit a concrete column." • Seemingly?
Realignment and Legitimacy
"Bob Bland, Linda Sarsour, and Tamika Mallory Built the Women's March 'Mob' With Nice, Suburban Women" [New York Magazine]. "When Harvard University's Theda Skocpol and University of Pittsburgh's Laura Putnam set out to document 'the resistance' that has sprung up in the last two years, they found that 'college-educated, middle-aged women in the suburbs' had most changed their political practices under Trump, now making up about 70 percent of participants in local progressive movements. The Women's March leaders are constantly driving their members toward intersectionality—the idea that the liberation of women, people of color, the LGBT community, and other oppressed communities are all tied together." •  Nice to have that clarified. Note the complete erasure of economics and class.

"Resistance Is the Right Strategy for Dems, Even If It Costs the Senate in 2018" [David Atkins, Washington Monthly]. "If doing the right thing and channeling the anger and resistance of young people, women, the educated and people of color costs Democratic Senate seats in North Dakota or Missouri, that is unfortunate. But it's a small price to pay for securing the House with its fearful investigative power over Trump, and even more importantly the loyalty of the people who constitute America's majoritarian future." • This is warmed-over Ruy Teixeira, the "coalition of the ascendant" (the so-called Obama Coalition). Never change, Democrats! Never change! (Maybe if Obama hadn't deported so many Latinx voters and set up the apparatus Trump is now abusing, they'd have been more "loyal"? Just a thought.)

The centrist paradox. Thread:

Since lat week's election in Brazil, many have wondered: Who are the millions that are voting for Bolsonaro? What, exactly, is the 'base' of authoritarianism?

According to the data, Brazil is a classic case of the 'Centrist Paradox.' A thread w/ graphs 1/https://t.co/chwhjvgPxl

— David Adler (@davidrkadler) October 15, 2018

And the conclusion:

In Brazil — as across developed democracies — the centrist "paradox" finds its resolution.

Authoritarians don't need strong ideologies. They need only prey on apathy, insecurity, and pride to rally a coalition of willing centrists. 9/9https://t.co/4dfLWUB3oi pic.twitter.com/FcdIIgIFJI

— David Adler (@davidrkadler) October 15, 2018

("The Centrist Paradox: Political Correlates of the Democratic Disconnect" (PDF) [David Adler, SSRN]. From the abstract: " In this article, I use the World Values Survey and European Values Survey to examine the relationship between democratic discontent and the left-right political spectrum. I find that, contrary to much contemporary commentary, hostility to democracy is strongest not at the political extremes, but in the center. Respondents at the center of the political spectrum are the least supportive of democracy, least committed to its institutions, and most supportive of authoritarianism. I refer to this surprising finding as the 'centrist paradox.' Recent research has advanced our understanding of extremist parties. We know far less, however, about moderates. The centrist paradox points to this lacuna." • Ah, centrist "problem solvers."

"Not Just Georgia's Brian Kemp: Other Secretaries of State Accused of Abusing Elections Power" [Governing]. "'There is a fundamental conflict of interest for an official to administer an election at the same time that he is running for office,' says David Kimball, a voting expert at the University of Missouri-St. Louis. 'The tension around this conflict is raised because issues around election laws and voting rights have become more divided and partisan.' In most countries, Kimball notes, elections are overseen by independent bodies. The role of secretary of state in overseeing elections was once viewed as purely technical, much like their other responsibilities, such as issuing business licenses. That's changed….Secretaries of state have started serving as campaign cochairs for their parties' presidential nominees, while super PACs and other outside groups have sprung up specifically to give partisan secretary of states a boost in elections." • The article notes problems in AZ, IN, KS, and KY.

"Vermont hits record 92.5 percent voter registration ahead of election" [VT Digger]. "Data from the secretary of state's office shows the uptick in registered voters has been driven largely by the state's new automatic voter registration system, which took effect in January 2017. The system allows voters to register automatically when they receive or update their driver's licenses, or other forms of identification, at the Department of Motor Vehicles."

"The Unintended Consequences of Enshrining Norms in Law" [Bob Bauer, Lawfare]. "The inevitable if regrettable result is a chief executive who will devote careful attention to appointments to limit his or her legal or political exposure in operation of this norm-enforcement machinery. After all, the best way to mitigate the risks of a special counsel, and to overcome the limits of removing one, is to choose an attorney general who is highly unlikely to appoint one in the first place….. Here is where an altogether different set of norms, binding on the Congress in the advice and consent process, comes into play. Congress normally scrutinizes a president's nominations to judge core qualifications and personal fitness—but except for clear questions on those measures, it deems presidents entitled to their preferences for high-level appointments. This presumption may apply in most cases…. Congress would have to devote heightened attention to those appointments most critical to the defense of the norm of independence."

"'We can be the medicine that each other need': The 19th US surgeon general on ending loneliness" [Quartz]. "[W]hat is true, even though there's variation in studies, is that there are millions and millions of people in the United States, millions of people in Europe and in other parts of the world, who are in fact struggling with loneliness. There is no study of loneliness has come out and said, "No, this isn't an issue." It's prevalent, it's common, and the studies Julianne and others have done have shown a robust association with illnesses that we actually care about, including heart disease, dementia, depression and anxiety, and very importantly, longevity." • DSA has a lot of social events, which is smart.
Stats Watch
Leading Indicators, September 2018: "The index of leading economic indicators is pointing to strong growth going into 2019" [Econoday]. "The strongest positives in September were consumer expectations and ISM new orders with manufacturing hours and building permits the only negatives of the report's 10 components." And: "September 2018 Leading Economic Index Economic: Economic Growth could exceed 3.5% For 2H2018" [Econintersect]. But: "Because of the significant backward revisions, I do not trust this index."
Philadelphia Fed Business Outlook Survey, October 2018: "Much like the Empire State report released earlier this week, the Philly Fed report for October shows strong growth in new orders and a welcome working down of backlog orders" [Econoday]. "This report points to solid conditions going into year end, both on the demand side and the supply side, for a factory sector that may well be, along with employment, the central strengths of the 2018 economy." But: "Consider this a weaker report than last month as key elements declined – and backlog now is in contraction" [Econintersect].
Jobless Claims, week of October 13, 2018: "Hurricane effects are not evident in weekly jobless claims which point squarely at solid strength" [Econoday]. "Labor is hard to find and employers are holding on like never before to the employees they have which are central reasons why the Federal Reserve, seeking to avoid overheating in the jobs market, is raising interest rates."
Retail: "Most burger chains fail on annual antibiotics report card" [CNN]. "Twenty-five of the top US burger chains were graded on their antibiotic policies in a collaborative report released Wednesday. Only two chains received As, Shake Shack and BurgerFi; the other 23 got a D minus or F."
Supply Chain: "Supply Chain Risks Come from All Sides" [Industry Week]. "most efforts to outpace disruption are ultimately limited by the physical and financial constraints inherent to moving goods around the globe. Whether it is a hurricane or factory fire, new trade regulation or an unexpected supplier bankruptcy, much of how products are made and moved happens outside of our control…. However, in a world where most of the information about a supply chain exists outside of the enterprise, visibility is a fundamental part of managing risk. Businesses that have end-to-end visibility of their supply chain are able to react to change more quickly and reduce the harmful effects of a breakdown somewhere along the way. Doing so takes more than simple point systems; it requires all parties involved in the supply chain to interact and share information in real time. Connecting all parties of a supply chain as a business network helps ensure that when something does happen, each stakeholder can adapt to the situation. And then if a factory runs out of materials or a ship cannot make it to a port, companies can dynamically shift inventory or production somewhere else, or find an alternate berth for that ship stuck out at sea."
The Bezzle: "The last days of Theranos — the financials were as overhyped as the blood tests" [Francine McKenna, MarketWatch]. "Holmes's tragic error was touting financial projections that never materialized based on technology that she never delivered." • That's two errors. More: "MarketWatch reported early this year that none of the Theranos investors, who invested more than $700 million with Holmes between late 2013 and 2015, had ever requested audited financial statements or asked whether the company even used an outside accountant to verify the financial information that was distributed." • Stupid money. "Getting a handle on the numbers was less important than publicity to founder and CEO Elizabeth Holmes, until she was forced to mortgage all of Theranos's assets to Fortress Investment Group in return for a desperately needed $100 million loan in December 2017. , something that had not been attempted since at least 2009, according to Theranos's last chief financial officer." • Call me crazy, but wouldn't it make more sense to insist on the audit before loaning the $100 million, and not afrer? More stupid money. And more terrible capital allocation decisions, too.
The Bezzle: "How Uber Quietly Raised $2 Billion" [Bloomberg]. "Uber Technologies Inc. has found a way to tap debt markets when burning through billions of dollars of cash: Keep financial details closely guarded and hire former Goldman Sachs bankers to oversee the deals. The ride-hailing company this week sold $2 billion of bonds in what's known as a private placement. The secretive approach, bypassing Wall Street's broader bond market, allowed Uber to limit the financial information it disclosed — and then only to a small and select group of buyers. That kept prying eyes away from the books of a firm that is still losing money as it expands globally. And, while a lack of transparency generally can make it difficult to gauge creditworthiness, it seemed to work…. The unorthodox deal…. also reflects a dearth of junk-rated debt, a supply shortage at its biggest in 10 years." • Oh, come now. Our financial markets are capable of producing junk to any degree required.
The Bezzle: "Moody's suggests that autonomous vehicle startups have inherent disadvantages" [Freight Waves]. "Moody's released a white paper on Monday, 'Autonomous driving efforts pick up pace; GM ahead with Honda investment in Cruise,' that suggests [autonomous vehicle (AV)] startups have inherent disadvantages compared to incumbent vehicle manufacturers. The white paper emphasizes that winning in the AV space will be predicated on an intricate orchestration of a whole suite of still-developing technologies including surrounding environment sensors, computing, external connectivity, and standard vehicle controls. Building a business that depends on bringing new technologies together is capital-intensive and risky." Importantly:
due to safety concerns. Even the trained contractors testing autonomous vehicles today have trouble maintaining the appropriate amount of attention (both visual and manual) while riding in Level 4 and Level 5 vehicles. It's unrealistic to expect consumers to operate autonomous or semi-autonomous vehicles correctly because drivers today do not operate their cars 'by the book', whether the issue is regular maintenance or driving safely. Therefore, when truly autonomous vehicles are ready to be released, the product will be in the last flat stages of Christensen's S-curve, which marks a mature product where further improvements will be marginal.

Our view meshes with Moody's: because AVs will be released at an unusually late point in the product development cycle, risk-sharing joint ventures between incumbents make sense, and disruptive startups will burn through mountains of capital building products that may never make it to consumers.
No such thing as a "minimum viable product" in the AV space.
Tech:
This creepy Facebook camera ISN'T EVEN OUT YET and people are already having to issue corrections that it can, indeed, track the things you do/say for ads https://t.co/vaOFsOw23L

— Internet of Shit (@internetofshit) October 16, 2018
Health Care
"Maine Could Make Health-Care History, Again, on Election Day" [Governing]. "The measure, Question 1, would create a state-run program that provides free at-home services for anyone in need of long-term care, largely the elderly and disabled. To pay for it, the proposal would enact an extra 3.8 percent income tax on residents making more than $128,400 a year… There has been no formal polling on the measure, but if it passes, it could face some pushback from politicians. All four gubernatorial candidates oppose the measure."
"Democrats are embracing a radical change to US healthcare, and it could be the defining political fight for years to come" [Business Insider]. "Medicare's strong brand is likely a reason why the proposal is so popular. Polling by the progressive policy group Data for Progress found that support jumps from 51% to 60% when the term Medicare for All is used, rather than single-payer, to describe a universal healthcare system." • Which is why liberal Democrats consistently hijack and pollute the brand.
Our Famously Free Press
"About 1,300 U.S. communities have totally lost news coverage, UNC news desert study finds" [Poynter Institute]. "About 20 percent of all metro and community newspapers in the United States — about 1,800 — have gone out of business or merged since 2004, when about 9,000 were being published. Hundreds more have scaled back coverage so much that they've become what the researchers call "ghost newspapers." Almost all other newspapers still publishing have also scaled back, just less drastically… About 70 percent of the newspapers that have died since 2004 were in suburban areas of metropolitan areas that historically offered many news choices, the researchers say, but counties with no coverage at all tend to be rural. State and regional papers have also pulled back dramatically, and this "has dealt a double blow to residents of outlying rural counties as well as close-in suburban areas." • I guess they didn't "pivot to video" fast enough….
Gaia
"People who have a good sense of smell are also good navigators" [Science News]. "A sense of smell may have evolved to help people find their way around, an idea called the olfactory spatial hypothesis. More specific aspects of smell, such as how good people are at detecting faint whiffs, could also be tied to navigation, the researchers suggest."
Class Warfare
"'It was like hell': California hotel workers break their silence on abuse" [Guardian]. "Included in the lawsuit is a text message Harrington sent to Sanchez in August 2016 after taking her cellphone number from a staff bulletin board. 'My dick keeps getting hard thinking about it, I'm gona have to beat it off again in the ballroom restroom,' the text read after Harrington told her that he watched her on the security cameras as she worked. Sanchez reported the text messages to human resources, who she claims brushed them off. A few days later, Harrington cornered Sanchez in a room and sexually assaulted her for reporting him, according to the lawsuit." • Classy. And a little gift for the cleaners in the ballroom restroom, too.
"There's a problem at the heart of #MeToo — here's how to solve it" [Quartz]. "A culture reluctant to be disrupted will only transform when women say #MeToo not about abuse but our right to rule, and say #FuckYou to anyone who refuses us opportunities. We have to work our way into the powerful positions where the dominant narrative is written, and create a new kind of script." • "Create a new kind of script" why?
News of the Wired
"Daily low-dose aspirin is not a panacea for the elderly" [Science Daily]. "A trio of papers based on a large-scale clinical trial finds that the drug doesn't help to stave off heart attacks, strokes, dementia or physical disability. In fact, those in their golden years who took a low dose of aspirin daily were more likely to suffer serious internal bleeding than those who took a placebo." • Dang. Maybe I should just find a really good placebo.
"Printer Makers Are Crippling Cheap Ink Cartridges Via Bogus 'Security Updates'" [Motherboard]. • Still not seeing the IoT-enabled safety razor, but surely it's only a matter of time…
"Growing Up Surrounded by Books Could Have Powerful, Lasting Effect on the Mind" [Smithsonian] (original). "Growing up with few books in the home resulted in below average literacy levels. Being surrounded by 80 books boosted the levels to average, and literacy continued to improve until libraries reached about 350 books, at which point the literacy rates leveled off. The researchers observed similar trends when it came to numeracy; the effects were not as pronounced with information communication technology tests, but skills did improve with increased numbers of books."
* * *
Readers, feel free to contact me at lambert [UNDERSCORE] strether [DOT] corrente [AT] yahoo [DOT] com, with (a) links, and even better (b) sources I should curate regularly, (c) how to send me a check if you are allergic to PayPal, and (d) to find out how to send me images of plants. Vegetables are fine! Fungi are deemed to be honorary plants! If you want your handle to appear as a credit, please place it at the start of your mail in parentheses: (thus). Otherwise, I will anonymize by using your initials. See the previous Water Cooler (with plant) here. Today's plant (CZ):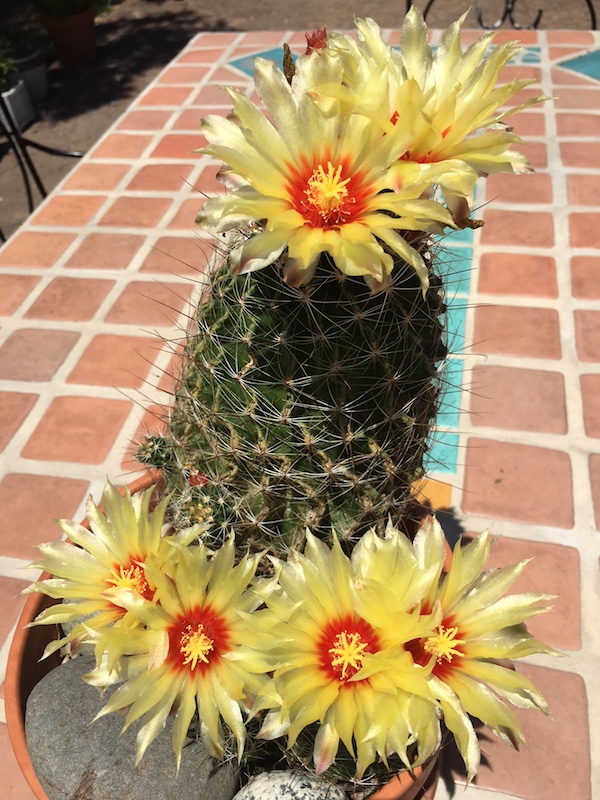 Colorful!