This is Naked Capitalism fundraising week. 941 donors have already invested in our efforts to combat corruption and predatory conduct, particularly in the financial realm. Please join us and participate via our donation page, which shows how to give via check, credit card, debit card, or PayPal. Read about why we're doing this fundraiser and what we've accomplished in the last year, and our current goal, thanking our guest bloggers.
By Lambert Strether of Corrente.
Readers, this is a pantry clearout of political material, so I'm short on business news. I'll add some in a bit. –lambert UPDATE 2:40PM All done. Be sure to read the story on the suit against Facebook for fraud. It's grotesque, even by Silicon Valley standards.
Trade
"How Trump's trade war is driving China nuts" [Politico]. "Xi reverting to the stimulus-at-all-costs playbook that got China into financial hot water is a worrisome bookend for the Deng revolution. Xi is ensuring that when China's debt-excess reckoning comes, what economists call a "Minsky moment," it will be bigger, more spectacular and more globally impactful. If you thought the "Lehman shock" of 2008 was scary, wait until the No. 2 economy with $14 trillion of annual output goes off the rails. Beijing is well aware of its plight — and the air of panic and paranoia is manifesting itself in bizarre ways." • As readers know, I want to know what's happening on the factory floor and in the villages. And I can't find out!
"U.S. Announces Trade Talks With Allies Amid China Dispute" [Council on Foreign Relations]. "U.S. Trade Representative Robert E. Lighthizer notified Congress that the Trump administration seeks to open talks with Japan, the European Union, and the United Kingdom to "address both tariff and non-tariff barriers to achieve fairer, more balanced trade" (WaPo). The move appears to be part of a new phase in U.S. trade policy as the administration resolves disputes with allies while continuing a trade war with China (FT). Lighthizer said trade talks with Japan and the European Union could begin in three months. That would follow a mandatory ninety-day congressional review period. Negotiations with the United Kingdom could begin once it formally exits the European Union in March 2019 (Bloomberg)."
Politics
2020
"The Trump Rally: A Play in Three Acts" [New York Times]. "Seats fill up quickly. Many of the president's supporters are carrying the free tickets they printed out online, but not everyone will get in: Rallies are often advertised and then overbooked by the campaign to ensure that no seat goes unfilled — and that the president can marvel at the overflow crowd outside." • This is excellent advance work.

"Trump's approval rating is in the dumps, even though the economy is soaring. One reason is Trump himself" [Los Angeles Times]. "The disconnect between economic performance and political fallout is not wholly new. Strong growth, which hit a muscular 5.2% in the third quarter of 2014, was not enough to stave off electoral disaster for President Obama in that year's midterm election, when Democrats lost the Senate. Perhaps because then, as now, not everyone shared equally in the prosperity. The tax cuts that Trump signed into law have been like rocket fuel for corporate profits and Wall Street investors. But Americans of lesser means have enjoyed considerably more modest benefits, which, by some calculations, have been largely offset by inflation, increased healthcare costs and higher gas prices."

Dogs playing poker:

??? pic.twitter.com/EeMHQET39T
— Panh Rithy (@RPanh) October 16, 2018

Hung in the White House, amazingly enough.

"2020 Democrats building ties to power brokers in key states" [Associated Press]. "Before he cut the $100,000 checks, Los Angeles Mayor Eric Garcetti brought the Democratic Party chairmen from Iowa, New Hampshire, South Carolina and Nevada backstage to meet late night television host Jimmy Kimmel and superstar hip-hop producer DJ Khaled. Garcetti may not be the best-known 2020 presidential prospect, but he will not be forgotten by those who lead Democratic politics in the states most responsible for picking the party's next presidential nominee." • Democrats are more like they are now than they ever were before.

"U.S. Sen. Kamala Harris plans to stump in Iowa; is it a precursor to a presidential run?" [Des Moines Register]. "The former California attorney general, who has made endorsements and fundraising appeals on behalf of Iowa Democratic candidates this year, will speak [on October 24] at a public event organized by Polk County Democrats. She endorsed Iowa secretary of state candidate Deidre DeJear over the summer, sent out an emails on behalf of auditor candidate Rob Sand and secretary of agriculture Tim Gannon in October."

"Elizabeth Warren Falls for Trump's Trap—and Promotes Insidious Ideas About Race and DNA" [Masha Gessen, The New Yorker]. On Warren's rollout video: "The senator's video is carefully worded. Warren says that she is laying no claim to citizenship in a tribe. She frames her understanding of her ancestry in terms of experience, though this experience seems fairly well removed: the defining event in Warren's family was her father's family's disapproval of his marriage to her future mother; Warren says that it was the Native American heritage that made her father's family suspicious. Talking heads from the universities where Warren was employed assure the audience that she has never used her heritage to advance professionally. Visually and dramatically, though, the video suggests a different framing. We see Warren's three brothers, who appear darker than she is. It seems that we might be seeing them not only because they are Republicans, as they say, but also because they look more like what we imagine Native Americans should look like. A female cousin is identified as a citizen of the Cherokee Nation. And the centerpiece of the clip is the DNA-test reveal: the professor confirms that the senator has Native American blood." More: "Warren ended up providing one of the clearest examples yet of how Trumpian rhetoric shifts the political conversation. The woman who is hoping to become the most progressive Democratic nominee in generations is not merely letting herself get jerked around by a Trumpian taunt. She is also reinforcing one of the most insidious ways in which Americans talk about race: as though it were a measurable biological category, one that, in some cases, can be determined by a single drop of blood." • The bottom line for me, "citizenship" vs "heritage" semantics aside, is that you're not a Cherokee until the Cherokee nation says you are, which is the Cherokee nation's position. I agree that it's insane that oppo originally pushed by IIRC Howie Carr — Boston's Minor League Rush Limbaugh — is still in circulation today, doing harm, but that's where we are. As Gessen concludes: "Warren, meanwhile, has allowed herself to be dragged into a conversation based on —one that promotes the pernicious idea of biological differences among people—and she has ." • Not the best look for a Presidential candidate, especially a liberal Democrat, and if the work product is any indication, a Clintonian level of campaign dysfunction.

He's running:

Bernie, after Elizabeth Warren texts him that she's gonna release her DNA test results so Trump will stop calling her Pocahontas. pic.twitter.com/dYSCeCMUjt
— Host of the Katie Halper Show (@kthalps) October 16, 2018
2018
19 days until Election Day. 19 days is a long time in politics. And remember that October is the month of surprises!

"Men have done it since the founding fathers. Now female vets are hoping to parlay military service into politics" [Los Angeles Times]. "The nine candidates have the potential to more than double the number of female combat veterans on Capitol Hill, the first two of whom were elected only six years ago. And while six of the nine candidates are Democrats, their success or failure could serve as a trial run for both parties in future election cycles…. Three of the candidates are Republicans…. Six of the veterans are first-time Democratic candidates pursing House seats — half of them are poised to win their races or are keeping the polls tight a few weeks ahead of election day. The six women are reshaping what has traditionally been an area of strength for the GOP: military service." • If they want the rest of us to have medical care provided free at the point of delivery by a national health service, as they did when in the military, great. Otherwise, why do I care? I mean, at least John Kerry, when young, threw his Vietnam medals away, and rightly. Have any of these women done the same? No sign of anything like that with these candidates.

They get mail:

Three-days e-mails from https://t.co/j0QYp8cA7H. I want to be supportive of the Congressional Black Caucus. But I think I'll have to unsubscribe. pic.twitter.com/5Io9gBpTXx
— Steve Randy Waldman (@interfluidity) October 15, 2018

Senate: "The Democrats' hopes of retaking the Senate are dying" [The New Republic]. "North Dakota Democrat Heidi Heitkamp's vote against Brett Kavanaugh may have been a recognition that her seat is already lost: Republican polling shows her losing by double-digits, while public polls show her losing by a slightly smaller margin. Democrat Phil Bredeson, who is challenging Republican Martha Blackburn in Tennessee, also is trailing by as many as eight points. He's had a roller-coaster week. While an endorsement from Taylor Swift may bolster his chances, his stated support for Kavanaugh has upset the party's base and caused campaign volunteers to quit. Missouri's Claire McCaskill is struggling to hold onto her seat, while in Texas, it's becoming clear that Congressman Beto O'Rourke is even more of a long shot than initially thought. A poll released on Wednesday shows him trailing Senator Ted Cruz by nine points. Even the bright spots aren't particularly bright. Joe Manchin, the only Democrat to vote to confirm Kavanaugh, is likely to hold onto his West Virginia seat, though a recent internal GOP poll did show a tightening race."

House: "Democrats dominate Republicans in third-quarter fundraising and spending in tossup House races" [USA Today]. "In the 30 House races that experts consider tossups in the midterm election, Democrats outraised their Republican opponents in every one in the third quarter, often by wide margins. In several cases, the Democratic candidate's fundraising in the three months from July 1 to Sept. 30 was two times or more what the GOP candidate raised, including 21 in which the Republican is an incumbent."• Hoo boy.

House: "POLITICO Playbook: Will the House be decided on Election Day?" [Politico]. "members of both parties are becoming more and more concerned that control of the House will not be decided for a few weeks after the election, as recounts in key states like California drag on. If that's the case, that could not only complicate plans for both parties to organize their internal leadership teams but also throw a wrench in legislative items like keeping the government open and funded." • This could get very ugly very fast.

AZ Senate: "Kyrsten Sinema's anti-war activist past under scrutiny as she runs for Senate" [CNN]. "the Democratic congresswoman also has an extensive past as a progressive activist. Her events and associations in opposing the wars in Iraq and Afghanistan — and her early years as a Democratic lawmaker in Arizona — frequently brought her into contact with the left-wing fringe, a [CNN] KFile review finds…. As Sinema has made the jump to national politics, she has said that her views on the use of military force have shifted. In 2012, she told The Hill newspaper her views had evolved over the years. Sinema said she now favors aggressive diplomacy with military intervention as a last resort. She said she would have still opposed the war in Iraq, but supported the war in Afghanistan. Since joining Congress, Sinema has become consistently more hawkish. She voted against approving the Iran deal and, this past April, backed President Donald Trump's decision to strike Syria. In 2015, she voted with Republicans to stop admitting Syrian and Iraqi refugees until the vetting process was strengthened." • Interestingly, none of the organizaitons on the "left wing fringe" are identified. And today she supports the war in Afghanistan? Wow.

GA Governor: "White women voters are sticking — not just with Kemp, but Trump, too" [Political Insider]. "With a little more than three weeks to go, [Stacy Abrams] still runs neck-and-neck with Republican Brian Kemp in her bid to become the first black woman to become chief executive of a U.S. state. A surge of black and younger voters could, in fact, put her over the top on Nov. 6…. Despite a viral #MeToo movement that's now a year old, despite last month's gender-splitting U.S. Senate hearing on sexual assault allegations against Supreme Court nominee Brett Kavanaugh, white female voters in Georgia are sticking with the Republican party."

TX Senate: "Beto O'Rourke Fundraising Triples Ted Cruz's In Texas Senate Race" [HuffPo]. "Rep. Beto O'Rourke, the Democrat challenging Republican Sen. Ted Cruz in next month's Texas Senate election, raised $38.1 million for his campaign in the third quarter ― triple what Cruz's team collected…. O'Rourke's campaign said its fundraising for the three months that ended Sept. 30 was a record for a Senate race. The contributions came from 802,836 individuals, the majority from Texas, the campaign said in a statement."
2016 Post Mortem
Why the 10% thinks everything's jake with the angels:

Btw 2007&2009 employment of US workers with high school education and less fell by 4 m and then flatlined. Employment of those with BAs never fell during the crisis. From 2010 their employment rose by 12 m. @SoberLook @DeutscheBank pic.twitter.com/bmYo5hpjqA
— Adam Tooze (@adam_tooze) October 13, 2018

"Democracy Lost: A Report on the Fatally Flawed 2016 Democratic Primaries" (PDF) [Election Justice]. "Election Justice USA has collected evidence indicating that multiple instances of voter suppression and election fraud have occurred throughout the 2016 presidential primaries. Democratic and Republican candidates have been affected, but demographics favoring Senator Bernie Sanders (e.g., younger voters, independent/unaffiliated voters) have been most heavily affected. This evidence falls into four categories: 1) voter suppression; 2) voter registration tampering (switching of a voter's party affiliation without their knowledge or consent); 3) illegal voter registration purges; 4) evidence for erroneous or fraudulent voting machine counts. We have also discovered a number of credible reports of miscellaneous kinds of election fraud or potential election fraud that are particularly relevant to caucus states." • I know we've linked to this 2016 report in the past, but if you think of voting systems as possessing phishing equilibria, it's quite clear why neither party wants hand-marked paper ballots, hand-counted in public.
Please Kill Me Now
"A Former Obama Operative Built a New Anti-Republican Attack Machine" [Bloomberg]. "Tanya, Genevieve, and Vadim have never met and probably never will. But they have two things in common: They're members of the so-called Resistance, working to oust Republicans. And they're being directed by , who's become a field general of sorts in the liberal opposition—and soon, he hopes, the cause of consternation and, ultimately, unemployment for dozens of Republican lawmakers in races from Maine to California… Burton's project, dubbed Citizen Strong, has operated by stealth, waiting until just now to publicly declare its existence as a 501(c)4 "dark money" group with three affiliated political action committees.." • Nice to have the #Resistance cleared up….

"Hillary Clinton is coming to Miami to raise cash for Donna Shalala" [Miami Herald]. "Donna Shalala's campaign announced Thursday that the former Secretary of State and presidential candidate will host a luncheon fundraiser for Shalala on October 24, though the time and location is to be determined. Shalala and Clinton are close. The former University of Miami president served as Bill Clinton's Health and Human Services Secretary and led the Clinton Foundation from 2015-2017." • Just what the party needs. Fresh blood.
Realignment and Legitimacy
"Registration is a voter-suppression tool. Let's finally end it." [WaPo]. "The burden should be on the government — not individuals — to ensure the right to vote. And this wouldn't be too difficult: Our government already records every American in various ways. Why can't voting be automatic with Selective Service registration and expanded to include women? Or with a Social Security number? In other democracies such as Canada, Sweden and Argentina, governments automatically compile rolls using information from other federal agencies. These efforts can serve as a model for the United States to pursue."

"What the Black Men Who Identify With Brett Kavanaugh Are Missing" [The Atlantic]. "On Tuesday night, I was in an auditorium with 100 black men in the city of Baltimore, when the subject pivoted to Brett Kavanaugh. I expected to hear frustration that the sexual-assault allegations against him had failed to derail his Supreme Court appointment. Instead, I encountered sympathy. One man stood up and asked, passionately, "What happened to due process?" He was met with a smattering of applause, and an array of head nods. If you think Kavanaugh receiving some measure of support from black men in inner-city Baltimore is as strange as Taylor Swift suddenly feeling the need to become a modern-day Fannie Lou Hamer, then brace yourself: The caping for Kavanaugh does make a twisted kind of sense. Countless times, black men have had to witness the careers and reputations of other black men ruthlessly destroyed because of unproved rape and sexual-assault accusations." • As I've kept saying, in re #believewomen: Emmett Till.
Stats Watch
Housing Starts, September 2018: "However strong third-quarter GDP may prove, it likely won't be getting any lift from residential investment" [Econoday]. "Building permits, which should be less affected by weather, fell… Looking at quarter-to-quarter comparisons, starts [are down], pointing to yet another quarter of trouble for residential investment — which is the weak link in the 2018 economy. Hurricane effects are a wildcard for housing data both for September and also for October when Michael hit the Florida panhandle but the ultimate impact on the nation's statistics, judging by today's results, may prove elusive." But: "We consider this a slightly stronger report relative to last month – as the rolling averages improved (even if they are in negative territory). Over time, there is little difference between using permits or starts to compare to completions" [Econintersect]. And but: "Note the relatively low level of single family starts and completions. The "wide bottom" was what I was forecasting following the recession, and now I expect further of increases in single family starts and completions" [Calculated Risk].
MBA Mortgage Applications, week of October 12, 2018: "The highest interest rates in over 7 years took their toll on mortgage activity" [Econoday].
Shipping: "September 2018 Sea Container Movements Improve But Rolling Averages Slow" [Econintersect]. "Simply looking at this month versus last month – export rate of growth improved whilst exports also improved. The three month rolling averages however are in negative territory for imports – and both export and import trends slowing. Even with this September improvement, it may be that we are seeing the impact of the trade wars." • I trust container counts more than financial numbers because I believe that container counts are harder to game. So if container counts are falling, the trade war is in fact beginning to hit; and the "sugar high" of shipping pulled forward to beat the tarriff hikes has faded. Too close to the midterms to make a difference, though!
Retail:
My great-grandparents raised 13 children in this house they built themselves. The roof came from @Sears. It lasted as long as they did and it never leaked. pic.twitter.com/9W7K7Rn2xv

— D. A. Powell (@Powell_DA) October 16, 2018
The Bezzle: "Facebook lured advertisers by inflating ad-watch times up to 900 percent: lawsuit" [San Jose Mercury News]. ", a new legal filing claims. A group of small advertisers suing the Menlo Park social media titan alleged in the filing that Facebook 'induced' advertisers to buy video ads on its platform because advertisers believed Facebook users were watching video ads for longer than they actually were. That 'unethical, unscrupulous' behavior by Facebook constituted fraud because it was 'likely to deceive' advertisers, the filing alleged." ¨• Remember when a bunch of newspapers fired their reporters and gutted their newsrooms because the squillionaire with bright ideas in the corner office and the effing MBAs on the top floor wanted to "pivot to video"? Well, they believed the lies that crook, Zuckerberg, was peddling, which shows you how bright they really are. Will we ever be able to rebuild that capacity?
The Bezzle: "Facebook shareholders back proposal to remove Zuckerberg as chairman" [Reuters]. "Several public funds that hold shares in Facebook Inc on Wednesday backed a proposal to remove Chief Executive Officer Mark Zuckerberg as chairman, saying the social media giant mishandled several high-profile scandals. State treasurers from Illinois, Rhode Island and Pennsylvania, and New York City Comptroller Scott Stringer, co-filed the proposal. They joined hedge fund Trillium Asset Management, which bought it to the table in June." • Zuckerberg didn't "mishandle scandals." He's a crook, as bad as Travis Kalanick.
The Bezzle: "The Magic Leap Con" [Gizmodo]. • Why the heck would anybody want to wear goggles for any immersive experience other than scuba diving? Fun read.
Tech: "Five Ways to Redesign Cities for the Scooter Era" [Bloomberg]. • The scooter era? Really? Let's go throw some more scooters up in trees, or set them on fire, or cover their sensors with… ketchup.
Tech: "Instagram Has a Massive Harassment Problem" [The Atlantic]. "In interviews, 22 users described painful, sustained, sometimes terrifying abuse on the platform—abuse they say Instagram has repeatedly failed to stem." • This whole idea of connecting people… Did anybody ever think there might be a down-side?
But priorities:
Instagram employee: "Features can make whatever progress … but can't hurt the other metrics. A feature might decrease harassment 10%, but if it decreases users by 1% that's not a trade-off that will fly" https://t.co/sz8oVu78kb

— Taylor Lorenz (@TaylorLorenz) October 15, 2018
I don't know if we've ever had hatred as a commercial product — divorced from a party or factional context — before. Readers? I suppose, in a way, merchandising hatred is like selling porn; except no paid performers are needed, so it's cheaper, so I assume more profitable.
Fodder for the Bulls: "Talk of a US recession in 2020 is a little premature" [CNBC]. "According to the National Bureau of Economic Research, the average economic cycle since 1945 has lasted about 58 months. This latest cycle, which started in March 2009, has now been going on for 115 months, just five months shorter than the longest period of economic growth on record (1991 to 2001)…. TS Lombard analyst Dario Perkins has highlighted the four conditions for a recession to occur: 1) accelerating inflation 2) a squeeze on corporate profits 3) tight monetary policy and 4) macroeconomic imbalances such as asset bubbles…. Crucially however, the economy and companies' revenues are still growing. The labor market is not showing signs of overheating." • It's interesting to watch elites talk themselves into a crash. Is there no limit to the powers of these wondrous people?
The 420
"Cannabis is legal in Canada — here's what you need to know" [CBC]. "In most provinces and all the territories, people will be allowed to possess four marijuana plants per household. That's the limit Ottawa imposed when it passed the Cannabis Act in June… There is one constant across the country: Online sales are available in all provinces and territories, whether via private retailers or through government-run websites. E-commerce giant Shopify, which will manage online sales for four provinces, is confident its system will be able to handle the volume." • Buying weed on Shopify. That's really cool.
Guillotine Watch
"Louis C.K. Jokes About 'Weird Year': 'I Lost $35 Million in an Hour'" [New York Magazine]. "Louis C.K. Jokes About 'Weird Year': 'I Lost $35 Million in an Hour'" [New York Magazine]. "Louis C.K.'s grand return to comedy is in full swing; following two mostly well-received sets at the Comedy Cellar, the comedian, who was accused of sexual misconduct last November (including masturbating in front of several women) has begun joking about his 'weird year' in the wake of the allegations. He reportedly told his audience at the West Side Comedy Club last week, 'I lost $35 million in an hour.'" • I'm not sure Louis has regained his, er, touch. And I say that as somebody who has played (and cited to) a lot of Louis CK videos.
Class Warfare
"Ideas Have Consequences: The Impact of Law and Economics on American Justice" (PDF) [Elliott Ash, Daniel L. Chen, Suresh Naidu]. From the abstract: "Using the universe of published opinions in U.S. Circuit Courts and 1 million District Court criminal sentencing decisions linked to judge identity, we estimate the effect of attendance in the controversial Manne economics training program, an intensive two-week course attended by almost half of federal judges. After attending economics training, participating judges use more economics language, render more conservative verdicts in economics cases, rule against regulatory agencies more often, and render longer criminal sentences. These results are robust to adjusting for a wide variety of covariates that predict the timing of attendance. Comparing non-Manne and Manne judges prior to program start and exploiting variation in instructors further assuage selection concerns. Non-Manne judges randomly exposed to Manne peers on previous cases increase their use of economics language in subsequent opinions, suggesting economic ideas diffused throughout the judiciary. Variation in topic ordering finds that economic ideas were portable from regulatory to criminal cases." • Yikes. This is important, and very bad.
"The Student Loan Debt Crisis Is About to Get Worse" [Bloomberg]. "Student loans have seen almost 157 percent in cumulative growth over the last 11 years. By comparison, auto loan debt has grown 52 percent while mortgage and credit-card debt actually fell by about 1 percent, according to a Bloomberg Global Data analysis of federal and private loans. All told, there's a whopping $1.5 trillion in student loans out there (through the second quarter of 2018), marking the second-largest consumer debt segment in the country after mortgages." • And with a mortgage, at least you get to imagine you own a home!
News of the Wired
"The American Circus in All Its Glory" [National Endowment for the Humanities]. "Through the twentieth century, accelerating into the twenty-first, every change brought about a normalizing of the circus, cutting into its uncanny core. Disneyland was built on this model, of course: opening in 1955 as, essentially, the old experience of the fairground and amusement park with all the seediness purged. But, as Ringling Bros. and Barnum & Bailey discovered, Disney always proved best at doing Disneyland. The circus without its dodgy elements is no longer a circus. Even while the circus owners were trimming the circus to accommodate what they thought were changes in the culture, the culture was changing faster still. With OSHA laws and mandatory liability insurance, the culture demanded safety in a show whose business was the unsafe. With the sexual revolution and the rise of easy pornography, women in tights on horses ceased to seem transgressive. With the shrinking of the world, African animals no longer appeared exotic. With the information economy of the Internet, P. T. Barnum's brand of outrageous hoaxes was too easily debunked. With the rise of animal rights activism, the parades of elephants and caged cats were increasingly banned."
* * *
Readers, feel free to contact me at lambert [UNDERSCORE] strether [DOT] corrente [AT] yahoo [DOT] com, with (a) links, and even better (b) sources I should curate regularly, (c) how to send me a check if you are allergic to PayPal, and (d) to find out how to send me images of plants. Vegetables are fine! Fungi are deemed to be honorary plants! If you want your handle to appear as a credit, please place it at the start of your mail in parentheses: (thus). Otherwise, I will anonymize by using your initials. See the previous Water Cooler (with plant) here. Today's plant (RR):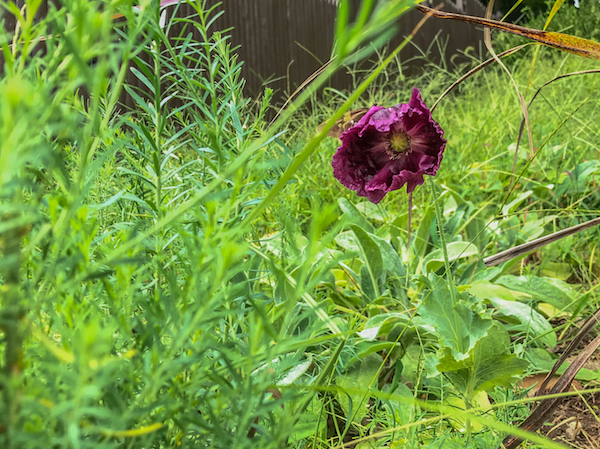 RR writes: "A lone poppy. I planted an entire packet, many germinated, but they were all eaten as seedlings – except for this one! Flax in the foreground, unmowed lawn in the back."