This is Naked Capitalism fundraising week. 1498 donors have already invested in our efforts to combat corruption and predatory conduct, particularly in the financial realm. Please join us and participate via our donation page, which shows how to give via check, credit card, debit card, or PayPal. Read about why we're doing this fundraiser and what we've accomplished in the last year, and our current goal, more original reporting
By Lambert Strether of Corrente.
Trade
"Ford Says Tariffs Makes US Steel Costliest in the World" [Industry Week]. "Domestic hot-rolled coil — the benchmark price for American-made steel — has gained 28% in 2018 as the administration implemented tariffs on imports. The levies helped push the price to about $920 a metric ton earlier this year, the highest in a decade. U.S. steel currently costs about $150 more per metric ton than steel in China, the world's biggest consumer, which accounts for more than half of global demand."
Politics
2020
"Congresswoman makes last-minute trip to Ottumwa" [KTVO]. • Missed this one…

"Sanders thanks Iowa voters for giving momentum to progressive agenda" [The Hill]. "'Why it was important in terms of what Iowa did in that very first caucus, is that it showed the American people that the ideas that we were talking about were not radical ideas or extremist ideas or ideas that were outside of the mainstream,' Sanders said at a rally at Iowa State University. 'So it started off in Iowa and it went to New Hampshire and it went across the country. And ideas that just three years ago were perceived to be radical and extremist ideas are now ideas that are supported by the vast majority of the American people. Thank you Iowa,' he added." • Silly person. Politics is about personalities, not ideas.

Saying it with a sneer:

BECAUSE TRUMP RALLIES WEREN'T ENOUGH LIKE SPORTING EVENTS: The TRUMP campaign announces a tailgate party in the parking lot of the Toyota Center before tomorrow's rally, featuring food trucks, live music, appearances by campaign spokespeople & big screens to see Trump's speech. pic.twitter.com/ymwSOFteI6

— Kenneth P. Vogel (@kenvogel) October 22, 2018

This is, in fact, effective and creative advance work by the Trump campaign (or whatever it is now). I would have thought 2016 was a teachable moment for liberal Democrats about underestimating the opposition, but apparently not.
2018
13 days until Election Day. 13 days. That's less than two weels, still a long time in politics, although with the pernicious spread of early voting — Election Day should be a national holiday — not so long as it used to be.

Lots of prognostications on the Blue Wave:

"Pelosi says Dems would 'handily' win House if election were held today" [The Hill]. "'If the election were held today, the Democrats would handily win the House,' Pelosi said during a CNN political forum. 'I can only speak in the present tense, because [as I keep saying….] . … I'm telling you what would happen today. But we fully intend to own the ground, not yield one grain of sand, and get out the vote,' she added. 'And that makes all the difference.'" • Pelosi measuring the drapes for the Speaker's office? Not a good look.

"Bernie Sanders casts doubt on blue wave" [The Hill]. "'I know a lot of people talk about this blue wave and all that stuff, but I don't believe it,' Sanders told Hill.TV's 'Rising' co-host Krystal Ball during an interview that aired on Monday. Sanders said he believes that the outcome from Nov. 6 will be a 'very, very close' situation and predicts that only a 'handful of votes' will determine whether Democrats are able to regain control of the House or Senate. 'We have an entity able to stand up to [President] Trump or we don't,' the former presidential candidate said." • Sanders, unlike Pelosi, conveys the impression that your vote counts. Odd.

"Dems lower expectations for 'blue wave'" [The Hill]. "Talk of a blue wave sends the signal that Democrats have races in the bag, and that voters don't need to come to the polls on Nov. 6…. At the same time, there are real reasons for Democrats to fret over their chances given President Trump's rising approval ratings, fallout from the fight over Supreme Court Justice Brett Kavanaugh's confirmation fight and a strong economy the White House has taken credit for delivering."

UPDATE "3 weeks out: Democrats lead but anything could happen" [Bleeding Heartland]. From last week, still germane: "A wave far larger than most anticipate is possible…. BUT…. There are 31 seats where the lead is less than 5 points. If a swing as small as 3 points were to take place between now and election day in these seats, the battle for control for the House would essentially become a dead heat. As I have noted before here, the generic ballot polling has been off by about 3 points in every mid-term election since 1998.

"Republicans outpacing Democrats in early voting in key states, NBC News finds" [NBC News]. "Republican-affiliated voters have outpaced Democratic-affiliated voters in early voting in seven closely watched states [AZ, FL, GA, IN, MT, MV, TN, and TX], according to data provided by TargetSmart and independently analyzed by the NBC News Data Analytics Lab…. Republicans typically dominate early voting by absentee ballots, while Democrats tend to have the advantage with in-person early voting."

"Democratic candidates for Congress have raised a record-shattering $1 billion this election" [MSN]. "The $1.06 billion raised through the end of September surpasses the nearly $900 million collected by Republican candidates for Congress in 2012 — previously the largest haul registered by a single party by this point in the election cycle, according to a Washington Post analysis of Federal Election Commission records. And it is the first time since 2008 — when Democrats swept the White House and both chambers of Congress — that Democratic candidates for House and Senate have outraised Republicans in direct contributions to candidates' committees." • Now, if you want to talk about a green wave….. And not that kind of Green!

"Midterm elections: 5 hot races that could help decide House control" [USA Today]. "'There is no weirder race in the country than in West Virginia's 3rd District,' [the Cook Political Report's David] Wasserman said. [State Sen. Richard Ojeda] is running against state delegate Carol Miller, a bison farmer who wants to "cut the bull out of politics," for the seat being vacated by GOP Rep. Evan Jenkins. Trump has Miller's back in this southern West Virginia district that he won by nearly 50 percentage points. His campaign endorsed her as "pro-coal, pro-Second Amendment, and pro-Trump." Ojeda, meanwhile, has strong support from teachers after helping organize this year's teachers' strike in the state. Ojeda is enjoying a fundraising advantage, but polls indicate a close race. In 2016, Ojeda won state Senate-District 7 with 59 percent of the vote while Trump won there with 77 percent of the vote. In fact, Ojeda was among those Trump voters, after supporting Sen. Bernie Sanders, I-Vt., in the Democratic presidential primary over the nominee, Hillary Clinton. He voted for Trump to support coal miners." • If Ojeda wins, we might be looking at a blue tsunami. This article is a good summary of the conventional wisdom.

"So, we asked our friends at the Wesleyan Media Project, which tracks and analyzes ad spending, to sort out which Senate and House races had seen the most ads this cycle" [Lisa Lerner, On Politics]. In the House:

1. Montana (at large) – 65,500

2. Georgia 6th – 33,962

3. New York 22nd – 29,903

4. Maine 2nd – 24,603

5. Kentucky 6th – 20,200

Damn. My bad. I wish I had known about the Wesleyan project, because I would have put it in my worksheet (though probablys endorsements are a good proxy).

AR-02: Quite a remarkable ad:

This is a real radio ad currently running in Arkansas in support of Republican Congressman French Hill on radio stations targeted to the African American community. I don't even have words to describe it. pic.twitter.com/vpzt1nGPlc

— (((Ben Tribbett))) (@notlarrysabato) October 18, 2018

I don't have enough of an ear to know whether a black voter would find this authentic (though presumably Republican consultants did their best). But yeah, justice for Emmett Till and #BelieveWomen would have been at odds in principle. Liberal Democrats can't admit that, and now a Republican is saying it….

ME-02: "New poll shows Mills ahead of Moody and a 2nd District dead heat" [Bangor Daily News]. "This was the second recent survey showing Poliquin and Golden tied. Poliquin, a Republican, and Golden, a Democrat, were virtually tied in the Pan Atlantic survey of 251 likely voters in the 2nd District. The incumbent got 37 percent of support to the challenger's 36.5 percent. Another 9 percent were backing one of the two independents — Tiffany Bond and Will Hoar — with 17.5 percent remaining undecided in the race." • That's a lot of undecideds!

ME-02: Because Democrats can do no wrong:

ME-2 also a real microcosm of current politics.

This is a district that in concrete terms desperately needs Medicaid expansion and investment in rural broadband (what Golden is offering) but it's blindingly white so cynical efforts to frame politics as racial conflict can win.

— Matthew Yglesias (@mattyglesias) October 23, 2018

For many years, Maine's Democrats have had nothing to say about deindustrialization or falling life expectancy. (To be fair, the corrupt Democrat in the Baldacci administration did use mill closures as an excuse to site a landfill near enough to the Penobscot so that when the liner fails, as all liners do, we'll have to worry about polluted water. The profits of the private operator, naturally, go out of state. But at least we get the tipping fees!) At least when Trump came to ME-02, he mentioned the mills closing. Democrats persisted in running candidates with no visible accomplishments (Emily Cain, now having failed upward to Emily's List, was beaten like a gong by Poliquin. Twice, because of course they ran her twice.) It's also rational to worry about Medicaid, for all that its LePage opposing it, because Maine is a very poor state. What Maine really needs is Medicare for All, so we don't have to pick up any of the tab with state taxes. Which Matty, being ignorant or tendentious, doesn't mention. The last time I came back from my undisclosed location, first day for me and new tenants because of the semester change, guess what I found in the bathroom? On my very first night? A SYRINGE, that's what.* So the opioid crisis finally reached the oasis of my little university town. And the Democrats have had nothing to say about that, either. For years. Golden, at least, is sound on Medicare for All and opioids, in addition to broadband. Maybe if the Democrats ran decent candidates with programs that spoke to the desperate needs of voters, it wouldn't be so trivially easy for Republicans to deflect? Blindingly white, forsooth. NOTE * Also a big pink bottle of Caladryl. For the itching.
Realignment and Legitimacy
"Why Geography Makes It Difficult for Democrats to Get Along" [Election Law Blog]. "[A] Democrat with a relatively progressive platform might be able to facilitate high turnout and win the statewide popular vote. But an identical platform would be too far left for the pivotal districts that determine the make-up of the state's congressional delegation or state legislature…. Democrats have been relatively concentrated in urban districts since the New Deal, and for decades, their geography made it necessary for them to field congressional candidates who could win on "Republican" turf in the suburbs and countryside. The Democrats achieved this not by nudging their platform to the left or right, but by avoiding a coherent platform altogether." • Good piece, and I understand this argument; it's conventional wisdom. However, I think the political class's notion of "left" and "right," at least with respect to policy, is greatly at odds with what actual voters are thinking and feeling. The discrepancy between what America is, and what we have been taught that it should be, is so great as to lead to a baseline sense of desperation in the 90% (although not, of course, in the 10%, whose salaries steadily increased since the crash, while those of the 90% remained flat or decreased). And I don't think this is solely a white thing; think of the level of betrayal felt by the citizens of Flint, for example. That's why a program of campaign finance reform, health care, and broadband would have appeal in rural areas across the board. How can the greatest nation on earth have broadband that sucks? And here is a second example:

"Majority of Republicans supports 'Medicare for all,' poll finds" [The Hill]. "The survey, conducted by Hill.TV and the HarrisX polling company, found that 52 percent of Republicans polled said they supported the option, while 48 percent said they opposed it. Twenty-five percent said they 'strongly' supported 'Medicare for all,' while 27 percent said they 'somewhat' supported it." • So, only a minority of Republican voters support the pissant Heritage Foundation Rube Goldberg device — the Republican plan, road-tested by Mitt Romney — that Obama foisted upon us 2018 – 2010 = 8 years ago. Why? Because it sucks. That's why. Now, I grant this survey isn't granular to the district level. So attack those districts! What an opportunity! And if the Democrats aren't careful, the next Trump, a Trump with the rough edges sanded off, is going to seize that issue and run with it, and lock in Republican power for another generation (as soon as they can figure out how to package Medicare for All as supporting the free market. Don't laugh).
Stats Watch
Richmond Fed Manufacturing Index, October 2018: "Manufacturing activity in the Fifth District expanded at a slower than expected pace in October" [Econoday]. "Leading the slowdown to a level well below the consensus forecast was a sharp decline in shipments…, and a sizable decrease in new orders…. But the employment component continued to show strength, with the number of employees rising." And: "The important Richmond Fed subcategories declined – but all remain in expansion. This was the weakest report since April 2018" [Econintersect].
The Bezzle: "Supplier bankruptcies renew suspicion that Tesla isn't paying up" [Supply Chain Dive]. "In August a survey conducted by Original Equipment Suppliers Association, an automotive supplier organization, found Tesla's suppliers are increasingly concerned they will not get paid. In September, Musk tweeted that he was in "delivery logistics hell," struggling to get finished cars to their new owners. This prompted Musk to launch an initiative to manufacture roll-on, roll-off cargo trucks." • Note however that the source is a short seller. Nothing wrong with that, but for the headline to be accurate there would need to be actual bankruptcies, and no suppliers are named.
The Bezzle: "For-profit college chain files (for receivership)" [Credit Slips]. "While I am generally not in favor of bankruptcy discrimination, the ineligibilty of bankrupt colleges for taxpayer funding is eminently sensible. Given the weakness of institutional gatekeeping and the political challenges to shutting down predatory schools, and the for-profit college business model in which taxpayer grants and loans are used to prepay tuitions for students who are frequently misled about career chances, we don't need bankruptcy to give these failing schools a new lease on life." • Ouch.
Tech: "iPhones are hard to use" [fawny.blog]. "Don Norman told us several times several years ago (Ⅰ – Ⅱ – Ⅲ) that iPhones hide their functions. Apple never admits it makes mistakes. The next time you hear Tim Cook or somebody recounting a tale of a guy who crashed his car and was able to call a paramedic using his Apple Watch, think instead of millions of people who cannot use their phones for basic or truly serious needs…. The gold standard here is Undo. You have to shake your iPhone (or giant iPad Pro) to undo an action. You discover this by accident as you get up from a restaurant table with your phone in your hand, only to be greeted with an Undo Typing dialogue box. Unless you are an expert, you have no idea what just happened. If you really want and need the Undo feature, turn it on with AssistiveTouch. But AssistiveTouch itself has a diabolical user interface." • This is an impressive polemic. iOS really is hosed. It's hosed really bad. It's like the company that invented the Human Interface Guidelines for the Mac decided not just to throw them out, but to sabotage and degrade every good UI/UX decision therein. Unfortunately, Android is no better. Then again, it's thin!
Fodder for the Bulls: "The yield spread between long-term and short-term Treasury securities is known to be a good predictor of economic activity, particularly of looming recessions. One way to learn more is through a careful scrutiny of the historical variation of such yield spreads and how they relate to the current slope of the Treasury yield curve. The results suggest that the recent flattening of the yield curve implies only a slightly elevated risk of a recession in the near term relative to any other month" [Federal Reserve Bank of San Francisco].
Health Care
"Is Medicare for All the Answer to Sky-High Administrative Costs?" [New York Times]. • Read on. The answer will surprise you! "Medicare's direct administrative costs are not only low, but they also have been falling over the years, as a percent of total program spending. Yet the program's total administrative costs — including those of the private plans — have been rising. 'This reflects a shift toward more enrollment in private plans," Mr. [Kip] Sullivan said. "The growth of those plans has raised, not lowered, overall Medicare administrative costs.'" • It is very gratifying to see a single payer stalwart like Kip Sullivan quoted as the authority he indeed is. And, contrary to the headline, it does look like Medicare has a bad neoliberal infestation that needs to be dealth with. "Free at the point of delivery" is a good starting point, because that strikes a deathblow at the complex eligibility determination process so beloved by markets-first liberals.
Gaia
"Judge Slashes Punitive Damages in Roundup Cancer Case" [Courthouse News]. "Although she refused to overturn a jury verdict against Monsanto finding its weed killer Roundup caused a San Francisco Bay Area man's terminal cancer, a California judge on Monday left open the possibility of a new trial if the man refuses a $211 million reduction in his punitive damages award. In a written ruling, San Francisco Superior Court Judge Suzanne Bolanos denied Bayer-owned Monsanto's motion to overturn the $289 million verdict, writing 'there is no legal basis to disturb the jury's determination that exposure to GBHs [glyphosate-based herbicides] was a substantial factor in causing his NHL [non-Hodgkin lymphoma].'"
"The Super Bowl of Beekeeping" [New York Times]. "Bees are central to an enormous agricultural industry — — and beekeepers' custodianship of billions of these delicate animals is as much an art as it is a science. Beekeepers themselves, Solomon confided, are funny creatures: solitary in the field, trying to anticipate the needs of a finicky insect and, unlike that insect, social only once in a while. 'We're an odd bunch, very individualistic in nature,' she said. 'But we're in trouble.'" • Any normally gregarious beekeepers in the commentariat? Or is that comment accurate? And how are your bees doing?
"Meet the Endoterrestrials" [The Atlantic]. "Geobiologist Alexis templeton] is one of a growing number of scientists who believe that the Earth's deep subsurface is brimming with life. By some estimates, this unexplored biosphere may contain anywhere from a tenth to one-half of all living matter on Earth. Scientists have found microbes living in granite rocks 6,000 feet underground in the Rocky Mountains, and in seafloor sediment buried since the age of the dinosaurs. They have even found tiny animals—worms, shrimp-like arthropods, whiskered rotifers—among the gold deposits of South Africa, 11,000 feet below the surface. We humans tend to see the world as a solid rock coated with a thin layer of life. But to scientists like Templeton, the planet looks more like a wheel of cheese, one whose thick, leathery rind is perpetually gnawed and fermented by the microbes that inhabit its innards. Those creatures draw nourishment from sources that sound not only inedible, but also intangible: the atomic decay of radioactive elements, the pressure-cooking of rocks as they sink and melt into the Earth's deep interior—and perhaps even earthquakes." • Holy moley. I hope the smart ones don't decide to come up to the surface and deal with the problem.
"Why Are Japan's Cherry Blossom Trees Blooming in Fall?" [Smithsonian]. • For the same reason my forsythia blooms in September, I would think.
Class Warfare
"Mike Davis on the Crimes of Socialism and Capitalism" [Jacobin]. "For decades, one of the most popular methods of undermining socialists has been an appeal to the atrocities that occurred in Stalin's Russia and Mao's China. Horrifying episodes like the Great Chinese Famine and the Soviet famine under Stalin are brandished as proof that socialism can never work and is too dangerous to attempt, so we're better off with capitalism. Mike Davis's book Late Victorian Holocausts complicates that story significantly. Capitalism has an enormous death toll of its own. If famines are the yardstick we're using to measure the suitability of a global economic system, then capitalists have a lot to answer for." • More grim reading….
"Marriott Workers Strike, Spanning Seven Time Zones" [Labor Notes]. "Seven thousand hotel workers across the U.S. are on strike against Marriott, the world's largest hotel chain. A strike that started with seven hotels in Boston quickly spread to San Francisco, San Diego, San Jose, Oakland, Detroit, and Hawaii…. UNITE HERE locals in different regions are negotiating separately, but rallying around a common slogan: "One Job Should Be Enough." While local issues separate workers in different cities, the strikers have three core sets of demands: job security, an end to unsafe overwork, and better wages and benefits. Courtney Leonard, a server at the Westin Boston Waterfront, commutes 100 miles a day round trip from New Bedford. She's originally from Boston, but can't afford to live in the city." • A 100 mile commute…
"Poll: Drug/opioid abuse and economic concerns cited as biggest problems facing rural communities" [Harvard School of Public Health]. "The poll of 1,300 adults living in the rural United States found that a majority of rural Americans (57%) say opioid addiction is a serious problem in their community… On economic issues, rural Americans largely hold negative views of their local economy, but nearly one-third have seen economic progress in recent years. A majority of rural Americans (55%) rate their local economy as only fair or poor, while over the past five years, 31% say their local economy has gotten better, and 21% say it has gotten worse."
News of the Wired
Houses for introverts. Worth reading:
Eichler homes ad 1963ish https://t.co/dPG9c7IY4I pic.twitter.com/u1DTa8Q9kg

— son of an asylum seeker, father of an immigrant (@doctorow) October 23, 2018
Remember when there were print advertisements with finely crafted prose? ("Only amateurs use short copy." –David Ogilvy)
* * *
Readers, feel free to contact me at lambert [UNDERSCORE] strether [DOT] corrente [AT] yahoo [DOT] com, with (a) links, and even better (b) sources I should curate regularly, (c) how to send me a check if you are allergic to PayPal, and (d) to find out how to send me images of plants. Vegetables are fine! Fungi are deemed to be honorary plants! If you want your handle to appear as a credit, please place it at the start of your mail in parentheses: (thus). Otherwise, I will anonymize by using your initials. See the previous Water Cooler (with plant) here. Today's plant (TH):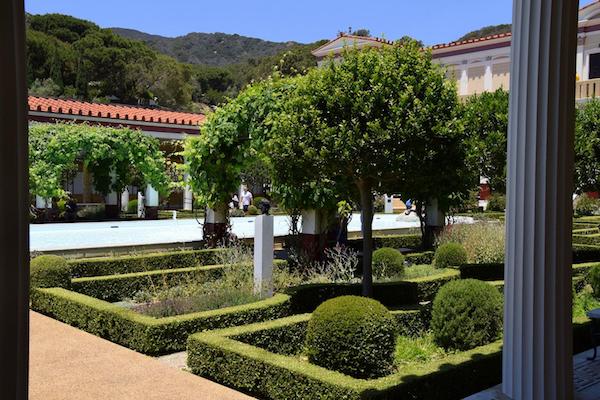 TH writes:
The well-tended landscaping at the Getty Villa in Malibu, California.

(Image recorded with 200 ISO [Safe to go with a low ISO that requires slower shutter speeds because there are no clouds diminishing the light and I'm not photographing anything that I'm concerned about precisely stopping action of—because I'm not using a tripod I won't go any lower than this though], a shutter speed of 1/500th which should be quick enough for me to keep the camera still during the shot, and an aperture of f8. Most of the subject is greenery in full sun, but I want to see into the shadows a little, so I have to sacrifice the beautiful aqua of the pool, letting it wash-out.)
That's a shame about the aqua. There's nothing more splendidly Californian than an aqua pool. This from David Hockey:
#AuctionUpdate And we're off! Diving into our #NYC auction of Prints & Multiples with David Hockney's 'Pool' from 1980, sold for $32,500 from the Collection of David Teiger pic.twitter.com/EBEgwDzD5N

— Sotheby's (@Sothebys) October 18, 2018
I like hearing about the technical details of the shot, for those who are interested in that sort of thing. Cell phones still can't do everything!