By Lambert Strether of Corrente.
I'll add a bit more; I'm starting to think that "Kavanaugh" really ought to go into the Urban Dictionary as a synonym for "enormous time sink." –lambert UPDATE 2:46PM All done!
Trade
"Ten Things to Know About the Nafta Deal" [Wall Street Journal]. Well worth a read. This caught my eye: "The agreement will face a "sunset" in 16 years, if it isn't actively renewed or renegotiated. The three countries will meet every six years to decide whether to renew the pact, potentially keeping Nafta-pocalypse 16 years in the future in perpetuity. Canadian and Mexican officials say the uncertainty of sunset clauses undermines investment in their countries. Still, companies are somewhat pleased the Trump administration didn't get the five-year sunset clause it was seeking." And: "One system that allows foreign companies to challenge governments—investor-state dispute settlement, or ISDS—has been sharply scaled back." • On ISDS, big if true.
Digging into the text:
Implications for national #privacy law in #NAFTA pic.twitter.com/mAcOBQ7nLS

— Josh Tabish (@jdtabish) October 1, 2018
"China Manufacturing PMI slumps, US tariffs not necessarily the culprit" [FreightWaves]. "China Beige Book, a consultancy focused on 'under the bonnet' Chinese economics said last week that manufacturing 's multi-year rally has given way to declining revenue and sharply declining profit growth, and that an explosion in corporate borrowing is not being captured by official government statistics and domestic orders are not making up for the drop in exports. It's too soon to know if this is due to US tariffs or simply the result of cooling global growth. Capital Economics reported, adding: 'Even if export growth did indeed weaken last month, this may not be due to US tariffs. Global growth is now cooling, which we think is weighing on foreign demand for Chinese goods irrespective of tariffs."
Politics
2020
"Clinton to campaign for Pritzker in Illinois" [Politico]. "Clinton's appearance won't translate into financial help — a billionaire, Pritzker is self-funding his campaign." • How nice for both of them.

"The 2018 Impact on the 2020 Democratic Nomination" [Cook Political Report]. "Let's be real. Within days of the midterm election's end, the race for the Democratic nomination in 2020 will begin. It will suck up the collective energy of DC more than anything that's happening on Capitol Hill. And, while we know midterm results have proven to be terrible predictors of the upcoming presidential election, each potential 2020 candidate will try and prove that they are the best candidate to build upon, fix, or continue the trends of 2018." • So looking forward to this.
2018
35 days until Election Day. 35 days is a long time in politics (as we are seeing right now with Kavanaugh).

Lambert here: Let me try to gather my thoughts on Kavanaugh, speaking for myself only. First, as far as evidence goes, I don't think we're any forrader then we were when Kavanaugh's room-mate said that he was sure that Kavanaugh was capable of the assault Ford accused him of, as was his social circle, but that was as far as he could go. If your standard is "innocent until proven guilty," Kavanaugh, at least in the Ford matter, is innocent. If your standard is "Believe women" (or "believe victims"; note the question-begging), then do consider that Emmett Till was lynched because a white woman was believed; and the Central Park Five were railroaded in a moral panic in which most of New York participated. We might also remember that eyewitness testimony and human memory are fallible and malleable (see the satanic ritual abuse moral panic). My takeaway from this is that we as a society have no way of adjudicating sexual assault claims that treats the assaulted with a level of dignity sufficient for them to come forward at the time, and that's a big problem, probably one not to be solved with another decade of call-out culture, for reasons I'll get to.

Second, as far as Kavanaugh goes, it seems clear to me that he flat-out committed perjury when he said he never blacked out, and his behavior was sufficiently out-of-control at the time that any number of his acquaintances and drinking buddies are ticked off at his virtuous denials, and will testify accordingly. Now, whether the FBI will be permitted to investigate Kavanaugh's testimony is another matter, but if Kavanaugh makes it onto the bench he should be impeached at the earliest possible opportunity. (Insanely, Democrats have painted themselves into the corner that if a Supreme Court nominee has the credentials, he should be on the bench; they simply can't reject a candidate because of his jurisprudence, and so we have to go through circuses like this.)

Third, I've expressed my revulsion at the sexual mores of Kavanaugh's male "social circle" (and the 80s generally; see Vox's excellent article on 16 Candles), and the process of elite formation therein, so I don't need to do that again.

Fourth and finally, the amalgamation #MeToo, the #Resistance, and the Democrat Party is interesting, institutionally; as John Robb puts it: "The #Resistance network instantly amplified Ford's claim to the national level stigmergically[1] signalling to the rest of the network." However, we should contextualize: The network not only "amplified" Ford's claim, it funded her testimony, to the tune of $700K (along with McCabe's retirement, etc.). Payola isn't a practice call-out culture can routinize and expect to retain credibility.[2] Further, the #Resistance is, at least at the national level, the Clinton campaign in exile, where the future is females rebooting the slave markets in Libya with bombing campaigns, so please forgive me if I don't find the prospect of any #Resistance victory, however defined, edifying.

NOTES [1] A good word of the day, stigmergy: "Stigmergy is a consensus social network mechanism of indirect coordination, through the environment, between agents or actions. The principle is that the trace left in the environment by an action stimulates the performance of a next action, by the same or a different agent. In that way, subsequent actions tend to reinforce and build on each other, leading to the spontaneous emergence of coherent, apparently systematic activity." Like ants following odor trails. [2] I don't think Ford anticipated this; fallible though witness demeanor is, she doesn't strike me as that sort of person.

"The Kavanaugh Fight's Midterm Stakes" [Charles Cook, Cook Political Report]. "In the end, the Kavanaugh fight is not likely to be a true game changer. The dynamics of this election seem to be locked into a direction that has to be terrifying for Republicans. The only question is how bad the outcome will be. It certainly seems very likely that Democrats will take back control of the House, but will they gain 25 to 40 seats (they need at least 23 to take control), or could their wave build higher?….

* * *

"November Offers Major Test of Medicaid Expansion's Support in Red States" [Governing]. "Four states are voting on Medicaid expansion in November — Idaho, Montana, Nebraska and Utah. It started with Maine. After years of failed attempts to get Gov. Paul LePage to sign off on Medicaid expansion, residents took to the ballot box and made it the first state where voters passed the health care policy."

About that "coalition of the ascendant":

Controlling for education, African-Americans were 0.8% more likely than Whites to vote in 2014. Latino-Americans were 14.6% less likely, Asian-Americans were 20.8% less likely, and Native-Americans were 9.8% less likely. pic.twitter.com/sqG93GLFrG

— ((David Shor)) (@davidshor) September 30, 2018
Realignment and Legitimacy
Speaking of partisanship (1):

Divorce your Republican husbands.

— Jill Filipovic (@JillFilipovic) September 28, 2018

Speaking of partisanship (2):

Senators Ted Kennedy and Chris Dodd sexually assaulted a waitress in 1985. No one apparently called it that, but that's what it was. https://t.co/tICQ1GGQBK pic.twitter.com/PFJTrUBF0V

— Justin Miller (@justinjm1) September 30, 2018

Speaking of partisanship (3):

? WATCH NOW! We are #live with @BillKristol & @NeeraTanden as they talk about shared #values on both sides in the latest #policytalks, part of the @WeListenUSA Fall Conference. Link to view: https://t.co/15pQ3OANcx ? pic.twitter.com/kplwJrJqds

— Ford School (@fordschool) September 30, 2018

For those who came in late, Kristol was a co-founder of The Project for a New American Century, which provided the ideological justification for the Iraq War, among other wars. John Pilger: "What was needed for America to dominate much of humanity and the world's resources, it said, was 'some catastrophic and catalysing event – like a new Pearl Harbor.' The attacks of 11 September 2001 provided the 'new Pearl Harbor', described as 'the opportunity of ages.'" Bill Kristol is a horrible human being. I can't imagine what a good Democrat like Neera Tanden is doing hanging out with him.

UPDATE "NYC-DSA Statement on Alexandria Ocasio-Cortez's Endorsement of Andrew Cuomo and 'All Democratic Nominees'" [NYC-DSA]. "Ocasio-Cortez's campaign did so much to show us who our allies are: workers of all ethnicities, races, and genders. But socialists also have a responsibility to name our enemies, and high on that list is Andrew Cuomo. His two-term record reveals a critical lack of support for healthcare for all New Yorkers, or ambitious climate and jobs programs, or protection for immigrants from deportation. Meanwhile, he governs like an old-time political boss, endlessly plagued by corruption scandals. An endorsement for Cuomo suggests that working people across New York should accept him as an ally, when the opposite is true. Further, . It suggests that electing anyone involved with the Democratic Party will automatically help secure a better future for the oppressed, exploited, and marginalized."

UPDATE "The Rainbow Coalition, Bernie, and DSA: A Response to Bill Fletcher Jr." [Organizing Upgrade]. "In just two electoral cycles – one city primary, one city general election, and one state primary – DSA NYC has experimented with four different models of engaging electoral politics. For now, this is the kind of learning and experimentation the left needs…. Reverend Jessie Jackson built the Rainbow Coalition. Bernie Sanders created Our Revolution. If we play our cards right, we'll have a presidential primary candidate in the next 10 or 20 years who doesn't need to build an organization, because they come out of one." • 10 or 20 years is a long time.

UPDATE Twitter and Facebook as organizing tools:


Tiny reminder/deep thought: the decision to use algorithms and non-chronological timelines is a political act that, intentionally or not, decreases the effectiveness of time-sensitive organizing efforts. Like voter registration efforts, for example.

— Greg Pak (@gregpak) September 28, 2018
Stats Watch
Institute For Supply Management Manufacturing Index, September 2018: "Modest easing in new orders headlines what is another exceptionally strong ISM manufacturing" [Econoday]. "In another contrast with this morning's PMI manufacturing report, hiring in this sample was very strong." And: "Declines in gauges of backlogs and supplier-delivery times signal factories are catching up with demand, helping to dissipate price pressures. In prior months, producers' rush to buy materials ahead of U.S. tariffs and counter-levies by China triggered supply-chain disruptions and a surge in costs" [Industry Week]. And but: "Based on these surveys and the district Federal Reserve Surveys, one would expect the Fed's Industrial Production index growth rate remain about the same as last month. Overall, surveys do not have a high correlation to the movement of industrial production (manufacturing) since the Great Recession. This month the ISM survey went down and the Markit survey up – go figure" [Econintersect].
Purchasing Managers Manufacturing Index, September 2018: "solid strength" [Econoday]. "There's strong evidence of capacity stress as backlogs are building signficantly… Growth in this report has been running noticeably below the ISM's manufacturing sample."
Construction Spending, August 2018: "A marginal headline gain… masks significant declines in residential spending during August" [Econoday]. "This report is not pointing to acceleration in business investment and is consistent with another weak quarter for residential investment which remains the economy's weak spot for 2018."
Commodities: "Catherine Hyland records the complex environment of a Chilean lithium mine" [It's Nice That]. • Magnificent photographs!
Real Estate: "Shady Real Estate Deals Plunge Under New Regulations" [Governing]. "But in 2016, the U.S. Treasury Department, convinced there was something fishy going on in the Miami and Manhattan real estate markets, issued geographic targeting orders, or GTOs. This bureaucratic-sounding change meant that for high-end real estate purchases, cash buyers had to reveal their true identities. The effect was immediate, with cash purchases dwindling to a small fraction of overall sales…. The Treasury Department soon expanded GTOs into more markets, covering many of the nation's largest cities. A new study from Sean Hundtofte and Ville Rantala, respectively business professors at Yale and the University of Miami, finds that the disclosure requirements have had profound effects. All-cash purchases by limited liability corporations and other corporate entities shrank from 10 percent of the total dollar volume in the targeted real estate markets to just 2.5 percent. House prices at the high end of the market have dropped by at least 4 percent. The changes have been most dramatic in Miami, where the corporate share of residential transactions has plummeted from 29 percent to 2 percent." • Good.
Marketing: "The "Agency Of Robots" Behind Burger King's Latest Ad Campaign" [Safe Haven]. "The fast food giant has released a series of ads that set out to mock AI by claiming to have been created by an 'Agency of Robots' who turned Burger King into 'Burger Thing' and invited everyone to 'have it Uruguay'—and that's not the worst of it…. [I]n our favorite, purported robot ad whizzes opine that 'Burger King's new chicken fries are the new potato. … We are not sorry. The potato deserved this.'" • Hey, that's not funny!
Marketing: "This $150 "Influencer" Halloween costume is a sure sign of the times" [Quartzy]. "Just $59 gets you the base, a "low-key costume set worthy of a superstar influencer"—a pair of Yeezy-esque grey leggings and a sports bra." • Please kill me now.
Supply Chain: "Warehouses are pinching workers from other hiring pools, but it's still not enough" [Supply Chain Dive]. "The transportation and warehousing sector attracted 731,000 new hires from other industries — a figure representing 66% workforce growth — from 2011 to 2015, according to an analysis from CBRE.
The industries losing the most workers to transportation and warehouse jobs are administration, waste management and retail jobs… Pay is king in these scenarios unless employers can figure out how to offer benefits or amenities that employees find valuable."
The Bezzle: "Tesla Enlists Employees to Be 'Full Self-Driving' Beta Testers" [Bloomberg]. "Musk wrote in an email obtained by Bloomberg News that Tesla needed about 100 more employees to join an internal testing program linked to rolling out the full self-driving capability. Any worker who buys a Tesla and agrees to share 300 to 400 hours of driving feedback with the company's Autopilot team by the end of next year won't have to pay for full self-driving — an $8,000 saving — or for a premium interior, which normally costs $5,000, Musk wrote." • Cash flow problems?
Tech: "macOS 10.14 Mojave: The Ars Technica review" [Ars Technica]. • A very detailed look that leaves me feeling meh.
Tech: iPhone XS charging problems. Quite a video:
The iPhone XS Has A Serious Problem… https://t.co/MXX1Vhoqg5

— mob. (@omuretto) September 29, 2018
UPDATE Tech: "The False Musk-Jobs Parallel" [Jean-Louis Gassée, Monday Note]. "Musk doesn't deserve to be compared to Steve Jobs, he's a category unto himself. He has improvised on a scale we've never seen before and has forced the incumbents to wake up and adopt EVs as their future. Competitors, especially from Germany, seem eager to make announcements, such as Audi two weeks ago, on September 17th, disclosing a $75K SUV, the e-tron, available next year — with only 20,000 vehicles allocated for the US market, a number to be compared to Tesla's output. Every car maker will eventually deploy one or more EVs — they have no choice, and part of that imperative is due to Musk, with our thanks."
Rapture Index: Closes up 1 on Oil Supply/Price. "The price of Brent oil hits new high." [Rapture Ready]. Record High, October 10, 2016: 189. Current: 184. Seems indeed that 180 is a floor.
Militia Watch
Coming soon to your town!
Well, this is a picture of what they're driving around. It's intimidating, driving slowly through our streets. Not for a day or two, but weeks. pic.twitter.com/ewICjhfecE

— Q ? ? (@QContinuumJudge) September 26, 2018
Police State Watch
"Grandfather and grandsons kicked out of Chesapeake park for drinking kombucha" [Virginian-Pilot]. • I would never have thought that officiousness would become our defining national characteristic.
Gaia
Administration climate policy:
#thefarside pic.twitter.com/fBWeliqlJ6

— The Far Side (@TheFarSide_ish) September 17, 2018
Class Warfare
"Seventh Circuit Nixes Local Right-to-Work Law" [Courthouse News]. "Creating a circuit split, the Seventh Circuit ruled Friday that the National Labor Relations Act does not allow local municipalities to pass right-to-work laws…. This split makes it likely that the case will be considered by the U.S. Supreme Court."
News of the Wired
"Every Adult Should Have a Bedtime" [New York Magazine]. • No.
English churches like the Pennsylvania Thruway….
It's a haunting and beautiful place. It's rare these days to find ruins left in such a natural state of overgrowth.

It's touching to stand in the abandoned nave and imagine the lives that passed in and out of this church and the memories it holds. pic.twitter.com/SKkUD6vfLD

— Paul ?? Cooper (@PaulMMCooper) June 16, 2018
"Chaotic neutral" is, I am guessing, gamer world-building jargon. Watch to the end:
this is the most chaotic neutral thing i've ever seen pic.twitter.com/LgPk5ZJuzH

— ? ? ? (@anthophetamine) September 28, 2018
* * *
Readers, feel free to contact me at lambert [UNDERSCORE] strether [DOT] corrente [AT] yahoo [DOT] com, with (a) links, and even better (b) sources I should curate regularly, (c) how to send me a check if you are allergic to PayPal, and (d) to find out how to send me images of plants. Vegetables are fine! Fungi are deemed to be honorary plants! If you want your handle to appear as a credit, please place it at the start of your mail in parentheses: (thus). Otherwise, I will anonymize by using your initials. See the previous Water Cooler (with plant) here. Today's plant: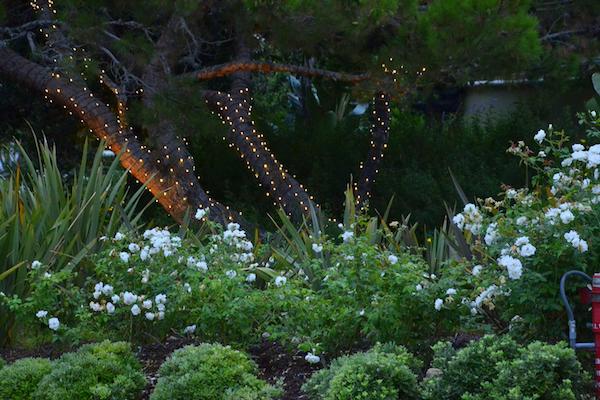 TH writes: "I'm a big fan of fairy lights and love this little garden of white roses setting off the lit tree. I wanted the image dark enough to show off the lights, but light enough to see the roses."
* * *
Readers, I didn't find quite enough change under the couch cushions at the end of the month. No big thing, but…
Readers: Water Cooler is a standalone entity not covered by the annual NC fundraiser. So do feel free to make a contribution today or any day. Here is why: Regular positive feedback both makes me feel good and lets me know I'm on the right track with coverage. When I get no donations for five or ten days I get worried. More tangibly, a constant trickle of small donations helps me with expenses, and I factor that trickle in when setting fundraising goals. So if you see something you especially appreciate, do feel free to click the hat!

To give more, click on the arrow heads to the right of the amount.
If you hate PayPal — even though you can use a credit card or debit card on PayPal — you can email me at lambert [UNDERSCORE] strether [DOT] corrente [AT] yahoo [DOT] com, and I will give you directions on how to send a check.