By Lambert Strether of Corrente.
Trade
"China Manufacturing PMI Worsens in October as Trade War Bites" [Industry Week]. "An official gauge of activity in China's manufacturing sector worsened in October as the effects of an ongoing trade war with the U.S. hit home. The manufacturing purchasing managers index fell to 50.2 this month from 50.8 in September, missing the median prediction of 50.6 in a Bloomberg survey of forecasters. The non-manufacturing PMI, which reflects activity in the construction and services sectors, also worsened to 53.9 from September's 54.9 reading. A level of 50 marks the dividing line between expansion and contraction. The government this month introduced a raft of measures to stabilize sentiment, adding to steps to boost liquidity in the financial system, tax deductions for households and targeted measures aimed at helping exporters. Top officials including President Xi Jinping also sought to bolster investor confidence, commenting on the fundamental strength of the economy and attempting to talk up the stock market, which has fallen 9% this month."
"The Office of the U.S. Trade Representative was flooded with thousands of requests earlier this month from companies eager to be excluded from tariffs that President Donald Trump imposed on an initial $34 billion worth of Chinese goods. Twenty-one days later, the opportunity for other companies to object (and the initial requester to reply) ended on Tuesday. That clears the way for USTR to start granting exclusions. However, it remains unclear how soon any decisions will be made" [Politico].
"Ocean Carriers Brace for Orders Surge Ahead of Potential New Tariffs" [Wall Street Journal]. "A growing array of seaport and trade figures suggest U.S. companies pulled forward their orders for goods from China to get ahead of new tariffs, and shipping and logistics businesses now are bracing for a similar surge before additional tariffs could be rolled out at the start of next year. The push to get goods to U.S. shores brought an early peak season for seaports, while raising costs for importers and adding distribution complications that could grow across supply chains in the coming months."
Politics
2020
"'Moving day': White House staffers set to split for 2020 campaign" [Politico]. "The anticipated shuffle is in line with what's occurred under other presidents preparing to run for a second term. About six months after the 2002 midterm elections, several top officials in the Bush White House were dispatched to the reelection campaign. Former President Barack Obama began deploying multiple administration officials to his Chicago headquarters in January 2011, a few months after his first midterm election in office. Trump is getting revved up even sooner."
2018
5 days until Election Day, next Tuesday. Too late, I think, for any game-changing events. Even this year.

"Pelosi declares victory before Election Day" [Politico]. "Appearing on 'The Late Show' with Stephen Colbert on Tuesday, Pelosi (D-Calif.) said that 'up until today, I would've said, 'If the election were held today, we would win.' 'What now I'm saying is, 'We will win, we will win,' Pelosi announced." • I remember doing election night coverage in 2006, when the Democrats took back the House and, incredibly, the Senate. I actually broke out a bottle of champagne, and posted the image. Happy days….

"The Battleground In The House Is Really Big — And That Makes Life Hard For Republicans" [Nate Silver, FiveThirtyEight]. • This is worth a read, but it reinforces my feeling that Silver is stylistically quantitative, not substantively. Three different models, each tweaked in different races. That doesn't mean that Silver isn't an interesting handicapper. He is!

"Unlikely Democratic House candidates are gaining momentum, even in GOP strongholds" [Los Angeles Times]. "Democrats' path to seizing the House may very well run through small, suburban wine bars such as the one in downtown Wauconda, Ill., 50 miles outside of Chicago…."

"12 Young People on Why They Probably Won't Vote" [New York Magazine]. • Don't blame the voters….

"The Faces of Change in the Midterm Elections" [New York Times]. "In the 2018 midterm elections, diversity has become a political movement. Rising out of the protests in the early months of the Trump administration, an unprecedented number of women, people of color, and lesbian, gay, bisexual and transgender candidates are now running for Congress and governor, according to a New York Times analysis." • I would have thought that Obama taught us the lesson that ascriptive identity does not provide a readout on policy, but we seem to have doubled down on that assumption.

ME-02: "Can ranked-choice voting end ugly election battles? This November, Maine hopes to find out." [WaPo]. "In most ranked-choice elections, the plurality winner still ends up winning. The instances where it can tip the scales are in races with multiple candidates with overlapping positions on some issues, such as in Maine's 2nd Congressional District. Rep. Bruce Poliquin (R) and state Rep. Jared Golden (D) are in a dead heat in the polls, with two independents — Tiffany Bond and Will Hoar — trailing far behind. By all indications, second-choice votes will decide who wins a majority in the district."

NY-14: Haven't seen any polls on AOC, meaning, I suppose, that there's nothing to worry about:

Yep – our campaign breaks with convention in many ways.

One in particular: until Medicare for All is a reality, we do our best to live our values as best we can ⬇️ https://t.co/pNk4UR5fE5

— Alexandria Ocasio-Cortez (@Ocasio2018) October 30, 2018
Realignment and Legitimacy
"This is how republics end" [Mike Duncan, Washington Post]. (Duncan's podcasts: The History of Rome, and Revolutions, both excellent.) "What does a republic in decline look like?… [T]he seeds of American decline were sown not in the past 15 years of war and recession but in the 1970s, when economic inequality began to rise, a process that has only accelerated in recent years. As the decline of the Roman Republic shows, sharp inequality, left unaddressed, can be catastrophic, unleashing political and social consequences that can bring even a centuries-old republic to its end."

"How Big Sky Country became the front line in a long battle over dark money" [Christian Science Monitor]. "The future of Montana's campaign finance laws may not lie in Helena but in Washington, D.C., with nine robed justices. Bopp Law is urging the Supreme Court to strike down the state's laws dealing with two chief pillars of post-Watergate campaign finance: limits on how much individuals can give to political campaigns and rules about disclosing contributions." • Well worth a read for the history; we seem to have returned to the days of the Copper Kings: "[William] Clark and his agents tossed brown paper bags of cash into legislators' hotel rooms, purchased ranches, and paid off mortgages and debts." • Because tossing a brown paper bag full of cash is really free speech (at least according to CItizens United).

"Judges Shouldn't Have the Power to Halt Laws Nationwide" [The Atlantic]. "Democrats were ecstatic when a judge in Honolulu barred enforcement of the Trump administration's travel ban. They were thrilled when a judge in Chicago halted a policy to rescind grant funding to sanctuary cities. In both cases, the judges extended their ruling beyond the litigants to the whole country, issuing so-called national injunctions. For opponents of Donald Trump's administration, this legal maneuver has seemed like a godsend. Now it may come back to haunt them, as a single federal judge in Texas considers putting the Affordable Care Act on ice—not only in Texas, but anywhere in the country…. [T]he United States is a fractious, complicated democracy, and it's disconcerting how much authority we've ceded to lone, unelected judges."

"The politics of artificial intelligence: an interview with Louise Amoore" [OpenDemocracy]. "I think that deep machine learning is not circumscribed at all by a limited spectrum of possibility. A minute change in the weights inside one layer of the neural net can shift the output of the algorithm dramatically. In a convolutional neural net for image detection or face recognition, for example, this can represent millions of possible parameters, far in excess of what could be meaningfully understood by a human. This is why I am sceptical of claims about 'opening the black box' of the algorithm in order to have some kind of accountability. I would say instead that there is no transparency or accountability in the algorithm's space of play, and so we must begin instead from notions of opacity and partiality." • So we can't maintain AI? At all?
Stats Watch
ADP Employment Report, October 2018: "ADP estimates that private payrolls in Friday's employment report will [be] higher-than-expected" [Econoday].
Employment Cost Index, Q3 2018: "The employment cost index continues to signal elevated price pressures for labor" [Econoday]. "The slowing in benefit costs is a plus in today's report and that helps offset the acceleration in wages. This report probably won't turn up the heat for accelerated rate hikes from the Federal Reserve which watches this report with special focus."
MBA Mortgage Applications, week of October 26, 2018: "Purchase applications for home mortgages fell" [Econoday]. "Purchase applications have been adversely impacted by the sharp rise in mortgage rates in recent weeks, which will put additional downward pressures on the housing market already showing signs of increasing weakness."
Shipping: Investors clearly are expecting same-day parcel carriers to deliver big profits. Deliv Inc. is the latest specialty logistics startup to draw in big cash, with a new $40 million funding round that values the company at nearly $500 million" [Wall Street Journal]. "New investors including Alphabet Inc.'s Google and rental-car firm Enterprise Holdings will join earlier backers that include United Parcel Service Inc., which bought into the business at a $71.6 million valuation. Deliv provides same-day deliveries for Walmart Inc. and other retailers, and it's carving a niche somewhat separate from the app-driven startups that are rushing into the field. The business operates more as an outsourced provider to name-brand retailers, working behind the scenes through logistics software and crowdsourced drivers. Deliv isn't profitable, but with operations in 1,400 cities its scale is proving attractive to investors."
The Bezzle: "List of key players in KPMG fiasco over leaked PCAOB inspection lists" [Attestation Update]. "Sometimes you gotta' have a scorecard to keep track of the players and the story. After a former partner pled guilty this week in the fiasco at KPMG over leaking of PCAOB inspection targets, I had to sort out again who was who." • Rather a lot of felonies for a Big Four auditor, surely?
Technology: "Opinion: The 2018 MacBook Air is the iPhone X's ASP strategy all over again" [9to5Mac]. ASP = Average Selling Price, here increased through market segmentation. "From a financial perspective, everything Apple has done is smart. But the company has prioritized ASP over logic in its MacBook line-up. We now have a MacBook Air – a branding all about lightness – which weighs more than the MacBook. We have a MacBook – a no-frills name which suggests it is the basic model – which costs more than the MacBook Air. And we have an inferior machine, the MacBook, which costs more than a significantly better one. But it's a line-up that makes perfect sense in financial terms, and dollars trump neatness every time." • Hopefully the keyboards work on the new MacBook.
Technology: "We posed as 100 Senators to run ads on Facebook. Facebook approved all of them." [Vice]. "But on the eve of the 2018 midterm elections, a VICE News investigation found the 'Paid for by' feature is easily manipulated and appears to allow anyone to lie about who is paying for a political ad, or to pose as someone paying for the ad." • Facebook is run by crooks. Political advertising on social media should be outlawed altogether. Why not? And if that's too hard [whine], just make them public utilities and eliminate advertising altogether. That would be disruptive!
Technology: Not wrong:
The world is run by Excel

… except our infrastructure. That's run by bash scripts.

— nicole forsgren (@nicolefv) October 30, 2018
Private Equity: "Only candy-eating rats survived the Necco takeover" [St Louis Post-Dispatch]. • Best headline ever…
Fodder for the Bulls: "Moody's economist: 9 months of growth ahead, then 'garden-variety' recession" [Construction Dive]. "There's an old wives' tale out there along the lines of "what goes up must come down," but deRitis asserted: "There's no reason mathematically or based on economic theory to suggest that just because we've expanded for 10 years and we set a record, we must go into contraction." The Netherlands saw a more than 20-year expansion, Australia's expansion is still going strong 26 years in, and Japan holds the record for its 33-year expansion, he noted." • Hmm.
Mr. Market: "U.S. stocks rose for a second day on Wednesday, as investors snapped up technology favorites and strong results for General Motors and a host of others lifted spirits at the end of a torrid month for global equities" [Street Insider]. "Shares of Facebook Inc (NASDAQ: FB) jumped 2.7 percent after the social media giant said margins would stop shrinking after 2019 as costs from scandals ease." • Oh.
Mr. Market: "Dow up 300 points as stocks attempt to finish an ugly October on a high note" [MarketWatch]. • Stocks don't "attempt," surely?
Mr. Market: "It's Politics Zapping Stocks, a Big Democratic Hedge Fund Guy Says" [Bloomberg]. "'If Democrats get control, I think you're just going to have a lot more volatility. The reason you'll have more volatility is that you're going to have more headlines,' [Marc Lasry, the] Avenue Capital founder said in an interview with Erik Schatzker on Bloomberg Television. 'Political risk is getting priced in.'"
Water
"Trump's EPA wants to rewrite standards for tribal waters in Maine" [Bangor Daily News]. • Working with LePage, who wants to weaken them. Of course, water that's better for the fish that support the tribes is better for all of us…
Gaia
"The Climate of Man—I" [Elizabeth Kolbert, The New Yorker]. Part II; part III. • From 2005, still germane. I dug this out because I remembered Robert Socolow's notion of "stabilization wedges" (see in part 3), which I find appealing. More: "Wedges reaffirmed" [Robert Socolow, Bulletin of the Atomic Scientists (2011). I'd be interested to know what climate change mavens in the readership think of the approach today. (I do find one aspect of Kolbert's series problematic: "Man," like "humanity," does not have political agency.
"Judge Strikes Down Wyoming 'Ag-Gag' Laws" [Courthouse News]. "A year after a 10th Circuit panel tossed the challenge of Wyoming's "ag-gag" law criminalizing the collection of research data on public and private land back to the trial court for reconsideration, a judge in the case on Monday found the law unconstitutional." • Good news, especially if you regard meat as problematic from the climate change perspective.
"CSF Climate Change in Your County" [Climate Smart Farming (allan)]. • Handy interactive map, but of the Northeast only.
Class Warfare
"The Masterless People: Pirates, Maroons, and the Struggle to Live Free" [Long Reads]. "Although maroons escaped from slavery, it was no Exodus. No God tendered them a land of milk and honey as reward for keeping faith. They retained no orthodox hegemony. They were heterodox. Typically, they came from various districts in Africa, and although they might share a creole language and common suffering, they shared little else. They entered no promised land. The wildernesses to which they fled were not their natural element, though the Europeans often thought they were. The mountains of Jamaica were just as inhospitable to Africans as they were to Europeans. The jungles of Suriname and the swamps of Carolina posed the same dangers for blacks as for whites. These places terrified the escaped slaves as they would terrify you or me were we suddenly hurled into them with only the resources we could steal and carry…. According to the anthropologist Richard Price, even hundreds of years after their escape from bondage, "freedom" still defines maroon communities. Choosing freedom is the pillar of their identity. Maroons are the people who escaped slavery; who braved the snakes and alligators and cats of jungle, swamp, and mountain; who had the courage to risk the retributive torture of pursuing whites — all for freedom. Maroon identity, Price tells us, "is predicated on a single opposition: freedom versus slavery." No other mode of society identifies so strongly with the unalienable human right of self-determination." • Long indeed, but worth it.
UPDATE "Witches and Class Struggle" [Silvia Federici, Jacobin] (an extract from Federici's Caliban and the Witch). "Feminists were quick to recognize that hundreds of thousands of women could not have been massacred and subjected to the cruelest tortures unless they posed a challenge to the power structure. They also realized that such a war against women, carried out over a period of at least two centuries, was a turning point in the history of women in Europe, the "original sin" in the process of social degradation that women suffered with the advent of capitalism, and a phenomenon, therefore, to which we must continually return if we are to understand the misogyny that still characterizes institutional practice and male-female relations."
UPDATE "Christo Geoghegan explores deadly accusations of witchcraft amongst a remote healer community" (photographs) [It's Nice That]. "Geoghegan: My first series, Banished of Balsapuerto, focuses on a community in the remote Peruvian Amazon who saw a series of violent and systematic murders take place within its traditional healer community between 2010 and 2011. Some reports claim the death toll sits anywhere between 14 and 30. Peruvian and international press stated that all healers had been accused of witchcraft and had paid for that with their lives." • So it still goes on. Here is Geoghegan's full exhibit.
News of the Wired
Fun. Maybe useful?
Assuming this all works out, the image in this tweet is also a valid ZIP archive, containing a multipart RAR archive, containing the complete works of Shakespeare.

This technique also survives twitter's thumbnailer :P pic.twitter.com/P0Owq9abRC

— Dаvіd Вucһаnаn (@David3141593) October 29, 2018
Happy Halloween:
Q: Why can't programmers tell the difference between Halloween and Christmas?

A: Because oct 31 = dec 25.#oldprogrammerjoke

— Computer Science (@CompSciFact) October 31, 2018
* * *
Readers, feel free to contact me at lambert [UNDERSCORE] strether [DOT] corrente [AT] yahoo [DOT] com, with (a) links, and even better (b) sources I should curate regularly, (c) how to send me a check if you are allergic to PayPal, and (d) to find out how to send me images of plants. Vegetables are fine! Fungi are deemed to be honorary plants! If you want your handle to appear as a credit, please place it at the start of your mail in parentheses: (thus). Otherwise, I will anonymize by using your initials. See the previous Water Cooler (with plant) here. Today's plant (MP):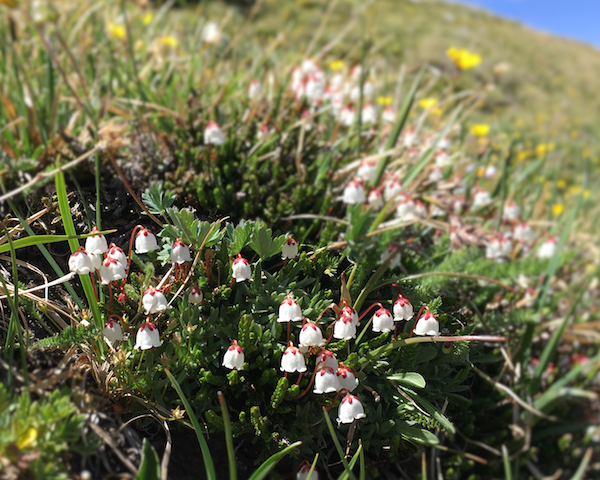 MP writes: "Attached is a photo of Merten's moss heather, taken in an alpine meadow at 9,500 feet this July in the Pintler Mountain Range west of Anaconda, Montana. The blade of grass provides scale to the flowers!"
* * *
Readers: Water Cooler is a standalone entity not covered by the annual NC fundraiser, now completed. So do feel free to make a contribution today or any day. Here is why: Regular positive feedback both makes me feel good and lets me know I'm on the right track with coverage. When I get no donations for five or ten days I get worried. More tangibly, a constant trickle of small donations helps me with expenses, and I factor that trickle in when setting fundraising goals. So if you see something you especially appreciate, do feel free to click below! (The hat is temporarily defunct, so I slapped in some old code. The form below should work.)
Or Subscribe to make a monthly payment!