By Lambert Strether of Corrente.
Trade
"Trump's 'Historic' Trade Deal: How Different Is It From Nafta?" [Bloomberg]. • Very handy. Well worth a read.
"Charge of the Lighthizer brigade" [Politico]. "U.S. President Donald Trump may be waging a trade war, but Robert Lighthizer is fighting the new Cold War. The U.S. trade representative and his crack troop of loyalists have been waiting years for an opportunity to go back to the glory days of Ronald Reagan, when America could swat off the Russians and the Japanese. Cruising beneath the chaos of the rest of the administration, the Lighthizer brigade are the well-oiled team that has a clear but ultra high-risk battle plan to smash China. Their goal is to restore the U.S. to its position of economic and political dominance, even if that means tearing up the liberal rule book of global trade to get there and dynamiting the World Trade Organization in the process, according to trade experts, negotiating counterparts and associates who have known Lighthizer and his team for decades." • Turns out moving our manufacturing base to China wasn't the greatest idea. Thanks, neoliberals! This article, too, is well worth a read.
"Throwing out the babies with the bathwater" [DC Velocity]. "According to Yu Miaojie, a vice dean at Peking University's National School of Development, about one-third of China's US$2 trillion in annual export value comes from a practice called 'processing,' where China imports raw materials and components from a dozen or so countries—including the U.S.—and turns them into finished goods for sale to the U.S. and European Union (EU). The imposition of tariffs on $200 billion in Chinese products may cut so deeply into Chinese firms' process profitability that they will be forced to shut down some assembly lines, Miaojie told 'NewsChina' magazine in September. This, in turn, will reduce demand for raw materials, parts, and components from supplier nations, he said." • No problem. The workers on the line can just go back to their villages, no?
"Epic Airbus-Boeing Fight Signals Long U.S.-China Trade War Ahead" [Bloomberg]. "For the better part of two decades, the U.S. and EU have battled at the World Trade Organization over aircraft makers Boeing Co. and Airbus SE. Complaints and counter-complaints alleged illegal government subsidies. Rulings by the arbiter of global trade were followed by more grumbles and threats of duties. And still the arguments rage on with no sign of a resolution. Now as America and China engage in a volley of tariffs, the inability of the U.S. and EU to resolve their dispute offers a key lesson for the burgeoning trade war: It's going to be long and hard-fought." • Both national champions Airbus and Boeing being products of industrial policy, which we desperately need.
Politics
2018
31 days until Election Day. 31 days is a long time in politics (as we are seeing right now with Kavanaugh. And where's Rosenstein? And October is the month of surprises… ).

"Supreme Court nominee Kavanaugh clears crucial Senate hurdle" [Associated Press]. "The Senate voted 51-49 to limit debate, defeating Democratic efforts to scuttle the nomination with endless delays and moving the chamber toward a climax of a fight that has captivated the country since summer. With Republicans controlling the chamber 51-49, one Republican [Murkowski] voted to stop the nomination, one Democrat [Manchin] to send it further…. Republican Sens. Susan Collins of Maine and Jeff Flake of Arizona voted yes. While the vote was a victory for the GOP, lawmakers can vote differently on the climactic confirmation roll call, which seems likely Saturday afternoon. Collins told reporters she would announce later Friday how she would go." • Collins will announce at 3:00PM. Oh, and let's not forget the DNC deck chair Perez said Democrats who supported Kavanaugh would still get Democrat money. So I guess Perez hates women, supports rape, yadda yadda yadda.

"We were Brett Kavanaugh's drinking buddies. We don't think he should be confirmed." [WaPo]. "We were college classmates and drinking buddies with Supreme Court nominee Brett M. Kavanaugh. In the past week, all three of us decided separately to respond to questions from the media regarding Brett's honesty, or lack thereof. In each of our cases, it was his public statements during a Fox News TV interview and his sworn testimony before the Senate Judiciary Committee that prompted us to speak out. We each asserted that Brett lied to the Senate by stating, under oath, that he never drank to the point of forgetting what he was doing. We said, unequivocally, that each of us, on numerous occasions, had seen Brett stumbling drunk to the point that it would be impossible for him to state with any degree of certainty that he remembered everything that he did when drunk." • So, perjury. Therefore, impeachment, if Pelosi allows it. If the Democrats weren't, well, what they are, DiFi wouldn't have sat on the Ford material for months, other accusers would have been vetted and brought forward, and Kavanaugh would have been forced to defend himself earlier. It's ridiculous this story is coming out the day before cloture! And the same effort, if the Democrats were serious, would have been put into every other candidate on the Federalist Society's list.

"The rise and the reckoning: Inside Brett Kavanaugh's circles of influence" [WaPo]. "Through the years, Kavanaugh, 53, a federal appellate judge since 2006, has been rich in friends, loyal and true. Teachers, parents, classmates, colleagues — they made it their business to buff and defend Kavanaugh's reputation. They cheered him on as he climbed the ladder of legal success. And they rallied around him when he tripped on the way up. That turned out to be a job that extended over four decades, because as bright and kind and wise as friends say Kavanaugh is, he has also left behind a trail of people who say that his reckless behavior raises serious questions about his judgment and veracity."

"Amy Schumer, Emily Ratajkowski Among 302 Arrested Protesting Kavanaugh" [Roll Call]. • What is it with liberal Democrats and celebrities?

"The War That Never Ends "[Amy Cook, Cook Political Report]. "[This] battle isn't unique to the Trump era. It's simply the latest in a never-ending war by both sides to justify their partisan behavior. Neither side has cornered the market on hypocrisy. It's hard to take Republican claims of Democrats operating in bad faith seriously, when Republicans held up the nomination of Merrick Garland for much of 2016. It's also hard to reconcile Democrats' universal cries of 'I believe her,' with the terrible treatment many showed to Anita Hill, Monica Lewinsky and/or Paula Jones. Meanwhile, voters aren't making the distinctions on policy or procedure or hypocrisy either. Instead, they rally behind their "team." There's no time for nuance; there is only time for war. So, war it will be for the foreseeable future." • And let's not forget Juanita Broaddrick.

The tropes! They b-u-r-r-r-n-n-n!!!!!!

At the Senate Judiciary Committee hearing, Brett Kavanaugh seemingly weaponized crying, the way a little boy does when he's in trouble: https://t.co/qKkf3njodP pic.twitter.com/qLqhhUrc90

— The New Yorker (@NewYorker) October 5, 2018

There are two tropes liberal Democrats cannot quit. The first is calling their opponents stupid; the second is infantilizing them. This tweet is a fine example of the latter.

* * *

"November's Most Important Ballot Measures" [Governing]. "On Election Day this year, voters in 38 states will cast a vote on 154 ballot measures. We parsed through them all. Below is a summary of the most important ones we have written about so far." On ObamaCare: "Several red states will hold the first referendum on Obamacare since Congressional Republicans tried and failed to repeal it. Voters in Idaho, Montana, Nebraska and Utah will decide the fate of Medicaid expansion, a central tenet of Obamacare. The outcomes could set up showdowns between Republican governors and courts if they are unwilling to implement the policy." • This is a really good wrap-up.

"Democratic Candidate in Tennessee Senate Race Says He Supports Kavanaugh" [GritPost]. "Former Tennessee Governor Phil Bredesen (D), who is neck-and-neck with Rep. Marsha Blackburn (R-Tennessee), is in support of Brett Kavanaugh's nomination to the Supreme Court. Bredesen, who served as governor between 2003 and 2011, recently issued a public statement saying that while he found Dr. Christine Blasey Ford's testimony compelling, he would still vote to confirm Kavanaugh were he in the senate… To give Bredesen the benefit of the doubt, Donald Trump won Tennessee in 2016 with 60 percent of the vote, and it's likely that a bulk of Tennessee voters would support Trump's Supreme Court nominee."

"data for politics #26: Florida Primaries" [Data for Progress]. "The trend is clear: younger Democrats who cast primary ballots are more likely to support Gillum than their older neighbors, and younger Republicans are less likely to support DeSantis. This sets up an interesting dynamic with a high potential for Republican defection among younger voters – precisely the voters unlikely to be accounted for in the polls that show the race as remarkably close.Adding to the intrigue is what happened in the 2016 presidential election. Across the board, more Democrats voted for Trump than Republicans voted for Clinton."
Realignment and Legitimacy
"Democratic Corporate Fascism vs the Trump Kind" [Glen Ford, Black Agenda Report]. "In the real world, the world of actual human history, fascism arises as a reaction to grave threats to the capitalist order. During and after the First World War, the crises of capitalism and of intra-capitalist war gave birth to the Russian Revolution, and to desperate attempts at socialist revolution in Germany and Austria. The socialist threat spawned ultranationalist fascist movements across Europe, that seized power in Italy and Germany. I maintain that an earlier version of fascism arose in the Jim Crow regions of the United States, in reaction to the threat posed tdo the race-based ruling order by democratically empowered Black peasants and workers, during the brief Reconstruction period. The American South became the world's first thoroughly racially regimented society, and a model for German and South African fascism…. The bulk of the corporate ruling class still do not trust Donald Trump, despite having neutered his foreign policy heresies. They are fascists — in that they seek to perfect the dictatorship of the most ruthless elements of finance capital — but their version of fascism is different from Trump's old school, crudely race-based brand. Modern American corporate fascism is rooted in multinational corporate structures, and wedded to a concept of racial and cultural "diversity" that (they hope) is compatible with corporate dictatorship." • Typically lucid; and I thought I was the only one in the world who put the post-Reconstruction South under the fascist rubric.

"America's new aristocracy lives in an accountability-free zone" [David Sirota, Guardian]. "Let's remember that in less than two decades, America has experienced the Iraq war, the financial crisis, intensifying economic stratification, an opioid plague, persistent gender and racial inequality and now seemingly unending climate change-intensified disasters. While the victims have been ravaged by these crime sprees, crises and calamities, the perpetrators have largely avoided arrest, inquisition, incarceration, resignation, public shaming and ruined careers. That is because the United States has been turned into a safe space for a permanent ruling class. Inside the rarefied refuge, the key players who created this era's catastrophes and who embody the most pernicious pathologies have not just eschewed punishment – many of them have actually maintained or even increased their social, financial and political status."

"What an Audacious Hoax Reveals About Academia" [The Atlantic]. "Generally speaking, the journals that fell for Sokal Squared publish respected scholars from respected programs. For example, Gender, Place and Culture, which accepted one of the hoax papers, has in the past months published work from professors at UCLA, Temple, Penn State, Trinity College Dublin, the University of Manchester, and Berlin's Humboldt University, among many others…. The sheer craziness of the papers the authors concocted makes this fact all the more shocking. One of their papers reads like a straightforward riff on the Sokal Hoax. Dismissing 'western astronomy' as sexist and imperialist, it makes a case for physics departments to study feminist astrology—or practice interpretative dance—instead."

"Orthodoxxed!" [n+1]. • I don't think Sokal Squared is a scientific paper. But the hoax papers are hilarious!

"Congressional Bloodshed: The Run-Up to the Civil War" [New York Times]. "[In Violence in Congress and the Road to Civil War, Joanne B. Freeman notes] that the violence in Congress was like a spectator sport. Men and women crowded the congressional galleries with the expectation of seeing entertaining outbreaks, much the way fans of professional wrestling or hockey do today. Sometimes, she shows, French recorded in his diary his delight as a spectator. Describing the huge brawl of 1841, he wrote, "The Speaker & I had the best chance to see all the fun, & while he stood at his desk pounding & yelling, I stood at mine 'calm as a summer's morning' — enjoying the sport, and keeping the minutes of the proceedings!" But Freeman never loses sight of the fact that the fighting in Congress was far more than a sport. It was part of the ever-escalating tensions over slavery.

PA: "Voters reported being blocked from Pa. election site — and from obtaining absentee ballots — as early as 2016" [The Inquirer]. "Pennsylvania election officials say they first learned last week that their new security measures blocking foreign access to state election sites were preventing voters abroad from accessing their absentee ballots. But voters living outside the country told the Inquirer and Daily News they had trouble much earlier." • Thank you, expensive security consultants!

OH: "Challenge to Ohio's voting roll purges persists after Supreme Court decision" [Plain Dealer]. "The plaintiffs say all voters the state deleted from the rolls from 1995 through 2016 through the disputed process upheld by the Supreme Court were actually removed unlawfully because the state's notices for removal didn't comply with the National Voter Registration Act of 1993… "In the case's latest incarnation, the plaintiffs contend the notices Ohio voters were sent violated the law because they: didn't give voters the deadline by which they needed to respond to avoid adverse consequences for their registration status;… didn't inform voters of the consequences of failing to respond; didn't provide information on how a voter registered in Ohio could remain eligible to vote if the person moved to another state."
Stats Watch
Employment Situation, September 2018: "In a mixed report that keeps expectations for Federal Reserve policy in line, September payroll growth wasn't as strong as expected but the unemployment rate went down and August gets a big upgrade" [Econoday]. "The key in all of this is wages and they're showing steady — but not accelerating — pressure. Average hourly earnings rose an as-expected 0.3 percent in the month for a year-on-year 2.8 percent. The monthly revision to August, down 1 tenth to 0.3 percent, is also favorable, favorable that is if you're the Federal Reserve worried about wage inflation." And: "The headline jobs number at 134,000 for September was below consensus expectations of 180 thousand, however the previously two months were revised up by a combined 87 thousand. The unemployment rate fell to the lowest since December 1969. Overall this was a solid report" [Calculated Risk]. And but: "The household and establishment surveys were not in sync (understatement). The year-to-date employment is running above the pace of last year. Last month's data was revised significantly upward. The growth this month was significantly under expectations. Just considering this month's data – it was worse than last month" [Econintersect].
International Trade, August 2018: "Whether tariff effects are in play is uncertain. What is certain, at least for third-quarter GDP, is that the deficit in net exports is deepening at a substantial rate" [Econoday]. "Tariffs are an unfolding controversy which cloud the results for August. Not clouded at all, however, is the effect of net exports on third-quarter GDP which is substantially negative. But third-quarter GDP looks to get a favorable lift from welcome inventory growth and, perhaps, from consumer spending. Still the cross-border diagnosis in the third quarter, with one month still to go, looks to be clearly unfavorable." And but: "The data in this series wobbles and the 3 month rolling averages are the best way to look at this series. The 3 month averages are declining for exports and improving for imports. The trade balance worsened" [Econintersect]. "Our analysis differs from the headline view in that BOTH imports and exports declined this month – but still, growth continues to be in the range seen for the last year."
Retail: "Secret Amazon brands are quietly taking over Amazon.com" [Quartz]. "Amazon's private label business is booming, on pace to generate $7.5 billion this year and $25 billion by 2022…. To accelerate that growth, the company is inviting manufacturers to create products exclusively for its collection of private brands." • If your business depends on a platform….
Shipping: "Container volumes predicting strong holiday season" [FreightWaves]. "[W]e are seeing clear evidence that the current volumes are surging strongly. Although the data for September container volumes has not yet been released, the data from the trucks (which move freight from the port to destinations through the US) is confirming that the volumes are up strongly and that the fall shipping surge is in in 'full force.'"
Shipping: "About 16.5% of organizations across several industries including warehousing now use commercial service robots, and 21.5% have them in pilot programs, according to an IDC survey" [Wall Street Journal].
Shipping: "A review of CargoX's Blockchain based Smart Bill of Lading and how it works." [Shipping & Freight Resource]. Very detailed explanation and review from a shipping documents maven (the only one I know of). Their bottom line: "This presentation has convinced me about the usefulness of this platform and I feel a bit more optimistic about its potential and its future." • Interesting…
Supply Chain: "Bloomberg's spy chip story reveals the murky world of national security reporting" [TechCrunch]. "Even with this story, my gut is mixed… Naturally, people are skeptical of this "spy chip" story. On one side you have Bloomberg's decades-long stellar reputation and reporting acumen, a thoroughly researched story citing more than a dozen sources — some inside the government and out — and presenting enough evidence to present a convincing case. On the other, the sources are anonymous — likely because the information they shared wasn't theirs to share or it was classified, putting sources in risk of legal jeopardy. But that makes accountability difficult." • I don't want to go all CT on this, but haven't a number of narratives in the last few years been driven by anonymous sources in the intelligence community? (Snowden, by contrast, was not anonymous….)
Fodder for the Bulls: "ECRI's WLI Growth Rate Index Improvement Continues But Still Shows Insignificant Growth" [Econintersect]. "The current forecast continues to be for insignificant growth six months from today."
Gaia
"Scientists are creating a perfect tomato that Europe likely won't touch" [Quartz]. • The perfect tomato is the only you just picked off the vine, that you're eating, possibly with some mozzarella.
"Revealing the Dark Side of Wind Power" [Bloomberg]. "Lee Miller and David Keith of Harvard University looked at historical data on U.S. wind farms. In 2016, they found that the mean power density for 411 onshore wind-power plants was 0.50 watts per square meter. Figures were similar in the 26 years prior. Moreover, they found that wind plants encompassing the largest areas had the lowest power densities, as expected. This figure implies that meeting current U.S. electricity needs alone would require wind farms to cover fully 12 percent of the U.S. land area. Wind power has physical limitations…. [S]imulations revealed that interactions of the turbines with the atmosphere would likely lead to a redistribution of heat in the lower atmosphere, resulting in a 0.54 degrees Celsius (0.97 degrees Fahrenheit) warming within the wind farms' region itself, and an increase of 0.24 degrees Celsius (0.43 degrees Fahrenheit) over the continental U.S. This result, they note, actually matches up pretty well with recent satellite observations of local warming around wind farms operating in California, Illinois, Iowa and Texas. They also found that an expansive wind farm would need to operate for more than a century or so before the reduction of global carbon dioxide emissions would offset the local warming effect."
"Destruction in Palu" [Reuters]. • Terrific, graphic reporting on Palu, Palu is easily accessible from the sea. I can't help but think that, just like Hurricane Maria and Puerto Rico, the real story is in the interior.
Class Warfare
"Listen to Ep. 67: [UNLOCKED] Zombies Mistaken for Identities w/ Adolph Reed, Jr. from September 27, 2018" (podcast) [Dead Pundits Society].
"Economic Update: Black Socialists of America" (podcast) [Democracy at Work (UserFriendly)]. This week on Economic Update, Prof. Wolff delivers updates on Chicago hotel workers strike and Philadelphia parking lot attendants organizing, Cuomo's centrist, money-dependent campaign for Governor, another socialist wins an election, McDonald's workers strike in 10 cities against employer's failure to stop sexual harassment. Professor Wolff interviews Z and Sean, two leaders of the new Black Socialists of America."
"Election Landslide Raises Hopes for Mexican Labor" [Labor Notes]. "The landslide victory of Andrés Manuel López Obrador ("AMLO") in the Mexican presidential election in July has raised workers' hopes for a revitalized and democratized labor movement. Independent unions have formed a new federation. They hope to win progressive labor law reform and finally end the reign of corrupt, pro-employer unions. The pro-employer unions that make up Mexico's main labor federation, the Congress of Labor (CT), especially the Confederation of Mexican Workers (CTM), have historically been part of the PRI's popular base. Top union leaders were nominated as the party's senators and congresspersons…. The CT unions are the largest in Mexico, representing around 10 percent of the formal workforce, though they have been in decline in recent years. These unions were enthusiastic cooperators in the low-wage neoliberal economic strategy adopted by the Mexican political and economic elite in the 1990s— including signing on to NAFTA. Their plan was to grow the Mexican economy by attracting U.S. and Canadian investors with cheap labor….. One of the weaknesses of Mexico's independent labor movement is that many of the unions are confined to single employers or single factories. In this new federation, the unions are joining together to influence national politics and to confront the auto industry, including its parts and component suppliers, with a united voice and the power of thousands of workers." • Weirdly, I couldn'lt find the name of the new federation; I think it's Industriall.
News of the Wired
"Heat Storage Hypocausts: Air Heating in the Middle Ages" [Low Tech Magazine]. "Hypocausts were heating systems that distributed the heat from an underground fire throughout a space beneath the floor. The heat was absorbed by the floor and then radiated into the room above….. Nevertheless, it was the Romans who developed the hypocaust into a more sophisticated heating system, especially in their public bath houses, which were built all across Europe and around the Mediterranean…. [A]lthough most public baths fell into disrepair in the Western Roman Empire, hypocausts continued to be built and used in the Early Middles Ages, especially in monasteries. The technology also lived on in the Eastern Roman (Byzantine) Empire and was adopted in the hammams of the Arabs, who reintroduced the hypocaust to Western Europe when they built the Alhambra palace in the 13th century." • Sounds a lot like a rocket stove?
Internet of sh*t:
In the good old days, keys were just keys. Now they need to be charged every day and follow firmware updates ?? cc: @internetofshit pic.twitter.com/BcqdjzHTtH

— Paulo Dziobczenski (@paulodzi) September 27, 2018
I'm picturing a dystopian movie like, say, Blade Runnner 3, where Harrison Ford is being pursued by replicants, makes it back to his apartment, and puts the key in the lock… at which point the firmware update countdown begins. Then it hangs.
Perhaps the commentariat can help:
Desperately trying to source a replacement computer monitor-17 inches diagonally and crt (not led)- for a young man with Autism who finds change exceptionally difficult. Any leads would be greatly appreciated. Please re-tweet to anyone you know who might be able to assist. pic.twitter.com/UWDg2op96d

— Ruth Connolly (@ruthieconnolly) October 4, 2018
* * *
Readers, feel free to contact me at lambert [UNDERSCORE] strether [DOT] corrente [AT] yahoo [DOT] com, with (a) links, and even better (b) sources I should curate regularly, (c) how to send me a check if you are allergic to PayPal, and (d) to find out how to send me images of plants. Vegetables are fine! Fungi are deemed to be honorary plants! If you want your handle to appear as a credit, please place it at the start of your mail in parentheses: (thus). Otherwise, I will anonymize by using your initials. See the previous Water Cooler (with plant) here. Today's plant (SED):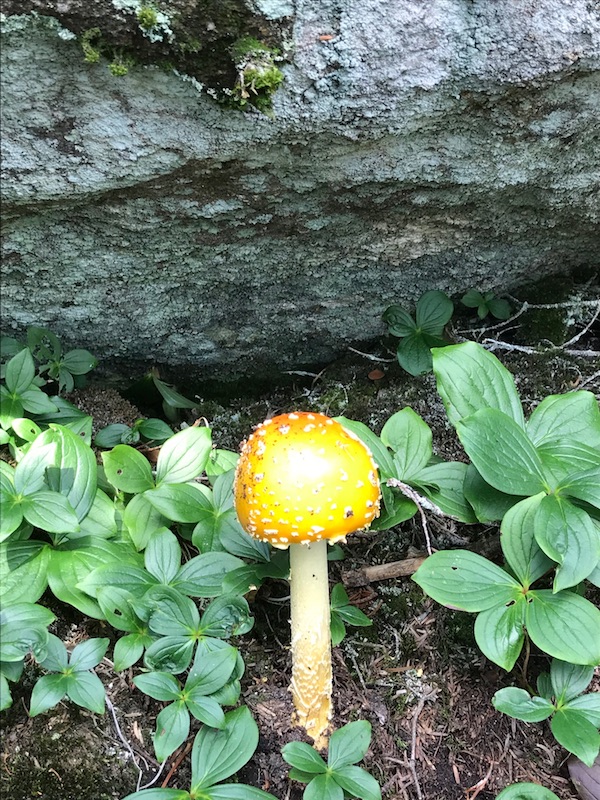 Colorful!
* * *
Readers: Water Cooler is a standalone entity not covered by the annual NC fundraiser. So do feel free to make a contribution today or any day. Here is why: Regular positive feedback both makes me feel good and lets me know I'm on the right track with coverage. When I get no donations for five or ten days I get worried. More tangibly, a constant trickle of small donations helps me with expenses, and I factor that trickle in when setting fundraising goals. So if you see something you especially appreciate, do feel free to click the hat!

To give more, click on the arrow heads to the right of the amount.
If you hate PayPal — even though you can use a credit card or debit card on PayPal — you can email me at lambert [UNDERSCORE] strether [DOT] corrente [AT] yahoo [DOT] com, and I will give you directions on how to send a check.