By Lambert Strether of Corrente.
Readers, here is a shorter Water Cooler to get you going; I'll add more when I finish posting on teeth. –lambert UPDATE All done.
Trade
"New Nafta Has American Corn Farmers Breathing Easier" [Bloomberg]. "The U.S.-Mexico-Canada Agreement secured Sunday is expected to allow leaders from the three countries to sign an accord by late November. The accord alleviates the risk that Mexico, the biggest importer of U.S. corn, will turn to competing exporters such as Argentina." • And just in time for the mid-terms!
"What if Trump's confrontational trade stance actually works?" [CNN]. "The NAFTA 2.0 agreement, or USMCA as Donald Trump wants to call it — and he would appear to have won the right to call it anything he wants — ought to be sending chills up the spines of diplomats and trade negotiators around the world. Trump largely got his way. And now, no one can tell him his bull-in-a China-shop way won't work."
'Will USMCA affect Canada's drug prices? Depends on what happens next, experts say" [CBC]. "The United States-Mexico-Canada Agreement (USMCA) will extend the minimum "data protection" period for an expensive class of drugs known as biologics to 10 years, up from eight. Biologics — some of the most costly drugs on the market — are used to treat a large range of diseases, including many cancers, arthritis and multiple sclerosis. The change could cost Canadian taxpayers tens of millions of dollars annually, according to one estimate."
UPDATE "Auto makers would gain new certainty on factory investments and other manufacturers would avoid feared disruptions under the new North American trade accord" [Wall Street Journal]. "[The deal] sets the stage for major relief for an auto industry that feared costly new tariffs could unravel two decades of investments under the North American Free Trade Agreement. The new deal is a big win for Detroit's Big Three auto makers, which rely heavily on factories in Canada and Mexico to build cars and trucks for the U.S. market. But the new rules could also force car companies and their parts makers to alter supply chains to meet tougher new rules on regional content of cars. That's likely to have more impact on foreign auto makers that source parts abroad."
UPDATE "Timeline: How a new North American trade deal happened" [Supply Chain Dive]. "Relive the drama of the talks to renegotiate the North American Free Trade Agreement (NAFTA) with the timeline below." • No.
Politics
2020
Concrete material benefits:

I want to congratulate Jeff Bezos for doing exactly the right thing by raising the minimum wage at Amazon and Whole Foods to $15 an hour.

Let me thank the hundreds of Amazon workers who contacted my office and the Fight for $15 movement, which has been leading this effort.

— Bernie Sanders (@SenSanders) October 2, 2018

Sanders gracefully gives credit to the real drivers, too. That said, this could be a smart move by Amazon, which needs warehouse workers in a tight labor market. And Amazon is still a predatory monopoly that should be broken up. And why not $20? Nevertheless, take the win!

"Hillary Clinton's Favorable Rating Still Low" [Gallup]. Well, the voters are wrong. Again.

"Biden Is Preparing for 2020. Can He Overcome the Hill-Thomas Hearings?" [New York Times]. "[Joe Biden's] name has been invoked frequently in recent days, mainly by Republicans, for leading the 1991 hearings when an all-male, all-white Judiciary Committee aggressively questioned Anita Hill about claims that Judge Thomas had sexually harassed her. The hearings have long been a source of discomfort with Mr. Biden among Democrats who remember the process." • Er, can Biden overcome condemning a generation of students to debt slavery?
2018
34 days until Election Day. 34 days is a long time in politics (as we are seeing right now with Kavanaugh. And what about Rosenstein?).

"GOP Cuts Into Democratic Lead for Congress" [Political Wire]. "A new Quinnipiac poll finds Democrats leading Republicans in the generic congressional ballot by seven points, 49% to 42% — a drop from the 12 point lead they had last month." • One poll….

"Polling in Real Time: The 2018 Midterm Elections" [New York Times]. • This is a neat project. OTOH, in the back of my mind, a small voice is telling me "I hope the voters are gaming the Times…."

"Politics and the New Machine" [Jill Lepore, The New Yorker]. From 2015, still germane: "Pollsters rose to prominence by claiming that measuring public opinion is good for democracy. But what if it's bad?"

NJ Senate: "New Jersey Senate Poll: Menendez, Hugin in Dead Heat" [Bloomberg]. • Too funny. The Senate hangs in the balance, so the Democrat strategy is to force a corrupt hack like Menendez onto the ballot. Go Blue!

NY-12: "Obama announces endorsement for Ocasio-Cortez" [The Hill]. "Obama is supporting a total of 260 Democratic candidates in his second list for U.S. Senate and U.S. House, governor and state legislature." • Well, I wish he hadn't.

* * *

UPDATE "Renovation Records Undercut Ford's Exit-Door Account" [RealClearInvestigations]. "Ford testified last week that she had never revealed the details of the alleged attack until 2012, when she was in couples therapy with her husband. She said the memories percolated up as they revisited a disagreement they'd had over her insistence on installing a 'second front door' when they had remodeled their Palo Alto, Calif., home…. The need to explain a decision her husband 'didn't understand,' Ford testified, pushed her to say she wanted the door to alleviate symptoms of 'claustrophobia' and 'panic attacks' she still suffered from an attempted rape allegedly perpetrated by Kavanaugh in high school during the early 1980s….. Ford never specified when the renovation took place, leaving a possible impression that it and the therapy session happened around the same time. But the door was installed years before as part of an addition, and has been used by renters and even a marriage counseling business. 'The door was not an escape route but an entrance route,' said . 'It appears the real plan for the second front door was to rent out a separate room.'… Palo Alto city records show that a building permit for an additional room and exterior door was issued to Ford and her husband on Feb. 4, 2008 — more than four years before the May 2012 therapy session where, she says, she first identified Kavanaugh as her attacker." • This reads to me like the reporter hasn't actually seen the documents; otherwise, they would be embedded in the post. So presumably we're relying on the anonymous lawyer for their interpretation. Big if true, though.
Realignment and Legitimacy
UPDATE "No Law Without Politics (No Politics Without Law)" [Jedidiah Purdy, Law and Political Economy]. "[I]t has been an article of faith–or at least a relentless rhetorical trope–on both sides of the [Kavanaugh] fight that 'politicization' of the judiciary is a kind of corruption and crisis…. I think we have to look into the abyss and admit the possibility that politics really does come first, that the question is not for or against politicization, but what kind of politicization." And: "It is a tragedy of American left-liberalism that this idea has less traction than it should as a progressive ideal precisely because there is so much arbitrary exercise of legal power, and so unevenly distributed, that it is easy and understandable to think of rule of law as an elite conceit." • This deserves careful study, and more attention than I can give it now.

Um:

Twitter has suspended, and perhaps permanently banned, the account of Georgetown Professor C. Christine Fair, apparently due to this tweet: pic.twitter.com/wN2OvrgRcA

— Glenn Greenwald (@ggreenwald) October 2, 2018

To the quesion of fact: Fair can call Kavanaugh a serial rapist if she wants, but that doesn't make him one. Fair also devalues a serious charge, in the same way that liberal Democrats reflexively emitting "Racist!" devalues that serious charge.

UPDATE "data demystified #4: How liberals and conservatives talk about progressive issues" [Data for Progess]. On college debt: "The clearest disconnect is that language that discusses debt or loans is employed differently by liberals and conservatives. Conservative use this language to talk about their own experiences and how they achieved even with loans. Take this example from someone who identifies as very conservative and opposes free college tuition: 'I came from a poor economic background, and I have student loan debt. It [was a] choice to enroll in college. It is the student's responsibility to pay, not taxpayers.'* In contrast, when liberals talk about loans in the context of tuition it is still about their own experiences, but they see it as not wanting others to face the same burden." NOTE * Which, of course, they do not do.

"Why e-voting is a bad idea for Australia (and maybe the world)" [Asian Correspondent]. • A useful review of how Australia does paper ballots. Ends with a mention of blockchain, though. Get away! Get away!
Stats Watch
No official statistics of note today.
UPDATE Retail: "Study: More People Will Eat Bugs if They're Up-Marketed as Luxury Item" [Courthouse News]. "According to a study published Tuesday in Frontiers of Nutrition, if marketing can appeal to a person's self-indulgent tastes they might look past the bug on their plate…. Researchers behind the recent insect study say labels like "eco-friendly" or "fair trade" lose out to advertisements that play up pleasurable aspects, like taste. Insects have not scuttled into the mainstream, but researchers said it's all about presentation. The study authors note lobster, the marine crustacean with bug-like qualities, is synonymous with fine dining but that wasn't always the case." • Fair enough!
Manufacturing: "Primera Air to File for Bankruptcy Citing Airbus Delivery Delays" [Bloomberg]. "[Primera Air], which along with Norwegian Air Shuttle has attempted to upend the existing trans-Atlantic thoroughfare with low-cost, long-haul flights, was forced to pay excessive costs leasing in planes to cover for the 'severe' delay in deliveries of the state-of-the-art A321neos. Primera had orders due to be powered by CFM International's Leap engine…. Airbus's A320neo family has suffered major delays due to production and design issues with the Leap as well as Pratt & Whitney's geared turbofan, the competing turbine option on the aircraft." • Hmm. Both engines?!
The Bezzle: "Unraveling a Tesla Mystery: Lots (and Lots) of Parked Cars" [New York Times]. "In some cases, cars have been marked — with a bar-coded sticker or with grease pencil on the windshield — to indicate that they are inventory vehicles, meaning they have no customers awaiting them. Some markings indicate repairs required before the cars can be sold, like scratches, dents or components that don't work."
Tech: "America's first 'sex robot brothel' in Houston faces resistance" [South China Morning Post]. "Kinky S Dolls, a firm that bills itself as the first 'adult love dolls rent-before-you-buy service in North America', sells realistic-looking life-size dolls with basic artificial intelligence functions – and also offers them for use by the half-hour or hour at a warehouse in Toronto. Now the firm is targeting Houston as the first market in a planned US expansion, but is meeting resistance from a Christian anti-sex trafficking and anti-pornography group and the city's mayor." • Sommi-451, Cloud Atlas: "Our lives are not our own. From womb to tomb, we are bound to others. Past and present. And by each crime and every kindness, we birth our future."
Tech: "Amazon's Alexa knows what you forgot and can guess what you're thinking" [Guardian]. "At an event in Seattle on Thursday, the technology company unveiled a new feature called Alexa Hunches that aims to replicate human curiosity and insight using artificial intelligence. 'We've reached a point with deep neural networks and machine learning that we can actually program intuition,' said Daniel Rausch, the vice-president in charge of Alexa's smart home features. Once it is activated later this year, Alexa Hunches will observe its owners' interactions with connected smart home devices like locks, lights and electricity outlets. When Alexa believes it has detected a regular pattern, such as turning off a television set before bed, the voice assistant will remind owners if they forget to do it, and offer to fix the problem." • If your intuition doesn't tell you having a device that records your every move and sends it to a corporate server is a bad idea, how good is your intuition?
UPDATE "Fed's Powell Backs Ongoing Gradual Hikes for 'Extraordinary' Economy" (transcript) [Street Insider]. Powell: "The unemployment rate stands at 3.9 percent, near a 20-year low. Inflation is currently running near the Federal Open Market Committee's (FOMC) objective of 2 percent…. From the standpoint of our dual mandate, this is a remarkably positive outlook. Indeed, I was asked at last week's press conference whether these forecasts are too good to be true–a reasonable question!"
Honey for the Bears: "75% of the ultra-rich forecast a US recession in the next two years, survey finds" [CNBC]. "The U.S. economy is firing on all cylinders, yet 75 percent of ultra-high net worth investors predict it will hit recession by 2020, a J.P. Morgan survey found. Of those expecting an economic downturn in the U.S., a fifth of respondents — 21 percent — believe it will begin in 2019 and 50 percent expect the next recession to start in 2020." • It's like they're talking themselves into it.
Health Care
"The Real Lesson from the Downfall of Theranos: We Need to Nationalize the Healthcare System" [In These Times]. "[F]or all its insight into the 'fake it 'til you make it' culture of Big Tech's gold rush, Bad Blood [the business history of Theranos] leaves out the same critical point that's missed in most mainstream media discourse about Silicon Valley's race to 'disrupt' the healthcare sector: It will never, ever happen, and human history offers us no reason to believe that it will. These companies' business models monetize the failures of our system, and therefore have a vested interest in fortifying the structural barriers to the universal and equitable distribution of care….. Insurers are explicitly incentivized to avoid paying for policyholders' care, which is why they hire so many administrators to pore over claims in search of technicalities on which to deny them. That's an inherent tension no app can fix."
"Taken For A Ride: M.D. Injured In ATV Crash Gets $56,603 Bill For Air Ambulance Trip" [NPR]. "Groggy from painkillers, [Dr. Naveed Khan, a 35-year-old radiologist] managed to ask the doctors how much the flight would cost and whether it would be covered by his insurer. 'I think they told my friend, 'He needs to stop asking questions. He needs to get on that helicopter. He doesn't realize how serious this injury is,' Khan recalled." • Impressive. Even "groggy with painkillers," Khan tries to be a "smart shopper"!
Another world is possible:
Today I had to go to the hospital in Taiwan bc I ruined my knee. The receptionist was hesitant to accept me / I had to sign a waiver saying I wouldn't sue the hospital for how expensive treatment is for foreigners.

For X-rays, briefly talking to a dr & meds, it was $100 USD.

— Emily Cardinali 柯依薇 (@emilycardinali) September 19, 2018
Police State Watch
"Chile: 20 secret police jailed for Pinochet-era crimes" [Deutsche Welle]. • Finally. I hope the same thing happens to Gina Haspel, one day.
Class Warfare
"Rent control foes hire California NAACP leader after her group opposes initiative" [San Francisco Chronicle].
"The case for paying every American a dividend on the nation's wealth" [MarketWatch]. "Early in 2019, 100 randomly selected lower-income residents of Stockton, Calif., will start to receive $500 a month. In exchange, they'll need to do, well, absolutely nothing, and can spend the money on absolutely anything… In many ways Stockton, whose pilot program runs 18 months, is a perfect petri dish in which to rethink and innovate on the centuries-old dilemma of how to give more money to those who need it most. This racially diverse city of about 315,000, 80 miles from far wealthier Silicon Valley and San Francisco, was walloped in the 2008 financial crisis — the median home price plunged almost 70% — and declared bankruptcy in 2012. Though it emerged from that bankruptcy in 2015, Stockton is a stark example of how uneven the U.S. economy's decade-long recovery has been. The city's median household income is about $46,000, almost 25% below the national average." • The headline is deceptive; Stockton' s residents aren't getting a "divident" on "the nation's" [sic] "wealth" because they have no ownership rights. All they are getting is bread (and, presumably, circuses, which Silicon Valley is all too happy to sell them).
News of the Wired
Welcome to the third world:
American tech adoption has flatlinedhttps://t.co/iJgwtZ81kV pic.twitter.com/TVp27emkyt

— son of an asylum seeker, father of an immigrant (@doctorow) October 2, 2018
Poor broadband, lower adoption by elders (no doubt due to the horrible UI/UX of so much software).
* * *
Readers, feel free to contact me at lambert [UNDERSCORE] strether [DOT] corrente [AT] yahoo [DOT] com, with (a) links, and even better (b) sources I should curate regularly, (c) how to send me a check if you are allergic to PayPal, and (d) to find out how to send me images of plants. Vegetables are fine! Fungi are deemed to be honorary plants! If you want your handle to appear as a credit, please place it at the start of your mail in parentheses: (thus). Otherwise, I will anonymize by using your initials. See the previous Water Cooler (with plant) here. Today's plant (JG):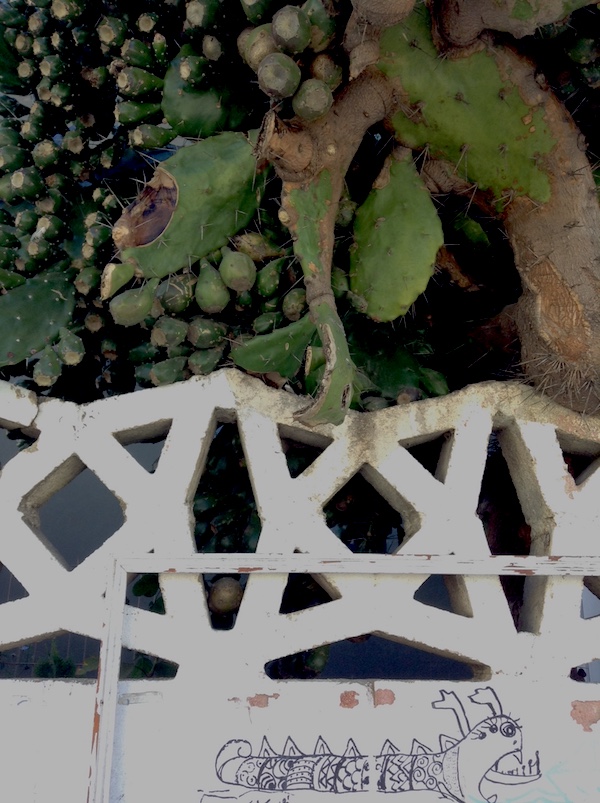 JG writes: "We are vacationing in Chile and the vegetation is marvelous. Geraniums are as big as hedges. Roses are in bloom. I have no idea what this plant is but I like the art."
* * *
Thank you!
Readers: Water Cooler is a standalone entity not covered by the annual NC fundraiser. So do feel free to make a contribution today or any day. Here is why: Regular positive feedback both makes me feel good and lets me know I'm on the right track with coverage. When I get no donations for five or ten days I get worried. More tangibly, a constant trickle of small donations helps me with expenses, and I factor that trickle in when setting fundraising goals. So if you see something you especially appreciate, do feel free to click the hat!

To give more, click on the arrow heads to the right of the amount.
If you hate PayPal — even though you can use a credit card or debit card on PayPal — you can email me at lambert [UNDERSCORE] strether [DOT] corrente [AT] yahoo [DOT] com, and I will give you directions on how to send a check.