A Common Bacterium Has Been Discovered Thriving in a Place Where It Shouldn't Exist ScienceAlert (Kevin W)
A study of bacteria in the Sundarbans has implications for conservation of the mangrove system The Scroll (J-LS)
Ask Slashdot: Why Does Almost Nothing Come With a Proper Printed Manual Anymore? Slashdot. A pet peeve of mine! And to the extent there is documentation (with the device or online) it usually sucks. The documentation for my 3G Nokia 3310 (a new issue retro dumbphone) was terrible, but since after barely any use, the phone no longer effectively makes calls (it says it is dialing but isn't and my antique 2G Nokia can make calls in the same spots, so it isn't a network issue), I suppose it is no loss.
Austin restaurants can no longer throw away food kxan.com (J-LS)
North Korea
Indonesia
Volcano erupts in Indonesia's quake-hit Sulawesi Channel News Asia (J-LS) :-(

Concerns of a collapse amid fears of a calamity Asia Times (J-LS)
Brussels to Rome: Don't push it Politico
Brexit
Brexit: DUP threatens to pull plug on Theresa May's government Guardian (Kevin W). May already said no, making it about not ceding (partial) control of Northern Ireland to the EU as opposed to coalition dynamics. But the DUP wants to makes sure the soft Brexit wing of the Tories got the memo. This stance pretty much assures a crash out.

Boris Johnson savages Chequers plan — but not Theresa May Politico. See, I told you the Ultras don't want the job. They just want to keep May in line.

Back in 2016 I asked the question about ISDS when discussing TTIP and whether foreign companies who had invested over a trillion pounds of FDI in the UK might have the right to sue UK Gov for Brexit compensation.

— Jason J Hunter (@JasonJHunter) September 30, 2018

Dear @BorisJohnson,
There is no better Brexit when it comes to the Good Friday Agreement and Northern Ireland. As you still seem bamboozled by all this Paddywackery here's a few pointers for your next stab in the dark – https://t.co/3E0T9MKm28

— Patrick Kielty (@PatricKielty) September 28, 2018

Alright stop, collaborate and listen… Introducing Theresa May's No Deal Brexit pic.twitter.com/qq9jqgiU9L

— JOE Politics (@PoliticsJOE_UK) October 1, 2018
I Just Visited Lula, the World's Most Prominent Political Prisoner. A "Soft Coup" in Brazil's Election Will Have Global Consequences. Noam Chomsky, Intercept (UserFriendly).
New Cold War
Note To NATO – You Don't "Take Out" Missiles Without Having A War Moon of Alabama (guurst)
Syraqistan
Afghanistan: Suicide bomber targets election rally in Nangarhar AlJazeera

#NEWS "Trump says he told Saudi's King Salman that the ruler wouldn't last without US support" https://t.co/9J8zZ0HKpJ #CNBC

— THAILAND [ News ] (@nakhon224) October 3, 2018
Big Brother is Watching You Watch
Proposed Toronto development from Google's Sidewalk Labs sparks concerns over data Associated Press

Chelsea Manning: Life in US is like being in a prison The Hill

Irish privacy watchdog to investigate Facebook data breach Politico. This could be fun.

Travelers arriving in New Zealand could now face a fine of up to $3,200 (5,000 NZD) if they refuse to allow border officials access to their phones or electronic devices https://t.co/IY96XVAL0g

— CNN (@CNN) October 3, 2018
Tariff Tantrum
Here's Who Wins and Who Loses from Changes to NAFTA The Conversation

I Was Wrong: US-Mexico Trade Deal Lives With Canada: USMCA Rather Than NAFTA Angry Bear. We ran the earlier forecast as a cross post, so glad to see this piece run.
Trump Transition
Trump Engaged in Suspect Tax Schemes New York Times. This is impressively detailed. I don't mean to sound unduly skeptical, but the tax pro I reached was underwhelmed by this story, so I think we need to let the tax mavens chew over this one. The shortcomings here apparently include: 1. Settlements of big estates often involve disputes between the IRS and the estate and heirs over valuation of assets. IRS usually loses. Famous example was Sy Newhouse. This example from the story is not part of the estate but another apparent abuse (failure to pay gift taxes): the article goes through a fishy-looing valuation of Trump Palace shares bought by Fred Trump and later sold to The Donald at an extremely knocked-down price, but omits that Fred Trump bought the shares at the peak of the 1980s cycle, in 1987, and the NYC real estate market collapsed in the early 1990s. So even though Fred Trump still almost certainly exaggerated how much the value of his shares fell, both the residential and commercial RE markets in NYC tanked during this period, and the article is remiss in not mentioning that. 2. A lot of the alleged abuse in this article is of the father not paying gift taxes on gifts to The Donald. The donor is the one who has the tax liability, not the recipient. The story also reminds readers of a particular illegal gift for which fines were paid: the purchase of chips at one of Trump's casinos with money that came from Trump's father. The article puts likely gift tax abuses next to accounts of the father setting up trusts and partnerships from which The Donald benefitted. That sort of thing is very common among the rich; you'd need to know a lot more to see if there was anything improper (the big allegation is valuation abuse, see point 1 above). Note the father was clearly moving income aggressively into his kids' hands when they were young, witness the article saying Trump was getting $200,000 a year at age 3, and even states: "Fred Trump was relentless and creative in finding ways to channel this wealth to his children.". Recall the drama over Trump's ginormous tax loss deduction in the 1990s, which tax experts have chewed over and came up with at least two routes by which this could have been kosher.

Put it another way: let's see how tax experts who have some knowledge of how much people on the high end get away with calibrate what in this story is really bad v. what looks bad but the IRS has lost enough cases on that the tax pros think they are at little risk in pushing the envelope way beyond where mere mortals could go.

Having said that, there is a long discussion of overpaying for third-party services to various Fred Trump properties, with the excess proceeds largely going to Trump heirs with the apparent intent to escape gift taxes (note the recipients presumably paid income taxes). What does this look like? Private equity charging portfolio companies fees for services not rendered at all (as in they are disguised dividends) and/or inflated fees. They likely got this idea from NYC real estate families (most NYC big end commercial real estate is developed and owned by families like the Fisher Brothers and the LeFraks). The higher costs also served to justify rent increases in rent-regulated residential buildings that would otherwise have been impermissible. In other words, this looks like a hot new grifting idea making the rounds among the lawyers that served families like the Trumps.

Lambert says there is little Twitterverse follow through on this story. Too dull compared to Kavanaugh? Or as Lambert says, this is already in the price, that a New York real estate developer playing tax games, some of which may be illegal, is not all that surprising?

Trump taxes: New York authorities examine president's tax affairs. BBC

State Opens Probe Into Trump Tax Allegations in New York Times Story Bloomberg

76 Environmental Rules on the Way Out Under Trump New York Times

The Great Revolt: Understanding Real Trump Voters Public Discourse (UserFriendly). Important.

Trump administration denied it has 'secret' committee seeking negative information on marijuana: report The Hill
Kavanaugh
Closing the barn door after the horse is in the next county:
SCHUMER: of Dems take over the Senate, we will have to look at setting the SCOTUS nominee requirement back up to 60 votes

— Lisa Desjardins (@LisaDNews) October 2, 2018
Mixed Reactions to 2020 Census Preparation National Conference of State Legislatures (UserFriendly)
Modern Monetary Theory Grapples With People Actually Paying Attention to It Intercept (UserFriendly)
Elon Musk's Ultimatum to Tesla: Fight the S.E.C., or I Quit New York Times (Kevin W)
Tesla confirms Q3 production: 80,000 vehicles and 83,500 deliveries – TSLA up Elektrek. Hhm. Sudden upward revision of the Bloomberg Tracker, but #s still lower than Tesla's
3 Reasons Nuclear Power Plants Are More Expensive In The West (It's Not Regulation) Forbes. Probably applies to construction generally.
Natural Gas Prices Could Quadruple This Winter, Says Analyst Barron's
Climate Change Is Forcing the Insurance Industry to Recalculate Wall Street Journal
One Hundred Years of Ineptitude Project Syndicate (David L)
Guillotine Watch
PA's $19 minimum wage at airports is another reason for folks to shun NY New York Post

The Obamas' Earnings Come at Too High a Cost Bloomberg (J-LS)
Class Warfare
Centrists: Bernie Sanders may talk a good game, but he's so ineffective he only got [squints at headlines] one of the world's largest and most powerful corporations to jack up its wages for thousands of workers.

— David Sirota (@davidsirota) October 2, 2018

Bezos Bows To Pressure On $15/hr. Keep Pressuring Him. Keep Pressuring Them All. Caitlin Johnstone (UserFriendly)

Devil in the details. Amazon will no longer give some warehouse workers stock options.

These were problematic for sure — they didn't vest for 2yrs, so most workers never collected. But getting rid of them is one benefit cut that Amazon is making in exchange for $15/hr.

— Stacy Mitchell (@stacyfmitchell) October 2, 2018

Conservatives on wage stagnation: a new, absurd theory for why pay isn't rising faster. Slate

Tax Cuts Provide Limited Boost to Workers' Wages Wall Street Journal. Not a surprise.

What Germany can learn from the Swedish school system – almost nothing! Lars P. Syll. UserFriendly: "Europe marches on down our failed school privatization trail."

UserFriendly: "Look who's trying to whitewash his record with populist drag."

"We're going to have to re-imagine economic security in the time of rising automation, we're going to have to consider Universal Basic Income" @BarackObama pic.twitter.com/5ODUmRPQUm

— Andrew Yang (@AndrewYangVFA) October 3, 2018
Antidote du jour, from JS in Ontario:
Mink (I think) beside the pond on my golf course. From today. Cute and curious. I squeaked to attract its attention and got a great response.

The course is managed, inspected and certified for bird and wildlife habitat protection/restoration/enhancement. We keep many bee hives, herbs and seasonal vegetables and produce some maple syrup on our floodplain-based urban golf course property. All are used in the restaurant (and sold separately, if there is any surplus). Many species of plants, trees, birds and other animals live here. We specifically protect and fence off sand traps when the snapping turtles lay their eggs in them.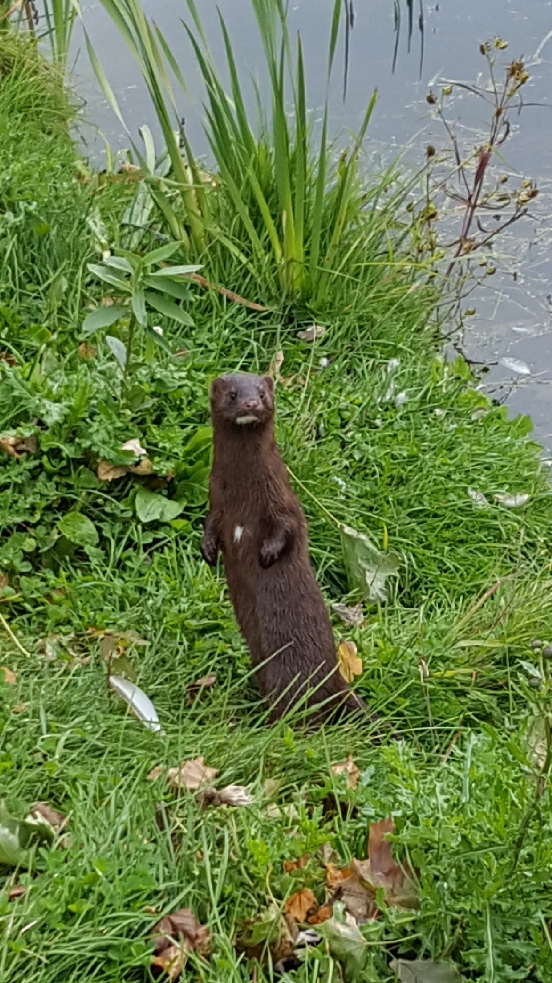 And a bonus video from Kevin W:
See yesterday's Links and Antidote du Jour here.