By Lambert Strether of Corrente.
Trade
"All eyes might be on Trump's dinner meeting with Chinese President Xi Jinping, but the U.S. leader has other high-profile meetings that could have trade consequences" [Politico]. Trump is also scheduled to meet with South Korean President Moon Jae-in, Japanese Prime Minister Shinzo Abe, German Chancellor Angela Merkel, Argentinian President Mauricio Macri, Turkish President Recep Tayyip Erdoğan and Russian President Vladimir Putin. White House National Security Adviser John Bolton said Trump's meeting with Abe would also include Indian Prime Minister Narendra Modi" [Politico]. • I would love to know who the sherpas are for those meetings. If there are any.
"Signs point to long haul on Trump's China tariffs" [Axios]. "Trump believes to his core that tariffs work, both to create negotiating leverage and as instruments to improve the U.S. economy, though it's hard to locate many economists who agree with Trump on the latter point. The bottom line: A former top trade official on Capitol Hill said after reading the interview: 'My main takeaway is that maybe Wall Street needs to stop being so optimistic that Trump is going to negotiate away this China thing in the relatively near future. We are in for a long haul.'"
"Trump administration attempts to move global automotive supply chains to the U.S. could take an unexpected turn. Analysts expect General Motors Co. and other Western auto makers to build up production in China…, even as GM withstands a storm of criticism from the White House and workers over its decision to close several factories in the U.S. and Canada" [Wall Street Journal]. "Experts say auto makers need their factories to be close to customers to turn a profit, an economic calculation reinforced by the tariffs flying between the U.S. and China. The supply chain would be too long and logistics costs too high to export from the U.S. anything but the most expensive, low-volume vehicles."
Politics
"But what is government itself, but the greatest of all reflections on human nature?" –James Madison, Federalist 51
2020
"How Early Voting Could Turn the Democratic 2020 Race on Its Head" [Politico]. "[W]hen next year's Democratic primary process gets started, it sure looks like the voting, and the all-important delegate counting, won't actually, technically start in Iowa. Instead, because of early-voting rules, the increasing popularity of early voting, and a reshuffled primary calendar, a handful of huge, diverse states could see troves of ballots returned even before some of the traditional small and largely white early-voting states do — a shift that just might herald real changes to the way Democrats nominate their presidential pick, and quite possibly the nominee's identity." • Liberal Democrats really doubled down on identity politics, didn't they?
2018
"Congress's incoming class is younger, bluer, and more diverse than ever" [Politico]. "At least 19 members of the incoming class have served in the military. Six served in the Army, 11 in the Navy, and two in the Air Force." • Militarization: That's the kind of diversity a centrist can get behind!

UPDATE No shame whatever:

Jeffries beats @RepBarbaraLee by 10 votes, 123-113, with Debbie Wasserman Schultz speaking on behalf of Jeffries https://t.co/K7pA1tOHw7

— Ryan Grim (@ryangrim) November 28, 2018

UPDATE "Democrats overwhelmingly nominate Pelosi as Speaker amid rebellion" [The Hill]. "The much higher bar will come in the first week of January, when the full House meets to choose the Speaker in a public vote requiring a majority of the entire voting chamber. It's there that the insurgents feel they can block Pelosi's ascension, even as Pelosi and her allies have projected nothing but confidence that she'll retake the gavel she lost following the red wave elections of 2010." • If Pelosi had wanted Barbara Lee to be Caucus Chair, Barbara Lee would be Caucus Chair. Funny how identity politics is sometimes very important, and other times not important at all.
2018 Post Mortem
A nationalized election:

Incredible: we're now up to 80 districts where 2018 raw House votes cast are at least 90% of 2016 prez votes cast (and still a few ballots left to count). https://t.co/0pm7oW1pFE

— Dave Wasserman (@Redistrict) November 28, 2018

"2018 Senate: How the 'Trump Ten' Races Compared to 2016" [Larry Sabato's Crystal Ball]. "Last week, Republicans tried to knock off incumbent Democratic senators in 10 states won by President Trump in 2016. While some of these Republican challengers won, nine of the 10 ran well behind Donald Trump's showing in 2016, perhaps not surprisingly given that all of the Democrats in these states had the power of incumbency and the political environment was generally pro-Democratic overall. The one exception where Trump's performance wasn't that much different from the 2018 GOP Senate showing was Florida, which is in the midst of a recount…. as we look ahead to 2020, Trump will need to replicate his 2016 performance — and not the performance of GOP Senate candidates — to carry key states that voted for him in 2016 such as Michigan, Ohio, Pennsylvania, and Wisconsin. With becoming increasingly similar, relative margin offers a way to measure a candidate's unique geographic strengths and weaknesses." • It's remarkable that the Democrats were able to nationalize the mid-terms based on a purely negative approach; I struggle to think of a coherent party policy position from the first day of the campaign season to the last. I suppose we update the old saying that "You can't beat something with nothing" to "You can beat something with less than nothing." Which makes sense if you do the arithmentic, I suppose…
Realignment and Legitimacy
"The Suburbs May Not Be As Progressive As Democrats Would Like — But They Could Be" [New York Magazine]. "For some suburban voters, Democratic candidates were clearly more palatable than progressive policies. It's reasonable to ask whether suburban victories in the 2018 midterms will ultimately backfire for Democrats. But there is no singular answer, partly because the party itself is so fragmented…. The party's left flank may face significant obstacles in the suburbs, but evidence suggests that these problems are not insurmountable. First, suburban voters aren't totally responsible for the Democratic Party's midterm success. Democrat Jared Golden flipped Maine's heavily rural Second Congressional District with a platform that included Medicare for All. In other districts with significant rural populations, Democrats like Richard Ojeda lost while improving on Hillary Clinton's 2016 performance. Leftward movement is not limited to neighborhoods with Panera Breads, and the party need not pin its hopes entirely to suburban voters."

"Identifying and Estimating the Ideologies of Twitter Pundits" [Data for Progress]. "[W]e currently only have a general sense of how pundits relate to each other in ideological space. As in, it is clear [sic] that … From there, create matrix where each row is a followed user and each column is a pundit account; the cells are filled in with 1s if the pundit follows that account, and 0 otherwise." • Sadly, the usefulness of the post is vitiated by its acceptance of the linear, left-right paradigm. Musical interlude:

(Lyrics.) Sadly, no D'Oyly Carte version.
Stats Watch
GDP, Q3 2018 (Preliminary): "Though consumer spending was strong in the third quarter, it was an outsized build in inventories that proved to be a decisive plus" [Econoday]. "In the end, however, consumer spending will be the fourth quarter's most important input and will reflect the success or failure of the holiday shopping season." And but: "Over 2 % of this 3.5% growth number is attributable to inventory growth (materials manufactured but not yet sold). I consider this a very weak report on GDP" [Econoday]. "I am not a fan of quarter-over-quarter exaggerated method of measuring GDP – but my year-over-year preferred method showed moderate acceleration from last quarter."
International Trade in Goods, October 2018: "October's data opens fourth-quarter net exports on a negative note following the third quarter when trade pulled down GDP pace by nearly 2 percentage points. Today's results point to further downward pressure for the fourth quarter" [Econoday]. "Tariffs effects have been but may now be appearing in the trade data, and the initial results may be holding down GDP." • Not again.
Richmond Fed Manufacturing Index, November 2018: "Manufacturing activity in the Fifth District expanded at a slightly slower than expected pace in November" [Econoday]. "Partly offsetting this weakness was stronger expansion in shipments…." Capital expenditures fell. And: "The important Richmond Fed subcategories growth were mixed – but all remain in expansion. This survey was about the same strength as last month" [Econintersect].
Corporate Profits, Q3 (Preliminary): "After-tax corporate profits… without inventory valuation and capital consumption adjustments. " [Econoday]. "Taxes…. fell."
Retail Inventories, October 2018 (Advance): Up sharply [Econoday]. "A solid October build will help keep shelves filled and may prove a plus for holiday spending."
Wholesale Inventories, October 2018 (Advance): Rose [Econoday].
New Home Sales, October 2018: "This year's slump in new home sales extended into October. Sales in the month came in far below expectations" [Econoday]. Prices fell. Increased supply did not help sales… Housing is by far the biggest disappointment of the 2018 economy and based on this report not to mention the climb in mortgage rates, the sector doesn't look to be finishing the year in a rally." And: "This month the backward revisions were again downward. Because of weather and other factors, the rolling averages are the way to view this series. The rolling averages also significantly fell" [Econoday]. And: "A few Comments on October New Home Sales" [Calculated Risk]. • If I understand McBride correctly, he's arguing that distressed sales of existing homes, post-2008, are cannibalizing sales of new homes (especially since builders are building expensive homes). Can housing mavens comment? It seems odd this pattern would persist for a decade. (My speculation was that people don't want to buy new homes because they're crapified, or at least too crapified to take on the financing. Too many styrofoam pediments, wood-grained plastic doors, poorly insulated walls, etc.)
State Street Investor Confidence Index, November 2018: "Global institutional investors continued to reduce their exposure to equities in November" [Econoday].
Employment: "The Labor Force Participation Rate Trend and Its Projections" [Federal Reserve Bank of San Francisco]. "We find that the [Labor Force Participation (LFP)] rate is at its trend of 62.8% in 2018, suggesting that the labor market is at full employment. Our estimate is roughly consistent with the Congressional Budget Office (CBO) estimates of the trend for 2018. Furthermore, we project that the trend will decline approximately 2.5 percentage points over the next decade." • Time to at least dust off the punch bowl!
Commodities: "Pricing for the metal has remained largely opaque because lithium isn't traded on exchanges…., leaving suppliers with an edge over buyers as auto makers, battery companies and smartphone makers as they try to lock down volumes from major producers" [Wall Street Journal]. "Questions over supplies and pricing have grown more pressing as lithium's role as a key ingredient in rechargeable batteries has become more prominent in sectors like electric vehicles. The stakes upstream in supply chains are enormous, with buyers like Apple Inc., Samsung Electronics Co. and Tesla Inc. expected to drive still greater demand." • Holy moley. The metal critical to de-carbonizing transportation is priced like LIBOR used to be…
Shipping: " A Wall Street Journal review of confidential documents and interviews with officials suggest that dozens of ships and companies linked to illegal North Korean trade have carried hundreds of millions of dollars-worth of fuel, coal and other products to the country. They do so through a shifting array of tactics, some as simple as repainting vessels to disguise their origins and others reaching deeper with phony customs manifests and false tracking signals from cargo ships" [Wall Street Journal]. "The sanctions are supposed to punish North Korea, but so far they've only shown the gaps in the ability to oversee seaborne trade flows." • Hmm. I wonder if this technology scales, and if the North Koreans have exported it…
Shipping: "Renault drives into the future, sending cars across the Atlantic on sailing ships" [The Loadstar]. "Renault has signed a three-year deal with French developer Neoline to construct two wind-powered ro-ro vessels to operate on a transatlantic route from 2020… The ship design features a loading ramp at the rear to 1,700 linear metres of cargo space – equating to 478 vehicles." • However, Car carrier ships haul "up to 8,500 vehicles in a layer cake of 13 decks."
Shipping: "The world's big operators are investing in feeder ships as they slow their expanded use of megaships that have boosted capacity on major trade lanes" [Wall Street Journal]. "Ship brokers say around 120 feeder ships have been ordered this year, and Maersk rival CMA CGM recently bought a European regional operator. The smaller ships have more flexibility and fit with broader efforts by shipping lines to offer more expansive end-to-end logistics services."
Retail: "Economists paint rosy picture for retail supply chain sectors" [Logistics Management]. "According to IHS Markit Associate Director James Bohnaker's updated Holiday Sales Outlook, 'a roaring job market is the gift that keeps on giving.'… The 2018 calendar sets up nicely for retailers, as there are 32 shopping days (including five full weekends) between Thanksgiving and Christmas – the maximum possible. As a result, some consumers will have an extra paycheck to work with ahead of the holidays. However, shoppers are being more easily enticed to make purchases as early as October thanks to fierce price competition among retailers. This pulls sales forward into October and away from the traditional holiday retail season of November and December."
Tech: "EU consumer groups hit Google with location tracking complaints" [Deutsche Welle]. "European consumer agencies on Tuesday said they will file complaints against Google for allegedly breaching the EU's data protection law GDPR by tracking the movements of users without their consent through features such as 'location history' and 'web and app activity.' Consumer groups from the Czech Republic, Denmark, Greece, the Netherlands, Norway, Poland, Slovenia and Sweden said they will file complaints with their countries' respective data protection authorities, which is basic procedure under GDPR." • Horrid though Facebook is, Google should be spending a lot more time in the barrel than it is.
Tech: "Why Mark Zuckerberg's 'empty chair' policy is backfiring" [Politico]. "Politicians from nine countries — whose citizens on Facebook, collectively, total roughly 500 million, or around 200 million more than the population of the U.S. — are gathering in London Tuesday for a daylong gripe-fest aimed almost entirely at Zuckerberg and his failure to answer global fears that his social network now has too much clout beyond the U.S. border."
Transportation: "How car sharing will impact US economy and what car makers can do about it" [Automotive IQ]. "In the last year, total revenue of car sharing business in the country has reached the point of $28.6 billion…. [T]ake a thorough look at the reasons making car borrowing undeniably popular. First, shared mobility is an exceptionally effective solution for the challenges associated with rapid urbanization…. The second reason[:] Affordability, as well as high maintenance costs, are enough for [Generation Z*] to dissuade from owning a vehicle and opt for a shared mobility alternative… The recent research highlights that more and more people in the United States are willing to share ride in a fully or partially autonomous vehicle… [S]hared vehicles are expected to be utilized more often compared to the private fleet cars. It means that the US car sharing providers will have to consistently renew their fleets."
Infrastructure: "With New York Tunnel Project Stalled, Cuomo Will Meet With Trump" [Governing]. "The governor several weeks ago sent Trump a video of the current two aging and crumbling tunnels used by Amtrak and New Jersey Transit that he says threatens commerce in the northeast corridor should it collapse…. 'These tunnels are federally-owned by the Amtrak Corporation and must be replaced,' Cuomo said in a statement later Thursday. 'If only one of the two 100-year-old tunnels becomes unusable, it would pose a serious economic hardship for New York City and the entire Northeast corridor.'"
Ethics: "Only 1 in 10 companies report ethics KPIs" [Supply Chain Dive]. "Less than 10% of companies globally are reporting key performance indicators (KPIs) on business ethics, according to EcoVadis, which provides business sustainability ratings… Transportation, storage and manufacturing were among the industries scoring below the global average, signifying their high risk for corruption, bribery and fraud…. might wear down even the most upstanding corporate citizen, creating a cynical environment that feeds on itself. The recent arrest of Nissan chairman Carlos Ghosn for financial misconduct hardly created a ripple, all while Nissan holiday ads touting technology and family values flood nightly television." • Not usual to see language like this in a business-focused publication.
Honey for the Bears/Fodder for the Bulls: "How to spot the next recession" (charts) [The Week]. "The longer a recovery goes on, the more people inevitably start wondering when the party will stop. Unfortunately, there's no surefire way to predict the next crash. But there are some handy indicators and rules of thumb that might give us a hint…. While there are some modest reasons for concern, most of the economy's indicators suggest the expansion will keep chugging along. Taken all together, it appears we can rest easy. For the moment, at least."
The Fed: From Fed Chair Powell: "The Federal Reserve's Framework for Monitoring Financial Stability" [Board of Governors of the Federal Reserve System]. "My FOMC colleagues and I, as well as many private-sector economists, are forecasting continued solid growth, low unemployment, and inflation near 2 percent."
Gaia
"Opening Up the Climate Policy Envelope" [Issues in Science and Technology]. "For an aircraft to fly it must operate within a flight envelope, the combination of conditions such as airspeed, altitude, and flight angle necessary for successful operation. For a specific approach to climate action to succeed, it must operate within a policy envelope, the combination of policy design and political, economic, technological, and other conditions necessary for the approach to be effective. If aircraft designers sought to improve the performance of a poorly designed aircraft not by improving its design, but by rejiggering their claims about aerodynamics, or airfoil design, or jet fuel combustion thermodynamics, to match the aircraft performance they desire, it is obvious that the aircraft would still perform badly…. The failure of global climate policies to date suggests that new policy options should be explored—that we may need a significantly expanded policy envelope to begin to make satisfactory progress. But rather than exploring such options, we have instead been protecting the current policy envelope from critical scrutiny. One mechanism of such protection is via scenarios and assumptions that underlie the authoritative policy assessments of the Intergovernmental Panel on Climate Change (IPCC)." • Hoo boy. Gotta say, though, that it might make sense not to keep doing what doesn't work…..
"Geoengineering as dispossession" [Monthly Review]. "Yet researchers examining the co-production between science and policy in the context of IAM modeling and identification of mitigation options have shown that the perception of model-based knowledge as 'objective science' lends significant authority to outcomes that might otherwise be more critically debated and contested, such as the large-scale use of bioenergy with carbon capture and storage (BECCS). Indeed, the emergence of BECCS as the go-to climate solution has been pinned to the IAM epistemic community, without serious engagement with social scientists, ecologists, or bioenergy experts. In contrast, including assumptions in models related to broader societal objectives, such as food security, are considered value judgments, which would risk undermining the purported scientific objectivity and hence political credibility of cost-optimization climate models."
"Bent by the Sun" [Design Observer]. "Tsunekazu Nishioka, considered the last of the great Japanese temple carpenters, at whose workshop I studied for three years, was telling me how dismantling a 1300-year-old temple provided him the opportunity to study the ring structure of the old columns, which he estimated had been cut when they were 1000 years old. 'So,' I observed, 'the tree was 1000 years old when the temple was built, and the temple is 1300 years old now, so in all we're talking about a time span of 2300 years.…' 'Yes,' he replied. 'And compared to that, a human lifespan is next to nothing.'"
Water
"Trump Administration Ponies Up $449M for New California Dam" [Courthouse News]. "In an effort to boost California's water infrastructure and alleviate the state's perpetual drought worries, U.S. Agriculture Secretary Sonny Perdue said Tuesday his department will spend more than $449 million to help fund projects to increase the reliability and efficiency of the water supply across the state. Perdue joined Interior Secretary Ryan Zinke, three Central Valley congressmen and others in making the announcement at the proposed Sites Reservoir. The $449 million would be used to build a pipeline connecting two canals that will eventually pipe runoff from the Sacramento River to fill the 1.8 million acre-foot reservoir. In addition to the money pledged by the Trump administration, California will pony up over $800 million in voter-approved bonds for the project…. The visit by Perdue and Zinke follows Trump's creation of the Interagency Task Force on Agriculture and Rural Prosperity in April 2017, which the president tasked with finding ways to promote agriculture and prosperity in rural communities." • Oh.
Health Care
"FDA's Woodcock: 'The clinical trial system is broken'" [Biopharma Dive]. "'I believe the clinical trial system is broken,' said Janet Woodcock, who has worked at the agency for more than three decades, at an industry panel on Nov. 14. 'I do not believe it serves the interests of patients.' Instead, the director for the Center for Drug Evaluation and Research pitched platform trials with master protocols, which she argued can more efficiently answer clinical questions… In July 2017, Woodcock made the argument for master protocols in a New England Journal of Medicine review article, which are overarching frameworks that can evaluate multiple treatments and diseases in the same trial…. "People have horror and anaphylaxis over this," Woodcock said. "The statistical community believes this is a very valid statistical approach, but this isn't how things have always been done.'" • Readers?
Class Warfare
"Who are "the People" in Criminal Procedure?" [Law & Political Economy]. "Calling an individual prosecutor "the People" sends a powerful message to courtrooms full of defendants and their supporters waiting for their cases to be called: a message that they are not part of "the People," are not part of the public that matters. Even in jurisdictions in which the prosecution calls itself the 'State,' 'Government', or 'Commonwealth,' this idea—that the prosecutor is the People's representative in the courtroom—pervades how we think and talk about prosecution and criminal procedure…. Thinking about 'the people' on both sides of a criminal case has implications for those who, taking a 'Law and Political Economy' approach to thinking about social and political change, pay special attention to relationships between power, inequality, and democracy. When we exclude from our idea of participation in the criminal process those who would bring the most radical visions for decarceration, we deepen political and structural inequalities even as we claim to be interested in 'criminal justice reform.' For despite widespread, though not universal, acknowledgement of the urgent need for large-scale criminal justice reform, mainstream reforms have yet to truly change the fundamental aspects of a system that arrests, prosecutes, and imprisons vast swaths of its population, with striking inequalities along lines of race, class, and gender. We cannot separate out the intractability of the carceral state from the relative powerlessness of those caught up in it." • "Decarceration" is a word I haven't heard before.
"In Iowa, Pioneering Undergrad Workers Union Keeps Growing" [Labor Notes]. "The 115 paradeucators in this small coastal city, just across the water from Canada, assist with everything from reading lessons to recess. Paraeducators play an essential role in today's schools, offering extra attention and care to students who need it—especially those with disabilities. Teachers have refused to cross their picket lines, shutting down the district's schools Thursday and Friday. Besides solidarity, another reason teachers were reluctant to cross the paras' picket lines was 'a lot of safety concerns,' said Eric Pickens, president of the Port Angeles Education Association. 'They're trained to help out our most fragile students, students with special needs.' The strikers are pushing the school district to grant wage increases they say they're owed from state money."
News of the Wired
"Is It Easier to Imagine the End of the World Than the End of the Internet?" [The Intercept]. Review of James Brindle's New Dark Age: Technology and the End of the Future . "The chapter on 'Climate' discusses how our networked, high-tech society not only accelerates climate change, but actually destroys analog sources of knowledge (seed banks, archaeological remains stored in permafrost) in the process. 'Complexity' argues that computational technology in high finance distorts economic information and accelerates inequality. 'Conspiracy' shows how the algorithmic sorting of the internet channels ordinary people's justified feelings of powerlessness and suspicion into siloed fringe groups, and 'Concurrency' zeroes in on YouTube, which, in its drive to maximize viewers' screen time (and Google's bottom line), abets the computer-generated production and autoplay of ultraviolent, hyper-disturbing children's videos."
"How Restaurants Got So Loud" [The Atlantic]. "According to Architectural Digest, mid-century modern and minimalism are both here to stay. That means sparse, modern decor; high, exposed ceilings; and almost no soft goods, such as curtains, upholstery, or carpets. These design features are a feast for the eyes, but a nightmare for the ears. No soft goods and tall ceilings mean nothing is absorbing sound energy, and a room full of hard surfaces serves as a big sonic mirror, reflecting sound around the room." • Bring back the velvet curtains! Bring back the leatherette banquettes! Oh, but: "loud restaurants are more profitable. Constructing interiors out of hard surfaces makes them easier (and thus cheaper) to clean. Eschewing ornate decor, linens, table settings, and dishware makes for fewer items to wash or replace. Reducing table service means fewer employees and thus lower overhead. And as many writers have noted, loud restaurants also encourage profitable dining behavior. Noise encourages increased alcohol consumption and produces faster diner turnover. More people drinking more booze produces more revenue."
"I still miss my headphone jack, and I want it back" [Fast Company]. "My daily 3.5 mm grind continues in the car, where I have both USB-C dongles and Lightning dongles, because iPhones and Android phones have different ports. In these moments as I search for the right adapter among dehydrated McDonald's fries and other unmentionables in the console of my car, I find myself wishing–if only there was one universal audio port they both could use . . . like . . . I don't know . . . some time-honored plug that's been around for more than a century . . . that's probably in a trillion cords worldwide . . . that would play Spotify through my mid-tier car stereo just as well as this newfangled stuff. What a world that would be!" • Apple didn't used to be about crapification. Now it is.
* * *
Readers, feel free to contact me at lambert [UNDERSCORE] strether [DOT] corrente [AT] yahoo [DOT] com, with (a) links, and even better (b) sources I should curate regularly, (c) how to send me a check if you are allergic to PayPal, and (d) to find out how to send me images of plants. Vegetables are fine! Fungi are deemed to be honorary plants! If you want your handle to appear as a credit, please place it at the start of your mail in parentheses: (thus). Otherwise, I will anonymize by using your initials. See the previous Water Cooler (with plant) here. Today's plant (JU):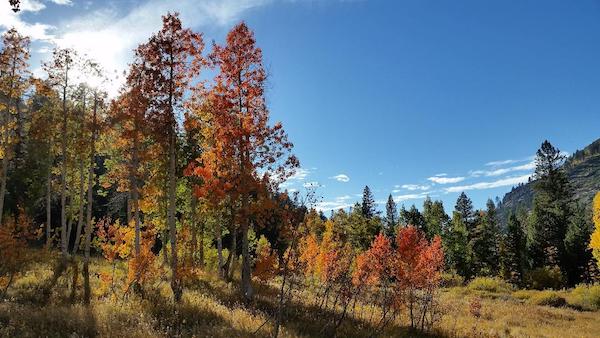 JU writes: "It was a colorful fall in Mineral King Valley, along the Cold Springs Nature Trail, which winds through the hues. These are from a few weeks ago."
* * *
Readers: Water Cooler is a standalone entity not covered by the annual NC fundraiser, now completed. So do feel free to make a contribution today or any day. Here is why: Regular positive feedback both makes me feel good and lets me know I'm on the right track with coverage. When I get no donations for five or ten days I get worried. More tangibly, a constant trickle of small donations helps me with expenses, and I factor that trickle in when setting fundraising goals. So if you see something you especially appreciate, do feel free to click below! (The hat is temporarily defunct, so I slapped in some old code.)
Or Subscribe to make a monthly payment!