By Lambert Strether of Corrente.
Patient Readers,
We'll be running a live blog on the 2018 election starting at 9:00PM EST. Be there or be square!
* * *
Trade
"The Trade War Inside the Democratic Party" [Foreign Policy]. "Plenty of lawmakers have asked the administration for more clarity on what its strategy entails, including plans to ensure that the tariffs on China don't hamstring U.S. exporters. But that doesn't mean a Democratic House will be in any hurry to force the administration's hand on the China trade war. Both Democrats and Republicans have grown increasingly alarmed at what they see as Beijing's state-driven economy that threatens U.S. jobs and continues to steal U.S. technology and ideas. 'The anti-China sentiment has grown so strong. The only direction it could move would be to make it stronger,' [Simon Lester of the Cato Institute] said. 'I don't see the Democrats advocating a softer line on China—it's not a winning issue.'"
Politics
"But what is government itself, but the greatest of all reflections on human nature?" –James Madison, Federalist 51
2020
"Kamala Harris' Big Policy Idea Is Even Worse Than I Thought" [Slate]. "The LIFT The Middle Class Act creates a refundable tax credit for workers—meaning that families can collect cash even if they don't actually owe any taxes. It kicks in by matching each dollar an individual earns, before plateauing at $3,000 for singles and $6,000 for a married couple…. Long story short: Couples who make less than six figures can get up to a $500 check in the mail each month….. I think it's worth pondering the problems with the LIFT Act, because it illustrates a trap lots of Democrats could fall into if they're not careful as they craft their policy platforms. At the risk of stuffing everything back into the frame of the 2016 election: Harris is trying to appear bold by spending like she's Bernie Sanders, while designing her legislation like a Hillary Clinton-style technocrat." • Complex eligibility determination, no universal benefit. Typical liberal.

"Hillary Clinton remains the Democrats best chance to defeat Trump in 2020" [Chicago Sun-Times]. "Clinton is playing coy, but we'll know more soon. On Nov. 18, Bill and Hillary Clinton will launch a nationwide tour of 13 cities, kicking off in Las Vegas." • As I read it, Clinton doesn't want to run. That doesn't mean she wouldn't accept the nomination, say after the Convention deadlocks on the first ballot, after which the superdelegates can vote. Of course, if Clinton wants to scotch these vile rumors, she can simply issue a Sherman statement, which she conspicuously did not do in the interview with Recode's Kara Swisher that intensified the rumors.

"Trump the Revealer" [Barry RItholtz, The Big Picture (TP)]. "I have been rolling over a fascinating idea in my mind about President Trump: He has revealed (or reminded) many great truths to us about human nature, history, tactics, manipulation, institutions, and the nation. By this, I don't mean to imply he himself has spoken great truths; rather, that we can learn a great deal about many things simply from watching his effects on the world." More: "Trump revealed the evangelicals as frauds – they ignore the Bible, care more about power than saving souls, and are without shame or a moral center." • Nonsense. Bush revealed the evangelicals as frauds. Worse, he revealed the evangelicals as unfit to govern. This, along with much else, has long been obvious to anybody who pays attention. This is not a bad piece, but so many, many things that are presumed to have become problems only with Trump's ascent have in fact been festering for one, two, three, or four administrations.
2018
0 days until Election Day, today. Bring on the zero-day jokes!

"Polls point to Democratic takeover of the House, but here's what could change that" [Los Angeles Times]. "The USC/Times poll shows near-perfect symmetry between the two groups of white voters: Those with college degrees side with the Democrats by nearly 2 to 1, while those without side with Republicans by an identical ratio. Those figures, however, represent an average of voters from across the country. The breakdowns in individual districts vary widely."

"Two Vastly Different Election Outcomes That Hinge on a Few Dozen Close Contests" [Nate Cohn, New York Times]. "Democrats appear poised to win the House popular vote on Tuesday by a wide margin, with national polls showing sustained disapproval of President Trump — and yet the fate of the chamber is not a foregone conclusion. On the day before the midterm elections, two vastly different outcomes remain easy to imagine. There could be a Democratic blowout that decisively ends Republicans' control of the House and even endangers their Senate majority. Or there could be a district-by-district battle for House control that lasts late on election night and perhaps for weeks after."

"'I will be surprised if I'm not surprised': Analysts hedge predictions ahead of midterms" [WaPo]. "[N]early two years removed from Trump's upset, political reporters and pundits are increasingly hedging their analysis of the 2018 midterm elections."

"Parts of America Are Still Struggling Economically. They Don't Matter Much in the Midterms." [New York Times]. "The competitive districts that will decide control of the House are richer and more economically vibrant than the country as a whole. But there is little evidence that the thriving economies in those districts are buoying Republican candidates enough to guarantee victories against well-funded Democratic challengers. The concentration of battlegrounds in prosperous areas could have important policy implications for the next Congress, with swing-district representatives more concerned with preserving their region's own good fortunes than with helping large parts of the country that continue to lag economically." • That's not a bug. It's a feature.

"Heading Into Election Day, Governors' Races Tighten" [Governing]. "The Democrats are almost assured of gaining three to four seats, and their net gain could range as high as 10 seats. The higher end of that range would give Democrats a slim majority among governors nationally — something they have not had in nearly a decade. Currently, we rate 17 of the 36 races this week as competitive, meaning that they are either tossups or leaning to one party or the other."
Realignment and Legitimacy
"Reports of long lines, broken machines as voters go to polls" [Associated Press]. Lots of anecdotes, then this: "DHS officials have boasted that the 2018 midterms will be the most secure election in U.S. history, pointing to federal intrusion-detection sensors that will protect "90 percent of election infrastructure," as DHS Undersecretary Christopher Krebs tweeted in mid-October. Those sensors sniff for malicious traffic, and are installed on election systems in 45 states. But similar sensors used at the federal level have performed badly. According to a Sept. 14 letter from the Office of Management and Budget, those sensors had a 99 percent failure rate from April 2017 onward, when they detected only 379 out of almost 40,000 "incidents" across federal civilian networks." • Third World stuff.

"Voting Machines: What Could Possibly Go Wrong?" [New York Review of Books]. "Although election officials often claim our computerized election system is too "decentralized" to allow an outcome-altering cyber-attack, it is, in fact, centralized in one very important way: just two vendors, Elections Systems & Software, LLC, and Dominion Voting, account for about 80 percent of US election equipment. A third company, Hart Intercivic, whose e-slate machines have recently been reported to be flipping early votes in the current Senate race in Texas between Beto O'Rourke and Ted Cruz, accounts for another 11 percent. The enormous reach of these three vendors creates an obvious vulnerability and potential target for a corrupt insider or outside hacker intent on wreaking havoc. "

"The Business of Voting" (PDF) [Penn Wharton Policy Initiative]. "As the report explicates in detail, the real effects (and possible pitfalls) of these strategies are not yet fully known. But they are nevertheless reflective of the report's key contention: that a long-term solution to the election technology crisis is unlikely to be had until policymakers and market actors address the underlying business issues and take steps that catalyze changes in the structure of the election technology industry." • The so-called "election technology industry" should be a line of business in the printing trades.

* * *

"What if women went on a sex strike before the midterms?" [CNN]. "In the ancient Greek comedy by Aristophanes, the character Lysistrata urges women to go on a sex strike to get men on both sides to end the Peloponnesian War. In our case, a sex strike against service sex can be a powerful statement — that female desire, a metric of agency like women's votes, will be heard."
Stats Watch
JOLTS, September 2018: "The number of job openings fell, well below Econoday's range of expectations" [Econoday]. "The quits rate, previously described as 'elevated' by Fed Chairman Jerome Powell and regarded as a precursor of wage pressures, remained at 17-year highs of 2.4 percent… Wage increase pressure may also be indicated by the fact that job openings in September continued to outnumber by more than a million the number of unemployed actively seeking work."
Shipping: "There's No Plan B for Port Security" [Foreign Policy]. "80 percent of the world's trade still goes by sea. According to the United Nations Conference on Trade and Development, the 40 largest ports handle 60 percent of all the goods shipped around the world. That loading and unloading used to be done by hand, back when dock work was a mainstay of industrial cities. But, as noted by Mark Hagerott, a retired U.S. Navy officer who is now the chancellor of the North Dakota University System, 'ports are designed for efficiency: automation and low cost,' and all of it is digitally connected. 'In case of a digital disruption, we don't have the ability to revert a Plan B using more manual offloading. There aren't enough dock workers on site, nor does the cargo lend itself to manual movement.'"
Shipping: "Amazon plans to hire thousands of seasonal delivery drivers" [Supply Chain Dive]. "Amazon will provide vans to the drivers and pay them in the range of $15 to $19 per hour, depending on the market… Drivers would work four 10-hour shifts each week…. In June, the company started seeking small businesses and entrepreneurs to deliver packages, even welcoming applications from candidates with 'little to no logistics experience.' Months later, the company order[ed] 20,000 branded vans for the program."
Shipping: "Amazon considering New York amid reports HQ will be split" [Associated Press]. "On Monday, The New York Times, citing unnamed people familiar with the decision-making process, reported that the company is nearing deals to locate in Long Island City as well as the Crystal City section of Arlington, Virginia, just outside Washington, D.C. The Wall Street Journal, which also reported the plan to split the headquarters between two cities, said Dallas is also still a possibility…. Earlier this month, Bezos said during an on-stage interview in New York that the final decision will come down to intuition: 'You immerse yourself in that data, but ,' he said." • Imagine all those cities beavering away on their proposals, when they just could have sent Bezos a dartboard and some darts.
Honey for the Bears: "September 2018 Leading Index Review: Generally A Slowing Rate of Growth" [Econintersect]. "Most of the leading indicators are based on factors which are known to have significant backward revisions – and one cannot take any of their trends to the bank. The only indicators with minimal backward revision are ECRI, RecessionAlert's WLEI, and the Chemical Activity Barometer. Unfortunately, the Chemical Activity Barometer is targeted to the industrial sector of the economy – and at best seems to be a coincident indicator, not a leading indicator. Note that both ECRI and RecessionAlert are forecasting marginally negative growth over the next six months….At this point, Econintersect continues to see NO particular dynamic at this time which will deliver noticeably better growth in the foreseeable future – and the majority of the indicators are forecasting a near average rate of growth which has been seen since the end of the Great Recession."
Health Care
"Why Doctors Hate Their Computers" [The New Yorker]. "A 2016 study found that physicians spent about two hours doing computer work for every hour spent face to face with a patient—whatever the brand of medical software. . And these tasks were spilling over after hours. The University of Wisconsin found that the average workday for its family physicians had grown to eleven and a half hours. The result has been epidemic levels of burnout among clinicians. Forty per cent screen positive for depression, and seven per cent report suicidal thinking—almost double the rate of the general working population. Something's gone terribly wrong. Doctors are among the most technology-avid people in society; computerization has simplified tasks in many industries. Yet somehow we've reached a point where people in the medical profession actively, viscerally, volubly hate their computers."
"Like Clockwork: How Daylight Saving Time Stumps Hospital Record-Keeping" [KHN]. "One of the most popular electronic health records software systems used by hospitals, Epic Systems, can delete records or require cumbersome workarounds when clocks are set back for an hour, prompting many hospitals to opt for paper records for part of the night shift. And it happens every year." • Epic is like CalPERS.
Our Famously Free Press
"How Newsrooms are Rethinking Midterms Coverage" [Nieman Labs]. "Multiple races are difficult to cover for many local newspapers, already spread very thin after years of layoffs…. Some newsrooms are addressing the challenges of the midterm elections by taking a more collaborative approach. Polling experts are exploring how to communicate uncertainty in a more meaningful way. New independent outlets are filling the space left by the decline of local newspapers. Dozens of news organizations are joining ProPublica to cover the complexities of the voting process. Reporters are increasingly aware of their role in the fight against misinformation."
Class Warfare
"No Need to Choose: History from Above, History from Below" [Viewpoint Magazine]. From 2014, still germane: "By rethinking the early histories of capital accumulation via the generative centrality of slavery and servitude, we're already querying the presumed centrality of waged work in manufacturing, extractive, and associated industry for the overall narrative of the rise of capitalism. That shifting of the perspective relativizes wage labor's place in the social histories of working-class formation and opens them to other regimes of labor. By that logic, waged work's claim to analytical precedence in capitalism's developmental history no longer seems secure. Indeed, the de-skilling, de-unionizing, de-benefiting, and de-nationalizing of labor via the processes of metropolitan deindustrialization and transnationalized capitalist restructuring in our own time have also been undermining that claim from the vantage-point of the present. Today the social relations of work have been drastically transformed in the direction of the new low-wage, semi-legal, and deregulated labor markets of a mainly service-based economy increasingly organized in complex transnational ways. In light of that radical re-proletarianizing of labor under today's advanced capitalism, I want to argue, the preceding prevalence of socially valued forms of organized labor established after 1945, which postwar social democrats hoped so confidently could become normative, re-emerges as an extremely unusual and transitory phenomenon." • A little dense, to be sure, but well worth a read. Note especially the attention drawn to servants as a class in the 18th and 19th centuries, so relevant to the "service economy" of today.
"Richard Florida: It's Not (Just) the Working Class. It's the Service Class." [Evonomics]. "The Service Class, not the Working Class, is the key to the Democrats' future. Members of the blue-collar Working Class are largely white men, working in declining industries like manufacturing, as well as construction, transportation, and other manual trades. Members of the Service Class work in rapidly growing industries like food service, clerical and office work, retail stores, hospitality, personal assistance, and the caring industries. The Service Class has more than double the members of the Working Class – 65 million versus 30 million members, and is made up disproportionately of women and members of ethnic and racial minorities." • An attempt to merge "the coalition of the ascendant" with class. Florida's quite the policy entrepreneur; I can only hope this attempt isn't as damaging as his "creative class" was in 2008.
"The Conservative Case Against the Suburbs" [The American Conservative]. "When all those miles of frontage roads, sewer and water pipes, and sidewalks fall into disrepair–as they inevitably will in every suburb–very little of it will be fixed. The wealth necessary to do so just isn't there." • A typical TAC combination of accurate perceptions of decline and terrible economics. If by wealth is meant productive resources…. Well, that depends on how long our petro-economy holds out, doesn't it? I'd bet a lot of asphalt roads will be going to gravel, and not just in rural Maine. A problem for scooters, sadly.
"No One Wants It" [Affidavit]. "This is a story about someone who responds to criticisms of her TV show by taking "a glamping writers' retreat" to El Capitan: "We had a shaman come. She did magic incantations as we lay on the floor of a yurt." It is an unwitting portrait of a rich Los Angeles creative type with a child's knack for exploiting the sympathies of others, a person whose deep fear of doing the wrong thing was regularly outmatched by an even deeper distaste for doing the right thing." • I don't know anything about the TV show, but I know a massive takedown when I see one.
News of the Wired
"Personal Panopticons" [Real Life]. "In the late 1960s, researcher Alan Weston divided the population into three groups according to their attitudes toward privacy: fundamentalists, who are generally reluctant to share personal information; the unconcerned, who are untroubled and unreflective about privacy; and pragmatists, who report some concern about privacy but are also willing to weigh the benefits they might receive in exchange for disclosing personal information…. . In a more recent study of attitudes toward privacy among older adults, Isioma Elueze and Anabel Quan-Haase expanded upon Westin's taxonomy to include a category for what they termed the "cynical expert."… That picture has been further complicated by the widespread adoption of the accouterments of the "smart home," including internet-connected devices like Nest and AI assistants such as Amazon Echo or Google Home. Perhaps this development has been enough to push people from privacy cynicism toward what media scholar Ian Bogost, writing in the Atlantic, has described as full-blown "privacy nihilism," which presumes an omnipresent regime of surveillance that we can no longer resist and may as well not bother to try.
"Try These 5 Techniques to Make Your Next Political Argument Fruitful" [Scientific American]. "Our modern political parties are powerful tribes through which we express our social identities and take cues on how to vote. Often, it's more important to humans that they be accepted by their tribe than to be right. And it's not even that irrational: evolutionarily, not being part of a tribe was a death sentence." • Hmm. I'd like to see some rigorous thinking on the use of "tribes" in this context. Political "tribes" don't seem a lot like the Penobscots, to me. Still, some handy tips!
* * *
Readers, feel free to contact me at lambert [UNDERSCORE] strether [DOT] corrente [AT] yahoo [DOT] com, with (a) links, and even better (b) sources I should curate regularly, (c) how to send me a check if you are allergic to PayPal, and (d) to find out how to send me images of plants. Vegetables are fine! Fungi are deemed to be honorary plants! If you want your handle to appear as a credit, please place it at the start of your mail in parentheses: (thus). Otherwise, I will anonymize by using your initials. See the previous Water Cooler (with plant) here. Today's plant (EM):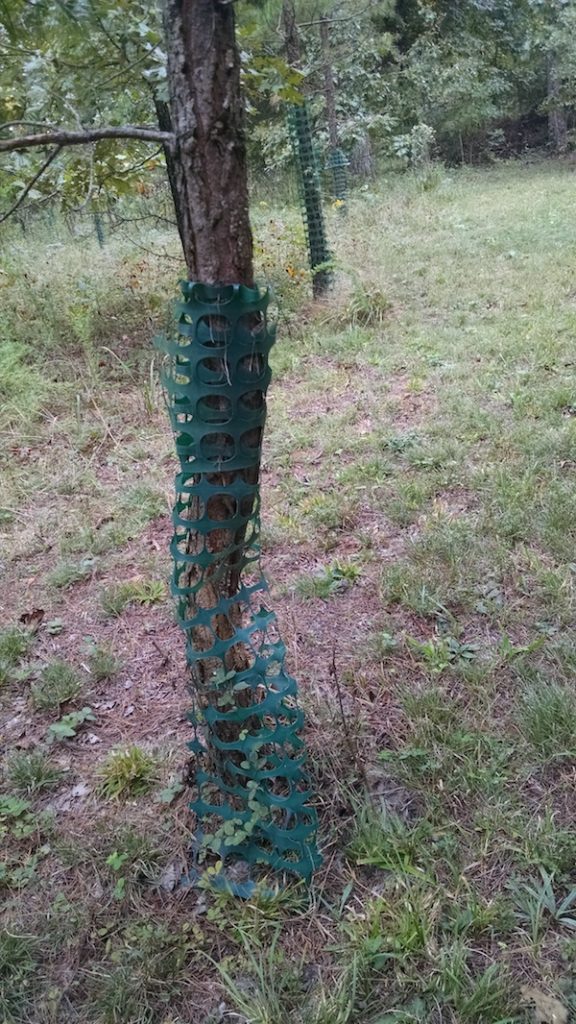 EM, writing from Critters Junction: "Rub tree near a hog wallow. Hogs damage a lot of smaller trees."
* * *
Readers: Water Cooler is a standalone entity not covered by the annual NC fundraiser, now completed. So do feel free to make a contribution today or any day. Here is why: Regular positive feedback both makes me feel good and lets me know I'm on the right track with coverage. When I get no donations for five or ten days I get worried. More tangibly, a constant trickle of small donations helps me with expenses, and I factor that trickle in when setting fundraising goals. So if you see something you especially appreciate, do feel free to click below! (The hat is temporarily defunct, so I slapped in some old code. The form below should work.)
Or Subscribe to make a monthly payment!