By Lambert Strether of Corrente.
Readers, I'll devote today's Water Cooler to some hot takes on yesterday's fascinating results, sufficient at least to serve as conversation starters. We can't do detailed analysis without doing serious work at the district level, and we also have to understand the exit polls, and especially the money flows, which are so complex and convoluted it takes experts like Thomas Ferguson and his team months and years to figure them out. So herewith, the following seven quick and verysketchy points:
(1) The hype that failed
Russia, Russia, Russia. For two solid years, that's what we heard, every day, every medium, every orifice. Come the midterms, the Democrats fall silent. "Exit Polls: Majority Say Russia Probe 'Politically Motivated'." You don't say!
Blue Wave. Nope. Even if you can gin up some numerical justification, a wave election reconfigures power; at the best, 2018 simply provided a check on Trump, not that there's anything wrong with that. There's also a good deal of work to be done:
Democrats lost around a net 900 seats in state legislatures over the Obama presidency. With special elections and last night, they won 333 back this cycle.

— Edward-Isaac Dovere (@IsaacDovere) November 7, 2018
Rising Stars. CNN: "Quick, name the three Democrats running for statewide office that Democrats who didn't live in their states knew and/or cared about: Andrew Gillum, Stacey Abrams and Beto O'Rourke, right? Well, Gillum lost narrowly. Abrams is losing less narrowly. And O'Rourke overperformed past Democrats in Texas but still lost."
(2) 2018 continued Cllinton's 2016 suburban strategy
Chuck Schumer famously said;
For every blue-collar Democrat we lose in western Pennsylvania, we will pick up two moderate Republicans in the suburbs in Philadelphia, and you can repeat that in Ohio and Illinois and Wisconsin.
And in 2018, Democrats did what Schumer said. Politico:
The suburbs, which formed the bedrock of the Republican Party for half a century, are increasingly Democratic ground. The slow suburban exodus from the GOP has accelerated and even expanded beyond the Midwest and Northeast to the South and across the Sunbelt. Name the big metro – Atlanta, Chicago, Dallas, Houston, Minneapolis, Philadelphia – and chances are there's a Republican incumbent who lost Tuesday night or barely escaped.
(Most of the coverage treats suburban voters, women voters, highly educated voters, and wealth voters as non-overlapping categories, but surely they overlap, especially in suburban districts.) Heaven forfend that the Democrats should expand their base! No, they'l just go after Republicans!
(3) "Events, my dear boy, events."
Yves flagged this in links. Politico:
Most voters said that their ballot in the U.S. midterm election was about President Donald Trump and that they had recent extremist violence on their minds as they headed to the polls, according to early exit polls… More than three-in-four voters said that recent extremist violence was either the most important or an important factor in their vote today, the CNN poll found.
Frustratingly, the poll doesn't say which direction voters were pushed, though the implication is that voters blamed Trump for encouraging extremists with his rhetoric. (This would obviously be an attractive thesis to the symbol manipulators in the Democrat's professional base, especially in the press; but I'm not sure how the causality plays out in individual cases. For example, Republican shooter Steve Scalise was shot by a Sanders supporter. Does anything differentiate that case from others?) In how many close districts did this issue give the Democrats their margin?
(4) Enough with the polarization trope
There's an enormous amount of whinging about poltical polarization, both before and after the election. A sampling: "The Roots of Political Polarization" [Wall Street Journal], "Facebook Tamped Down on Hoax Sites, But Polarization Thrives" [Bloomberg], "Polarization: 5 Ways to Make Things Better" [Psychology Today], "If you want to fix the polarization crisis, use your vote to shift the political climate" [USA Today], and "To fight polarization, give yourself some breathing room" [Columbia Journalism Review]. (A synonym for "polarization" is "division"; see Pelosi's usage below.)
My difficulty with "polarization" is that it assumes a binary world where there are only Democrats (liberals) and Republicans (conservatives). Leaving aside my view that liberals and the left are not the same, "polarization" simply leaves out the enormous number of people who don't participate in the binary system at all (and how come people get to be gender fluid, but not party fluid). Of course there are independents, but how about non-voters? Vox:
The New York Times is currently estimating that some 114 million ballots were cast this year, well above the 83 million votes cast in 2014 and 91 million ballots cast in 2010. That doesn't quite rival a presidential year — in 2016, for example, about 138 million people voted — but it's a pretty big deal. Voter turnout in midterm elections is generally lower than in presidential years, though the 2018 election is on track to surpass turnout in both 2010 and 2014. According to the United States Elections Project, voter turnout in the 2010 midterms was 41.8 percent. In 2014, it was 36.7 percent — the lowest in 72 years.
We don't have the full numbers yet, but assume 2018 broke 50% participation. So half the country is wearing a D or R jersey, and half isn't wearing a jersey at all, and probably isn't even following the game. Polarization there may be, but not as the political class conceives of it (and even as they moan about it, they do everything they can to increase it; there's money in that).
(5) Enough with the "first" tropes
WaPo has a fine example:
Firsts:

– America's first Native American women in Congress
– America's first Muslim women in Congress
– America's youngest woman ever elected to Congress
– First openly gay man elected governorhttps://t.co/a6EnhZJcnd

— Washington Post 🗳️ (@washingtonpost) November 7, 2018
I don't want to be churlish about this; of course it's a good thing that electeds "look like America." But how good, exactly? Adolph Reed:
It's entirely possible to resolve disparities without challenging the fundamental structures that reproduce inequalities more broadly. …[B]y the standard of disparity as the norm or the ideal of social justice, a society in which 1% of the population controls more than 90% of the resources would be just, so long as the 1% is made up non-whites, non-straight people, women, and so on in proportions that roughly match their representation in the general population.
Bernie Sanders:
"It's not good enough for somebody to say 'hey I'm a Latina vote for me' that is not good enough. I have to know whether that Latina is going to stand up with the working class of this country and is going to take on big money interests," Sanders said.

"It is not good enough for somebody to say, 'I'm a woman, vote for me.' No That is not good enough," the Vermont senator continued. "What we need is a woman who has the guts to stand up to Wall Street, to the insurance companies, to the drug companies, to the fossil fuel industries."
I don't like AOC because she's a "young woman" (or for the color of her lipstick, for that matter). I like her for her views on policy, which she's not shy about expressing. Is that so wrong?
(6) Enough with squishy health care policy
Health care was a big issue according to the exit polls:
Health care: Voters by 58-34 percent pick the Democratic Party over the Republicans as more likely to protect health care for people with pre-existing conditions, another central focus of the 2018 campaign.

Further, given a choice of four issues, 41 percent pick health care as the top issue facing the country, compared with 21 percent for the economy, 23 percent immigration and 11 percent gun policy.
So what does the mainstream give us:
Hard to overstate how strongly Medicaid won last night, mostly in red states
—3 states (ID, NE, UT) passed ballots to expand Medicaid
—2 states (ME, KS) elected governors likely to expand, too

Works out to about 500k people gaining coverage.https://t.co/bBBwvAy2IZ

— Sarah Kliff (@sarahkliff) November 7, 2018
500K people… That's just not a major achievement. It shows the peculiar genius of Democrats for making creating issues, and then delivering absolutely miserable solutions to them. On the bright side, the Democrats have managed to contain the #MedicareForAll threat for at least another election cycle.
(7) Expect continued political volatility
On the bright side, a bunch of Senate Blue Dogs got heaved over the side. That's good, because we don't have to pander to them any more:
Alas poor Joe, Heidi & Claire, we knew ye well….well, enough to vote you and your right leaning ways out.

Donnelly, Heitkamp & McCaskill were truly #Whigged last night. Buh Bye! pic.twitter.com/Ej54cQctRV

— Lumpy🦂Louise (@LumpyLouish) November 7, 2018
But then we get Pelosi rallying the troops. Here's the hill we're going to die on:
We will strive for bipartisanship, with fairness on all sides. We have a responsibility to find our common ground where we can, stand our ground where we can't, but we must try. . A Democratic congress will work for solutions that bring us together, because we have all had enough of division. The American people want peace. They want results. They want us to work for positive results for their lives.
(And when liberal Democrats say "our democracy," they mean, they really mean, their democracy). In other words, 2018 resolved none of the issues that 2016 raised. Not a one.
APPENDIX
I have to eat a bit of crow. My call: "Republicans keep the Senate; Democrats win the House, with a margin closer to 23 than 30." Right on the Senate, but that was easy. Since the Democrats currently have 27 (+4), I'm kinda right as of today, but by my manual count of the House results, 19 districts are currently not decided (both seats in Georgia!) and the Democrats will surely win some of them. If youth and Latinos turned out above historical norms, and suburban women could bring themselves to vote for the liberal, that would account for my error. Mr. Counter-Suggestible guessed they wouldn't; it looks like they did. (Since that's an identity politics paradigm, I don't accept it, but it's a useful shorthand.) And the data really was terrible.
* * *
Readers, feel free to contact me at lambert [UNDERSCORE] strether [DOT] corrente [AT] yahoo [DOT] com, with (a) links, and even better (b) sources I should curate regularly, (c) how to send me a check if you are allergic to PayPal, and (d) to find out how to send me images of plants. Vegetables are fine! Fungi are deemed to be honorary plants! If you want your handle to appear as a credit, please place it at the start of your mail in parentheses: (thus). Otherwise, I will anonymize by using your initials. See the previous Water Cooler (with plant) here. Today's plant (David Pearce):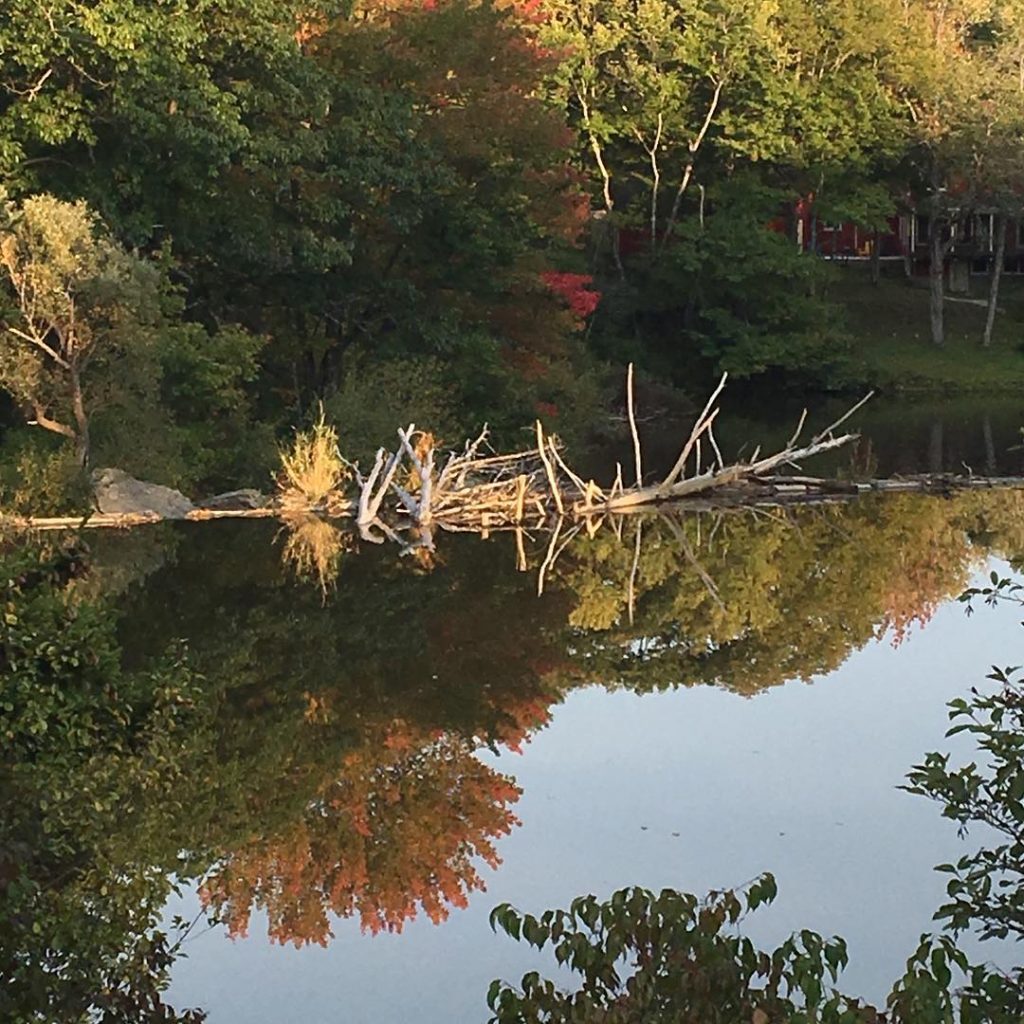 David Pearce writes: "Starting to see some color. Tree stuck at Fourth Falls dam, Royal River, Yarmouth." Lovely!
* * *
Readers: Water Cooler is a standalone entity not covered by the annual NC fundraiser, now completed. So do feel free to make a contribution today or any day. Here is why: Regular positive feedback both makes me feel good and lets me know I'm on the right track with coverage. When I get no donations for five or ten days I get worried. More tangibly, a constant trickle of small donations helps me with expenses, and I factor that trickle in when setting fundraising goals. So if you see something you especially appreciate, do feel free to click below! (The hat is temporarily defunct, so I slapped in some old code. The form below should work.)
Or Subscribe to make a monthly payment!