By Lambert Strether of Corrente.
Politics
"But what is government itself, but the greatest of all reflections on human nature?" –James Madison, Federalist 51
2020
"Bernie Sanders Opens Up About New Democrats in Congress, Taking on Trumpism" [Rolling Stone]. Sanders: "I absolutely believe that from day one, the Democrats in the House have got to come out with a progressive agenda that speaks to the needs of working people. And that leads to — as you know, the Medicare-for-all bill I introduced, which is to be implemented over four years, lowers the eligibility age from 65 to 55, covers all of the children, and lowers the cost of prescription drugs. My guess is that about 80-percent of the American people would support a proposal like that. It's wildly popular. And that's what the Democrats have got to do. They've got to raise the minimum wage to 15 bucks an hour, they've got to make public colleges tuition-free and they've got to lower student debt. All of these proposals are enormously popular. And they're good public policy."

"Kamala Harris Is Effectively Draining Money from Stacey Abrams" [Paste]. "Why didn't Kamala Harris just share the Actblue link that Stacey Abrams created? All that money goes to Abrams, who needs every last cent to fight Brian Kemp's authoritarianism. Why create a new donation link to help fight voter suppression in Georgia where half of the donations go into the pocket of a California politician?" • Because Harris gets to keep half the money her own link. That's why. Same structure and mentality as the Clinton Victory Fund.
2018 Post Mortems
Results are still trickling in:

Some things since Tuesday night that reshape midterm thinking:
-4 more House R->D seats called
-Florida Gov & Senate move to recounts
-Tester wins
-GA Gov closer to run-off
-AZ Senate still in air, keeping Dem hopes of another pick-up alive
-Dems closing in on 400 state leg flips

— Edward-Isaac Dovere (@IsaacDovere) November 9, 2018

"Why Aren't Democrats More Excited About the 2018 Results" [Amy Walter, Cook Political Report]. "Yet, here we are two days later, and Democrats aren't exactly swinging from the chandeliers…. Democrats wanted this election to be about more than just winning the House or the Senate. They wanted 2018 to be a total rebuke of Trump. A wipe out of epic proportions all across the country. That didn't happen…. The other reason Democrats aren't as fired up about the 2018 election is that it failed to deliver an obvious frontrunner for 2020…. What 2018 did do, which is why Republicans aren't disheartened by Tuesday's results and Democrats are less than ebullient about them — was show just how similar the Electoral College map looks to the one in 2016." • There's another reason: Now Democrats have to govern, even if as part of "divided government." They hate that.

"The Suburbs — All Kinds Of Suburbs — Delivered The House To Democrats" [FiveThirtyEight]. "75 percent of Democrats' gains came from these predominantly suburban districts."

"The 2019 Congress will have more Southern Democrats. But they won't have much clout" [McClatchy]. "'Southern Democrats' often still evokes the image of a white conservative, but the region's Democrats are a diverse group. That makes it hard to promote agendas that can be sold easily." • That's not a bug. It's a feature.

"Millions in masked money funneled into 2018 elections" [Open Secrets]. "The 2018 election cycle has attracted record spending by partially-disclosing groups that give the appearance of reporting at least some of their donors but, in reality, are little if any more transparent than other 'dark money' groups…. By deploying novel tactics to mask their financial activities, these groups have been able to keep donors secret while giving some illusion of more transparency. Partially-disclosing groups have already reported $405 million in 2018 election spending, according to federal election records analyzed by the Center for Responsive Politics."

"Liberals Prevail in State Supreme Court Elections" [Governing]. "In races that were largely overshadowed by high-stakes U.S. Senate, House and gubernatorial contests this election season, moderate-to-liberal judicial candidates made a strong showing. They prevailed in state supreme court elections in Arkansas, Nevada, New Mexico, North Carolina and Ohio. Conservatives, for their part, cheered results in Alabama and West Virginia. The highest-profile victory for Democrats came in North Carolina, where Democrat Anita Earls defeated Republicans Chris Anglin and Barbara Jackson."

"Will Progressive Caucus Support Nancy Pelosi for Speaker?" [Rolling Stone]. I'd be surprised if the headline wasn't a Betteridge's Law violation. Here's a great quote from Steny Hoyer: "I had the opportunity to sit down with Alex, as she calls herself, last week, and I found her to be very reasonable, very bright, very able, and very willing to work together to accomplish objectives. And the democratic socialists party or group in New York" — referring to the New York chapter of the Democratic Socialists of America — "endorsed her one month before the campaign — before the election. It wasn't as if she started with that. She says she's a Democrat. That's what she told me, and that's what I believe: She's a Democrat." • "Alex, as she calls herself." So awesome.

ME-02: "Exit polling gives Golden an edge in 2nd District ranked-choice count. See each candidate's road to victory." [Bangor Daily News]. "The spotlight is now on the 8 percent of voters who picked a nonpartisan candidate as their first choice in the 2nd District race…. Though Poliquin has a lead now, that crucial group of independent voters leans heavily toward Golden, according to an exit poll of 534 voters in eight 2nd District municipalities on Election Day administered by the BDN during the first statewide ranked-choice voting election in U.S. history…. Nine-tenths of voters expressing a preference between the party candidates chose Golden over Poliquin in our exit poll. Poliquin's lead over Golden stood at roughly 1,500 votes with 22,500 votes going to left-leaning independents Tiffany Bond and Will Hoar, according to unofficial returns reported to the BDN by late Thursday. Golden is expected to overtake Poliquin's lead in the reallocation because of heavy support from that pool of voters, according to the exit poll." • See, there's still a horse-race story here! So the press can stop whining that results are "slow" with ranked choice voting.

* * *
New Cold War
Never gonna give you up, never gonna let you down:

Gallup polled U.S. voters on 12 top issues facing the country. Guess which issue was the only to NOT rank for the majority as "as extremely or very important to their vote"? Hint: it's been the top focus of our political & media class for 2 years: 🤔https://t.co/dSzLNoHjQI pic.twitter.com/6eMRTNvm6Y

— Aaron Maté (@aaronjmate) November 7, 2018

"Russia Seen Adopting New Tactics in U.S. Election Interference Efforts" [New York Times]. "Russian accounts have been amplifying stories and internet 'memes' that initially came from the U.S. far left or far right. Such postings seem more authentic, are harder to identify as foreign, and are easier to produce than made-up stories…. 'They are baiting Americans to drive more polarizing and vitriolic content,' [Graham Brookie, director of the Atlantic Council's Digital Forensic Research Lab] said. 'Any given solution needs to focus on basing our politics on facts, first and foremost, and to focus on what holds our country closer together.'" • Clearly, moar centrism is the answer (especially when, this being the Atlantic Council, centrism means McCarthyism and war with Russia). And what does the Atlantic Council have in mind as a "solution"? Because "focus on what holds our country closer together" is redolent of Third World authoritarianism.
Realignment and Legitimacy
Roger Stone: "I'm certainly guilty of bluffing and posturing and punking the Democrats. Unless they've passed some law against bullshit and I missed it, I'm engaging in tradecraft. It's politics" [WaPo].
Stats Watch
Producer Price Index, October 2018 (Final Demand): "There is unexpected life in October's producer price report [with results that] easily top Econoday's high forecasts with the overall gain the sharpest in six years" [Econoday]. "But the reversal underway in the price of oil, quickly moving from over $70 to under $60, looks to take a lot of steam out of November's inflation reports." And: "The Producer Price Index increased year-over-year. Food and energy prices were two of the major factors in this increase – and services inflation rose lead by trade services. The growth in inflation was more than expected" [Econintersect]. And: "The figures indicate that price pressures in the production pipeline are advancing steadily" [Industry Week].
Wholesale Trade, September 2018: "[R]ose… slightly higher-than-expected" [Econoday]. "The stock-to-sales ratio remains unchanged for a third straight month." And but: "Overall, I believe the rolling averages tell the real story – and they declined this month" [Econintersect]. "Inventory levels this month are are the high side of normal – and close to recessionary."
Consumer Sentiment, November 2018 (Preliminary): "[S]teady and strong" [Econoday]. "The cut-off date for today's report was Wednesday this week which includes some responses following the mid-term elections. But the report notes that these later responses showed no significant change from responses earlier in the month." And: "Preliminary November 2018 Michigan Consumer Sentiment Again Down Slightly" [Econintersect].
Real Estate: "Leading Index for Commercial Real Estate Declines in October" [Calculated Risk]. "The Dodge Momentum Index moved 4.2% lower in October to 150.5 (2000=100) from the revised September reading of 157.0. The Momentum Index is a monthly measure of the first (or initial) report for nonresidential building projects in planning, which have been shown to lead construction spending for nonresidential buildings by a full year. October's shortfall was the third consecutive monthly decline…. According to Dodge, this index leads 'construction spending for nonresidential buildings by a full year.'"
Retail: "There's a reason so many Amazon searches show you sponsored ads" [USA Today]. "These are sponsored posts, paid by the manufacturer to get better placement on the top e-commerce site, and if you think you're seeing a lot more of these this year, your eyes are not playing tricks on you. There are more ads than ever on top of the products you are searching for, which are ranked based on sales performance and other factors…. According to research firm eMarketer, Amazon will bring in $4.6 billion worth of revenue for sponsored ads this year, up from $1.8 billion in 2017. The company is on track to grow these ads to $10.9 billion by 2020…. 'Amazon is benefiting from the fact that, on Google and Facebook, consumers may be researching a product, but on Amazon they have the benefit of being at the purchase decision,' says Monica Peart, an analyst with eMarketer…. Matt Mickiewicz, the co-founder of Hired.com, vented on Twitter that shopping had become a tougher experience for him on Amazon. 'Between all the sponsored ads, and identical products being sold under 10 different brand names, it's become a frustrating experience.'" • The deterioration in search results seems more rapid than Google's.
The Fed: "The Fed Is Putting the Powell Put In Its Place" [Bloomberg]. "The rate-setting Federal Open Market Committee was not expected to alter monetary policy, nor was it expected to signal any shift in strategy going forward. So, the central bank succeeded in making this meeting as boring as humanly possible. … The common theme linking these omissions is that they might have given the Fed an excuse not to go through with raising rates next month as currently planned. Indeed, there are plenty of people out there who believe that any or all of them provide a reason, rather than an excuse, to defer from rate hikes. As I have said before, there must be a 'Powell Put; (named for Fed Chairman Jerome Powell) at some point. When asset prices fall enough, it can be justifiable for a central bank to intervene to stop those declines from having an impact on the economy. But the strike price of that "Powell Put" is a lot lower than the current price of U.S. equities. At this point, the Fed could be at least mentioning that it is watching out for some of the more obvious potential systemic risks out there, but it is not." • The URL is more clear: "the-fed-won-t-bail-out-the-stock-market".
Honey for the Bears: "02 November 2018 ECRI's WLI Growth Rate Index Slips Further Into Contraction" [Econintersect]. "The current forecast is a slight economic contraction six months from today."
Water
"Rural America's Own Private Flint: Polluted Water Too Dangerous to Drink" [New York Times]. "There are no precise water-quality surveys of the galaxy of private wells that serve 43 million people in the United States, but sampling by the United States Geological Survey has found contamination in about one of every five wells… Wells contaminated by bacteria or hazardous microorganisms can be blasted with chlorine and other disinfectants. But there is no easy fix for nitrates. The Armenia Growers Coalition, a group that represents three big farms in the area, including the 3,000-cow Central Sands Dairy, is delivering bottled water to people and has offered to pay for water-treatment systems." • That's nice.
"Brown, Newsom Win Brief Truce in Brewing California Water War" [Courthouse News]. "Yelding to the governor's office, California regulators on Wednesday agreed to postpone a restoration proposal that would reduce water for cities and farmers during droughts in hopes of spurring last-minute negotiations among the plan's critics…. Just minutes after being elected the next California governor, Newsom along with Brown sent the five-member board a letter urging postponement until December. They promised to bring all of the interested parties to the bargaining table….. For nearly a decade the water board has been preparing the river flow amendments to the Bay-Delta Water Quality Control Plan, which hasn't been updated since 1995. It wants more water to remain in the San Joaquin River watershed during droughts in order to improve water quality in the state's critical water-savings bank, the Sacramento-San Joaquin River Delta. To get more snowmelt water to wind down from the Sierra Nevada and into the delta, the plan calls for major cuts to San Francisco's take of water from the Tuolumne River in Yosemite over 100 miles away, along with expected cutbacks for some Central Valley farmers. The goal is to boost water quality and improve long-dwindling salmon and fish populationss… The water board was supposed to act on the proposal Wednesday, until Brown and Newsom stepped in. Now it promises to reconvene and act on the plan Dec. 11 if the governor and governor-elect can't finagle a compromise."
"Baltimore Becomes First Major City to Ban Water Privatization" [Food and Water Watch]. "Baltimore voters made history today by voting in favor of passing ballot question E, a city charter amendment that bans privatization of the city's water and sewer systems. The Baltimore City Council voted unanimously to ban water privatization earlier this year. As of 11:15 p.m., Baltimore voters voted 77% in favor of this amendment with 91 percent of precincts reporting. This confirms Baltimore is now the first major city in the country to amend its charter to prohibit the sale and lease of the city's water and sewer system."
Gaia
"Shell, Total Are Big Oil Standouts as Investors Can Track Carbon" [Industry Week]. "Royal Dutch Shell Plc and Total SA are the only companies among the 10 biggest oil and gas producers in the world which disclose how their carbon emissions will decline over time, according to the first analysis of its kind by managers overseeing more than $9 trillion of funds. The Anglo-Dutch and French majors are the only companies among Big Oil to have set long-term plans to significantly reduce their carbon intensity — or the level of emissions per unit of energy produced. They are also the only two companies to disclose emissions from their sold products, the biggest portion of their impact on the climate…. That's according to a new report by the Transition Pathway Initiative, a global program to cut climate risks, which is supported by managers including and BNP Paribas Asset Management."
"The Extremely Fast Peopling of the Americas" [The Atlantic]. "[A]bout 14,000 years ago, the southern lineage of early American Indians spread through the continent with blinding speed. In a matter of centuries, these people had gone down both sides of the Rockies, across the Great Basin, and into Mexico's highlands. Within a couple more millennia, they had zipped down the Andes, through the Amazon, and as far south as the continent allowed. 'Once they were south of the ice, they found a territory that was open, vast, and full of resources,' says Moreno-Mayar, who is based at the University of Copenhagen. 'They were adept hunter-gatherers, so they expanded very quickly.'"
Class Warfare
"Billionaire Bonanza, 2018: Inherited Wealth Dynasties in the 21st Century United States (PDF) [Institute for Policy Studies]. "In 1982, the combined wealth of the Forbes 400 totaled $92 billion, or about $242 billion in today's dollars. That's less than the combined wealth of just the top three wealthiest people on the Forbes list today. The combined wealth of the entire top 400 today adds up to $2.89 trillion, more than the GDP of Great Britain, the fifth-largest economy in the world. Half of this wealth comes from 45 individuals. The average wealth on the 2018 Forbes list is $7.2 billion, up 7.5 percent from 2017. Three individuals—Jeff Bezos, Bill Gates, and Warren Buffett—still own more wealth than the bottom half of the country combined." • And they're doing a heckuva job….
"In Iowa, Pioneering Undergrad Workers Union Keeps Growing" [Labor Notes]. "At a small liberal arts college in rural Iowa, students who work in the libraries, mailroom, and other campus workplaces have undertaken an ambitious organizing drive. Two years ago, 350 dining-hall workers at Grinnell College made history when they formed the first union of undergraduate workers at a private college. Now hundreds of other student workers on campus are campaigning to join then. Without lawyers or an international union behind them, these young workers represented themselves at the National Labor Relations Board, up against high-powered 'union avoidance' lawyers and university administrators—and won. They're set for a November 27 election. Grinnell, founded by abolitionists and once a stop on the underground railroad, has a reputation for its commitment to social justice. Yet this October, Grinnell's lawyers outrageously claimed that a union would 'erode the egalitarian nature' of the college, creating a 'caste system' and turning student workers into 'an underclass of serfs.'" • Grinnell took on the Slave Power — and won. Now, the Wage Power?
News of the Wired
"2018 iPad Pro review: 'What's a computer?" [Ars Technicha]. An exhaustive review of Apple's new iPad Pro, both hardware and operation system. Recall that Tim Cook would like to you replace your Mac and do real work on an iPad. No. "iOS is excellent software for phones, but it is not up to the task of driving creative professionals' power user ambitions on a tablet—not even close. Copying, pasting, and editing text is an enormous hassle if you're doing anything other than scribbling a couple of notes or shooting off an email….. [And then there is the] iPad Pro's frustrating limitations of the USB-C connection and the lack of OS-wide support for external drives. This stuff is essential for power users, and iOS just doesn't deliver. The problems here are surprising in part because they are very un-Apple. The company's pitch to consumers and professionals alike has always been about the advantages of end-to-end integration, and that includes software and hardware built to work well together. But iOS feels like it is built for a completely different device, given that the new iPad Pro's ambitions are much greater than those of prior iPads, or of the iPhone." • A machine where copying text is a pain isn't a general purpose professional's tool. It's as simple as that. I can't help but wonder if Apple's financialization has something to do with this. An OS — if I may so denote iOS — that makes storage and monitor vendors write their own drivers…. Well, that's Windows 98. It's not Apple ("It just works"). Or wasn't ("No, it doesn't"). I can't help but think Tim Cook decided that stock buybacks were more important than devoting software engineering resources to developing an OS for tablets that a professional would regard as something more than half-assed.
"Against software development" [mtz]. This:
To those who have a choice:

Refuse to work on systems that profit from digital addictions.

Refuse to work on systems that centralize control of media.

Refuse to work on systems that prop up an unjust status quo.

Refuse to work on systems that require unsustainable tradeoffs.

Refuse to work on systems that weaponize the fabric of society.

Above all, refuse to work on systems that understand and manipulate people, but offer no affordance for their subjects to understand and manipulate them.
* * *
Readers, feel free to contact me at lambert [UNDERSCORE] strether [DOT] corrente [AT] yahoo [DOT] com, with (a) links, and even better (b) sources I should curate regularly, (c) how to send me a check if you are allergic to PayPal, and (d) to find out how to send me images of plants. Vegetables are fine! Fungi are deemed to be honorary plants! If you want your handle to appear as a credit, please place it at the start of your mail in parentheses: (thus). Otherwise, I will anonymize by using your initials. See the previous Water Cooler (with plant) here. Today's plant (AB):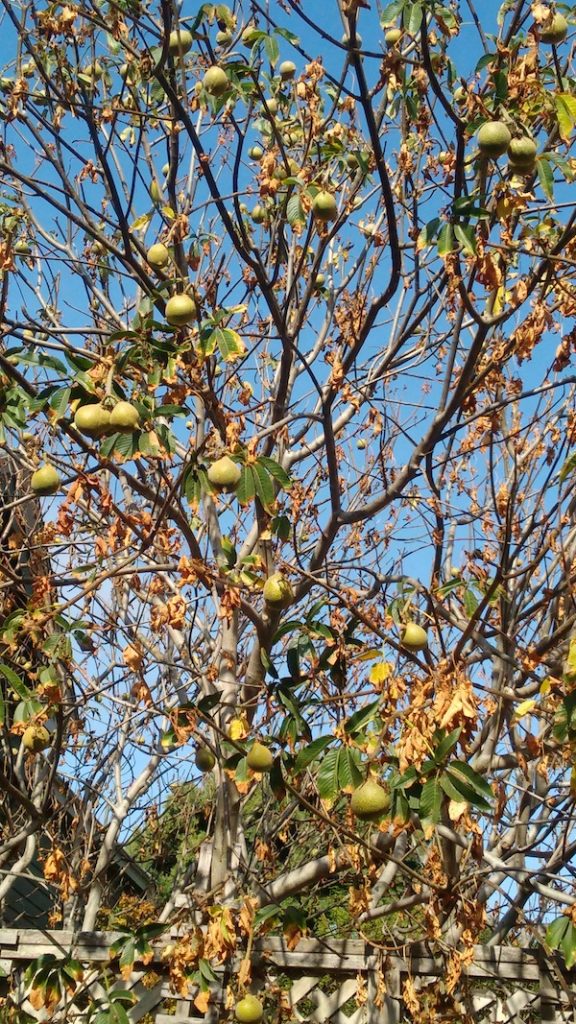 AB writes: "The California Buckeye is one of the first of the year to green up and blossom. Come spring, I'll send you another photo. It is also first to drop its leaves. I recently learned that its blossoms are favored by native bees but toxic to the European honeybee. Alas, I have neighbors with honeybee hives and planted the tree before learning of the plant's toxicity. Admittedly, I have nativist tendencies, but I do like my neighbors personally and applaud their urban beekeeping efforts." I would have thought European honeybees would learn to avoid it. Beekeepers?
* * *
Readers: Water Cooler is a standalone entity not covered by the annual NC fundraiser, now completed. So do feel free to make a contribution today or any day. Here is why: Regular positive feedback both makes me feel good and lets me know I'm on the right track with coverage. When I get no donations for five or ten days I get worried. More tangibly, a constant trickle of small donations helps me with expenses, and I factor that trickle in when setting fundraising goals. So if you see something you especially appreciate, do feel free to click below! (The hat is temporarily defunct, so I slapped in some old code.)
Or Subscribe to make a monthly payment!