By Lambert Strether of Corrente.
Politics
"But what is government itself, but the greatest of all reflections on human nature?" –James Madison, Federalist 51
2020
UPDATE "Beto's consolation prize: Running for president" [Politico]. "Another tall and lanky politician, Abraham Lincoln, ran for president and won after losing two campaigns for Senate." • Squeeee!

UPDATE "Mike Bloomberg and Tom Steyer become kingmakers for Democrats as both billionaires mull a 2020 run" [CNBC]. It would be very nice if Trump were not only "the first billionaire President," but also the last.

"Exit Polls Show Suburbs as Likely 2020 Battlefield" [RealClearPolitics]. "One of the biggest shifts in suburban voting patterns involves married women. In 2016, for the first time since exit polling began in 1980, married women slightly supported the Democratic presidential candidate, 49 to 47 percent. That shift became more pronounced this year with married women supporting Democrats by 54 percent to 44 percent. "Trump's temperament and demeanor has exacerbated the movement of married women towards the Democrats," said Bowman. In 2018 there was also a pronounced education gap, as white college-educated women supported Democrats by a whopping 20 points, 59 percent to 39 percent, whereas white college-educated men supported Republicans, though by a much narrower margin, 51 percent to 47 percent. Republicans overwhelmingly captured white non-college-educated men (+34) and women (+14)." • If you want to appeal to professionals, as Democrats do, and you resolutely refuse to expand your base to include independents and non-voters, as Democrats do, then this strategy makes perfect sense (and is, moreover, quite lucrative, not only from "small contributions" but from the donor class who can be assured that little will change).

UPDATE "McConnell's Winning Long Game Gives GOP Senate Edge for 2020" [Bloomberg]. Only two Senate Republicans facing the voters in two years are running in states won by Hillary Clinton in 2016: Cory Gardner of Colorado and Susan Collins of Maine. Gardner will be the prime target after he oversaw the GOP's campaign committee in leadership this year, while Collins will likely face her stiffest challenge yet after her climactic vote for Brett Kavanaugh's nomination to the Supreme Court and the GOP's tax overhaul."

"'A Red Line Crossed': Nationwide Protests Declared for Thursday at 5PM After Jeff Sessions Fired" [Common Dreams]. • Idea: GoFundMe for Jeff Sessions ZOMG!!!!!!!!!!
2018 Post Mortems
UPDATE The pickups:

.@FiveThirtyEight now estimates Dems have picked up 37 House seats. Of the 18 midterm elections of the past 70 years, this is the 6th largest House seat loss for the president's party. pic.twitter.com/jCERcxrr6x

— Seth Masket (@smotus) November 8, 2018

"Five Takeaways From Democrats' House Triumph" [Dave Wasserman, Cook Political Report]. "1. This was mostly a suburban revolt… Democrats easily swept out most of the Republicans sitting in high-income suburban Clinton districts… well-funded Democrats also broke through in outer, middle-class suburbs that Trump carried by single digits." • Schumer's strategy for the party as of 2016. More: "Indeed, it's the Democrats who look like the more divided party as they assume power in the House. Their newcomers, mostly hailing from swing suburbs, campaigned on healthcare and pocketbook issues, not Russia, tweets or Trump. But the incoming committee chairs, almost all from urban and coastal districts, each have their lists of about 9,000 reasons to investigate the executive branch."

"How'd we do?" [Larry Sabato's Crystal Ball]. "Democrats built their new majority in part by persuading voters in many Republican-held districts carried by Hillary Clinton in the 2016 presidential election to elect Democratic House members. Of the 25 Clinton-won GOP districts, Democrats have won at least 14 and very likely will win several more. But Democrats also will win a similar number of districts won by Donald Trump, including upsets against Reps. Dan Donovan (R, NY-11) on Staten Island and Steve Russell (R, OK-5) in Oklahoma City. Another surprising Democratic win came in Charleston after Rep. Mark Sanford (R, SC-1) lost his primary."

"Lessons of 2018: High turnout doesn't only help Democrats" [Bleeding Heartland]. "Last night I recalled how John Kerry's 2004 presidential campaign set a vote goal of 700,000 for Iowa, assuming that would be enough, since Al Gore had carried Iowa in 2000 with 638,517 votes. Kerry exceeded his campaign's targets in many counties, gaining 741,898 votes statewide. Unfortunately, surging Iowa Republican turnout pushed President George W. Bush about 10,000 votes ahead."

UPDATE "Did America Just Save Itself From the Bad Guys?" [Umar Haque, Medium]. "It wasn't a blue wave. It was more like a blue whimper…. Democrats should have done better than they did. 70% of Americans want things like public healthcare, education, retirement, childcare, and so on — yet if you add up the numbers, only something like 60% of Americans voted for Democrats. To me, the implication is clear. The Democrats would have won bigger if they'd had a clear and resonant plan, not to mention a message, to give people a working social contract. But they didn't — they seem unable to think, much less act, on that level. So this election wasn't so much a victory for the Democrats — who are they? What do they stand for? Is there some unified party platform? What are their values? — as much as it was frustration and anger at Republicans." • Sorry, I didn't have time to finish this. I've got to get ready for the march to support Jeff Sessions.

UPDATE "House Democrats must prepare for brutal trench war" [Ryan Grim, The Week]. • I will be very surprised if the Democrats can walk (do hard work on policy; see the effect of concrete material benefits at "Health Care," below) and chew gum (RussiaRussiaRussia; emoluments; tax returns) at the same time. In fact, it seems to me that they would much rather only chew gum, mouths half open, while endlessly standing in the same spot.

"Does #MeToo Matter? Of 19 State Candidates Facing Accusations, Only 1 Lost" [Governing]. "Since the beginning of 2017, about 75 state lawmakers have faced accusations of sexual harassment or misconduct. Many of them resigned or ended their reelection campaigns, but at least 27 accused candidates were on ballots this year, and 19 survived primary campaigns to run in the general election on Tuesday, according to a Governing calculation…. Among these successful bids is U.S. Rep. Keith Ellison." • The headline is off-point; the 75 – 27 = 48 would clearly say it matters!

"Oakland Rep. Barbara Lee considers bid for House leadership in wake of Ocasio-Cortez win" [Mercury News]. "Lee, who's represented Oakland, Berkeley, Emeryville and Alameda since 1998, has a record as a strong anti-war voice. She was the only member of Congress to vote against the post-9/11 authorization for use of military force, which has enabled America's sprawling war on terror over the past 17 years." • I say go for it, though if we have any readers in Oakland, I'd like to hear their takes.

* * *

Post mortems for individual races:

AZ Senate: "Throwback Thursday: Did Green Party candidate cost Democrats the Arizona Senate race?" [Salon (RH)]. "At this writing, Republican Martha McSally is at 850,043 votes in the race to replace retiring Sen. Jeff Flake, R-Ariz., while Democrat Kyrsten Sinema is less than one percentage point behind at 834,135 votes, with 99 percent of precincts reporting. Green Party candidate Angela Green received 38,597 votes – more than twice the margin between the two major-party candidates." • Green had thrown her support to Sinema in the waning days of the race. But did the Democrats own those votes? Probably not, given the GP reaction: "The AZGP does not endorse the candidates of the corporate ruling class." Nate Silver comments on a similar case in 2016 PA: "But both pre-election polls and the national exit poll suggests that a lot of [Greens] wouldn't have voted at all, if they'd been forced to pick between the two major candidates." • That won't stop Democrat blaming and shaming, of course.

GA Governor: "700 Wrapped Voting Machines Found In A Georgia Warehouse" [Hot Spot Atlanta]. "According to Stacey Abrams camp, Fulton County did not have the adequate amount of machines for voters. They discovered 700 wrapped machines in a warehouse. This evidence is more proof of widespread voter suppression throughout the state."

MD Governor: "Why Ben Jealous Lost the Maryland Governor's Race" [The Intercept]. "Jealous didn't lose because he ran on issues like "Medicare for All," a $15 minimum wage, and legalizing marijuana. In fact, voters in Maryland largely agree with Jealous on his signature policy issues….. The primary reason Jealous lost is that his campaign couldn't pull in the necessary funds to compete effectively. Despite winning 22 out of 24 counties in the state's crowded Democratic primary, the Jealous campaign's own internal polling revealed that as of July, one-third of Maryland voters, and one-quarter of the state's Democratic voters, did not know who Jealous was…. In the Maryland legislature, however, Democrats maintained their veto-proof majority. Republicans had targeted eight Democratic seats and hoped to flip five, but failed. Baltimore's three largest suburban counties will now also be led by Democrats, with Anne Arundel and Howard counties flipping blue."

TX: "Texas Democrats were aiming for historic wins in 2018. What they got instead was hope for 2020." [Texas Tribune]. "Texas Democrats flipped four major appeals courts, taking back majorities in the judicial districts that serve Austin, Dallas and Houston. The 5th Court of Appeals, based in Dallas, has not elected a Democrat since 1992; on Tuesday, the 13-member court elected eight Democrats, including a Democratic chief justice." • And some of the losing judges lost their sh*t–

TX: "Texas judge lets juvenile defendants go in 'wholesale' after losing re-election bid" [USA Today]. "'If I release you, will you go out and murder anybody?' And so, if the juvenile said 'No,' they were released," public defender Steve Halpert told KTRK-TV about the hearing. 'Judge Devlin would never normally ask that question of a juvenile. This was unusual.'" • No doubt pique, instead of a change of heart, but not such a bad policy alternative!

* * *

There's a lot of good news at the state and local level:

"Many states pass campaign finance reform measures during midterms" [OpenSecrets]. AZ, CO, FL, MA, MO, ND, NM, and SD.

"With Jeff Sessions out, will pot payments thrive?" [The American Banker]. "During his time as U.S. attorney general, Jeff Sessions was an outspoken opponent of the legalization of cannabis sales. Now that Sessions has resigned — and states such as Michigan, Utah and Missouri voted in favor of legalization in this week's midterms — legal marijuana is poised to become a growth industry…. Because cannabis remains illegal at the federal level, merchants are largely unable to access the banking system and are precluded from accepting credit and debit cards. However, the U.S. card brands appear eager to move into this market. Just last month, when Canada legalized recreational cannabis sales, American Express, Visa and Mastercard rushed to handle those payments…. Pot stocks rose Wednesday on the news of Sessions' departure."
Realignment and Legitimacy
We write slogans. From alert reader JP:

My wife and I have adopted Tony Benn's line on priorities (for lack of a better word) which reads: "If you can find the money to kill people, you can find the money to help people." We have it on a sign we carried to the Nurses United protest about #MedicareForAll, and conveniently in the NATO counter march a few weeks later…. in Chicago, years back. This morning after watching the (s) election returns, I thought..time for a slight mod..so: "If you can print the money to kill people, you can print the money to help people."

I like that. Somebody tell Bernie.

"Florida! Poor Ballot Design in Broward County May Have Led Voters to Skip Senate Race" [Election Law Blog]. • Groundhog day….

"Cybersecurity Officials Start Focusing on 2020 Elections" [Associated Press]. The lead: "An unprecedented federal and state collaboration to defend election systems against Russian interference ended with no obvious voting system compromises, ." • I can think of at least one reason…

"Supreme Court Justice Ruth Bader Ginsburg, 85, breaks ribs in fall" [CNBC]. "It is not the first time that Ginsburg has fractured her ribs while on the court. In June 2012, Ginsburg fractured two ribs in a fall and did not disclose the injury to the public until months later. The court said at the time that despite the fracture, Ginsburg 'did not skip a beat.' The Brooklyn-native, one of four liberal justices on the nine-member court, has said she plans to serve on the bench until she is 90, and has hired law clerks through 2020."

"The Lies We Were Told" [Mainly Macro]. "The Global Financial Crisis required a strong and quick recovery to avoid the dangers of populism. Austerity prevented a strong recovery, and it was undertaken as a cynical attempt to reduce the size of the state. The subsequent populist mood was directed towards the right by politicians and the media playing on racism and xenophobic fears. This was fertile ground for disasters like Brexit and Trump to happen. This suggests that even if we could go back to the world as it was before Brexit and Trump that is not enough to stop similar disasters happening again."
Stats Watch
Consumer Credit, September 2018: "Consumer credit growth slowed more than expected… below Econoday's consensus range" [Econoday]. "[D]espite strong employment, consumers were cautious in September after splurging a little in August and chose to pay down some of their credit card debt instead. While it may be a plus for household wealth, the thriftiness exhibited is not a plus for consumer spending and the GDP." • Perhaps, for some reason, the month of October is branded in their memory…
Jobless Claims, week of November 3, 2018: "Initial jobless claims are steady near historic lows" [Econoday]. "The unemployment rate for insured workers is unchanged at only 1.1 percent and underscores that of all the elements of the economy, the labor market is arguably the strongest."
Capital Investment: "Reduced Numbers for Combined U.S. & Canadian Industrial Spending" [Industrial Reports]. "[C]ombined U.S. and Canadian planned capital spending reached only $22.81 billion in October compared to September's $64.09 billion… Planned U.S. project spending plummeted in October with $17.04 billion in planned investment compared to the September total of $55.66 billion. Canadian planned investment showed a smaller drop in October with $5.77 billion in spending, down from $8.43 billion in September. Projects in both nations ranged in value from $500,000 to $2 billion."
Shipping: "Rail Week Ending 03 November 2018: Combined Movements Up 2.6% for October" [Econintersect]. "Rail improved this week but the overall rate of growth in 2018 has slowly decelerating."
Shipping: "The cost of a failed delivery continues to rise, survey shows" [DC Velocity]. "[Logistics technology provider Convey, Inc] surveyed more than 1,500 shoppers as part of its third annual consumer expectations study and found that the majority link shipping with brand allegiance. Nearly all of the consumers surveyed (98 percent) said that shipping affects brand loyalty, and 84 percent said they are unlikely to return to a retailer after just one negative experience, a 34 percent increase from 2017, the company said." • Talking their book, but thinking about it, that's how I'd act.
Shipping: "Top carriers have polarised view on scrubbers" [Splash 247]. "Just four of the world's top 12 container carriers have committed to install scrubbers on a significant part of their fleets, according to research carried out by Alphaliner… Of note among the very biggest names in the sector is Cosco and ONE's decision to date to avoid scrubbers and LNG, leaving them to rely on low sulphur fuel options come the January 1, 2020 launch of the sulphur cap."
Transportation: "Bombardier plummets most in three years as hopes dim for turnaround" [Montreal Gazette]. The deck: "Plan to slash 5,000 jobs and sell two businesses for $900 million." More: "The Canadian manufacturer is working off US$9.5 billion in adjusted debt, which was largely incurred as it poured money into two aircraft-development programs plagued with delays and cost overruns. The Global 7500 private jet is set to debut next month, marking the end of the company's heavy investment cycle. Bombardier ceded control of the CSeries passenger plane in July to Airbus SE, which renamed it the A220."
The Bezzle: "Op-ed: Wisconsin Deal With Foxconn Was as Bad as They Come" [Industry Week]. "While the Foxconn fiasco is a particularly egregious example, the whole approach of paying companies to relocate is coming under increasing scrutiny. Lots of cities and states play this game — estimates of total local corporate subsidies range from $45 billion to $90 billion a year. Most of this is in the form of tax credits. The bidding war for what Amazon.com Inc. calls its second headquarters is a prime example. Fundamentally, corporate welfare is a zero-sum game — if all cities and states could simply agree not to give any incentives, companies would still have to put their offices and factories somewhere. What's more, the money often gets wasted…. Perhaps the best approach for state and local governments is to focus on creating the right conditions for businesses to move in, by doing the things that most businesses can't or won't do." • E.g., infrastructure.
Tech: "How to measure Apple's success without unit sales" [247 Wall Street]. "The whole thing is a mystery, and until the company posts the new schedule Luca Maestri promised last week, it will linger like a bad odor over the market. I've been keeping an eye on the Investor Relations website. No sign as of Thursday morning."
UPDATE Tech: "Hundreds of people have taken to Reddit to complain that Apple is 'nickle and diming' them with its new products" [Business Insider]. "A thread on Reddit has hundreds of comments from users complaining about prices for iCloud storage, dongles, and other examples where it feels like Apple has cut corners and pushed costs to consumers." • Removing the replacement nib from the new Apple Pencil. That's really cheesy. $8.98 for a two-pack, for a part it must cost less than a penny to make. No wonder Apple's margins are where they are.
Supply Chain: "A growing number of manufacturers are trying to cut shipping costs and eliminate bottlenecks by making their supply chains much, much shorter. The largest share of manufacturers in at least a decade is spending to expand facilities…, and many are looking to place factories closer to their customers" [Wall Street Journal]. "Propane products maker Ferrellgas Partners LP has added plants in Alabama and California to cut delivery routes and save some $3 million in annual transportation costs, calling the freight savings 'extraordinary.' Window and door maker Anderson Corp. is spending $105 million to build a plant near Phoenix, where it has a growing concentration of customers and suppliers. Creating such clusters is common in big manufacturing operations, but the growing investment in multiple factories suggests many companies believe jammed distribution networks will be here for the long haul."
Supply Chain: "Brexit certainly seems to be building up demand for warehousing in the U.K. London-based goods supplier Associated British Foods PLC is joining the rush of companies preparing to stockpile parts and products in case of post-Brexit shortages…., a potentially costly strategy for the maker of Twinings tea, Primark clothing and Patak's sauces" [Wall Street Journal]. "The 'just-in-case' supply chain strategy is part of the increasingly anxious planning that British companies are undertaking in case the U.K. exit from the European Union comes without an agreement over complicated trading and customs procedures.
Infrastructure: "The time is now for Congress to finally get moving on transportation infrastructure" [Logistics Management]. "[W]ith Republicans continuing to run the Senate and Democrats now in control of the House, the need to meet in the middle to give transportation infrastructure the funding (and attention) truly required, there is no time like the present to get things moving. It benefits all of us, no matter who you pulled the lever for in the voting booth yesterday."
Infrastructure: "Infrastructure outlook brightens with split House, Senate" [The Bond Buyer]. "A new Democratic majority in the House of Representatives could mean an increased chance of a major infrastructure spending package, including a possible return of direct-pay bonds similar to Build America Bonds, according to lobbyists and market participants…. The split control of Congress might bode well for progress on federal infrastructure legislation, because there is common ground between the two parties on that issue. But the issue of how to pay for the agreed-upon spending could keep anything from materializing." • Single party control can't do the job, so split control can? I dunno… I suppose you could argue that both parties will want to show they can govern, and Pelosi did signal bipartisanship, but it's not clear to me that Democrats want to govern, given that hysteria (Sessions; Acosta) switched on after the mid-terms almost as if a switch were thrown.
Mr. Market: "Defense Stocks on Safer Ground After the Midterm Elections" [247 Wall Street]. "24/7 Wall St. has tracked the post-midterm moves of many of the key defense stocks. The major defense stocks were almost unilaterally higher after the results were known. Admittedly, this was after a very solid gain in the Dow Jones industrial average and S&P 500 indexes, but the biggest fears about defense spending were voted on by the equity market as having been largely overblown."
Health Care
Good news:
#MedicareforAll hitched a ride on the blue wave 🏄‍♀️🕶️

AT LEAST 11 more districts are now represented by single payer reps! Please welcome these new cosponsors/districts to our movement! #SinglePayer pic.twitter.com/tFXDlOOMyw

— Healthcare-NOW! (@HCNow) November 7, 2018
All those PA districts. That's encouraging, if PA is a battleground (again) in 2020.
"When Medicaid Expands, More People Vote" [New York Times]. "[N]ew body of evidence that strongly suggests that giving people coverage through expansions of the Medicaid program increases their likelihood of participating in the next election. Medicaid expansions seem to raise both voter registration and voter participation, at least temporarily…. 'We can confidently say: When you expand Medicaid eligibility, participation goes up,' said Jake Haselswerdt, an assistant professor of political science at the University of Missouri, who wrote one of the papers." • Nobody could have predicted that concrete material benefits, especially for the working class, would correllate to electoral success [snort].
Imperial Collapse Watch
"Officials: Ronald Reagan LSD probe bigger than you think, 14 nuke sailors snagged" [Military Times]. "Fourteen sailors from the nuclear reactor department of the aircraft carrier Ronald Reagan face disciplinary action in connection to LSD abuse, Navy officials confirmed this week." • What could go wrong? More Seventh Fleet problems….
Class Warfare
"The Trouble With Uplift" [The Baffler (Hana M)]. "[T]he insistence that disparities of racial access to power are the most meaningful forms of inequality strongly reinforces the neoliberal view that inequalities generated by capitalist market forces are natural and lie beyond the scope of intervention. And second, if American racism is an intractable, transhistorical force—indeed, an ontological one, as Ta-Nehisi Coates has characterized it—then it lies beyond structural political intervention. In other words, Coates and other race-firsters diminish the significance of the legislative and other institutional victories won since Emancipation, leaving us with only exhortations to individual conversion and repentance as a program. This is why, for example, Coates and other proponents of reparations seem unconcerned with the strategic problem of piecing together the kind of interracial popular support necessary to actually prevail on the issue." • Grab a cup of coffee, because this is long. But it's a must-read, the best Reed yet.
News of the Wired
"MacBook Air 13″ Retina 2018 Teardown" [iFixIt]. Bottom line: 3/10 on repairability. And: "Soldered, non-serviceable, non-upgradeable storage and RAM is a serious bummer on a $1,200+ laptop."
"The Golden Age of Amateur Radio" [KE6MT]. "I'll probably write more about this in other posts, but I believe that we are indeed in the midst of a golden age for amateur radio. Never before have we had such easy access to information, parts and kits needed to get on the air and to experiment. From microcontrollers to easily available parts and information, never have there been more possibilities for experimentation. With ingeniously-designed inexpensive kits, it's easier than ever to get on the air. Whether it's VHF/UHF, HF, microwave, or all of the above—if you're interested, you can do it. I'm not the first person to say this. My friends over at the Ham Radio Workbench podcast have talked about it several times. On top of all that, if you look in the right places, the "ham spirit" is alive and well. There are people that will go out of their way to help you explore this great hobby. I've had the good fortune to meet several of them. I try to pay it forward whenever I can." • It would be handy if data could be transmitted too, at least to 1995-style HTML standards but I'm guessing bandwidth is far too low.
* * *
Readers, feel free to contact me at lambert [UNDERSCORE] strether [DOT] corrente [AT] yahoo [DOT] com, with (a) links, and even better (b) sources I should curate regularly, (c) how to send me a check if you are allergic to PayPal, and (d) to find out how to send me images of plants. Vegetables are fine! Fungi are deemed to be honorary plants! If you want your handle to appear as a credit, please place it at the start of your mail in parentheses: (thus). Otherwise, I will anonymize by using your initials. See the previous Water Cooler (with plant) here. Today's plant (MG):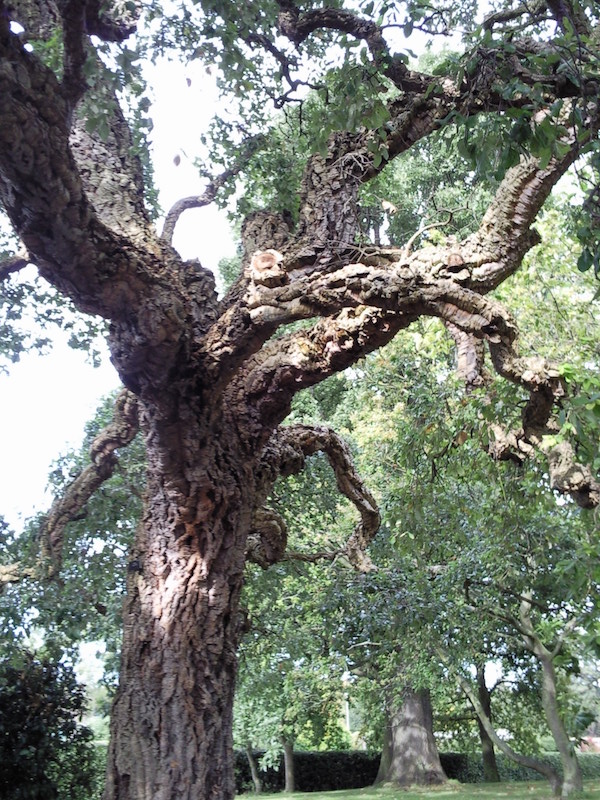 A "cork oak" from the Botanical Garden in Dublin, Ireland.
* * *
Readers: Water Cooler is a standalone entity not covered by the annual NC fundraiser, now completed. So do feel free to make a contribution today or any day. Here is why: Regular positive feedback both makes me feel good and lets me know I'm on the right track with coverage. When I get no donations for five or ten days I get worried. More tangibly, a constant trickle of small donations helps me with expenses, and I factor that trickle in when setting fundraising goals. So if you see something you especially appreciate, do feel free to click below! (The hat is temporarily defunct, so I slapped in some old code. The form below should work.)
Or Subscribe to make a monthly payment!