For carrying-on an undertaking of great advantage but no-one to know what it is  – South Sea Company brochure
Theresa May has finally managed to cinch a draft Brexit agreement with the EU's negotiation team. But no text of the agreement has bee released; presumably that will happen shortly after Question Time at noon and the 2:00 PM Cabinet meeting in which May hopes to secure the approval of her ministers.
Since we don't know precisely what is in the magic box, and leaks about it are somewhat at odds, it seems unproductive to speculate when we'll know more soon. It does appear, and this is no surprise, that Northern Ireland will be subject to EU laws and regulations. How subject isn't quite clear, but it's more than enough for that alone to put the DUP and the Ultras in uproar. There is also talk of the UK remaining not in a "customs union" but a "customs arrangement" until it gets a trade deal with the EU. Since that could wind up being never, that sounds as if it could run afoul of WTO rules.
We have no idea if this Financial Times summary will prove to be fully accurate once the package is unsealed, but here is its summary of key points:
Many EU member states were surprised at the inclusion of a full customs union in the withdrawal agreement and wanted guarantees in return that would prevent unfair competition from Brexit Britain. One official from a northern member state said: "The Brits won half a foot in the internal market, with duty and quota-free access. We need [conditions] to balance that off."

With that in mind, Mr Barnier inserted into the draft text some of the most severe restrictions placed on any country outside the single market.

This includes the UK abiding by the EU's competition and state-aid rules, even if they change in future, and paying due regard to European Court of Justice rulings in this area.

So-called non-regression clauses are also included in the agreement, which sets a floor on environmental rules, labour policy and taxation. This would bind London to existing policies that are deeply unpopular with some Conservative MPs, including the working-time directive and targets for renewable energy.
Um, this sounds like a half-pregnant Brexit, not a BINO, but enough of a dog's breakfast as to be unsatisfying to everyone. May is relying even more than one would have anticipated on her handiwork as being deemed the lesser evil relative to a crash out.
And it is possible that enough of May's Cabinet revolts to send her back to the negotiating table, which may be the reason for being secretive about the draft. No point in letting MPs see the text if the most in the way of further changes would be artful optics. UK political procedure is above my pay grade, so I hope UK readers will advise us Yanks as to how much Cabinet opposition May could withstand. And would it matter who defected? Would, say, a departure by her Brexit minister Dominic Raab do more damage than the exit of several less prominent players?
Even though Mr. Market liked the announcement of a deal, it wasn't just the usual suspects who were up in arms about it. Jeremy Corbyn said the agreement was "unlikely to be a good deal" and Labour would oppose it if it failed the party's six tests. Lib Dem chief Sir Vince Cable stated "a majority will be hard or impossible to secure for what she has come up with". By contrast, the Irish government is playing mum for now, letting this round of UK infighting run its course.
Now it may be that the upset settles down to sullen resignation by enough MPs for May to get her agreement approved by Parliament. But a new obstacle is that the Blairite MPs, who May could have hoped to peel off to compensate for the opposition of the DUP and whoever of the 50 Stand4Brexit signatories who were willing to live up to the big talk, have been moving to more and more vocal opposition. Even though a Second Referendum seems unlikely to get done, they are putting their weight behind that. Of course, the real objective is to get a Labour government. The Tory loathing of Corbyn would seem to make that unlikely, but what happens if May's plan is voted down in Parliament? How does her Government continue? Even though the Fixed Term Parliaments Act would say that it takes more than that, this would be a defeat of epic proportions.
Another factor is the response of the press barons. A reader pointed out that the Daily Mail, one of the influential papers, now has a pro-Remain editor and that might lead it to provide May with some support. So far, that isn't happening: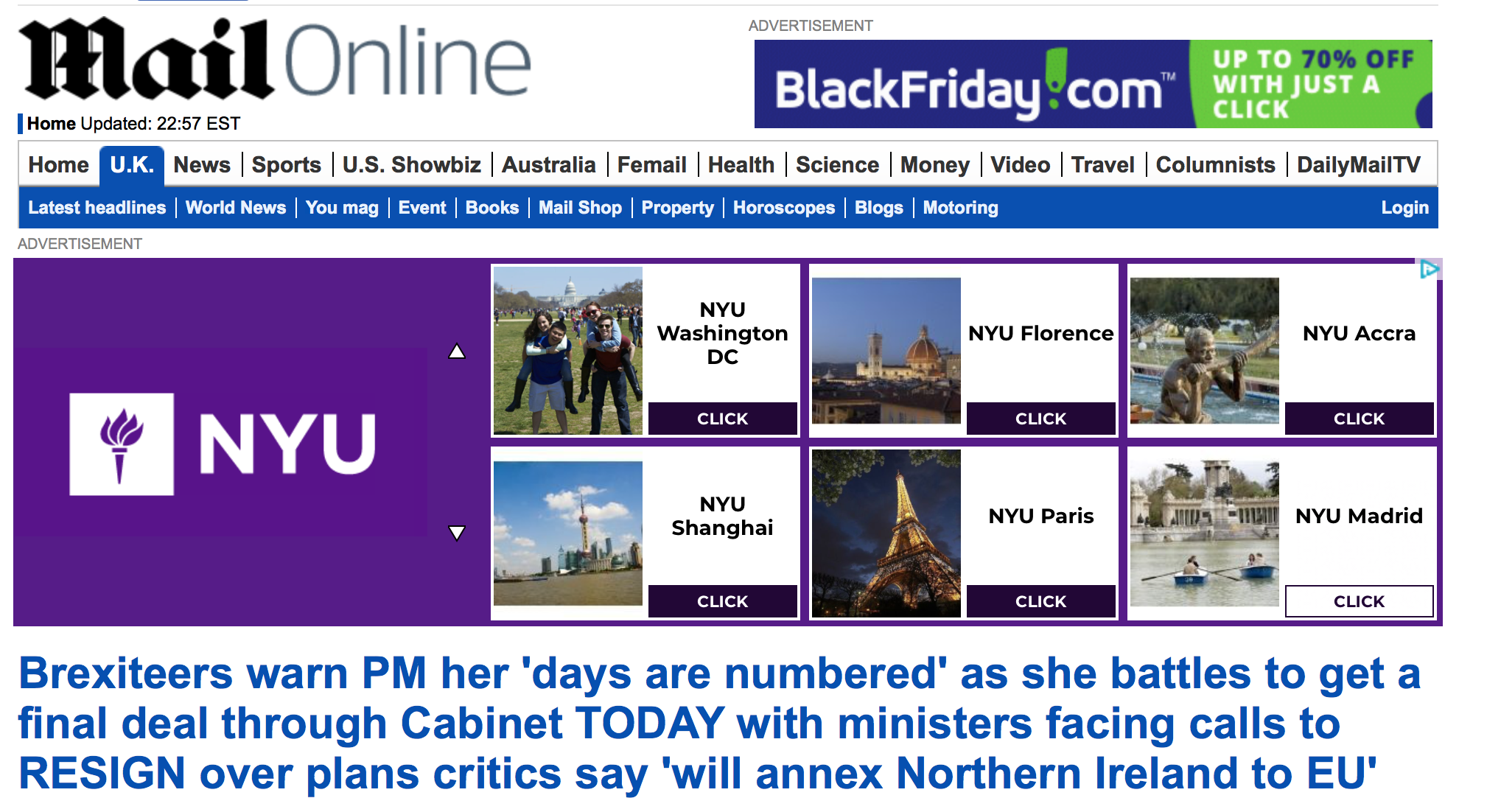 The Torygraph is Not Happy: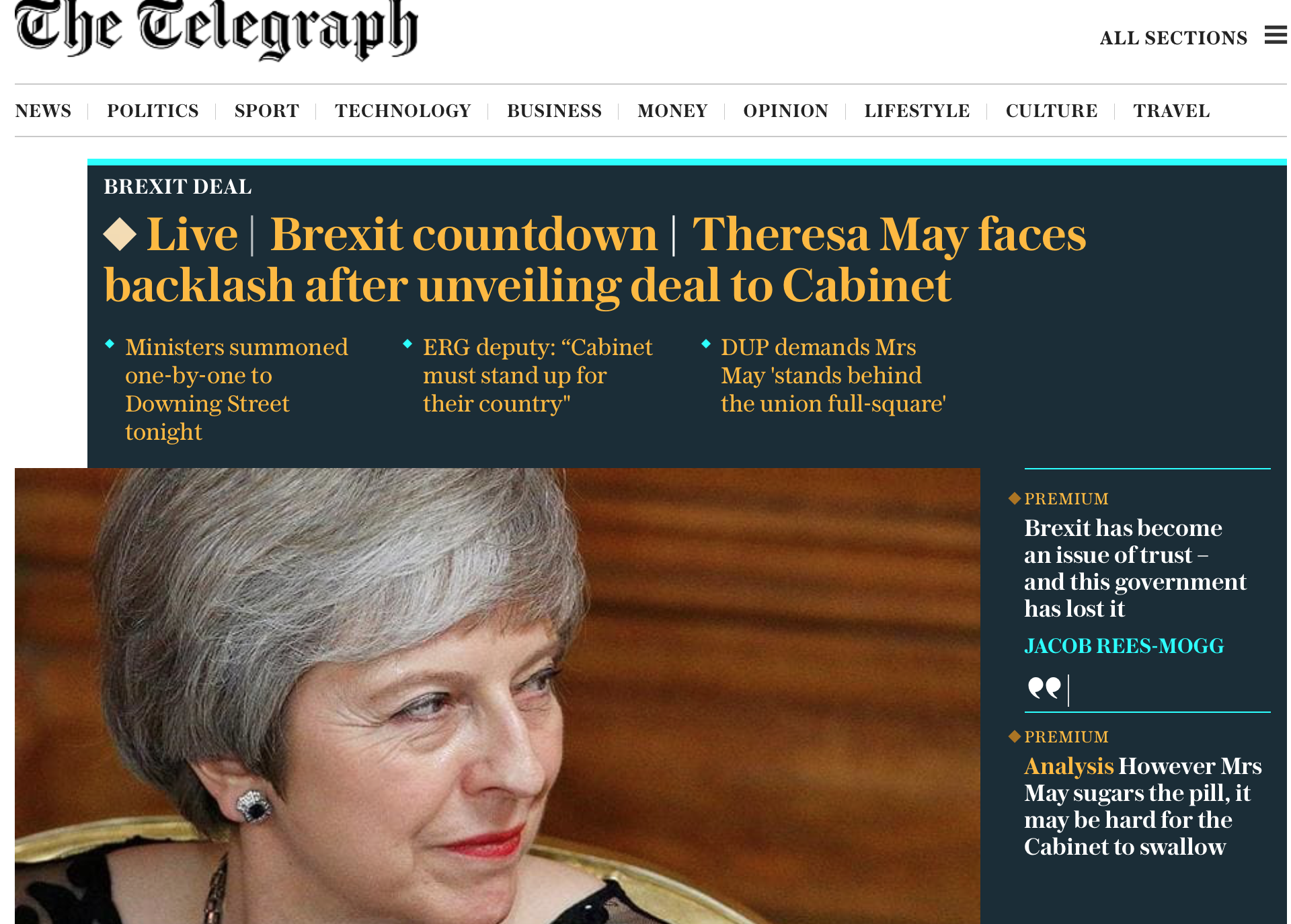 The Sun, another important voice, is piling on: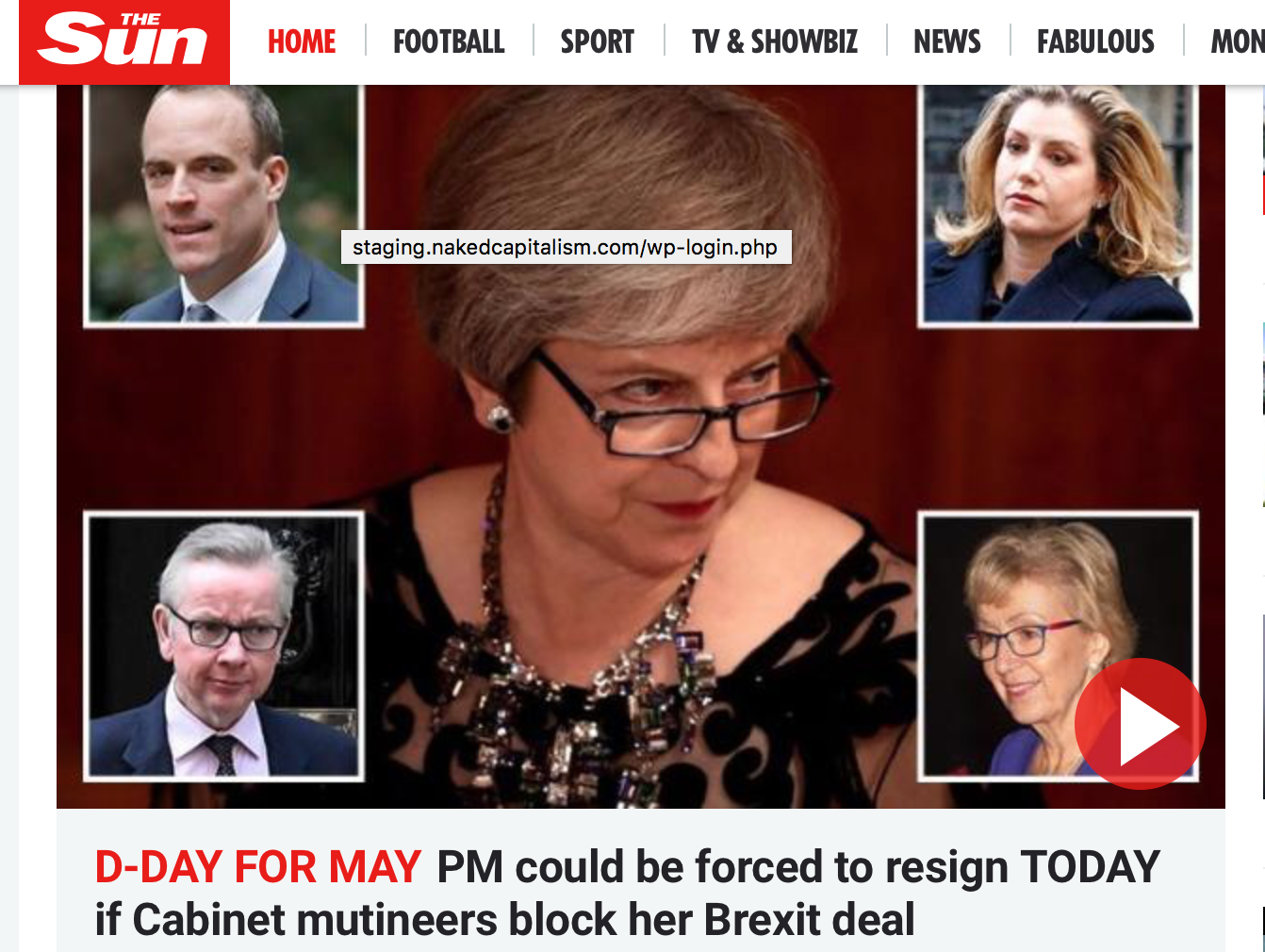 But will the nay-sayers rebel? The Financial Times sounds a more cynical note:
Mrs May hopes that some nine Eurosceptic ministers, some of whom have made known their misgivings about the prime minister's Brexit strategy, will finally accept the need to agree a deal in spite of its flaws.

Hardline Brexiters pleaded with ministers to quit but Iain Duncan Smith, the pro-Brexit former Tory leader, acknowledged that a mutiny by Eurosceptic cabinet ministers might be limited, saying that their "spines do not yet meet their brains".
One thing that has kept May in place despite the many times she's been predicted to be a goner is that there has been no viable challenger. The split between the hard and soft Brexit factions has meant the party would not rally around the leading figures from either wing. And it isn't clear that anyone want her job. The logical time to oust May would have been at the September Tory conference, and the Ultras were less stroopy than usual. So it isn't clear that Cabinet resignations would do her in. She theoretically has time for one more go at negotiations before the December EU Council meeting.
We'll know much more 24 hours from now, so stay tuned.
Update: Clive caught the BBC report:
Addressing the press, Theresa May says "the draft withdrawal agreement was the best that could have been negotiated."

"The collective decision of the cabinet was that the government should support the draft withdrawal agreement."
From the same live reports:
Mrs May said it was a collective Cabinet decision, which leaves scope for resignations from those who don't agree with the collective decision. We'll see.

— Andrew Neil (@afneil) November 14, 2018
Key message from PM; it's this, no deal or no Brexit.

Others disagree…

— Nick Eardley (@nickeardleybbc) November 14, 2018
Again, the draft has not been released yet, so we and more important, MPs and EU27 leaders have to see what is in it.