By Gaius Publius, a professional writer living on the West Coast of the United States and frequent contributor to DownWithTyranny, digby, Truthout, and Naked Capitalism. Follow him on Twitter @Gaius_Publius, Tumblr and Facebook. GP article archive  here. Originally published at DownWithTyranny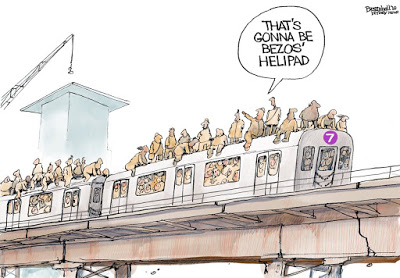 Andrew Cuomo's priorities (source)
The world's leading monopolists, Jeff Bezos and Amazon, after much thought (or in fact, very little thought) have picked two cities for their new HQ2, their second national headquarters. Those two cities, of course, were the obvious choices from the start, the only two that made any sense at all.
If you were the world's richest greediest person, looking to re-headquarter what aspires to be the world's most powerful monopoly in cities with prime access to the nation's greatest concentration of money and its greatest concentration of power, in which cities would you build?
New York City and Washington, DC, of course.
Amazon Plans to Split HQ2 Between Long Island City, N.Y., and Arlington, Va.

SEATTLE — After conducting a yearlong search for a second home, Amazon has switched gears and is now finalizing plans to have a total of 50,000 employees in two locations, according to people familiar with the decision-making process.

The company is nearing a deal to move to the Long Island City neighborhood of Queens, according to two of the people briefed on the discussions. Amazon is also close to a deal to move to the Crystal City area of Arlington, Va., a Washington suburb, one of the people said. Amazon already has more employees in those two areas than anywhere else outside of Seattle, its home base, and the Bay Area.

Amazon executives met two weeks ago with Gov. Andrew M. Cuomo in the governor's Manhattan office, said one of the people briefed on the process, adding that the state had offered potentially hundreds of millions of dollars in subsidies. Executives met separately with Mayor Bill de Blasio, a person briefed on that discussion said. Long Island City is a short subway ride across the East River from Midtown Manhattan.
The announcement of Amazon's new HQ2 sparked a "frenzied bidding war" among cities eager to be taken to the cleaners by Bezos and his company, and there are dozens stories about those offers, all cast as outrages. For example, one of the losers — Atlanta, Georgia — offered this:
What Georgia offered Amazon: A state-funded academy to train its employees. An exclusive lounge – with free parking – at the world's busiest airport. A dedicated car on MARTA. And more than $2B in publicly-funded incentives. #gapol https://t.co/cyG7ME6qhN

— Greg Bluestein (@bluestein) November 14, 2018
The winners were not the highest bidders, but nevertheless, they offered quite a bit more, beyond mere privileged access to the world's greatest pool of money and its most plentiful supply of corrupt politicians.
New York is giving, among other things, massive capital gains tax cutto Amazon investors … and, of course, a helipad. Arlington, Virginia added something more politically useful, advance warning of FOIA requests so the company could file for pre-emptive "protective orders."
But the biggest prize in this story is the data delivered to Amazon itself by everyone involved in the bidding process. Keep in mind, 238 states, provinces and cities sent bids to Amazon. Here's what those bids contained:
The big prize #Amazon has gotten out of its #HQ2 stunt is not the PR value of a bunch of city leaders singing its praises, or even the billions of $ in subsidies that it will extort from public coffers.

It's the data. 1/

— Stacy Mitchell (@stacyfmitchell) November 6, 2018
Dozens of cities have shared reams of data with Amazon that their own citizens do not have access to. This includes intel on future infrastructure investments, land use patterns, planned policy changes, and so on. 2/

— Stacy Mitchell (@stacyfmitchell) November 6, 2018
Amazon will use this data to build out its empire: To site stores, warehouses, etc. To get in early on the right real estate. To beat out competitors because it knows things they don't. 3/

— Stacy Mitchell (@stacyfmitchell) November 6, 2018
In other words, America's city leaders are accomplices to a monopolist. 4/

— Stacy Mitchell (@stacyfmitchell) November 6, 2018
This includes many political leaders who profess to be champions of equality and justice. 5/

— Stacy Mitchell (@stacyfmitchell) November 6, 2018
This is not about 1 city or 2 cities. It's about a corporation that's extending its tentacles in every direction — to extract wealth, insert itself, dominate. 7/7

— Stacy Mitchell (@stacyfmitchell) November 6, 2018
Amazon exists, not just to sell its products, but to acquire data that gives them monopoly control of additional markets in which it has no current presence. More from David Dayen writing at In These Times:
But the biggest suckers on HQ2 aren't New York and Virginia; it's the other 236 cities that bid on a headquarters they were never going to get. Those bids didn't just include the size of the bribe; they included a wealth of important data about plans for transportation, housing, education and workforce development. Amazon now has a treasure trove of non-public informationabout America's future, in addition to knowing how much cash cities are willing to part with to land an Amazon facility. And it got all that, along with a giant PR benefit from the bidding war, for free.

If you knew a city was going to build a road in a particular place, you could make a lot of money buying up the real estate there. Imagine that on a national scale and you can see how Amazon will grow far wealthier from the data it collected than even the raw dollars extracted from HQ2's big winners. In fact, this was the real reason Amazon orchestrated the whole charade….

It can even potentially sell this data to other companies who long for similar deals, or at least start up a new business line in negotiating deals between companies and municipal governments.

Monetizing of this new data trove will yield untold billions of dollars in value. It will also embed Amazon deeper and deeper into American life, committing politicians at the state and federal level to become human shields for the company. For example, no senator from New York or Virginia, with Amazon in its backyard, will want to speak too loudly about Amazon's monopoly attempts. And no mayor or city council member, eager to secure that next warehouse, will have much to say either. [emphasis added]
There's no question that Amazon is evil. The only question is, was it born evil? To answer that, consider this Jeff Bezos story from 1995, the year after Amazon's birth: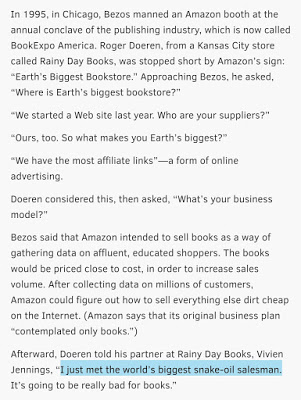 Was Amazon born evil? The answer appears to be yes.