Scientists Warn That World's Wilderness Areas Are Disappearing New York Times
'We've never seen this': massive Canadian glaciers shrinking rapidly Guardian (Kevin W)
Startling new research finds large buildup of heat in the oceans, suggesting a faster rate of global warming Washington Post
Neanderthal teeth reveal lead exposure and difficult winters ars technica (Kevin W)
Does Anybody Really Know What Time It Is on Daylight Saving Debate? National Conference of State Legislatures (UserFriendly)
Lime recalls thousands of scooters after reports of some catching fire Business Insider
Third of Britons have stopped or reduced eating meat – report Guardian (furzy)
How do you move a bookstore? With a human chain, book by book MPR (Chuck L)
Experimental AI lie detector will help screen EU travelers engadget. Institutionalizing bad science. Microexpressions have been debunked as a way to catch liars.
THE AVERAGE CABLE BILL IS NOW $107 A MONTH, UP MORE THAN 50% SINCE 2010 Streaming Oberver
Spinal implant helps three paralysed men walk again BBC
From Politico's European newsletter:
SEXINESS ALERT: We'll be talking bad, sour, "non-performing," or whatever else you want to call them, loans for a bit, so read on. EU ambassadors agreed Wednesday on the size of the buffers that banks need to hold on their balance sheets against non-performing loans. In effect, Council agreed on a negotiating position for new rules that will oblige banks to fully cover loans that have gone bad after seven to nine years if there's anything of value (read: real estate) as collateral, and after three years if not. That's a concession by the hawks — the Commission proposal foresaw stricter rules.

Why it matters: In the words of Austrian Finance Minister Hartwig Löger, returning "trust and confidence in our financial system" requires "solid prudential rules and effective monitoring tools. Today's agreement is a significant step toward delivering on these two objectives and ultimately strengthening our banking union."

Now why it really matters: There's a long way to go before the EU can reach an agreement on Macronite calls to further integrate the eurozone. The first step in the risk-sharing direction (and a political precondition set by Germany and the Nordics) is risk reduction in the banking system.
Brexit
No 10 insiders suggested that it was "very premature" to be talking about the future trading relationship but did not rule out that the future of financial services was being discussed. Others dismissed reports in the Times and on the financial wires as "unsubstantiated rumours".
US attacks UK plan for digital services tax on tech giants BBC (Kevin W)
New Cold War
Cold War' Takes New Meaning for U.S. Marines at a NATO Exercise New York Times (furzy)

U.S. Plans Sanctions to Target Venezuela's Gold Exports Wall Street Journal (Kevin W)
Syraqiatan
Paper Cuts: The American President and the Prince of War – Pogo. Kevin W: "The real value in this article is in the two embedded documents by Erik Prince."

Yemen – After 200,000 Died An Embarrased U.S. Finally Calls For Negotiations Moon of Alabama

Authorities probing immigrant Saudi sisters' mystery deaths Associated Press
Big Brother is Watching You Watch
Beware: China may be reading your email Asia Times

New Technology Out Of MIT Could Detect Mass Shooters Forbes (David L)

Turkey's Erdogan inaugurates 'world's largest airport' in Istanbul Independent. Bill B: "22,000-camera surveillance system." Compare this against Chicago's 30,000 cameras.
Trump Transition
Defense Secretary Mattis On Doubling Troops At The Border: 'We Don't Do Stunts' Huffington Post

Fox News Incites Domestic Political Violence More Than Trump Intercept (furzy)
OSCE watcher talks suppression, press safety in US midterms DW
How Stupid Do Stacey Abrams, Lucy McBath, and Most Progressive Democrat Congressional Candidates Think We Are? Black Agenda Report
Outrage after English village used in pro-Trump election ad Guardian
Seven Rules for Running a Real Left-Wing Government Ian Welsh (UserFriendly)
Seema Verma tweet: 'Scariest Halloween costume' is Medicare for all USA Today. UserFriendly: "Shoot me."
How to Have a Mail-Order Abortion Medium (Dr. Kevin)
San Francisco's planned $8 billion neighborhood has a radioactive past, and it may put people at a higher risk of cancer than experts thought Business Insider (David L)
Gunz
Guns Send over 8,000 US Kids to ER Each Year, Analysis Says Associated Press (furzy). Here's the study: Trends in the Incidence of and Charges Associated With Firearm-Related Injuries Among Pediatric Patients JAMA Pediatrics
Black Injustice Tipping Point
Woman declaring 'I'm white and I'm hot' fired from job after harassing two black women in North Carolina parking lot NBC
Facebook warned Wall Street that it's going to spend a lot of money fixing problems that can never be fixed – Business Insider (Kevin W)
Waymo gets first California OK for driverless testing without backup driver Reuters. EM:
God, I am so glad I finally moved out of the South Bay this past summer – the farther away from bloody Google HQ, the better. Isn't it interesting that they're not first doing, say a yearlong pilot program in which the cars face realistic driving conditions but are restricted to the Google campus? A couple TechBros getting creamed by a WayMo AV might send a much-needed message to the Geek Overlords at Google.
More than 200 UK shopping centres 'in crisis' BBC. Clive: "PE (still…) being the dumb money in the room.
U.S. top court wary of limiting company power to arbitrate disputes Reuters (EM)
Americans Are Willing to Forgo a 56% Pay Raise for Best Job Perks Bloomberg
Class Warfare
Minnesotans Say Amazon Warehouse Endangers Small Community Shadowproof. UserFriendly: "LOL that is a reasonably well off suburb. Since when is Amazon moving to nice suburbs?"

These Candidates Want to Eliminate Your Student Loan Debt Vice

This should be used a lot when debating MMT

Japan has an unemployment rate of 2.3% way better than both the UK and the US.

So what is there inflation rate when their unemployment rate is so low and basically at Full employment ? pic.twitter.com/agJDC63D4i

— Abba P. Lerner (@Moneymonopolist) October 31, 2018
Antidote du jour. Crittermom:
The Cedar Waxwings stopped in today to join the Robins eating the fruit off the tree.
It's the first time I've seen them in this state since moving here almost 7 yrs ago.
It seems appropriate that they were migrating through today wearing their black masks–since today is Halloween.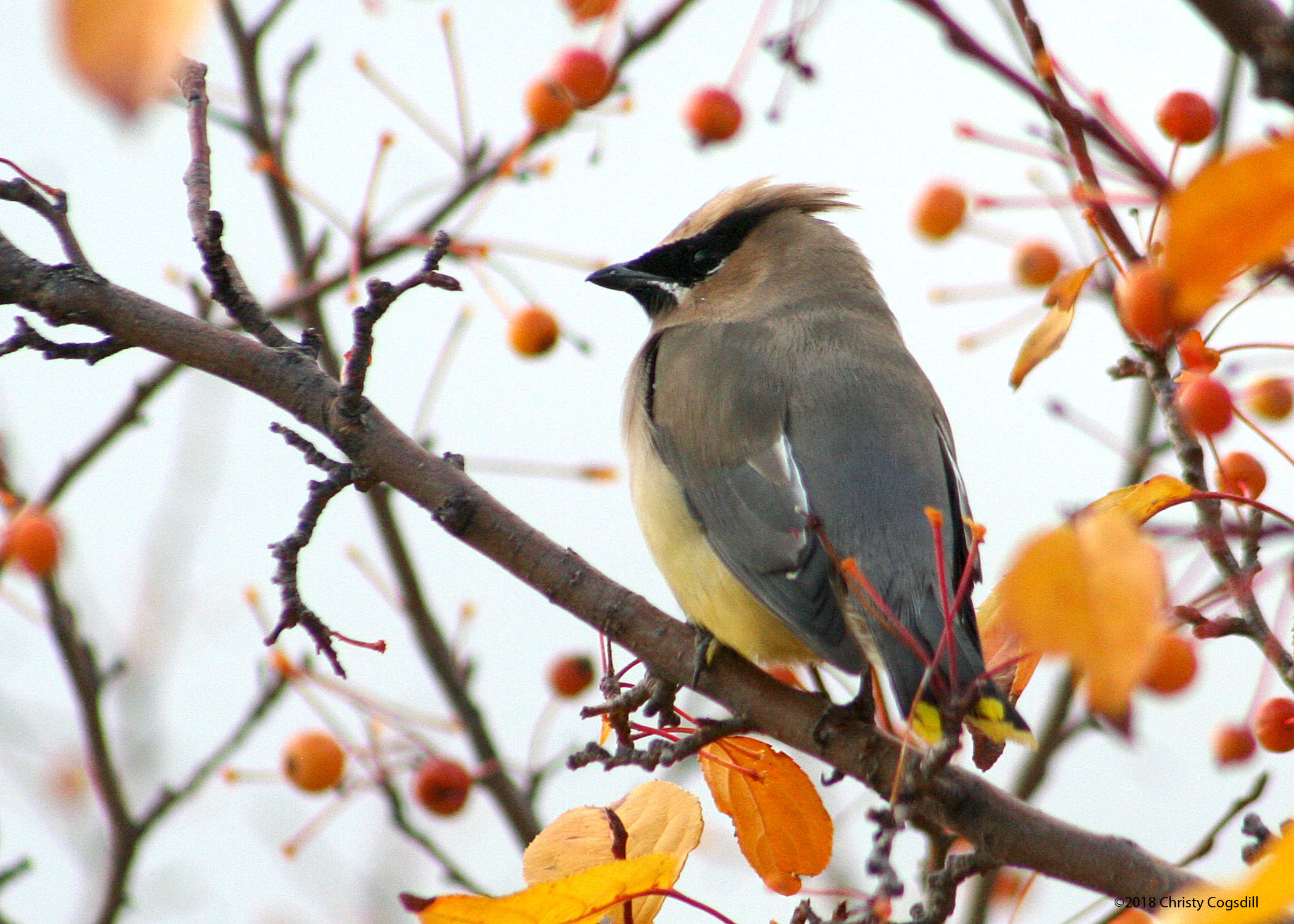 And a bonus (Ron A):
WATCH: A Crimean safari park unveiled three rare white Bengal tiger cubs pic.twitter.com/glsth9653Z

— Reuters Top News (@Reuters) November 1, 2018
See yesterday's Links and Antidote du Jour here.