Dear patient readers,
Apologies for the lack of original posts. Nothing seemed inspiring….save Brexit as a case study of mass delusion, but I think you have had enough rubber-necking for now.
NASA InSight nails Mars landing after scary six minutes CNET
An audacious new plan will make all science free. Can it work? New Scientist (Dr. Kevin)
Lawmakers introduce bill to stop bots from ruining holiday shopping CNET
China?
Trump says he will proceed with Chinese tariff escalation Politico (Kevin W)

Trump suggests US could slap 10% tariffs on iPhones and laptops imported from China CNBC

Amnesty International To Stage Worldwide Protests Against Google's "Dystopian" Censored Search for China Intercept
Health effects of diesel 'cost European taxpayers billions' Guardian
Brexit
Media indicator of sorts: Had to scroll WAY down on UK edition of Daily Mail to find any Brexit news, and the big story (across 2 columns) was Trump dissing the deal. And four one-column stories later, this two column piece: Theresa May is mauled from all sides of the Commons for two hours as she begins two-week drive to save her Brexit deal – but it takes an HOUR before an MP speaks up to back her plan. Plus she was wearing very nice pearls, as opposed to her dramatic, bigger scale, and constantly changing necklaces

Trump says Brexit deal may damage UK-US trade Financial Times (Kevin W). Normally Trump saying anything bad about a foreign country's plans is a boost for the proposal, but getting a US trade deal has been a magic sparkle pony alternative to a worsened trade relationship with the EU.

Theresa May warned not to rely on Labour MPs' Brexit votes as chief of staff sent on mission to woo them Telegraph. Key tidbit:

….it emerged that a Downing Street task force set up to save Brexit is already resigned to losing the vote on the deal, and is engaged in damage limitation. Aides reportedly believe that if Mrs May loses the vote on December 11 by more than 100 votes she will have to resign immediately, but if the losing margin is lower than 100 she will battle on and try to win a second vote.

Debate with Corbyn set for Dec 9.

Markets Won't Come to the Rescue In a Brexit Crisis Bloomberg (boz)
Germans & Americans 'worlds apart' in outlooks DW
New Cold War
Leaked Transcript Proves Russiagaters Have Been Right All Along Caitlin Johnstone (UserFriendly)

Haley Calls Russia Reckless in Tense Standoff With Ukraine Wall Street Journal

I'm not up on current figures, but at the time of the, um, unconstitutional regime change in Ukraine, about 1% of the population in the western part of the country were members of neo-Nazi parties, but about 15% of government agencies had neo-Nazis appointed to head them. And I saw George Soros say to an INET gathering in Paris (this was a formal session, with Chrystia Freeland interviewing him) that he was proud that his Open Society had funded every member of the new government with grants, either directly or to their spouses.

One can't help notice that there is an enormous amount of sympathy and even affection among US media and DC think tank circles for a government that has clear, systemtic & deeply ominous ties to actual Nazi groups & neo-Nazi factions https://t.co/73CjVaNtSa

— Glenn Greenwald (@ggreenwald) November 26, 2018
Syraqistan
In Syria's Idlib, Islamists see classrooms as a new front Asia Times

With Peace Talks on the Horizon, Saudis Defy Truce to Redouble Deadly Strikes on Yemen's Civilians MintPress

One of the most underreported aspects of the war in Yemen is that on top of starving tens of thousands of children to death, the US and its gulf allies have effectively teamed up with Al Qaeda. If only this got the same level of attention as the murder of Khashoggi. https://t.co/WxmnGSUfxS

— Rania Khalek (@RaniaKhalek) November 27, 2018
Big Brother is Watching You Watch
First UK police force to try predictive policing ends contract Financial Times (David L)

IBM CEO Joins Apple in Blasting Data Use by Silicon Valley Firms Bloomberg

Your Credit Score Isn't a Reflection of Your Moral Character Slate
Trump Transition
Border melee ups ante on shutdown The Hill

Donald Trump rejects his own government's report on climate change abc.net.au (Kevin W)
The Health 202: Obamacare enrollment is lagging, despite cheaper options Washington Post
The anti-Nancy Pelosi forces just admitted defeat CNN
Politically connected Syracuse group flips NY marijuana license for pot of gold Syracuse. Bob: "Cuomo and his best repub buddy Mahoney neck deep in securing and flipping a marijuana license to several other layers of small time political pick-pockets."
From dougie: "Well, I like a man who knows where he stands":
Thanks to these Texans from AIPAC for coming by today. Productive conversation on the current security situation in Israel and how the United States can continue to support our important ally in the region. pic.twitter.com/vcHDw9di3I

— Rep. Beto O'Rourke (@RepBetoORourke) September 6, 2018
The Proud Boys Are Imploding HuffPost (furzy). Quite frankly, never heard of them, but the Vice connection seems important.
Black Injustice Tipping Point
Alabama police offer new explanation for shooting wrong man BBC. Local demonstrations again today, this time tying up local freeways (the mall where the shooting happened is very upscale and near the junction of two freeways)
Fake News
Who Will Fix Facebook? Rolling Stone (UserFriendly)

Facebook's Sheryl Sandberg Is Tainted by Crisis After Crisis Bloomberg
An immensely useful resource launched by @openmarkets today: https://t.co/amsT6CFnt8, a site documenting concentration levels. This information is vital for understanding our political economy, yet in recent times hasn't been freely & easily available to the public

— Lina Khan (@linamkhan) November 26, 2018
GM shuts down 7 plants, drawing rebuke from Trump Financial Times. FWIW, an auto industry supplier who came to the Birmingham meetup said pretty much all of her customers have doubled their orders. Makes no sense to her. Customers mainly international majors.
GM to slash up to 14,000 jobs in North America; 7 plants could close as part of restructuring Associated Press
After Wasting $14 billion on Share-Buybacks, GM Prepares for Carmageddon & Shift to EVs, Cuts Employees, Closes 8 Plants Wolf Street (EM)
Capital-Spending Slowdown Flashes a Warning for 2019 U.S. Growth Bloomberg
Owner of failed nuclear plant might use golden parachute fund in settlement ars technica (Kevin W)
Supreme Court Appears to Lean Heavily Against Apple's Defense of Its Walled Garden Gizmodo (Kevin W). I hate hate hate the Apple Store. I have a warranty on my laptops (the Apple warranty are one of the few in tech land worth the $) and even with paying hard $, Apple require customers also to have an Apple Store account to get service. These are not the issue at trial but indicate how aggressive Apple is in forcing customers who may have bought equipment from independent vendors to register on and use the Apple Store.
Could Oil Prices Fall To $40? OilPrice
Gulf between Renault and Nissan widens after Ghosn arrest Financial Times. One tidbit, and I confess I can't recall if I saw it in the pink paper or Bloomberg, which makes the Japanese position more credible, is that Ghosn had put his older sister on a $100,000 a year contact for which she allegedly had never done any work. Even though this is chump change, it bolsters the idea that Ghosn didn't draw the right lines between company money and his money.
Bitcoin Plunges to $3,738; Whole Crypto Scam Melts Down, Hedge Funds Stuck Wolf Street (EM)
The U.S. Housing Boom Is Coming to an End, Starting in Dallas Wall Street Journal. Having visited Dallas yearly for ~5 years running, even with my very limited contact, it was evident a land rush was underway, due to it being cheap on a national basis + low state taxes, which led some companies to put or expand operations there. And the article centers on Plano, where the boom was particularly evident.
Class Warfare
Poverty in America: Greater Than Statistics Indicate Bloomberg (UserFriendly). Important.
Bake Sales Can't Fix This: Corporate Tax Cuts Leave Public Schools Desperate Truthout
Goldman Sachs financed a deal that got special treatment in the tax code for backing real estate in low income areas.

The neighborhood where they did the deal: Long Island City.

And the deal closed the exact same day as Amazon's HQ announcement. https://t.co/6tFKnYK3T1

— Joe Weisenthal (@TheStalwart) November 26, 2018
Antidote du jour. Tracie H: "No, not Friskies. TREATS. Please."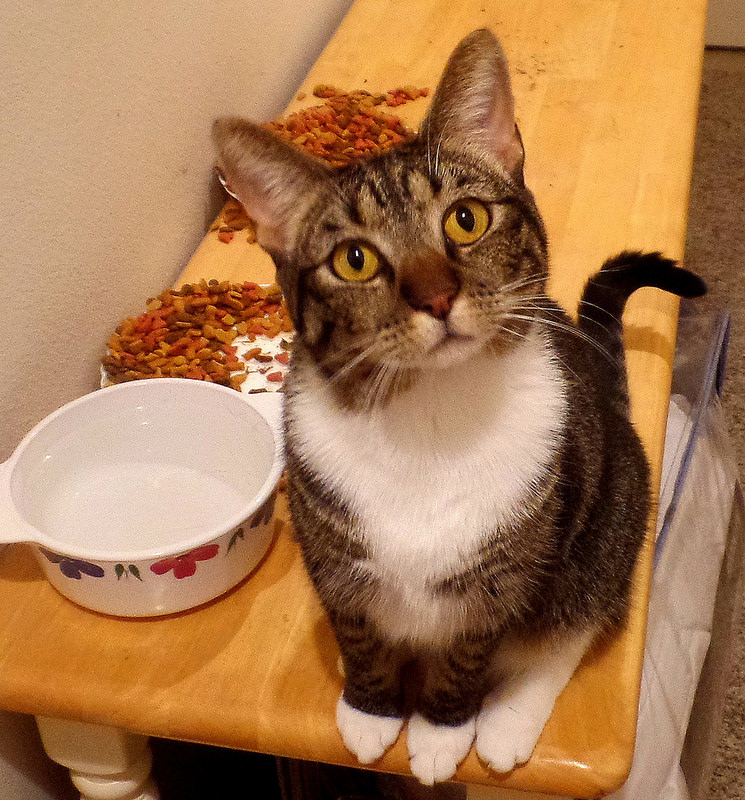 And a bonus video (Kevin W):
See yesterday's Links and Antidote du Jour here.