By Lambert Strether of Corrente.
Trade
"As Battle Over NAFTA 2.0 Heats Up, New Report Documents 25 Years of NAFTA's Disproportionate Damage to U.S. Latino and Mexican Working People" [Eyes on Trade]. "'While President Trump's manipulation of grievances over trade and immigration brought him to power, absent from his worldview is the reality that NAFTA was developed by and for multinational corporations seeking to pay workers less and has hurt both U.S. and Mexican workers,' said Hector Sanchez, executive director of LCLAA at a Press Club event today. 'Indeed, NAFTA's destruction of millions of Mexican small farmers' livelihoods and the pact's race-to-the-bottom wage incentives have pushed many in Mexico to search for work outside their home country'" (original).
"China Is Said to Move Toward Lower Tariffs on US-Made Cars" [Industry Week]. "China is moving toward cutting its trade-war tariffs on imported U.S.-made cars, a step already claimed by President Donald Trump as a concession won during trade talks in Argentina. A proposal to reduce tariffs on cars made in the U.S. to 15% from the current 40% — bringing the U.S. back in line with what other countries pay — has been submitted to China's Cabinet to be reviewed in the coming days, according to people familiar with the matter. … The step hasn't been finalized and could still change. While reversing the retaliatory duty is a major climb-down by Beijing, it could re-focus the two sides toward implementing the trade-war truce agreed earlier this month."
Politics
"But what is government itself, but the greatest of all reflections on human nature?" –James Madison, Federalist 51
2020
"Bloomberg: Democrats are looking for a 'middle of the road' strategy" [WaPo]. "'I think most Democrats want a middle-of-the-road strategy,' Bloomberg said, after being asked whether he could navigate the Democratic nominating contests, which tend to draw the party's more-liberal members. 'They want to make progress, but they're not willing to go and to push and wasting all their energy on that.'" • Why doesn't it have any chance of being done, Mike? Because billionaires like you don't want it?

"Beto Got $430,000 From Individuals in Oil and Gas. Should We Care?" [Sludge]. "O'Rourke broke the No Fossil Fuel Money Pledge—a commitment to reject campaign donations over $200 from fossil fuel PACs and executives that was endorsed by 16 environmental groups—which he signed." • A useful nugget, but this is a reall good long-form look at the entire controversy, concluding: "The idea that tweeting out interesting campaign finance findings, or in the case of Liz Bruenig, offering her leftist opinions on what she sees as shortcoming on O'Rourke's part, is bad for democracy is wrong." • When liberal Democrats say "our democracy," that's what they mean: their democracy.

"The BETO Backlash Is Causing Some Democrats Whiplash" [Down with Tyranny]. Beto has other money issues:

When he ran for Congress as a reformer in 2012– against an entrenched conservative Democrat, Silvestre Reyes– he seemed like an idealistic kid. He was 40. Blue America endorsed him in a largely ignored primary. But we weren't the only outside group supporting him. A group financed by conservative billionaires, Campaign for Primary Accountability (the No Labels of its day) spent heavily against Reyes. In fact they spent more in the TX-16 race than in any of the 14 districts they contested in 2012– $240,000 helping to elect Beto. Aside from Beto's father-in-law, William Sanders, the top donors were all right-wing Republicans, mostly from Texas, who support charter schools and want to privatize Medicare:

• Leo Linbeck- $1,515,042
• Joe Ricketts- $500,000
• Tim Dunn- $500,000
• Eric O'Keefe- $100,000
• Jonathan Farber- $100,000

Beto's biggest single contributor was the Hunt Companies (developers) whois 2012 gave massively to Republicans and… Beto– Texas Conservative Fund ($225,000), NRSC ($217,300), Mitt Romney ($33,250), RNC ($31,110), Ted Cruz ($25,500) David Dewhurst ($20,000), NRCC ($19,100)… only Republicans plus Beto. Worth mentioning that they kept right on supporting Beto. in the 2016 cycle, for example, as they were writing over $2.1 million in checks to Jeb Bush's campaign and over $200,000 each to the RNC and the NRCC, they also supported one Democrat– Beto– with $39,300. In 2014 they backed candidates like Bill Cassidy (R-LA), John Boehner (R-OH), Ed Gillespie (R-VA), John Cornyn (R-TX), Mitt Romney (R-UT) and one Democrat– Beto, who got more than any of them.

"Democrats' 2020 battle royale is going to be brutal, dirty, and totally worthwhile" [Ryan Grim, The Week]. "This doesn't need to be some gentlemanly parlor discussion, where everyone agrees to disagree and shake hands afterwards. The politics of health care, financial regulation, foreign policy, and so on have enormous moral stakes. Liberals and leftists generally disagree on Medicare-for-all versus ObamaCare, whether big banks should be broken up, whether America's imperial machinery should be drastically scaled back, and much more. It will likely get pretty heated and personal, and that is simply to be expected…. [I]t's going to be a rough 18 months or so before someone comes out on top. But there is no way out but through. Let's lace up and slug it out." • I welcome their hatred….

Opportunity for the right candidate in Iowa:

Overflow crowd in Nevada, IA where @iowacci mbrs and others are here to oppose 3 5,000 head factory farms. #familyfarms yes! #factoryfarms no! pic.twitter.com/cTkKbR8kjI

— Adam Mason (@awmason) December 11, 2018
2018 Post Mortem
FL: "Thousands Of Mailed Ballots In Florida Were Not Counted" [CBS]. "The Department of State last week informed a federal judge that 6,670 ballots were mailed ahead of the Nov. 6 election but were not counted because they were not received by Election Day. The tally prepared by state officials includes totals from 65 of Florida's 67 counties. Three statewide Florida races, including the contest for governor, went to recounts because the margins were so close."
Realignment and Legitimacy
"Class Attitudes in the 2018 Midterms" [Data for Progress]. "The results clearly show that class attitudes were meaningfully associated with major party preference in the 2018 midterms. Otherwise-equal respondents with more sympathy toward the poor or resentment toward the rich were significantly more likely to favor Democratic candidates, while respondents who prefer the status quo income distribution were more likely to prefer Republicans." • That's a rather impoverished notion of class.

"Pilots of risk-limiting election audits in California and Virginia" [Freedom to Tinker]. "What is a risk-limiting audit, and how do you perform one? An RLA is a human inspection of a random sample of the paper ballots (or batches of ballots)—using a scientific method that guarantees with high confidence that if the voting machines claimed the wrong winner, then the audit will declare, "I cannot confirm this election," in which case a by-hand recount is appropriate. This is protection against voting-machine miscalibration, or against fraudulent hacks of the voting machines." • Get digital out of the equation entirely, and you simplify the audit. "The cheapest, fastest, and most reliable components of a computer system are those that aren't there." –Gordon Bell
Stats Watch
Producer Price Index (Final Demand), November 2018: "A jump in wholesale food prices and traction in service prices offset an expected drop in energy prices making for a 0.1 percent increase in headline producer prices for November which is 1 tenth higher than Econoday's consensus for no change" [Econoday]. "Though there are signs of traction in this report apart from energy, the wider trend is mixed with the overall year-on-year rate down." And: "The Producer Price Index declined year-over-year. Energy prices was the major factor in this decline – and but was partially offset by services inflation lead by transport and warehousing" [Econintersect].
NFIB Small Business Optimism Index, November 2018: "Optimism among small business owners ebbed to the lowest level in 7 months. …[T]he weakness was broad-based… " [Econoday]. "Capital spending plans declined…, which however remains among the strongest readings of the recovery…. Although the November survey shows a weakening of optimism, it appears to reflect frustration with growth constraints brought about by a lack of qualified new labor, as well as with the associated impact of wage hikes on profit margins and higher selling prices…." And: "November 2018 Small Business Optimism: Declined But Remains Historically High" [Econintersect]. And: "Most of this survey is noise, but there is some information" [Calculated Risk]. "Usually small business owners complain about taxes and regulations (currently 2nd and 3rd on the 'Single Most Important Problem' list). However, during the recession, 'poor sales' was the top problem. Now the difficulty of finding qualified workers is the top problem."
Retail: "Amazon.com Inc. is fighting a barrage of seller scams that may have been aided by its own employees. The company has fired several workers suspected of helping supply independent merchants with inside information" [Wall Street Journal]. "The crackdown is the result of a constant battle underway deep within the inner workings of Amazon's website, with merchants sabotaging rivals and using data along with various techniques aimed at promoting their products over those of their competitors. There's even a black market for Amazon wholesaler accounts, which sellers use to gain access to volumes of product listings." • The "workers" sound like professional employeers, not warehouse workers.
Retail: "The holidays are turning into an inventory management contest between toy sellers and consumers. Toy sales in the first two weeks of November were down by mid-teen percentages at brick-and-mortar stores" [Wall Street Journal]. "The early results suggest storefronts may not get the boost they were expecting from the demise of Toys "R" Us. The iconic chain's liquidation has pushed merchants like Walmart Inc. and Target Corp. to ramp up toy stocks. But mass-market retailers are loath to build up inventories too much and face cut-rate sales to start the New Year. UBS says those merchants are playing it safe with sparse inventory in the final week before Christmas, which will likely send more customers online." • Death spiral?
Shipping: "U.S.-bound retail container volume set new record, says Port Tracker" [Logistics Management]. "Volumes have been coming in at higher-than-usual levels in recent month, with retailers importing merchandise in advance of what was expected to be coming tariff increase in January….. Hackett Associates Founder Ben Hackett wrote in the report that 2019 is not expected to yield the same volume levels as 2018. 'When taking into account economic activity overseas that impacts the United States, we see a significant slowdown in import growth in 2019 as the market adjusts to higher prices due to the Trump tariffs and the impact on consumer and industry confidence going forward,' he wrote…. 'We project that imports at our monitored ports will have grown significantly in 2018, but that there will be no import growth in the first half of 2019 compared with the same period of 2018.'"
Shipping: "Trucking rates continue to climb as carriers retain pricing power" [FreightWaves]. "[T]rucking rates continues to surge, however, driven by another large gain in long-distance trucking rates…. Gains during the month were largely driven by long-distance truckload services…. Both truckload and LTL services enjoyed healthy gains during the month."
Supply Chain: "The supply chain behind turning unusual materials into textiles" [Supply Chain Dive]. "Development takes time, and the world can't wait for a major disaster to start developing them. "That's why the world needs alternative fibers, to make them more eco-friendly and sustainable," said Yang, who teaches courses in textiles, merchandising and fashion design, as well as biological systems engineering…. As a result, businesses are mining waste products for fiber production. They're fermenting agricultural components not used for human consumption. And they're taking scraps of material, which were formerly incinerated, and weaving new yarns. The developers are driven by a sense of purpose, but they're also fashion insiders. The alternative materials impact many parts of the supply chain, including sourcing, manufacturing and operations." • Materials like: "Banana stalks. Pineapple leaves. Squeezed oranges. Mushroom roots. Corn. Spoiled milk. Wood pulp. Soy beans. Chicken feathers."
Supply Chain: "Supply chain disruptions hit record high" [DC Velocity]. "[Supply chain risk management firm Resilinc.] released its first half 2018 EventWatch Supply Chain Disruption Report in late November, noting a record 1,069 disruptive events within a six month period, the highest since the company began monitoring such events in 2010. Of those, more than 300 events—including natural disasters, weather-related incidents and factory fires—directly affected continuity of supply, the company said…. The company said natural disasters and weather-related events continued to be a major source of disruption around the world in the first half of 2018, especially in the United States, continuing a trend started in 2017. The company added that North America continues to be the region most affected by supply chain disruptions."
The Bezzle: "Uber manager in March: 'We shouldn't be hitting things every 15,000 miles'" [Ars Technica]. "Miller quit his job at Uber in March 2018 and went on to lidar startup Luminar. Before he left the company he sent an email to Eric Meyhofer, the leader of Uber's self-driving car project, about safety problems at the company. The email, which was obtained by The Information's Amir Efrati, is absolutely scathing…. Miller noted that on the Friday before the email (March 9, 2018), an Uber prototype 'drove on the sidewalk for several meters.'" • I hope whoever's doing the valuations for Uber's IPO has a realistic appreciation of the quality of their software, and their software engineering.
Tech: "Most Experts Think AI Will Make the World a Better Place" [Courthouse News]. "Areas like transportation, farming, smart communities,businesses process could use AI to cut down on wasted time and money and offer individuals a future free of pressing cares and overwork." • Unsurprising, since this has totally been the trend for the last forty years, or so…
Transportation: "EASA permits Trent 1000 waiver over blade issues" [FlightGlobal]. "European safety regulators have permitted Rolls-Royce a temporary deviation from requirements to comply fully with certification criteria, while it continues investigating blade cracking on the Trent 1000… While inspection regimes have been implemented to ensure airworthiness, EASA says the initiation of cracking is 'normally not in line' with the engine certification criteria which demand high-cycle fatigue life. Rolls-Royce has proposed to EASA, however, that it can meet if it can demonstrate that the crack initiation and propagation mechanisms are sufficiently understood to claim that they will not result in component failure." • Seems legit.
Transportation: "Rough Roads: Will Political Uncertainty Slow Automotive Innovation?" [Industry Week]. "What may already be dealing a blow to U.S. innovation is the Trump administration's proposed freezing of Corporate Average Fuel Economy (CAFE) Standards for passenger vehicles. The proposal, which on the fast track for approval, would reduce the fuel economy requirements for new cars, which were to top out at 54 mpg in 2025, by 15+ mpg." • Seems like the kind of innovation one would want.
Transportation: "Delta bans kittens and puppies as support animals on all flights and all emotional-support animals on longer hauls" [MarketWatch]. "Delta said it amended its animal policy after finding an 84% increase in reported incidents involving service and support animals in 2016 and 2017, 'including urination/defecation, biting and even a widely reported attack by a 70-pound dog.'" • Good. Now, about babies…
Transportation: "San Diego's Bird Scooter Hoarding Problem (with screencaptures" [Scott Research]. "I signed up to be a Bird Charger a few months ago thinking how great it would be if I could charge 3 Bird Scooters at night… Over the next few weeks I drove more in gas then I would find scooters. The problem is all the scooters are in people's homes… Is the hoarding to steal the scooters or is it to get more from charging the scooters by waiting until they are worth $20 each. Sometimes people will have multiple $20 Birds in their home but are not charging them, the pins [on the Bird map] stay in the same places regardless of the values on the charging." • Harder to do with public transportation; a bus to too big to keep in one's living room or den, let alone a subway car.
The Fed: "Hawkish former Dallas Fed president says he doesn't understand doves like Kashkari" [MarketWatch]. "Fisher seemed to have some animus toward the Minneapolis Fed president, who he later referred to as 'Mr. Kardashian.'" • Wherever you look, rational actors….
Honey for the Bears: "The "Everything Bubble" Has Popped" [Safe Haven]. "It's said that 'every bubble is in search of a pin.' History certainly shows they always manage to find one… Rather than the "pin", what's important to focus on is the "pop" — what the aftermath will be. The duration and height of a bubble is directly correlated with the scope of the destruction its bursting will wreak, as is the number of asset classes that get caught up in the mania." • I dunno. The rest of the article seems to me to be a little overwrought. Readers, what about the distinction between the (real economy) business cycle and the (unreal economy) credit cycle; does that makes sense, or is it glorified chart-reading?
Gaia
"Undercover Cells: New Estimate of the Microbes Beneath the Continents" [Deep Carbon Observatory]. "Barring any surprises in cell abundance from under-sampled regions in the Southern Hemisphere, the researchers estimate that 200 to 600 octillion microbes live in the continental subsurface. These cells represent about four to 13 petagrams of carbon, (each petagram is about one billion tons, or more than five million blue whales), which is approximately four to 10 times less than earlier estimates. Previous calculations may have overestimated the number of subsurface cells by extrapolating cell counts from groundwater samples, and by basing estimates on only a handful of sites. Not only do these cells constitute an underground reservoir of organic carbon, but their metabolic activities also impact the cycling of carbon in the subsurface. The researchers also attempted to estimate the total dizzying diversity of microbes in the subsurface, but the number of species was harder to pin down" (original).
Water
"Trump Administration Poised to Scale Back Obama-Era Clean Water Protections" [Governing]. "The administration's plan for a vastly scaled-down Clean Water Rule is expected to be released as soon as Tuesday…. [T]he Environmental Protection Agency intends to strip federal protections from all of the nation's wetlands and many streams that do not flow year-round…. 'The previous administration's 2015 rule wasn't about water quality,' the [administration's] draft talking points said. 'It was about power — power in the hands of the federal government over farmers, developers and landowners.'" • You say that like it's a bad thing.
Class Warfare
Zeitgeist watch:

If journalism is history's first draft, let the record show an @nytimes Sunday front page in which all five well-chosen stories are about greed and elite self-dealing (and the photo insert is about the revolt against those elites).

We are living in end times for this gilded age. pic.twitter.com/LL3sUW9rcA

— Anand Giridharadas (@AnandWrites) December 10, 2018
"Defying Predictions, Union Membership Isn't Dropping Post-Janus" [Governing]. "According to Lee Saunders, president of the American Federation of State, County and Municipal Employees, 'After the Janus case, public-service workers are choosing to join AFSCME at a much higher rate than those who drop.'… In the meantime, state unions are seeing similar trends to AFSCME." • Examples from CA, IL, PA, OR.
"Do Americans marry for love or money? Finally, an answer" [MarketWatch]. "Some 56% of Americans say they want a partner who provides financial security more than 'head over heels' love (44%)." And now for the survey methodology: "Merrill Edge polled more than 1,000 people aged 18 to 40 with investable assets between $20,000 and $250,000." So I guess all those people with less than $400 in the bank are marrying for love, then? Good for them. Cf. 1 Corinthians 13.
"Are We Trying to Make Everyone an Aristocrat or a Peasant?" [Benjamin Studebaker]. "[F]reedom from necessity is so important for the left. Time is the most valuable thing. If you don't control your time, you're not free. Scarcity makes us surrender our time, if not to our boss or the collective then to necessity itself. There is no freedom until scarcity is dead. We can democratise the workforce, we can give people more say at work, but until it's possible for all people to choose to be idle and still have their basic needs met, we're not free. Until then, we will keep twisting our notions of the good life to justify our own submission to the demands of scarcity. We will keep living in mental prisons. Some of us might choose to do manual labour even if we were freed from necessity–we might not all run off to join Plato's academy. But as long as we make people do it, as long as they don't choose to do it, we cannot be sure that we're not all rationalising our own lot in life. The sad thing is that we don't have real abundance yet. We can't give people real choices." • The class analysis ("aristocrat" or "peasant" is a bit glib. But this on time is spot on.
News of the Wired
"The MAD Computer Program" [MAD Magazine]. From October 1985, still germane.
* * *
Readers, feel free to contact me at lambert [UNDERSCORE] strether [DOT] corrente [AT] yahoo [DOT] com, with (a) links, and even better (b) sources I should curate regularly, (c) how to send me a check if you are allergic to PayPal, and (d) to find out how to send me images of plants. Vegetables are fine! Fungi are deemed to be honorary plants! If you want your handle to appear as a credit, please place it at the start of your mail in parentheses: (thus). Otherwise, I will anonymize by using your initials. See the previous Water Cooler (with plant) here. Today's plant (TH):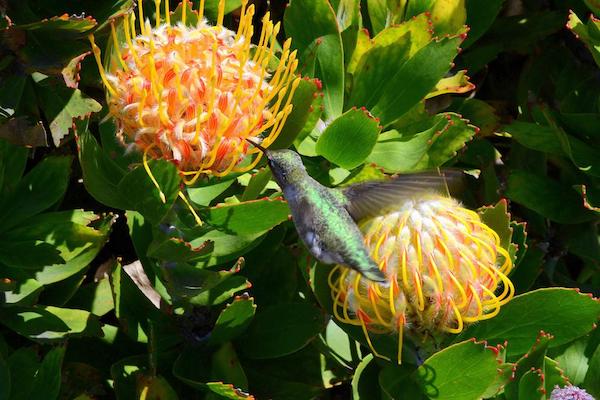 TH writes: "Female Allen's Hummingbird investigating Leucospermum "Patricia" (better known as "Pincushions") at University of California at Irvine Arboretum." I love hummingbirds!
* * *
Readers: Water Cooler is a standalone entity not covered by the annual NC fundraiser, now completed. So do feel free to make a contribution today or any day. Here is why: Regular positive feedback both makes me feel good and lets me know I'm on the right track with coverage. When I get no donations for five or ten days I get worried. More tangibly, a constant trickle of small donations helps me with expenses, and I factor that trickle in when setting fundraising goals. So if you see something you especially appreciate, do feel free to click below! (The hat is temporarily defunct, so I slapped in some old code.)
Or Subscribe to make a monthly payment!