By Lambert Strether of Corrente.
Trade
"Why Trump's trade war is pushing China to become smarter and stronger, faster" [Hellenic Shipping News]. "The final communiqués at these lovefests must usually be written beforehand for anything to be agreed. Trump is the exception. He likes one-on-ones. He is a professional deal maker in a way that does not come easily to politicians. So, the big meeting between President Xi Jinping and Trump was always going to produce a result. About the only thing we are sure of now is that there will be a tariff truce until March – but that is just what Trump wants; it gives the other side enough pressurised breathing space to move its position without losing face… [From China, we] should expect a big rise in domestic funding for research and development. Academic efforts will be enhanced and extended. Military research, which produces commercial spin-offs, will give a significant boost to the nation's intellectual property. Interestingly, this would parallel the great developments in the US economy in the 1950s and 1960s. China would become smarter, more technologically advanced, and more militarised faster than if Trump had kept his mouth shut. But trade will be fairer. Trump's demands hurt now, but, in the long term, he is doing China a favour by making it stronger."
"White House insists Huawei arrest unrelated to trade war" [Australian Financial Review]. ""This is a criminal justice matter. It is totally separate from anything that I work on,' [LIghthizer] said…. Mr Lighthizer warned further cases against Chinese companies were likely as part of a broader crackdown on the country's theft of technology and other alleged infractions such as sanctions violations…. 'As far as I'm concerned [90 days] is a hard deadline. When I talk to the president of the United States he is not talking about going beyond March. He is talking about getting a deal if there is a deal to be done in the next 90 days.'… Mr Kudlow added that Mr Trump was unaware of the plan to arrest Ms Meng in Canada while sitting across the dinner table from China's president Ji Xinping at the Group of 20 meeting in Buenos Aires, where they hammered out their deal."
"China's real endgame in the trade war runs through Europe" [CNBC]. "Tellingly, President Xi made a stop in Spain on his way to Argentina and then again in Portugal for a two-day stint on his way back from the G-20 meeting, his first state visits to both countries. Even before Xi's visit, China had invested $12 billion in Portuguese projects ranging from energy, to transport, to insurance, financial services and media. During Xi's visit, China and Portugal further deepened their economic partnership, with Lisbon agreeing to cooperate in China's Belt and Road Initiative as it hopes to garner increased Chinese infrastructure and energy investments. China is also poised to take over a majority stake in EDP, Portugal's largest business and a major EU energy provider." • I would imagine $12 billion goes a long way in Portugal.
Politics
"But what is government itself, but the greatest of all reflections on human nature?" –James Madison, Federalist 51
2020
"Elizabeth Warren forges a 2020 machine" [Politico]. "Sen. Elizabeth Warren has the core of her 2020 team in place if she runs for president. She has the seed money — there's $12.5 million ready to go, left from her recent Senate run — and a massive email list she's amassed over years, boosted by a $3.3 million investment in digital infrastructure and advertising in the last election alone. Her aides have been quietly shopping for presidential campaign headquarters space in the Boston area in recent weeks, according to a source with knowledge of the move. All that's left is for her to give the green light. When and if she does, she'll be rolling out arguably the most advanced and sweeping infrastructure in the Democratic field, a plug-and-play campaign that could give her a massive head start on nearly every contender in the burgeoning primary roster, with only Sens. Bernie Sanders (I-Vt.) and Kamala Harris (D-Calif.) coming close." • Ah, the dreaded "front runner" status. The Daily Mail addresses her DNA test-based claim of Cherokee ancestry in paragraph four. That seems a little far down in the story, at least compared to what is to come.

"Joe Biden visits Burlington" [WCAX]. "Former Vice President Joe Biden stopped in Vermont Sunday as part of a tour to promote his new book. His book, "Promise Me, Dad: A Year of Hope, Hardship, and Purpose," chronicles the year after his son, Beau, died of brain cancer." • Now milking his son's death for money, as opposed to milking it for political purposes (except, of course, not). I suppose that's an improvement?

"What Kamala Harris Has Said About 2020 Will Leave You On The Edge Of Your Seat" [Bustle]. "Harris will have one especially unique advantage in this race, if she chooses to run: the California primary has been moved up to March 3. If she wins California early on in the campaign (and it would be a huge upset if she didn't), this could give her campaign a turbo-boost of momentum as she works towards the Democratic primary." • 2016 was the debate schedule; 2020 will be the primary calendar. Never change, Democrats. Never change.

"At minimum, Kamala Harris should've known key staff member was accused of harassment" [Sacramento Bee]. "The Sacramento Bee broke the story Wednesday that one of Harris' longtime aides, Larry Wallace, had been accused of gender harassment and other demeaning behavior by his former executive assistant, Danielle Hartley, who sued the state Department of Justice on Dec. 30, 2016, just before Harris assumed her current office…. Wallace resigned last Wednesday. Harris on Thursday said she wasn't aware of the allegations against him. There are only a few possible interpretations here, and they are unpleasant. Wallace wasn't out on the periphery of Harris' staff; he was a senior aide she knew for 14 years — hardly a stranger. For Harris to flatly deny any knowledge of this settlement seems, shall we say, far-fetched. For the moment, let's take her at her word. A second and equally troubling interpretation is that Harris isn't a terribly good manager, and that her staff was insulating her from information critical to the performance of her duties."

"Beto O'Rourke is like Obama. That's not necessarily a good thing. [Opinion]" [Dan Derozier, Houston Chronicle]. "The trouble begins with his campaign message. Consider this tweet, which set the tone for his statewide campaign: 'We're not running against anyone, any party, or anything. We're running for Texas, for this country, for the big, bold, ambitious work we want to accomplish together.' O'Rourke's message covers rhetorical territory familiar from the Obama era: It's positive and innocuous, but noncommittal. It relies on lofty but meaningless phraseology like Shared Values, Finding Common Ground and Bringing People Together. The message describes itself with words like 'ambitious' and 'bold,' but doesn't promote any specific policy that could actually be described as such. Many Democrats don't see a problem with this. In fact, [former Obama staffer and liberal tastemaker Dan Pfeiffer's] argument for Beto O'Rourke hinges on it. To him, the choice between energizing the base and courting independent (read: Republican) voters is a false dichotomy. From his perspective, O'Rourke's inoffensive, ambiguous message isn't a liability — it's the key to building a winning coalition at any cost. " • I don't know which is more remarkable: Seeing Derozier, chair of the Houston DSA's Electoral Committee, on the editorial pages of the Houston Chronicle, or seeing somebody on the left making a statement about power that Stoller would approve of.

"At Bernie Sanders' Big Climate Change Town Hall, Alexandria Ocasio-Cortez Steals the Show" [Mother Jones]. "Sanders' event was about climate change, but it was also about a profound generational shift in the party. "Can you interrupt this program to make an announcement on your shoes?" asked Sanders, interrupting Ocasio-Cortez by putting a hand on her shoulder, in what was an attempted meta-media commentary joke. The New York Rep-elect quickly redirected the conversation back to her talking points." • On the Twitter, this incident has mutated among some liberal Democrat factions into Sanders being "handsy," although apparently it's only being test-marketed, not having made it out into major media. They hate him, though. They really hate him.
Realignment and Legitimacy
"Why the Left Must Change: Right-Wing Populism in Context" [Simon Winlow and Steve Hall]. (This seems to be an entire chapter from a book, Progressive Justice in an Age of Repression.) The whole thing is worth a read. This passage describes the UK, but, localized, it could also describe the France of the gillettes jaunes, or "deaths of despair America":

What sense does it make to suggest that a white man queuing at a food bank is privileged, when the top 0.1% of the population are worth as much as the bottom 90% (Monaghan, 2014)? What sense does it make to talk of 'white people' as if they possess shared interests, cultures, aspirations and dispositions? What sense does it make to connect a white homeless man asleep in a shop doorway with a white super-rich investment banker? Are these two individuals who share nothing more than a similar skin pigmentation really bonded together in cultural and political solidarity? Do they speak with one voice on political, economic and cultural issues, always with the interests of the white race at the forefront of their minds? Are we incapable of constructing a slightly more nuanced account of the dynamics that underpin contemporary cultural enmities and the disintegration of the multiculturalist project? Are we unable to draw out the rather obvious antagonisms that exist within those people born with white skin in the hope that we might more accurately identify who is truly privileged, and whose privilege disempowers, excludes and immiserates all of those without capital?

Recall Paxton's Anatomy of Fascism, a historically grounded (as opposed to check-list style) examination of the topic. As I wrote: "The big missing piece, fortunately, is 'mass-based party of committed nationalist militants." And if identity politics-driven liberal Democrats — and their allies on the putative "left" — wish to encounter such a beast, they are proceeding along exactly the right path.
Stats Watch
JOLTS, November 2018: "Job openings [up] and just shy of August's record [Econoday]. "Hires, which have been lagging openings, did rise… One alarm, however, that is not sounding is the number of quits which fell…. Federal Reserve officials keep their eye on the number of quits for clues on wage inflation and whether workers are shifting to higher paying jobs." And: "So, for the seventh consecutive month, there were more job openings than people unemployed. Also note that the number of job openings has exceeded the number of hires since January 2015 (almost 4 years)" [Calculated Risk]. "Job openings are at a high level, and quits are increasing year-over-year. This was a strong report." And but: "October 2018 Headline JOLTS Job Openings Little Changed" [Econintersect]. "The unadjusted data analysis shows rate of growth is about average seen since 2010 – and about average values seen in 2018. With this JOLTS, it is predicting little change in the employment situation we have seen this year."
The Bezzle: "Investigation of generic 'cartel' expands to 300 drugs" [WaPo]. "Executives at more than a dozen generic-drug companies had a form of shorthand to describe how they conducted business, insider lingo worked out over steak dinners, cocktail receptions and rounds of golf… The terminology reflected more than just the clubbiness of a powerful industry, according to authorities and several lawsuits. Officials from multiple states say these practices were central to illegal price-fixing schemes of massive proportion." • Why not nationalize them?
The Bezzle: "The language of capitalism isn't just annoying, it's dangerous" [The Outline]. "Published last week by Haymarket Books, [John Patrick Leary's Keywords: The New Language of Capitalism] explores the regime of late-capitalist language: a set of ubiquitous modern terms, drawn from the corporate world and the business press, that he argues promulgate values friendly to corporations (hierarchy, competitiveness, the unquestioning embrace of new technologies) over those friendly to human beings (democracy, solidarity, and scrutiny of new technologies' impact on people and the planet)…. Leary offers a lexicon of about 40 late capitalist "keywords," from "accountability" to "wellness." Some straddle the work-life divide, like "coach." Using simple tools — the Oxford English Dictionary, Google's ngram database, and media coverage of business and the economy— Leary argues that each keyword presents something basically indefensible about late capitalist society in a sensible, neutral, and even uplifting package." • Yes, "innovation" is there! This is a must-read. And one more book to read. Perhaps for Xmas?
The Bezzle: "Uber's Arbitration Policy Comes Back to Bite It in the Ass" [Gizmodo]. "Over 12,000 Uber drivers found a way to weaponize the ridesharing platform's restrictive contract in what's possibly the funniest labor strategy of the year… A group of 12,501 Uber drivers found a new option that hinges on the company's own terms of service. While arbitrating parties are responsible for paying for their own attorneys, the terms state that 'in all cases where required by law, the Company [Uber] will pay the Arbitrator's and arbitration fees.' As of November 13, 2018, 12,501 demands have been filed with JAMS," [today's petition in California's Northern District Court] states. (JAMS refers to the arbitration service Uber uses for this purpose.) Continuing on: "Of those 12,501 demands, in only 296 has Uber paid the initiating filing fees necessary for an arbitration to commence […] only 47 have appointed arbitrators, and […] in only six instances has Uber paid the retainer fee of the arbitrator to allow the arbitration to move forward." (Emphasis ours.)" • Awesome.
Mr. Market: "Opinion: Your love of index funds is terrible for our economy" [MarketWatch]. Among other reasons: "Index funds now own so much stock, shareholder voting power is getting concentrated in the hands of the major players in this space, like Vanguard, BlackRock BLK, -1.34% and State Street STT, -1.60% It would be better to have more diversity among the people casting shareholder votes on key issues like who gets to be on boards or whether companies disclose political campaign contributions. Bogle worries about this problem. In a recent Wall Street Journal opinion piece, he cautioned that if the popularity of index funds continue to grow, voting control over U.S. companies will be too concentrated."
Rapture Index: Closes up 1 on plagues. "Ebola has reached a major city in Congo" [Rapture Ready]. Record High, October 10, 2016: 189. Current: 183. Up from the 180 floor.
Gaia
"Billionaires Are the Leading Cause of Climate Change" [GQ]. Worth repeating: "Contrary to a lot of guilt-tripping pleas for us all to take the bus more often to save the world, your individual choices are probably doing very little to the world's climate. The real impact comes on the industrial level, as more than 70 percent of global emissions come from just 100 companies. So you, a random American consumer, exert very little pressure here. The people who are actively cranking up the global thermostat and threatening to drown 20 percent of the global population are the billionaires in the boardrooms of these companies."
"The Race to Understand Antarctica's Most Terrifying Glacier" [Wired]. "In 2014, Eric Rignot, a glaciologist at NASA, concluded that Thwaites was entering a state of "unstoppable" collapse. Even worse, scientists were starting to think that its demise could trigger a larger catastrophe in West Antarctica, the way a rotting support beam might lead to the toppling not only of a wall but of an entire house. Already, Thwaites' losses were responsible for about 4 percent of global sea-level rise every year. When the entire glacier went, the seas would likely rise by a few feet; when the glaciers around it did, too, the seas might rise by more than a dozen feet. And when that happened, well, goodbye, Miami; goodbye, Boston. No one could say exactly when Thwaites would go bad." • I don't think the insurance market has priced this in.
"Pakistan Makes Pledge To Plant 10 Billion Trees In 5 Years" [Green Matters]. "Between 2014-2017 the country successfully completed Khan's Billion Tree Tsunami, a reforestation project that added 350,000 hectares of trees in the northwestern province of Khyber Pakhtunkhw….. 'We need to recognise [reforestation] as an economic opportunity, with an immense potential for job creation,' Kashmala Kakakhel, a climate finance expert told Reuters. 'This government plans to review (or develop new) targets for our renewable energy mix, for increasing our forest cover, for developing along a climate resilient pathway.'" • Nathan Tankus tweets: "If every country made this pledge we'd have nearly 2 trillion more trees in a decade which is almost all of our carbon emissions." This conforms so powerfully to my priors that I'm dubious. Readers?
Health Care
Thanks, Obama:
Top Obama aides are running the health care front group aiming to kill Medicare for All. https://t.co/21Nb89tQJM

— Matt Stoller (@matthewstoller) December 10, 2018
As I keep saying, the liberal Democrats who control the party machinery shifted the center of gravity of the party toward the conservatives (despite the welcome emergence of some strong individual politicians on the left).
Class Warfare
"Time for Maine to reconsider public ownership of tidal lands" [Bangor Daily News]. "In 1989, the Maine Supreme Court turned hundreds of years of law on its head when it decided the Bell v. Town of Wells case. The case held that intertidal lands (the area between mean high and low tide) are owned by upland property owners instead of the state in trust for the public." • Sounds like overturning that decision would be popular, at least Downeast.
"School turns students' lunch debt over to collection agency" [WCMH-TV]. "[Raymond Votto Jr., chief operating officer of Cranston, RI Public Schools] said between September 1, 2016 and June 30, 2018, the school district wrote off $95,508. He said the unpaid balance for the current academic year is $45,859. 'The District lunch program cannot continue to lose revenue,' Votto said." • The country is being run by the Harkonnens.
"'Original Sin,' Slavery, and American Innocence" [John Patrick Leary, Social Text]. "Original sin, in other words, is a condition of our imperfect humanity, and not an act for which we are condemnable as individuals. As the Catholic Catechism puts it, "it is a sin 'contracted' and not 'committed'—a state and not an act." Nor is it is a sin for which we can ever really do penance, as we might seek forgiveness for a cruel deed. Talented politician though he is, not even Obama can "atone" for anyone's original sin, as the Times article above suggested he might: only the Messiah can do that." • Hmm.
News of the Wired
"Talking and listening on a quiet street in Barnsley" [Oxford English Dictionary]. "I love the word brussen; it's a word that doesn't move far outside Barnsley, as though once it vacated these tight streets it would start gasping for air. Brussen is a word that has a very specific meaning but which needs several other words and phrases to explain its meaning, which is of course what makes it a superb word. The words that almost describe it are: grumpy/aggressive/macho/full of bravado/itching for a fight/possessed of a mistaken sense of superiority. You'll see by the way that my explanations of brussen get more, well, wordy, that brussen is the perfect word for what it is." • Yes, that's a good word.
HTML people, look at the horrid coding:
Facebook adds 5 divs, 9 spans and 30 css classes to every single post in the timeline to make it more difficult to identify and block 'Sponsored' posts, oh my. https://t.co/OghvQU1vdw

— Wolfie Christl (@WolfieChristl) December 8, 2018
"Lies About the Humanities — and the Lying Liars Who Tell Them" [The Chronicle of Higher Education]. "A routine complaint I field from armchair epistemologists is "humanities research isn't falsifiable," to which the appropriate reply is: Many of the most important questions we face as a species aren't falsifiable. Can there be just warfare? Is the death penalty moral? Did the president behave ethically? Should we fund art museums or malaria-fighting mosquito nets, and in what proportions? Is Don Quixote a madman because he expects the world around him to look more like chivalric romance, or a visionary for trying to reshape the world around him into a more just world? When you malign and misrepresent what scholars do, you're punishing students.
To the extent that scientific fact can contribute to, but not resolve, problems like these, the claim that mainstream humanities work is an attempt to contravene scientific fact for ideological purposes falls flat on its face." • Hard to see where narrative expertise will come from, if not the humanities, except for MBAs, stock touts, "journalists" (granted, some undeserving of shudderquotes), and squillionaries with crazypants ideas funding think tanks.
* * *
Readers, feel free to contact me at lambert [UNDERSCORE] strether [DOT] corrente [AT] yahoo [DOT] com, with (a) links, and even better (b) sources I should curate regularly, (c) how to send me a check if you are allergic to PayPal, and (d) to find out how to send me images of plants. Vegetables are fine! Fungi are deemed to be honorary plants! If you want your handle to appear as a credit, please place it at the start of your mail in parentheses: (thus). Otherwise, I will anonymize by using your initials. See the previous Water Cooler (with plant) here. Today's plant (TH):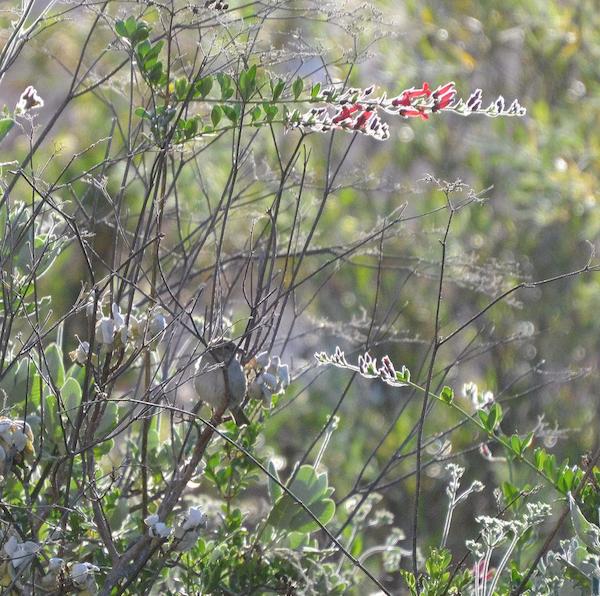 TH writes: "I love early morning and the silver lining of backlit flowers. (I believe those red tubular flowers there are Chuparosa and that's a female house sparrow perched in there." Backlighting is hard!
* * *
Readers: Water Cooler is a standalone entity not covered by the annual NC fundraiser, now completed. So do feel free to make a contribution today or any day. Here is why: Regular positive feedback both makes me feel good and lets me know I'm on the right track with coverage. When I get no donations for five or ten days I get worried. More tangibly, a constant trickle of small donations helps me with expenses, and I factor that trickle in when setting fundraising goals. So if you see something you especially appreciate, do feel free to click below! (The hat is temporarily defunct, so I slapped in some old code.)
Or Subscribe to make a monthly payment!