By Lambert Strether of Corrente.
Trade
"Aluminum tariffs have led to a strong recovery in employment, production, and investment in primary aluminum and downstream industries" [Economic Policy Institute]. "This report demonstrates that after the Section 232 tariffs were imposed on aluminum (and steel) on March 8, 2018, the domestic producers of both primary aluminum and downstream aluminum products have made commitments to create thousands of jobs, invest billions of dollars in aluminum production, and substantially increase domestic production…. Today, after the imposition of tariffs of only 10 percent, domestic production in both the primary aluminum (including both alumina refining and secondary smelting and alloying of aluminum) and downstream aluminum rolling and extruding industries is up; these producers are hiring and expanding, adding capacity, making large investments, and increasing production, as is shown in this report. These outcomes belie claims by critics, including widely quoted economists from the Trade Partnership firm,8 along with a wide array of pundits, journalists, and representatives of many firms in downstream industries…"
"The United States rejected the latest attempt to build consensus for reforming the World Trade Organization's Appellate Body at the final General Council meeting of 2018. The European Union, with the backing of other countries, had put forward two proposals that would amend the WTO's dispute rules to meet U.S. demands. The Trump administration has blocked any new appointments to the Appellate Body, arguing that it routinely violates the 90-day deadline to rule on cases and commits judicial overreach by ruling on issues not specific to cases, among other complaints" [Politico].
"The Surprising Beneficiaries of a Trade Feud" [Wall Street Journal]. "As tensions between the U.S. and China have intensified, global companies are actively diversifying their supply chains away from China. This is good news for countries receiving that investment and for the banks and supply-chain consultants that are helping companies make the transition… The market has swooned whenever trade tensions have flared and bounced back whenever a resolution appeared in sight. To hedge against the risk that talks fail and tariffs rise, investors should be eyeing potential beneficiaries."
Politics
"But what is government itself, but the greatest of all reflections on human nature?" –James Madison, Federalist 51
2020
This looks like one of the videos from the Sanders media empire:

"I don't look at a recession as a bad thing." – Jamie Dimon, the CEO of JP Morgan Chase (one of the big banks that crashed the economy 10 years ago). pic.twitter.com/xb5IvgSCxY

— Bernie Sanders (@SenSanders) December 13, 2018

Featuring the incredibly nerdy-looking Warren Gunnels. At first I thought that was bad, but I changed my mind: Nerds are non-threatening.

"Former HUD chief Julian Castro moves toward presidential run" [Associated Press]. "For Castro, running for president would fulfill a destiny that Democrats have projected since he was elected San Antonio mayor at 34, followed by his star-making turn as the keynote speaker at the Democratic National Convention in 2012. Young and telegenic, Castro rose to national prominence early in his career as a Latino leader from a state that Democrats are eager to retake after decades of Republican dominance. But in Texas, O'Rourke has eclipsed Castro after getting closer to a statewide victory than any Democrat in a generation. It now puts Texas in the formerly unthinkable position of having two Democratic presidential candidates in the same year." • The power structure in an oil state makes a bid for national prominence. Cool. Not a word from AP on Castro and policy, naturally. From the San Antonio Express-News, reporting on Castro in Iowa ("hay bales"): "Responding to a question from the audience, Castro said he believes 'we need to embrace Medicare for all'- adding that he believes there are several alternative plans that need to be discussed." • So we'll see how long that embrace lasts, or whether the brand confusion ("several alternative plans") introduced by. liberals will enable Castro to crawfish and waffle. Not that I'm cynical:

Welcome aboard Democratic Rising Star™ Julian Castro!

At HUD he sold defaulted mortgages to Wall Street instead of helping the devastated communities.

HE'S PERFECT!

REMEMBER: If we crowd the field, no one can win on the 1st ballot, then Superdelegates pick the nominee. https://t.co/5GDMhfksSv

— Peter Douche's Liaison (@SilERabbit) December 12, 2018

(Castro and those mortgages at NC here, and in The Hill; DASP not HAMP…)

"Senate 2020: Republican exposure on paper, but not necessarily in practice" [Sabato's Crystal Ball]. "20 of the 34 Senate seats on the ballot in 2020 begin as rated Safe for the incumbent party… While on paper the Democrats need to capture at least three currently Republican Senate seats to take control of the Senate, realistically they probably need to win at least four. That's not because of the presidential race; rather, it's because Democrats are going to have a very hard time defending the Senate seat currently held by Sen. Doug Jones (D-AL), who won a December 2017 special election against former Alabama state Supreme Court Chief Justice Roy Moore (R), arguably the worst candidate either party has nominated for a hotly-contested Senate seat in recent memory."
Incident Report
At least we're doing better than the Tories. Anyhow, here are the talking points:


RT to stand with Leader Nancy Pelosi, who just schooled the President of the United States on live TV about:

1. how the legislative process works
2. the fact that a govt shutdown is bad
3. how to have a facts-based discussion

Don't mess with Nancy. No #TrumpShutdown. pic.twitter.com/CgwcCCUXoA

— DCCC (@dccc) December 11, 2018

"Stand with," ugh. But nothing about a tinkle contest. So there's that.
2018
Democrats vote to continue blowing faraway brown people to pink mist:

Let the five Democrats who voted with Republicans to block a vote on cutting US military support for the Saudi-led coalition war in Yemen know what you think:@RepJimCosta @RepAlLawsonJr@collinpeterson@Call_Me_Dutch@repdavidscott

— Ken Klippenstein (@kenklippenstein) December 12, 2018

From Paste: "The procedural farm bill rule, which blocks any vote on U.S. involvement in Yemen for the rest of this Congress, was ultimately adopted by the narrow margin of 206-203." So, a margin of 3 means that yes, those 5 Democrats made sure the war in Yemen continues. They always seem to scrape together just a few votes, don't they? Never change, Democrats! Never change!

"Pelosi, foes clinch deal all but paving her way to speaker" [Associated Press]. "Rep. Nancy Pelosi all but ensured Wednesday that she will become House speaker next month, quelling a revolt by disgruntled younger Democrats by agreeing to limit her tenure to no more than four additional years in the chamber's top post…On Wednesday, she gave in to her opponents' demands that she limit her service. Under the deal, House Democrats will vote by Feb. 15 to change party rules to limit their top three leaders to no more than four two-year terms, including time they've already spent in those jobs." • There are worse political systems than gerontocracy; perhaps we'll find out about them!

ME-02: "BRETT BABER, et al., Plaintiffs V. MATTHEW DUNLAP, et al., Defendants" (PDF) [United States District Court, District of Maine]. On Ranked Choice Voting: "there is no dispute that the RCV Act—itself the product of a citizens' initiative involving a great deal of first amendment expression—was motivated by a desire to enable third-party and non-party candidates to participate in the political process, and to enable their supporters to express support, without producing the spoiler effect. In this way, the RCV Act actually encourages First Amendment expression, without discriminating against any voter based on viewpoint, faction or other invalid criteria. Moreover, a search for what exactly the burden is that Plaintiffs want lifted is not a fruitful exercise. I fail to see how Plaintiffs' first amendment right to express themselves in this election were undercut in any fashion by the RCV Act. They expressed their preference for Bruce Poliquin and none other, and their votes were counted." • Republican Poliquin's request for an injunction denied.

ME-02: "Maine Recount Is a Low-Drama Affair — Unlike the Election" [Roll Call]. "The two counters from each campaign look over each ballot together, and when there's an irregularity, they raise their hands, calling over lawyers from each campaign. That happens about a half-dozen times per hour, said Grant, the lead attorney for the Golden campaign and a former chairman of the Maine Democratic Party… But [two lawyers, one from each party] been averaging about 27,000 ballots per day, and the campaigns are now expecting to finish up next week." • Hand-marked paper ballots, hand-counted in public. Why doesn't Maine get rid of the optical scanners entirely? When I used one, it was very clear that the assistant standing by the scanned to help me could read my ballot, which was then no longer secret.
Realignment and Legitimacy
"Are White Evangelicals the Saviors of the GOP?" [Inside Elections]. "After ticking up from 23 percent of the electorate in 2004 to 24 percent in 2006 and 26 percent in 2008, the share of the white evangelical vote has been unshaken at 25 percent in 2010, 26 percent in 2012, 26 percent in 2014, and 26 percent in 2016. And in last month's midterms, white evangelicals made up, you guessed it, 26 percent of the electorate, according to the exit polls…. While white evangelicals might have been a significant bloc of voters in the Senate, their relevance in House races might be waning. In 2006, Democrats gained 30 House seats while losing white evangelical voters by 42 points. In 2018, Democrats are poised to gain 40 seats while losing white evangelical voters by 53 points."

"How the Migrant Caravan Built Its Own Democracy" [Politico]. "The caravan migrants who arrived at the border nearly a month ago don't have a country. But they do have a government. In the time since the caravan left Honduras in mid-October, the asylum-seekers have fashioned a proto-democracy out of their group of some 6,000 migrants overwhelmingly from Central America… When the migrants needed to make public announcements, debate the best routes and vote on different plans, they established a nightly general assembly as a forum open to all, Athens-style…. Some of the migrants even took turns as communications directors, drafting press statements that were transmitted through a media group of more than 370 journalists on WhatsApp… [T]he general assembly set up a kind of internal police force made up of about 100 unarmed volunteers with megaphones." • So Trump is reacting to the caravan rather in the same way that Obama reacted to Occupy….
Stats Watch
Jobless Claims, week of December 8, 2018: "Through October and November initial jobless claims had been pivoting higher off historic lows but that's old news" [Econoday]. This week, initial claims fell "very sharply." "Seasonal adjustments are always touchy late in the year but today's break lower in initial claims does hint at a possible break higher for December's nonfarm payroll growth."
Import and Export Prices, November 2018: "A steep…. drop in prices of petroleum imports pulled total import prices down" above expectations. Yet there's wider price weakness in the data" [Econoday]. "Import prices of finished goods, whether capital goods, consumer goods, or autos, were dead flat in the month with industrial supplies, which often have petroleum components, falling sharply. Export prices likewise show weakness… [G]eneral price softness, underscored by yesterday's consumer price report, may further build expectations that Federal Reserve policy makers may begin to scale back their 2019 rate-hike plans."
Retail: "Think it's cheaper to shop online? Think again" [MarketWatch]. • Holiday tips.
Tech: "Robot Fear Index: Increased Adoption May Be Fueling Concerns" [247 Wall Street]. "Consumer adoption of artificial intelligence and robotics is already quite broad, and yet, fear of robots is pervasive as well. We fear that they'll replace our jobs or somehow overthrow us, and those fears are valid. Our 2018 survey tells us that the shift in consumer acceptance needed for widespread adoption may take longer than anticipated. … Our most recent Robot Fear Index value of 31.8 (vs 30.9 in 2017 and 31.5 in 2016) suggests that public perception of robots is essentially unchanged over the last two years…. Shopping, digital assistants, and house cleaning continue to be the most acceptable activities, which we attribute to the fact that there are already tangible use cases on the market today. Meanwhile, healthcare (e.g., a surgical robot) and travel (e.g., self-driving cars) incite discomfort, which may be because they sound inherently dangerous to one's personal safety."
Gaia
"US Sees Oil Production Continuing to Grow Despite Lower Prices" [Industry Week]. "The swift growth of American shale production has complicated efforts by OPEC and its allies to trim supply and support prices. While bottlenecks in areas such as the Permian Basin of West Texas and New Mexico pose a risk to future growth, new pipelines coming on line in late 2019 and 2020 should ease that congestion. The U.S. will account for almost one-fifth of global petroleum liquids output next year. The [Energy Information Administration] also raised its global demand forecast for next year to 101.61 million barrels a day from 101.51 million. In the U.S., almost half of the growth next year will come from gas liquids, with gasoline demand rebounding from a decline this year." • Leave it in the ground! Or at least just don't effing burn it!
"The Oil Industry's Covert Campaign to Rewrite American Car Emissions Rules" [New York Times]. "When the Trump administration laid out a plan this year that would eventually allow cars to emit more pollution, automakers, the obvious winners from the proposal, balked. The changes, they said, went too far even for them. But it turns out that there was a hidden beneficiary of the plan that was pushing for the changes all along: the nation's oil industry… The campaign's main argument for significantly easing fuel efficiency standards — that the United States is so awash in oil it no longer needs to worry about energy conservation — clashed with decades of federal energy and environmental policy." • As above.
The 420
"Growing Hemp to Become Legal in the US" [247 Wall Street]. "Included in [the Farm Bill] is language that makes the farming of industrial hemp legal for the first time since 1971. The bill also legalizes the manufacturing and sale of products made from industrial hemp, which were legal — and strongly encouraged — during World War II…. [H]emp may not contain more than 0.3% of THC by weight…. Industrial hemp production and distribution now will be lightly regulated by the U.S. Department of Agriculture rather than the Food and Drug Administration. The USDA also will guarantee interstate commerce in hemp. Growers will be eligible for crop insurance as well, as with any other legal agricultural product, like corn or wheat. And in keeping with Republican party priorities, most regulation of hemp will be done at the state level." • Some sanity.
Guillotine Watch
"Dallas-bound flight returns to Seattle after human heart was left onboard" [Seattle Times]. "On Sunday afternoon, a Southwest Airlines flight bound for Dallas made a hairpin turn over eastern Idaho and headed back for Seattle-Tacoma International Airport. The reason, the captain told passengers: Someone forgot to unload a human heart." • But the lead is buried nine paragraphs down: "The sender was a company that specializes in shipments that are 'life critical,"'which can mean organs for transplant, medications or specimens for treatments, said Southwest, which did not provide the name of the company. But . Spokeswomen for regional organ-procurement organizations in Washington and California both said they never use commercial flights for heart transplants." • Some squillionare like Richard DeVos jumping the queue?
"Rich Homebuyers Are Now 'Test-Driving' Multimillion-Dollar Mansions" [Bloomberg]. "At the Montage Kapalua development in Maui, where homes go for $1 million to $20 million, Necrason's team will arrange four-night stays that range from $500 to $2,000 per night and might include cultural heritage tours, luaus, private dinners, and spa treatments. She estimates that more than half of those who come for a trial stay become buyers. 'For this crowd, time is precious,' Necrason says. 'We feel that if they can make this commitment of time, they are serious about buying.'" • Time isn't precious to poor people?
Class Warfare
"Intersectionality's binding agent" [Victor Wallis, New Political Science]. (You can click through the dropbox dialog and get to the article.) "In a world rife with oppression, intersectionality is a revolutionary value, insofar as it implicitly condemns relations of domination. The convergence of multiple channels of domination in the lives of particular persons (or collectivities) reminds us immediately that some sectors of the population, being doubly or triply oppressed, will have a harder time than others in gaining emancipation. But the web of oppressive practices also suggests that there are common interests that unite—at least potentially—different categories of oppressed people.Assuming the goal of overcoming all forms of oppression, we must ask: In what precise ways do the oppressions intersect? And, if there is such a structure, what is the nature of the links and how did they come to acquire their present form?… But the implicit original goal of intersec-tionality theory—that of binding the oppressed constituencies together into a coherent political force—has not been realized. In other words, there is as yet no entity capable of challenging the grip on power of those who, as a class, shape every aspect of society. Political analysis might reasonably be expected to focus on this question, especially given the commitment to social justice that typically inspires writers on intersectionality. However, the characteristic predilections of academic political studies—notably, the preoccupation with quantifiable definitions and research designs—appear to have constrained the scope of their inquiries. In particular, they have resulted in studies that tend to overlook the role of social classes as actual or potential agents of history, —or the interest of the dominant class—in sustaining the multiple lines of oppression." • The style is a bit leisurely, as you can see, but this is an interesting and important read. Grab a cup of coffee. NOTE * Like Reed's ascriptive identity.
The kids are alright:
Teen quits Grande Prairie Walmart with epic rant https://t.co/CV0X0WNGxm pic.twitter.com/AjmOuDZdJf

— Calgary Sun (@calgarysun) December 7, 2018
"40% of Americans Aren't Repaying Their Student Loans" (video) [MarketWatch]. • Seems like rather a lot. I grant that a Debt Jubilee sounds like a really good idea, but will it ever be politically feasible? 60% of Americans might not be happy if "deadbeats" — that would be the framing — are let off the hook. IMNSHO, the only way forward would be admit that the neoliberal approach to financing college is just wrong on every level, and roll back the entire system to whatever it was before Reagan and Proposition 13 pointed the way by wrecking the universities of California. In other words, those who paid their debts should get their money back (perhaps in some phased fashion). Plus interest. Imagine the effect on aggregate demand! Now, maybe this is not possible, economically, even in an MMT world. If so, I don't think a Debt Jubilee is feasible politically. Happy to be wrong!
"The growing weight of warehouse employment in regional economies is getting more attention from labor groups. A coalition of worker advocates in New Jersey is calling for a new code of conduct for jobs in distribution centers,… saying the work is often unsafe and poorly paid" [Wall Street Journal]. "They want state and local governments to support better working conditions by requiring that companies endorse a new code of conduct to get the financial incentives that often come with new developments. New Jersey is is at the center of one of the country's biggest and fastest growing distribution regions. The groups want effective workplace safety and hazard training, as well as higher pay and the right to organize. That call comes as workers at an Amazon.com Inc. distribution center on New York's Staten Island say they may organize over what they call poor working conditions there."
"A law firm in the trenches against media unions" [Columbia Journalism Review]. Jones Day. "The road to organization at Slate has been rocky since the beginning. Site management and the parent company, Graham Holdings (former owners of the Post), initially declined to recognize a union when employees first signed cards in March 2017—resistance which took some at Slate off-guard, given the site's reliably liberal slant." • Too funny. Liberals hate unions; see Thomas Frank.
"More Americans are making no weekly purchases with cash" [Pew Research Center]. "Americans are becoming less reliant on physical currency. Roughly three-in-ten U.S. adults (29%) say they make no purchases using cash during a typical week, up slightly from 24% in 2015. And the share who say that all or almost all of their weekly purchases are made using cash has modestly decreased, from 24% in 2015 to 18% today… [A]dults with an annual household income of $75,000 or more are more than twice as likely as those earning less than $30,000 a year to say they do not make any purchases using cash in a typical week (41% vs. 18%). Conversely, lower-income Americans are about four times as likely as higher-income Americans to say they make all or almost all of their purchases using cash (29% vs. 7%)." • Obviously, we should get rid of cash as fast as possible.
News of the Wired
"A 'Self-Aware' Fish Raises Doubts About a Cognitive Test" [Quanta]. " Scientists have long thought that being able to recognize oneself in a mirror reveals some sort of self-awareness, and perhaps an awareness of others' perspectives, too. For almost 50 years, they have been using mirrors to test animals for that capacity. After letting an animal get familiar with a mirror, they put a mark someplace on the animal's body that it can see only in its reflection. If the animal looks in the mirror and then touches or examines the mark on its body, it passes the test. Humans don't usually reach this milestone until we're toddlers… [Alex Jordan, an evolutionary biologist at the Max Planck Institute for Ornithology in Germany] and his co-authors observed this seemingly self-aware behavior in a tiny fish," the cleaner wrasse. • It's Eric! Eric the Fish!
* * *
Readers, feel free to contact me at lambert [UNDERSCORE] strether [DOT] corrente [AT] yahoo [DOT] com, with (a) links, and even better (b) sources I should curate regularly, (c) how to send me a check if you are allergic to PayPal, and (d) to find out how to send me images of plants. Vegetables are fine! Fungi are deemed to be honorary plants! If you want your handle to appear as a credit, please place it at the start of your mail in parentheses: (thus). Otherwise, I will anonymize by using your initials. See the previous Water Cooler (with plant) here. Today's plant (SB):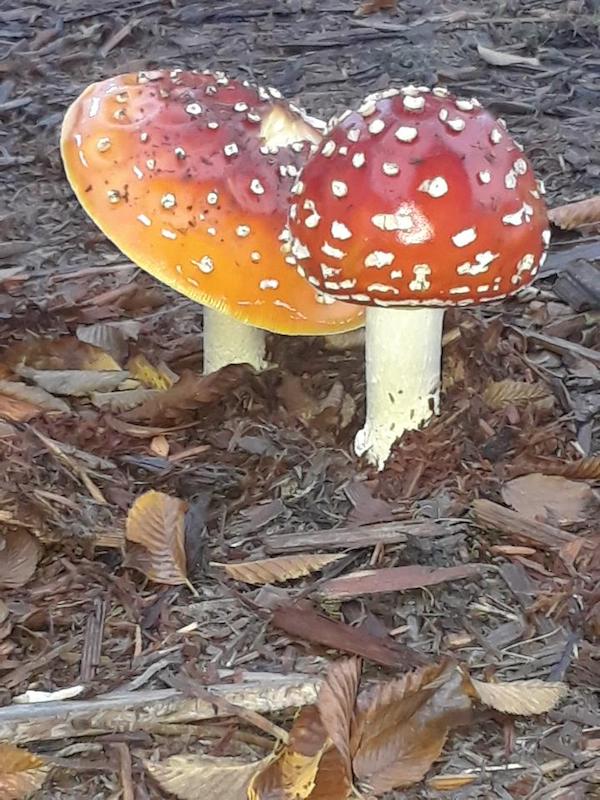 SB writes: "My son took a great mushroom picture here in the city of Redmond, Washington."
* * *
Readers: Water Cooler is a standalone entity not covered by the annual NC fundraiser, now completed. So do feel free to make a contribution today or any day. Here is why: Regular positive feedback both makes me feel good and lets me know I'm on the right track with coverage. When I get no donations for five or ten days I get worried. More tangibly, a constant trickle of small donations helps me with expenses, and I factor that trickle in when setting fundraising goals. So if you see something you especially appreciate, do feel free to click below! (The hat is temporarily defunct, so I slapped in some old code.)
Or Subscribe to make a monthly payment!