By Lambert Strether of Corrente.
Trade
"Lighthizer doesn't think Congress will cave to NAFTA threat" [Politico]. "Lighthizer has indicated to Democratic lawmakers behind closed doors that he's not totally behind Trump's threat to withdraw from NAFTA as a tactic to force Congress to vote on USMCA… He made clear in one recent conversation with a Democrat that the White House would be making any decision to withdraw on its own, one source said. 'It was implied that Lighthizer might disagree with using the threat of withdrawal as a negotiating tactic, but that wasn't said directly,' the source said. Lighthizer also signaled he'd rather have constructive dialogue with Congress to get the deal passed next year." • One source?
Politics
"But what is government itself, but the greatest of all reflections on human nature?" –James Madison, Federalist 51
2020
I can't believe I'm writing about 2020 in 2018. It's like Xmas muzak in the stores on the Fourth of July weekend.

"Biden Should Run on a Unity Ticket With Romney" [Politico]. Everything you need to know is in the author bio: "Juleanna Glover has worked as an adviser for several Republican politicians, including George W. Bush, Dick Cheney and Rudy Giuliani and advised the presidential campaigns of John McCain and Jeb Bush. She is on the Biden Institute Policy Advisory Board." But do skim the article: It screams "Grand Bargain!" from every line.

"Why Joe Biden Turned Down $38 Million" [New York Magazine]. "So he's wading, slowly, through what it means to have not a shred of doubt that he's the right man for the time, but also a real fear that the time is no longer right for him." • But tonight I say, we must move forward, not backward; upward, not forward; and always twirling, twirling, twirling towards freedom.

"First wave of 2020 panic: Is Biden vs. Bernie really the best Democrats can do?" [Salon]. Plenty of blather, but this on age: "Winston Churchill began his second stint as prime minister in 1951, at age 76. He left office at 80, but served another nine years in Parliament. India has had several prime ministers serve into their 80s. The current Malaysian prime minister and Tunisian president are both over 90. Nicolò da Ponte was an esteemed Doge of Venice until his death at age 94 — and that was in 1585."
Incident Report
Twitter is all atwitter over this video of Trump meeting with Pelosi and Schumer. Readers, if you have time to listen to it over a cup of coffee, I'd be interested in your reactions. I thought whoever separated Pelosi and Schumer and put Trump in the middle was clever. Other than that, I'll share my views later, so as not to infect you with my priors.

UPDATE "Pelosi privately disses Trump's manhood after White House meeting" [Politico]. "'I was trying to be the mom,' Pelosi added, but 'it goes to show you: You get into a tinkle contest with a skunk, you get tinkle all over you.'" • I am so not looking forward to seeing "tinkle contest" all over my Twitter feed for the next few days. Anyhow, I don't know what "trying to be the mom" means; perhaps it's similar to Clinton's abortive* positioning as mi abuela? Anyhow, Pelosi isn't the slightest bit like my mother, who was not a millionaire second-generation political operative and winery owner. Come on. NOTE * Hilariously, the Clinton campaign page for mi abuela — https://www.hillaryclinton.com/feed/8-ways-hillary-clinton-just-your-abuela — seems to have been scrubbed from the Wayback Machine. Mook was good for something, I suppose.

UPDATE "Congresswoman, Interrupted" [The Atlantic]. "After Trump interrupted to mention her caucus troubles, Pelosi countered firmly: 'Please don't characterize the strength that I bring to this meeting.' That people notice Pelosi being interrupted and take exception is an indication that she doesn't need help standing up for herself in the first place. But there might be a young woman in your office who does."
2018
NC-09: "In N.C. election fraud case, witness says operative held onto 800 absentee ballots" [NBC]. "McCrae Dowless, the man whose "get-out-the-vote" activities are the center of the election fraud investigation in North Carolina, told a local political campaign volunteer that he was holding onto 800 absentee ballots, according to a new affidavit obtained by NBC News." • I've always wanted an excuse to run "Dogs Playing Poker," and now I can, because it seems to capture the ethical climate of North Carolina politics, at least on the Republican side (the Rev. William Barber, also from North Carolina, is a Democrat (North Carolina is contested)):

NC-09: "Understanding the election scandal in North Carolina's 9th district" [Brokings Insotitution]. "[M]ultiple individuals have come forward to claim that they were paid by a Republican political operative, Leslie McCrae Dowless, to collect absentee ballots from voters; under North Carolina law, it is, with limited exceptions, illegal to collect and return someone else's absentee ballot. (For more on the ins-and-outs of the controversy, I'd recommend some great reporting from local journalists on the episode.)… Investigators are also looking into the results of the Republican primary, in which Harris beat Pittenger by just 828 votes but won 96 percent of the absentee vote in one key county. In addition, Dowless appears to have had ties to other Republican candidates in the 2018 election and the county at the center of the scandal has seen at least five separate elections investigations since 2010." • This does seem a little unsavory. Brookings — amazingly, I should have thought, given its sophisticated audience — has to include an explanation of the difference between election fraud and voter fraud. This makes me think elites — except those, perhaps, with direct, personal interest in outcomes and the political netherworld that services them — might be equally clueless on balloting and e-voting issues.
Please Kill Me Now
"As Dark Clouds Gather, Leaders Should Learn From the Past" [Charles Cook, Cook Political Report]. "So driving from New Orleans to Baton Rouge, listening to the service, grateful for Bush's life and service to our country, for his presidency, it was with , hearing the eloquence and poignance of historian and Bush biographer Jon Meacham, former Canadian Prime Minister Brian Mulroney, former Sen. Alan Simpson, former President George W. Bush, and the Rev. Dr. Russell Jones Levenson Jr., the Bush family's pastor in Houston." • Wowsers. And this is the liberal handicapper!
Obama Legacy
UPDATE I should really do more research on the Obama Library, which isn't really a Presidential Library, and seems to have sprouted a golf course, presumably so Obama can service donors in the privacy of a fairway:

Red alert: After months of silence, the Chicago Park District proposes to spend nearly $3m of public money for work on the Jackson Park/South Shore golf course expansion the community never asked for, which was supposed to be privately funded. (1/4)

— Eric Allix Rogers (@EricAllixRogers) December 12, 2018

Trump plays a lot of golf, but at least he hasn't destroyed a park designed by Frederick Law Olmsted in order to do it conveniently. (To be fair, it's always possible that grateful Chicagoans are gifting Obama with a handy course because they know he's a player.)
Realignment and Legitimacy
"BREAKING: Did Donald J. Trump 'defraud democracy?'" [The Daily Howler]. "[The letter writer] declares that the American people are victims of a crime. As we tried to select the president of the United States, we were kept from knowing that Donald J. Trump may have had sex, on one occasion, with Clifford some ten years before! Forget the legalities here. That strikes us as one of the most insane political and cultural judgments we've encountered in twenty-one years at this mind-numbing post. That said, it's now the defining political/cultural judgment of the liberal and mainstream worlds…. Tribes devise the darnedest claims! We're strongly inclined to function this way, and we always have been." • See, e.g.

"The Lochnerized First Amendment And The Fda: Toward A More Democratic Political Economy" [Amy Kapczynski, Columbia Law Review]. "Recent Supreme Court decisions have 'weaponiz[ed]' the First Amendment, turning it into a powerful tool against a range of ordinary socioeconomic legisla­tion. There is little that can escape its reach, because we are crea­tures of speech, and governance and speech are inescapably intertwined…. Courts, speaking in the name of the First Amendment, are "freeing" us from regulatory approaches that have worked for decades to inform us about the prod­ucts we put in our bodies…. As a commit­ment to market supremacy advances inside of constitutional doctrine, democratic control over our economy and society will demand new pub­lic infrastructure that displaces or routes around an increasingly ungov­ernable private sector." • Hmm.

Good for AOC:

JI SCOOP: Incoming Congresswoman Alexandria Ocasio-Cortez (D-NY) will not join her freshmen colleagues on an AIPAC-affiliated trip to Israel later this year. https://t.co/3BWahUbNFP pic.twitter.com/N89jDkt3aH

— Jewish Insider (@J_Insider) December 11, 2018
Stats Watch
Consumer Price Index, November 2018: "The CPI came in as expected at no change with the ex-food ex-energy core rate also at expectations" [Econoday]. "Even though there's of unwanted pressure in this report, the risk for the Fed is that lack of available labor in the jobs market may begin to slow the economic expansion and no less importantly begin to raise wages which are inflationary pressures not tracked in this report." And: "Energy was the main driver for the year-over-year decline. Core inflation remains above 2.0 % year-over-year. Medical cost inflation continues to outpace the CPI-U" [Econintersect]. And: "Using these measures, inflation picked up slightly on a year-over-year basis in November. Overall, these measures are at or above the Fed's 2% target (Core PCE is below 2%)" [Calculated Risk].
Atlanta Fed Business Inflation Expectations, December 2018: "Year-ahead inflation expectations for the business sector are up" [Econoday]. "December's gain isn't dramatic and is not confirmed by last week's reading on the consumer sector from the University of Michigan… These results are modest at most but the trends for each are on a gradual upward path, one that won't escape the notice of the Federal Reserve which strongly stresses the central importance that inflation expectations remain well anchored."
MBA Mortgage Applications, week of December 7, 2018: "A sharp decline in interest rates gave a boost to mortgage activity in the December 7 week" [Econoday].
Real Estate: "JLL report says intermodal growth is starting to pay off with inland ports' development:" [Logistics Management]. "[I]ncreased intermodal usage will not only see supply chains drive more cargo off of highways on to rail, but it will also serve as a driver to increase real estate development in close proximity to inland ports. A key thesis of the report, entitled "On the right track, growth in intermodal rail leads to new warehouse real estate," explained that this type of real estate development is expected to see growth, should the U.S. shift to more export-oriented growth. The reason for this, JLL explained, is the direct linkage between rail volume growth and warehouse inventory growth. Using the inland port markets in heavy freight regions Atlanta, Chicago and Dallas, it said that each has seen significant benefits from freight transportation connections, with warehouse inventory growth ranging from 3%-12% over the last five years."
Shipping: "November truckload and intermodal pricing see gains in November, says Cass and Broughton report" [Logistics Management]. "The report cited various factors for the ongoing strength in truckload pricing, including: the recent decline in the price of WTI crude oil, coupled with expected continued growth in the industrial economy; an acceleration in the consumer economy; the visibility of equipment (especially dry van and reefers) is now being used to help offset the initial reduction in capacity stemming from the December 2017 ELD federal mandate; and capacity additions, which have come in the form of lower unseated truck counts, as driver pay has steadily increased, lower average age of trucks, and better visibility of small fleet equipment via ELD, among others."
Shipping: "The government wants to monetize your mailbox. The Trump administration says the U.S. Postal Service could sell mailbox access to companies like FedEx Corp. and United Parcel Corp. to help shore up its sagging financials" [Wall Street Journal].
The Bezzle: "Turner Construction, Bloomberg LP execs face bribery, bid-rigging charges" [Construction Dive]. "Those indicted include , Anthony Guzzone, and , Michael Campana. … [Manhattan District Attorney Cyrus Vance] said 'inside information' about the Bloomberg project was given to subcontractors in order to help them win contracts for the job. The defendants, he said, inflated their budgets with fake invoices and purchase orders and even filed phony applications for women-owned business status. Subcontractors allegedly gave the former Bloomberg and Turner executives cash and other incentives like vacations and free home renovations in exchange for their lucrative contracts. 'Today's indictments and guilty pleas,' Vance said, 'demonstrate that if you are engaging in organized crime that blocks fair competition in Manhattan, our prosecutors will find you, turn over every stone, and shut you down.'" • Hmm. Accounting control fraud at Bloomberg? Owned by potential Presidential candidate Michael "Mike" Bloomberg?
The Bezzle: "Bitcoin Miners Reel As IPO Dreams Crumble" [Safe Haven]. "The Bitcoin rout has claimed many victims, from everyday investors to medium-sized miners, but now, even some of the industry's biggest names [Bitmain, Canaan, and Ebang] are being forced to face the music… Like Bitmain and Canaan, Ebang International Holdings, the world's second largest mining equipment producer, had filed the paperwork for a now-uncertain IPO…. Though financial disclosure is a rare occurrence in the world of bitcoin miners, the general assumption is that the three companies are being forced to adjust their valuations as a result of the downturn in crypto markets." • I only hope the insiders were able to cash out in time!
The Bezzle: "Tesla sues its alleged saboteur for $167 million" [Engadget]. "Tesla wants Martin Tripp to pay up big time — it's seeking a whopping $167 million from the former employee, which company chief Elon Musk once called a saboteur. The electric vehicle maker filed a lawsuit against Tripp earlier this year, accusing the former employee of stealing gigabytes' worth of proprietary information and giving it to outsiders, as well as of making false claims to reporters…. The former employee, who used to work as a process engineer at Tesla's Gigafactory, filed a complaint of his own with the Securities and Exchange Commission in June. He accused Tesla of making "material omissions and misstatements" to investors as well as of putting cars with safety issues on the road. Tripp also tweeted photos of what he said were images showing Tesla's flawed manufacturing practices and handling of scrap at the lithium battery factory."
Tech: "Charlemont says 'no' to Comcast" [Greenfield Reporter]. "Special town meeting voters turned out in full force Thursday night and ultimately defeated a proposal from Comcast Cable Co. for cable internet. The offer, for Comcast to bring cable broadband access to up to 96 percent of households, at a cost to the town of $462,123 plus interest, was defeated by a roughly 20-vote margin, according to Robert Handsaker, chairman of the town's Broadband Committee…. . The defeated measure means that Charlemont will likely go forward with a $1.4 million municipal town network, as was approved by annual town meeting voters in 2015."
Mr. Market: "Yield Curve Inversion Can Cause A Crisis Through Reflexivity" [Upfina]. "This idea that sentiment drives reality is working in late 2018. Investors are concerned with the yield curve, making it one of the primary factors in our view that's causing the selloff in stocks. Instead of using the indicator to forecast a recession, investors are selling before the curve even inverts (10 year – 2 year) because they think they know what will happen next. When everyone knows about an indicator, it can either cease driving alpha or speed up the process. Instead of forecasting a recession in over a year, it is causing weakness now."
Gaia
"Corporate planning for future climate change is stuck in a business-as-usual past" [Anthropocene]. "A U.S.-U.K. team of researchers analyzed the text of climate change plans prepared in 2016 by 1,630 companies, including many large multinational corporations. The study represents the first comprehensive analysis of climate risk reporting across multiple industries and sectors of the global economy…. [W]hile many companies may prefer to remain hush-hush about climate change in public, the actual bottom-line is that outright climate denialism isn't very prevalent in the business world… The researchers also identified five 'blind spots' of corporate climate change planning. First, corporations have a tendency to underestimate the magnitude and potential cost of climate change risks. Second, they only consider direct impacts to business operations rather than taking into account broader risks, such as projections that climate change will reduce people's income and thus drive down global demand for goods and services. Third, most companies report only the up-front cost of climate change adaptation measures. Few calculate the return on investment, the relative cost effectiveness of different strategies, or the cost of doing nothing. Relatedly, they mostly ignore the huge win-win potential of ecosystem-based adaptation. This strategy is currently in use by only 3.3% of companies, and is "likely to remain largely untapped until the costs of all strategies are better articulated," the researchers say. And finally, most corporate adaptation strategies assume that climate change risk is basically linear." • In other words, we need the State.
"East Antarctica is losing ice faster than anyone thought" [Nature]. "East Antarctica was supposed to be the stable side of the icy continent, whose western flank is losing ice fast1. But glaciologists are finding that the closer they look at East Antarctica, the more change they see…. Four small glaciers in a region known as Vincennes Bay are thinning at surprisingly fast rates…. The glaciers are responding to warm ocean waters that now reach much closer to East Antarctica's icy edge than in years past — and might continue to do so."
"Going in for the Shill" [The Baffler]. On Joe Manchin, ranking member on the Senate Energy and Natural Resources Committee. (Thanks, Chuck! [waves]). There's lots more but this detail I didn't know: "[L]kely you, me, and most other Americans walking around have a toxic DuPont-produced chemical called C8 taking up residency in our tissues as I write. Above a certain threshold, C8 might lead to kidney cancer, or it might just cause your prostate to swell to the size of a regulation, tournament-legal bocce ball. When DuPont was ordered to pay $196 million in C8-related damages in 2008, then-governor Manchin filed an amicus brief urging the State Supreme Court to review the judgment—after conferring with DuPont executives." • Yech.
"Mountain Valley Pipeline sued, Atlantic Coast Pipeline halted" [Construction Dive]. "Both the $4.6 billion Mountain Valley Pipeline and $7 billion Atlantic Coast Pipeline suffered significant legal setbacks in Virginia last week, with the state filing suit against Mountain Valley and Atlantic Coast officials halting construction in the wake of more legal questions around its permit." • Good. All projects tht make it easier to take carbon out of the ground should be opposed where found.
The 420
"Weed on-demand: Couriers, retailers chafe at pot delivery restrictions" [Freight Waves]. "Cannabis is now legal in 10 states, but getting pot delivered to your home is not exactly like calling Uber Eats. And for would-be entrepreneurs, securing a license to deliver pot is no easy task…. California boasts a flourishing legal delivery market. Licensed retailers who use Eaze, an online cannabis marketplace and delivery app, have made hundreds of thousands of deliveries around the state since the sale of recreational pot started a year ago, according to the Los Angeles Times."
Guillotine Watch
Happy birthday:
For my birthday this year, I did a 10-day silent vipassana meditation, this time in Pyin Oo Lwin, Myanmar ??. We went into silence on the night of my birthday, the 19th. Here's what I know ??

— jack (@jack) December 9, 2018
@Jack's Apple watch has an app that gazes at the user's navel…
Class Warfare
"Revealed: Google's 'two-tier' workforce training document" [Guardian]. "The two-tier system has complicated labor activism at Google. After 20,000 workers joined a global walkout on 1 November, the company quickly gave in to one of the protesters' demands by ending forced arbitration in cases of sexual harassment – but only for FTEs." • Well, naturally.
"Football Nation" [The Baffler]. "All this money and all that power and all those endless identical parties populated by all these utterly mediocre and perfectly feckless people, all the ridiculous feuds and childish posturing and stupid status-driven spats up top and all that all-too-real carnage underneath—it runs on rails, and it runs all the time. The fathomlessly entitled dauphins in both camps will, depending on the day and their whims, bully you into bowing reverently before the national anthem or demand your deferential civility as they blast racist lies into your face. It's a business and it's a game, but also it's not." • BOOM. As they say.
"Major private research funders make secretive offshore investments, raising ethical concerns" [Nature]. "A few years ago, scientists funded by the Wellcome Trust, one of the world's wealthiest private philanthropies, published sobering findings about the deadly effects of air pollution. In a long-term study of elderly residents of Hong Kong, China, those exposed to higher levels of smog—especially tiny particles of soot produced by burning fossil fuels—were more likely to die of cancer than people who breathed cleaner air…. The trust does not highlight, however, that some of the more than $1.2 billion it has handed out annually in recent years comes from investments in companies that contribute to the same problems the philanthropy wants to solve. Not long before the Hong Kong study was published, for example, the trust became an investor in Varo Energy, a company based in Cham, Switzerland, that sells fuel to shipping firms. One of Varo's main products is bunker fuel for marine engines: a cheap, sulfurous residue of oil refining that is a major source of soot pollution."
News of the Wired
"The Historical Profession Is Committing Slow-motion Suicide" [War on the Rocks]. " Since 2008, the number of students majoring in history in U.S. universities has dropped 30 percent, and history now accounts for a smaller share of all U.S. bachelor's degrees than at any time since 1950. Although all humanities disciplines have suffered declining enrollments since 2008, none has fallen as far as history… In recent decades, the academic historical profession has become steadily less accessible to students and the general public — and ." • In theory, as a humanities major and fan, I'm sympathetic to the article, and a lament for lost forms of scholarship. Then I read the author bios:
Hal Brands, a historian trained at Yale University, is the at the School of Advanced International Studies in Johns Hopkins University. His most recent book is The Lessons of Tragedy: Statecraft and World Order, with Charles Edel.

Francis J. Gavin, a historian trained at the University of Pennsylvania, is the Giovanni Agnelli Distinguished Professor and Director of the at the School of Advanced International Studies in Johns Hopkins University.
I mean, there's "politics, diplomacy, and war and peace," and then there's politics, diplomacy, and war and peace. Or rather, there's "politics, diplomacy, and war and peace," and then there's genocidal madness.
Whatever "Fortnite" might be. Thread:
I've played Fortnite with my friends' kids before, but last night I played with my friend's 12yo son and _his_ friends and my mind is still spinning.

— Anoop Ranganath (@anoopr) December 10, 2018
And then there's this:
Screen time could change children's brain structures! Study finds children addictive to smartphones experience premature thinning of cerebral cortex https://t.co/FKUg3ItxUh pic.twitter.com/kl0SuieVnJ

— China Xinhua News (@XHNews) December 11, 2018
Better than concussions in football, I suppose.
* * *
Readers, feel free to contact me at lambert [UNDERSCORE] strether [DOT] corrente [AT] yahoo [DOT] com, with (a) links, and even better (b) sources I should curate regularly, (c) how to send me a check if you are allergic to PayPal, and (d) to find out how to send me images of plants. Vegetables are fine! Fungi are deemed to be honorary plants! If you want your handle to appear as a credit, please place it at the start of your mail in parentheses: (thus). Otherwise, I will anonymize by using your initials. See the previous Water Cooler (with plant) here. Today's plant (TH):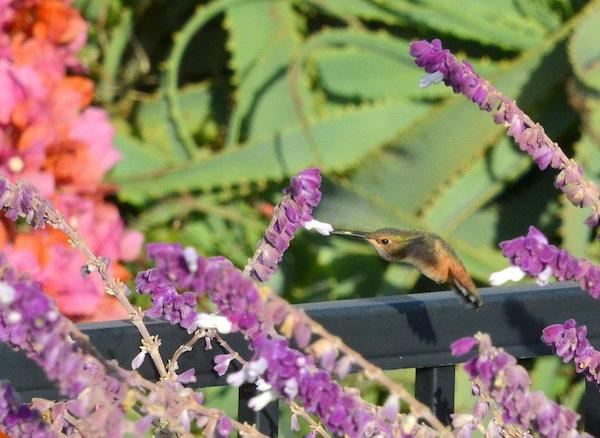 TH writes: "Seems like it's pretty rare that I see a Mexican Bush Sage (that name always sounds inverted to me) without seeing at least one hummingbird in the vicinity." I've got to give TH credit; hummingbirds are not easy to photograph. I had heard there were hummingbirds in Maine, and I bought a red plastic sugar-water bird feeder to attract them, which didn't work, and I wasn't going to be refilling it anyhow; that's too much like work. But it turned out all I needed to do was plant bee balm!
* * *
Readers: Water Cooler is a standalone entity not covered by the annual NC fundraiser, now completed. So do feel free to make a contribution today or any day. Here is why: Regular positive feedback both makes me feel good and lets me know I'm on the right track with coverage. When I get no donations for five or ten days I get worried. More tangibly, a constant trickle of small donations helps me with expenses, and I factor that trickle in when setting fundraising goals. So if you see something you especially appreciate, do feel free to click below! (The hat is temporarily defunct, so I slapped in some old code.)
Or Subscribe to make a monthly payment!