By Lambert Strether of Corrente.
Politics
"But what is government itself, but the greatest of all reflections on human nature?" –James Madison, Federalist 51
2020
"A New Survey Finds Kamala Harris Has Big Support For A Presidential Run From Top Democratic Women Of Color" [Buzzfeed]. "Nearly a third of the 222 women from She the People's survey who responded to a question asking who they would not consider for president named Sanders in their top three because they don't think he'd be able to reach women of color, a problem he faced in the 2016 election." • So, n = 222. There are not very many of the Shing.

"Beto O'Rourke frequently voted for Republican legislation, analysis reveals" [David Sirota, Guardian (DJG)]. "[A] new analysis of congressional votes from the non-profit news organisation Capital & Main shows that even as O'Rourke represented one of the most solidly Democratic congressional districts in the United States, he has frequently voted against the majority of House Democrats in support of Republican bills and Trump administration priorities…. O'Rourke has voted for GOP bills that his fellow Democratic lawmakers said reinforced Republicans' anti-tax ideology, chipped away at the Affordable Care Act (ACA), weakened Wall Street regulations, boosted the fossil fuel industry and bolstered Donald Trump's immigration policy." • I don't see what the issue is. Liberal Democrats want to appeal to wealthy suburban Republicans, especially women, so why shouldn't Beto vote for Republican bills?

"How Sherrod Brown Turned His Rumpled Authenticity Into A Brand — And Gave Himself A Good Story To Tell In 2020" [Buzzfeed]. "Sherrod Brown is indeed authentic — but like any other successful figure in 2018, he makes sure you see certain parts of himself first. He cares a great deal about reminding you that he doesn't care about his appearance. His perpetually wrinkled suits and shaggy hair are such trademarks that, in his recent campaign, Brown aired an ad tying together the style and substance of his political identity: workers from an Ohio washing machine factory saying Brown looks just fine to them." • Oh good. Another trial balloon. Do any Ohio readers have views?

"The 2040 plan for unexciting Democrats" [Matt Bai, Yahoo News]. "As I explained in some detail here, a combination of factors in our politics — an infatuation with celebrity, the rise of super-PACs, the weakness of incumbents, the declining value of both expertise and TV advertising — has created an environment where more candidates will get in and stay in than ever before…. And as we saw in 2016, that means that a candidate who can get his or her hooks into 25 percent of the electorate, and hold onto it no matter what, might have just enough support in a fractured field to win the nomination…. Which means we know something else, too — that the energy in the Democratic Party will be on the reactionary left, as it has been for a few years now. The loudest applause will be reserved for orators who call the social and economic order "rigged" (as Warren does), and who demonize capital in the society, and who make all kinds of expansive promises they can't really keep. You can see how this works for a candidate like Warren or Bernie Sanders, who champion social justice and can whip up a crowd, and who won't feel the need to say anything that challenges the orthodoxy of the baby-boomer left…. What the country needs is a long-term strategic plan. And if you're a drab Democrat with designs on the presidency, so do you." • Hence "2040." I don't know about Warren, but Sanders popularity is inversely proportional to age. He is in no sense a candidate of the "baby-boomer left."
2018
"Alexandria Ocasio-Cortez Says She's Taking a Week Off for Self-Care" [Elle]. "Ocasio-Cortez explained that before the campaign, she would do yoga multiple times a week, eat nutritiously, and take time to read and write for leisure. Then, once her campaign began, she says all that went out the window and instead, she found herself eating fast food for dinner and falling asleep in her jeans and makeup…. 'We live in a culture where that kind of lifestyle is subtly celebrated as 'working hard," she wrote. 'But I will be the first to tell you it's NOT CUTE and makes your life harder on the other end (you wake up worse, energy all over the place, etc).'" • Thread here. AOC is correct; activists burn out all the time; there are no Beltway think tanks to support them. On the other hand… Well, when I was young, I thought things would get easier as I grew older; that there was some sort of plateau that one reaches. There isn't.
New Cold War
"How the Russians attacked America's democracy" [Editorial Board, USA Today] (December 19, 2018). "Two new reports for the Senate Intelligence Committee describe how the Russians heavily targeted Americans with deceitful messages on Facebook, Twitter, YouTube, Instagram and other social media platforms… It is not unreasonable to see the Russian attack as a sort of digital version of 9/11. No one was killed, of course, but a foreign adversary sought to strike at one of the nation's most cherished freedoms: the right to vote in a secure election for president. And while no one will ever know for certain, the Russian efforts in a close election might have changed the course of history." • One of the reports was produced by a small firm named "New Knowledge," so I cannot forbear from juxtaposing with the following–

"Secret Experiment in Alabama Senate Race Imitated Russian Tactics" [New York Times] (December 19, 2018). "As Russia's online election machinations came to light last year, a group of Democratic tech experts decided to try out similarly deceptive tactics in the fiercely contested Alabama Senate race, according to people familiar with the effort and a report on its results. The secret project, carried out on Facebook and Twitter, was likely too small to have a significant effect on the race, in which the Democratic candidate it was designed to help, Doug Jones, edged out the Republican, Roy S. Moore." • And the beauty part? "One participant in the Alabama project, Jonathon Morgan, is the chief executive of New Knowledge, a small cyber security firm that wrote a scathing account of Russia's social media operations in the 2016 election that was released this week by the Senate Intelligence Committee." • BWA-HA-HA-HA-HA!!!!! A few points: First, "likely too small to have a significant effect" also applies to the Russian online election "machinations." Second, the Times seems to believe that the Russians originated such tactics. That seems to me to be an extremely dubious assumption; Hillary Clinton's insistence, during the occupation of Tahrir Square and the overthrow of Mubarak, that Egypt not shut down the Internet seems a good deal more sinister in retrospect than it did at the time, given what we now know about the intelligence community's digital operations. Why is the Times so sure the Russians aren't imiitating us? Third, the murky world of the press, the parties, the intelligence community, oppo, and ratfucking is deeply intertwingled, and clearly permeated by actors who will, well, do anything for a buck. I mean, I always figured New Knowledge was talking their book, just like CrowdStrike. But I didn't figure they were talking their book as much as they turned out to be! Finally, if election 2016 was like 9/11, there were a lot of airplanes crashing into the Twin Towers, many of them piloted by Americans. The images of the Russian memes have been published, and they're all ludicrous; I can't imagine who would be persuaded by them. I live on the Twitter and followed campaign 2016 obsessively; I can testify I never saw one. However, the million-dollar trolls Clinton hired from Brock… Those, I think I encountered, or at least trolls inspired by them. So who did more damage to democracy? Outside agitators? Or our political class, all on its own? Oh, and are we now going to see any liberal Democrats yammering that Doug Jones's victory was illegitimate? Fat chance!
Realignment and Legitimacy
"The Imagined Threat of a Woman Who Governs Like a Man" [Rebecca Traister, New York Magazine]. "Ocasio-Cortez's eagerness to flex her muscles, without demurring or waiting for her turn — without even waiting to be sworn in — is undergirding nightmarish fears about her as an agent of chaos and destruction. … What's scary to so many about Ocasio-Cortez is that she's acting like a politician with power. And apparently, that provokes an almost primal fear." • Oddly, since she's writing about AOC, Traister's — allow me a moment to break out my word count function, here — 1428-word article does not include one word: Socialism.
Stats Watch
Leading Indicators, November 2018: Rose higher than expected, but October was revised down [Econoday]. "Stock prices have been dragging down the LEI but positives for November are led by gains in building permits and ISM manufacturing orders. A rise in initial jobless claims was a major negative in November as well as October but so far this month, claims have been moving lower. According to the report, recent results point to solid 2.8 percent GDP growth in the beginning of 2019 followed by moderation in the second half of the year." • Real economy a bit bumpy, but ticking along…
Jobless Claims, week of December 15, 2018: "Initial claims appear to have settled back near historic lows after turning higher during November" [Econoday]. "The best and most important news in today's report is the second straight headline decline for initial claims, one that hints perhaps at greater payroll growth for the December employment report and should at least ease concern that demand for labor may have begun to ease back." • Ticking along…
Philadelphia Fed Business Outlook Survey, December 2018: "The general business conditions index for December slipped… well below Econoday's consensus range" [Econoday]. "Yet new orders rose…. Employment is very strong…. Monday's Empire State report did show cracks in its December report but less so for today's Philly data which, given the strength in orders and selling prices, point to opening-year strength for this report this time next month." • Or not…
Commodities: "China steel raw materials drop on demand woes" [Reuters]. "Chinese coking coal and coke futures dropped on Wednesday, but closed off the day's lows, as steel producers continued to seek lower prices for the steelmaking raw materials due to shrinking profit margins…. Profit margins at Chinese steel mills narrowed sharply in November amid plentiful supply as the government scrapped blanket production restrictions for winter aimed at tackling smog. Beijing instead allowed cities and provinces to set their own output curbs based on emissions."
Shipping: "Port Houston has invested hundreds of millions of dollars to accommodate the larger container ships now prevalent in seaborne trade. Houston is also the largest U.S. gateway for energy exports, and those producers want the port to limit the longer box ships to one vessel a week. Houston's 50-mile channel now handles two-way traffic, but it may not be big enough for two upsized maritime sectors" [Wall Street Journal].
The Bezzle: "A huge lawsuit accuses nearly 20 big drug companies, a billionaire, and 2 brothers-in-law of cozying up to hike drug prices. Here's the inside story." [Business Insider]. "Attorneys general for most US states are bringing a large federal antitrust lawsuit against nearly 20 generic-drug makers, alleging they illegally collaborated to jack up drug prices…. Common drugs had their prices doubled, tripled, or even increased by 1,000% or more, costing taxpayers and patients and violating federal and state competition and consumer-protection laws, the federal antitrust suit alleges." • Hoo boy. Generics are supposed to be cheap!
The Bezzle: More snark on Elon's submarine tunnel:
Burning to death, trapped alone in a repurposed sewer tunnel, because I'm afraid of the bus https://t.co/16Uf3Dfb6j

— Fill Oaks ? (@FillOaks) December 19, 2018
I believe tunnels are supposed to have parallel escape tunnels in case of fire. So it's a good thing battery fires never happen with Tesla. Oh, wait…
The Bezzle: "China bike-sharing firm Ofo faces 'immense' cash crunch, CEO vows to battle on" [Reuters]. "Ofo, which started in university campuses in Beijing and expanded to countries around the world, has become something of a cautionary tale about the rapid debt-fueled boom and bust of new technology enterprises in the country. China's bike-sharing industry has seen firms burn through hundreds of millions of dollars in the fight to dominate key cities, with several going under or taken over."
The Bezzle: "Mark Zuckerberg did everything in his power to avoid Facebook becoming the next MySpace – but forgot one crucial detail…" [The Register]. The deck: "No one likes a lying assh*le." • This is an excellent article!
Governance: "Nissan Is a Corporate Governance Nightmare" [Josh Barro, New York Magazine]. "The context of the charges made clear that [former Nissan chairman and CEO Carlos Ghosn] had kept not just the Japanese government (and the public) in the dark about the size of his compensation package, but also much of Nissan's board. How was this possible? How could a company be unaware of how much it was paying its own CEO?" • Everything is like CalPERS…
Gaia
"Against Human Extinction" [Nathan J. Robinson, Current Affairs (nycTerrierist)]. "In the New York Times, philosopher Todd May considers a question that has never really entered my mind: 'Would human extinction be a tragedy?'.. [May] thinks that the harm human beings inflict on the world cannot be stopped…. This is a little weird to me: To think that 'stopping human beings from existing at all' is somehow more of a plausible option than 'stopping factory farming and human-made climate change' means an extreme form of pessimism about the possibilities for changing our actions. As he says, the elimination of these wrongs 'would likely require the elimination of the species.' Respectfully, what the f*ck? May says this as if it's a given—there's not a shred of argumentation offered. He thinks we'll just nod and agree that it's impossible to stop climate change, factory farming, and the destruction of ecosystems, that they will only come to an end if we commit civilizational suicide. I'm sorry, but that's not the sort of proposition you can just state as an uncontroversial fact. Especially because these are all extremely recent phenomena—modern-day industrial animal farming began within the lifetimes of presently-living people… It is the job of socialists, and really anyone who cares about their "fellow creatures," not to fall into despair or conclude that "extinction is the only option." Hopelessness is what conservatives want, and pessimism means death. Todd May's thinking is dangerous, suicidal, wrong. Reject it."
"Rising Waters Are Drowning Amtrak's Northeast Corridor" [Bloomberg]. "Parts of Amtrak's Northeast Corridor route, which carries 12 million people each year between Boston and Washington, face "continual inundation." Flooding, rising seas, and storm surge threaten to erode the track bed and knock out the signals that direct train traffic. The poles that provide electricity for trains are at risk of collapse, even as power substations succumb to floodwaters. "If one of the segments of track shuts down, it will shut down this segment of the NEC," warned members of Amtrak's planning staff. "There is not an alternate route that can be used as a detour.'" • Taken from a (redacted) report obtained by Bloomberg from a public records request.
"De-Growth vs a Green New Deal." [New Left Review]. "Returning to climate change, it is in fact absolutely imperative that some categories of economic activity should now grow massively—those associated with the production and distribution of clean energy. Concurrently, the global fossil-fuel industry needs to contract massively—that is, to 'de-grow' relentlessly over the next forty or fifty years until it has virtually shut down. In my view, addressing these matters in terms of their specifics is more constructive in addressing climate change than presenting broad generalities about the nature of economic growth, positive or negative….
Guillotine Watch
"'Five Deeps' mission to explore mysterious ocean trenches" [Nature]. "He scaled Mount Everest and the highest peaks on the six other continents. He skied to the North and South poles. Now, Victor Vescovo, , wants to be the first person to visit the deepest point in each of the five oceans. This week, Vescovo was set to complete the first dive in the yearlong Five Deeps Expedition, piloting a titanium-alloy, 12.5-ton submersible down 8408 meters to the deepest part of the Atlantic Ocean, in the Puerto Rico Trench. Five Deeps may look like a vanity project, but for scientists, it is a rare opportunity to study inaccessible, mysterious places. 'If there wasn't this rich guy, there is not any funding agency that would be willing to spend so much money to visit all those areas,' says Ann Vanreusel, a deep-sea biologist at Ghent University in Belgium." • Well, who knows. But even I've shocked by the lead. Puffery about a squillionare? In Nature? Which editor thought that was a good idea?
UPDATE "Anand Giridharadas on elite do-gooding: 'Many of my friends are drunk on dangerous BS'" [Guardian].
"Giridharadas was bothered by [the Aspen program], and particularly by how the program seemed to encourage elite participants from tech giants and hedge funds to start philanthropic side-hustles doubling as vanity projects, rather than find ways to do less harm in their day jobs. (At a Goldman Sachs-sponsored lunch put on at a fellowship reunion, for instance, the corporate giant's role in the 2008 financial crisis went unmentioned as its do-gooding was praised.)" • As we see above.
Class Warfare
"NYC Subway Chief Warns of 'Death Spiral' Without $40 Billion Fix" [Bloomberg]. • Tunnels and robot cars! That's the answer!
News of the Wired
They write parody poems:
Things fall apart, the icebox cannot hold
Mere sweetness is loosed upon the world
The plum-dimmed tide is loosed, and everywhere
The ceremony of breakfast is drowned… https://t.co/bxKYyHerY6

— The Wombat Resists (@UrsulaV) December 20, 2018
The first is a pastiche of William Butler Yeats and William Carlos Williams; the second of Williams and Henry Reed.
"Can Hot Peppers Make Me Happy?" [New York Magazine} • Yes, obviously. More: "Recently I've been experimenting with mood-modification through temperature extremes (like hot and cold bathing). The heat of a sauna, for instance, supposedly triggers a rush of pleasurable hormones — and so, apparently, does the heat of a chili pepper. I like hot sauce, and this seemed like a good enough excuse to experiment." • I dunno. The American approach to spicy food seems to approach it as a sort of endurance contest, a sport: Sweating, enduring pain, bonding through shared discomfort, etc. But one sees countless Southeast Asians devouring extremely spicy food on a daily basis without turning a hair. So perhaps this article is more about Americans than hot peppers?
"So I still use Facebook 'cause I'm an immigrant and have to because family – but if you're in the same situation, there's one way to make it less sh*t'" [Dan FIxes Coin-Ops, Mastodon]. "YOU CAN TURN THAT WHOLE EMOTIONALLY-ABUSIVE SURVEILLANCE ECOSYSTEM OFF. You can go back to FB just being a fun way to keep in touch with distant friends and family." • I thought this was the best tip: "[Block] EVERY SINGLE THIRD-PARTY LINK. Even, and especially, this is *crucial,* the things that you agree with or that get an emotional rise out of you. Block it all. ESPECIALLY the stuff you like, 'cause if it's putting up stuff you like, then the algorithm is working, it has its hooks in." • Horrible but true!
* * *
Readers, feel free to contact me at lambert [UNDERSCORE] strether [DOT] corrente [AT] yahoo [DOT] com, with (a) links, and even better (b) sources I should curate regularly, (c) how to send me a check if you are allergic to PayPal, and (d) to find out how to send me images of plants. Vegetables are fine! Fungi are deemed to be honorary plants! If you want your handle to appear as a credit, please place it at the start of your mail in parentheses: (thus). Otherwise, I will anonymize by using your initials. See the previous Water Cooler (with plant) here. Today's plant (PM):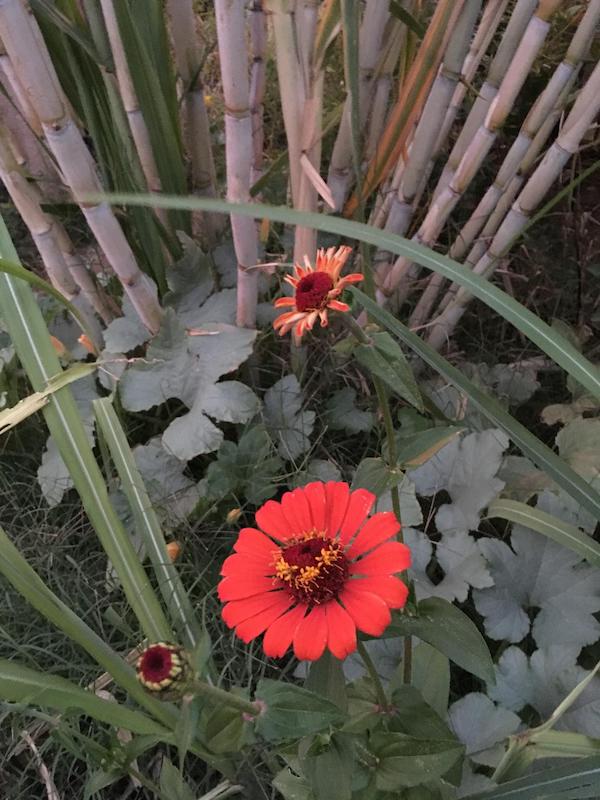 PM: "Everything is still blooming here in sunny Tucson, AZ." [lambert snarls].
* * *
Readers: Water Cooler is a standalone entity not covered by the annual NC fundraiser, now completed. So do feel free to make a contribution today or any day. Here is why: Regular positive feedback both makes me feel good and lets me know I'm on the right track with coverage. When I get no donations for five or ten days I get worried. More tangibly, a constant trickle of small donations helps me with expenses, and I factor that trickle in when setting fundraising goals. So if you see something you especially appreciate, do feel free to click below! (The hat is temporarily defunct, so I slapped in some old code.)
Or Subscribe to make a monthly payment!