By Lambert Strether of Corrente.
Trade
"Trump's Trade War Comes With an Unexpected Bonus: More Trade" [Bloomberg]. "In fact, President Donald Trump's assault on globalization has had a paradoxical effect on world trade flows. A rush to get ahead of new and higher tariffs, particularly on U.S. imports from China, has motivated retailers and other American companies to increase orders, which has helped boost volumes at the country's ports…. 'Many people want to shout that the sky is falling on trade because of these trade measures' such as tariffs imposed by the Trump administration, WTO chief economist Robert Koopman said. But for now, 'we think 2018 is going to end up with a fairly solid year.'"
Politics
"But what is government itself, but the greatest of all reflections on human nature?" –James Madison, Federalist 51
2020
"Why the Bernie Movement Must Crush Beto O'Rourke" [Jonathon Chait, New York Magazine]. "Baffled liberals, many still nursing wounds from 2016, see the passionate intensity of the Bernie movement as a personality cult, propelled by unthinking devotion to him (or spite at the party that they believe rigged the primary against him). It is anything but. The socialist left belongs to Sanders simply because there is no other presidential candidate who meets their exacting ideological criteria. They see O'Rourke as a threat to their project because, in important ways, he is."

"Yes, Bernie Should Run" [Matt Taibbi, Rolling Stone]. "[T]he Sanders platform would massively disenfranchise the traditional financial backers of the modern Democratic Party: Wall Street, pharmaceutical and insurance companies, Silicon Valley, lobbyists and corporate law firms, etc. Whether it's now or later, whoever takes on those interests is going to take a hell of a beating. That Sanders seems willing to be that person seems reason enough to embrace another run. Someone has to take up those fights eventually. It might be a while before anyone else volunteers for the job."

"Bloomberg says he'll insist presidential candidates have climate change plans" [Politico]. Bloomberg: "'I can tell you one thing, I don't know whether I'm going to run or not, but I will be out there demanding that anybody that's running has a plan," he said in the 'Meet the Press' interview. 'And I want to hear the plan, and I want everybody to look at it and say whether it's doable.'" • For some definition of "doable."

"In Iowa, Democrats see 2020 as head vs. heart moment" [Associated Press]. "'We'd be kidding ourselves if we kept looking for Obama in every single presidential hopeful,' said Deidre DeJear, Iowa Democrats' 2018 candidate for Iowa secretary of state who worked on Obama's 2008 campaign as a college student. 'But people are ready for change. They don't know what change looks like. But when it shows up, they know what it feels like.'" • Oh. Feelings.
Realignment and Legitimacy
"Heartwarming bipartisan moments in a polarizing 2018" [Politico]. "George W. Bush was spotted hugging Nancy Pelosi, the longtime Democratic Party leader, and discreetly passing Michelle Obama a candy or mint – just like he did at Sen. John McCain's funeral this summer. The moment went viral online and was widely praised as a touching gesture of friendship over politics." • Discreet? Like both parties didn't know they were sending a message through the cameras? Feh.
Stats Watch
Chicago Purchasing Manager's Index, December 2018: "Unusually robust and sustained growth is once again the signal from the Chicago PMI" [Econoday]. "Growth in new orders and employment did ease in December but not backlog orders or production which posted solid gains. Indications of easing in capacity stress are special positives as supplier deliveries improved and prices paid, despite continuing reports of tariff-related pressures on metal and lumber costs, fell for a fifth straight month and by the largest monthly margin in nearly four years." And: "The Fed manufacturing surveys have been trending down – and the but ISM manufacturing and Chicago ISM trends are stronger" [Econintersect]. And: "This was above the consensus forecast" [Calculated Risk].
Pending Home Sales Index, November 2018: "Existing home sales have been leveling but the signal from pending home sales points to a new downturn" [Econoday]. And: "below expectations" [Calculated Risk].
International Trade in Goods, November 2018: "This report has been delayed and will be released when the government reopens" [Econoday].
Wholesale Inventories [Advance], November 2018: "This report has been delayed and will be released when the government reopens" [Econoday]. d
Weekly Leading Index: "21 December 2018 ECRI's WLI Growth Rate Index Worsens and Remains In Contraction" [Econintersect]. "The current forecast is a slight economic contraction six months from today."
Commodities: "Grand Theft Cobalt: Rotterdam" [Bloomberg]. "London's cobalt experts could only speculate on how someone could steal 112 tons of rare metal from a secure warehouse." • Reminds me that metal theft
Retail: "The Jolly and Folly of Holiday Decor for Retailers" [strategy+business]. "Across seven experiments with about 2,000 randomly selected participants, the authors [study here] found that the presence of symbols associated with Christmas tended to make people with religious backgrounds feel more forgiving toward salespeople who made a mistake or directly disappointed them during a transaction. But there's a flip side to that forgiving spirit: Consumers with religious upbringings were also more likely to look harshly upon retail workers who treated other shoppers poorly when Christmas decorations were in view…. It struck the participants as hypocritical to see an employee treat someone else poorly when there was Christmas iconography in the background."
The Bezzle: "Remember Bitcoin? Some Investors Might Want to Forget" [New York Times]. "For a few sweet months of 2018, all of Silicon Valley was wrapped up in frenzied easy money and a fantasy of remaking the world order with cryptocurrencies and a related technology called the blockchain. A flood of joy hit the Bay Area…. For a few sweet months of 2018, all of Silicon Valley was wrapped up in frenzied easy money and a fantasy of remaking the world order with cryptocurrencies and a related technology called the blockchain. A flood of joy hit the Bay Area."
The Bezzle: "China's Bitmain Technology and Huobi plan layoffs as cryptocurrency crunch begins to bite" [South China Morning Post]. "Two of the world's biggest cryptocurrency companies have confirmed lay-off plans amid an industry crunch that has seen US$170 billion wiped off bitcoin's market value this year…. Chinese companies Bitmain, Canaan, and Ebang – the world's top three suppliers of computers used to create new units of digital money – have all proposed initial public offerings in Hong Kong this year. The city's market regulator and stock exchange operator, however, are reluctant to approve IPOs for any cryptocurrency-related businesses citing the lack of regulations in the industry."
The Bezzle: "Brooklyn's Extraction Lab, Home of the $18 Coffee, Has Closed" [Brooklyn Reporter]. "In addition to its expensive coffee, the company was known for its flagship product known as the "steampunk," a $15,000 coffee and tea brewer operated through an iPad app…. Many high-end cafes around America purchased the product. However, now that the company has closed, its servers will be shutting off and the machines will no longer work." • BWA-HA-HA-HA! That's even worse than Juicero!
Concentration: "Amazon Prime is getting worse, and it's making me question the nature of reality" [Fast Company]. "This holiday, I've noticed things that are in stock and labeled 'Prime' have nonsensical shipping dates. I'm not alone in experiencing Shipping Shock™. Complaints about slow Prime shipping abound across the internet. Quora literally has a thread asking, "Has Amazon slowed down their free shipping speed intentionally?" The 'top answer' with 22,000 views is a customer rant about late shipments. Many others chime in to confirm the slowdowns, and offer conspiracy theories as to what could be going on…. There is no justice for the consumer when all they face is a machine. There is no underpaid clerk to heroically accept the rants of a scorned consumer, to call in a manager who can make things right. Instead, we get rejection by algorithm–gaslighting through interface design." • As the punchline to the old joke goes: "Because they can."
Concentration: "AT&T makes it more expensive to cancel DirecTV or Internet service" [Ars Technica]. "AT&T will start charging customers for the full month after they cancel TV or Internet service, ending its customer-friendly practice of providing a prorated credit for the final month…. 'We're making this change so our video and broadband services follow the same billing policies as our mobility services,' AT&T wrote.' • Why is that a good reason?
Infrastrucure: "911 emergency services go down across the US after CenturyLink outage" [Tech Crunch]. "911 emergency services in several states across the U.S. remain down after a massive outage at a CenturyLink data center…. CenturyLink, one of the largest telecommunications providers in the U.S., provides internet and phone backbone services to major cell carriers, including AT&T and Verizon. Data center or fiber issues can have a knock-on effect to other companies, cutting out service and causing cell site blackouts." • Time to bring back the landline, I guess. I don't recall this happening with copper.
Infrastructure: This thread has less than ideal sourcing, but read the responses:
I was talking to a drunk lady at a party about five years ago who worked for ConEd and tipsily informed me that the infrastructure is all decaying at an alarming rate and the whole city is on the verge of catching on fire any day now and they're not fixing it.

— Nicole Cliffe (@Nicole_Cliffe) December 28, 2018
Elites may not believe the country's a teardown — see the Con Ed blast in Queens that turned the sky blue — but they're certainly acting like they do.
The Fed: "The Fed's Risky Plan to Boost Unemployment" [Narayana Kocherlakota, Bloomberg]. "The U.S. Federal Reserve appears to be planning a risky endeavor: Sometime in the first half of the next decade, it intends to slow the economy enough to increase unemployment by about 1.4 million people — all in the name of reducing inflation by around a tenth of one percent. I can't help but wonder whether the costs will outweigh the benefits." • Oddly, or not, you don't hear liberals yammering about this; all you hear about is Fed independence.
Imperial Collapse Watch
Very pretty:
The most popular videos of 2018: One operator controls 1,374 drones in spectacular Chinese light show pic.twitter.com/PY746XfuSM

— Reuters Top News (@Reuters) December 22, 2018
I wonder if 1,374 drones could take out an aircraft carrier. How about 13,740?
Gaia
"Extreme Botany: The Precarious Science of Endangered Rare Plants" [Yale Environment 360]. "Plant conservation relies heavily on seed banking. Ideally, seeds are strategically collected from wild populations to ensure that as much of a species' genetic diversity as possible has been captured. However, a considerable number of plants are so-called exceptional species that cannot be preserved in conventional seed banks. Some are so rare that they suffer from inbreeding and other genetic ailments that impede reproduction, and they don't produce enough seeds to be banked. Some produce "recalcitrant" seeds that cannot be stored in seed banks because they can't survive drying and freezing."
Health Care
"As life expectancy falls across US, Mass. bucks trend" [Boston Globe]. "The average life expectancy in Massachusetts has changed little since 2006, hovering around 80 years, with small fluctuations. It peaked at 80 years and 11 months in 2012 and 2013." • But it's not bucking the trend very much, so far as I can tell. Lots of interesting disparities.
"Insured, But Indebted: Couple Works 5 Jobs To Pay Off Medical Bills" [NPR]. "'The only thing we can do is just keep working,' Tiffany said. 'I always wonder: How does everybody else do it?'"
"Medicare Will Be Good for Everyone — Except CEOs" (interview) [Robert Pollin, Jacobin]. "[The Political Economy Research Institute at the University of Massachusetts] shows we could cover everyone in the United States with no copays and cut overall health spending by almost a fifth." Pollin: "Officially we have about 9 percent uninsured at present. But if you look at the Commonwealth Fund, which does very good studies, their survey data shows we have about 26 percent of the population underinsured. By our definition of underinsured, these are people that did not get treatment because it was too expensive. It was going to create a hardship in terms of their budget, so they just didn't get the treatment." And: "Administration [9% of total costs], pharmaceutical pricing [6%], and Medicare rates for providers [3%] are the biggest [money-savers under #MedicareForAll]. That gets you to 19 percent total savings to operate Medicare for All compared to our existing system." • That's a lot of rice bowls…
Our Famously Free Press
On that New York Times story on Facebook moderation:
Left: doc the NYTimes published in its new piece on Facebook.
Right: the same internal document we published, back in… August.
Piece also includes other docs we have published, that no one else has. God NYTimes is awful at this https://t.co/eks8MuPbKz https://t.co/wU6cYfThzN pic.twitter.com/KymQf3nova

— Joseph Cox at 35c3 (@josephfcox) December 28, 2018
Class Warfare
"Why Don't We Riot Over Wealth Inequality?" [Common Dreams]. "But why do people riot over gas taxes and not massive wealth inequality? Because we feel the economic pain from a gas tax increase more intensely and immediately than structural systems that help a very small set of people to accumulate wealth. All people can understand a gas tax increase. Very few people can explain the income ramifications from the 2017 tax reform approved in the U.S., the largest tax reform of last 31 years." • Tax reform? Huh? Why not begin with the wage relation, which the 90% share as a common experience?
"Austerity results in 'social murder' according to new research" [Phys.org]. "The consequence of austerity in the social security system—severe cuts to benefits and the 'ratcheting up' of conditions attached to benefits—is 'social murder', according to new research by Lancaster University. Dr. Chris Grover, who heads the University's Sociology Department, says austerity can be understood as a form of structural violence, violence that is built into society and is expressed in unequal power and unequal life chances, as it is deepens inequalities and injustices, and creates even more poverty."
"An open letter regarding harassment and discrimination in the economics profession" [Advocates for Diversity in Economics, Medium]. "Last week, Harvard economist Roland Fryer resigned from the executive committee of the American Economic Association (AEA), after a university investigation found he created a hostile and sexualized work environment for the research assistants in his lab." • As Stokely Carmichael remarked: "If a white man wants to lynch me, that's his problem. If he's got the power to lynch me, that's my problem." Fryer is black. But he had the power, didn't he?
News of the Wired
"How Down East storytelling shaped Maine's humor" [Bangor Daily News] (part two; part three). "I had to shoot my dog." "Why? Was he mad?" "Well, he weren't so dahn'ed pleased 'bout it."
* * *
Readers, feel free to contact me at lambert [UNDERSCORE] strether [DOT] corrente [AT] yahoo [DOT] com, with (a) links, and even better (b) sources I should curate regularly, (c) how to send me a check if you are allergic to PayPal, and (d) to find out how to send me images of plants. Vegetables are fine! Fungi are deemed to be honorary plants! If you want your handle to appear as a credit, please place it at the start of your mail in parentheses: (thus). Otherwise, I will anonymize by using your initials. See the previous Water Cooler (with plant) here. Today's plant: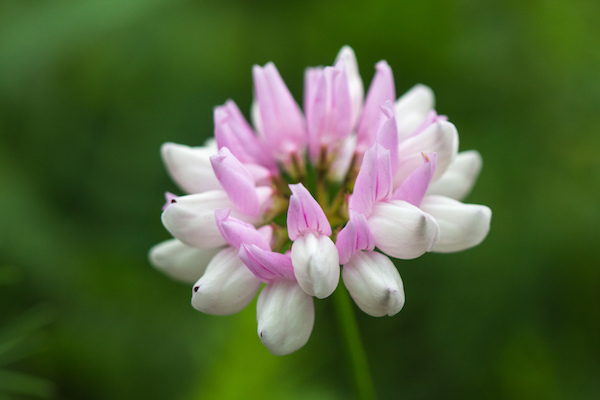 Via: Securigera varia, also known as Coronilla varia, is a tough, aggressively-spreading, low-growing legume…. Due to its complex system of creeping rhizomes, crown vetch is often used for erosion control on embankments, roadside plantings, and shorelines."
* * *
Readers: Water Cooler is a standalone entity not covered by the annual NC fundraiser, now completed. So do feel free to make a contribution today or any day. Here is why: Regular positive feedback both makes me feel good and lets me know I'm on the right track with coverage. When I get no donations for five or ten days I get worried. More tangibly, a constant trickle of small donations helps me with expenses, and I factor that trickle in when setting fundraising goals. So if you see something you especially appreciate, do feel free to click below! (The hat is temporarily defunct, so I slapped in some old code.)
Or Subscribe to make a monthly payment!