By Lambert Strether of Corrente.
Trade
"'A big leap forward': Donald Trump praises talks with Xi Jinping as China readies for trade mission" [South China Morning Post]. "A source familiar with the trade talks said China was expected to send about 30 officials to Washington for discussions next but it was not known who would be in the delegation. US news outlet NPR also reported that White House adviser Peter Navarro said US Trade Representative Robert Lighthizer would be in charge of negotiations with China over the next 90 days."
Politics
"But what is government itself, but the greatest of all reflections on human nature?" –James Madison, Federalist 51
2020
"Sanders eyes 'bigger' 2020 bid despite some warning signs" [Associated Press]. "Instead, a new generation of outspoken Democrats such as Massachusetts Sen. Elizabeth Warren, New Jersey Sen. Cory Booker and California Sen. Kamala Harris are expected to seek the Democratic nomination. All three have embraced Sanders' call for "Medicare for All" and a $15 minimum wage, among other policy priorities he helped bring into the Democratic mainstream in the Trump era." • Why would people vote for a fake Sanders when they can vote for the real one?

"Why is no one treating Bernie Sanders like the Democratic front-runner?" [Michael Tracey, Spectator USA]. "By most conventional pundit metrics, Bernie Sanders should be the presumptive 2020 Democratic presidential nominee. To state the obvious, he was last cycle's runner-up, having won 46 percent of elected delegates, 23 states, and smashed small-dollar fundraising records. His policy platform has taken hold across the party, with most every nationally ambitious figure now calling for universal Medicare, free public college tuition, and a host of other measures that were closely associated with his 2016 run. He has consistently polled as the most popular politician in America, he just won re-election in his home-state by a massive margin, and his social media engagement is off-the-charts. So what's the problem? Simply put, large sections of the party still view him as a threat." • And they're right.

UPDATE "The Trailer: Bernie's army gathers in Vermont" [WaPo]. "For the next three days, some of the best-known supporters of Sen. Bernie Sanders's 2016 presidential bid will come together in his city for the Sanders Institute Gathering…. Sanders has what no other 2020 hopeful does: millions of supporters, some of whom refuse to consider any other candidate for president and who cite polls to argue that no other candidate on the left is so popular. Like Sanders, they dismiss the idea that he is vulnerable to negative attacks — just one negative ad, from a pro-Martin O'Malley super PAC, was run against him in 2016 — by suggesting he has been vetted in a way no other would-be candidate has been."

Plot twist: Sanders doesn't only appeal to white people:

"Sanders' ratings are mixed among whites, with nearly half viewing him favorably and half unfavorably. But, consistent with their more Democratic political orientation, nearly two in three nonwhites (64%) have a positive view of Sanders." pic.twitter.com/gAzGrIsQdH

— Woobie?Tuesday (@WoobieTuesday) December 3, 2018

"Democrats Are Catching Beto Fever in "First-in-the-Nation" New Hampshire" [Inside Sources]. "The obvious–and obviously true–answer is that it's way too early to say. "There's a lot of chatter and a lot of buzz about a lot of people," one Democratic insider told Inside Sources. "Have I heard Beto's name? Sure. I've also heard Kamala Harris, Joe Biden, Cory Booker, Sherrod Brown. Most New Hampshire Democrats are waiting to meet these people, look them in the eye, watch them campaign…. On the other hand, how many of those people have fans posting Facebook pages about them? Or have political activists in New England start a PAC ("Draft Beto 2020") to encourage them to run? [***cough*** Sanders ***cough***]. "O'Rourke is a talented progressive politician, at a moment when the party's base is hungry for progressive leadership. Bernie Sanders hit the right notes, but voting for Bernie was voting for the progressive platform alone. , but adds charisma, skills and–let's face it–sex appeal." • Oh?

UPDATE "A #Resistance With All The Trimmings of Neoliberal Corruption" [Status Coup]. "Now, a banker paying $10,000 for fancy bread and brushing elbows with Beto isn't necessarily sinister. But, Mr. Stewart isn't just any banker…." • A fun read on Beto and Gillum fundraisers.

UPDATE Never change, Democrats. Never change:


in 2016 the mainstream dems were like "we're done with white males!" and now it's all beto all the time

— christmas cheer liz bruenig (@ebruenig) December 2, 2018

"Iowa Democrats Say They Want Generational Change" [Wall Street Journal]. "ADEL, Iowa—Democratic [county] leaders in Iowa, the starting line for the party's wide-open 2020 presidential contest, are hungry for a young standard-bearer who will usher in generational change, which is erecting a potential roadblock for the three best-known prospective contenders for the nomination." • Didn't we already do this with Obama?
2018
MI: "GOP moves to dilute power of governor, AG, secretary of state" [Detroit News]. "First reported by Gongwer News Service, the bill would let the Legislature intervene in any court case to protect the rights and interests of the state or Legislature. It would give the state House and state Senate the right to take any action that other parties to the litigation have, including prosecuting an appeal and applying for a re-hearing…. When Democrats Whitmer, Nessel and Jocelyn Benson take office on Jan. 1, 2019, it will mark the first time in 28 years that Democrats have controlled the offices of governor, attorney and secretary of state at the same time."

NC: "North Carolina Race Roiled by Claims of Voter Fraud — But Not the Kind the GOP Worries About" [New York Magazine]. "here's another way to commit voter fraud in North Carolina. You could — theoretically, of course — hire someone who would coordinate an effort to falsify absentee ballots. That's the allegation roiling the state's Ninth Congressional District, where Republican Mark Harris defeated his Democratic challenger, Dan McCready, by just 905 votes. For all the GOP's hand-wringing over voter fraud in North Carolina, one of their own candidates has been caught up in a scandal over voting irregularities." • Gruesome, shameless details.

WI: "John Nichols: Fitzgerald and Vos want to cheat voters" [Cap Times]. "In an effort to preserve conservative control of the state Supreme Court, Fitzgerald and Vos are proposing to change 2020 election dates in order to avoid a high-turnout election when the court seat is chosen on April 7 of that year. They propose to move the state's presidential primaries — which are expected to draw high interest, especially, though not necessarily exclusively, from Democrats — from April 7 to March 10. Why? So that Gov. Walker's untested appointee to the court, conservative judicial activist Daniel Kelly, will have an easier time. "
Realignment and Legitimacy
"Hillary Clinton Voters Are Tilting Authoritarian" [Zaid Jilani, The American Conservative]. "University of Mississippi political scientist Julie Wronski, one of the researchers who conducted the [Journal of Politics] study, explained in an email to TAC how they defined authoritarianism. 'We define authoritarianism as an individual's psychological preferences for social conformity over individual autonomy," she wrote. 'Here we see its features as two-fold: 1) preferences for traditionalism and maintaining the conventional, established norms; and 2) preferences for maintaining group cohesion and sameness. As my co-authors and I note in the article: 'authoritarianism is grounded in the desire to be part of a group, not in the identification with a particular social or political group.'…. What the researchers found is that authoritarianism consistently predicted differences in primary votes, specifically Clinton votes over Sanders votes. This remained the case as controls for a wide range of factors were included, such as party identification strength, ideology, church attendance, gender, race, education, and income. the researchers noted…. To give you an idea how important this result is, Wronski told me that 'neither race nor age had a significant effect on voting for Clinton over Sanders.' However, in one of the three studies we conducted for this article, income was significant and had a bigger effect than authoritarianism—in the direction where wealthier people were more likely to vote for Clinton." • Holy moley. And all the MILOs that liberal Democrats groomed and funded for the Blue Wave will surely, on the average, increase authoritarianism.

"Ohio counties to start replacing voting equipment" [WDTN]. "Ohio Secretary of State Jon Husted has given the green light to county boards of election to begin acquiring new voting equipment through the Voting Equipment Acquisition Program. A total of $104.5 million in funding will be made available to the state thanks to legislation enacted earlier this year." • They could save themselves a big chunk of that $100 million by going to hand-marked paper ballots, hand-counted in public. None of the reasons for using e-voting are good, and yet> which is why both party establishments support them.

UPDATE "POLLING BRIEF | 2018 National Rural Survey" [RuralOrganzing.org]. "As we look to the future, our data show that current Democratic strategies aren't engaging or persuading rural Americans despite the fact that 1 in 5 rural Americans are still undecided on candidates in their House race." • Well, naturally.
Stats Watch
Capital Spending: "Solid Recovery for Combined U.S. & Canadian Industrial Spending" [Industrial Reports]. "Combined U.S. and Canadian planned capital spending rebounded in November showing $37.18 billion compared to October's $22.81 billion. The research organization reported 204 planned U.S. and Canadian projects in November. Planned U.S. project spending nearly doubled in November with $31.90 billion in planned investment compared to the October total of $17.04 billion. Canadian planned investment showed a small drop in November with $5.28 billion in spending, down from $5.77 billion in October. Projects in both nations ranged in value from $1 million to $10 billion." • You want to see capital spending in a capitalist economy. Sporty, though!
Purchasing Managers Manufacturing Index, November 2018: "The manufacturing PMI final for November eased [but is still solid] supported by accelerating growth for new orders" [Econoday]. "Capacity constraints are evident in rising backlogs and slowing vendor performance. Cost pressures for raw materials including metals, the latter tied in part to tariffs, intensified in November with pass through to customers reported. There are soft softs in today's report including moderation in production and a dip back in business confidence to the least optimistic level since September last year. Yet the gains in orders and employment are solid signals for a factory sector that has been at the top of the 2018 economy."
Institute for Supply Management Manufacturing Index, November 2018: "Re-acceleration to unusually strong rates of growth is November's theme" [Econoday]. "Backlogs continue to build strongly…. Lack of acceleration in export orders…. is a negative. This sample has been consistently running hotter than definitive data out of the factory sector yet the general indication has been very accurate: rising rates of growth. Watch for October factory orders from the Census Bureau to be posted this Thursday." And: "This was above expectations of 57.2%, and suggests manufacturing expanded at a faster pace in November than in October" [Calculated Risk]. And but: "Based on these surveys and the district Federal Reserve Surveys, one would expect the Fed's Industrial Production index growth rate remain about the same as last month. Overall, surveys do not have a high correlation to the movement of industrial production (manufacturing) since the Great Recession. This month the ISM survey improved and the Markit surveywas declined. It is hard to understand the trends" [Econintersect].
Construction Spending, October 2018: [Econoday]. "Construction has been a soft spot of the economy evident once again in October… Nonresidential and public building have been solid this year but the rise underway in mortgage rates appears to be taking the steam out of what was already an exhausted looking housing sector." And: "This was below consensus expectations, and spending for August and September were revised down. A weak report" [Calculated Risk]. And: "The rolling averages declined – and last month was significantly revised down. Also note that inflation is grabbing hold, and the inflation adjusted numbers are in contraction" [Econintersect]. "The employment gains currently are generally correlating with construction spending."
Housing: "Rent Growth Ticks Up" [Econintersect]. "Single-family rents increased 3.2 percent year over year in September 2018, up from a 2.7 percent increase in September 2017, according to the CoreLogic Single-Family Rental Index (SFRI)…. [T]he index's overall growth in September 2018 was propped up by low-end rentals, defined as properties with rents 75 percent or less of a region's median rent. Rents on lower-priced rental homes increased 3.9 percent year over year and rents for higher-priced homes, defined as properties with rents more than 125 percent of the regional median rent, increased 2.8 percent year over year. However, rent growth is accelerating for the high end and decelerating for the low end."
Retail: "13% Of Americans Will Boycott Christmas Spending" [Safe Haven]. "The 2018 Bankrate Holiday Gifting Survey showing that 13 percent of American shoppers are planning to completely boycott holiday spending…. Despite growing consumer resistance, 45 percent of shoppers will still spend beyond their comfort zone, says Bankrate's survey. And in this race to show their love by gifts—where larger gifts apparently mean more love–Americans are prepared to plunge themselves into heavy debt." • Readers? Where are you on the boycott/overspending spectrum?
Retail: "New retail sales trends are bringing some relief to congested parcel delivery networks this holiday season. Merchants are spreading out the promotions that have become an indelible feature of the last week of the year" [Wall Street Journal]. "Spreading out shipments can keep parcel sorting and handling operations running smoothly, and early measures on-time delivery rates in fact have been strong.'
Shipping: "Flexible warehouse schemes emerge to meet supply chain demands" [Supply Chain Dive]. "Amazon and large retailers have changed delivery expectations to a two-day window, and many retailers need to match it to stay competitive….. As a result, retailers are creating pop-up supply chains to ensure they can quickly and cost-effectively respond to seasonal demand spikes and consumers' desire for fast fulfillment. Pop-up supply chains can leverage assets in a network and support demand changes throughout the year without large capital investments. Retailers are seeking to achieve this through innovative arrangements with third-party logistics providers (3PLs), alternative warehousing solutions such as self-owned networks, drop shipping models or outsourced 3PL networks. Another growing trend is 'micro warehousing,' where retailers put small distribution centers close to large urban areas and hold a limited selection of popular SKUs." • As soon as people can visit the micro-warehouses and buy stuff there, we will have reinvented "the store."
Shipping: "Truck driver shortage crisis now spreading across the whole of Europe" [The Loadstar]. "European road transport firms are racing towards a driver shortage crisis of 150,000 unfilled jobs, according to new research from Transport Intelligence…. European road transport firms are racing towards a driver shortage crisis of 150,000 unfilled jobs, according to new research from Transport Intelligence…. One problem is the increasing appetite among global manufacturers to site production facilities in central and eastern Europe, which has provided an alternative source of jobs for many would-be drivers."
Shipping: "Stresses in shipping are creating new conflicts over the sector's role in national economies and international trade" [Wall Street Journal]. "State support for maritime business is rising as countries look to protect national interests and extend their influence abroad, …even as operators struggle to recover from a financial battering and structural upheaval… The latest examples are coming in Asia, where China's support of its mariti\\me sector is part of the country's massive trade infrastructure initiative. South Korea, meantime, is lining up new aid for its shipyards and container operations as Seoul seeks to protect employment in an industry critical to its export-focused economy."
The Bezzle: "Is digitisation in shipping disruption or racketeering?" [Splash 247]. "To cut a long story short, the need for a paradigm shift, is not yet coming from within the industry, but it is due to external hype. Rest assured, when the principals feel the need to change how things are done, they will do so, with the same conviction and ease they changed countries or jurisdictions overnight, (like in the early 2000s from the UK, or following the capital controls in Greece three odd years ago)…. [C]reating software products, and then trying to present them as a solution to a problem that may not be there, in my eyes edges closer to racketeering and less towards disruption."
The Bezzle: "KPMG predicts revolution in last-mile logistics" [DC Velocity]. "Use of autonomous delivery vehicles will drastically change consumer e-commerce environment by 2040, research study says…. The study forecasts a fulfillment system rooted in artificial intelligence and robotics, in which orders for goods are placed, received, communicated, then delivered via a fleet of autonomous vehicles to what the company refers to as ." • Ah yes, "islands of autonomy." "The places that are optimistic, diverse, dynamic, moving forward." I'm surprised KPMG said "tailored." They might as well have said "bespoke."
The Fed: "Trump view on Powell has changed from 'not even a little bit happy' to 'pleased' after the chairman's 'just below' speech" [MarketWatch]. "Last Tuesday, one day before Powell spoke, Trump told the Washington Post that he was "not even a little bit happy" with his selection of Powell. On Wednesday, Powell told the Economics Club of New York that interest rates are "just below" the level where they won't stimulate the economy. Financial markets seized on the comments as dovish…."
Mr. Market: "What President George H.W. Bush's day of mourning means for stock, bond and commodity traders" [MarketWatch]. "U.S. flags will fly at half-staff, and U.S. markets, including trading on the New York Stock Exchange and Nasdaq, will grind to a halt… The Securities Industry and Financial Markets Association, or Sifma, an influential financial-industry trade group, has recommended that bond markets close on Wednesday…. Meanwhile, futures giant CME Group CME, -1.66% will shut down trading of interest-rate and futures and options products for the day, though electronic trading will have a regular session…. Beyond Wall Street closures, Bush's funeral could result in another development that is important to markets: a delay in a prospective government shutdown."
Rapture Index: Closes up 2 on earthquakes. "A massive quake has struck the capital of Alaska" [Rapture Ready]. Record High, October 10, 2016: 189. Current: 182. Up from the 180 floor.
Health Care
AOC continues her "on-boarding" process:
Also, pretty sure one Dante's Circles of Hell includes scrolling through a mirror-hall of agonizingly similar healthcare plans like "UHG Choice Master HMO 1800" vs "RedGo Option Plus EPO 2000."

I don't know one normal person in this country that actually enjoys open enrollment.

— Alexandria Ocasio-Cortez (@Ocasio2018) December 2, 2018
Gaia
"Canadian team confirms presence of huge unexplored cave in British Columbia" [Canadian Geographic]. "[John] Pollack, who is a archeological surveyor, further explained the significance of the cave in an exclusive interview with Canadian Geographic. 'I've been in some of the biggest caves in the world, and this thing has an entrance that is truly immense, and not just by Canadian standards,' he said. 'The opening is 100 metres long by 60 metres wide, and when you're standing on the edge looking down into it, your line of sight is nearly 600 feet [183 metres]. You don't get lines of sight of 600 feet in Canadian caves — it just doesn't happen. And this is a shaft. It goes down quite precipitously, it had a large amount of water flowing into it and is wide open for as far down it that we've gone. The scale of this thing is just huge, and about as big as they come in Canada.'" • That's Chapter One. In Chapter Two, we discover the alien ship.
"UN chief: Climate change is 'most important issue we face'" [Associated Press]. "'Even as we witness devastating climate impacts causing havoc across the world, we are still not doing enough, nor moving fast enough, to prevent irreversible and catastrophic climate disruption. In short, we need a complete transformation of our global energy economy, as well as how we manage land and forest resources,' [U.N. Secretary-General Antonio Guterres] told delegates from almost 200 countries who gathered in the city of Katowice….
Thanks, Obama!
Obama: "Suddenly America is the largest oil producer, that was me people … say thank you." pic.twitter.com/VfQfX1SR0x

— Tom Elliott (@tomselliott) November 28, 2018
Our Famously Free Press
"WE RESUME OUR PREVIOUS JAILBREAK: It's all the absence of logic now!" [The Daily Howler]. "By the fall of 1997, we thought the situation [with the press] was so bad that we decided to start this site. We could say that we were prophetic—we could say it, but it would be wrong… Back in 1997, a true Cassandra might have seen these slow trains coming. Around here, we did not. We already thought the corps' conduct was stunningly bad. We had no idea that it could get as bad as it quickly did. Much of what we read in the mainstream press is, in fact, a product of novelization and 'script.' To an astounding degree, our upper-end journalists do work from 'story lines that shapes coverage, often in the teeth of the evidence.' When the preferred story line is contradicted by even the most basic evidence, the evidence, by force of law, is going to disappear…. However counterintuitive they may be, these patterns of conduct are very real. And make no mistake: Unlike every other corporate or professional guild, the mainstream press corps is in position to control what gets said about itself. For this reason, we should have accepted a basic fact a long time ago: Criticism of the mainstream press is fundamentally pointless. The guild is going to type what it will—after which, the Jeffrey Toobins will go on TV to offer their fake mea culpas. It was on this basis that we said, at the start of the year, that 'it's all anthropology now.' Various guilds are going to tell us the stories they like. Nothing will ever change that. All that remains is a study of the reasons why our various guilds and tribes choose to toy with basic facts in the ways they do." • 2018 – 1997 = 21 years. That's a long time. So this is an interesting transition for The Howler.
"Partisan Conflict Index" [Federal Reserve Bank of Philadelphia (via The Big Picture)]. "The Partisan Conflict Index tracks the degree of political disagreement among U.S. politicians at the federal level by measuring the frequency of newspaper articles reporting disagreement in a given month. Higher index values indicate greater conflict among political parties, Congress, and the President." • No. They indicate the reporting of greater conflict. Scripts, in other words. Nevertheless, herewith the latest chart: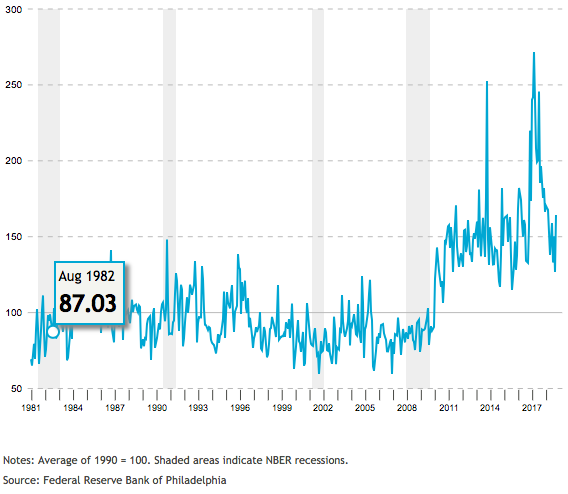 UPDATE "Access":

"When you were dealing with George H.W. Bush, he was available, he was accessible, he was informed and gosh, that's what journalists like. Access is the most important thing," former CNN White House correspondent during the Bush years @cjbsc says about covering the 41st president pic.twitter.com/oCgOVBg7Ot

— Reliable Sources (@ReliableSources) December 2, 2018
Class Warfare
"The Uneasy Case Against Occupational Licensing (Part 1)" [Law & Political Economy]. "Obama-era technocrats and Trump cronies may not agree on much, but they have made common cause against occupational licensing… Critics of licensing question whether these benefits are worth the costs, which can include higher wages for licensed workers. Such an objection comes naturally to conservatives, who generally favor the interests of capital over labor. Among the progressives who attack licensing, the rationale is different. First, they worry that licensed labor is overpriced, squeezing consumers. Second, they point to the fate of workers too poor or too busy to obtain a license. What's particularly strange is that the high cost of specialist physicians is not usually in the sights of licensing critics. Rather, they tend to focus on lower-paid workers, such as hairdressers." • Snicker. What's "strange" about it? If the caravan was doctors and lawyers, you can bet the response would be a lot tougher than tear gas. Just think of what happened to Occupy and Black Lives Matter.
"Our Elites Refuse to Accept Responsibility for Leaving Behind the Left Behind" [Dean Baker, CEPR]. "There have been several analyses of the 2018 election results showing that the Republican regions are disproportionately areas that lag in income and growth. In response, we are seeing a minor industry develop on what we can do to help the left behinds. The assumption in this analysis is that being left behind is the result of the natural workings of the market — developments in technology and trade — not any conscious policy decisions implemented in Washington. This is quite obviously not true and it is remarkable how this assumption can go unchallenged in policy circles." • Scripts are not the sole province of the press. More: "And, to flip over the trade story, imagine that our trade policy was as focused on putting doctors and other highly trained professionals as competition with their low-paid counterparts in the developing world as was the case with manufacturing workers. Let me just state this as clearly as possible. There are literally millions of very smart ambitious people in the developing world who would be happy to train to US standards and learn English and work as doctors for less than half of the pay as our doctors. The reason this doesn't happen is because our doctors are very powerful politically and keep in place professional barriers that make it difficult for foreign doctors to practice here. (And, just to head off some painful stupidity, I know that 20 percent of our doctors are foreign-born. If we didn't have protectionist barriers, it might be 80 percent, just like with apparel.) Anyhow, the reason that laid-off steelworkers in Ohio are left behind and cardiologists in New York are not, is that we designed our system of trade to subject the former to international competition while protecting the latter. It is incredibly dishonest for policy types to pretend that the current situation is an inevitable outcome of globalization." • It's not "incredibly dishonest." It's class interest, pure and simple, hence not "incredible."
"Running For Office Is Really Hard If You're Not A Millionaire" [HuffPo]. "'The notion of being able to just write a check for that much to help pay for ads and such ― that would be completely out of my abilities,' said Shawna Roberts, who quit her part-time job at McDonald's to run as the Democratic candidate in Ohio's 6th congressional district. 'It's absurd to imagine people who don't have deep pockets doing it on their own,' she added. 'And yet, it's one of the things that we have to do if we're going to have an actual democracy that actually functions instead of what we have right now, which is an oligarchy without the name.'"
News of the Wired
The moral of the story:
It's time to bring my favorite holiday meme back pic.twitter.com/xvOKYf8DaH

— Christmars Tree ? (@MarsinCharge) December 2, 2017
* * *
Readers, feel free to contact me at lambert [UNDERSCORE] strether [DOT] corrente [AT] yahoo [DOT] com, with (a) links, and even better (b) sources I should curate regularly, (c) how to send me a check if you are allergic to PayPal, and (d) to find out how to send me images of plants. Vegetables are fine! Fungi are deemed to be honorary plants! If you want your handle to appear as a credit, please place it at the start of your mail in parentheses: (thus). Otherwise, I will anonymize by using your initials. See the previous Water Cooler (with plant) here. Today's plant (KH):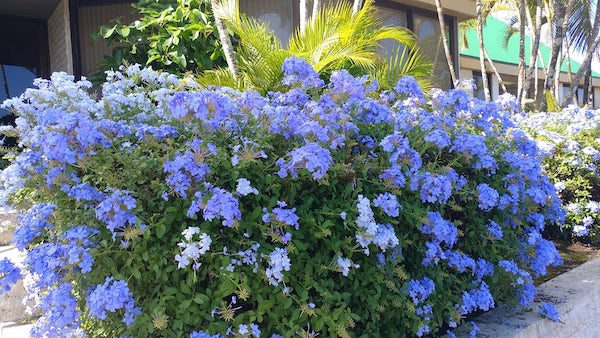 KH writes: "Blue plumbago going off outside the bank in Hawi."
* * *
Readers: Water Cooler is a standalone entity not covered by the annual NC fundraiser, now completed. So do feel free to make a contribution today or any day. Here is why: Regular positive feedback both makes me feel good and lets me know I'm on the right track with coverage. When I get no donations for five or ten days I get worried. More tangibly, a constant trickle of small donations helps me with expenses, and I factor that trickle in when setting fundraising goals. So if you see something you especially appreciate, do feel free to click below! (The hat is temporarily defunct, so I slapped in some old code.)
Or Subscribe to make a monthly payment!