By Lambert Strether of Corrente.
Trade
"Xi and Trump Should Swallow Their Pride and Join the TPP" [Foreign Policy]. 'The only way forward is to seek peaceful coexistence through piecemeal compromise. The perfect vehicle for such talks is the Trans-Pacific Partnership (TPP), the multilateral free trade deal negotiated under former U.S. President Barack Obama, abandoned by Trump, and resurrected by other Asian-Pacific trade partners such as Japan. The G-20 meeting between Trump and Xi should produce an announcement that the United States and China will be launching bilateral negotiations to join the TPP together."
"Trump signs NAFTA replacement deal ahead of the G20 summit" [CNN]. "The ceremonial signing does not mean the United States-Mexico-Canada Agreement — the USMCA, as it has been rebranded — will now go into effect. The deal still needs to win congressional approval in Washington, where key members of both political parties have already expressed significant concerns. 'I don't expect to have much of a problem,'Trump said during the ceremony."
"Schumer calls for improvements to new NAFTA deal" [The Hill]. Schumer: "I am most interested in ensuring that any final agreement protects our dairy farmers and that there is real enforcement of new and tough labor provisions. The deal must also raise wages and should recognize that climate change is a grave threat to our countries' economies and the health and safety of our citizens." And–
I oppose NAFTA 2.0, and I will vote against it in the Senate unless @realDonaldTrump reopens the agreement and produces a better deal for America's working families.

— Elizabeth Warren (@SenWarren) November 29, 2018
Politics
"But what is government itself, but the greatest of all reflections on human nature?" –James Madison, Federalist 51
2020
"Bernie Sanders Puts Forward a Program That Could Split the Democratic Party" [Glen Ford, Black Agenda Report]. "[T]he immediate obstacle to Sanders' proposals for Medicare-For-All, tuition-free public higher education, expanded Social Security, a $15 an hour minimum wage, "bold action" on climate change, fixing the criminal justice system, comprehensive immigration reform, progressive tax reform, a $1 trillion infrastructure overhaul and cheaper prescription drugs, is not Donald Trump's GOP troglodytes — it's Nancy Pelosi and her corporate Democrats, who answer to a much higher power: big capital…. Sanders doesn't have to win the White House to bring about this historic "creative destruction." He just has to wreck the Party. If the Party sabotages him in the primaries, as in 2016, then progressives will get another chance to do the right thing, and say goodbye to the Democrats. Or, if Sanders wins, hopefully the corporatists will follow the money and run away to the GOP, or form their own Third Way party, and leave the Democratic carcass to the poor folks. Any split will do the trick, as long as the result is a non-corporate mass party."

"Sanders Institute Brings Star Power to Burlington" [Seven Days]. "A star-studded crowd joined Sen. Bernie Sanders (I-Vt.) on the Burlington waterfront Thursday night to kick off a three-day conference hosted by the nonprofit Sanders Institute…. New York City Mayor Bill de Blasio, actress Susan Sarandon, U.S. Rep. Tulsi Gabbard (D-Hawaii) and former Greek finance minister Yanis Varoufakis were among those scheduled to address such topics as climate change, housing and criminal justice reform." Sanders (video): "We have got to make sure that the Democratic party is not just the party of the east coast and the west coast. It is a party of every state in this country. Our job is to make sure that the issues that we deal with, that people understand they impact black families in New York City, they impact white families in Kansas and Latino families in Los Angeles." • Heads explode at the mention of Susan Sarondon….

"The Making of Elizabeth Warren" [Politico]. "For Warren, that first go-around with Dr. Phil was an epiphany. She was not being asked to talk to a reader on the other side of a printed page but to counsel actual people sitting right there in the same studio. 'I had done interviews about [The Two-Income Trap]' she told me, 'but never had someone turn directly to me and say, 'Here's a family, here's their problem. Give them some advice, Elizabeth.' And that's what I did.' Perhaps more important, she realized viscerally the disproportionate but equally undeniable reach of TV—that 'by spending a few minutes talking to the family on Dr. Phil's show,' she would write in her 2014 memoir, she 'might have done more good than in an entire year' on campus." • It is true that Warren is a good explainer.

"Clinton does little to dampen 2020 speculation" [The Hill]. "'I don't understand the wisdom of telling a woman who has made history in our party and in the country to get off the stage,' said Basil Smikle, a Democratic strategist and former aide to Clinton. 'Assuming the campaign learns from its missteps, she'd be fine.'" • Oh my.

"Goodbye Midterm Dynamic, Hello Presidential Politics" [Stuart Rothenberg, Inside Elections]. "In presidential years, voters cast separate ballots for president and for Congress. During midterms, those same voters don't have a presidential ballot, so they don't have a direct way to express their dissatisfaction with the person in the Oval Office apart from voting against the nominees of the president's party… With Trump not on the ballot — but traveling around the country saying that he was in fact on the ballot — the only way to send a signal of dissatisfaction to the White House and to make a statement about changing the direction of the country was to vote against Republicans for federal office. That is exactly what swing voters (including independents and college-educated whites) and core Democratic demographic groups did."
2018
"The thrills and chills of a Democratic supermajority" [Los Angeles Daily News]. "With many ballots yet to be counted, it appears Democrats will have 60 votes in the 80-member Assembly and 29 votes in the 40-member Senate. There hasn't been a Democratic supermajority of this size in California since 1883. The new supermajorities of roughly three-quarters in each house represent an unprecedented level of power, particularly when added to Democratic control of every statewide office. The future of California could be reshaped by it. Stakeholders are lined up to demand more money for affordable housing, infrastructure and expanded public assistance. Yet the state faces an enormous unfunded liability for public worker pensions and benefits. Combined with increased spending, it could plunge the state into disaster in an economic downturn." • You'd think CalPERS would be mentioned by name….
Realignment and Legitimacy
"The new wave of Democrats owes a huge debt to people power" [Gary Younge, Guardian]. "There has been a gale afoot for some time now. The election of the most racially diverse and most female Congress ever is clearly a product of a moment in which #MeToo, #BlackLivesMatter, Women's Marches, Fight for 15, immigrant rights, gun control and climate change have emerged or continued to surge. The election of a misogynist bigot to the White House has doubtless been a catalyst for women and minorities to stand for election too." • Partly a product. I don't see how you put the election of former CIA operatives, even in female, into this frame at all. "Not enough," as Sander would say, that they're women!
Stats Watch
Chicago Purchasing Managers Index, November 2018: "a very good month for Chicago's PMI sample" [Econoday]. "New orders surged…. Hiring picked up…. This report can be volatile as demonstrated with today's results which contrast with other business surveys that indicate November's pace either held steady or slowed." And: "The Fed manufacturing surveys have been trending down – and the Chicago ISM strongly expanded" [Econintersect]. And: "well above the consensus forecast" [Calculated Risk].
Commodities: "Commodities Drop Looks Secular, Not Cyclical" [MarketWatch]. "Any way you measure it, the market for commodities is suffering. The Bloomberg Commodity Index of 22 key raw materials ranging from oil to copper to soybeans has dropped about 10 percent since reaching an almost three-year high in May. I've identified 10 forces that explain the weakness and why it will persist."
Retail: "Payless sold its discount shoes for $600 a pair at mock luxury influencer event" [USA Today]. "Payless took over a former Armani store, renamed the retail location as "Palessi" and stocked the outlet with its discount-priced boots, heels, tennis and leisure shoes. Then, it invited a flock of partygoers and sold them the shoes, typically priced at $20 to $40 in Payless stores, at inflated designer price tags of $200 to $600. "Palessi" sold about $3,000 worth of shoes within a few hours…"
Tech: "Company Tried to Patent My Work After a Job Interview" [Patent Panda]. "[D]uring the second year of my PhD at the [MIT] Media Lab. I was invited to visit Google ATAP (Advanced Technology and Projects) to learn about some of their new projects in storytelling. I got to visit their space, meet some of my creative heroes and I shared with them all of my work in interactive books and storytelling…. What started as just a visit quickly turned into a job interview. I was even invited to share my work directly with Regina Dugan, the director of ATAP at that time! I was excited, thinking perhaps I would be invited for a summer internship. It turned out they found my work so relevant that they offered me a job on the spot." The writer turned down the job to stay in school. Time passes… "Two years later, in March 2016 I find out from some paper engineering friends that some of the same people who had interviewed me had also applied for patents on interactive pop-up books with electronics. These patents covered many of the same things that had discussed, that I'd showed them, with no mention of my or others' work in the field." • Wowsers.
The Bezzle: "Blockchain study finds 0.00% success rate and vendors don't call back when asked for evidence" [The Register]. "Though Blockchain has been touted as the answer to everything, a study of 43 solutions advanced in the international development sector has found exactly no evidence of success. Three practitioners including erstwhile blockchain enthusiast John Burg, a Fellow at the US Agency for International Development (USAID), looked at instances of the distributed crypto ledger being used in a wide range of situations by NGOs, contractors and agencies. But they drew a complete blank. 'We found a proliferation of press releases, white papers, and persuasively written articles,' Burg et al wrote. 'However, we found no documentation or evidence of the results blockchain was purported to have achieved in these claims. We also did not find lessons learned or practical insights, as are available for other technologies in development.'" • Hilarity ensues.
The Bezzle: "British tech billionaire Mike Lynch charged with fraud in the US over $11 billion Autonomy sale" [Business Insider]. "Lynch sold Autonomy to HP for $11.7 billion (£9.2 billion) in 2011. A year later, HP's CEO claimed the company had wildly inflated its earnings, and subsequently wrote it down by $8.8 billion. In response Lynch launched a countersuit, claiming HP was scapegoating him for its own incompetence. On Thursday, the US Department of Justice filed 14 charges of fraud against Lynch in a San Francisco court, along with Autonomy's former vice president for finance Stephen Chamberlain. The charges carry a maximum sentence of 20 years in prison."
The Bezzle: "Tesla has reached production milestone of 1,000 Model 3s a day: report" [MarketWatch]. "According to an internal email from Chief Executive Elon Musk to employees, which Electrek said it obtained, Musk told employees to focus on keeping that 1,000-a-day production level steady and to look for ways to reduce costs and find efficiencies. Tesla did not immediately respond to a request to confirm the report." • Dubious provenance….
Gaia
"We Can Pay For A Green New Deal" [Stephanie Kelton, et al., HuffPo]. "We need a mass mobilization of people and resources, something not unlike the U.S. involvement in World War II or the Apollo moon missions ― but even bigger. We must transform our energy system, transportation, housing, agriculture and more…. Here's the good news: . And it won't be a drag on the economy ― unlike the climate crisis itself, which will cause tens of billions of dollars worth of damage to American homes, communities and infrastructure each year. A Green New Deal will actually help the economy by stimulating productivity, job growth and consumer spending, as government spending has often done. (You don't have to go back to the original New Deal for evidence of that.) In fact, a Green New Deal can create good-paying jobs while redressing economic and environmental inequities." • Well worth a read.
"Climate change: Australian students skip school for mass protest" [BBC]. "School Strike 4 Climate Action protests have been held in every state capital and 20 regional towns."
"How Wildfires Are Making Some California Homes Uninsurable" [New York Times]. "California's wildfires keep growing bigger, more frequent and more destructive. Of the 20 worst wildfires in state history, four were just last year, giving rise to a record $12.6 billion of insurance claims. It hasn't gotten any better this year…. 'We're not in a crisis yet, but all of the trends are in a bad direction,' said Dave Jones, who is completing his eighth and final year as California's insurance commissioner. " • Ulp.
"Coal is still king in global power production" [Phys.org]. "Coal remains the most widely used means of electricity production in the world. It also happens to be the biggest emitter of climate-changing carbon dioxide of any fuel. Despite efforts to tackle global warming, worldwide demand for coal was up one percent last year, mainly due to demand in Asia…. India seems set to replace China as the world's biggest coal consumer while Asian countries such as Indonesia, Malaysia, Pakistan, Philippines and Vietnam have also registered big increases."
"Hundreds of thousands of Pennsylvanians have been exposed to dangerous PFAS chemicals, including around Pittsburgh's airport" [Public Source]. "The contamination is from a class of chemicals referred to as PFAS (perfluoroalkyl and polyfluoroalkyl substances). The chemicals have gotten into water supplies in hundreds of locations across the country and are associated with a range of cancers and serious illnesses in humans, even if they've been exposed to very small amounts…. In 2016, at least six million Americans were thought to have been exposed to PFAS through their drinking water. The Environmental Working Group, an advocacy group that studies the chemicals, concluded that more than 220,000 Pennsylvanians were likely exposed to PFAS. But in May the group estimated the number of people exposed nationally is about seven times higher than they originally thought. Its latest analysis suggests more than 110 million people in the nation may have been exposed through their drinking water."
"Mathematical Simplicity May Drive Evolution's Speed" [Quanta]. "Creationists love to insist that evolution had to assemble upward of 300 amino acids in the right order to create just one medium-size human protein. With 20 possible amino acids to occupy each of those positions, there would seemingly have been more than 20300 possibilities to sift through, a quantity that renders the number of atoms in the observable universe inconsequential. Even if we discount redundancies that would make some of those sequences effectively equivalent, it would have been wildly improbable for evolution to have stumbled onto the correct combination through random mutations within even billions of years…. " • But they don't take Kolmogorov complexity into account! (Sorry, I couldn't find a quotable nugget after the lead! But the article is interesting….)
"Study Finds Rising Sea Levels Result Of Expansive Colonization Effort By Dolphins" [The Onion].
Class Warfare
"Grinnell student workers approve campuswide union; school's move to quash has national implications" [Des Moines Register]. "Grinnell College students voted to expand unionization of student workers, but the move could be short-lived as the school tries to quash the unionization by appealing to a Republican-majority National Labor Relations Board." • That's shocking. The Grinnell motto: "Truth and Humanity."
"Louisiana School Made Headlines for Sending Black Kids to Elite Colleges. Here's the Reality." [New York Times]. "T.M. Landry has become a viral Cinderella story, a small school run by Michael Landry, a teacher and former salesman, and his wife, Ms. Landry, a nurse, whose predominantly black, working-class students have escaped the rural South for the nation's most elite colleges…. In reality, the school falsified transcripts, made up student accomplishments and mined the worst stereotypes of black America to manufacture up-from-hardship tales that it sold to Ivy League schools hungry for diversity…." Interestingly: "Some alumni, especially those who spent only a short time at T.M. Landry, have been successful." • Brings up the idea that the Ivies are meant to filter out talent, rather than encourage it…
"Suicide and the chimera of American prosperity" [The Week]. "It will be tempting for some liberals to argue that the drug and suicide epidemic, which is most pronounced in states like West Virginia and in the post-industrial Midwest, is the muted response of white Americans to the prospect of their irrelevance in a rapidly diversifying country. But that's not what I think is happening — and not just because David Duke probably says the same thing. For one thing, the despair that is the underlying cause of these phenomena is universal. The difference is that black and Hispanic communities have more hard-won resilience than whites who have led increasingly atomized, if comparatively more prosperous, existences for half a century now. They live in self-segregated communities in which the only meaningful bonds with their neighbors and even their extended families are those to which they have consented. Their experience has not prepared them for financial uncertainty, violence, atrophying attention spans, and drug taking. For them there really is no such thing as society.?
"In 1970s, workers at this GM plant tried to reinvent the American Dream. Instead, they watched it fade away" [Will Bunch, The Inquirer]. "The young lords of Lordstown found the assembly line — 35 second bursts of a dull, repetitive task, and a 5-second break before the next Impala or Vega rolled up — to be soul-crushing work. Botched cars — some of them slashed, deliberately sabotaged by angry workers — piled up in the giant lot outside the factory. A good chunk of the labor force had little fear of conflict with their bosses because they'd recently returned from the front lines in Vietnam."
News of the Wired
"There Is Gas Under the Tundra" (photographs) [Lens Culture]. "[W]hile Xelot's images of the peculiar fire-ice balance are arresting enough as still visuals, there are also features of the setting that cannot be captured with a camera's lens. 'These huge [LNG] flames in the tundra make a lot of noise, and they are incredibly hot. While I was photographing I almost burned my finger off. The atmosphere's temperature is -30°C, but the closer you get, the more it burns, which is an impressive sensation. The tundra is historically a very silent place, but inside the yards it is noisy and crowded, and I try to make this contrast come through in the photographs.'"
Vaccination and public health. Thread:
Dear parents of children who do not have cancer: a casual measles exposure in a grocery store caused the following things to happen when my child was in chemotherapy:

— Nicole Stellon O'Donnell (@SteamLaundry) November 21, 2018
* * *
Readers, feel free to contact me at lambert [UNDERSCORE] strether [DOT] corrente [AT] yahoo [DOT] com, with (a) links, and even better (b) sources I should curate regularly, (c) how to send me a check if you are allergic to PayPal, and (d) to find out how to send me images of plants. Vegetables are fine! Fungi are deemed to be honorary plants! If you want your handle to appear as a credit, please place it at the start of your mail in parentheses: (thus). Otherwise, I will anonymize by using your initials. See the previous Water Cooler (with plant) here. Today's plant(KH):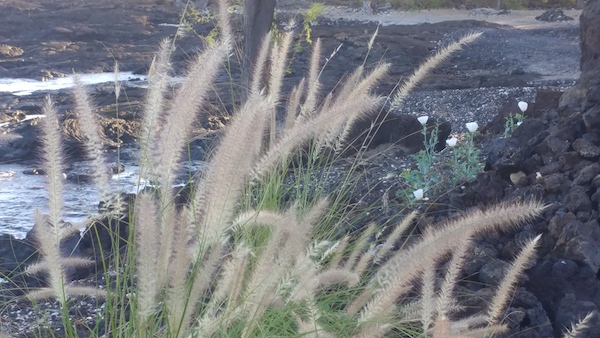 KH: "The recent rains, on Hawaii Island's west side, have caused an explosion of fountain grass and the pure white Hawaiian poppy, along the ocean."
* * *
Readers: Water Cooler is a standalone entity not covered by the annual NC fundraiser, now completed. So do feel free to make a contribution today or any day. Here is why: Regular positive feedback both makes me feel good and lets me know I'm on the right track with coverage. When I get no donations for five or ten days I get worried. More tangibly, a constant trickle of small donations helps me with expenses, and I factor that trickle in when setting fundraising goals. So if you see something you especially appreciate, do feel free to click below! (The hat is temporarily defunct, so I slapped in some old code.)
Or Subscribe to make a monthly payment!