By Lambert Strether of Corrente.
Trade
"Under China's New Rules, U.S. Recycling Suffers" [Governing]. "Until this past January, China took 40 percent of America's gently used paper, metals and plastic. Now, it accepts hardly any of it. China won't take recycled material from this country, or others, unless it's 99.5 percent free of contaminants. Some of the material is currently being processed domestically or is getting sent to other countries, but the loss of the biggest market has led some domestic recycling plants to shut down and some cities to end curbside pickup of recyclables. Cities could once count on processors to pay them for material, but now they're being presented with hefty bills instead."
Politics
"But what is government itself, but the greatest of all reflections on human nature?" –James Madison, Federalist 51
2020
Neera the Enforcer:

Oh look. A supporter of Bernie Sanders attacking a Democrat. This is seriously dangerous. We know Trump is in the White House and attacking Dems is doing Trump's bidding. I hope Senator Sanders repudiates these attacks in 2019. https://t.co/41A4uxtWGY

— Neera Tanden (@neeratanden) December 4, 2018

Remarkable ithat unpleasant facts = attacks. Even more remarkable that Tanden wants a Senator to disavow what a journalist wrote. For anyone less well-balanced than Neera, I'd suspect a level of paranoia: Thinking people are working closely together when they aren't.

And speaking of "attacks":

Beto O'Rourke was one of the Democrats who helped Trump eviscerate Barack Obama's bank regs. Stating this is not an "attack." It is simply a fact — and an important one. https://t.co/IlYfdDckfo

— David Sirota (@davidsirota) December 4, 2018

Beto copies AOC?

Oh my god, it's happening, and it must be stopped pic.twitter.com/HqygflpyH7

— Michael Tracey (@mtracey) December 3, 2018

(Podsave America = Obama speechwriter John Favreau + black spokesperson Deray.)

"How Early Voting Could Turn the Democratic 2020 Race on Its Head" [New York Magazine]. "[W]hen next year's Democratic primary process gets started, it sure looks like the voting, and the all-important delegate counting, won't actually, technically start in Iowa. Instead, because of early-voting rules, the increasing popularity of early voting, and a reshuffled primary calendar, a handful of huge, diverse states could see troves of ballots returned even before some of the traditional small and largely white early-voting states do — a shift that just might herald real changes to the way Democrats nominate their presidential pick, and quite possibly the nominee's identity."

"Fate of New Hampshire official raises question about primary" [Associated Press]. " Hampshire might celebrate 100 years of holding the nation's earliest presidential primary in 2020 without the man long credited with protecting the state's coveted position. If Bill Gardner is ousted this week after 42 years on the job, some worry the state's ability to retain its place will be threatened in the future…. Though there are no current challengers, California last year approved scheduling its primary in early March to coincide with "Super Tuesday" — the day when the largest number of states conduct primaries — and thus give the nation's most populous state more sway. That would still fall after the four early states, but California's recent expansion of early voting and voting by mail raises questions not just about where candidates will focus their energies but the calendar as well."

"House 2020: The new crossover districts" [Larry Sabato's Crystal Ball]. "Following the 2018 election, it appears as though Republicans will only hold three districts won by Hillary Clinton in 2016, while Democrats are on track to hold 31 districts won by Donald Trump in 2016. As Republicans plot a House comeback in 2020, most of their obvious targets are in those Trump-won districts now represented by Democrats, many of whom just got elected." • I can hear the Blue Dogs whimpering already…
2018
"Alexandria Ocasio-Cortez is the progressive Trump" [The Week]. "Just like Trump's, AOC's appeal is a matter of rhetoric and personality, not of policy acumen or relevant experience." Oh. More: "She struggles every bit as much as the president does with facts. Basic about American civic life appear to have eluded her. She struggled — twice — to name the three branches of government in a recent conversation. She is, to put it kindly, not good with numbers." • And on and on and on. "Norms" is, I think, the key word here.

ME-02: "Poliquin's election challenge faces long odds" [Portland Press-Herald]. "For U.S. Rep.-elect Jared Golden and supporters of ranked-choice voting, the election ended two weeks ago after the Democrat emerged from an instant runoff leading Poliquin by 3,509 votes. Yet Poliquin and his team are aiming for more than just a reversal of the election results as they push to make Maine the national, legal test case for ranked-choice voting in any federal election." • Poliquin is carrying water for the entire Maine political establishment, which hates ranked choice voting. Note there are no quotes from Democrat figures favoring ranked choice voting in this article, or the next.

ME-02: "Recount in Maine's 2nd District to begin Thursday" [Bangor Daily News]. "The recount in Maine's 2nd Congressional District requested by outgoing U.S. Rep. Bruce Poliquin after losing a November ranked-choice race to Rep.-elect Jared Golden will begin Thursday and is expected to last into the new year." • As with the above link, you've gotta admire the Republicans for being tenacious, and not rolling over and giving up, because norms. As here–

NC: "Unusual pattern of signatures emerges as North Carolina probes allegations in House race" [CNN]. "As North Carolina officials investigate allegations that absentee ballots were tampered with in a tight congressional race, a review of some of those ballots revealed many were signed by the same small group of people — some of whom are connected to a longtime operative working for the Republican candidate's campaign." • If the Democrats were as tenacious at voter registration and base expansion as the Republicans are at suppressing votes, they'd probably control all three branches of government again.

WI: "Wisconsin GOP uses rare session to weaken incoming governor" [Associated Press]. "A Republican-controlled legislative committee held a hearing for nine hours, before voting just before midnight along party lines to pass the bills, setting up final approval in the Senate and Assembly on Tuesday…. The lame-duck maneuvering in Wisconsin is similar to action taken by Republicans in North Carolina two years ago and is being discussed in Michigan before a Democratic governor takes over there. The protests, coming at the end of Walker's eight years in office, were reminiscent of tumult that came shortly after he took office in 2011, when he moved to end collective bargaining powers for public sector unions."
2018 Midterms Post-Mortem
"The 2018 Midterms as the Buffet Election" [Inside Elections]. "[W]hat happened in the elections is less important than what the parties think happened in the elections because the latter will drive future behavior."" Beauty contest! More: "For example, it's clear that Trump believes his immigration message and tone was the reason Republicans "won," and he publicly blamed the House losses on a failure to embrace him. Even though Republicans suffered heavy House losses because of the president's unpopularity, Trump will continue to act, talk and tweet in the way that he thinks has proved successful. It's still unclear how Democrats will react to the election results, particularly losses by some higher-profile progressive candidates. They could interpret them as reasons to moderate, or they could double down on a shift to the left as a contrast to the Republicans. Listen for the clues in the coming weeks to understand where Democrats are headed." • IMNSHO, the Congressional Democrat center of gravity has shifted conservative, not left (despite strong individual left voices like AOC). That is a consequence of an appeal to wealthy suburban professionals, and also of grooming and electing MILO candidates.
Realignment and Legitimacy
"SNL's Homophobic Trump-Putin Jokes Need to Stop" [Daily Beast]. "We've forgotten the intrinsic harm of using gayness as pejorative, excusing it because it's being weaponized against someone we agree should be attacked." • I'm so old I remember when SNL was funny.
Stats Watch
Motor Vehicle Sales, November 2018: "Despite only a marginal rise in unit sales during October, the motor vehicle component in the month's retail sales report proved very strong" [Econoday].
Commodities: "Several [U.S. liquefied natural gas exporters] will soon decide whether to move ahead with multibillion-dollar shipping terminal projects to handle LNG shipments for foreign markets…. and their choices could reshape the seaborne market for the energy resource" [Wall Street Journal]. "There are about 25 proposed U.S. LNG export projects, 13 of which could have regulatory approval within the next year. The business needs a big share of that capacity as the supply of natural gas for export is forecast to nearly double next year. American LNG exporters are competing with suppliers in Canada, Qatar, Russia, Australia and elsewhere. But the country has some of the largest reserves in the world, helping keep prices low. Analysts say that with some infrastructure improvement, the U.S. could ultimately account for 20% to 30% of global LNG supply." • Not in Searsport, ME, though, fortunately. I can be argued out of this, but based on the precautionary principle, I'm of the opinion that all fossil fuel projects should be opposed (and the answer to unsafe projects is not repair but shutdown).
Real Estate: "Rental-Home Manager Preps for Next Wave of Landlords" [Bloomberg]. "Single-family rentals were largely a mom-and-pop affair until the U.S. foreclosure crisis a decade ago, when Wall Street firms such as Blackstone Group LP and Tom Barrack's Colony Capital Inc. amassed unprecedented pools of homes. After an early rush, institutional interest cooled as mega-landlords like Invitation Homes Inc., which owns 80,000 houses, and American Homes 4 Rent, which owns 50,000, focused on improving their operations…. There are 22 million single-family rentals in the U.S., according to Attom Data Solutions. While the vast majority are owned by landlords with fewer than 100 properties, the business is seeing fresh interest from large institutions."
Transportation: "Railroads should have seat at the autonomous vehicle table, AAR says" [Freight Waves]. "In comments filed in response to the DOTs request for the input on the agency's latest examination of the outlook for AVs, the [Association of American Railroads (AAR)] said that 'unlocking the potential of automated technology by reducing or eliminating human error is just as important for railroads' as for other transport modes." • The only errors will be in the algorithms which, if they are generated by machine learning, will be impossible to understand or maintain.
Transportation: "A national project to replace millions of gasoline-fueled vehicles with electric models is boosting China's ambitions to lead the global shift to battery-powered transportation…., and the impact is already showing up on roads around the world" [Wall Street Journal]. "Beijing has put electric vehicles at the heart of its Made in China 2025 industrial strategy, and aggressive efforts to bring electric buses to its cities are helping forge an expanding supply chain for the vehicles. That's helping drive more foreign orders that give Chinese electric vehicle makers a foothold in international markets and a boost in growing areas such as package delivery vans."
Tech: "The Friendship That Made Google Huge" [The New Yorker]. An entire article on Google that doesn't use the word "monopoly." Peak liberalism.
Tech: "Google personalizes search results even when you're logged out, new study finds" [The Verge]. "According to a new study conducted by Google competitor DuckDuckGo, it does not seem possible to avoid personalization when using Google search, even by logging out of your Google account and using the private browsing "incognito" mode…." Holy moley: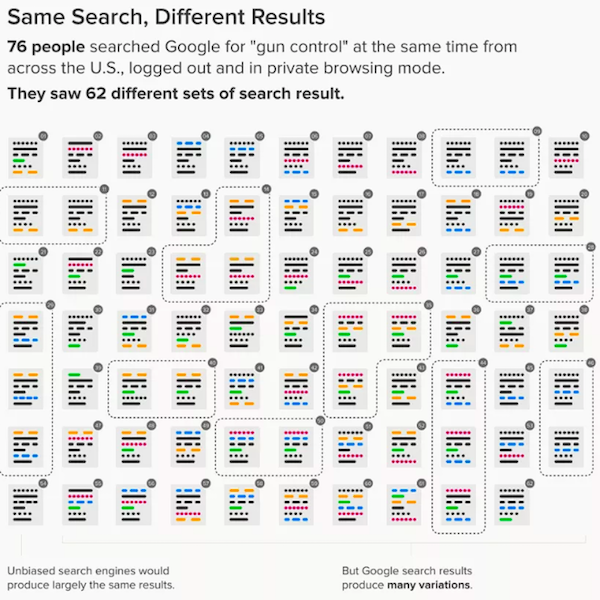 There's gotta be a way to spoof this. In fact, there should be an app. Readers?
Tech: "Microsoft is building a Chromium-powered web browser that will replace Edge on Windows 10" [Windows Central]. • So, browsing approaches monoculture status?
Tech: "Mastercard, Microsoft Join Forces to Advance Digital Identity Innovations" (press release) [Mastercard]. "'Today's digital identity landscape is patchy, inconsistent and what works in one country often won't work in another. We have an opportunity to establish a system that puts people first, giving them control of their identity data and where it is used,' says Ajay Bhalla, president, cyber and intelligence solutions, Mastercard. 'Working with Microsoft brings us one step closer to making a a reality, and we look forward to sharing more very soon.' Access to could unlock new and enhanced experiences for people as they interact with businesses, service providers and their community online…" • What could go wrong?
Gaia
"U.S. clean coal program fails to deliver on promised smog cuts" [Reuters (CO)]. "Champions of coal say the superabundant fossil fuel can be made environmentally friendlier by refining it with chemicals – a "clean coal" technology backed by a billion dollars in U.S. government tax subsidies annually. But refined coal has a dirty secret. It regularly fails to deliver on its environmental promises, as electric giant Duke Energy Corp found…. The utility also discovered that one of the chemicals used to refine the coal, calcium bromide, had reached a nearby river and lakes – raising levels of carcinogens in the water supply for more than a million people in greater Charlotte…. Investors in plants that failed to show substantial NOx emission cuts collected the tax credit anyway because the Internal Revenue Service allows them to prove emissions reductions with laboratory tests
The 420
"Utah's New Medical Marijuana Law Not the One Approved by Voters" [Governing]. "On Monday, the first business day after Utah's medical cannabis initiative became law, state legislators supplanted it with a more tightly controlled plan for providing marijuana-based treatment. The Utah Medical Cannabis Act, designed as a replacement for voter-approved Proposition 2, breezed through the Utah House of Representatives and Senate during Monday's special session. The one-day gathering of state lawmakers has been in the works since October, when Gov. Gary Herbert announced that supporters and opponents of Prop 2 had reached consensus around a legislative solution to their disagreements." • The same thing happened in Maine, where voters had to tell the legislature that, yes, they wanted Medicaid expansion, and yes, they wanted Ranked Choice voting, multiple times. I can understand the need to correct legislative flaws, but the legislators should really be giving more deference to the clearly expressed intent of the voters.
Class Warfare
"Embattled Women's March Finally Releases Financial Records" [Daily Beast]. "The documents and the accompanying annual report—provided by the group after a process that can only be described as bizarre—show it spent $1.6 million of those funds on a range of projects. Those include the original March on Washington; the Women's Convention that took place later that year in Detroit, Michigan; and the 10 Actions 100 Days program aimed at maintaining the march's momentum and engaging new activists in the nascent movement. The bulk of the money haul came from merchandise sales—More than $1.1 million from the T-shirts, sweatshirts, hats, and tote bags."
News of the Wired
"The Era of Cheap and Easy STD Treatment Is Over. What Went Wrong?" [Wired]. "Gonorrhea is surging back, along with its equally forgotten partner, syphilis. In August the Centers for Disease Control and Prevention said that cases of all STDs have risen for four straight years, to the highest levels in a decade. A sizable portion of that spike is due to gonorrhea, which has become resistant to all the generations of antibiotics that have been used to treat it…. STD control is founded on a health care structure that is otherwise unusual in the United States: freestanding clinics, often publicly funded, that allowed patients to avoid stigma by seeking care from doctors who may not know them. The ability to treat infections quickly, ideally with a single antibiotic dose, was crucial to that structure, since there was no guarantee patients would return for followup. STDs were so common that inexpensive drugs were paramount."
"Effects of a low carbohydrate diet on energy expenditure during weight loss maintenance: randomized trial" [British Medical Journal]. n = 164. "We compared the effects of diets varying in carbohydrate to fat ratio on energy expenditure during weight loss maintenance through 20 weeks." • If I understand the results, fewer carbohydrates, more fat. Yay!
Thank you:
The man who invented autocorrect should burn in hello.

— Peggy Klaver #FBR ?✊?✊?✊?✊? (@Pegerella) December 3, 2018
* * *
Readers, feel free to contact me at lambert [UNDERSCORE] strether [DOT] corrente [AT] yahoo [DOT] com, with (a) links, and even better (b) sources I should curate regularly, (c) how to send me a check if you are allergic to PayPal, and (d) to find out how to send me images of plants. Vegetables are fine! Fungi are deemed to be honorary plants! If you want your handle to appear as a credit, please place it at the start of your mail in parentheses: (thus). Otherwise, I will anonymize by using your initials. See the previous Water Cooler (with plant) here. Today's plant (TH):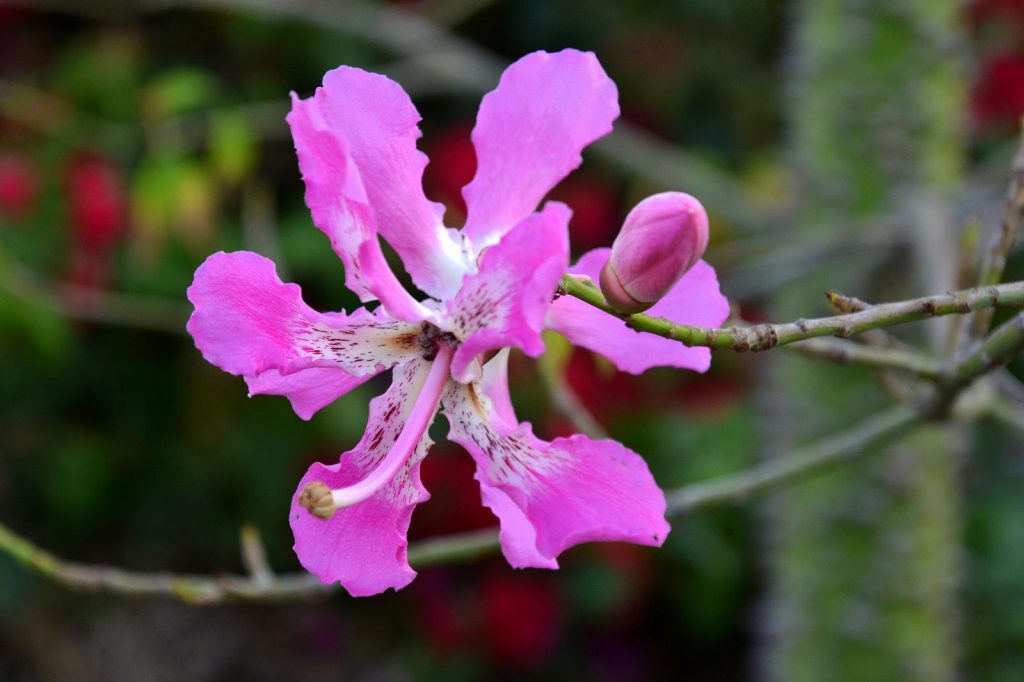 TH writes: We purchased a tiny potted Silk Floss Tree that was a couple of feet tall, which we'd purchased from a plant sale at the South Coast Botanic Gardens in Palos Verdes, about 4 years ago. It's struggled to put out leaves and hold onto them, but each year by fall it looks a few feet taller. It's about 7 feet tall now, still spindly, and recently lost all it's leaves (I've seen some that don't, but I've seen some that do, so we don't get too alarmed when it does). But a few weeks ago, I spotted three tiny little balls at the end of one branch. I wasn't sure if that was the precursor to blooms or to the pods these trees produce, nor was I sure it was strong enough to follow through on whatever it was working on. The poor dear doesn't get a lot of attention, and it's been rather hot and dry all Summer and what we've had of Fall, so I don't blame it for trying only three it's first time out. I'm close to amazed, and totally thrilled that the little tiny balls actually became blooms!" Gorgeous!
* * *
Readers: Water Cooler is a standalone entity not covered by the annual NC fundraiser, now completed. So do feel free to make a contribution today or any day. Here is why: Regular positive feedback both makes me feel good and lets me know I'm on the right track with coverage. When I get no donations for five or ten days I get worried. More tangibly, a constant trickle of small donations helps me with expenses, and I factor that trickle in when setting fundraising goals. So if you see something you especially appreciate, do feel free to click below! (The hat is temporarily defunct, so I slapped in some old code.)
Or Subscribe to make a monthly payment!