Travelers face chaos as drones shut London's Gatwick airport AP Not a headline one wants to see a couple of hours shy of boarding an international flight.
America's most stressful airports are revealed – and it's New York's LaGuardia that is most likely to raise the blood pressure Daily Mail
A New Disease Is Testing Us for the Next Global Epidemic Wired
Scientists find secret 'supercolony' of 1.5 million penguins TreeHugger. Don't know why TreeHugger is reporting this event now, but I didn't see notice in March, so I'm including it here. And, I think there's no such thing as too much penguin news.
Chinese artisans keep Qing emperors' clocks alive and ticking SCMP
The peculiar Boston tradition that (mostly) keeps the winter parking peace Aeon. Short shot during the winter of 2015; still germane.
Why windows with a view are so important to older people The Conversation
The economic impacts of climate change could limit climate change Ars Technica
Waste Watch
Waste Not, Want Not The Baffler
Divestment is now considered a 'material risk' by fossil fuel industries TreeHugger
Exclusive: Oil giant Exxon secured U.S. hardship waiver from biofuel laws – sources Reuters
Singapore declares lifetime ban for ex-Goldman Sachs Asia chief Tim Leissner FCPA Blog
Malaysia puts Goldman Sachs in the dock Asia Times
California Burning
California Knew the Carr Wildfire Could Happen. It Failed to Prevent it. ProPublica
The Real Roots of American Rage Atlantic (UserFriendly)
U.S. Population Grew at Slowest Pace in More Than 80 Years WSJ
More than 500 priests accused of sexual abuse not yet publicly identified by Catholic church, Illinois attorney general finds Chicago Tribune
2020
A Second Term for Trump is Better Than Beto Benjamin Studebaker (UserFriendly)

Critics Say Bernie Sanders Is Too Old, Too White, and Too Socialist to Run for President in 2020. They're Wrong. Intercept
Brexit
Brexit migrant salary cap would be devastating for NHS and schools, experts warn Metro.co.uk

THOUSANDS OF FLIGHTS WOULD BE CANCELLED BY NO-DEAL BREXIT AS DEPARTURES CAPPED AT 2018 LEVELS Independent

No-deal Brexit will raise food prices, says Michael Gove Guardian. None of these revelations will surprise our regular readers.
Imperial Collapse Watch
The Death of Global Order Was Caused by Clinton, Bush, and Obama Foreign Policy. Stephen Walt.
China
China's tech giants want to go global. Just one thing might stand in their way. MIT Technology Review
India
Should GM Crops Feature in the 'Evergreen Revolution' India Dearly Needs? The Wire

India's drug regulator is said to be investigating Johnson & Johnson's baby powder for alleged traces of cancer-causing Asbestos: Report Business Insider

Without Rise in Farm Income, Congress's Loan Waivers Won't End Rural Distress The Wire
Syraqistan
Facebook Fracas
DC sues Facebook over Cambridge Analytica scandal Ars Technica

'Zuckerberg Must Resign Now': Outrage After Report Shows Facebook Let Partners Read Users' Private Messages Common Dreams

Amazon and Facebook Reportedly Had a Secret Data-Sharing Agreement, and It Explains So Much Gizmodo
Realignment and Legitimacy
Here's What Happened the Last Time There Was An Election Do-Over Politico
Health Care
The Vietnam War of Health Care Ghion Journal
Class Warfare
Gilets Jaunes
Breaking Out of the Margins Jacobin
Trump Transition
Trump's African Pivot: Another Swipe at China Counterpunch

First Step Act Has Sinister Implications for the Poor and Marginalized TruthOut

Democrats to block end-of-year judges package The Hill. I guess I should say better late than never but instead, I'm enraged at how Democrats focused on virtue-signalling and other empty gestures, and more or less confirmed everyone, up t'il now, that Trump nominated to the federal bench,
Antidote du Jour (not Adélie penguins, but cute nonetheless)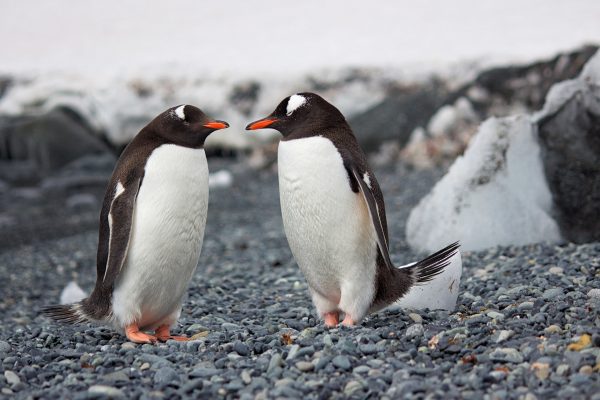 And a bonus video (from March, but still worth seeing: such a vast colony!):
See yesterday's Links and Antidote du Jour here.