Bees Get Stung by Decision to Scale Back National Monument Scientific American (David L)
Bacteria under stress can live without cell wall PhysOrg (Robert M)
Sustainable palm oil doesn't make the grade PhysOrg (Robert M)
California wildfires accelerated climate change as much as a whole year of power use Quartz (David L)
Bowel movement: the push to change the way you poo Guardian
Is visiting a robot brothel ok? Most people say yes, if you are single New Scientist (Dr. Kevin)
China?
India
Elections diminish democracy in India openDemocracy
Brexit
Theresa May suffers three Brexit defeats in Commons BBC (Kevin W)

The government's defeat on contempt was humiliating – but avoidable Guardian

The Brexit Debacle Jacobin (Anthony L). A troubling amount of cakeism here, like the idea that Labour could negotiate a better deal, plus the typical misrepresentation that the EU bars industrial policy (what do you think Germany has, with vocational secondary education and very strong tenant protections to lower housing costs of lesser-paid workers? Plus as we have discussed, the EU regularly allows state aid). It is frustrating to see the left be so unconcerned about accuracy and to ignore that small open economies in a world of globalization of labor and capital flows are not in a strong position and therefore don't have wonderful choices as far as national sovereignity v. prosperity (see Dani Rodrik's trilemma).

UK and EU must 'wake up' to risk of grounded flights after Brexit, airline body warns CNBC. I had thought the assurances that this was largely handled were not consistent with observable facts.

Trump's New Immigration Rule Could Threaten Health Care for 6.8 Million Children Who Are U.S. Citizens Governing

Mervyn King: Theresa May's Brexit deal is like appeasement Guardian
Gilets Jaunes
France's Latest Protests Are a Rejection of All Things Macron Slate
New Cold War
U.S. to Suspend Nuclear Treaty With Russia in 60 Days Wall Street Journal
Syraqistan
Reuters Creates Fakenews About Iran – Intentionally Conflates Two Different Missiles – Misquotes Official Moon of Alabama (pretzelattack, Kevin W)
Big Brother is Watching You Watch
Trump Transition
What an inflated sense of self importance:
Please see my statement below regarding 2020. pic.twitter.com/ztCfZUY6hA

— Michael Avenatti (@MichaelAvenatti) December 4, 2018
What Does Beto O'Rourke Actually Stand For? Current Affairs (UserFriendly)
Kill Me Now
What It Means That Hillary Clinton Might Run for President in 2020 CommonDreams (Robert M)

UserFriendly: "Wana guess the reaction had Bernie said this? RACIST!!!!! Obama has Class!!!!!!!"

Joe Biden: "I've been there with 8 presidents as an elected official and none had more class and a greater sense of decency than President Bush." https://t.co/sD5PFHEHHe pic.twitter.com/oYwILaxkjt

— The Hill (@thehill) December 3, 2018
Iraqis Remember George H.W. Bush: A Gentleman Who Bombed Us Shadowproof (UserFriendly)
Mr. Market Has a Sad
Dow Tumbles Nearly 800 Points as Trade Jitters Return Wall Street Journal

Tumbling Stocks Show You Can't Ignore the 'Harbinger of Doom' Bloomberg
Those of you who like to talk about the demise of the dollar (which I don't dispute will eventually happen but the idea that it is imminent is quite another matter) should ponder this item from Politico's morning European newsletter:
EURO AMBITIONS: Look at this graph. It shows what a crisis like the Greek one can do to trust in a currency. The euro accounted for 44 percent of global payments back in 2012, with the dollar at 30 percent. In 2015, the picture had completely changed: 29 percent of globals payments were made in euro, 44 percent in dollar. By last year, the ratio was a somewhat more balanced 36 percent euro to 40 percent USD.

The graph comes from a report the Commission will release today and which Playbook has seen, titled "Towards a stronger international role of the euro." The key gap the Commission identifies is the one between the EU's economic strength and the use of the euro as a global currency.
Apple Hit With Class Action Suit Over Lack of Dust Filters In Macbook, iMac 9to5Mac
Volkswagen Says Its Next Generation of Internal Combustion Engines Will Be Its Last Jalopnik (Kevin W)
Class Warfare
Antidote du jour. Tracie H: "This little cutie (Pomeranian, I believe) was at the park near the San Clemente pier on Thanksgiving day, basking calmly in the sun – probably with visions of drumsticks dancing in his/her little head."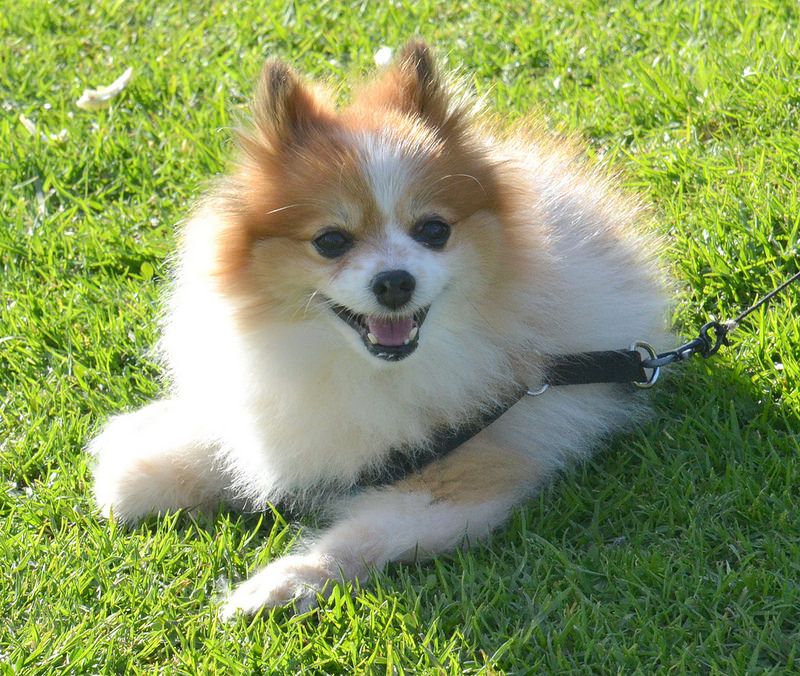 And a bonus video:
See yesterday's Links and Antidote du Jour here.