By Lambert Strether of Corrente.
UPDATE I got a late start, so I added more. –lambert
Trade
"Fortnite's Digital Goods Are Key to the Future of Global Trade" [Bloomberg]. "Discussions about globalization—and its costs and benefits—often focus on physical goods such as steel beams, cars, or soybeans. The reality is that the integration of economies is increasingly a digital one that happens in invisible daily bursts—like the sessions in which far-flung armies of Fortnite players face off against each other on an imaginary island. 'The digital economy is everywhere, and much of it is international without our even knowing it,' says Anupam Chander, a law professor and expert on digital trade at Georgetown University. If we don't always fully appreciate the scale of what's going on, it's because much of digital trade is not being captured in official statistics, says Susan Lund of the McKinsey Global Institute, the consultant's in-house think tank. In a report, Lund and her co-authors documented an explosion in global data flows that they argued generated $2.8 trillion in economic output in 2014 alone and was doing more to benefit the world economy than the stalling international trade in physical goods." • Maybe this is why the elites are letting women take over defense industry, the Pentagon, and chores like torture; the real action is digital. Perhaps a global warming play as well?
"China has a lot more to lose than the US in trade war, says Credit Suisse [South China Morning Post]. "The possibility that the United States and China are closer to resolving their trade dispute has stoked optimism among investors. But insufficient attention may be being paid to what happens if no deal is struck, according to John Woods, Credit Suisse's chief investment officer for Asia-Pacific…. 'It's quite clear to me that China has a lot more to lose than the United States and, hence, the apparent willingness of the authorities to go the extra mile and secure something meaningful,' Woods said."
"The threat of a trade war is helping reset supply chains as exporters in some countries find opportunities amid the disruption. Most Asia-Pacific nations support removing trade barriers…. even as many are finding short-term opportunities to attract manufacturing exporters seeking to avoid U.S. tariffs on Chinese products. The trade battle is accelerating a trend of manufacturing shifting from China to Southeast Asia" [Wall Street Journal]. "Still, many businesses say they prefer predictability and are eager to see the dispute end. For Southeast Asia's manufacturing and shipping businesses, supply-chain disruptions and slower global growth are a larger threat. Logistics and transportation networks have contributed increasingly to the region's economy as container-port traffic has expanded there in recent years."
Politics
"But what is government itself, but the greatest of all reflections on human nature?" –James Madison, Federalist 51
2020
"What 'Lanes' Will the 2020 Democratic Candidates Run In?" [Ed Kilgore, New York Magazine]. "The 2020 Democratic presidential race, however, is shaping up as a vast and complicated battleground with many viable and even more dark-horse candidates. Inevitably, both campaign operatives and political observers will have to analyze the field in terms of sub-contests between clusters of candidates pursuing particular constituencies. When Republicans had a similar situation in 2016, with 16 serious candidates in the fray, the metaphor of 'lanes' in which such clusters competed for oxygen and viability before the deal went down became nearly ubiquitous. As early as March 2015 — before Donald Trump entered the race — the Washington Post's Phillip Bump was slicing and dicing the field in terms of five 'lanes' with different candidates competing for supremacy, with some transcending any one lane…. Trump came along and scrambled these lanes and helped croak several candidacies." • I don't think you can "scramble" a metaphor. You can have a metaphor, though, one that doesn't correspond to reality. Perhaps the "lane" metaphor was always bad; in what sense is a campaign like a highway?

"It's Bernie, Bitch" [Amber A'Lee Frost, The Baffler]. "A President Sanders isn't some idealist fantasy; he is our best bet by a mile. He has consistently polled as the most popular politician in America since the primaries, and while everyone else has been tweeting (or following up with 23andMe), Bernie pressured Amazon into raising wages, followed up by going after Walmart, condemned Saudi Arabia and sponsored the resolution to end support for the war in Yemen, introduced the No Money Bail Act, committed to a federal job guarantee, campaigned so powerfully for Medicare for All that he shifted the entire Democratic Party, and saved a woman from being hit by a car. Not only is he the best candidate politically (as in, the only social democrat), he has the best chance of giving the "pragmatists" what they say they want: a presidential win." • Which is why the political class is dogpiling him…

"Bernie Sanders staffs up for 2020" [Politico]. "Bernie Sanders is adding firepower to his political team ahead of a potential 2020 campaign, locking down digital alumni who were key to his surprise performance in 2016 and recruiting the media production company* that helped launch Alexandria Ocasio-Cortez to prominence." • * "Means of Production."

UPDATE Long thread of Tulsi Gabbard video snippets (not a hit piece):

Last September, @TulsiGabbard gave a wide-ranging and candid interview to @joerogan, covering everything from foreign policy to the drug war. Thread of highlights starts here with her comments providing critical context on North Korea and Kim's behavior https://t.co/Hbnkgw8kFp pic.twitter.com/3SPwnFeV3N

— Max Blumenthal (@MaxBlumenthal) January 13, 2019

UPDATE For "the only thing that matters is winning" crowd:

There are only two things that matter for 2020 candidates. One, track record. Two, willingness to anger powerful people. That's it.

— Matt Stoller (@matthewstoller) January 13, 2019

I suppose one could fit policy under "Track Record"; that does filter the Johnny-and-Jane-Come-Lately's.
New Cold War
One of the creepier tweets I've read recently:

An important reminder to all left- and center-left folks who have fallen in love in recent years with counterintelligence: Doing counterintelligence well requires counterintelligence authorities. Please don't forget that when all this is over.

— Benjamin Wittes (@benjaminwittes) January 13, 2019

Of course, Witte confuses "left' and "liberal." The left remembers "counter-intelligence" operations like COINTELPRO quite well, thank you very much. Not to forget the mole British military intelligence planted inside the Sanders campaign because, ya know, the Five Eyes always help each other out.
Realignment and Legitimacy
"To Take Back the Map, Democrats Need a Plan to Revive Heartland Cities" [Washington Monthly]. "To avoid watching in horror as the Senate slips away forever while the Electoral College map becomes ever more daunting, liberals need a long-term strategy to combat the decline of heartland cities—to turn Clevelands into Denvers. To do so, they need to first recognize that geographic inequality did not come out of nowhere. It is not the inevitable product of free market forces clustering new skill and innovation around where all the old skill and innovation are found—nothing makes people in St. Louis or Milwaukee any less talented than people in San Francisco or Washington, D.C. Instead, it's the result of nearly four decades of policy choices in Washington—such as giving large banks and other corporations in elite coastal cities free rein to acquire rival firms headquartered in cities in America's interior. This has stripped those interior cities of what were once their economic engines, even as it has enriched the already wealthy coastal megalopolises." • I can't imagine why Clara let this through. It's an open assault not only on Clinton's "optimistic, diverse, dynamic, moving forward" formulation, but on the very idea of meritocracy. Possibly because it's a monopolies story? In Bangor, first the malls destroyed the downtown. I don't know if that's a monopoly story or not. Then Amazon destroyed the Malls. I don't know what happens now….

"'Serial predator': L.A. writer has been sounding alarm on Ed Buck for over a year" [NBC]. "[Jasmyne Cannick] conducted interviews with first-hand sources: men who said they went to Buck's apartment for paid sex and drugs, several of whom told her that Buck offered them more money for the chance to administer an injection of crystal methamphetamine, the most dangerous way to take a dangerous drug. All of her reports are published on her personal website." • The California Democrat Party establishment has some 'splainin' to do…
Stats Watch
There are no official statistics of note today.
Debt: "Fed: Q3 2018 Household Debt Service Ratio at Series Low" [Calculated Risk]. "The Fed's Household Debt Service ratio through Q3 2018 was released last week: Household Debt Service and Financial Obligations Ratios. I used to track this quarterly back in 2005 and 2006 to point out that households were taking on excessive financial obligations…. This data has limited value in terms of absolute numbers, but is useful in looking at trends… This data suggests aggregate household cash flow has improved significantly since the great recession."
Commodities: "The world's biggest soybean buyer just gave DowDuPont Inc. a late Christmas present. China approved the company's new herbicide-resistant soybean, … opening new markets for American farmers who are struggling to control hard-to-kill weeds: [Wall Street Journal]. "DowDupont had been holding back on sales in the U.S. as China considered the strain. Beijing's decision this week on the Enlist soybean and other genetically engineered crops developed by Bayer AG and Syngenta makes good on part of a trade pact aimed at speeding up the biotech approvals process, which some U.S. industry officials criticize as opaque. The move comes as trade negotiators are working to ease tensions between the two countries. Retaliatory tariffs drove U.S. soybean exports to China down by 62% in the first 10 months of 2018, squeezing U.S. farmers who are spending more on chemicals as herbicide-resistant weeds spread across the U.S. farm belt."
The Bezzle: "Tidal under criminal investigation in Norway over 'faked' streams" [Engadget]. "High-fidelity music streaming service Tidal is under criminal investigation in Norway for allegedly inflating album streams for Beyoncé's Lemonade and Kanye West's The Life of Pablo. The alleged faking of streaming numbers was exposed last year by Norwegian newspaper Dagens Næringsliv (DN), which said it had obtained a hard drive with the tampered data. Around 1.3 million accounts were supposedly used to lift the play counts of said albums by 'several hundred million', with Tidal paying out higher royalty fees to the two artists and their record labels as a result…. Today, DN revealed that Norway's National Authority for Investigation and Prosecution of Economic and Environmental Crime (Økokrim) has begun an investigation into data manipulation at Tidal. Though still in its early stages, Økokrim says that at least four former Tidal employees (including its former head of business intelligence — responsible for analyzing streams) have been interrogated in front of a judge as part of the investigation…. Tidal emerged from Jay-Z's acquisition of its Norway-based parent company Aspiro in 2015. But it's been dogged by reports of failed royalty payments and faked subscriber counts since 2016. The following year it received a welcome boost when Sprint purchased a third of the company for $200 million. Later in 2017, Tidal lost one of its original artist-owners in Kanye West, who claimed the company owed him $3 million."
The Bezzle: "Scooter startup Bird tried to silence a journalist. It did not go well." [TechCrunch]. "The whole debacle started after Doctorow wrote about how Bird's many abandoned scooters can be easily converted into a "personal scooter" by swapping out its innards with a plug-and-play converter kit. Citing an initial write-up by Hackaday, these scooters can have "all recovery and payment components permanently disabled" using the converter kit, available for purchase from China on eBay for about $30…. Bird didn't like this much."
Tech: "PayPal Quietly Took Over the Checkout Button" [Bloomberg]. "PayPal's most impressive statistic may be its conversion rate. People who design online and mobile shopping apps are obsessed with smoothing and shortening the path from idle browsing to purchase—humans are acquisitive and impulsive creatures, but they're also easily distracted and bad at remembering their credit card numbers. Too many options hurts conversion, and so does having to type out stuff or wait for a page to load. PayPal's conversion rate is lights-out: Eighty-nine percent of the time a customer gets to its checkout page, he makes the purchase. For other online credit and debit card transactions, that number sits at about 50 percent." • Astonishing, but true. When I hit the PayPal button, my decision is already made. Not sure why.
UPDATE Tech: "Contactless payments are coming to the US, another threat to the use of cash" [Quartz]. "Contactless payments are set to finally become widespread in the US, posing a renewed challenge to the use of cash… Britain's experience with contactless payments shows how it gives physical cash a run for its money. Spending using contactless cards rose to £3 billion ($3.8 billion) in 2017, up from £117 million in 2014, according to the UK Cards Association. A CMSPI consultancy case study of a large fast-food chain found that contactless payments catch on quickly, 'cannibalizing both cash and card payments.' The study showed that contactless transactions increased by 64% in one year to account for 27% of all purchases, while cash declined by 11%…. Contactless payments in the UK also got a boost when the London underground tube network began using them. New York City's subway is adopting the same technology, which is expected to go online this year." • We'll see how New Yorkers like it, especially since their subway has other and more pressing issues. When I was in London, I had to used contactless, and I loathed it, because it wasn't contactless at all; you had to tap a card, which you also had to load, making it slower than cash. There were also vendors who used contactless exclusively — the Post Office, I think — so in order to print a couple of Xeroxes, I had to go through an enormous rigamorale.
Tech: "AWS, MongoDB, and the Economic Realities of Open Source" [Stratechery]. "MongoDB's enterprise version [are governed by] a new MongoDB-created license called the Server Side Public License (SSPL). The SSPL is like the AGPL on steroids: it compels companies selling MongoDB-as-a-service to not only open-source their modifications, but also open-source their entire stack… The largest company selling software-as-a-service is, of course, Amazon." • This is very interesting article, which culminates in a discussion of how a dominant AWS stack running open source software could end up making everyone worse of.
Tech: "America desperately needs fiber internet, and the tech giants won't save us" [Recode]. "We're paying rent essentially as a country to a handful of companies that are selling second-rate, extraordinarily expensive internet access. It's basically the cable companies. If you live, say, in Austin, you've got one choice of a cable operator, local cable monopoly, who's gonna sell you internet access. And it's extraordinarily expensive. It's asymmetrical, meaning that you're mostly downloading, not uploading. This is actually dumbing down the entire country and our ability to compete on the international stage. That's the issue." • Rural broadband would be nice. You'd expect my town, a university town, to have it, but of course we don't.
Tech: "The five most important new jobs in AI, according to KPMG" [Quartz]. • I don't see a job description for whoever has to clean up the mess when they go nuts and have to be rebooted, because nobody knows how to maintain them, because nobody understands why they do what they do. Maybe that job's gonna be outsourced…
UPDATE Manufacturing: "The Next American Car Recession Has Already Started" [Bloomberg]. "American automakers are closing factories, cutting shifts and laying off thousands of workers. The industry is behaving like a recession has arrived. In one segment of the market, it has. Detroit is in the grips of a car recession marked by the collapse of demand for traditional sedans, which accounted for half the market just six years ago. Buyers have made a mass exodus out of classic family cars and into sport utility vehicles… Sales of the passenger-car body style that's dominated the industry since the Model T will sink to 21.5 percent of the U.S. market by 2025, according to researchers at LMC Automotive, relegating sedans to fringe products. That leaves automakers with excess factory capacity that can turn out about 3 million more vehicles than buyers want. And overcapacity is precisely what spurred losses the last time a recession wracked the industry." • Yikes!
Mr. Market: "Markets Take the Lead When It Comes to Factoring in Recession" [Bloomberg]. "Many financial markets are already signaling that the U.S. is more likely than not hurtling toward recession. But will they prove prescient or overly fretful?….Bank of America's recession indicators have also jumped noticeably in recent weeks, even as their analysts say the economic data doesn't show that. …. 'The fundamentals are changing, but not as bad as what the market seems to be pricing in,' said Aaron Clark, a portfolio manager at Boston-based GW&K Investment Management managing $36 billion. 'The one risk was that could change, and maybe all this pessimism turns into a self-fulfilling prophecy, and the equity-market and asset-price declines have contagion to the real economy.'"
Mr. Market: "Are Market Moves Happening Faster?" [A Wealth of Common Sense]. "Try as I may, I couldn't find a discernable difference in the speed of downdrafts or recoveries between in the pre-Internet and current information age. Both environments were filled with quick market moves, drawn-out bear markets, short recoveries, brutally long sideways periods and everything in between. Every generation assumes the current state of the world is uniquely terrible, uncertain, or special. The same seems to apply to market environments."
Rapture Index: Closes unchanged. [Rapture Ready]. Record High, October 10, 2016: 189. Current: 181. Testing the 180 floor again. Remember that bringing on the rapture is a good thing.
The Biosphere
"BP just discovered a billion barrels of oil in the Gulf of Mexico" [CNBC]. • Swell. Leave it right there. That way we'll always know where it is.
Our Famously Free Press
UPDATE "The ABCs of Jacobin" [Columbia Journalism Review]. "New magazines begin here: with the sure knowledge that something is missing, that the existing options aren't cutting it…. what seems indisputable is that "socialist" has been sapped, at least among Democrats, of its derisive force. And while it's too much to suggest that Jacobin was responsible for this change, it's equally too little to suggest that the magazine was swept along helplessly but happily by a rising red tide. More than once [publisher Bhaskar Sunkara] told me that he has always thought of Jacobin as a political project, not a media project. What the rise of Jacobin suggests, however, is just how inextricable, and maybe even indistinguishable, those categories turn out to be." • Come, come. Anybody who reads the Times or WaPo knows that.
Class Warfare
"The Truth About the Gig Economy" [Annie Lowry, The Atlantic] (original). "Last week two influential labor economists revised down their much-cited estimate of the size of the alternative workforce, meaning workers in temporary, on-call, contract, or freelance positions. Lawrence Katz of Harvard and Alan Krueger of Princeton had initially found that this workforce grew five percentage points in the decade up to 2015, accounting for nearly all job creation over that time period. Now they think it is more like one or two points. Their correction comes shortly after a major government survey—one that surprised a lot of labor and workforce experts—found that 3.8 percent of workers held "contingent" jobs as of 2017, roughly the same share as in 2005." • Oops.
"L.A. teachers' strike: Tens of thousands walk off job in Los Angeles" [Los Angeles Times]. "Tens of thousands of Los Angeles teachers went on strike Monday after negotiations in the nation's second-largest school district collapsed. Braving rain, teachers carrying signs saying "on strike for our students" and umbrellas stood in picket lines Monday morning demanding smaller class sizes, more nurses, counselors and librarians, higher wages for educators and more accountability for charter schools. There were picket lines at 900 schools across the city, United Teachers Los Angeles union president and teacher Alex < said at a news conference Monday." • AOC instantly weighs in--
So very proud of LA public school teachers today for taking a stand.

Teachers are the unsung heroes of American democracy. Today they're putting everything on the line so our nation's children can have a better shot. https://t.co/wlAUJoitmx

— Alexandria Ocasio-Cortez (@AOC) January 14, 2019
Nancy? Chuck?
UPDATE "Streaming Class Struggle" [Jacobin]. "On Saturday, one of the biggest retail traffic days of the year, she released a Bernie Sanders-style video, in which she interviews laid-off Toys "R" Us workers in the Bronx. The video is notable for how it addresses class struggle head on. Workers tell stories of working conditions steadily deteriorating until they lost their jobs altogether, followed by their bosses denying them promised severance pay. The workers subsequently won about $20 million for a severance fund for around thirty-three thousand workers. But workers and advocates claim they are owed at least $75 million. The video runs across the screen the names of the heads of venture capital firms and lenders responsible for shutting down Toys "R" Us, noting how much each has paid to the workers' severance fund. As we might expect, most have contributed nothing. Sanders has been producing class-struggle videos and posting them online regularly since early 2017. Many of the videos are wildly popular, with some of the live town hall–style events receiving more viewers than cable news programs running at the same time. Sanders is reportedly obsessed with the videos' view numbers, frequently asking staff how recent videos are being received."
You want intersectionality? Look at a strike, and to the unions:
— corey robin (@CoreyRobin) January 14, 2019
News of the Wired
"The Dog Who Took the Witness Stand" [Hidden History]. "'nd now call the dog,' said Judge Edward Kimball to the bailiff."
"How to Counter Misinformation" [Anthropology News]. "The problem with the press's standard fact-checking approach is that the refutation of lies often backfires due to the familiarity of the misinformation ("familiarity backfire effect"), the complexity of the refutations ("overkill backfire effect"), or the defensive processing of facts at odds with partisan views ("worldview backfire effect"). These "backfire" and "boomerang" (Hart and Nisbet 2011) effects mean that the traditional fact-checking approach may even lead people to strengthen factually inaccurate understandings when presented with "preference-incongruent information" (Nyhan and Reifler 2010)… The key to correcting misinformation lies in creating what George Lakoff calls a "truth sandwich" or adopting what John Cook describes as a fact-myth-fallacy structure for refuting false claims." • I read the whole thing twice, becaue the contemporary relevance is obvious, and I couldn't find a simple formula for the structure. Then I found it, in a textual figure not labeled as a figure. Typing the formula in: "How to Counter a False Claim. 1 State, repeat, and reinforce the fact. 2 Warn of and point out the false claim 3 Explain how the false claim distorts." Physician, heal thyself?
"Comparison of 3 P2P protocols" [Christopher Reay, Googledocs]. Holochain, ActivityPub, Secure Scuttlebutt.
"The Rise and Demise of RSS" [Vice]. "Though of course some people really do still rely on RSS readers, stubbornly adding an RSS feed to your blog, even in 2019, is a political statement. That little tangerine bubble has become a wistful symbol of defiance against a centralized web increasingly controlled by a handful of corporations, a web that hardly resembles the syndicated web of [Kevin Werbach's imagining [in Release 1.0]." • For this old-timer, it looks like an RDF/namespaces debacle, or debacle squared. Oh well.
Different aesthetics (1):
Alas, one of the best refutations of Marie Kondo isn't available online: Hugh Kenner's "The Untidy Desk and the Larger Order of Things" (Discover magazine 1987 & Kenner's collection "Mazes"). Someone should post!

— Jeet Heer (@HeerJeet) January 14, 2019
(Heer found Kenner's essay: "The Untidy Desk and the Larger Order of Things" (PDF).
Different aesthetics (2):
A ? isn't enough for this floor routine by @katelyn_ohashi. ? pic.twitter.com/pqUzl7AlUA

— UCLA Gymnastics (@uclagymnastics) January 13, 2019
* * *
Readers, feel free to contact me at lambert [UNDERSCORE] strether [DOT] corrente [AT] yahoo [DOT] com, with (a) links, and even better (b) sources I should curate regularly, (c) how to send me a check if you are allergic to PayPal, and (d) to find out how to send me images of plants. Vegetables are fine! Fungi are deemed to be honorary plants! If you want your handle to appear as a credit, please place it at the start of your mail in parentheses: (thus). Otherwise, I will anonymize by using your initials. See the previous Water Cooler (with plant) here. Today's plant (via):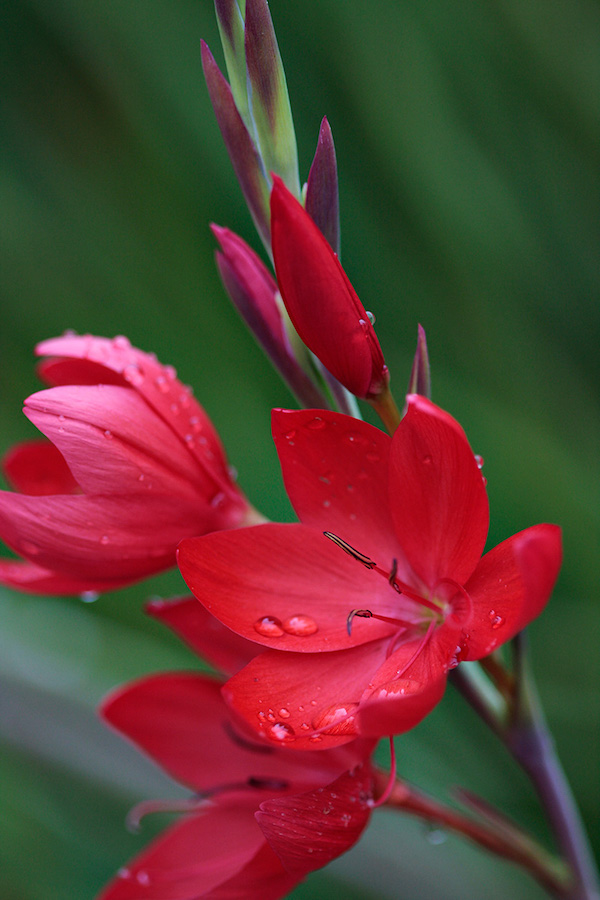 Hesperantha coccinea (Scarlet river lily; crimson flag lily).
are two of the many common names used for
* * *
Readers
: Water Cooler is a standalone entity
not
covered by the annual NC fundraiser, now completed. So do feel free to make a contribution today or any day. Here is why:
Regular positive feedback both makes me feel good and lets me know I'm on the right track with coverage
. When I get no donations for five or ten days I get worried. More tangibly, a constant trickle of small donations helps me with expenses, and I factor that trickle in when setting fundraising goals. So if you see something you especially appreciate, do feel free to click below! (The hat is temporarily defunct, so I slapped in some old code.)
Or Subscribe to make a monthly payment!