Dear patient readers,
So so sorry, but as we announced in a post that is already up, we are cancelling our NYC meetup that had been set for this Friday, the 18th. Some readers said they will still go to the venue, Slainte, at 304 Bowery, informally. Normally I would come out, but I haven't left the house for days except to go to the drugstore to try to get some OTC relief from the flu.
Yves
* * *
By Lambert Strether of Corrente.
Trade
"Shutdown could delay trade talks with EU, Japan, Grassley warns" [MarketWatch]. "The estimated start dates for two major trade negotiations appear to be in jeopardy amid significant reductions in staff at the U.S. trade representative's office, the White House and other key offices, Republican Sen. Chuck Grassley of Iowa said. 'I think they're going to be delayed,' he said, referring specifically to talks expected to start with the European Union and Japan."
Politics
"But what is government itself, but the greatest of all reflections on human nature?" –James Madison, Federalist 51
2020
"Bernie Sanders meets with 2016 campaign staffers who raised sexual harassment allegations" [CNN]. "Sen. Bernie Sanders and senior aides met on Wednesday with a group of women and men who requested a face-to-face discussion about what they described as 'the issue of sexual violence and harassment' on the Vermont independent's 2016 presidential primary campaign. The meetings, which stretched for almost a full day, began near Capitol Hill on Tuesday evening and picked up after the full group convened for breakfast on Wednesday morning. Their goal, according to participants on both sides of the table, was to confront past failures while forming more robust plans of action for future campaigns, including a potential second run by Sanders in 2020… Sanders, who was present for a midday session of the meeting, told CNN the discussions were "private" when asked about them afterward on Capitol Hill. Sanders wife, Jane, also took part. … There is no organized push to dissuade Sanders from running, but the revelations about mistreatment of women on the 2016 campaign has stoked concerns, even among some supporters, over his ability to secure and broaden his coalition — especially in a year when so many other progressives are expected to run." • "No organized push." But a weirdlly synchronous and selective yet totally spontaneous series of deliverables from people who have worked together closely in the past… So, ok!

"Democratic leaders fret: Can we keep our big tent in 2020?" [McClatchy]. "'The anti-Trump backlash will excite the base to some level, but you need someone you can believe in,' [Brady Quirk-Garvan, the Democratic chair of Charleston County, S.C.] continued. 'How do you toe that line, being someone that's enthusiastic and inspiring, but also has statesman-like qualities?'" • You pick Joe Biden. Obviously.

Gillibrand:

whenever i see the name kirsten gillibrand i automatically think of her lehman sisters quote pic.twitter.com/hXF5sl40xD

— aída chávez (@aidachavez) January 16, 2019

No (1), now:

Why have so many female presidential candidates broken into the children's book market?
Within the past 6 months the following have been released by/with permission by Kirsten Gillibrand, Kamala Harris & Elizabeth Warren respectively. pic.twitter.com/phv2WcVdaR

— Aimee Terese (@aimeeterese) January 16, 2019

No (2), then:

America Is Already Great hats available at http://t.co/CT8VcQiZx0. Perfect for electing another Dem President. pic.twitter.com/dTeAwSTccL

— Debbie Wasserman Schultz (@DWStweets) October 14, 2015
2019
From AOC's policy director:

Nurse, social worker, bartender, teacher > Lawyer, Banker, CEO, Lawyer pic.twitter.com/lJ2fSOIPT3

— Every Billionaire Is A Policy Failure (@DanRiffle) January 16, 2019
2016 Post Mortem
"Getting arrested for nunchuck possession was the best thing that ever happened to me" [The Outline]. "Struggling for some abstract notion of justice in a country ruled by a hulking reality-show clown now felt like a huge practical joke, and I couldn't bear the thought of being part of the punchline. So I vowed to protect myself from disappointment and despair by retreating behind an impenetrable shield of irony. I decided to deflect every punishingly cruel and stupid action taken by our new president with a cruel and stupid joke. This strategy worked for approximately four months. Then I was arrested for bringing nunchucks to the airport." • Insight into — I assume — the Brooklyn demographic…
New Cold War
"Another good day for Putin as turmoil grips US and UK" [CNN]. • Outside agitators. That's the ticket.

Not getting less ugly (1):

.@AltUSPressSec and I are crowdfunding a project to investigate Tulsi for this very reason. We'll have more details in the coming days, but Tulsi is a noxious politician who presents a serious threat of dividing the left — which is exactly why Russia likes her. And she ❤️'s Assad

— Caroline Orr (@RVAwonk) January 15, 2019

Not getting less ugly (2):

Has anyone written an article comparing the American Jews who support Moscow and Putin today with those who supported Stalin in the 1930s?

— Isaac Stone Fish (@isaacstonefish) January 16, 2019

I wonder which Jew WaPo contributing columnist Fish has in mind…
Realignment and Legitimacy
"How the Klan Fueled Prohibition" [New York Times (DG)]. "Today, as we find ourselves in the midst of another fight over immigration, it is worth revisiting the role that nativism played in driving, and later enforcing, Prohibition. The consequences of that battle reverberated for decades to come. It sparked a vast expansion of the repressive capacities of the federal government and a rise of right-wing extremism, led by a revived Ku Klux Klan. It also forged a new political coalition that would bring ethnic working-class voters into the Democratic Party, where they would remain for much of the century…. A volunteer enforcement army coalesced. The Anti-Saloon League and the Women's Christian Temperance Union forged two of its phalanxes, adopting an increasingly shrill tone toward immigrants. Compliance among this "great problem" class required coercion, with "officers of the law" acting as "schoolmasters." The W.C.T.U. in 1923 called for the deportation of noncitizens convicted of Prohibition violations." • The same working class — then "ethnic," now "white" — the Democrats have been trying to desperately to eject…

"America has never worried about financing its priorities" [Financial Times]. "Modern monetary theory is simply a different way of looking at fiscal policy, a way of describing what the real-world constraints on spending look like. It is in fact very close to how people in Washington, D.C. already approach spending. Again, we're not talking about what they say. Rather, we're talking about what they do." • Kelton comments: "This is exactly right. This is how everything is paid for. A Congressional appropriation *is* the 'pay-for.' When members of Congress say, 'We can't afford that' they're actually saying, 'I don't think that's very important.'"
Stats Watch
Philadelphia Fed Business Outlook Survey, January 2019: "However much the factory sector may have slowed late last year, Philly's sample is reporting clear acceleration so far" [Econoday]. "Given that Philly's sample often reports greater strength than other regional reports, the verdict on the factory sector is still uncertain. Tomorrow's much more definitive data on December's industrial production may help clear up the picture for a factory sector that roared through most of 2018 before apparently slowing at year end." And but: "Consider this a stronger report than last month. But it does not make sense that new orders improved and backlog declined" [Econintersect]. And: "This suggests the ISM manufacturing index will show expansion again in January, at about the same level as in December" [Calculated Risk].
Housing Starts, December 2018: "Delayed by the government shutdown" [Econoday].
Jobless Claims, week of January 12, 2019: "Initial jobless claims fell" [Econoday]. "This level is up from 1,148 at this time last year in a rise that very likely reflects furloughed workers from the government shutdown. This reading rose nearly 4,000 in the prior week to first indicate an effect, though still modest, from the government shutdown…. Whatever happens over the next two weeks won't be picked up by the January employment report the sampling for which has already finished. And the indications from today's report point to another month of strength."
Brexit: "UK lenders see demand for mortgages, credit cards plummeting before Brexit: BoE" [Reuters]. "The Bank of England's gauge of demand for mortgage lending over the next three months fell to -17.5 in the fourth quarter of 2018 from 0.2 in the third quarter, its lowest level since the end of 2010."
Retail: "The Hot New Asset Class Is Lego Sets" [Bloomberg]. "Collecting Lego — yes, the plastic toys made of interlocking bricks that become cars and castles and robots — returned more than large stocks, bonds and gold in the three decades ending in 2015, says a study by Victoria Dobrynskaya, an assistant professor at Russia's Higher School of Economics. Aspects of the performance even align with returns sought by owners of smart-beta ETFs."
Retail: "Full Q&A: Glossier CEO Emily Weiss on the 'art and science' of the beauty business" [Recode]. CEO Emily Weiss: "The way we look at it is that we're building this people-powered ecosystem. We have co-created since we launched four and a half years ago, with our consumers. The reason we're able to do that is because we know who they are. We have a direct relationship with every single person who buys something from us, unlike all of the incumbent companies that have been built through retail channels…. At Glossier, we've really taken user feedback and asked them for things like what products to make, where to go in terms of pop-ups, or countries, and fundamentally, have been able to really change the relationship between brands and customers." • Sounds rather like K-Pop.
Tech "Hacked Instagram Influencers Rely on White-Hat Hackers to Get Their Accounts Back" [Vice]. "Motherboard recently reported on an emerging trend of hackers taking control of Instagram influencers' accounts and holding them ransom. Now, a wave of fresh attacks and internal Instagram documents obtained by Motherboard provide more detail about the issue. Victims say that Instagram's process for recovering accounts is so cumbersome that they've had to rely on third-party social media experts and, in some cases, white-hat hackers to help them regain access while Instagram itself was largely silent." • Facebook owns Instagram…
Tech: "Facebook'S '10 Year Challenge' Is Just A Harmless Meme—Right?" [Wired]. "Imagine that you wanted to train a facial recognition algorithm on age-related characteristics and, more specifically, on age progression (e.g., how people are likely to look as they get older). Ideally, you'd want a broad and rigorous dataset with lots of people's pictures. It would help if you knew they were taken a fixed number of years apart—say, 10 years… [I]t would help if you had a clean, simple, helpfully labeled set of then-and-now photos…. In other words, thanks to this meme, there's now a very large dataset of carefully curated photos of people from roughly 10 years ago and now…. Is it bad that someone could use your Facebook photos to train a facial recognition algorithm? Not necessarily; in a way, it's inevitable." • Inevitable? It would be a lot less so if Facebook weren't a ginormous monopoly; the datasets would be smaller and less homogenous.
Tech: "In the Shadow of the CMS" [The Nation]. "[Content Management Systems (CMSs)] are becoming a more important force in the media, as news businesses branch out into developing and selling their own." • Better than Facebook or Blogger, for sure. More: "The homogenization of digital content is happening, in part, because of the rise of mobile browsing: Everything has to look good on a phone screen, so the layout becomes as simple as possible, and no one CMS produces that much better of a visual result than the rest. Any amateur can design a suitably minimalist, mobile-ready site—perhaps using the point-and-click Web-design-and-hosting service Squarespace, a kind of 21st-century GeoCities—and become a publisher, on a small scale. It used to be that branding, graphic design, and high-resolution imagery signaled editorial quality, whether in print or online. Now, the markers of quality are more important but perhaps less superficially apparent: good copy editing, coherent headline writing, and diverse bylines." • Not such a bad thing…
Health Care
"Meeting Individual Social Needs Falls Short Of Addressing Social Determinants Of Health" [Health Affairs]. "Hospitals and health care systems have started to address these social determinants of health through initiatives that buy food, offer temporary housing, or cover transportation costs for high-risk patients. The prevalence and initial success of these efforts are clear in headlines such as: "What Montefiore's 300% ROI from Social Determinants Investments Means for the Future of Other Hospitals," "Social Determinants of Health Gain Traction as UnitedHealthcare and Intermountain Build New Programs," and "How Addressing Social Determinants of Health Cuts Healthcare Costs." But when you take a closer look, these articles aren't about improving the underlying social and economic conditions in communities to foster improved health for all – they're about mediating patients' individual social needs. If this is what addressing the social determinants of health has come to mean, not only has the definition changed, but it has changed in ways that may impede efforts to address those conditions that impact the overall health of our country." • Important.
The Biosphere
"To Stave Off Winter's Chill, Honeybees Hug" [Scientific American]. • An animation, but still something to learn from it.
Our Famously Free Press
"Facebook is putting $300 million toward stabilizing local news" [Poynter Institute]. "Facebook already started focusing on local news in 2017 and 2018 through efforts including the Facebook Journalism Project, "Today In," which helps surface local news on Facebook, an initiative to help local independent newsrooms better use Facebook tools, and a membership and subscription accelerator." • I dunno. Remember the pivot to video?
"Newsonomics: Let the 2019 Consolidation Games begin! First up: Alden seeks to swallow Gannett" [Nieman Labs]. "What all this means is Gannett, like it or not, is in play. Even two years ago, that statement might have been dropped jaws — Gannett was clear it wanted to be the consolidator, not the consolidatee. But no longer: In an industry of unending downturn — and in a world flirting with a who-knows-how-deep recession to come — all bets on the conventional wisdom of newspaper ownership are off. Anyone with the appetite and dollars to buy can, whether it's a Patrick Soon-Shiong or an Alden Global Capital."
"This obscure company is doing more to destroy a free press in America than Trump" [Will Bunch, Philadlephia Inquirer]. "[M]ost citizens in Boulder didn't know what [Dave Krieger of the Denver Daily Camera] knew: That the newspaper's shrinkage was the direct result of a distant Wall Street hedge fund that — through its investment vehicle with the Orwellian-like dishonest name of Digital First Media — had since 2013 been sucking money in full vampire-squid mode out of the Daily Camera's newsroom revenue stream. Much of the cash that formerly paid reporters, editors and photojournalists instead went into the pocket of billionaire Randall Smith as Smith added to his collection of multi-million-dollar mansions around Palm Beach and the Hamptons (said at one point to be 18 — that's not a typo — and counting)." • Why are 18 mansions more important than local news?
Guillotine Watch
"Red Dead Redemption 2's Pinkerton agents are at the center of a lawsuit" [The Verge]. "In a statement responding to the lawsuit, Pinkerton president Jack Zahran claimed Take-Two's villainous agents were a 'baseless' and 'inaccurate' portrayal of Pinkertons. 'Pinkertons are seen shooting horses, shooting guns and firebombs into buildings where women and children are present, and as violent villains in the community. History tells a different story,' he said. He also argued that Pinkerton employees now 'have to explain to their young game players why Red Dead Redemption 2 encourages people to murder Pinkertons.' Nonetheless, Zahran expressed hope that Pinkerton and Take-Two could come to an 'amicable solution' to their dispute." • No doubt!
Neoliberal Epidemics
"What's Causing the Rise of Hoarding Disorder?" [JSTOR Daily]. "The original understanding of hoarding, however, had nothing to do with clutter; it was financial avarice. King Midas hoarded gold, as did the tight-fisted clergy who, Dante wrote, would be condemned to the fourth circle of hell. Only in the twentieth century did people begin engaging in the eccentric over-accumulation of random, not terribly valuable stuff." • I'm not clear from the article — which is very interesting — why being a squillionaire isn't a priori a case of "clinical hoarding." Maybe we could aim Marie Kondo at Jeff Bezos and Mark Zuckerberg, and have her straighten them out.
Class Warfare
"Student debt hinders millennial homeownership" [Curbed]. "A new study by the Federal Reserve further quantifies what many millennials and mortgage lenders have long suspected: rising student debt burdens have significantly hampered homeownership among today's young adults…. The study found that 20 percent of the drop in homeownership among this age group can be attributed to student loan debt. Researchers concluded that 400,000 more young adults would have owned homes in 2014 if they didn't have to deal with rising debt burdens."
News of the Wired
"Unscrambling the Hidden Secrets of Superpermutations" [Quanta]. • If you want to learn the secrets of permutation, this is the article for you!
"Screen time: how much is too much?" [Nature]. "Current evidence for an association between digital-technology use and adolescent well-being is contradictory and comes mainly from household panel surveys and other large-scale social polls, with thousands to millions of respondents. The questions represent a compromise between usefulness and not placing too much burden on respondents. They are simplified, are not standardized and often do not map straightforwardly onto the validated instruments that clinical or social scientists use to measure constructs such as 'well-being' and 'technology use'." • The rich of Silicon Valley, however, have already made up their minds…
Our cool dystopia (DK):
Holy shit. I just glanced out the window, at 2:10am, mind you, to see a giant choreographed drone swarm hovering over the city. Uhm… whoa. I'd heard they'd used them in one show here, but this one's new to me. pic.twitter.com/2rvUrdAcS5

— Noah Zerkin (@noazark) January 16, 2019
DK comments:
Probably limited by wind/weather factors, but within the usable range, some possibilities.

For instance military application. Surround an airfield with a dome of crones, and trap the aircraft / prevent landing. With or without a small explosive payload on each drone, it's expensive but could get a lot of mileage compared to a missile.

Also, the tight square gird configuration may be usable for video display. There are some tricks with sound that could let small speakers on each drone have their signals timed to enhance/focus sound in some particular direction/place.
"How To Find Hidden Cameras & Spy Gear Like a Professional: The Definitive Guide" [Sentel Tech]. "If you do encounter a surveillance device, do not disturb it. Immediately walk out of view of the camera and call the authorities. Most of the newer surveillance cameras use motion detection with a loop-recording feature for the SD card. There have been quite a few cases of the perpetrator inadvertently recording themselves placing and walking away from the device because of this feature. By staying out of the camera view, you reduce the chance of recording over any of the old footage should the SD card become full. If the perpetrator did record themselves on the camera, it is obviously best to minimize the chance of that footage becoming recorded over." • News you can use!
* * *
Readers, feel free to contact me at lambert [UNDERSCORE] strether [DOT] corrente [AT] yahoo [DOT] com, with (a) links, and even better (b) sources I should curate regularly, (c) how to send me a check if you are allergic to PayPal, and (d) to find out how to send me images of plants. Vegetables are fine! Fungi are deemed to be honorary plants! If you want your handle to appear as a credit, please place it at the start of your mail in parentheses: (thus). Otherwise, I will anonymize by using your initials. See the previous Water Cooler (with plant) here. Today's plant (SM):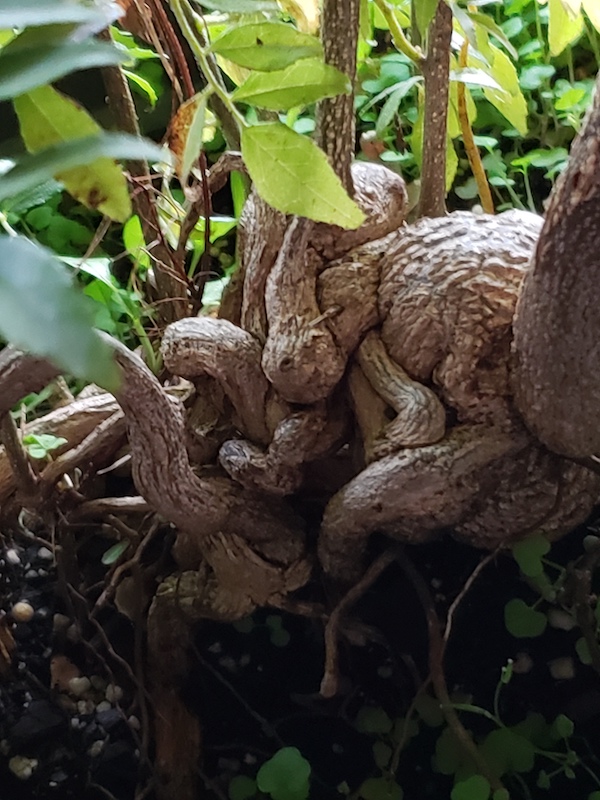 SM writes: "I'd like to send in a plant picture. My curry leaf plant paid me back for a near death experience with frost, by developing the most showy, knotty, strange-looking root ball. Imagine the aroma of curry leaf (Murraya koenigii) as you look at this." Yum!
* * *
Readers
: Water Cooler is a standalone entity
not
covered by the annual NC fundraiser, now completed. So do feel free to make a contribution today or any day. Here is why:
Regular positive feedback both makes me feel good and lets me know I'm on the right track with coverage
. When I get no donations for five or ten days I get worried. More tangibly, a constant trickle of small donations helps me with expenses, and I factor that trickle in when setting fundraising goals. So if you see something you especially appreciate, do feel free to click below! (The hat is temporarily defunct, so I slapped in some old code.)
Or Subscribe to make a monthly payment!